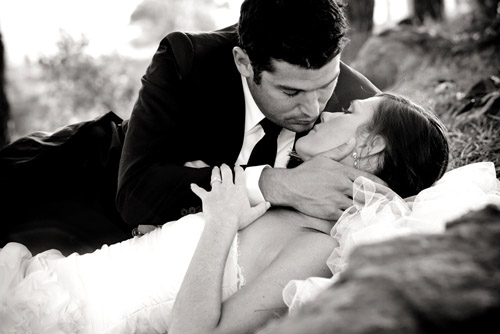 Bonnie and Bryan's South Africa wedding, photographed by the talented Yvette Gilbert is the perfect combination of modern style and the spectacularly lush natural surroundings that always make me want to go visit the Cape Town region. Like right now. Take a look at these beautiful photos and wedding story, and see if you don't want to join me!

The Goals: Bonnie and Bryan's goal was to host a relaxed, intimate and fun wedding at a venue that would knock their guests' socks off. I'd say choosing The Venue at South Hill Vineyards did the trick!

The Design: A white wedding color palette with touches of black created a clean and modern look to the day that also allowed the beauty of the vineyards and the art and architecture of the venue to shine through. Wedding invitations were inspired by the look of orchids and designed by the couple's friend and owner of the amazing design firm Soil Design. Incredible food played a central role in the wedding reception, and at the end of the meal everyone got to share in a dramatic tower of black and white cupcakes with a white cake for cutting perched on top.
The Look: Bonnie wore a wedding dress by Robyn Roberts, a white flower in her hair, and carried a branch or white orchids as her wedding bouquet. Her bridal look was perfectly modern because it highlighted her own natural beauty. It was "very classic and natural, with a touch of vintage – its who I am" Her bridesmaids wore little black dresses and Bryan and his groomsmen looked sleek in black suits with white shirts and modern black ties.

The Moments: Bonnie and Bryan were married outside beneath a huge old oak tree, and Bonnie vividly remembers "when I walked down the aisle and saw my husband looking at me" and then of course their first kiss as a married couple. So sweet! After the ceremony, the couple spent time taking photos with Yvette Gilbert, and they loved spending that special time together "it was very real and the happiness was radiating from both of us."
The Pros: To learn about the whole team of wedding professionals that contributed to this wedding, please see Bonnie and Bryan's page in our real wedding library.

Thank you for sharing your wedding with us Bonnie and Bryan! What a beautiful wedding day – see what I mean about the magic of the vineyards of South Africa?
If you love the look of this wedding come find more black and white wedding color ideas in our photo gallery!