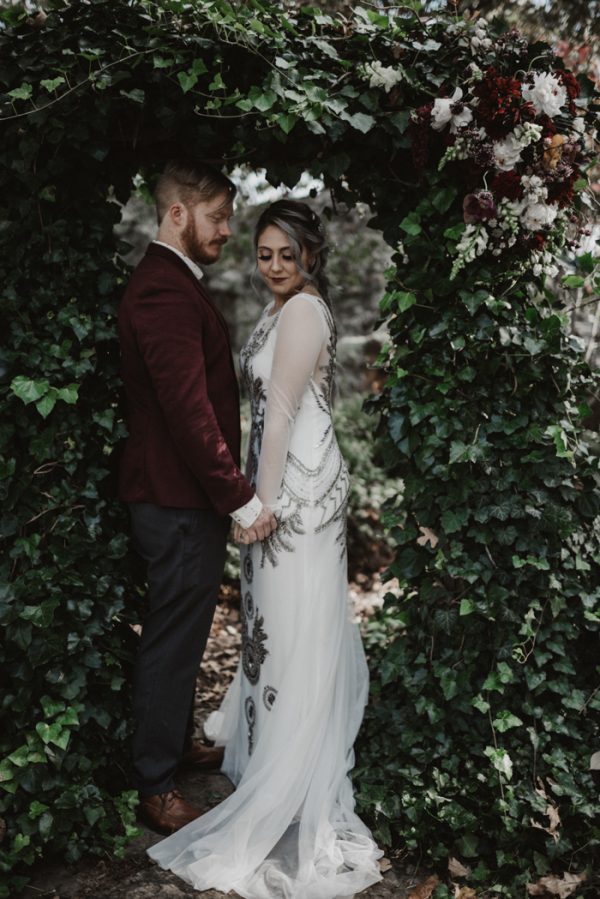 From the longhorn skull guest book to the groom's style, Bree and Judd's wedding embraced their love for relaxed, eclectic imagery and totally personalized details! The couple tied the knot at Skelly Lodge, a rural Oklahoma venue boasting an old hunting lodge and a bluff overlooking a river valley, and encouraged their guests to wear Halloween costumes as the wedding was two days before the spooky holiday. Judd's super cool groom style included a mix-and-match maroon and navy blue suit, a patterned shirt, and a custom octopus bolo tie, while Bree's Rue De Seine gown and faux fur jacket lent a totally boho feminine flair to their day. Photography team a sea of love captured every stunning moment of the couple's day, including some epic experimental couple portraits.
The Couple:
Bree and Judd
The Wedding:
Skelly Lodge, Catoosa, Oklahoma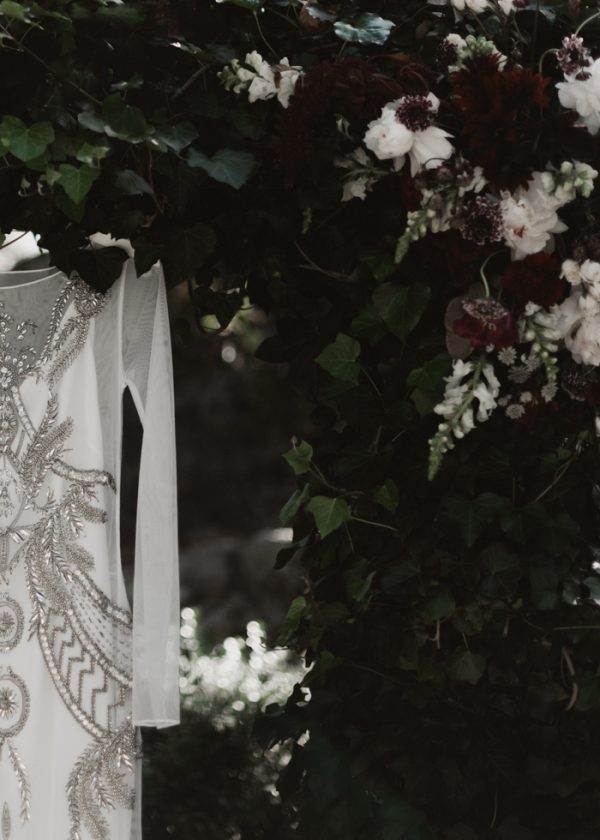 For both of us the most important thing was we just wanted it to feel very relaxed and not so formal. My uncle wore board shorts, which was just perfect. Judd suggested people be allowed to wear Halloween costumes, but no one did. Their loss, I think. We wanted everyone to be comfortable and have as much fun celebrating the day with us as we were having. It was less about sticking to the formalities that come with tradition, but celebrating our love with a big beautiful blended family in a way that was very us.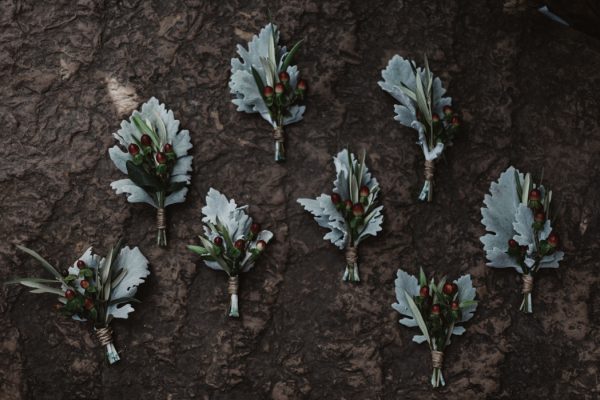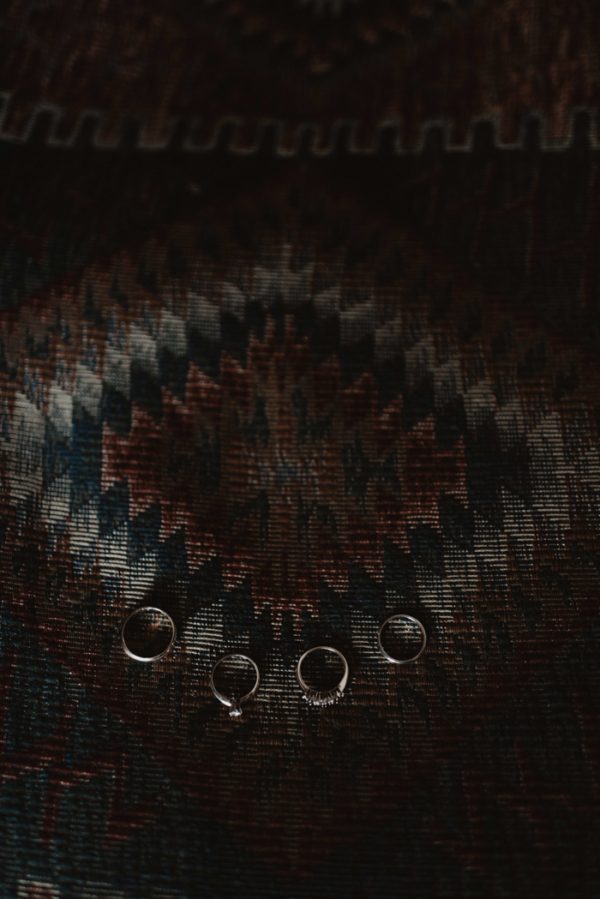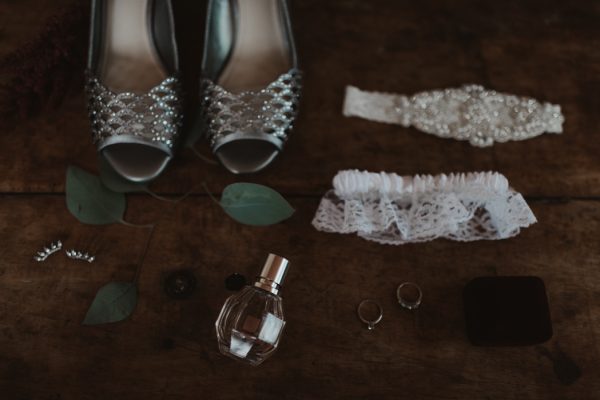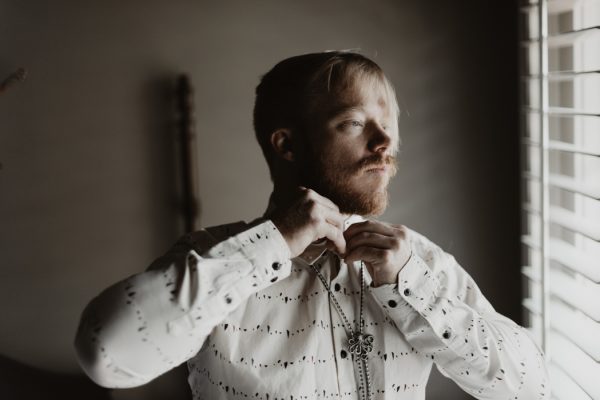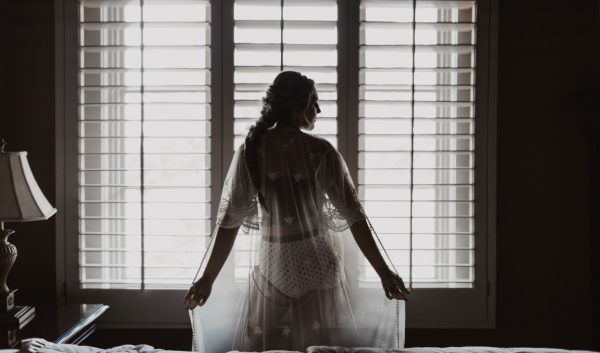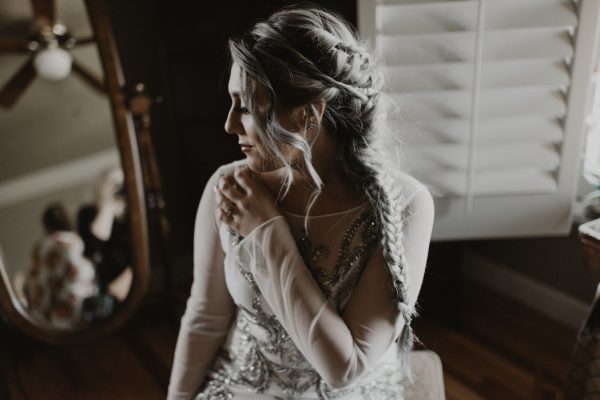 I let the dress just shine. Rue De Seine is my absolute favorite bridal designer. As soon as I had that dress I knew it was the one, and everything else was going to be pretty simple. Super simple earrings and the hair was a big loose braid with baby's breath all in it. I did want to have a little bit of my personal flair so I rented a faux fur coat that was just very unique.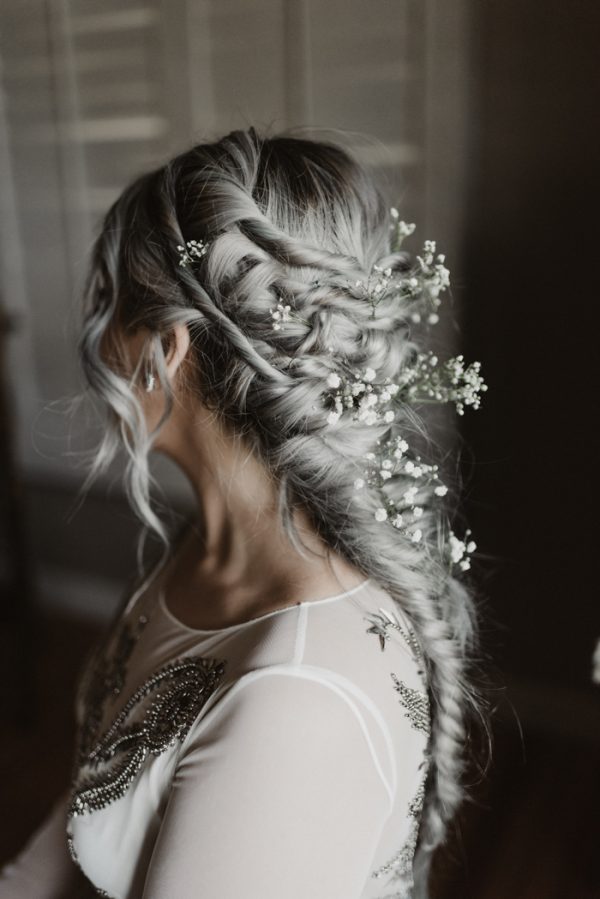 Judd is from Tulsa, OK and we knew we wanted to do the wedding there, close to his friends and family. After suffering the perpetual headache of other venues falling through, we felt so lucky to find Skelly Lodge. We spend a lot of time outdoors and rock climbing, so as soon as we saw the view we both sort of looked at each other and knew it was the place. How can you beat something like that? My husband has many words for breathtaking vistas, but non could adequately convey the bucolic majesty of an old hunting lodge on a towering bluff overlooking a river valley in the autumn months. "Splendiferous" maybe.

The men all wore individualized bolo ties. Judd's bolo tie was an octopus, because my nickname for him is Juddlefish like the cuttlefish. One of Judd's favorite writers is Hunter S. Thompson, so I planned ahead of time to buy him and each groomsman a Gonzo-style pin for their boutonnieres. Judd was easy, we just bought a burgundy colored jacket and patterned white shirt of ASOS and he wore slacks he already had. The biggest accessory was his custom bolo tie.
Judd notes, don't lock your fiancé in a hot room upstairs for an hour just to ensure he doesn't see you while you're getting ready. He loves you. He will appreciate the sense of mystique surrounding the dress and respect your wishes. He will stroll the grounds, smiling wistfully at the newly-arrived floral arrangements. He will stand, staring into the koi pond and think loving thoughts.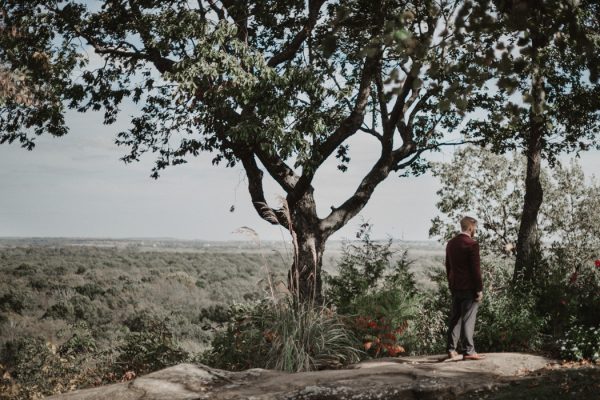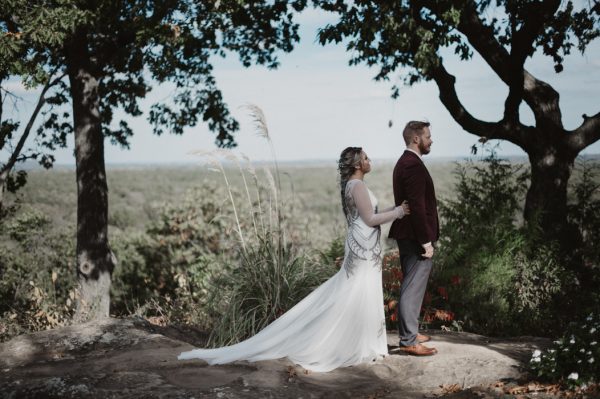 I am actually so glad I did a first look with Judd. It gave me just a bit of quiet time with him. Judd kept breaking down and weeping uncontrollably, overwhelmed and elated with both the sight of his bride-to-be and the spirit of the day.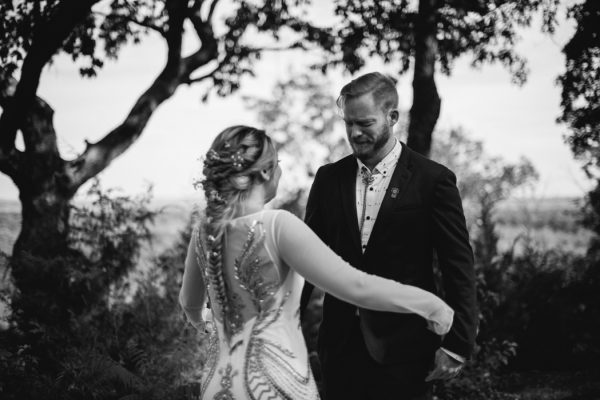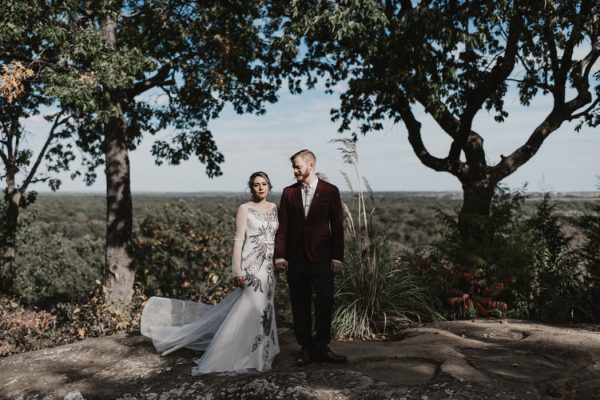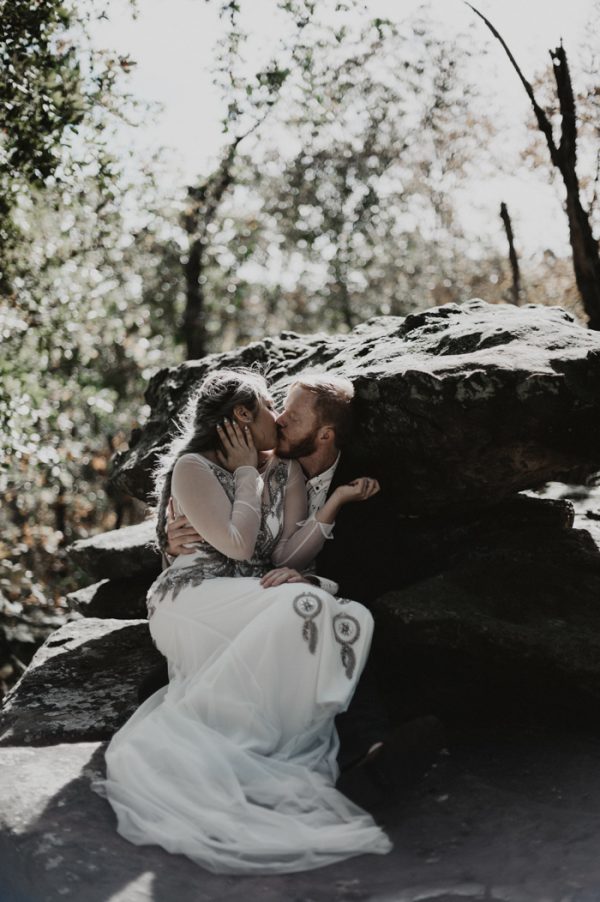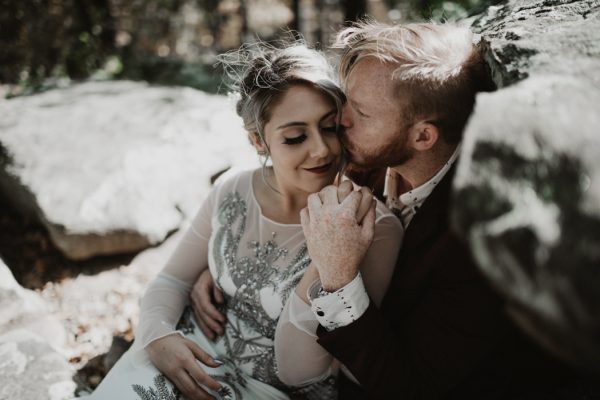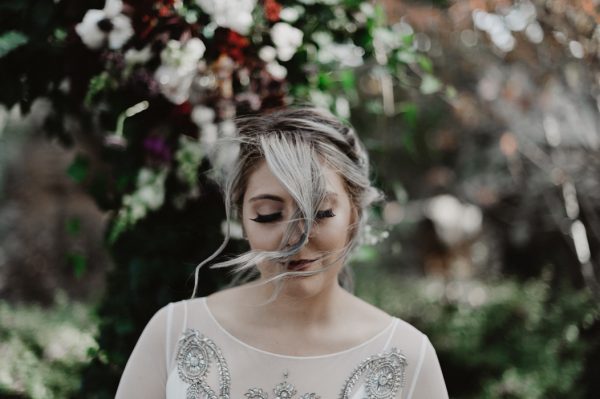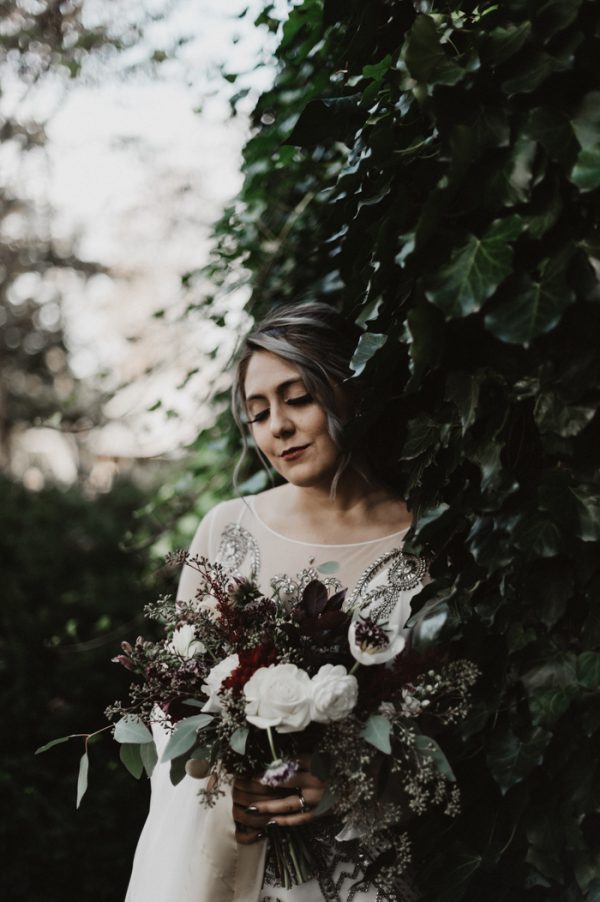 I got to marry my best friend. I mean, so much was great. The food, live music, atmosphere, the view, how happy everyone was. The hands down most memorable moment was getting to stare into my new husbands eyes most of the night. I felt like I was so wrapped up in him and how ecstatic everyone was. We still have people telling us how perfect everything went.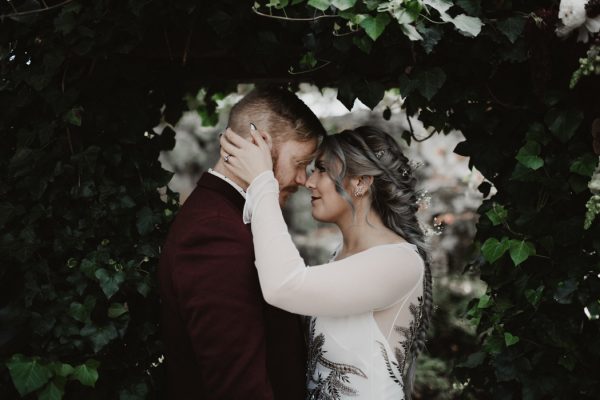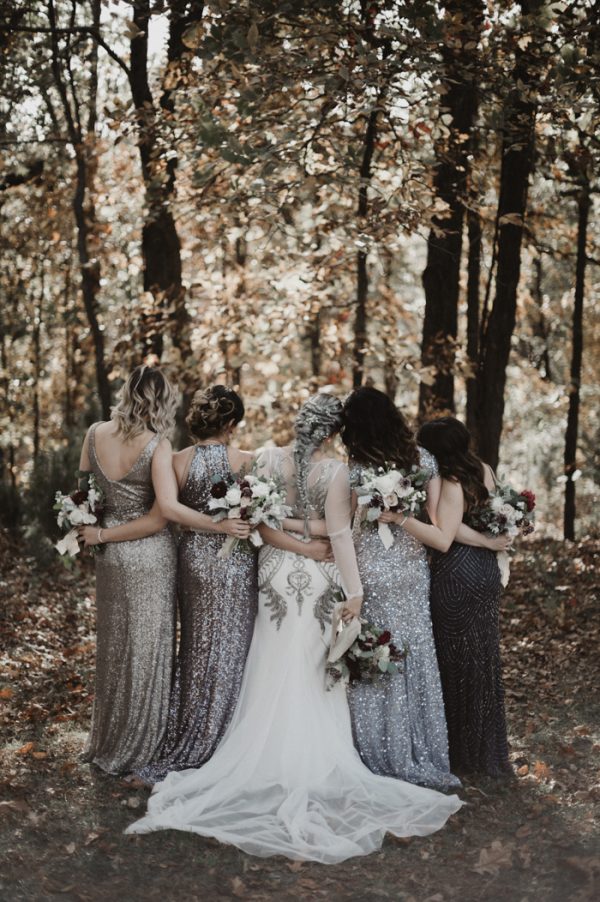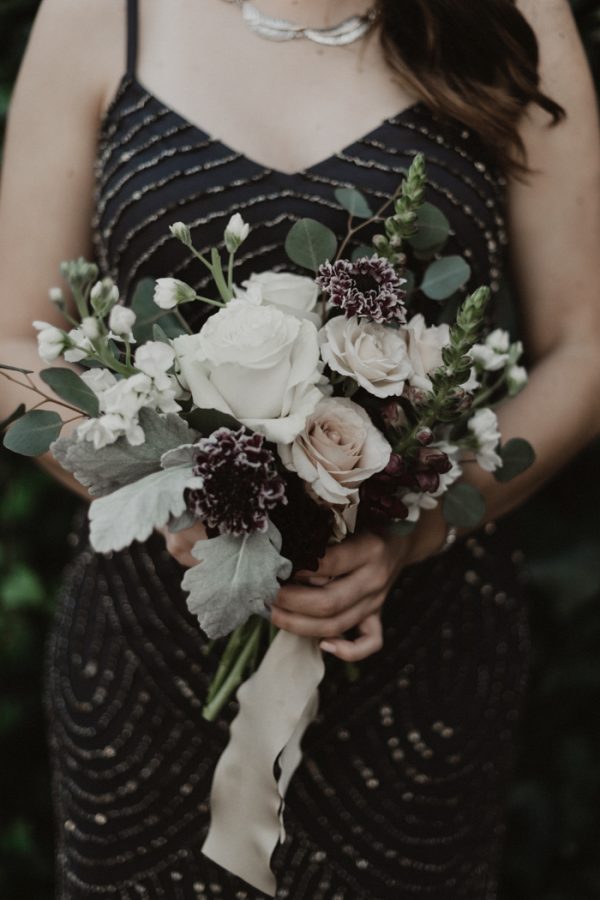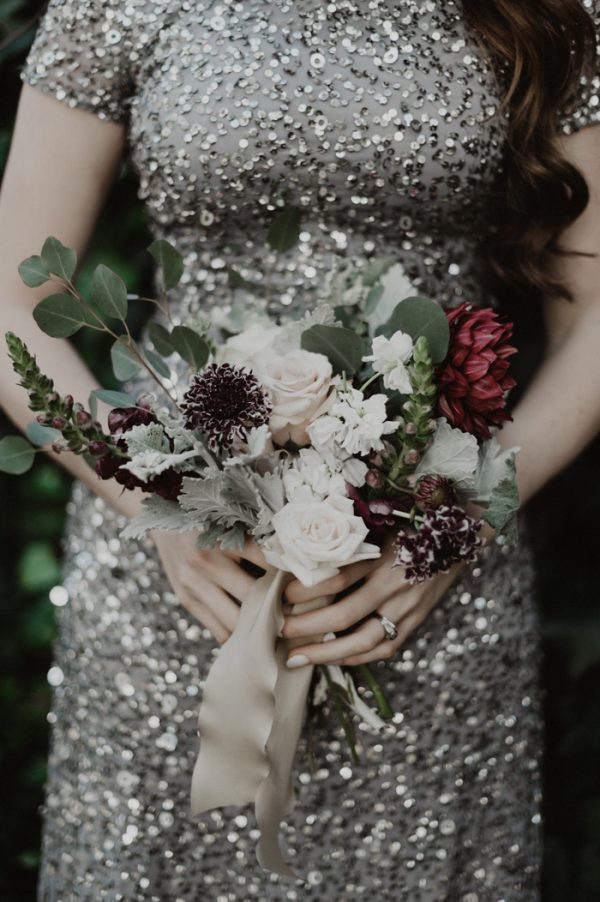 The girls all got to pick their own silver dresses and the guys wore whatever they had that was gray. We did not want any of that matching formal bull, we just wanted everyone to be themselves. Just, not so much themselves that they started wading into the koi pond or solo climbing the rocky walls of the chalet, but what can you do? What can you say? "Stop doing that"? It doesn't work. At least not on people with True Style.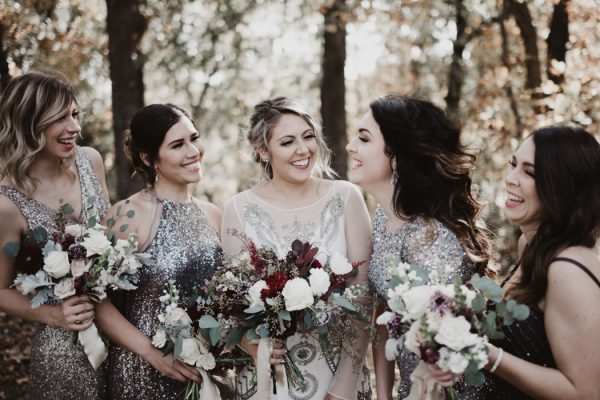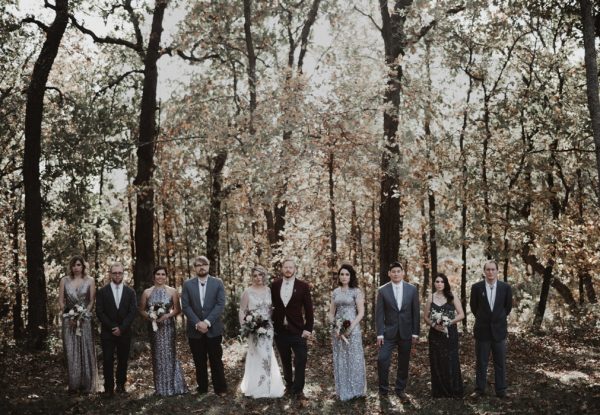 Our photographers Morgan and Blake have a very chill and professional demeanor. If there was anything that I thought was going wrong or maybe starting to stress about they were so quickly to be like, "Nah everything is perfect, we are loving this so much don't you fret." We never felt rushed or forced to do any silly poses that we would hate. It all just felt very organic. The photos came out exactly that way.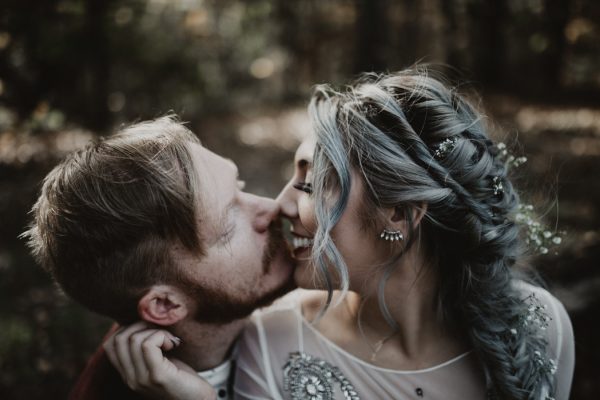 One of my all time favorite things the photographers did and part of the reason I knew they were the perfect pair for our wedding photography is how they experiment to get shots that speak to a couples personality. The shots of Judd and I with the skull and bouquet is one of my favorites. We love everything they were able to capture, like I am obsessively looking at the photos still.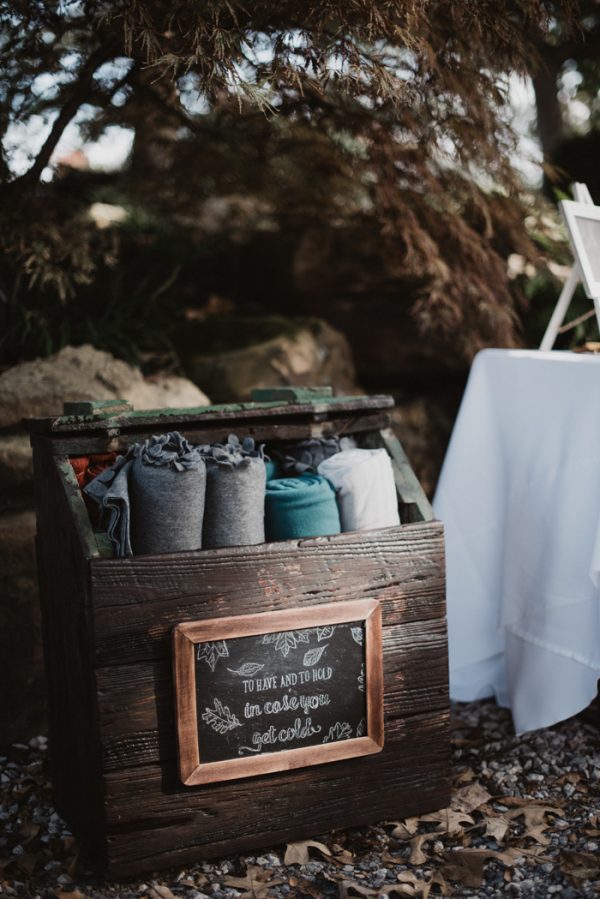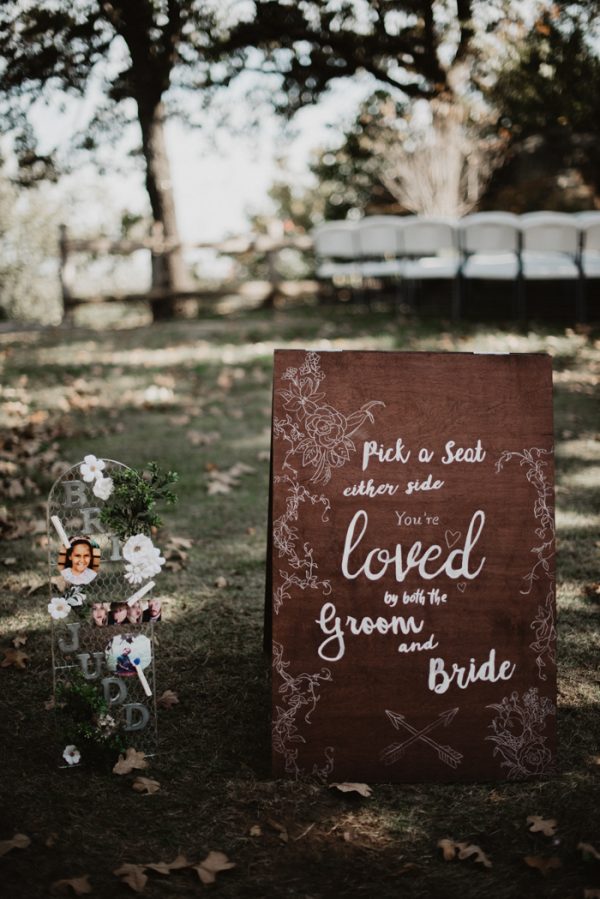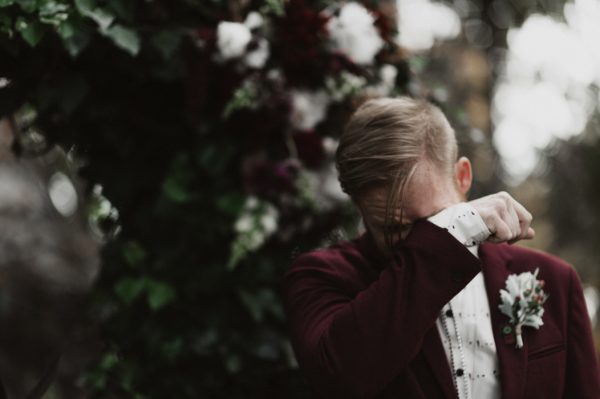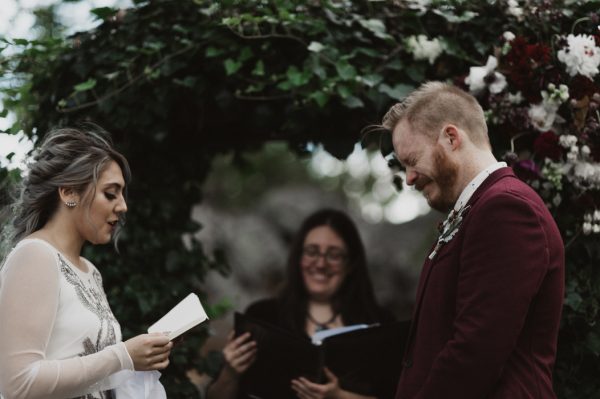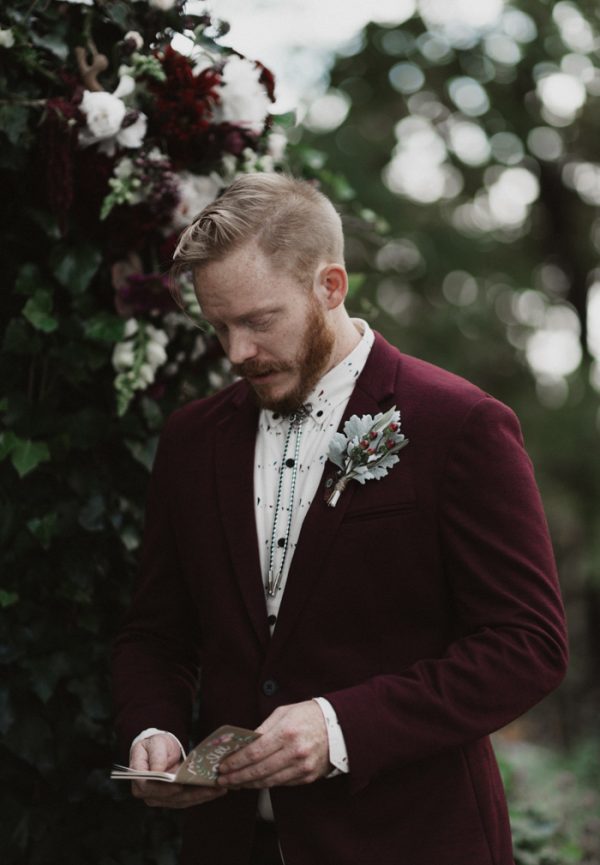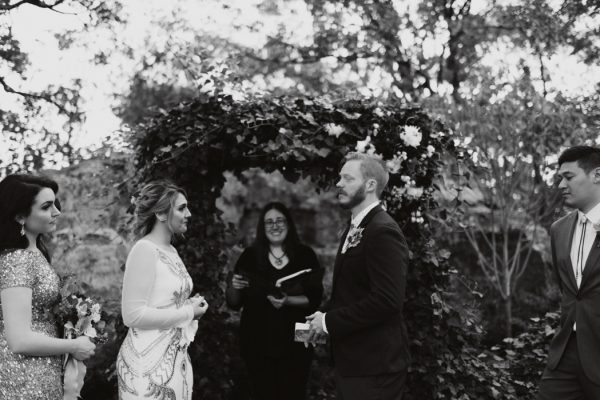 – Our processional was Bright Eyes' "First Day of My Life" which may be a bit too precious, but it's still a favorite of mine.
– The recessional was by Stevie Wonder, "For Once in My Life."
– Judd picked the first dance, which was "Everlasting Light" by the Black Keys. We had the live band play it. We both knew we wanted something very different and more upbeat, and he always winds up singing the song to me. To not take a slow dance or really have any planned choreography, just feeling out the rhythm and vibes, was very him, and I love how it suited us. Judd says he dances like a man covered in ants. Inspiring.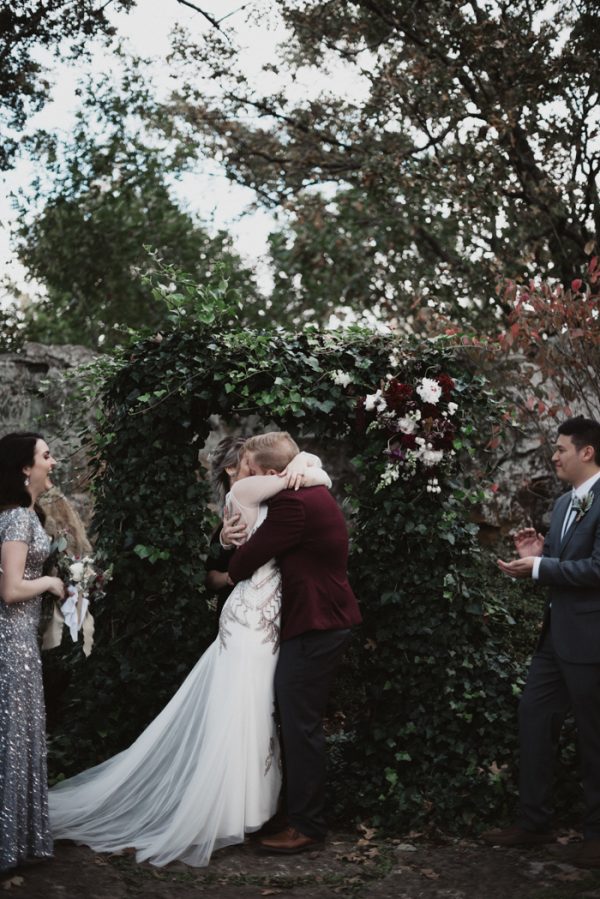 Our photographers Morgan and Blake are absolutely amazing. I already was being super picky when trying to find a photographer, since I graduated with a BFA in photography. As soon as Judd and I met with them I knew they were the people that had to be there. They are the cutest working couple and some of the best people.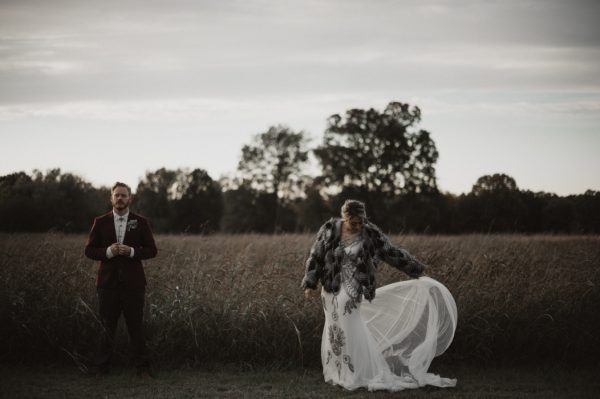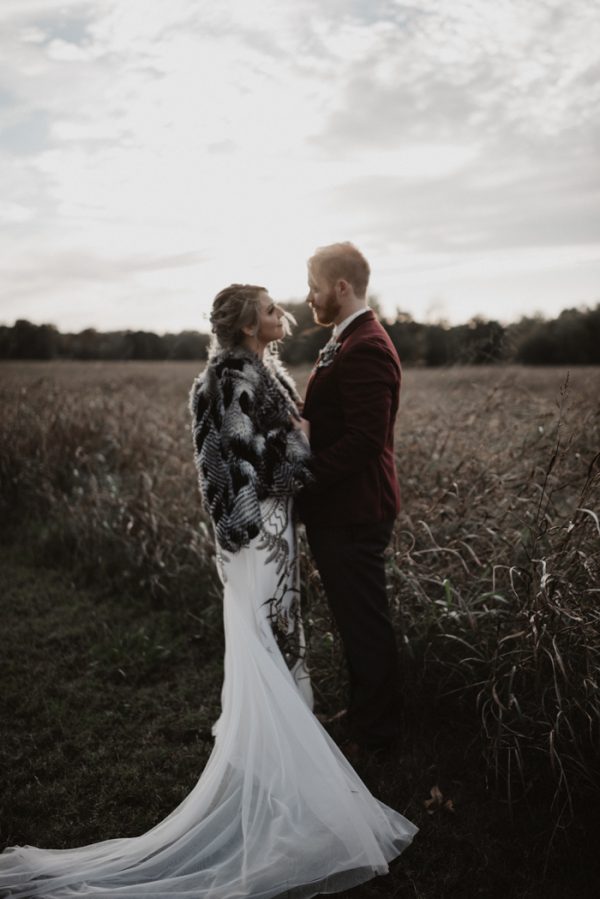 So many of my friends who are already married kept telling me to not sweat the small stuff. I wish I had listened a little more. For the most part I think I was a very relaxed bride while planning everything. The night before I started stressing about the most minute details, mostly just because I was excited. My family was doing all the decorating and setting up before the ceremony, they kept me inside all day to just relax and get ready. As the ceremony and reception started I did not even care anymore about all the details, we were both just enjoying our time with each other and family.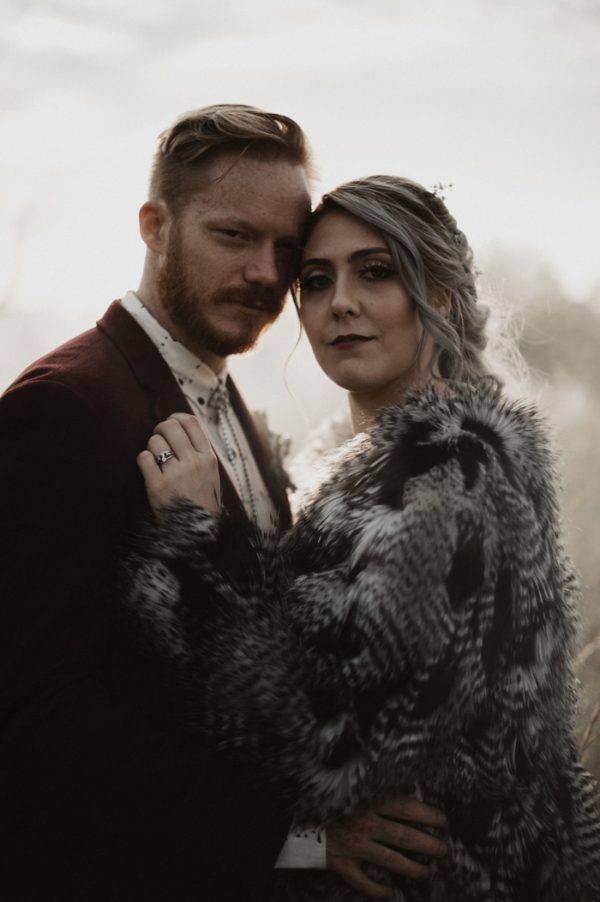 Also, talk to your partner. Sometimes the bride thinks that the groom just does not care about planning a wedding. There were some things Judd did not want to bother with, but that constant communication made me realize there are other things he was hoping for on that day. Many people told me that a wedding is the bride's day and about her, I think it is really about your love so I wanted our wedding to be an expression as well as celebration of each other.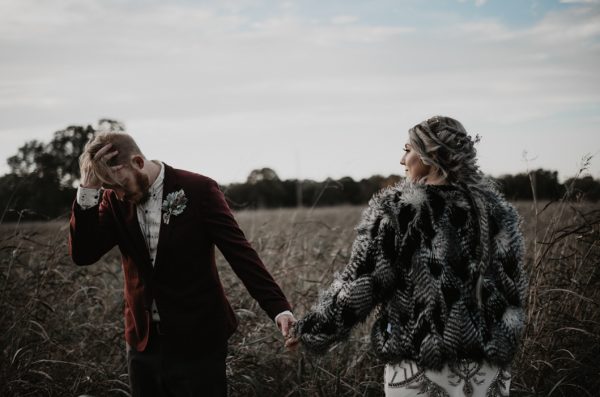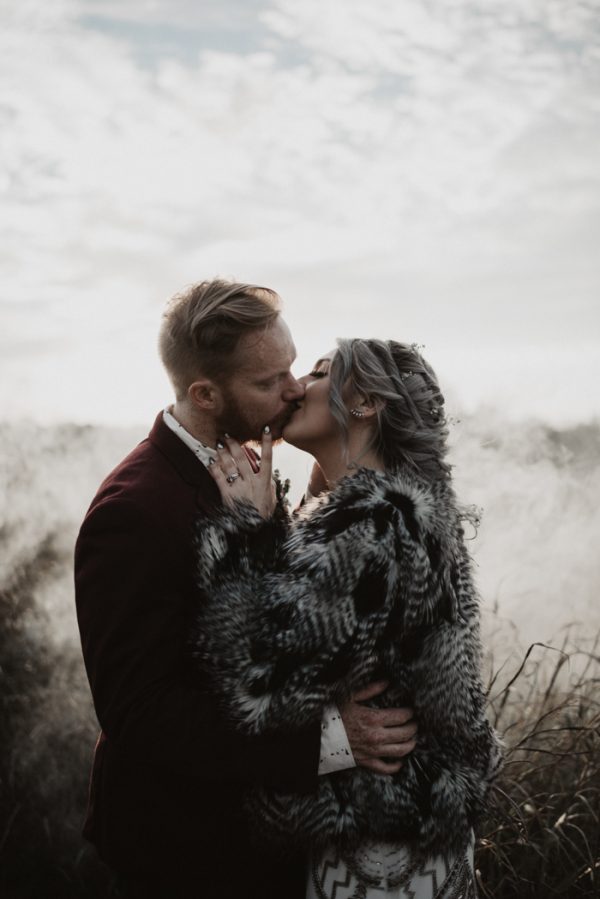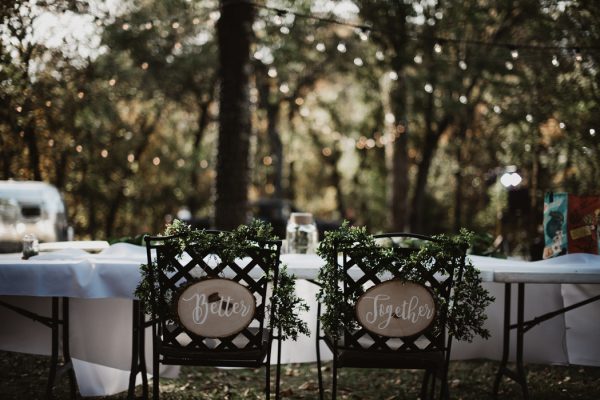 We had a regular food truck that served Latin fusion food, a dessert food truck that served s'mores and snow cones, and a bar in an custom Airstream trailer. Not to mention fall-favorite pies and a tiny cake just to cut, mostly so I could shove some in his face. We still have some in the freezer, so on October 29, 2017 I'll get to do it again. It'll be the first thing that happens when he wakes up that morning.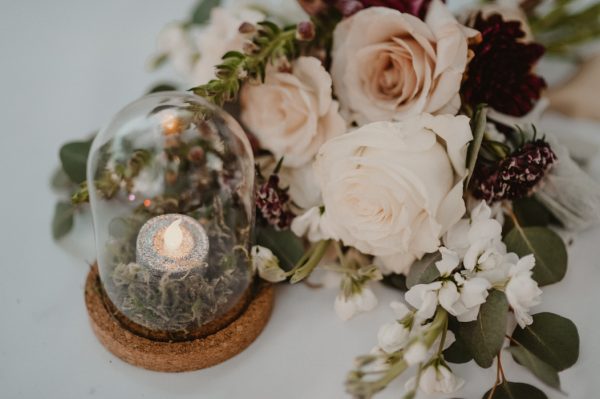 We wanted to support local business as much as possible so all the accoutrements, even our cake toppers, were bought on Etsy. Judd always calls me his fox so I got two little porcelain foxes instead of something more traditional. We added some Halloween themed stuff like skull goblets and a spooky backdrop for the photo booth, replete with pumpkins and all manner of spooky hocus pocus…it was, after all, two days away and my favorite holiday.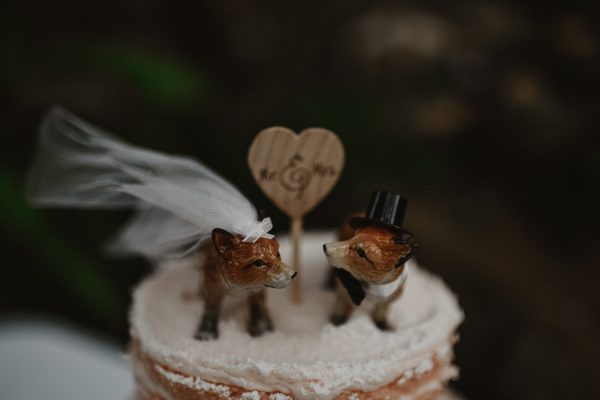 Congratulations to Bree and Judd, and a very special thanks to a sea of love for sharing their day with us. Can't get enough of this wedding's cool eclectic wedding style? Then you've got to see this cozy alternative fall wedding inspiration in snowy Vermont!