Tara Dowburd-Luftman of Make-up Therapy, one of our amazing Southern California Junebug members, knows how to make a bride look and feel sexy, sultry and ever-so-beautiful! She's known for creating smokey-eyes that enhance your natural beauty and aren't too over the top, so today we asked Tara to tell us about two recent bridal make-up looks that she loved…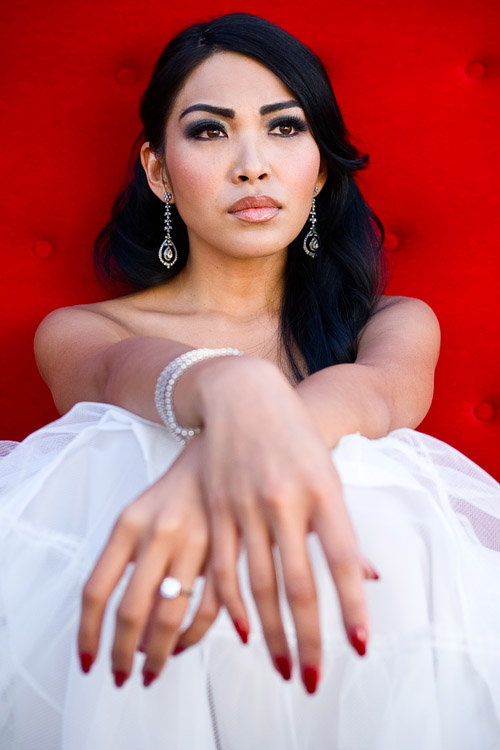 The Look: This look is edgy, sexy, smoky and fun with a big emphasis on the eyes and lashes. I wanted the make-up to make a statement, but not be overpowering. You should look at her and think "Glam", but at the same time think that the make-up isn't wearing her. The focus is the eyes, but the goal is to see all of her stunning features put together, beautiful and enhanced.
The Eyes: Let me start off by saying when doing a make-up application, I always start with the eyes… I am obsessed with them. However natural or dramatic, the eyes are always a huge focus. One of the most important tips to remember is to prime the eyes with an eyeshadow base that is virtually waterproof so that your eye make-up doesn't crease and lasts all event long. My favorite eye shadow bases are Bobbi Brown's Vanilla Eyeshadow Stick, MAC's Paint Pots and Laura Mercier's Eye Basics. On my client pictured here, I primed her eyes with MAC's Paint Pot in "Blackground" and then layered a fantastic black/grey shimmer (not glitter) eyeshadow all over eyelids up to the crease. I then used a matte black eyeshadow in the crease and the lower lash line, on top of a black waterproof black eye liner by Shu Uemura. Next, I used that same black waterproof eye liner above the lash line (thick) along with a Bobbi Brown Black Gel Eyeliner (thin) to create a long lasting strong look. I then hi-lighted the brow bones with a subtle golden shimmer to lift the eyes, keeping them smokey yet bright and clean. I finished her eyes by curling the lashes, applying black waterproof mascara and fabulous Shu Uemura Black Luxe Eyelashes. I trimmed the lashes from the outer corners to perfectly fit the shape of her eyes, curled the lashes again so the natural and false lashes met and applied another coat of black waterproof mascara. LOVE IT!! Once I finished the eyes, I cleaned up with a water-based eye make-up remover and applied a hydrating yet firming eye cream (I love Creme de la Mer), I used Bobbi Brown Corrector and Concealer set with a light dusting of the Loose Powder as well, keeping her smooth, bright and polished under the eyes.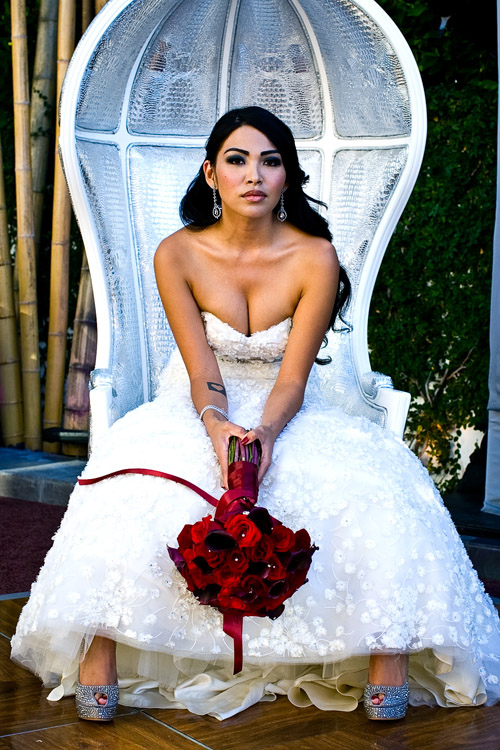 The Face: On her face, I primed her combination skin with a Paula Dorf Foundation Primer. I then used a Shu Uemura creamy foundation mixed with mineral water to give a flawless, semi-matte yet glowing finish set with a little Laura Mercier Translucent Powder. To enhance and warm up her now even skin-tone, I used a light dusting MAC 45 Studio Fix on her face, neck, decolletage and shoulders. I then framed her face with bronzer and on her cheeks used a neutral blush with a "pop" of sheer pink and finished with a subtle bit of shimmer to hi-light her cheek bones and bridge of her nose.
The Lips: To balance this look and not be "all eyes" I choose a beigy/pink neutral lip color with a hint of golden shimmer lip gloss.
Special Tips: When you use skin-tone correct bronzer beneath the cheekbones, a "pop" of color on the apples of the cheeks and hi-light the cheek bones, it gives more definition and contouring effect that looks just as fabulous in person as it does in the pictures.
This look works best for a bride who wants to look feminine in a fun and sexy way. This bride typically loves playing with make-up and loves wearing it. On the day of her wedding, she wants to look glamorous and create a "red carpet effect", and she's not afraid of being the center of attention.
(Images above by Robert Evans Studios)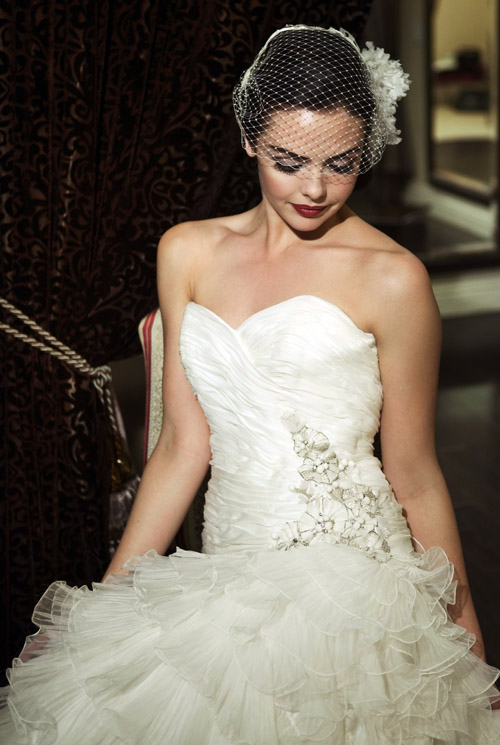 The Look: This look is all about sophisticated glam, elegance and 1940's retro with an edge. The emphasis is on glowing dewy skin, dark red lips, strong eye liner and major lashes.
The Eyes: As I mentioned above, I always start with the eyes. For this look I didn't want the eyes to compete with the lips and look too made-up or overdone. Because we decided that we wanted the eyebrows to be strong as well I filled them in with a brow powder to enhance her great existing shape. Eyebrows are always key because they frame the face- they must be groomed and not look "drawn on". If you have a full brow, powders work best and look the most natural. If you don't have very much hair in your brow or not much of a shape, using a non-oily eyebrow pencil alone or along with an eyebrow powder will look natural and have great staying power.
As you can see, this bride has AMAZING green eyes so after priming them with a Bobbi Brown's Vanilla Eyeshadow Stick, I used Shu Uemura ME Brown 850, a taupe/plum/grey eyeshadow with a subtle shimmer (not glitter) on the lids. I then used Laura Mercier Coffee Ground Eye shadow, a matte medium toned gray color in her crease (focused on the outer corners) and finished with a shimmery hi-light in her inner corners and brow bones using Shu Uemura Pearl Powder. For eye liner (a key part of the look) I layered and blended both Shu Uemura M Black Eye pencil and Bobbi Brown Black Gel Eyeliner, for waterproof wearability, above and below the lash-line. Lastly, on curled lashes with black waterproof mascara, I applied a strip of false eye lashes as well as a few medium length individual false eye lashes on the ends to complete the look. The lashes add drama and glamour that looks just as stunning in person as it does for the photos. To complete the perfect eye, after eye cream, I applied a creamy concealer, one shade lighter than her skin-tone, and a light dusting of Bobbi Brown Pale Yellow Loose Powder.
The Face: I wanted her skin to be in one word… luminous. To create her flawless, glowing skin I primed her moisturized face with a dab of Laura Mercier's Face Primer. I then mixed Shu Uemura Depsea Mineral Water with Bobbi Brown Foundation Stick and set with Laura Mercier Translucent Powder. I used the same hi-light powder that I used on her eyes on the bridge of the nose, mid forehead and collar bones. I didn't use bronzer on her face because I wanted her face even and fresh, not looking tanned. I did use a neutral berry "pop" of color to give a warm, yet vibrant effect and compliment her lip color.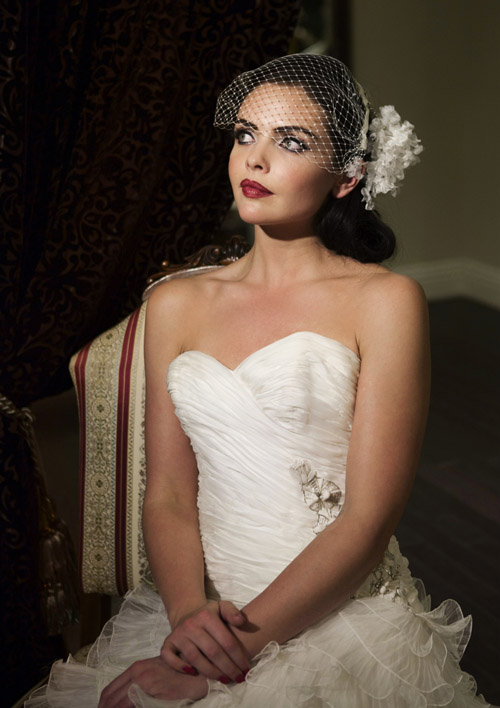 The Lips: As you can see, her lips are the main focus. The lips look plump, fresh and semi-matte. The bride has a good amount of yellow and pink undertones in her skin therefore choosing a red lip color was easy. I went with a warm toned red by Bobbi Brown named Burnt Red and went with a deeper, cooler toned lip pencil by Nars named Amazon. This gave the perfect red balance. Remember when using a red lip color, it's very important to finish the look with a lip pencil so it looks polished, clean and the lip color will last longer. Do make sure that the lip pencil isn't too dark or too bright. When applying stronger lip color, I feel it looks best and wears better if you apply the lip pencil after the lip color so the color won't bleed.
Special Tips: Though I didn't use a bronzer on her face, I did use it on her decolletage and tan lines so her skin-tone looked blended, sheer and even. When it comes to selecting a bronzer, I prefer no shimmer (so it looks more natural and better in photos). You want to use a bronzer that enhances your skin's natural undertones. Look at the inside of your forearm to help you notice if you are more golden, red, brown or pink.
Also, when applying a darker lip color, it is easiest and "goof-proof" to do it with a lip brush vs. the tube. You can control it much better and gives a much longer lasting finish.
This classic/elegant/vintage look is for a bride that is not afraid of dark lipstick and lashes. If you don't usually wear strong color on your lips, your wedding day is not the day to do it. You don' t want to look back on your pictures years down the road a wonder, "what was I thinking?" You want to recognize yourself and feel like the most fabulous version of you. You can always do a toned down version of this look using a sheer red or berry color with a neutral lip-tone lip liner, a lighter eye liner color like grey or brown and use a few individual false lashes on the ends with out a strip. The look should suit your style and comfort-level best!
(Images above by Duke Photography)
Thanks so much Tara! Love it! For more make-up tips and real wedding looks, be sure to visit Tara's blog too.