When it comes to capturing the essence of your love story, nothing quite compares to a diamond wedding band that perfectly complements your cherished engagement ring. But finding the right band that not only pairs nicely with your ring but also matches your style can be tricky.
As you begin your search to find one, you may be wondering where to look (hint: Frank Darling) and what to consider. Luckily for you, we're answering all of your burning questions and helping you create the perfect wedding ring stack that you've had saved to your Pinterest board for years.
Tips For Wearing Your Engagement Ring and Diamond Wedding Band
Choose the Right Fit
By the time you choose your wedding ring, your engagement ring should be sized to your finger perfectly. When pairing it with your wedding ring, there should be enough space to accommodate both rings without feeling overly tight or loose.
Opt For a Contoured or Custom Wedding Band
If your engagement ring has a unique shape, you might need a custom-made wedding band to ensure a perfect fit. Luckily, Frank Darling helps you create the ideal ring, but we'll get to that a little later.
Wedding Band Idea: The Classic Eternity
Coordinate Metals and Styles
Matching the metals and styles of your engagement and wedding rings can create a timeless look that will never go out of style. For example, if your engagement ring is made of white gold, you might want a white gold wedding band with similar details or embellishments. Mixing metals can also be stylish if done intentionally, but there's a chance it could end up looking outdated down the line.
Wedding Band + Engagement Ring Idea: Breezy Bezel + The Briquette
Consider Enhancers and Inserts
If you love the idea of wearing both rings together but have an engagement ring with an intricate design or a raised setting, enhancers or inserts can help create a unified look. These are custom-made bands designed to wrap around your engagement ring, holding it in place and giving the appearance of a single, cohesive piece.
Wedding Band Idea: The Vow Band
Where's the Best Place to Buy a Diamond Wedding Band?
While there are a lot of jewelers to consider when purchasing your diamond wedding bands, one of our favorites is Frank Darling. Not only do they have three different showrooms that you can physically visit in NYC, DC, and San Francisco, but they also have a wide array of choices, so you can feel confident in the ring you choose.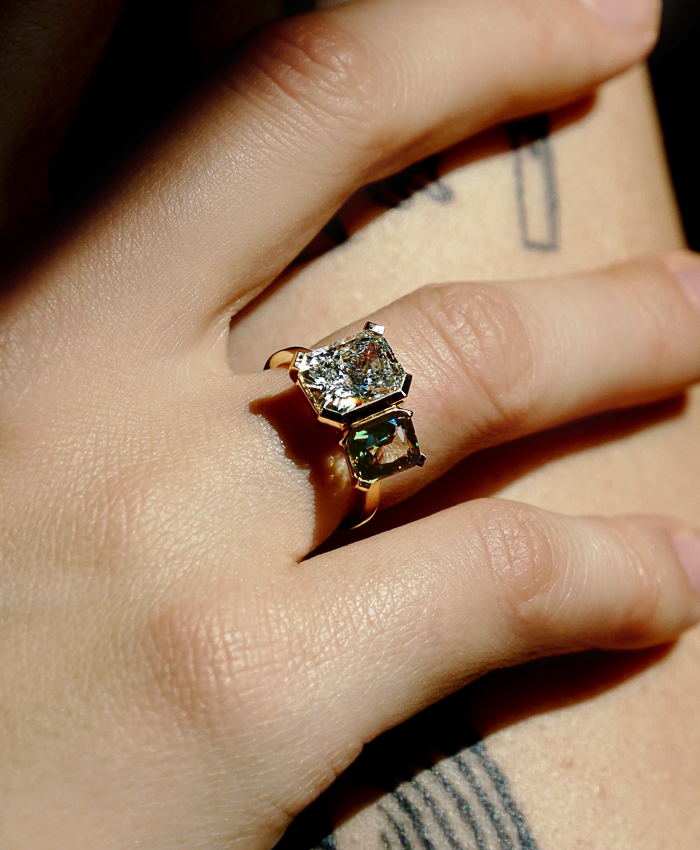 What Makes Frank Darling Stand Out?
Frank Darling is proud to be transparent about their materials and their pricing, something that can be hard to find when ring shopping. You either find high-quality diamonds with insane mark-ups or low-quality diamonds with price tags that are far too large for what you get. Not with Frank Darling.
They only sell conflict-free diamonds (and stunning lab-grown diamonds, as well), relying heavily on the Kimberley Process. Every ring also happens to be made from 100% recycled metals–it doesn't get much better than that.
Lastly, as if those weren't good enough reasons to consider Frank Darling, they also offer both an 'in-home try-on program' as well as a hands-on, educational, and transparent concierge service, so even if you aren't close to one of their showrooms, you can still custom design the exact ring that you've been envisioning for months (for free).
Some of Our Favorite Frank Darling Diamond Wedding Bands
It's important to note that some of these rings–specifically the Rock Candy collection–are designed to feature lab-grown diamonds. However, they are available with natural diamonds if requested. That's just one of the many perks of working with Frank Darling.
Love Frank Darling as much as we do? We don't blame you. Now it's time to get that perfect diamond wedding band made! Visit one of Frank Darling's showrooms or book an online consultation to virtually speak with one of their expert designers.