Back in October I wrote a post about damask wedding day design, and I still get questions about it all the time. Damask is such a gorgeous and classic pattern, and recently it has made a huge comeback as both an elegant, traditional look and and as a funky, retro, visual dynamo. I love this pattern both ways, so I scoured the internet looking for some more fun damask wedding ideas. Enjoy!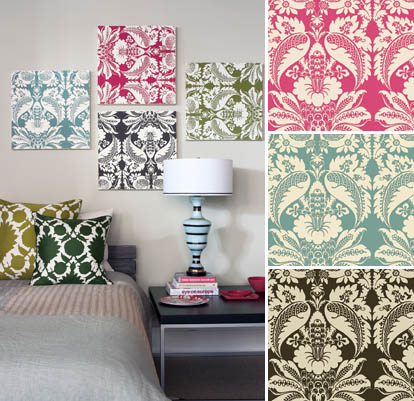 I love these hand painted damask canvases in brown, berry and aqua by Thomas Paul,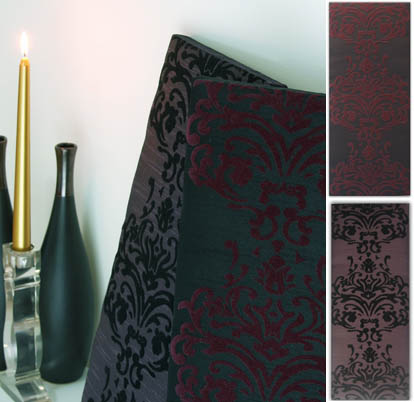 and these fabric art panels of traditional flock damask design printed on a fine silk background in black and damson damask, available at Graham and Brown.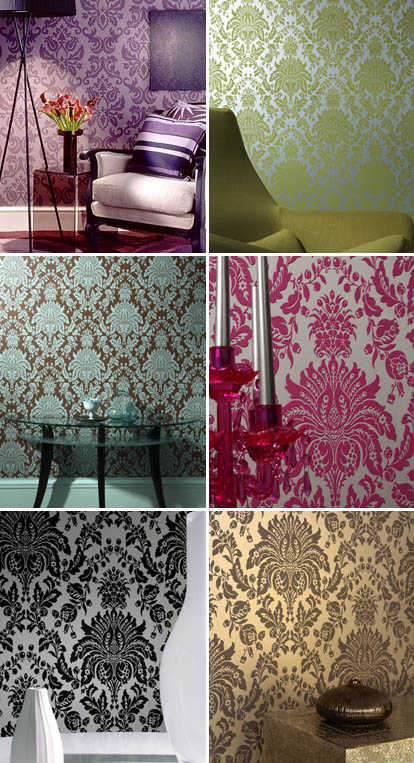 Graham and Brown also creates these stunning damask wallpapers, perfect for the DIY bride looking for gorgeous crafting paper for damask wedding invitations, damask place cards, damask favors, and more. These colorful patterns are just amazing!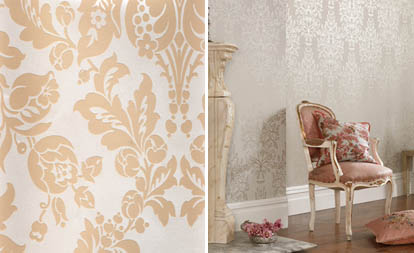 Or you could go with their creamy, tone on tone beige or light beige.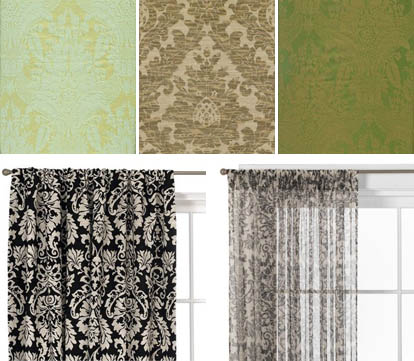 Fabric stores like Joann Fabrics usually carry all kinds of damask fabrics like these driftwood, beige and green designs, or if you're having trouble finding fabric, try buying inexpensive window panels like these solid and sheer options by Waverly at Target. They have lots of yardage to be made into damask table runners, napkins or other table linens.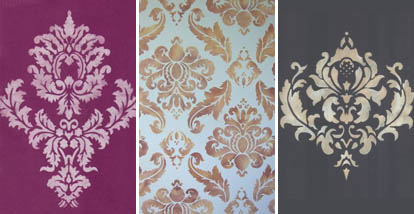 For DIY projects, these cool damask stencils from MyStencil.com could also come in handy.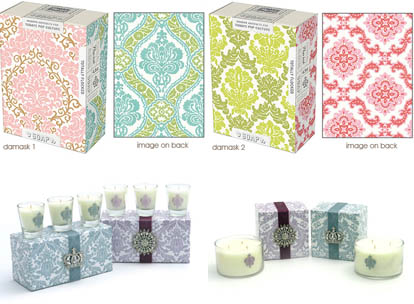 For damask printed wedding favors check out these fresh verbena and lavender soaps by Pop Ink at Day-Lab.com, and for thank you gifts for your girls check out these pretty 3 piece votive sets and single candles by Archipelago Botanicals Royals.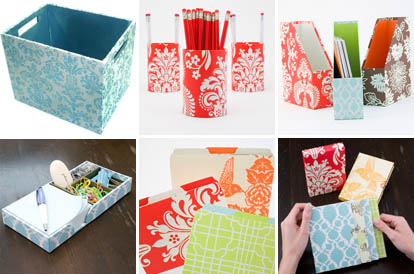 Last but not least, my favorite items (because I love to organize!) are these bright and colorful damask printed office supplies to help you keep all your wedding planning information in order. Keep odds and ends in this silver and blue damask storage tote from Target, tidy up your work space with Thomas Paul's pencil cup, wedding magazine holder and desk tray, keep your ideas in order with Thomas Paul's file folders, and jot down all your inspirations in Thomas Paul's mini notebook trio, all available at SeeJaneWork.com.