When you're a wedding photographer who has attended many, many (many!) weddings, what do you do to set your own big day apart? Well, if you're South Africa's Greg Lumley of Greg Lumley Photography and his new wife Tiffany, you get super creative and honor your guests with personalized place cards complete with designs that represent their personalities, passions and dreams. So fun!
Tiffany gave us descriptions of many of their designs (below) and told us, "It took quite a lot of time but it was certainly worth the effort the guests felt so special and the looks on their faces when they saw what concept we had chosen for them was priceless! We had clips put on the top of each card so they could attach them to their clothing as name tags. Not only did everyone see who was who but the images were great conversation starters."
Each of Tiffany and Greg's one hundred guests had their very own place card, starting with Mr. Greg Lumley: the groom and Mrs. Tiffany Lumley: the bride…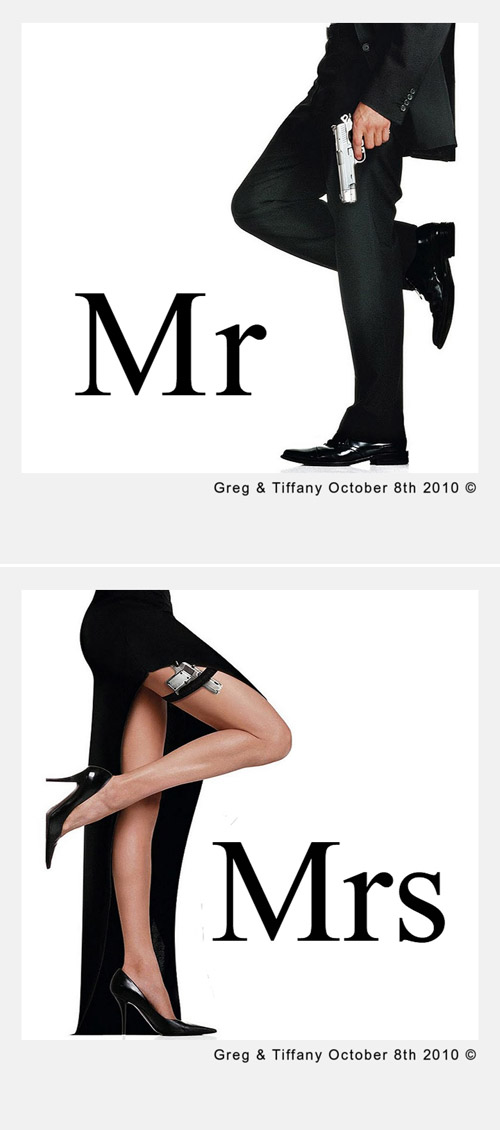 Andy: He has done the Iron Man two times. Sadi: She eats popcorn every single day of her life!! Leon: He runs his whole life by appointments work work work. Henry: This was a photo of him taken one night in the Jacuzzi. Thats actually me, the bride, appearing to be sitting on his head. Not sure if this passes the parent guidance rating! Jan: He loves SUSHI. Brennan: He loves any Apple Mac products he has every one! Theresa: She is a videographer. Sasha: 27 dresses movie poster she has been a bridesmaid twelve times but not yet a bride. John: He's a tennis player. Matt: He is a famous rugby commentator in Cape Town. Grant: From a high school prom photo. Janine: She loves famous people, wants to be famous and knows who all the celebrities are. Karen: She loves ice skating. Isabel: She starred in Les Miserables in South Africa…

Franco: He builds wooden decking for a living. Duncan: He's our best man who's always on standby for work and he often gets called to the office when we're out. Gerald: Greg and I met him and his wife on the island of Mauritius and there was a big cyclone while we were there. Terry: He's the father of the bride and is obsessed with travel. Mikey: His baby is an Audi TT and he drives it far too fast for anyones liking. Andrew Walmsley: He is a website designer. Brownwyn: She is a shoe queen she buys a new pair each week. Julian: He is a friend of ours who owns a black London Cab and we used it to get to the church. Molly: She is Irish. Pips: She is a nursery school teacher so we used jelly tot sweets to spell out her name. Mary-Anne: She is pregnant…

Thanks Tiffany and Greg! What a brilliant wedding idea!