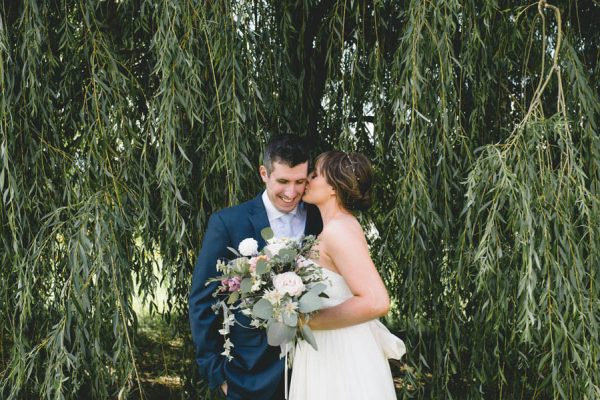 With Mt. Currie in the background, Stephanie and Colin said "I do" at North Arm Farm in gorgeous fashion. The couple love the color blue almost as much as each other, and they filled their days with the loveliest shades of the hue throughout their wedding décor. Their first look is one of the sweetest we've seen, with Stephanie having to take a moment to compose herself as she walked up behind Colin for the surprise. You can feel his excitement upon seeing his bride in the images so beautifully captured by BAKEPHOTOGRAPHY. After an intimate ceremony, guests were sat at a farm table that seemed to go on forever with friends and family of the happy newlyweds.
The Couple:
Stephanie and Colin
The Wedding:
North Arm Farm, Pemberton, British Columbia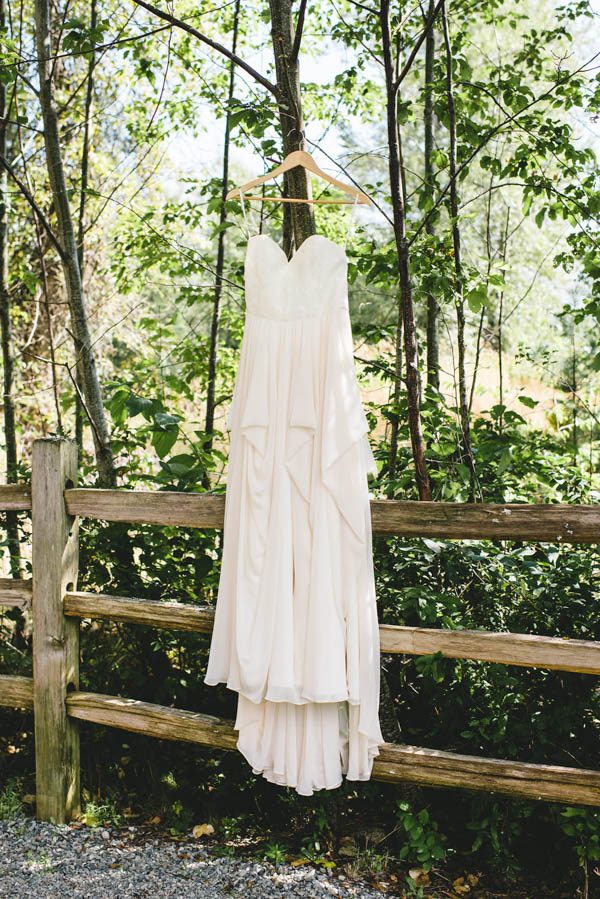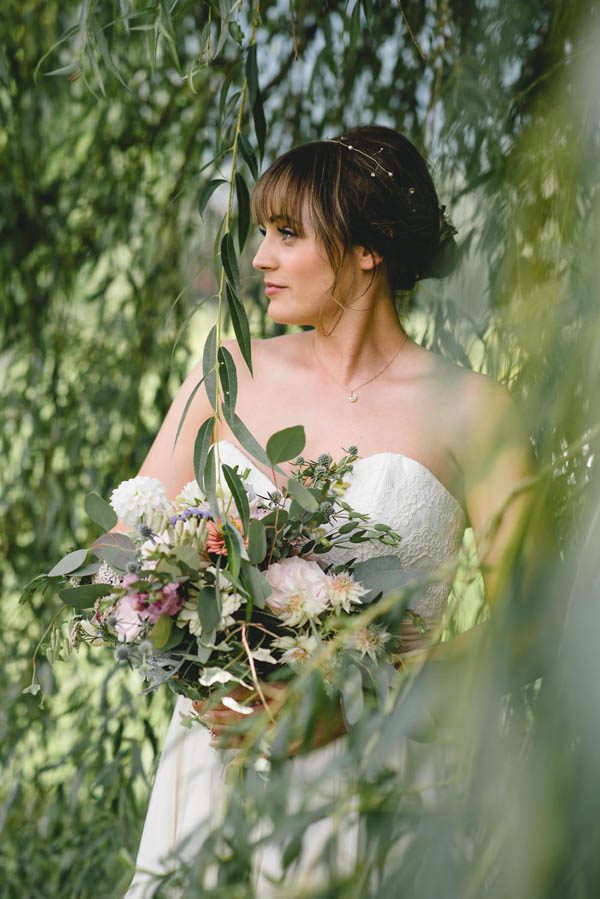 We have so many wonderful memories of our wedding that it's almost impossible to pick just one. If we had to pick just one, it would be our first look. We arranged with our photographer to have our first look take place at our wedding venue, in an open field with the stunning backdrop of Mt. Currie. This was our first chance to really be alone and share a special moment between us. Colin was standing out in the field waiting for me and as soon as I saw him, all of the emotions of the day hit me. Walking up to him, there were times that I had to stop and gather my composure. The smile on his face as he turned around is something that I will never forget.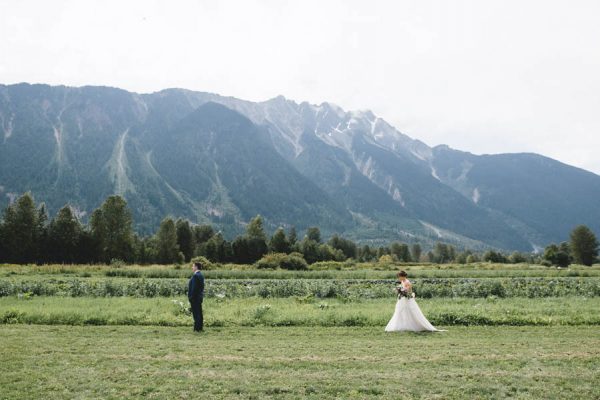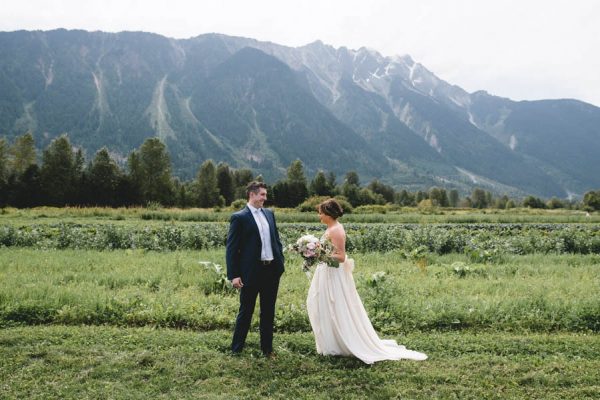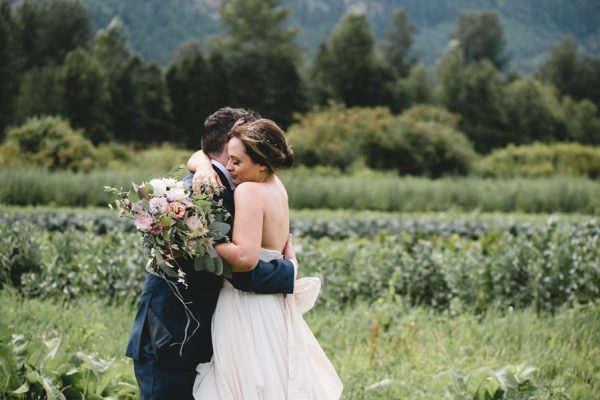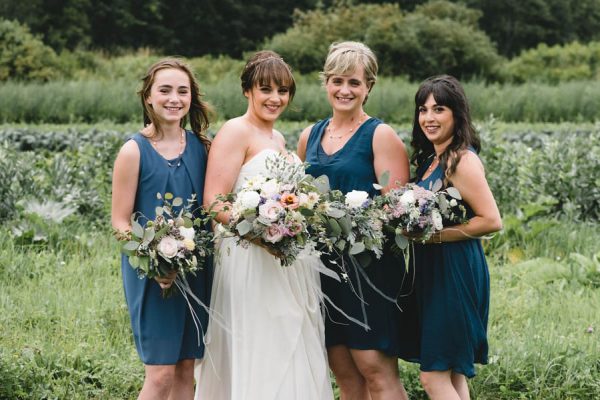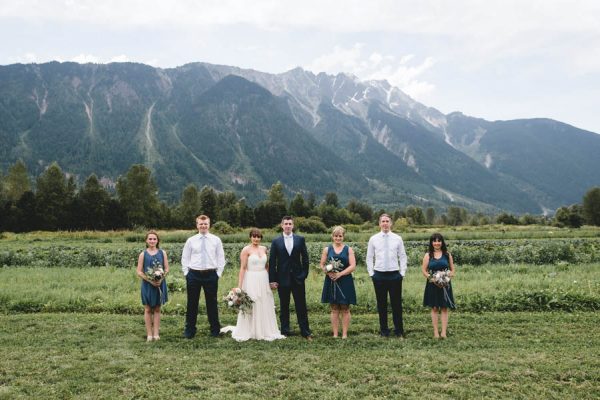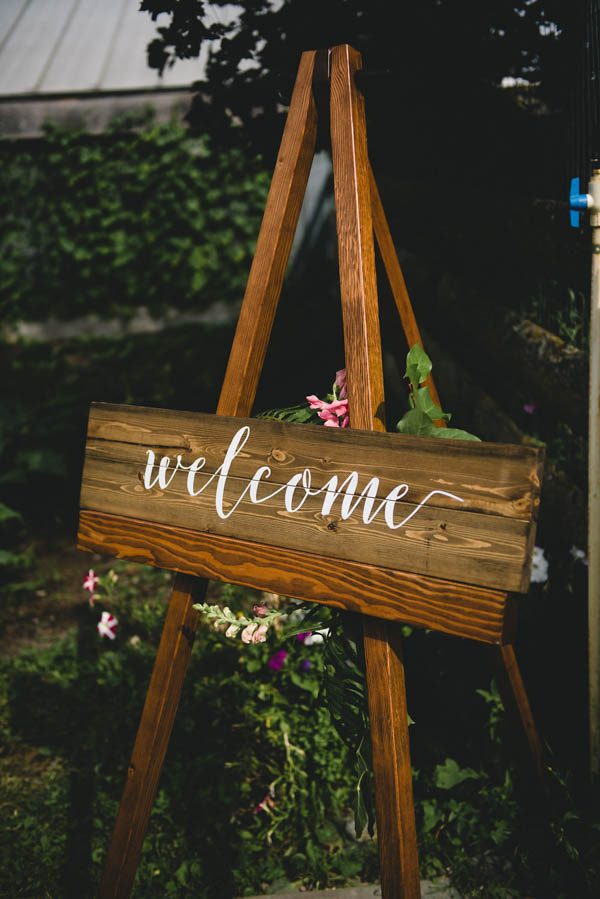 We came across our venue quite by accident. Since we were planning a summer wedding, we wanted to find a venue that would allow us to have our entire day take place outside. We had gone on a few different site visits but nothing had 'wowed' us yet. It was at this point that a wedding a friend of mine was a guest at popped up on my Facebook feed and I knew we had to make the trip up to see it in person. As soon as I walked through the barn at North Arm Farm, I knew that this was where I was going to be getting married, and thankfully Colin agreed! Big open spaces, beautiful mountains in the background and surrounded by all of the beauty mother nature had to offer. I was instantly inspired and knew that there would be no better venue for us — we had our wedding date booked within the hour.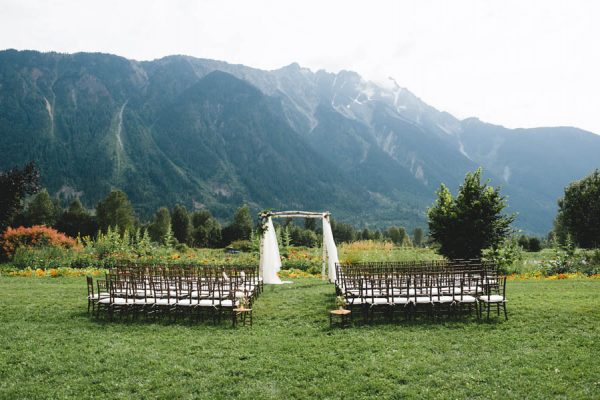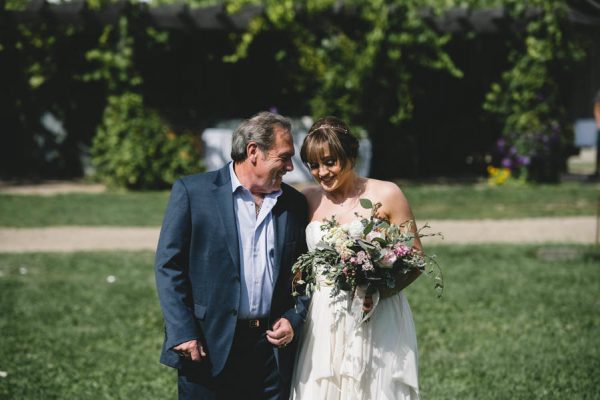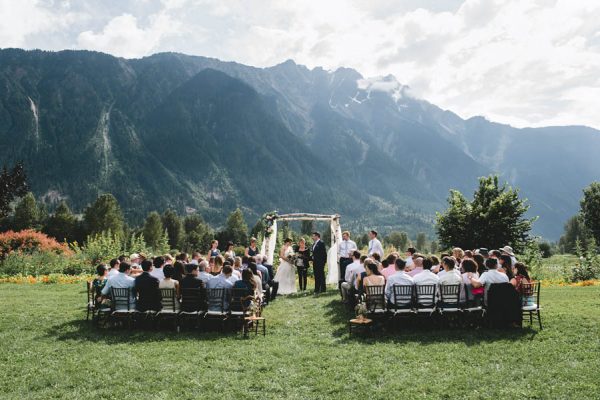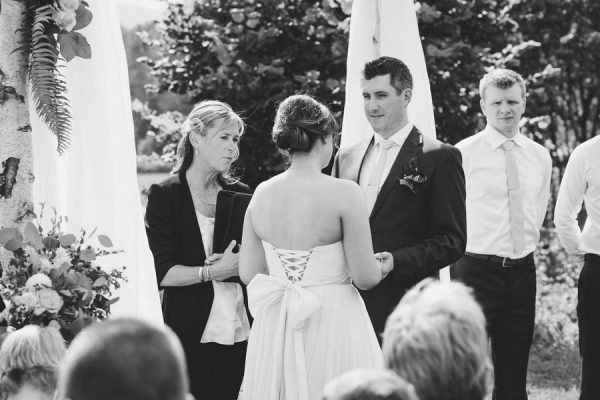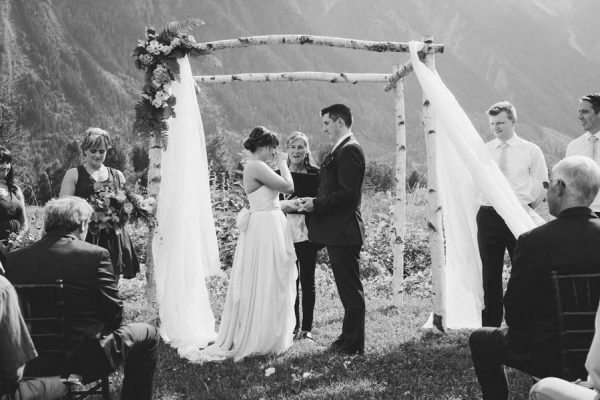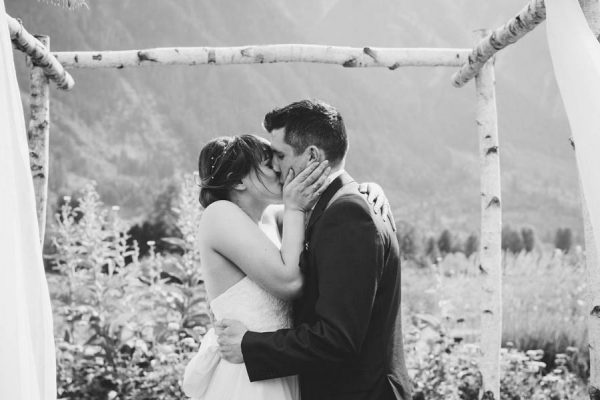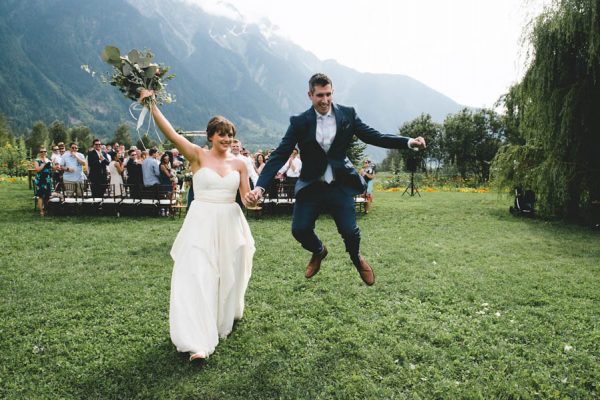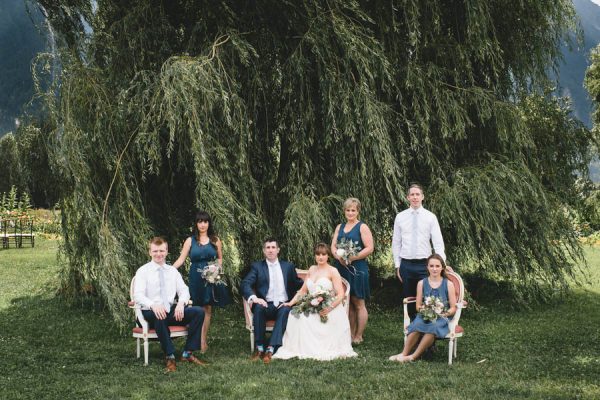 Besides the practical aspects like staying on budget, the most important thing for us was planning a wedding that stayed true to who we are and what we wanted our wedding to be. We knew that there were certain 'traditional' aspects to a wedding that we wanted to be a part of our day but there were also those that we didn't want to include. We wrote down key words that we wanted our wedding to embody and did our best to make sure we brought those things to life.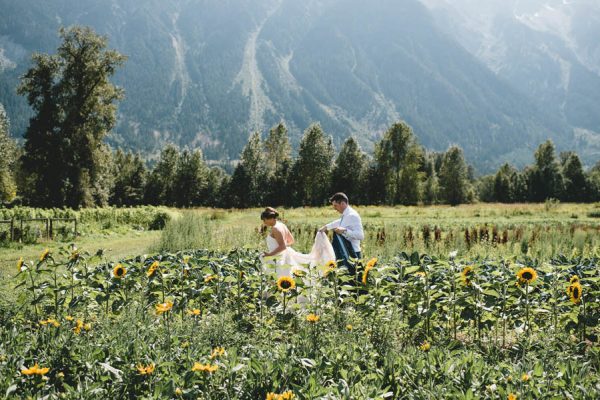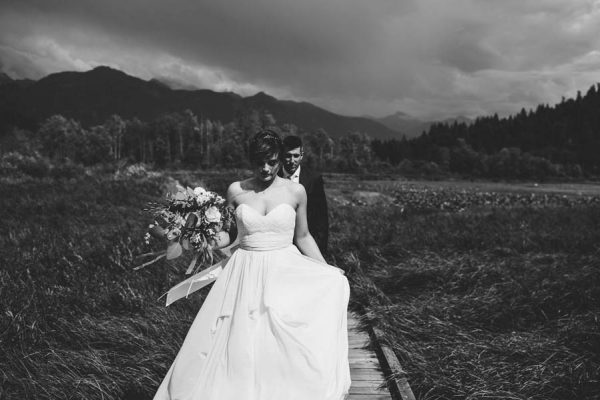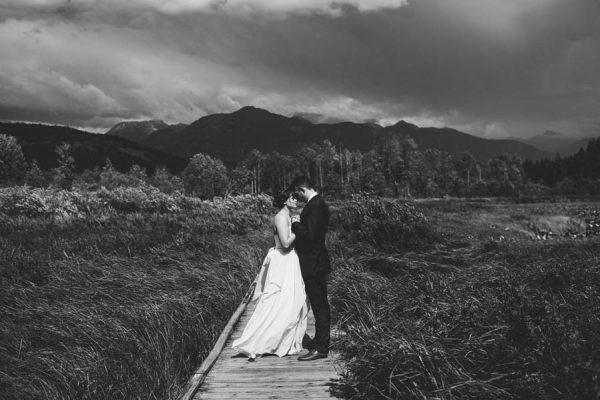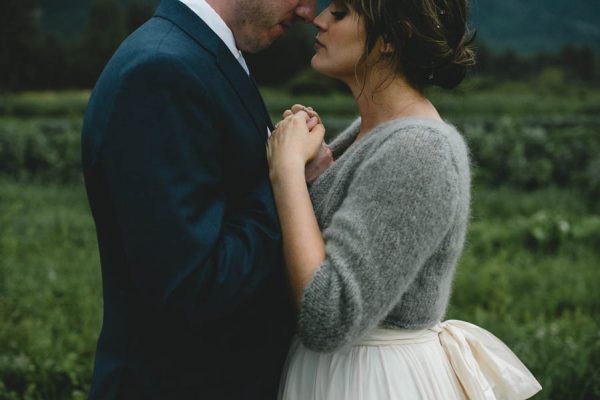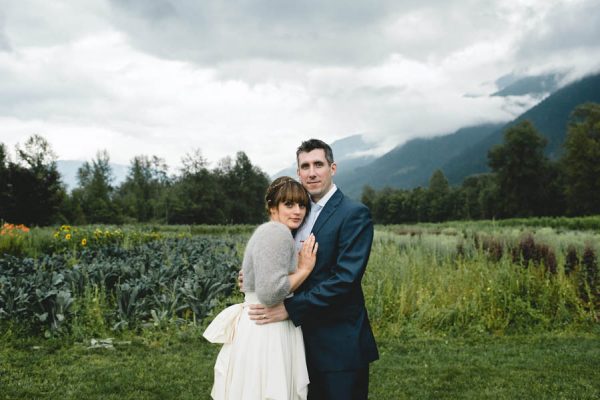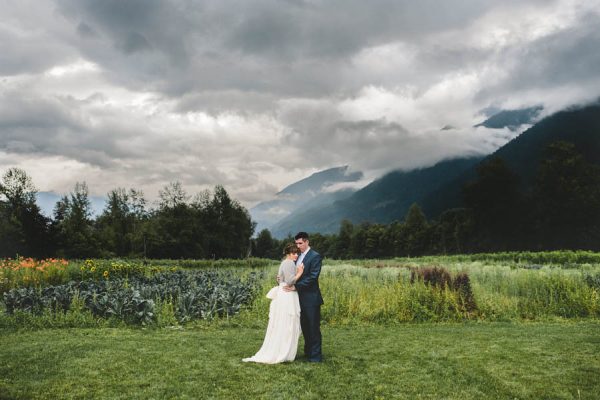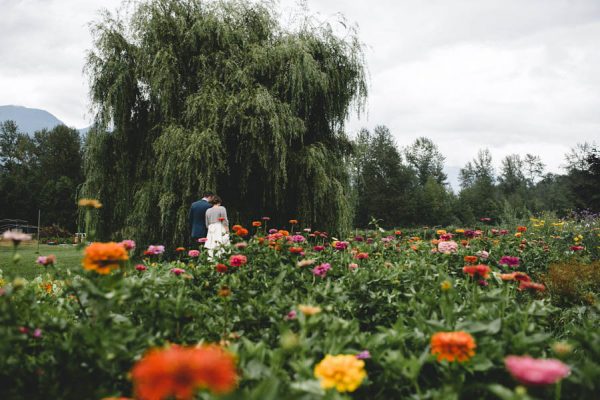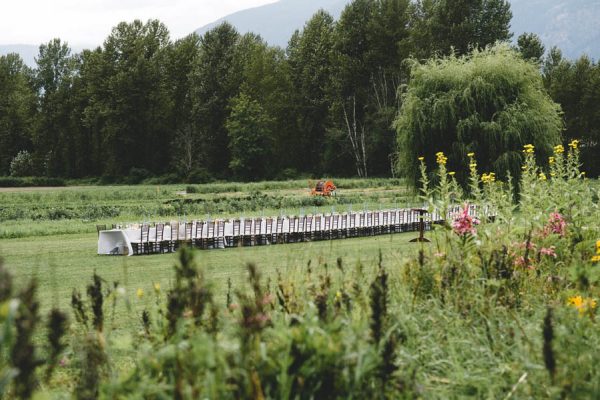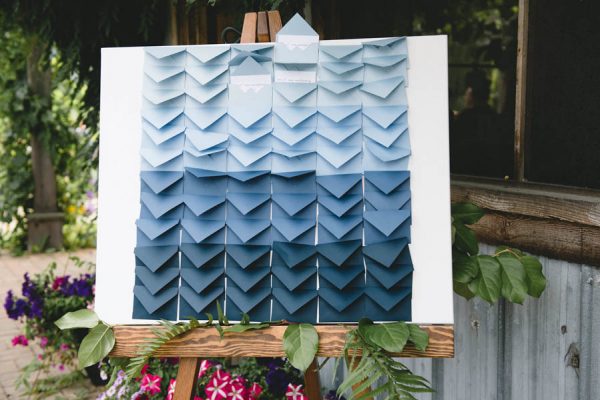 Our wedding colours were shades of blue (ranging from the navy of Colin's suit to the periwinkle of the candles to the serenity blue of the men's ties), natural greens, white and metallic accents of copper and gold. I knew I wanted Colin to wear a blue suit (and thankfully he agreed!) and then I started building our colour palette around that. What I found incredibly useful was going to our local Rona and pulling paint chips of the shades of blue that I was aiming for and having those on hand when I would meet with vendors.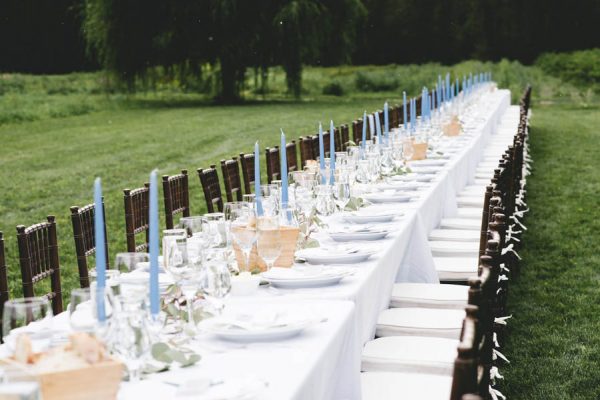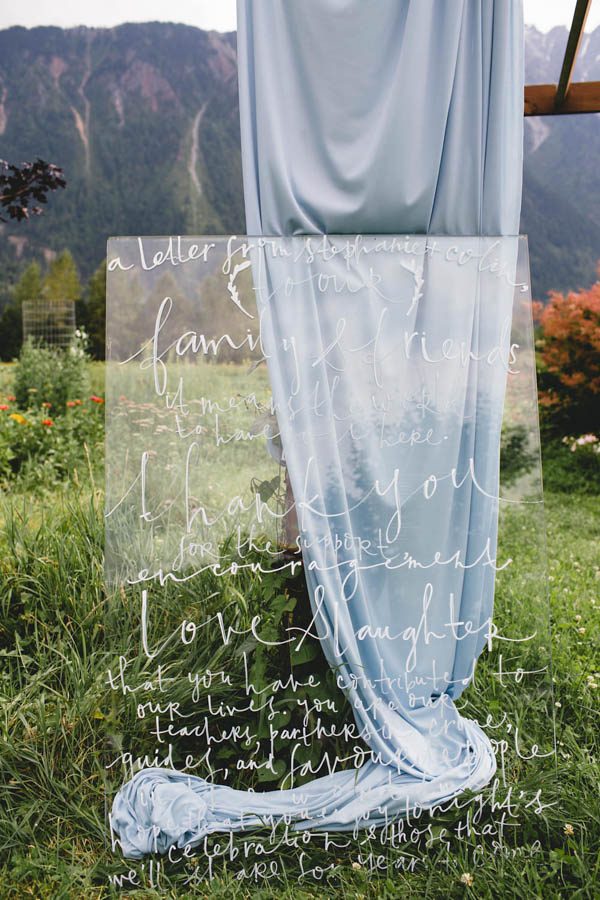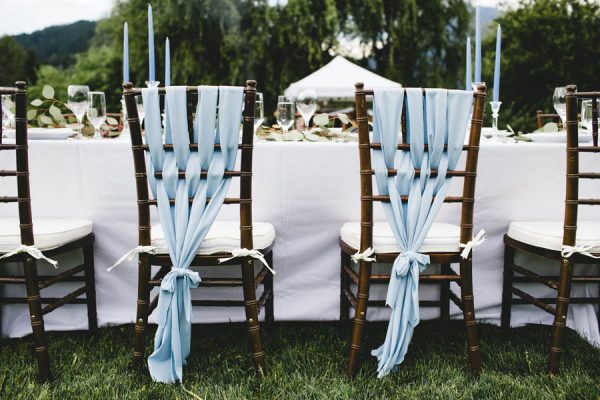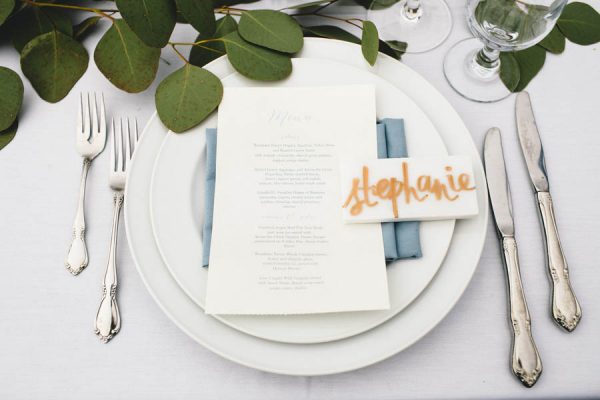 Simple. Romantic. Relaxed. Vintage. Natural. All of these words were key to planning our wedding vibe. Long table dinner in the field, lawn games to keep our guests entertained, delicious food, vintage furniture, signature cocktails, favourite literary quotes and signage on glass and a homemade dessert bar.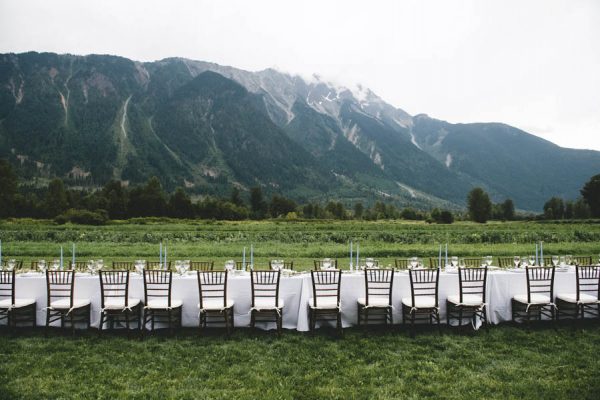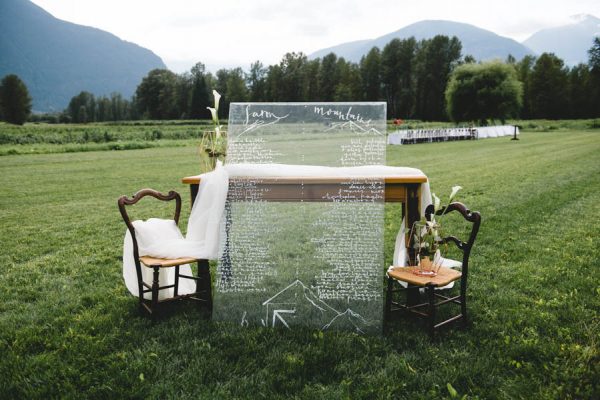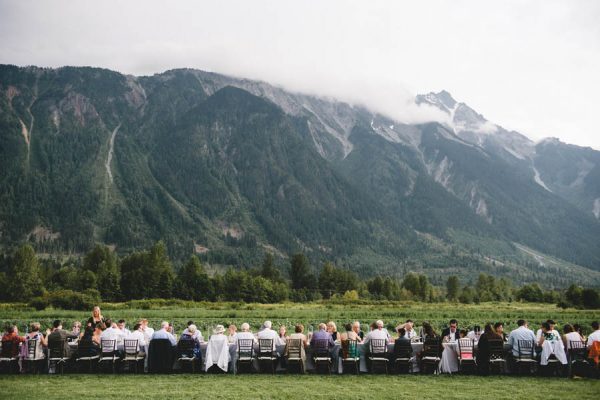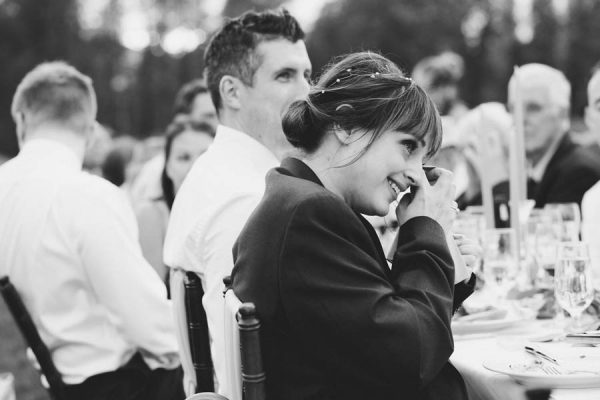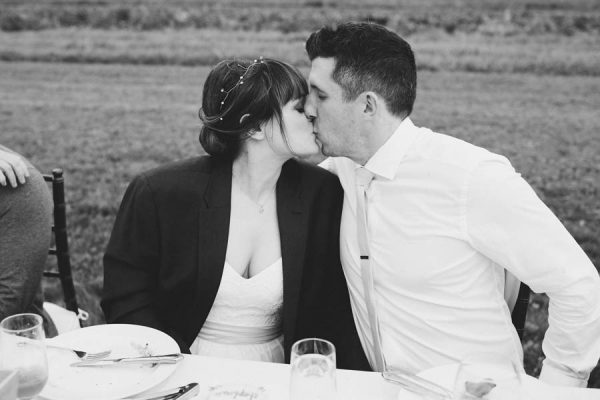 Colin and I are fans of edible wedding favours. In addition to the treat bags that were available for our guests to pack some homemade desserts in, we also had tea and jellybeans in small mason jars. We ordered five different loose leaf teas and varying shades of blue jellybeans and assembled our favours. Once they were in the jars, we placed a square of lace ribbon over the top, put the lid on and then tied a blue ribbon around the lid. The jellybeans were originally meant for the kids but I saw a few adults sneaking off with them!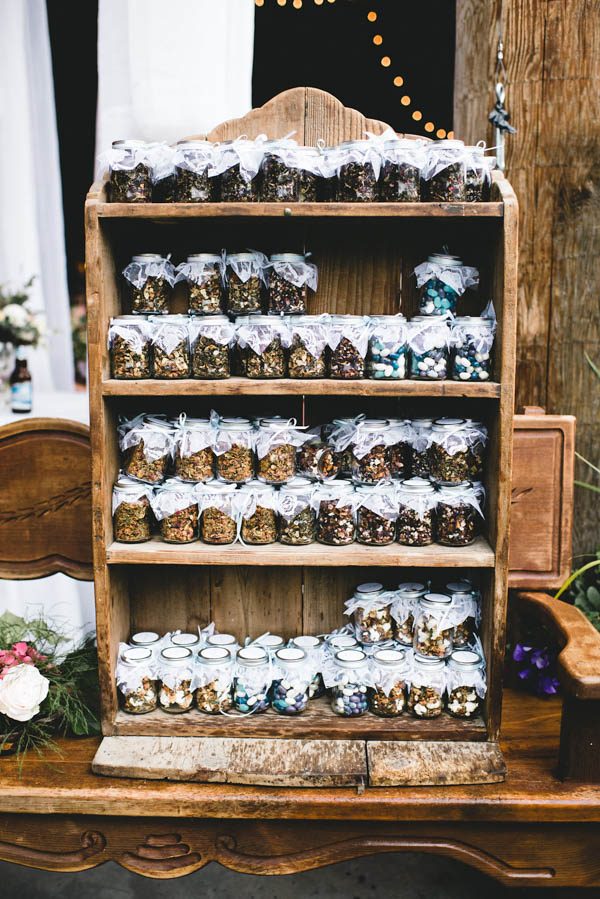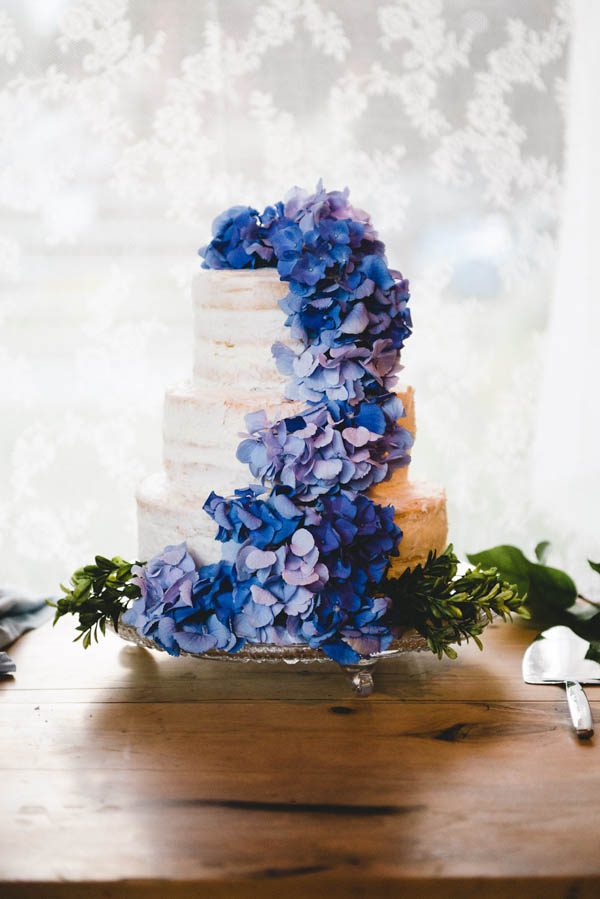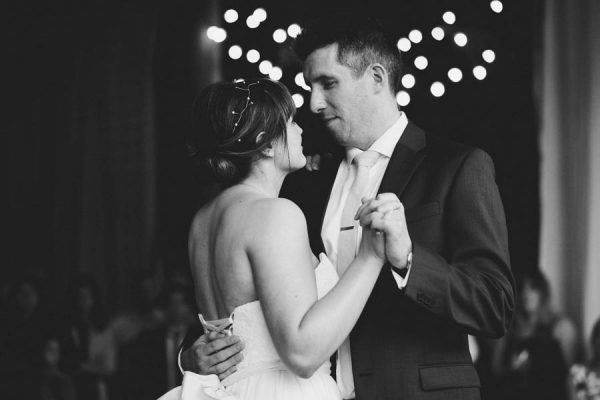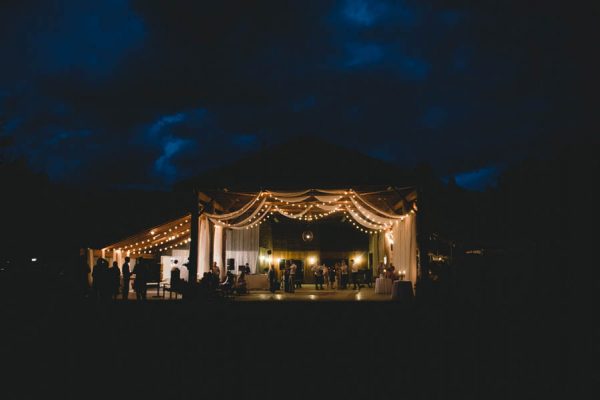 Congrats to Stephanie and Colin on their DIY North Arm Farm wedding! For more British Columbia wedding inspiration from BAKEPHOTOGRAPHY, check out Carlene and Russell's farmer's market inspired organic wedding.