While we are well into springtime this April, I couldn't help but share this gorgeous winter wedding from Alison Conklin Photography. If I could close my eyes and imagine the perfect snowy soiree, this would be it! With a cool color palette of soft whites and hues of silver and gray, sweet pine cone details and snow globes placed on a soft knitted tabletop, cozy mittens and roasting s'mores by the fire – what could possibly be better for a winter wedding?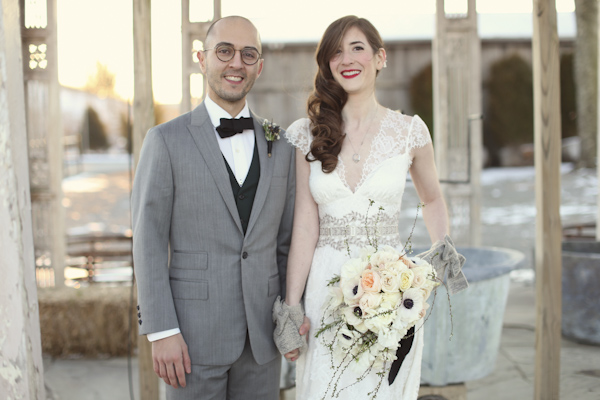 The Couple: Bridget and Tom
The Wedding: 1.26.2013 – Terrain at Styers, Glen Mills, PA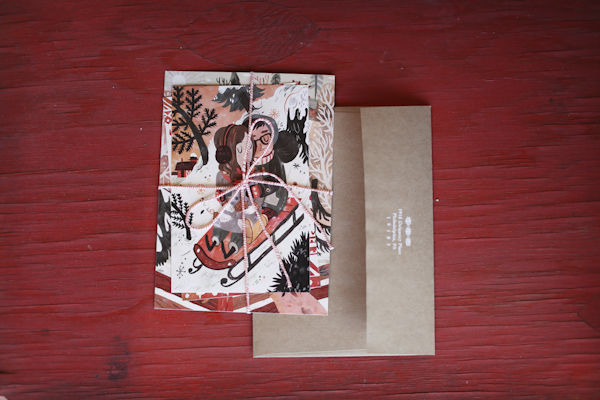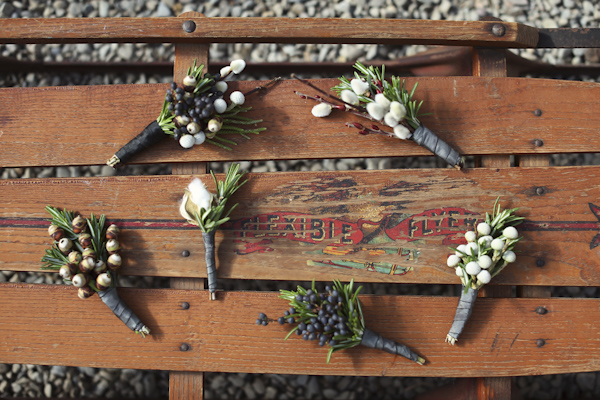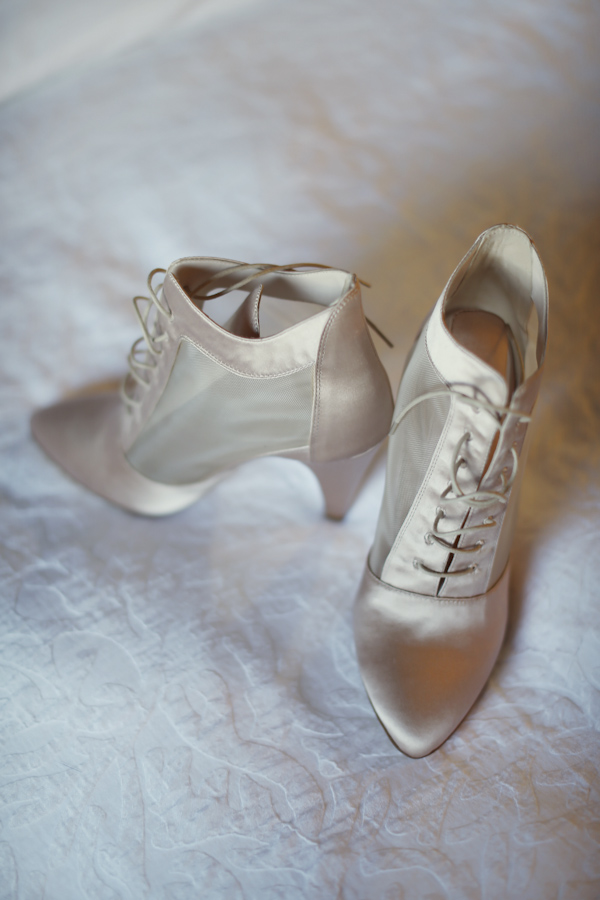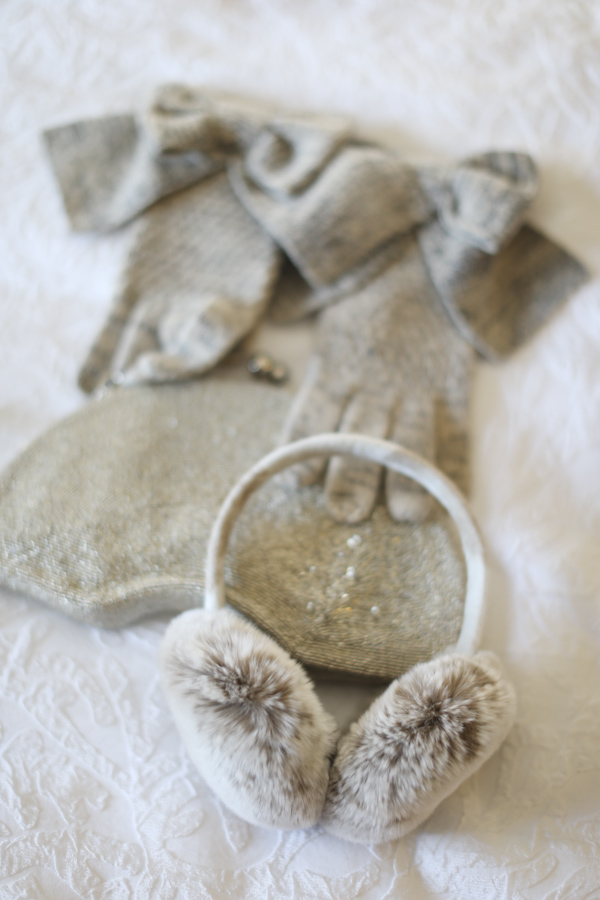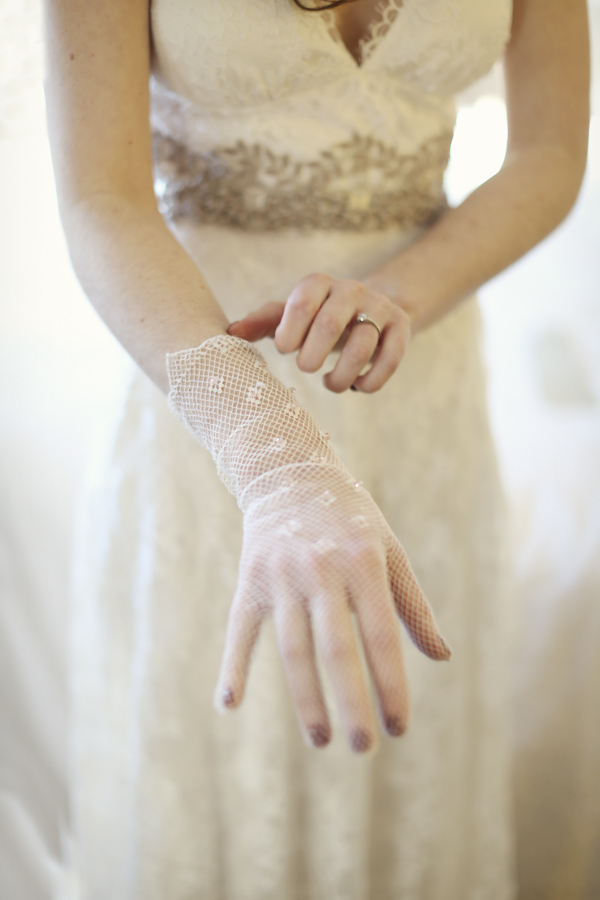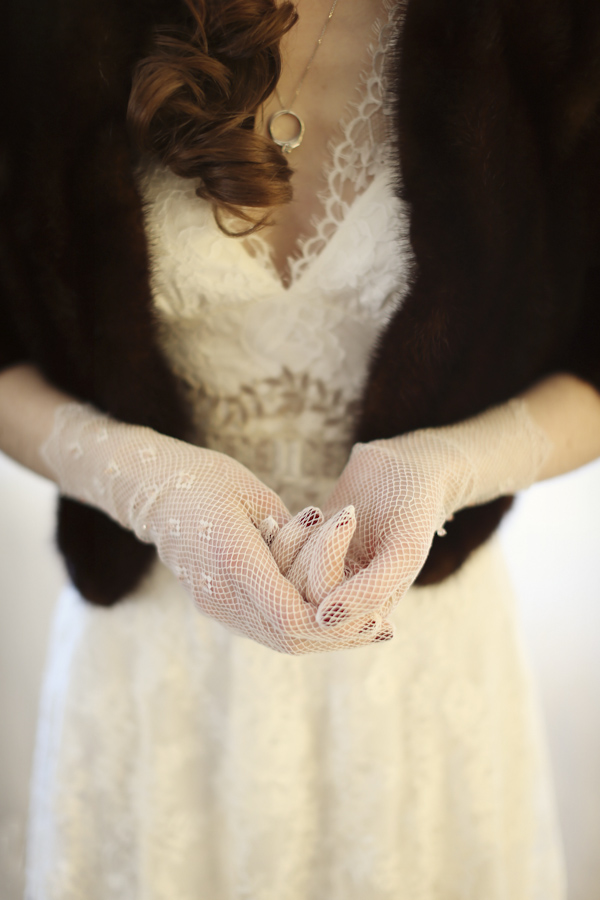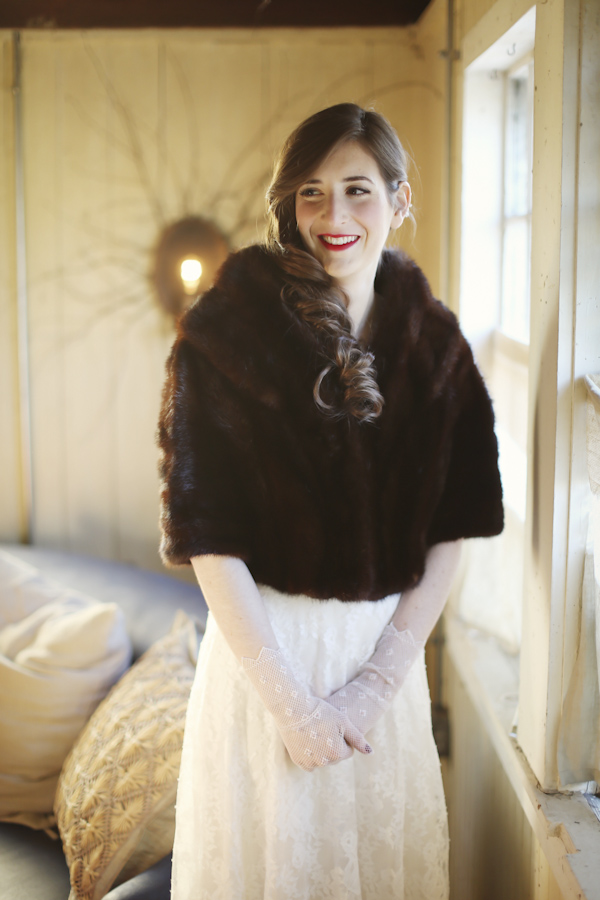 The Goals: Tom and I both envisioned a very intimate and warm setting. It was very important to us to have a relatively small wedding with just close family and friends present. (We both tend to get nervous in front of crowds, which is why it was such a great comfort to have my brother-in-law marry us!) Food was another one of our priorities–and it was one of the things that made Terrain so attractive to us as a venue! Food has always played a big part in both of our family lives; my mom is a chef and Tom's mom is a fantastic cook. We knew we wanted to have some of favorite Croatian (for Tom's family) and Polish (for my family) comfort foods served at the wedding. We wanted to create a sense of family and intimacy for all of our guests—and the best way we knew how to do that was through food.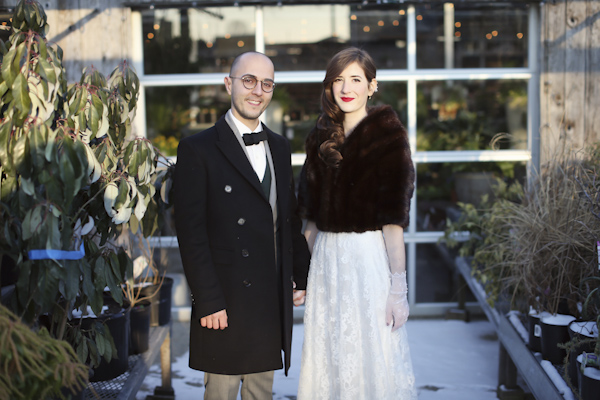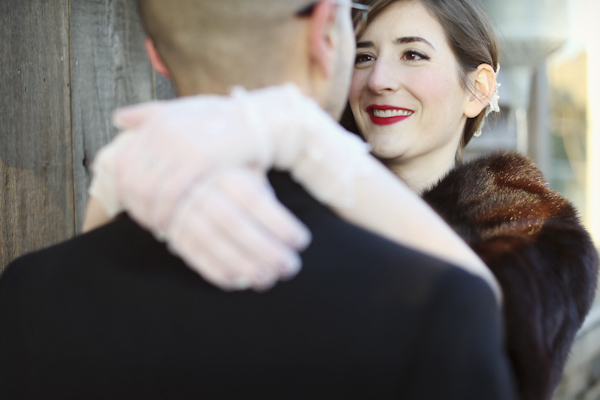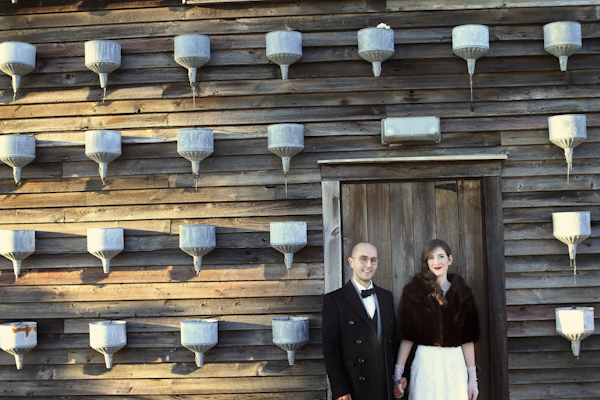 The Look: All along I felt very strongly about choosing a classic, traditional gown and creating a wedding day look that was very timeless. I saw the "Bridgette" dress (a silk, cap sleeved, V-neck lace gown with a silver guipure belt) from Claire Pettibone online and asked Marina at Nicole Bridal & Formal Shoppe if they could get a sample in the store for me to try. It was the first dress I tried on, and it just felt right. The dress was so lightweight and comfortable, very easy to move and dance in. The frosted silver belt fit perfectly with the winter theme of the wedding. I loved that the dress was very romantic and traditional, but the open lace back gave it a just a hint of edge. It's just a happy coincidence that the dress shares my name! I had a lot of fun with my accessories – and certainly made the most of having a winter wedding! To keep warm, I wore a beautiful, vintage fur stole, cozy bow-bedecked gloves that I found on a spur-of-the-moment visit to Anthropologie and rabbit-fur ear muffs from BHLDN. My blush booties were purchased from my favorite shoe designer, Loeffler Randall. For my beauty look, I was definitely inspired by the Old Hollywood look. I don't wear much makeup everyday but I love a bold lip for special occasions. My makeup artist used MAC Ruby Woo, which was just the perfect, quintessential red lipstick. My hairdresser Zaneta from The Studio CL totally nailed the vintage '40s waves.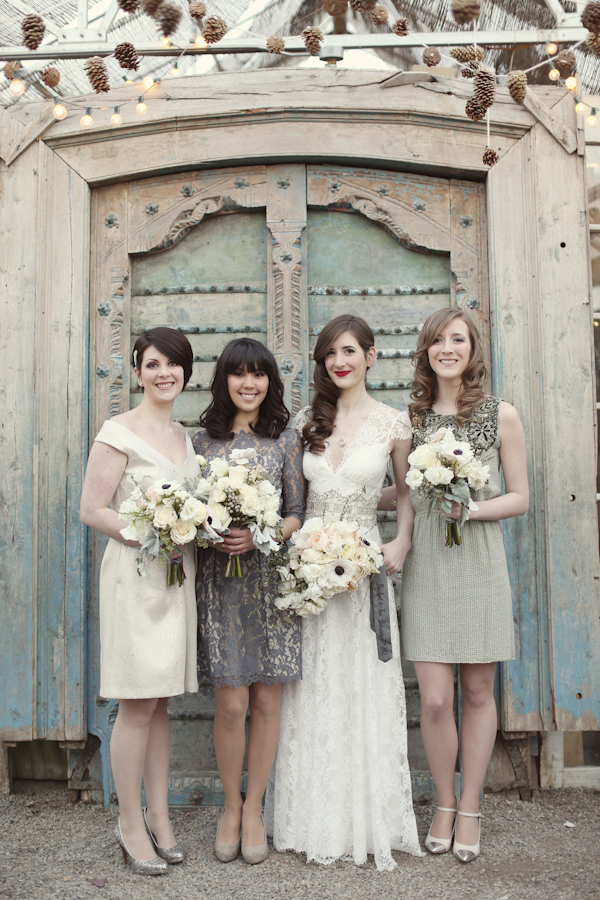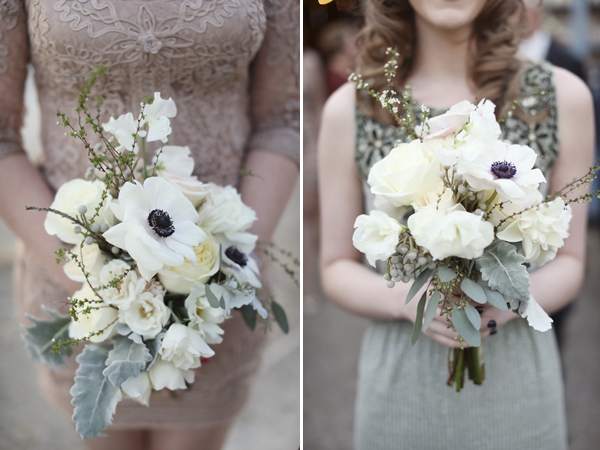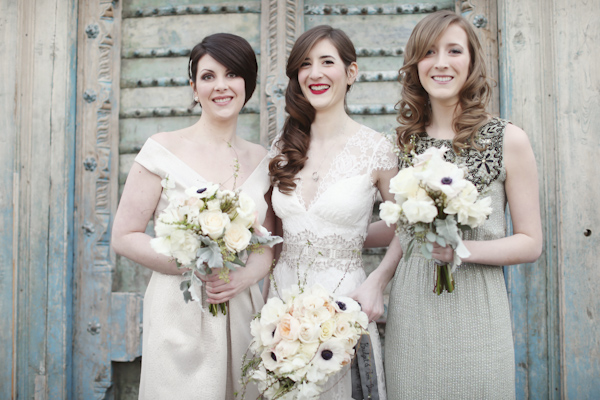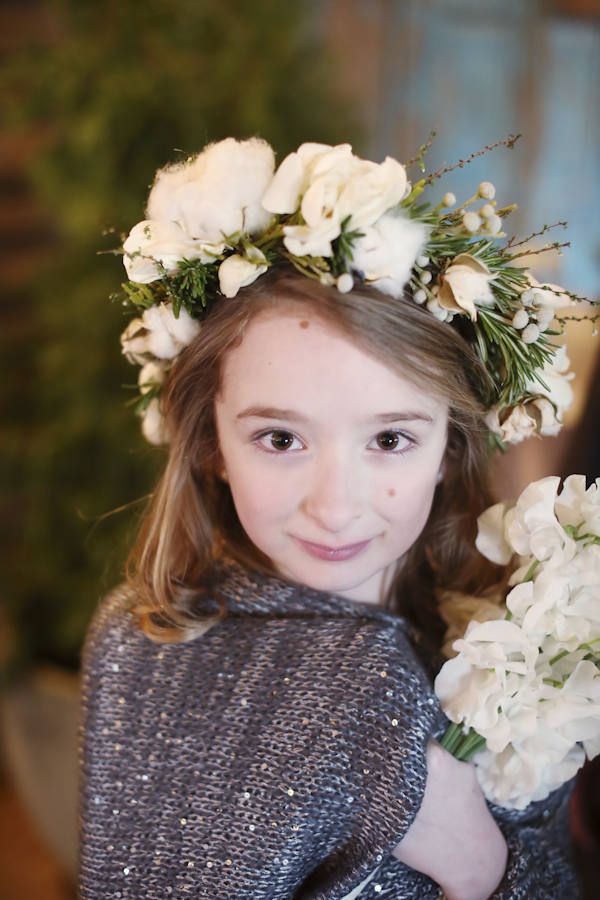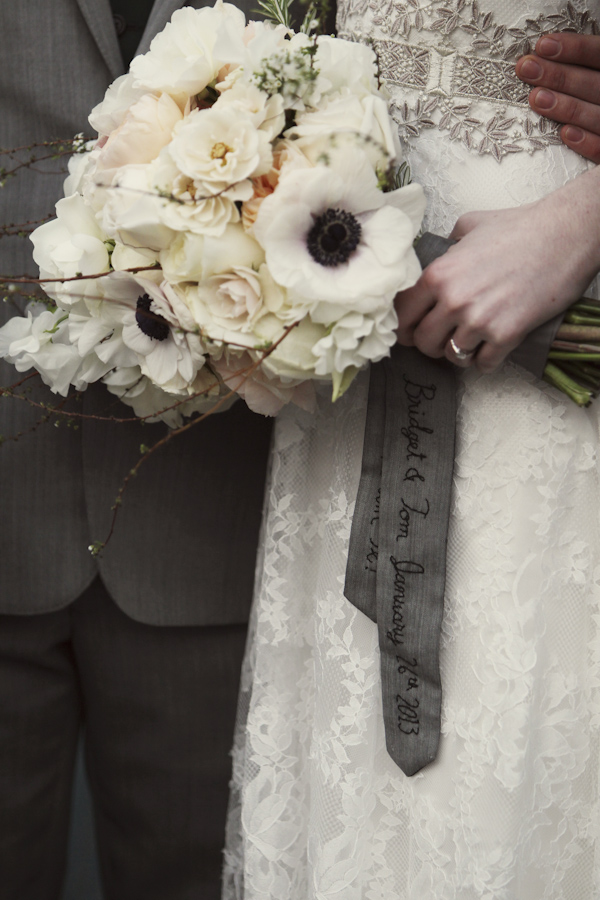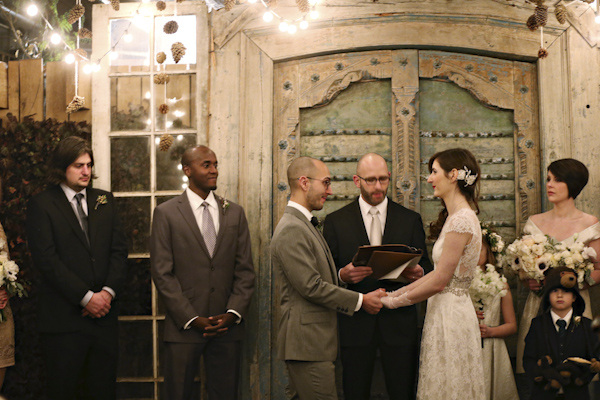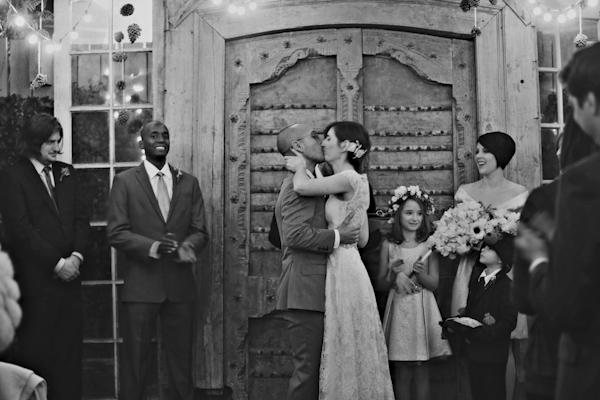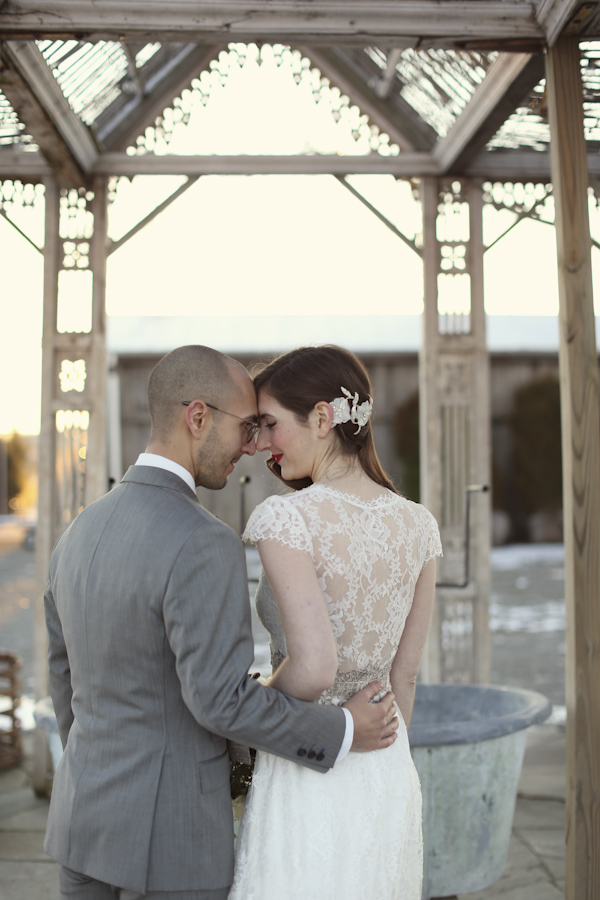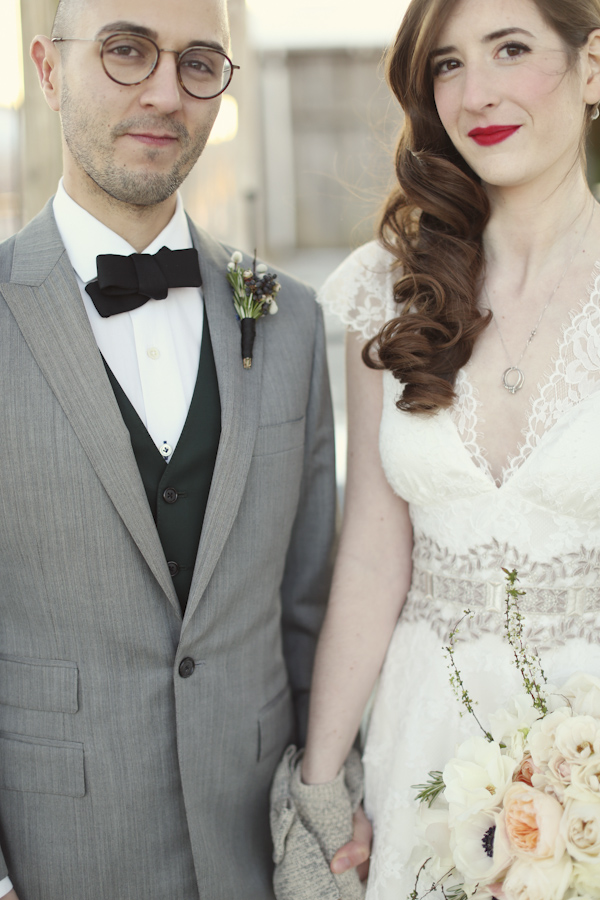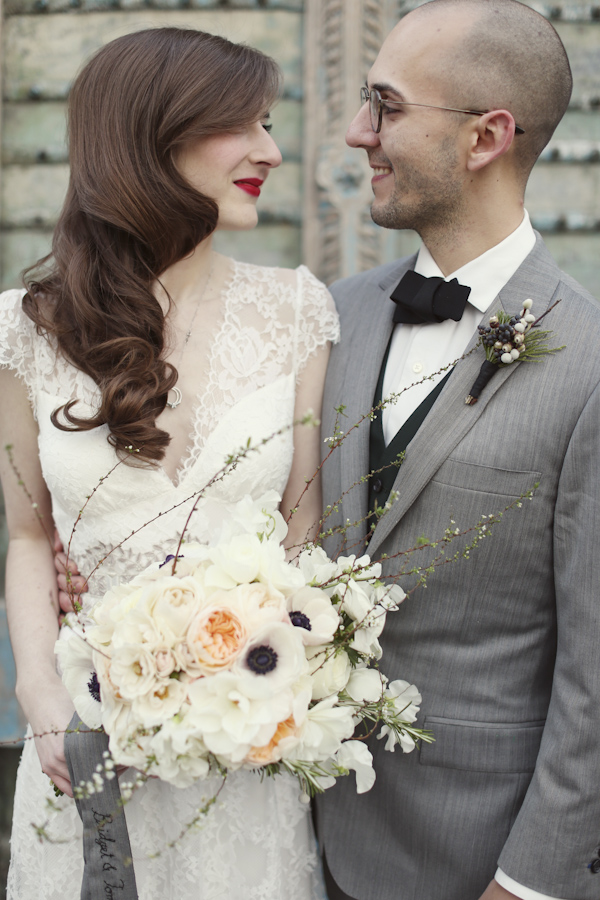 The Design: I wasn't ever motivated by a strong sense of color when planning the wedding. Instead, we had this vision of a nostalgic winter wedding, one that would conjure up memories of childhood snow days. My mom and I started thinking a lot about old Dick & Jane books and old Golden books, which eventually inspired the idea of our save-the-date and the custom illustration for our invite. From there, we thought about all the things we loved best about winter. We wanted our friends and family to feel as if they were encased inside a winter snow globe and recall the rosy cheeks and cold fingers and toes of childhood snow days. To warm up with cozy blankets and wool mittens and mugs of hot chocolate and roaring fire pits. The tables were decorated with knit table runners and snow globes that my family and I made out of mason jars, pine cones and bottle brush trees. My florist Sullivan Owen created beautiful wintery arrangements in mercury vases and bowls. She also turned a pair of vintage skis I purchased on eBay into a floating chandelier over the head table. She took the ice skates and sleds my family and I found at flea markets and thrift stores and made them come alive with cotton, flowers and pine cones. (Fun aside: I now work for Sullivan as her studio manager. I just couldn't get enough of her inspired designs!) The simple, rustic (and delicious!) cake was iced with a Swiss meringue butter cream and topped with pine cones and placed on a vintage child's sled that my mom found at one of her favorite antique shops. Our guest book was an old copy of The Three Little Kittens Golden Book – the story that inspired the little rhyme on our save-the-date. We used an old Nestle cocoa tin I found on Etsy as our card box.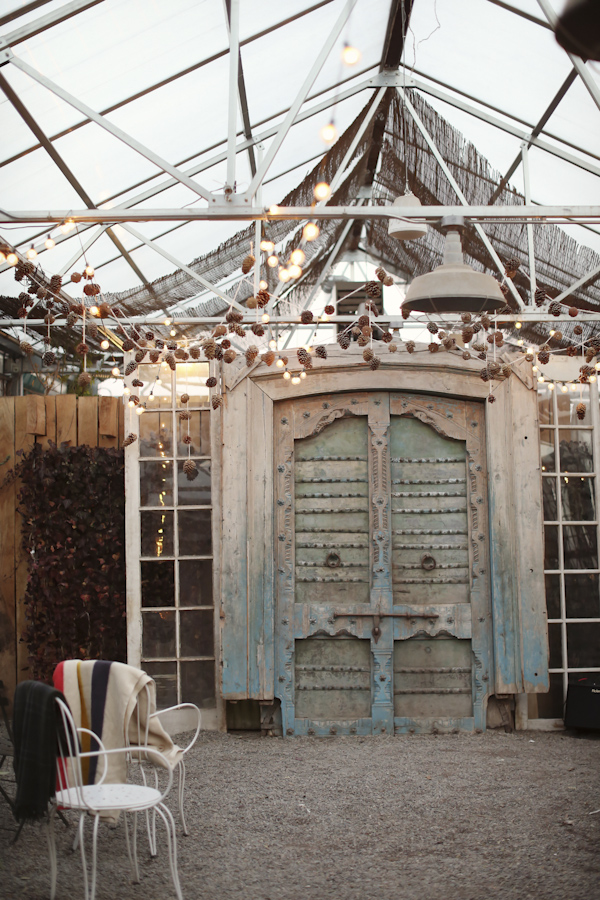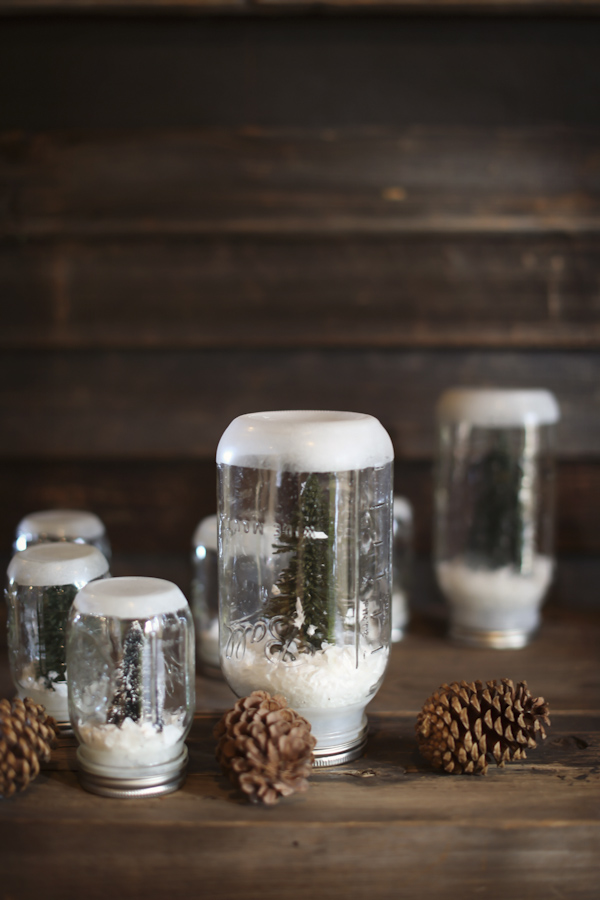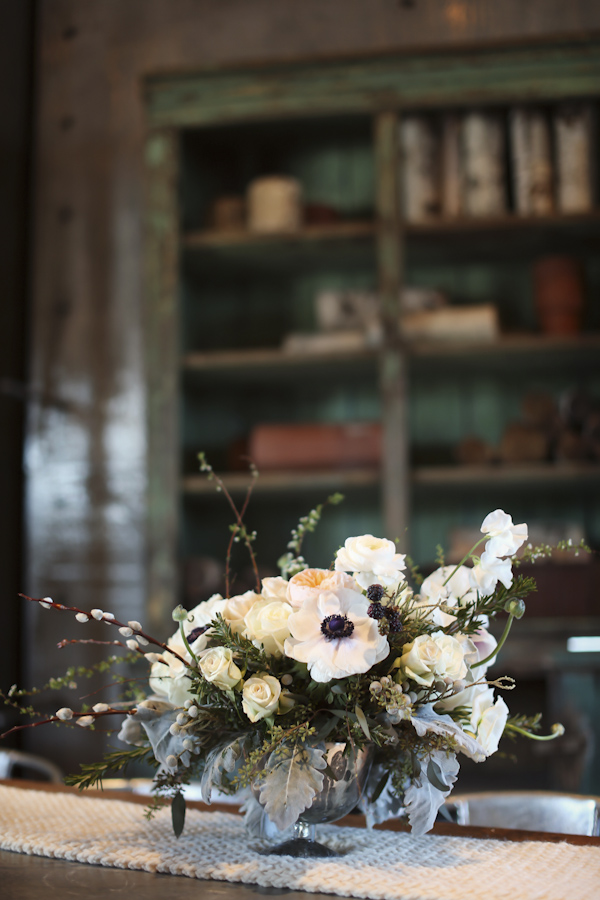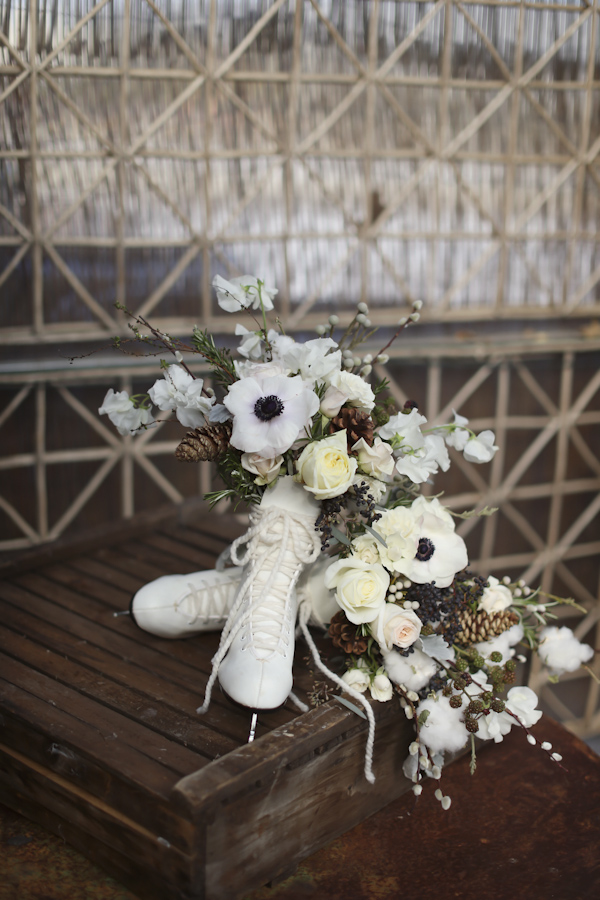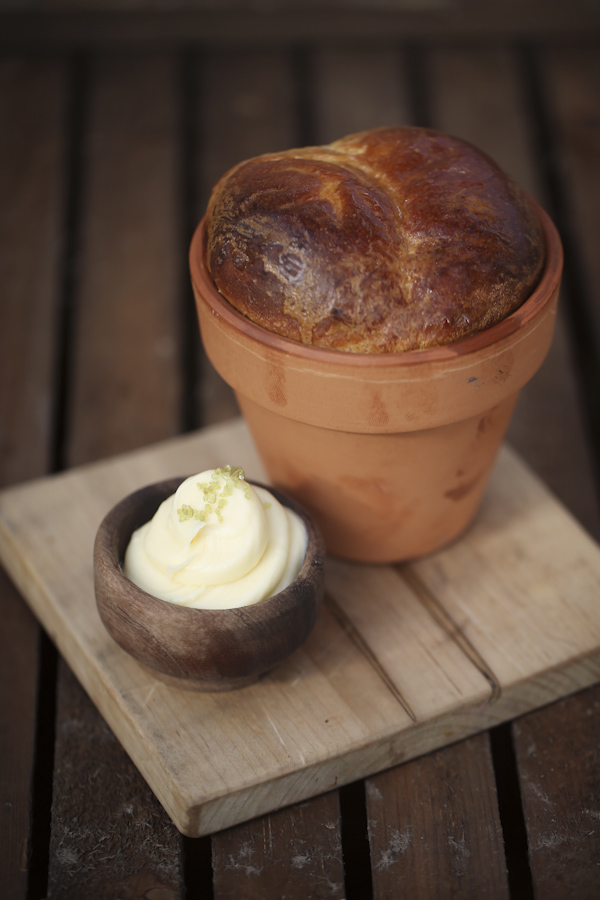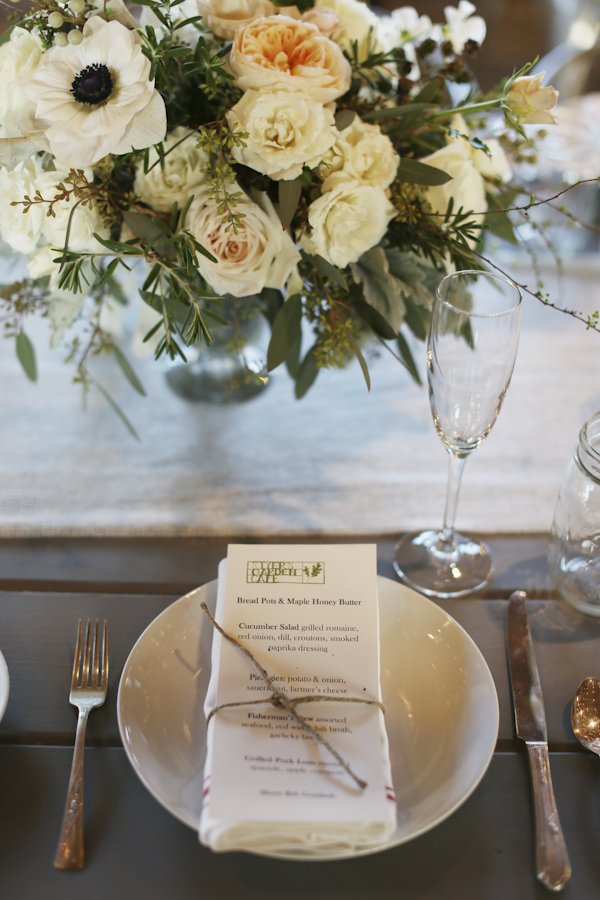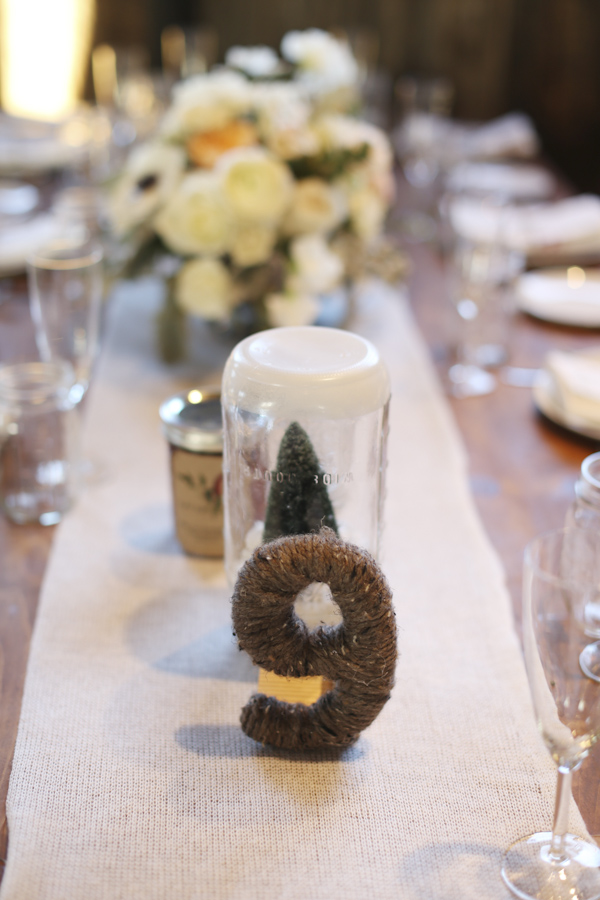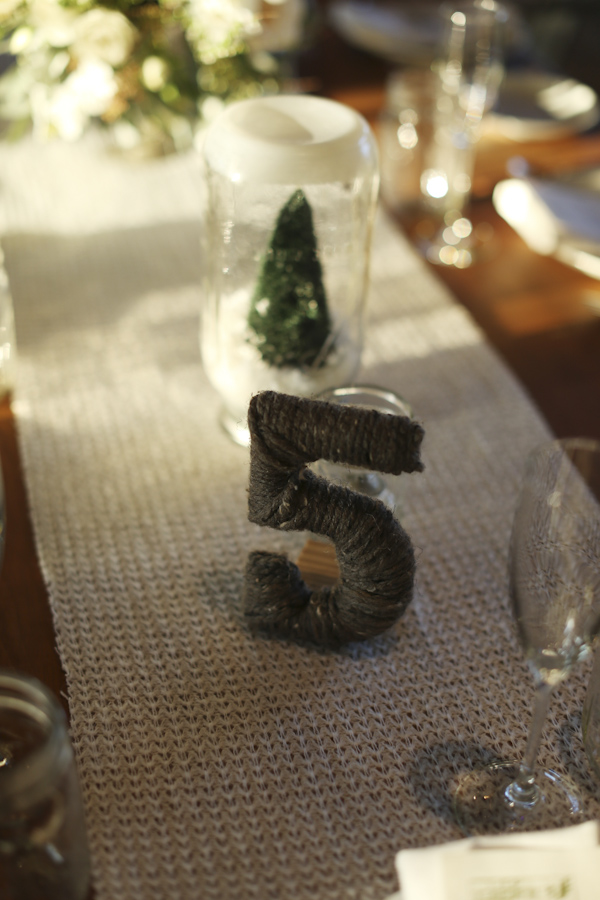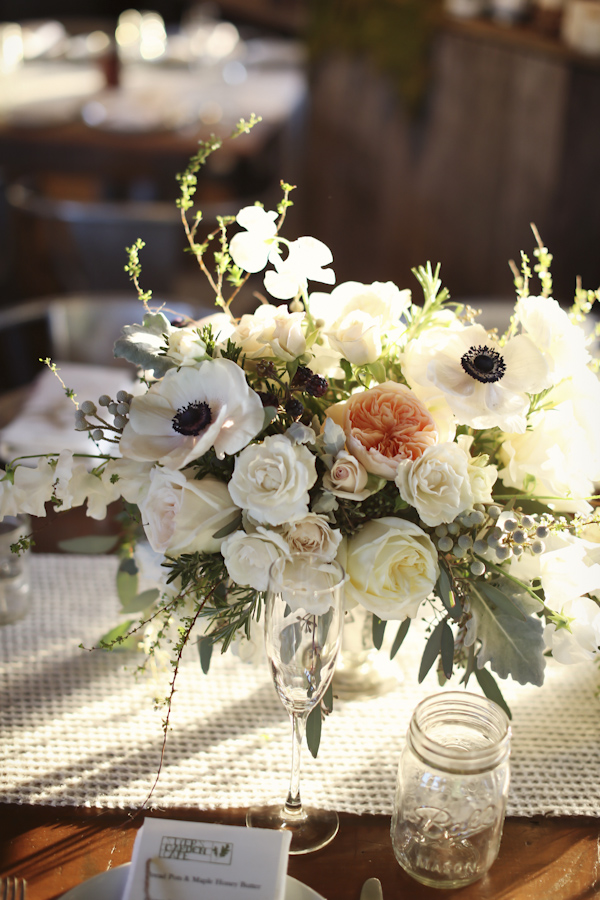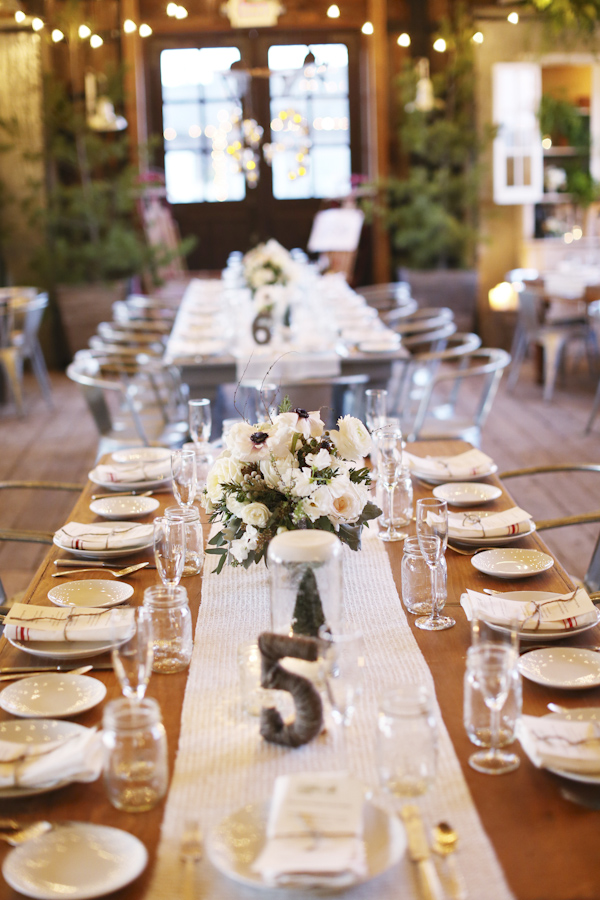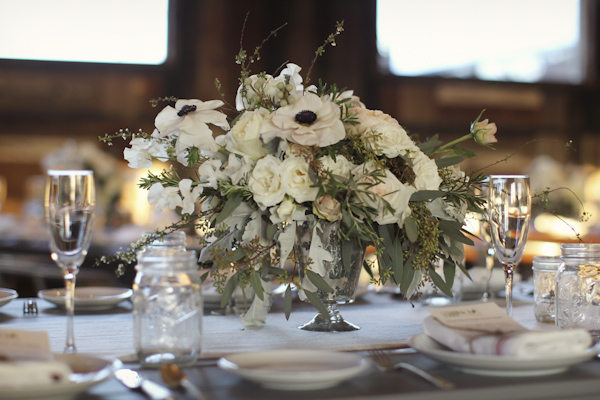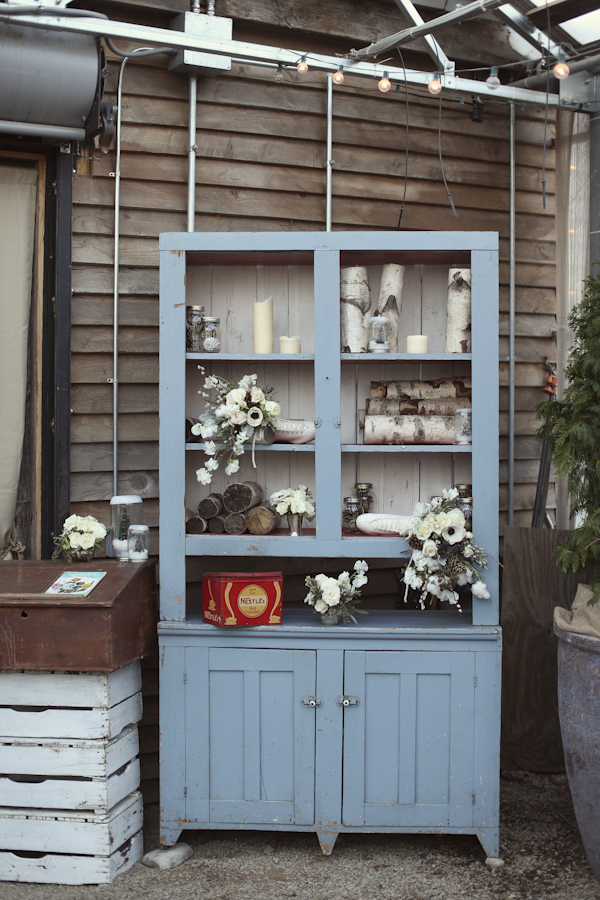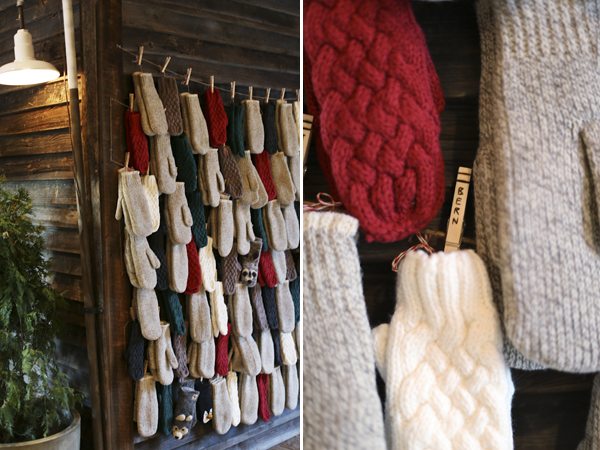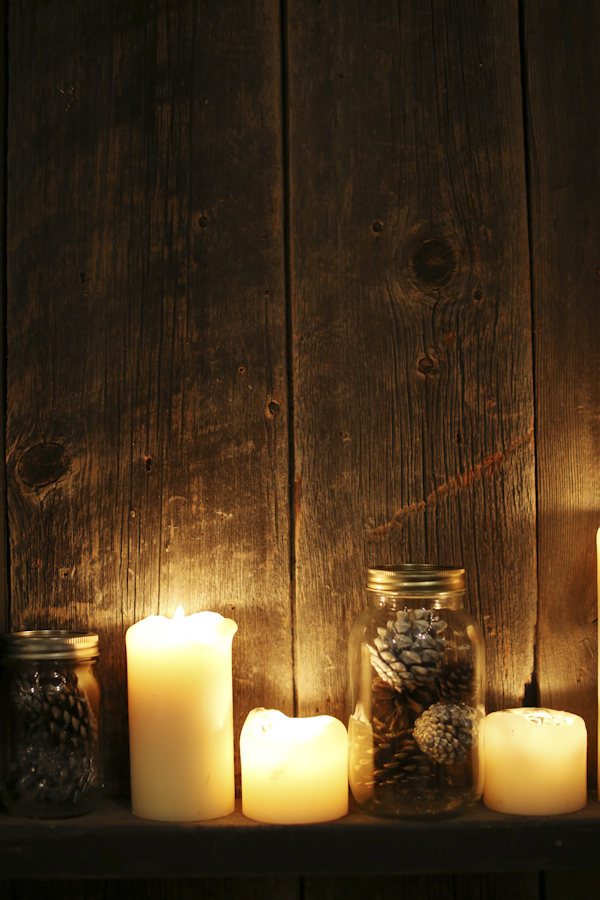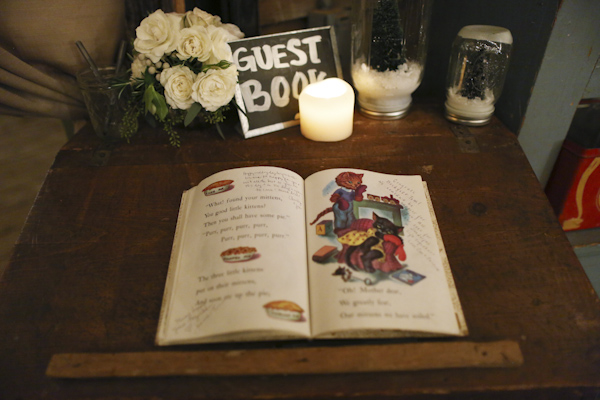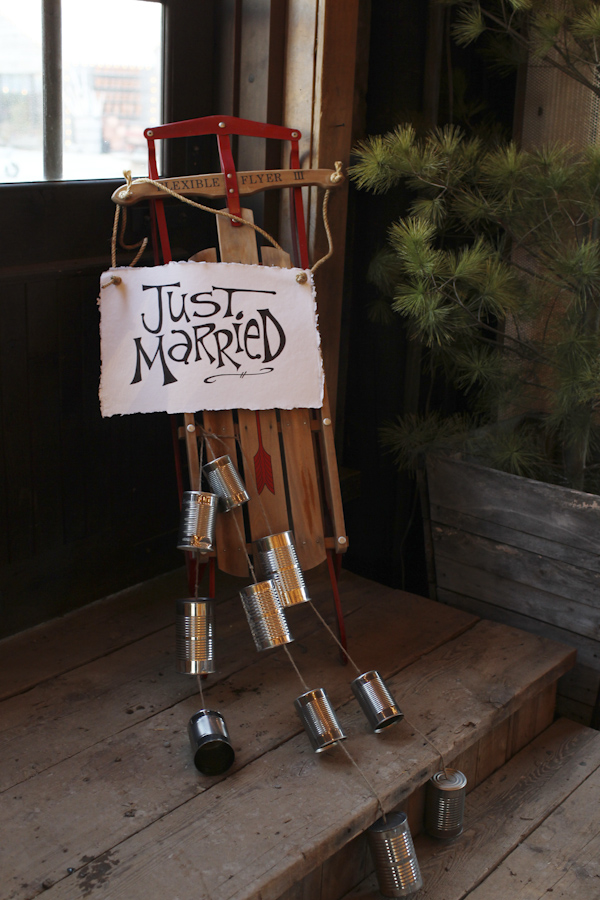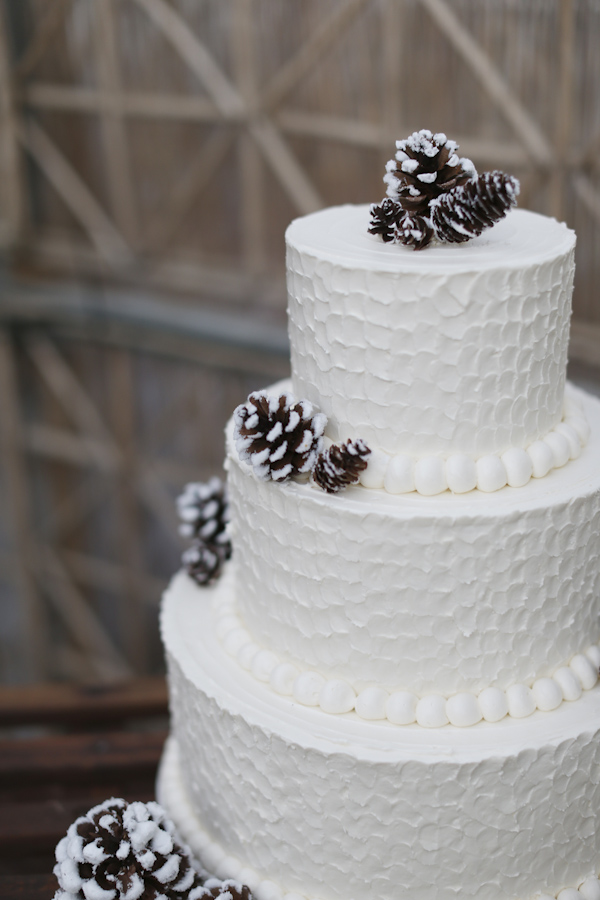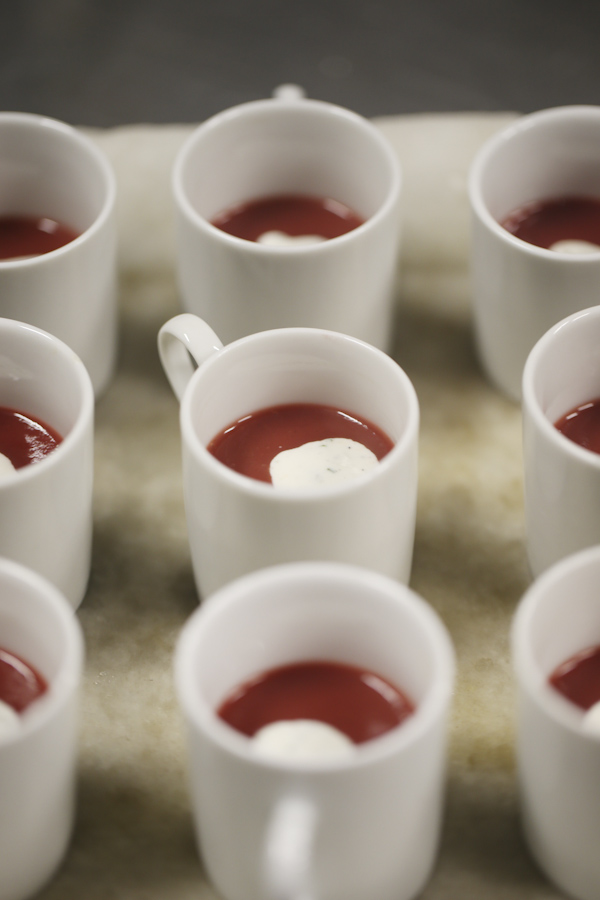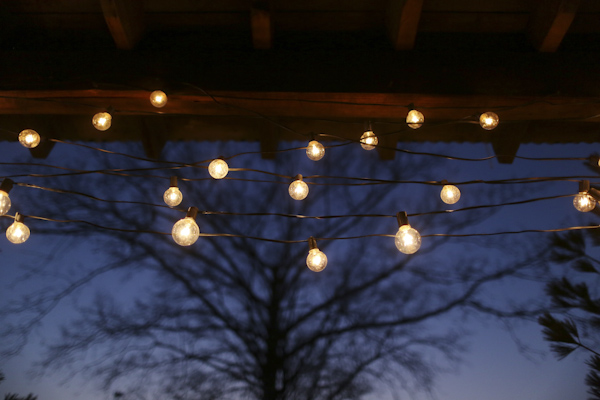 The Moments: One of my favorite moments was during our first dance. My nephew, who is normally a really shy guy, ended up coming out and joining us. We have a great picture of him standing right in between Tom and my legs as we slow danced. We wouldn't have had it any other way! A similar moment occurred during my dance with my Dad ("Brown Eyed Girl" by Van Morrison). My niece and nephew and my cousin's kids couldn't wait to get out on the dance floor. So my dad and I started a conga line with them all! That night was all about celebrating the love we've received from our families over the years—and the new family Tom and I are starting. Another really special moment was when Tom and I snuck out of the reception to roast marshmallows at one of the fire pits we had set up outside the barn. It was so nice to sneak off and have a few moments alone to celebrate.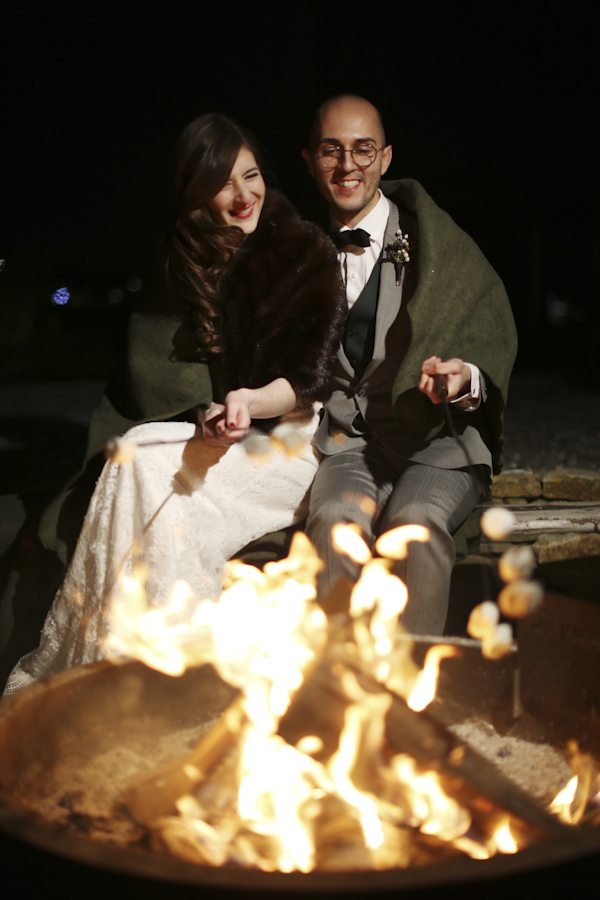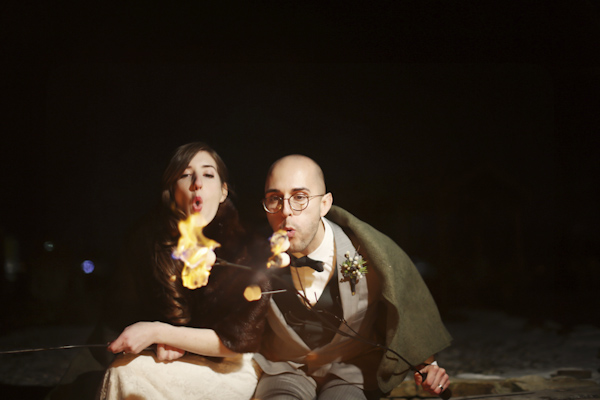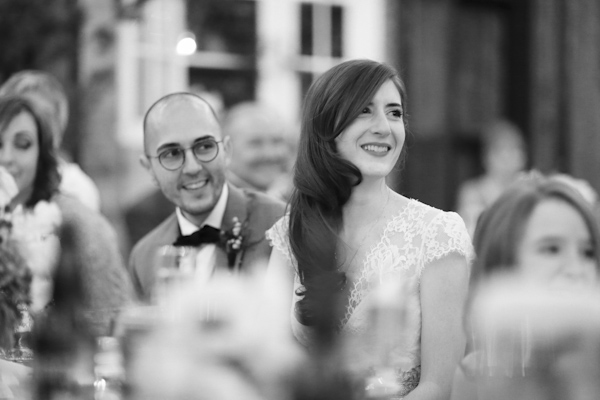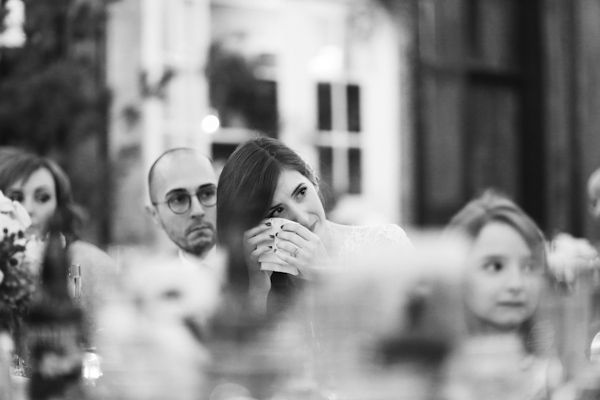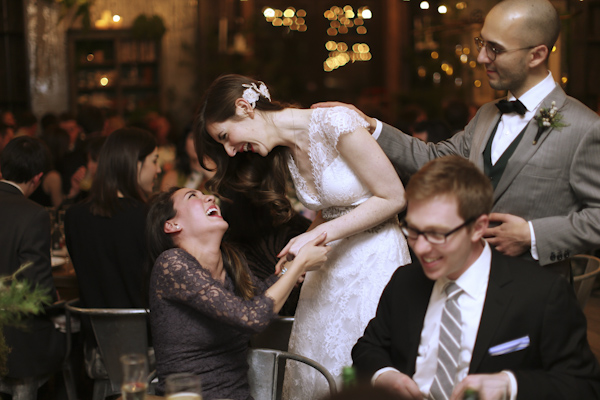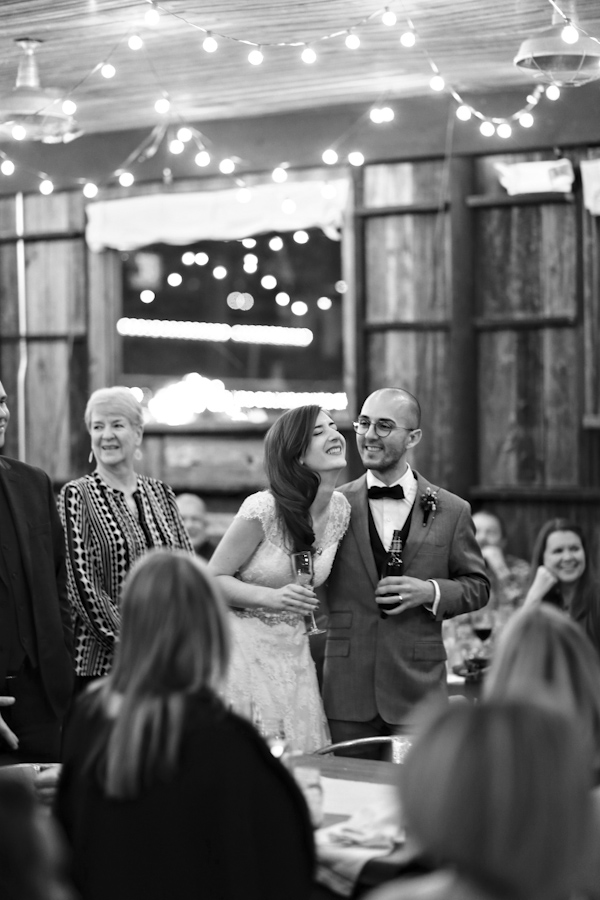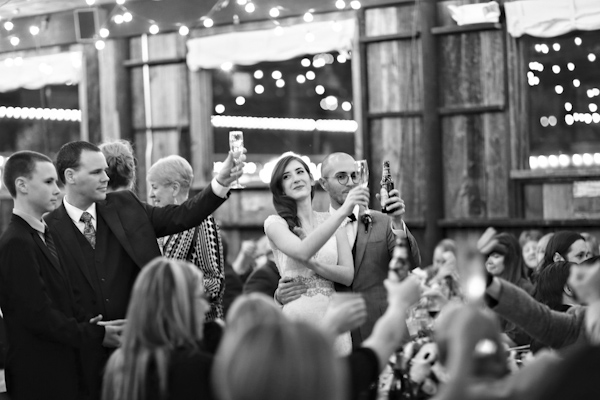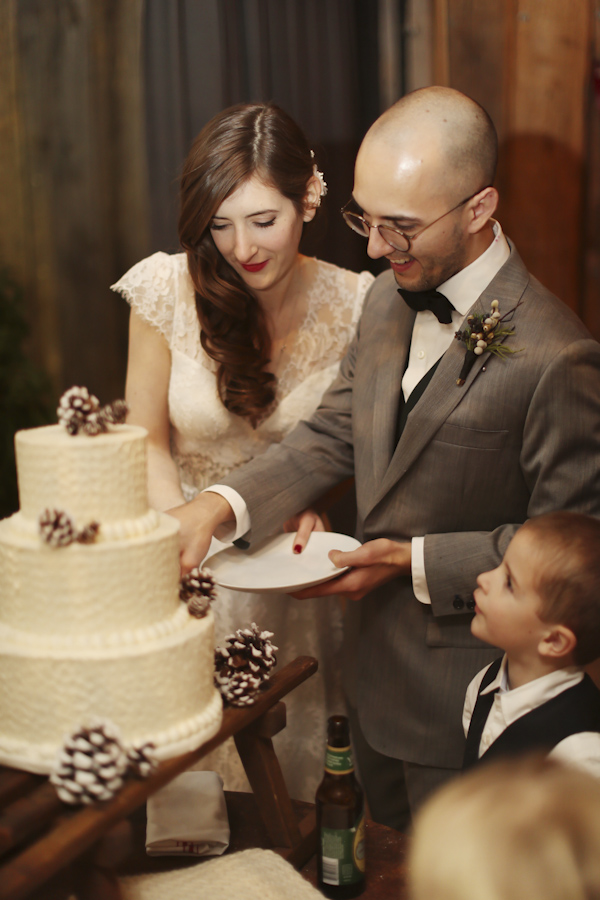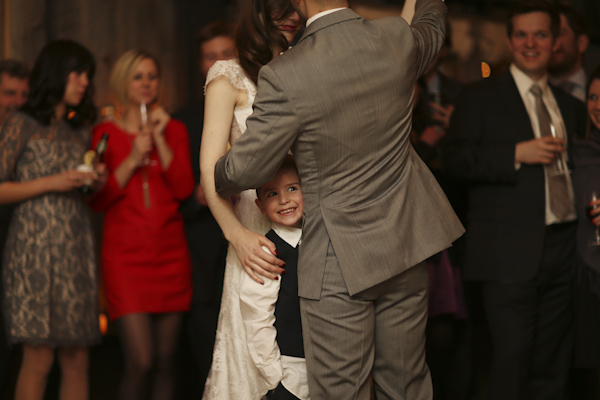 The Advice: One piece of advice I would give couples is to not get too caught up trying to create picture perfect, choreographed moments. Sometimes, and definitely in my and Tom's case, the more spontaneous or unrehearsed moments, like when my nephew joined us for our first dance, are what you end up remembering and cherishing most about the day. And one more: sit down and eat at your wedding! Tom and I took photos before our ceremony so we could spend the cocktail hour welcoming and thanking our guests. When it came time for dinner, we sat down with our guests and really enjoyed our first meal together as husband and wife.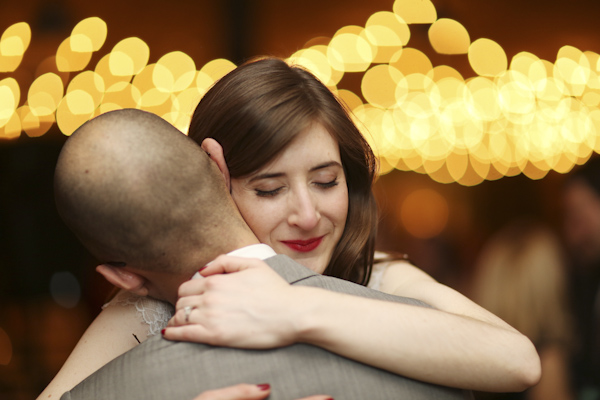 The Wedding Team:
Photographer: Alison Conklin Photography
Ceremony & Reception Venue: Terrain at Styers
Invitation Designer: LoveLeigh Invitations with custom illustration by Meg Hunt
Catering: Terrain at the Styers
Florist: Sullivan Owen
Cake: Tartes Fine Cakes & Pastries
Wedding Dress: Claire Pettibone via Nicole Bridal & Formal Shoppe
Bridal Accessories: BHLDN (clutch), Anthropologie (gloves), Claire Pettibone (hair clip), Nicole Bridal & Formal Shoppe (lace gloves), Loeffler Randall (booties), Stupp Furs (fur stole)
Groom's Apparel & Accessories: Common Wealth Proper (suit), Halloween Jewelry, PA (vintage cufflinks)
Bridesmaids' Gifts: Bloomingdales (clutches)
Groomsmen's Gifts: Bloomingdales (tie clips)
Makeup Artist: Dawn Episcopo of Nives Riddles
Hair Stylist: Zaneta Leszczynska of The Studio CL
DJ: No Macarena DJ & Custom Music Service
Live Music: E Shawn Qaissaunee and Sharon Sable
Transportation: Duvall Motorcoach
Favors: Target, KnitWits, Vermont Country Store (knit mittens)
Rings: Halloween Jewelry, PA
Thank you to Bridget and Tom for sharing your oh-so-cozy and totally nostalgic winter wedding with us all!
Looking for more incredible winter weddings? Check out Jordann and Adam's elegant New Year's Eve wedding!