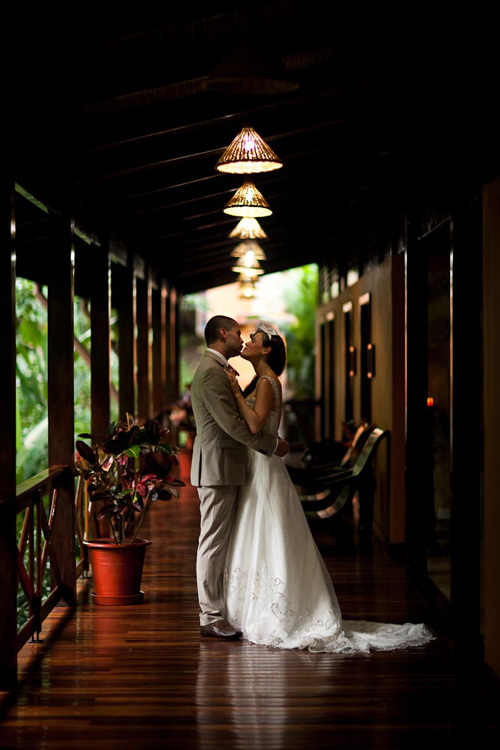 Long time couple Holly and Damian hosted a gorgeous destination wedding in Costa Rica that has me wishing for sunshine and day dreaming in the lush tropical colors of their big day! Wedding planner (and Junebug member!) Larissa Banting of Weddings in Costa Rica guided Holly and Damian through their long distance planning, and photographers A Brit & A Blonde captured each breathtaking detail. May this real wedding bring you coral colored daydreams and visions of palm trees, beaches and sunshine too!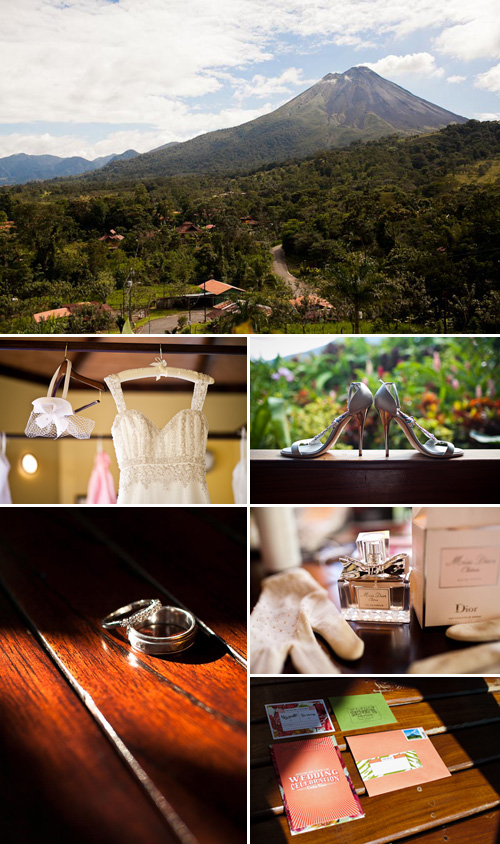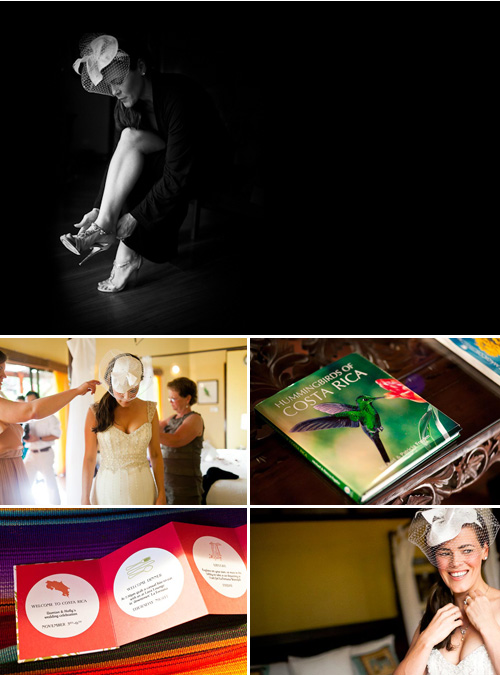 When you imagined your wedding day, what was most important to you? Well for those who know me, they know it all started with what I was going to wear. First, of course, came the shoes. Then the (two) dress(es), and then the hunt for the headpiece – I almost ordered a hat from an Australian designer that I had discovered on a wedding blog, but then a few months before the wedding I spotted "my" hat in the window of a shop right next door to my apartment in Boston! It was meant to be, just like our marriage!
Of course, the most important thing to us, all along, was to have our friends and family there to celebrate with us. We wanted a very casual and romantic ceremony. After being together for so many years before we got engaged, it was important to us that it was a special and romantic celebration of our love for one another, and our new beginnings as husband and wife. At the same time we wanted the wedding to be casual enough as to not overshadow the significance the past 12 years of love and devotion we were blessed to share before we became husband and wife.
We held the reception at the Koita at Mountain Paradise Hotel – an open air venue with a balcony that overlooked the Arenal Volcano and the town below. It was breathtaking, even with the cloud cover during our actual ceremony. We were able to convince 23 other guests to take a chance and trek to Costa Rica with us, and I know everybody who came was very glad they did. No one can stop talking about it. I think we may have to head to Costa Rica for vow renewals every few years just to appease our guests desire to return!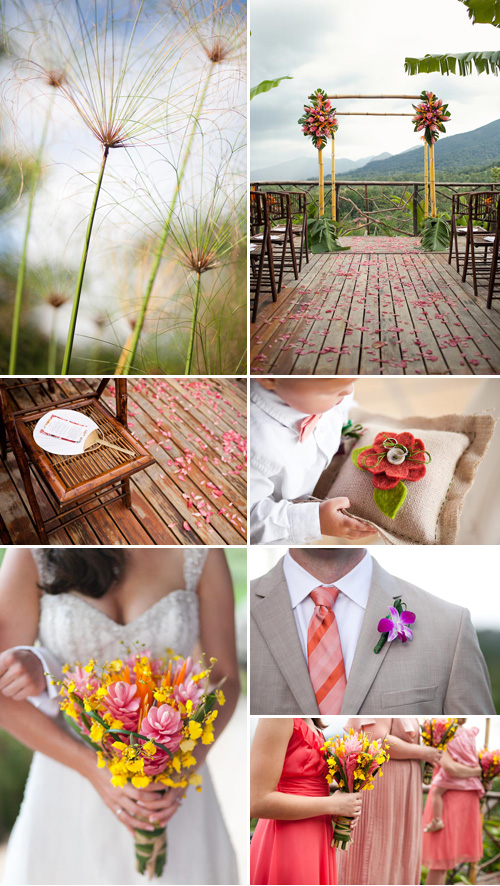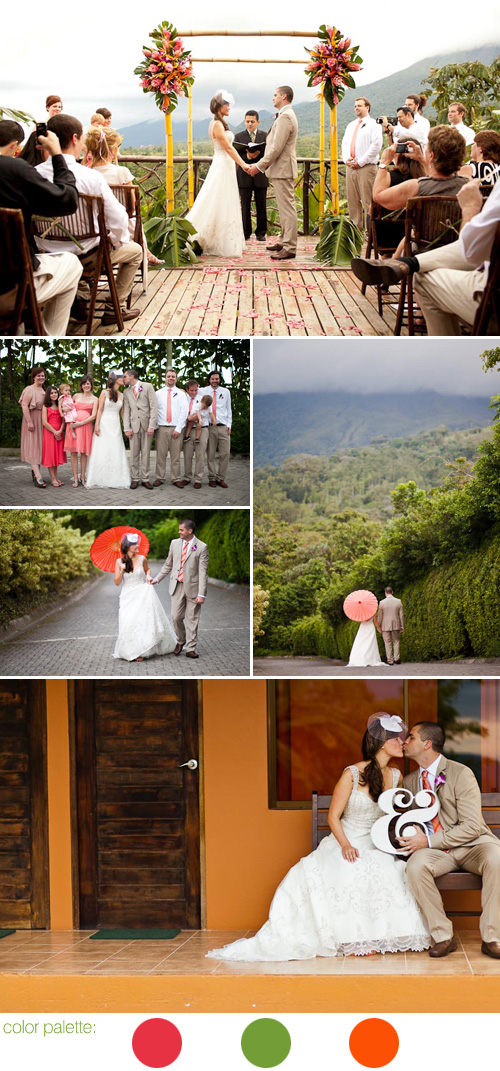 Tell us about your design ideas and wedding colors? Our colors were coral pink and olive green (with splashes of tropical orange) and our theme was Tropical Vintage. I wanted our invitations to speak to the tropical Costa Rican location of our wedding without the colors being too overpowering or the design too obvious. I searched many a wedding site and blog until I saw a design by Coral Pheasant, they were the perfect blend of vintage, tropical, and casual-elegant I was looking for! For favors we bought eco-totes and filled them with local snacks and products like local microbrews from Costa Rican Brewing Company, local rum, plantain chips, candy, local sun block, and personalized bottles of water. We hand delivered the bags to our guests the night we arrived. This gave us the chance to welcome everyone personally that first night and was a nice chance to have some quick one-on-one time with each of our guests. The most unexpected good decision for our decor was to bring the paper fans that we used on the chairs at the ceremony with the programs. I originally decided to buy them more as a decor item, but I can't tell you how much we used those little fans, especially once we got dancing at the reception in that Costa Rican heat, I think I had a fan in my hand almost the whole night!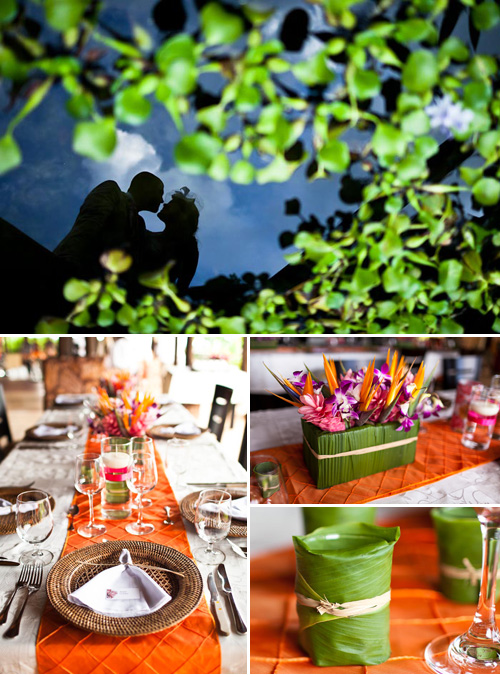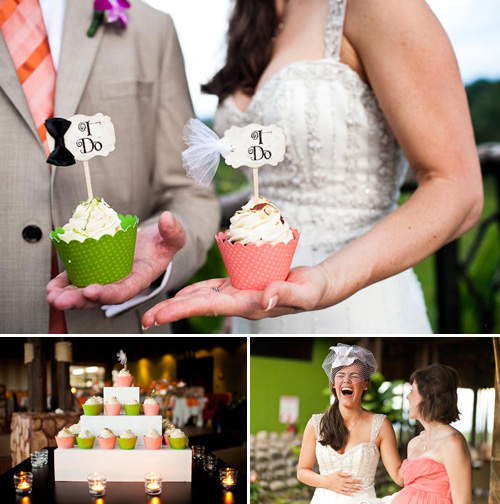 What inspired your bridal look and the fashion for the wedding party? What was your favorite fashion item? My personal bridal style was vintage inspired and my favorite items were my shoes! It's all about the shoes. I loved my headpiece too as it brought the whole vintage look home, but I can't wait to wear my sparkling blue Giuseppe Zanotti shoes again and again! And then when I get too old to walk in high heels that high, I have big plans to turn those shoes into jewelry.
We wanted our wedding party to be comfortable, and to make it simple for everyone, so we let the bridesmaids choose their own dresses in any shade of coral pink they wanted and they did such a great job! The groomsmen all wore the khakis and white button-down shirts with their coordinating coral ties, and all looked casually handsome.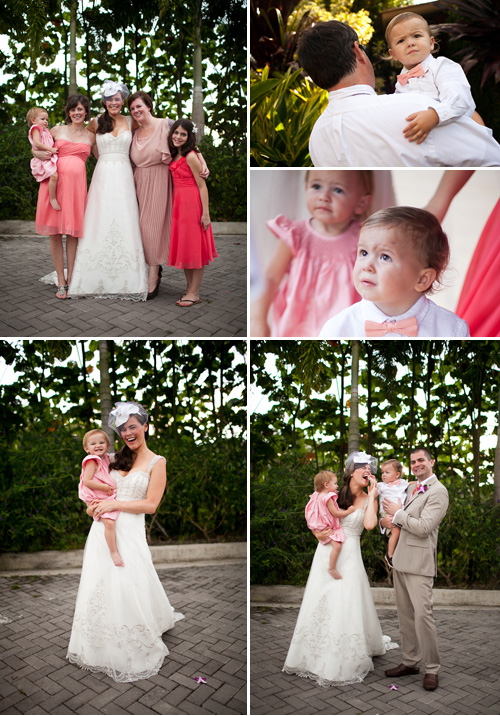 Looking back, what moments mean the most to you? The speeches by the best man and maid of honor were perfect! The best man really went all out with a long thoughtful speech full of storytelling and jokes, and the maid of honors honest and heartfelt toast was the perfect tear-jerking conclusion to the speeches. The two most romantic moments of the day are easy. Number one was our first dance. While we were dancing to our song ("This Year's Love" by David Gray) our guests all spontaneously gathered around us and held hands and danced with us. It was the first time I really gushed tears we are so lucky to not only have one another, but also to have all of these amazing people in our lives that love and support us so unconditionally. It was a magical moment for us. The second moment would be while the reception was in full swing Damian and I took probably one of our only breaks from the dance floor and snuck out to the balcony in the dark where we could watch unseen all of our guests enjoying the celebration together. We stood there watching all these people we loved celebrating together and held hands and felt the appreciation and awe that we were able to pull of this wonderful and unforgettable day together. We took our moment kissed and got back to the dance floor!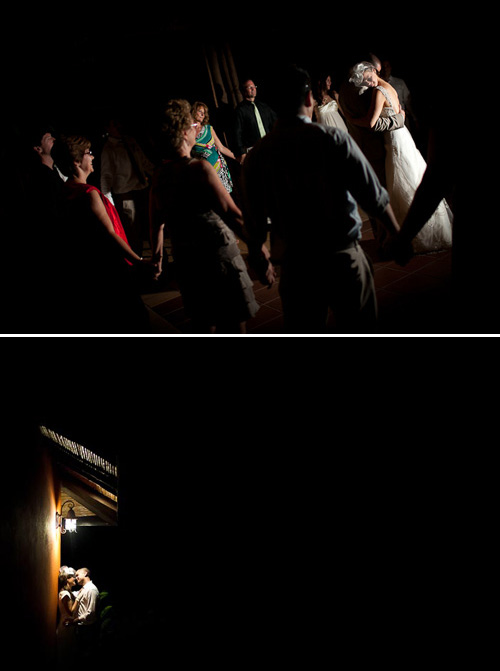 Thank you so much Holly and Damian! What a perfect Costa Rica destination wedding!
To learn about all of the wedding professionals who contrubuted to this day, be sure to visit Holly and Damian's page in our Real Wedding Library!
To plan your own wedding in Seattle or Southern California, check out our Plan Your Wedding Hotlists. To find a dream wedding photographer and planner for your wedding anywhere in the world, don't miss our World's Best Wedding Photographers Hotlist and World's Best Wedding Planners and Designers Hotlist!