Today's fabulous celebration was in a sleek, modern setting warmed up with all sorts of personal vintage touches that magically combined to make for one meaningful day! I love that Rhea and Justin carefully considered the meaning behind each step of their ceremony and added unique touches that made the day their very own – doesn't hurt that they have the cutest car ever either! Enjoy Rhea's great stories about the day and the beautiful images captured by The Popes!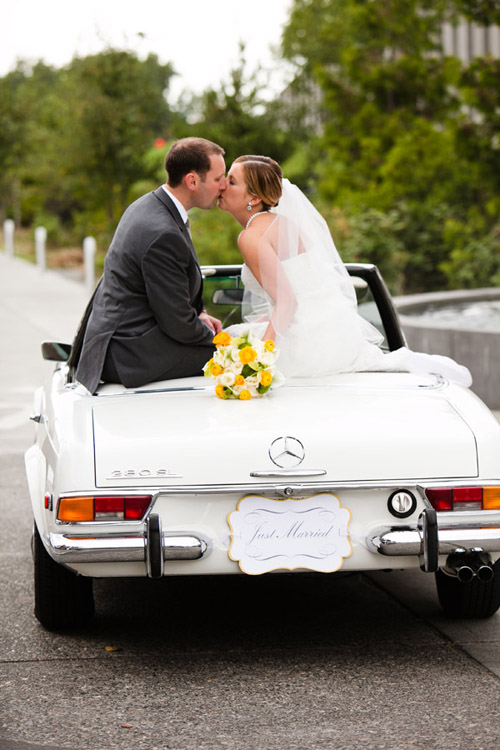 The Couple: Rhea and Justin
The Wedding: 9.17.11 – Olympic Sculpture Park Seattle, WA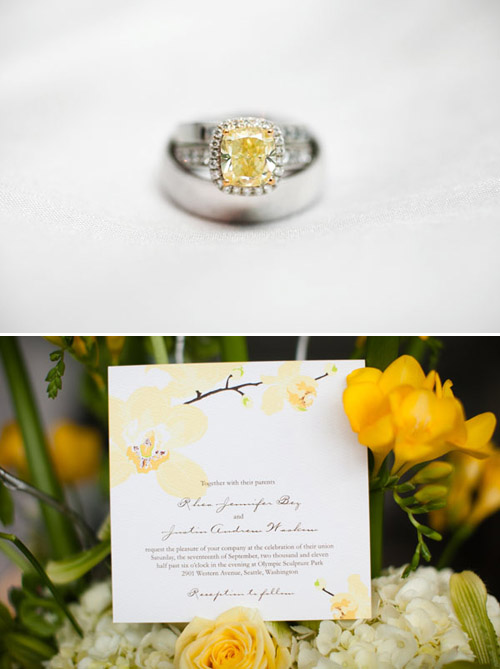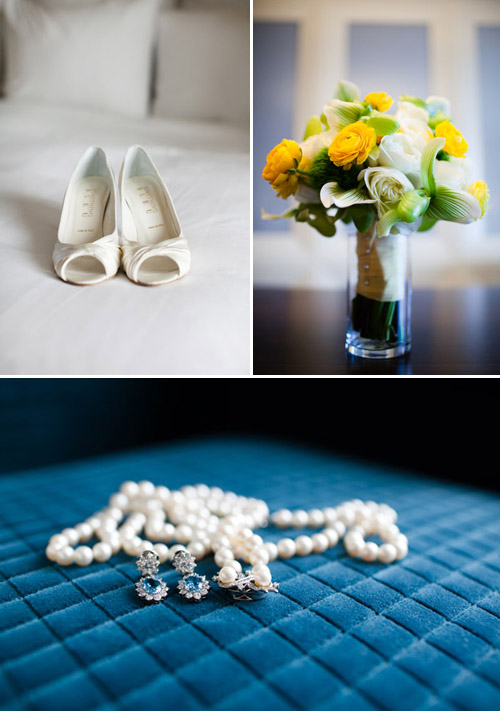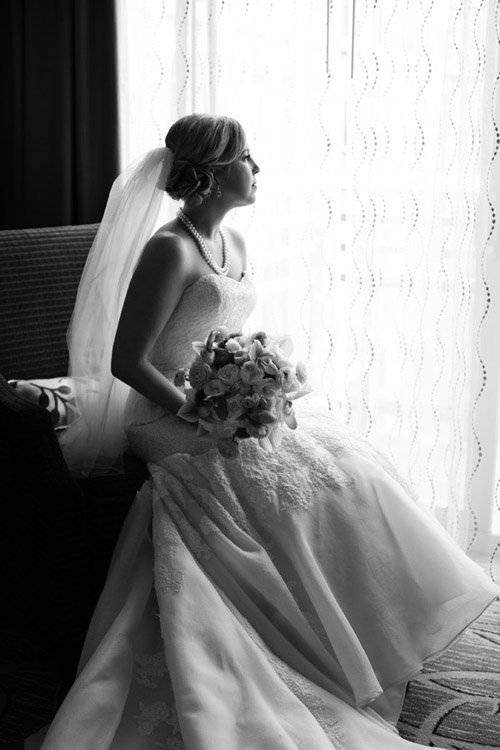 What were the top three priorities for you in planning your wedding? First, we wanted to select a venue that would have wonderful views and be near the water. We hoped to get the best DJ or band we could find because we really wanted to throw a memorable and fun party. Also, we wanted to include as many personal details as possible, which was the reason that we chose The Olympic Sculpture Park. It's where we had our first date! It's also why we included our antique 280SL in the celebration, a gift to my mother from my father when she found out she was pregnant.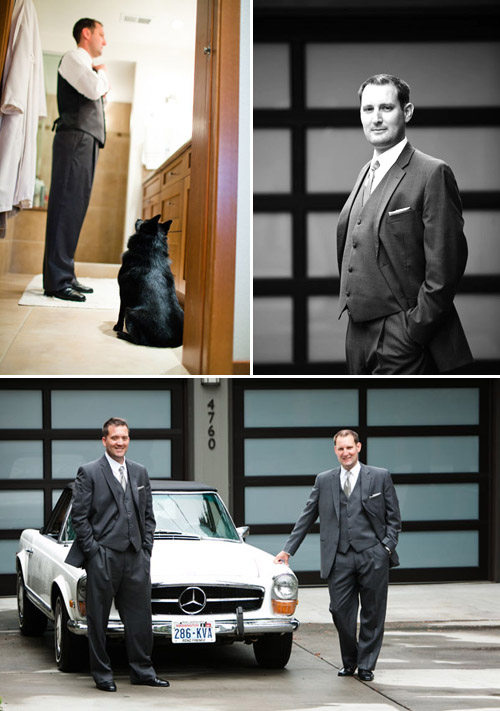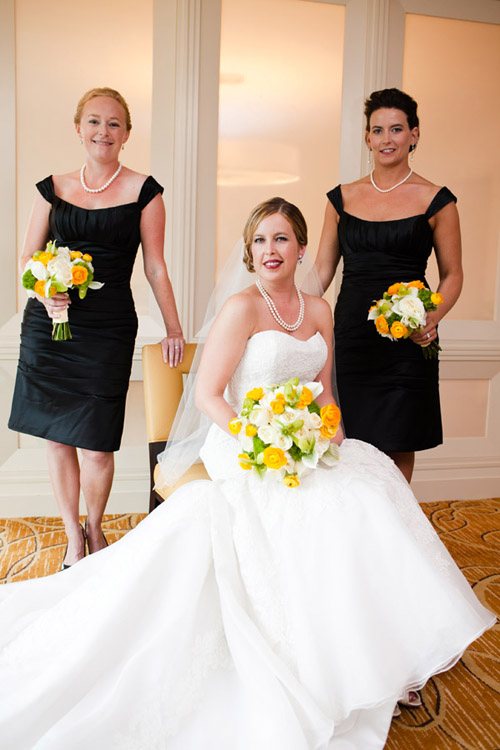 What wedding traditions or cultural traditions did you incorporated into your wedding and what did they mean to you? We chose to walk down the aisle as a couple, as a symbol of our equality entering into our marriage. We also decided to surprise our guests by walking in towards them. Instead of having our backs to them the whole time, we could see their expressions! Another special detail was a small heart-shaped locket I wore in memory of my father to keep him close to my heart.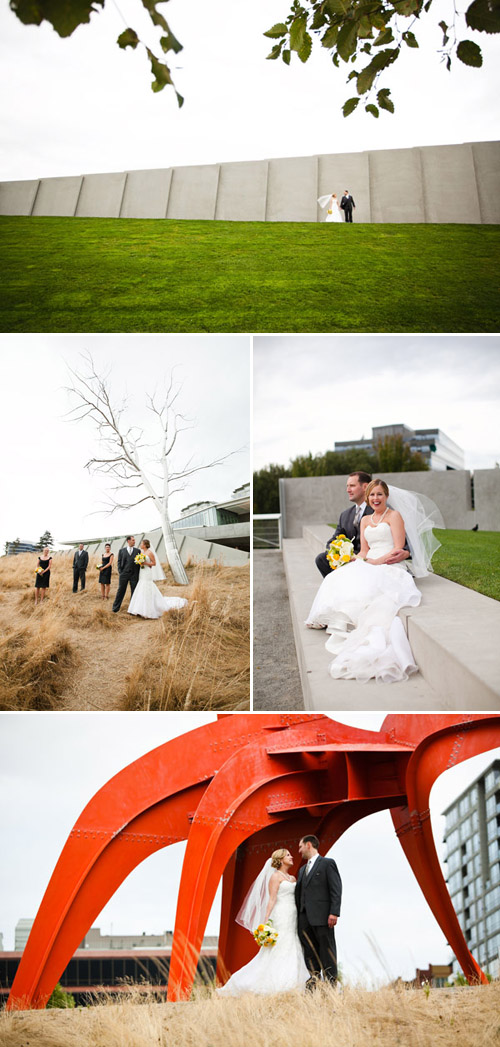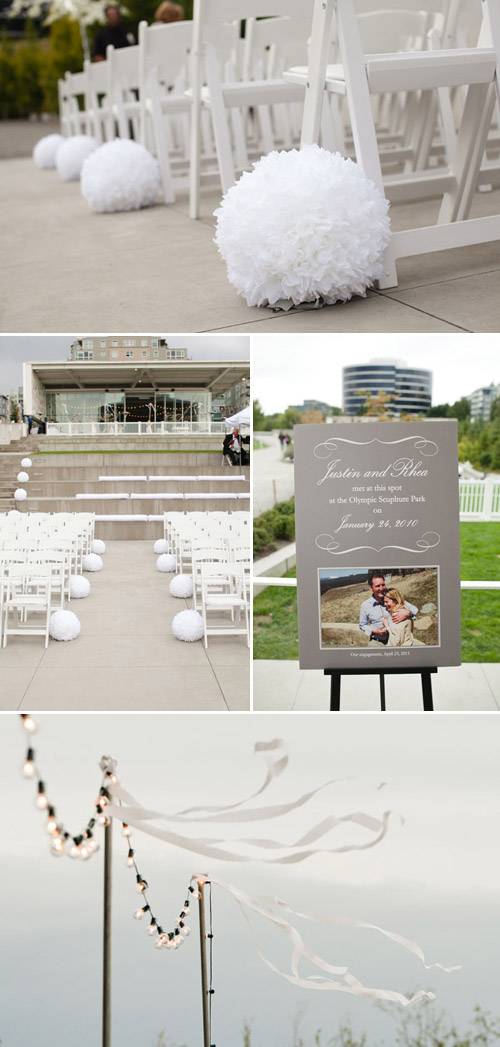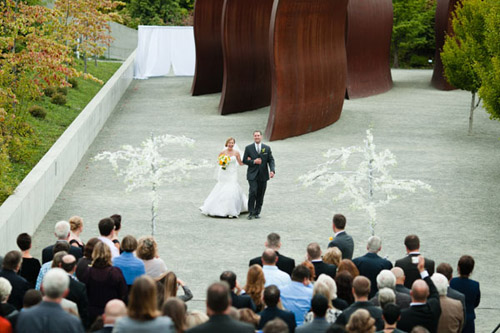 Were there any places where you broke the rules in your wedding planning? Why and how did you do that? What comes to mind is that we almost got arrested for trespassing when we tried to walk down the aisle! We had to close the area known as Seras Wake, where we would be walking in for the ceremony. However, nobody told the security guard that we would be entering on that side. When we snuck down past our guests to do our surprise entrance we were stopped by security and told, Stop you cant come through here, we are closed for a wedding! At this point the music had already started, our bridal party was in place and all of the guests were waiting. I think both of us were ready to tackle the guard if necessary! Fortunately after my fiance said, Yeah we are the wedding! we just pushed past him and attempted to regain our composure quickly. In the end it became one of our favorite stories about the big day.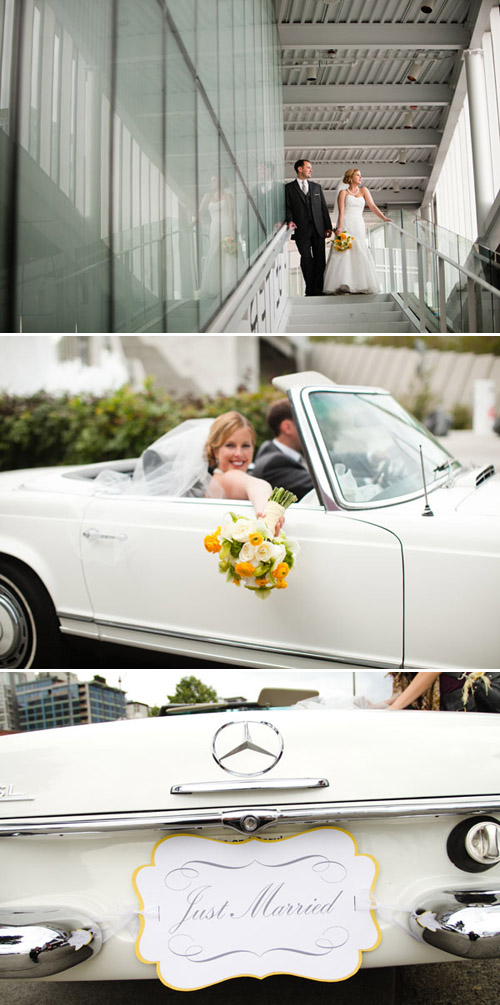 What was your biggest wedding planning success? Getting passed that security guard! Oh, and also our wedding dance. I was so proud of my husband for having the guts to step out of the box a little and do a fun dance routine with me. We spent several months taking lessons at Dance Sport International in Lake City and worked with two fantastic dance instructors, Robert and Monique Horuda. We even went to the venue to dance it in the actual space before the big day. It meant so much to me that my husband took the time to learn to dance with me and he looked fantastic on the big day! Everyone was really impressed and my mother was brought to tears.

What was the most important thing that you learned through the wedding planning process and what would you tell other brides-to-be? I did not believe this at the time, but the stuff that goes wrong and the things you don't plan sometimes make the best memories later. One example, after our wedding reception was over we had a car take us to a park that overlooks Seattle, so that we could have a few quiet moments together before going back to our hotel. When we got to the park there was a party bus there and tons of 20-somethings running around the park. We almost left, but instead decided to get out of the car and take a chance. The moment the people saw us we were showered with attention! They picked us up and carried us around, told me how beautiful I looked and took photos with us like we were movie stars! It was insane (in a good way). Also it was a total surprise and nothing we could have ever planned or purchased. Sometimes the best moments in life are free!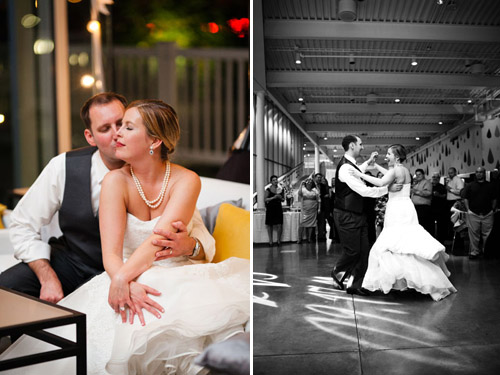 The Wedding Team:
The Photographer: The Popes
Event Planner: Jacky Grotle of Event Success
Ceremony/Reception Venue: Olympic Sculpture Park
Officiant: Reverand Mary Calhoun
Invitation Designer: Merchants Design
Catering: TASTE Events
Florist: Queta Schaffer
Wedding Cake: Cupcake Royale
Wedding Dress: Luly Yang Couture
Bridal Accessories: My Glass Slipper
Bridesmaid's Apparel and Accessories: La Belle Elaine's
Groom and Groomsmen Apparel and Accessories: Wall Street Clothiers
Hair and Make-up: Salon Maison
DJ: Emerald City Productions
Live Music Seattle String Quartet
Transportation: Seattle Town Car
Dance Instruction: Dance Sport International
Rentals: Rented Elegance
Rings: Costco
Rhea and Justin, thank you so much for sharing your beautiful and unique wedding story with us!
Readers, discover more wedding inspiration in our Real Weddings Library!