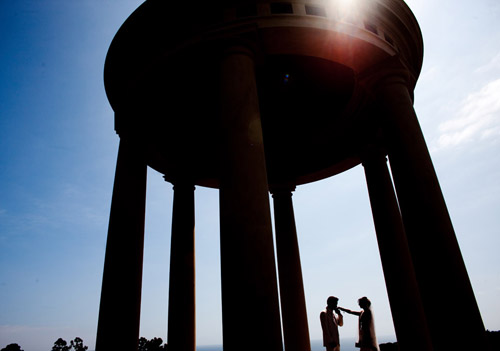 Anuja and Arif's destination wedding at The Resort at Pelican Hill is a delight to see! Their weekend-long celebration, coordinated by Jeannie Savage of Details Details, was filled with incredible colors, beautiful decor, traditions from both the bride and groom's Hindu and Ismaili faiths, and high energy fun for all of their two hundred cherished guests. Just take a look at these images by John and Joseph Photography and you'll see exactly what we mean.

The Goals: On Friday night Anuja and Arif held a traditional Indian celebration of dinner and dancing at The Fairmont Newport Beach Hotel with catering by Clay Oven Indian Cuisine, and in the stunning images above you can see the joy that filled the air! Loved ones travelled from around the world to the beautiful Resort at Pelican Hill on Southern California's Newport Coast, so Anuja and Arif's goal was to make their guests "go home feeling happy they made the long journey. Good food, great music, and carefully thought out details were our main points of focus to create a memorable and fun weekend for our guests." A traditional and vibrant color palette of burnt orange and magenta along with colorful lanterns over the dancefloor and whimsical decor from Details Details and White Lilac brought Anuja's festive vision to life.

On Saturday (seen above and below) the grounds of the resort were filled with soft, elegant, romantic colors like peachy pinks and ivory with touches of green, tree bark, and crystals to create a feminine yet rustic ambiance. Anuja's favortite touch? The three crystal chandeliers that hung above the aisle. Wow! Their wedding ceremony combined their Hindu and Ismaili faiths and one of Anuja's most memorable moments of the day was when she was standing at the top of the staircase over-looking the wedding site, watching her bridesmaids walk down the aisle and waiting for her turn. "It was a moment where I took it all in – a mental snapshot of all of my friends and family, and the beautiful backdrop of the Newport Coastline. I remember feeling a rush of excitement that I think you can only feel as your about to get married. I'll never forget it."

The Design: As wedding favors Anuja and Arif gave out silk bags handmade in India, where Anuja's family is from, as well as welcome bags when their guests checked-in to the resort. After the reception, when guests returned to their rooms, they found a beautiful hand-carved bowl from Kenya where Arif's family is from, sitting at the food of their bed along with a thank you note.
Anuja and Arif chose DJ Parag Shah of Special Occasions, who they connected with right away, and he kept the guest, both young and old, on the dance floor all night long. Because of this it only makes sense that instead of a wedding cake the couple chose to serve late-night snacks of beef sliders and fries, mini grilled cheese sandwiches with a shot of tomato soup, and mini gelato cones to keep the party going! So fun!
The Look: Anuja's wedding look was based on the desire to look simple and elegant and very much like herself. "I wanted people to really see me, not my makeup or jewelry. Less is more – always!" She wore wore amazing traditional Indian dresses "they really make you feel like a princess!" and had her hair and makeup done by Fiore Beauty, which she says looked flawless and natural. Anuja asked her bridesmaids to choose dresses for themselves that they loved and felt comfortable in, which made for a very colorful bridal party!

The Moments: Anuja and Arif's wedding was filled with memorable moments, from Anuja's mother singing a traditional Indian song on Friday night, to enjoying time alone together having photos taken by photographer John Hong, to the the heartfelt speeches and emotional first dance to Angel by Jack Johnson at the reception. The biggest surprise came from Anuja's sister, who was very pregnant and unable to attend the wedding, but secretly got permission from her doctor to fly and traveled all the way from Virginia to surprise the grateful bride and groom on their big day.
The Pros: To learn all about the many talented wedding professionals who created this wedding please visit our Real Wedding section!

Thank you Anuja and Arif! What an incredble weekend celebration!
To plan your own Southern California or Seattle area wedding, check out our Plan Your Wedding Hotlists, and to find a dream wedding photographer for your wedding anywhere in the world, don't miss our World's Best Wedding Photographers Hotlist!