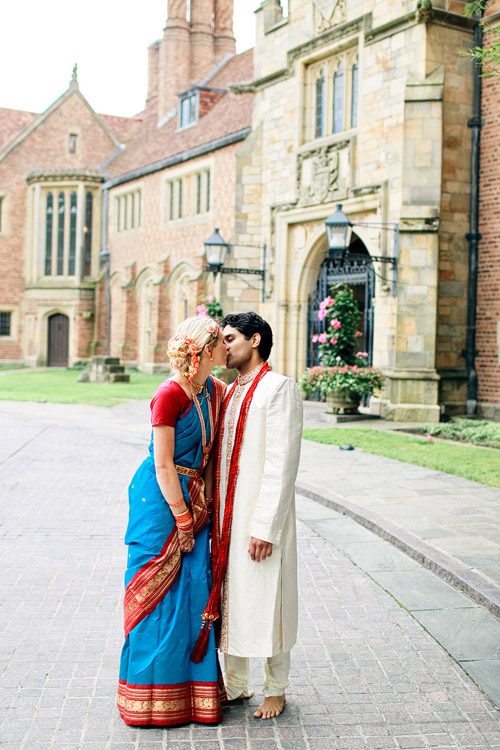 From the stunning colors to the rich cultural traditions and family involvement, today's Real Wedding of Jami and Nishant is a joy to learn about! The images by Harrision Studio really bring the wedding story to life and make me wish I could have been lucky enough to attend this gorgeous celebration myself!

The Goals: A woman after my own heart, Jami told us all about how important the photography was for her big day. "My cousin, Jill Thomas, is a wedding photographer and she sold us on the importance of good photography. We both agreed that 10 or 20 years down the line, it would be hard to remember what songs we heard, what the flowers were, or what the food even tasted like because the day goes by so fast! We realized that the best way to remember the day is through photography and Harrision Studio was absolutely amazing!!! They are incredibly talented and are downright cool people. Our wedding also had some specific customs that not every photographer is familiar with, and they captured everything perfectly. Love them."

The Design: Jami and Nishant were passionate about honoring the Southern Indian culture and traditions of Nishant's family at their wedding, and Jami's family was excited to take part too. They were thrilled to bring all the people they love together in such a special way, and Meadowbrook Hall in Rochester Michigan was the perfect location for their meaningful garden celebration. They wanted the wedding to be as traditional as possible, but for the overall feeling of the day to be intimate and sweet. Red, gold, blue and cream became their color palette because red and gold are traditionally auspicious Hindu colors. Their wedding invitations from Parekh Cards were printed with an image of Ganesh, a remover of obstacles, and their wedding favors were purchased in a marketplace in India by Nishant's Aunt and Mother. I absolutely love all the vibrant floral details from Emerald City Designs decorating the Mandap as well as the beautiful bride and groom!
The Look: Jami found her wedding sari unexpectedly while shopping for a friend's wedding with Nishant. Its red and blue color caught their eyes from a window display at Guru Bazaar, and that was that – they just couldn't resist! Besides the last minute addition of jasmine flowers in her hair, Jami's jewelry and accessories all came from family members. "Bless my husband's aunties – they literally gave me a box of sparkly things I could choose to wear and I ended up choosing everything!" Jami also wore a necklace that Nishant's mother had worn on her own wedding day – a gesture that everyone loved.

The Moments: Just like the rituals in the wedding itself, all of Jami and Nishant's most memorable moments revolve around the participation of their families. Jami remembers loving the supportive feeling of having her brother sit by her side on the Mandap, and how sweet it was when her mother began to cry after seeing her for the first time all dressed up in her sari. During the ceremony the most meaningful moments for the couple were sitting on the swing while their mothers and aunts walked around them, and the special and symbolic moment after their wedding necklace was tied. How wonderful!
The Pros: Jami and Nishant's wedding included the work of many talented wedding professionals – to learn about all of them, be sure to visit our Real Wedding Library!

Thank you for sharing your beautiful wedding with us Jami and Nishant!
To plan your own Southern California or Seattle area wedding, check out our Plan Your Wedding Hotlists, and to find a dream wedding photographer for your wedding anywhere in the world, don't miss our World's Best Wedding Photographers Hotlist!