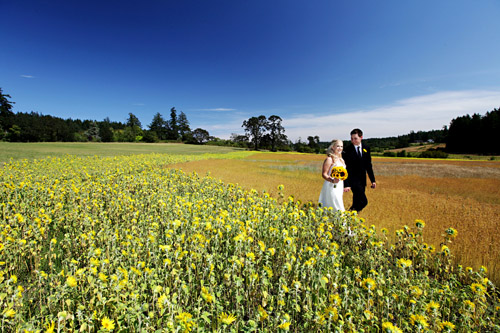 Long time couple Jillian and Chris' vineyard wedding is so filled with a joyful summertime vibe that I swear I can feel the sunshine radiating from their images by photographers Chris + Lynn! Sunflowers, BBQ and games on the lawn – get ready to get your summer on!

The Goals: Jillian and Chris wanted their wedding to be as fun for their guests as it was for them, so they chose to hold the whole celebration at the Church & State Winery in Brentwood Bay, BC and they filled the day with activities and special treats for everyone! The wedding progressed happily from their ceremony, to a country-chic BBQ themed cocktail party on the lawn, to a wine and cheese tasting, to a full dinner and dancing reception, and thoughtful and personal touches appeared every step of the way.

The Design: With the help of wedding planning pros Elements Modern Weddings, Jillian and Chris took advantage of the spectacular natural backdrops of the winery, and incorporated the relaxed spirit of a Tuscan inspired vineyard into the design of their day. Vibrant sunflowers appeared in all the floral arrangements and design details, wine barrels were used as cocktail tables throughout the day, and demi-bottles of wine with invitations printed on the labels were sent to every guest to begin the festivities off right. Hand painted wooden signs made by Jillian's mom, dad and brother welcomed and guided guests to each event.
During the cocktail party after the ceremony, games like croquet, bocce and horseshoes were set-up around the lawn, and tasty passed appetizers of pulled pork sandwiches (Chris' favorite), fried chicken, watermelon and feta skewers and bruschetta were served. Two bars were stocked with red and white sangria and lemonade, and there was an old-fashioned pop corn machine (Jillian's favorite!) for all to enjoy too. They even had flip-flops for their guests so they could kick off their shoes and relax! "Our cocktail party was a lot of fun. Instead of sending our guests away and telling them to come back 3+ hrs later, we decided to plan an afternoon of fun for them to enjoy (and us too)!"
After a wine and cheese tasting that allowed everyone to taste the wines made on-site, the reception was held inside the winery. Guest sat at long family style tables for dinner, which carried on the day's black, white and yellow color palette and elegant but relaxed feel. The wedding cake, in honor of Jillian's French Canadian heritage, was a traditional French Croquembouche.
The Look: Jillian chose a simple lace dress that she then had altered to become exactly what she had been envisioning. Just like the simple back cocktail dresses that her bridesmaids wore, she wanted her wedding dress to be comfortable and easy to wear during such a fun and active summer wedding day. And those red bridal shoes? Brilliant!

The Moments: Both Jillian and Chris loved the moments when they first saw each other all dressed up on their wedding day, and when they went with photographers Chris + Lynn to the nearby sunflower fields and barn to take pictures they had a wonderful time just being alone together in the midst of all the activity.
One of the most sentimental moments came during the ceremony as they read their very personal vows to each other. "We spent a lot of time writing our own vows, and hearing them at the ceremony was incredibly sentimental – they truly expressed how we felt for each other." Another was when they walked into the reception and were announced for the first time as Mr. and Mrs. "That moment was absolutely incredible, as we looked at each other and then looked around at everyone there, the most special people of our lives, celebrating us. We have never felt so loved and supported, and that moment still gives us goosebumps!"
And looking back, they say that their very best decision was, "investing in amazing photographers and believing in our vision for OUR perfect day – staying true to what we wanted." We couldn't agree more!
The Pros: To learn about the many wedding professionals who were a part of this incredible day, please visit Jillian and Chris' page in our Real Wedding Library.

Thank you for telling us all about your wedding day Jill and Chris!
To plan your own Southern California or Seattle area wedding, browse our Plan Your Wedding Hotlists! And to find a dream wedding photographer for your wedding anywhere in the world, be sure to check out Junebug's World's Best Wedding Photographers Hotlist!