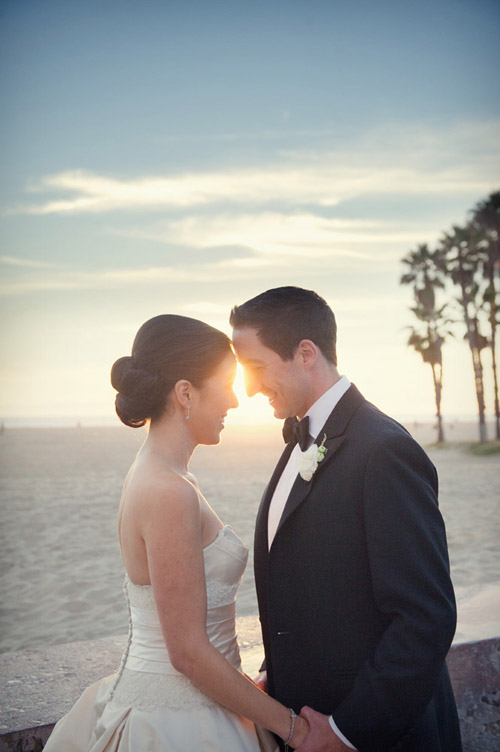 Today's elegant California real wedding is a sophisticated throw-back to the 1930s and 40s. It recalls a time of classic beauty and timeless design details, while being a sacred, romantic and truly personal celebration for newlywed couple Jen and Nic, and their families and friends. These wonderful photos from Chenin Boutwell of Boutwell Studio illustrate the feeling of the day so well!

The Goals: Jen and Nic's wedding planning goal was to create an atmosphere during their ceremony and reception that would communicate the significance of the the commitment they were making to each other. Choosing a traditional Catholic ceremony and an elegant reception at Santa Monica's Shutters on the Beach, they strove for a timeless feel in every way. "We were going for a vintage, 1930s supper club feel with understated elegance that would have been considered lovely in the past, in the present or 50 years from now."

The Design: For their timeless wedding look, the talented team at Details, Details helped Jen and Nic build upon the elegance of the 1930s. Art Deco design details were used in the wedding invitations by Papeterie and the menus, programs and place cards from Elizabeth Social Secretary, a 1937 Packard whisked them away after the ceremony and big band music was played during the reception by the Dean Mora Orchestra. A color palette of ivory and champagne was used throughout to add beauty without creating too much of a specific "theme." Lush lowers by JL Designs delicately decorated the tabletops, and the detail on the ivory wedding cake from Cake Divas was inspired by the lace on Jen's wedding dress. As wedding favors guests enjoyed a photo/video booth, and a delicious cookie table and espresso cart.
The Look: Jen's bridal look was all about classic elegance, and she loved her Judd Waddell wedding dress from the Erin Cole Salon in Costa Mesa. Her something old was her great grandmother's necklace which was incorporated into her bridal bouquet, her something new was her wedding dress, her something borrowed was her mother's bracelet and her something blue was the floral embroidery on the Nic's baptismal cloth. The bridesmaids wore dresses from the Vineyard Collection by Priscilla of Boston and the groom and groomsmen wore wonderfully classic and handsome black tuxedos.

The Moments: For Jen and Nic, the wedding ceremony was the most meaningful and sacred portion of their day and was simply amazing from beginning to end.
Afterward, their reception began with cocktails on the terrace overlooking the ocean at sunset, and was followed by dinner and dancing in the ballroom. Jen and Nic were so happy that they chose to forgo traditional wedding music and hire a big band to play – they had a ball watching their friends and family dance to music from the 1930s and 40s!
The Pros: To learn about the whole team of wedding professionals who worked on this beautiful wedding, please visit Jen and Nic's page in our Real Wedding Library!

Thank you for sharing your wedding with us Jen and Nic!
To plan your own Southern California or Seattle area wedding, check out our Plan Your Wedding Hotlists, and to find a dream wedding photographer for your wedding anywhere in the world, don't miss our World's Best Wedding Photographers Hotlist!