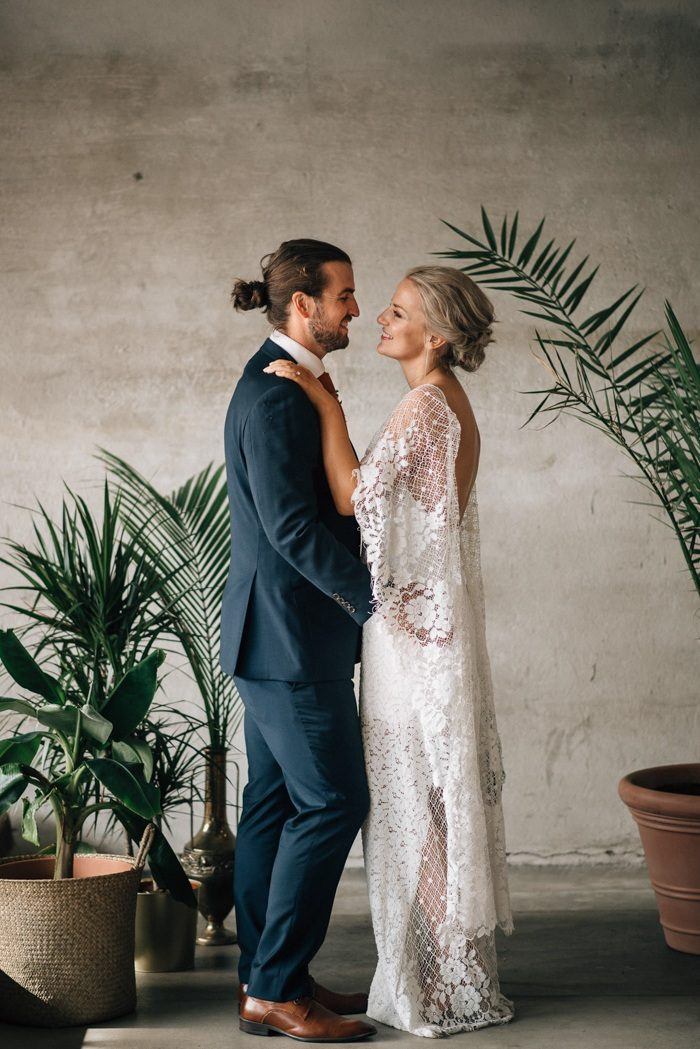 Mellie and Hamish's Norwegian/Australian wedding at Lageret Studio, a converted paper factory full of raw industrial beauty, was a roller coaster of emotion and celebration. The bride started her wedding day in the hospital but didn't let illness hold her back, discharging herself, getting ready as quickly as possible and surprising her groom at their beautiful ceremony on the forest's edge overlooking a lake outside of Oslo. Huge windows, bright white, and open spaces decorated with a cozy bohemian ambiance by wedding planner Trine Thorsen created a carefree fusion of the forest ceremony and urban reception. The bride's Grace Loves Lace wedding gown echoed the relaxed ethereal atmosphere with flutter sleeves, a romantic open back, and delicate French lace. The warm color palette of Burgundies, reds, dark pinks, and brass accents was created by floral designer Krista Elvheim, who created a cohesive look inspired by the bridesmaids dresses found across the globe. The Shannons Photography captured so many truly beautiful and emotional moments of this stunning couple and their guests looking happy and healthy.
The Couple:
Mellie and Hamish
The Wedding:
Lageret Studio, Oslo, Norway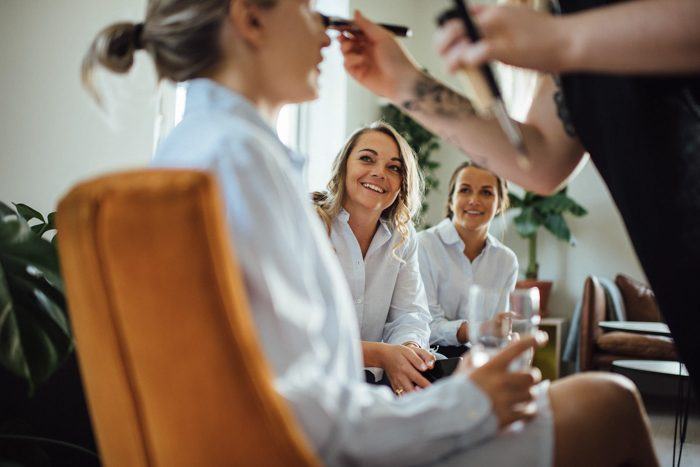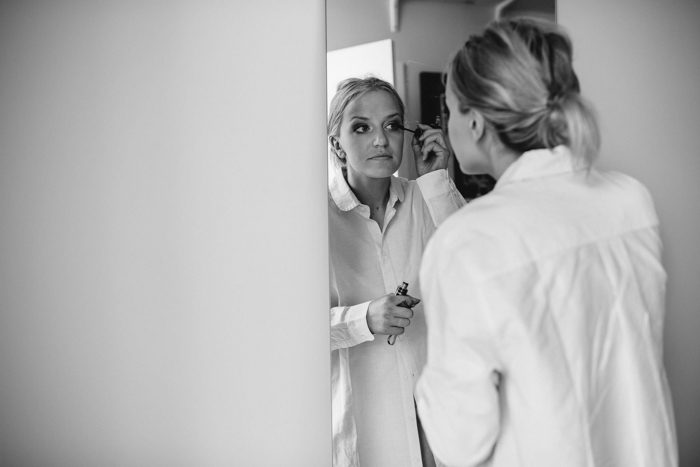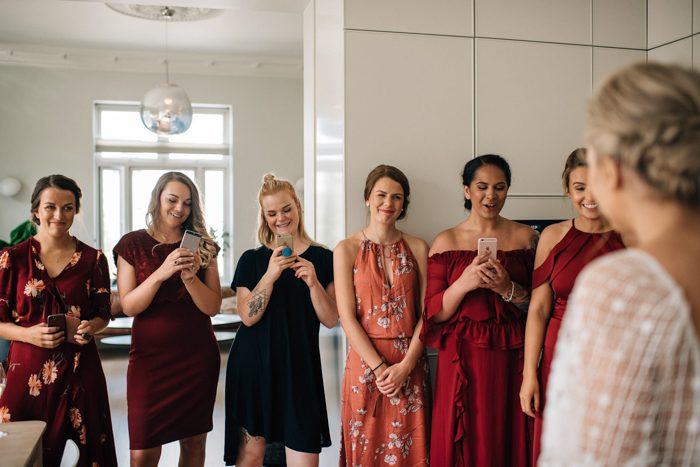 It was a very personal day, where who we are as a couple shined through in all the decisions made. Having grown up surrounded by spectacular Norwegian nature, it was important to have that incorporated into the day, and so we had the ceremony at a secluded spot by the lake in the forest. It felt so intimate and grounded.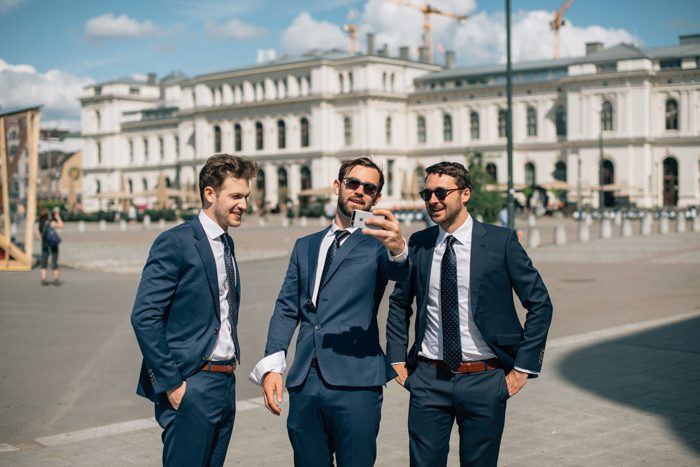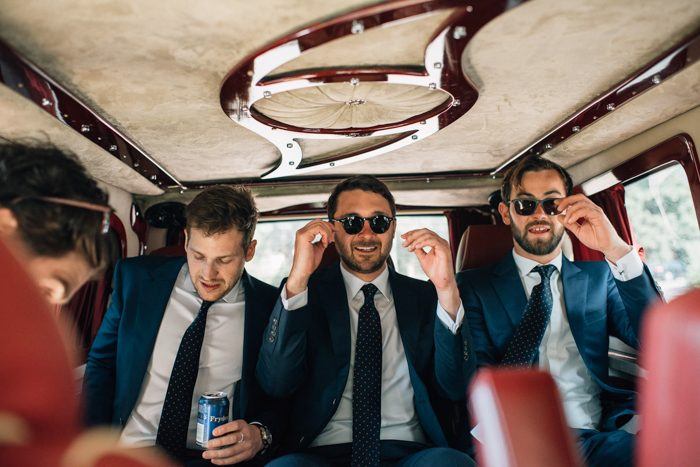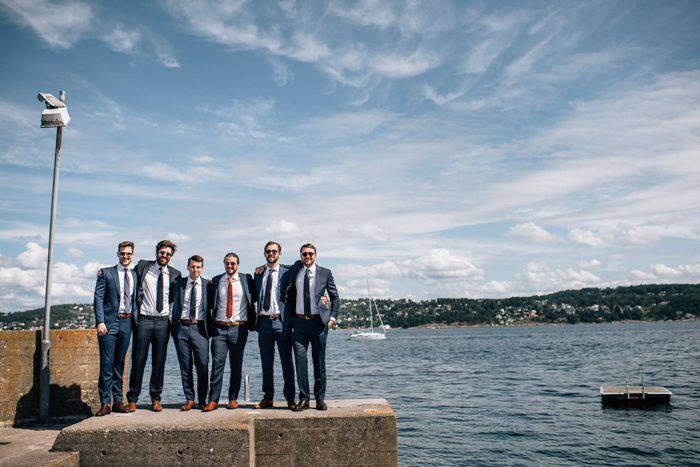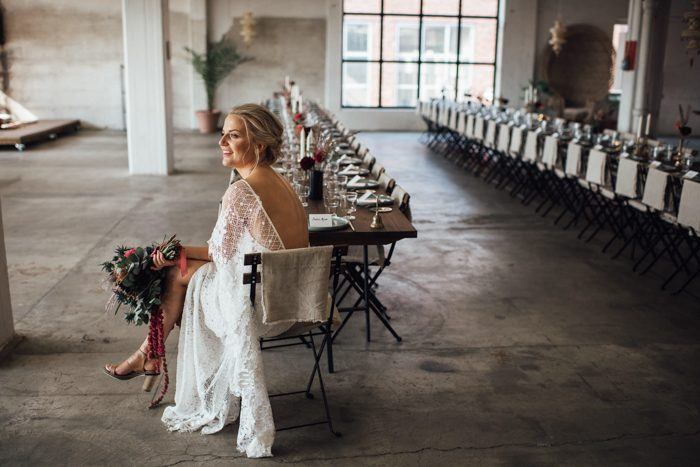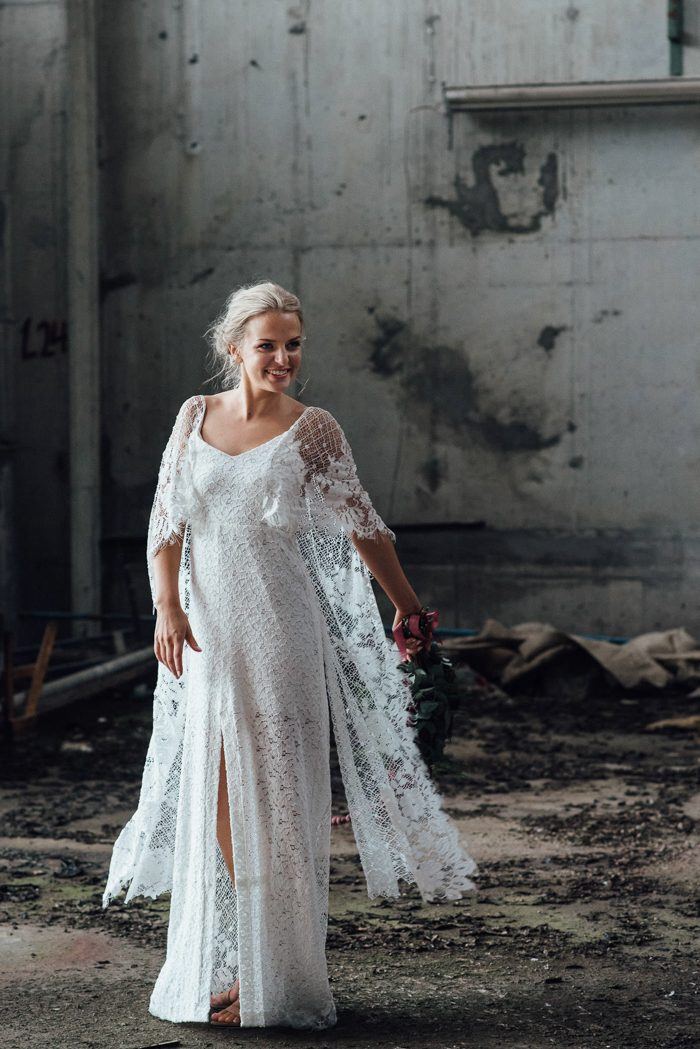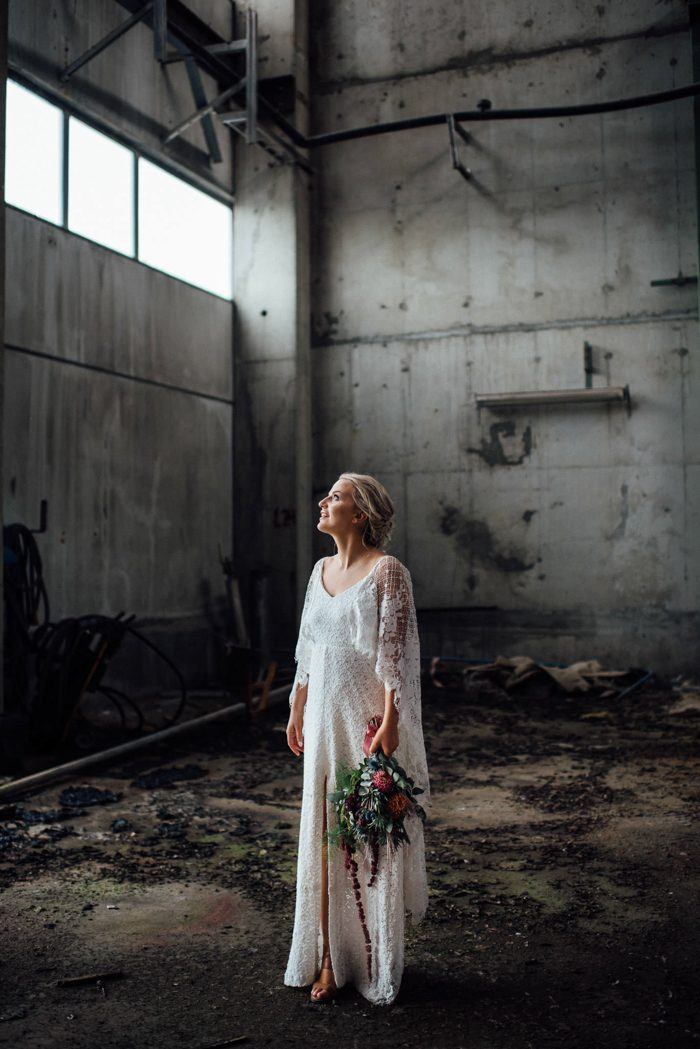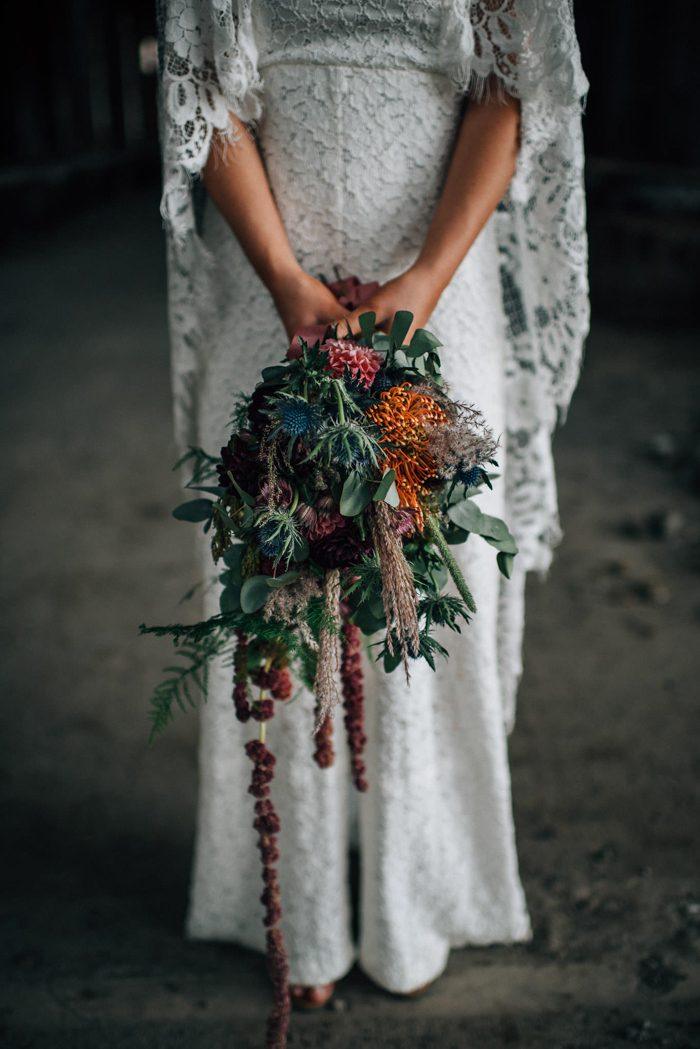 It was incredibly important to us to have great photos to look back on, and we felt so safe with The Shannons behind the lense. They have such a good eye for finding the real and beautiful moments throughout the day, filled with so much emotion. We are in awe of their work, and knew we had to have them onboard! Luckily for us, they didn't mind flying in from London for our big day. They made us feel so at ease in every setting and are literally the nicest couple you'll ever meet. As The Shannons take documentary style photos, we hardly noticed they were there – they just blended in like the artistically talented ninjas that they are.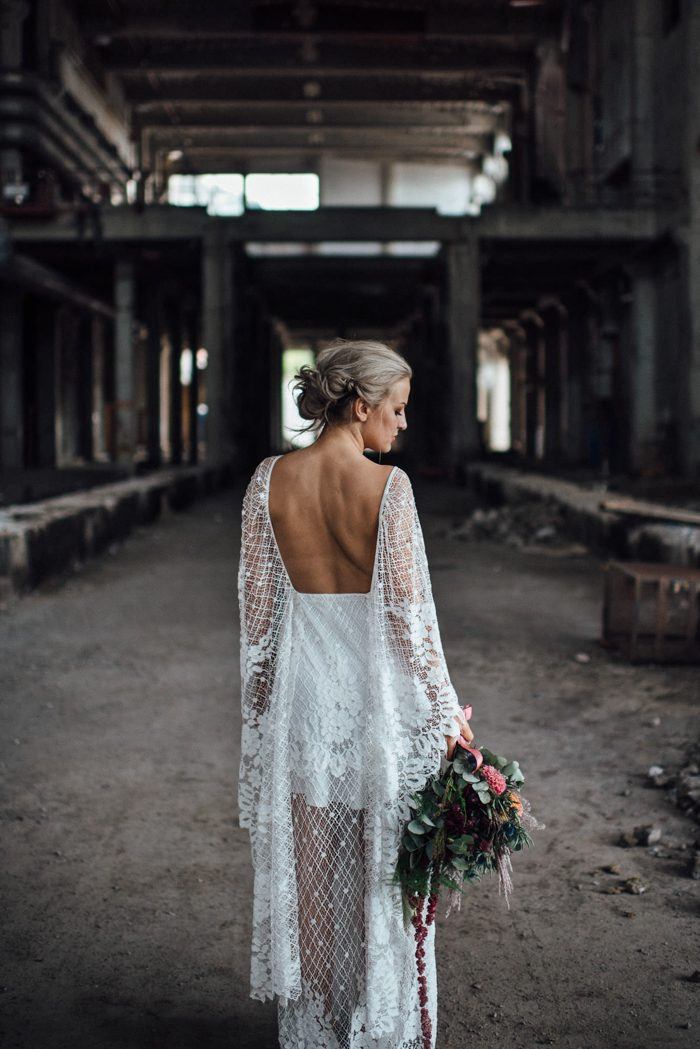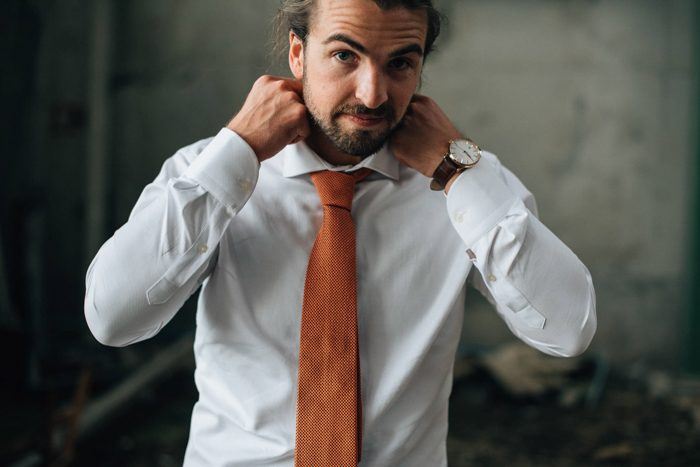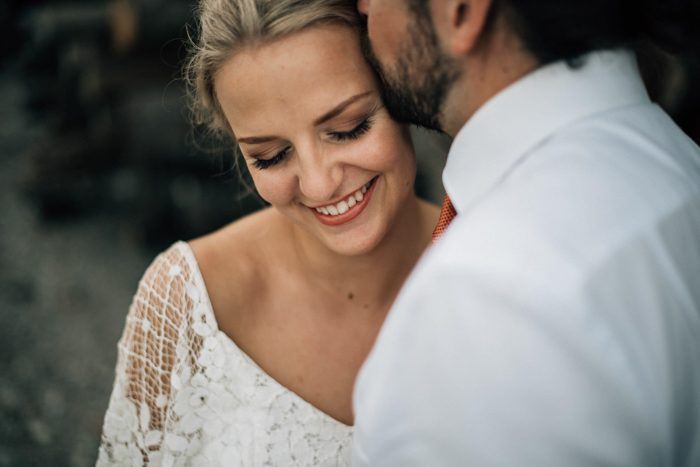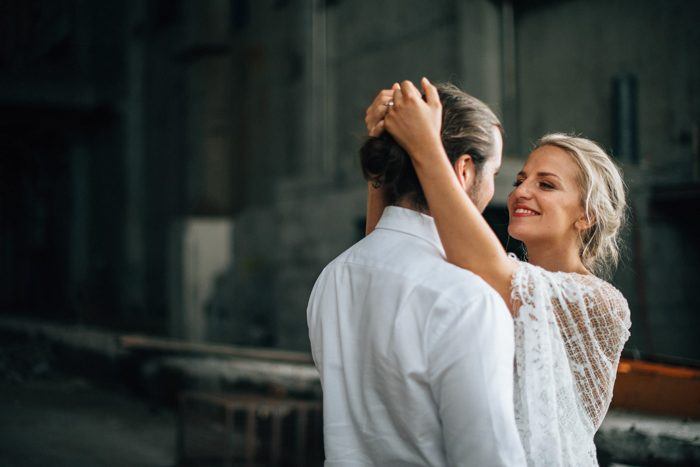 It was very important it was a happy and laid-back day with laughter in the air, and the relaxed ambience of our venue accented just that. The incredible raw industrial location softened with a Moroccan colour palette, lounge areas, and brass accessories helped create the atmosphere we craved. The wedding was not typical Australian (Hamish) or Norwegian, but a blend of us as a couple.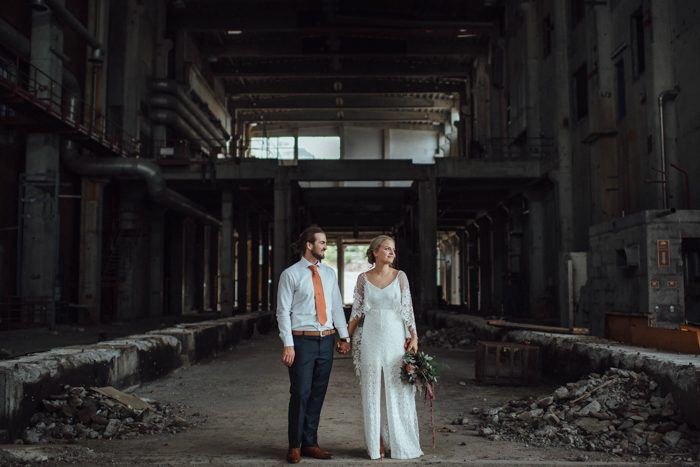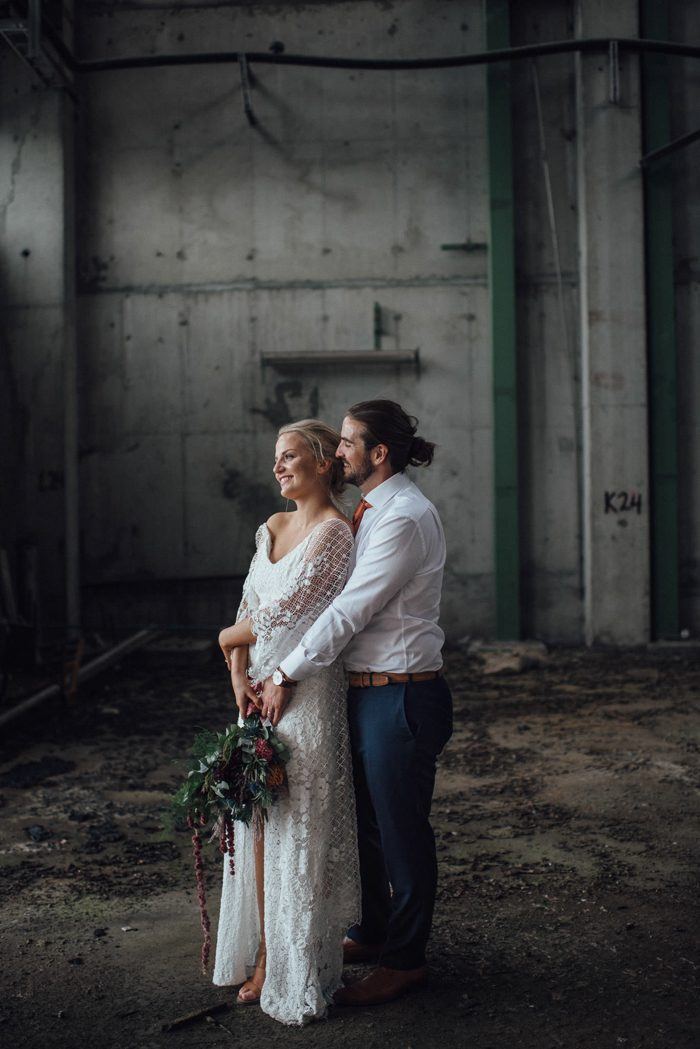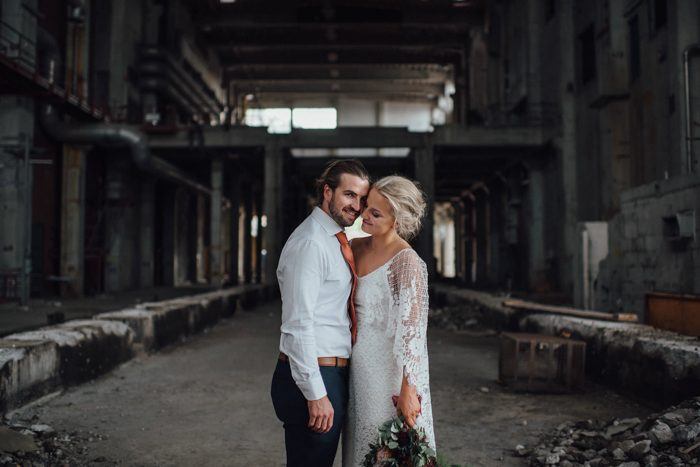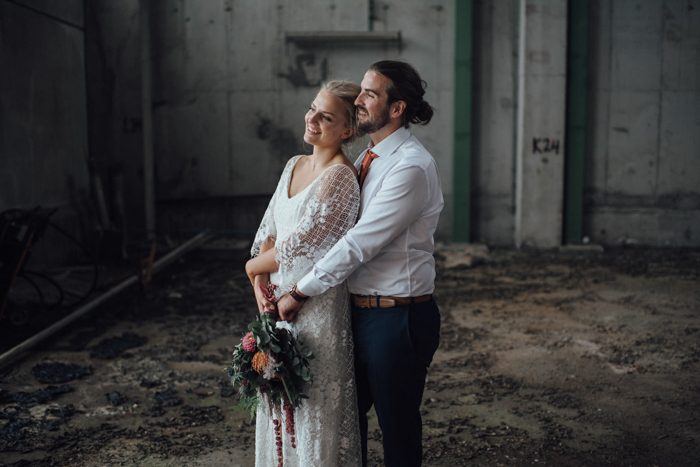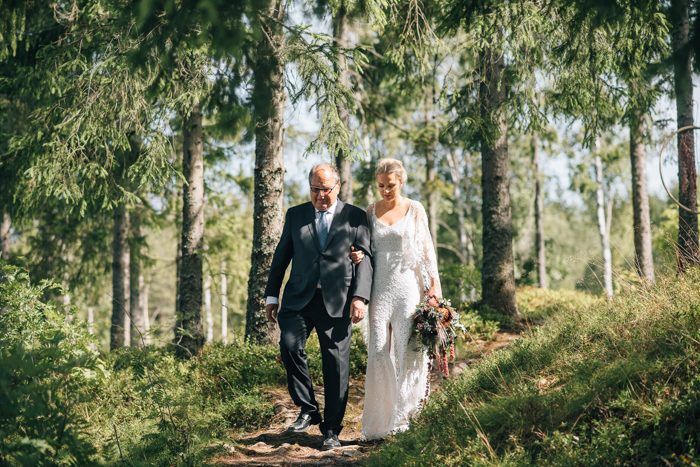 The weekend before our wedding, I got severe food poisoning during my hens in London, and was very ill the week leading up to the wedding. The night before I was so ill in fact I was hospitalised. I persuaded the doctors to let me go the next day in the nick of time! I took a taxi from the hospital to the apartment where my bridesmaids had been waiting for four hours, we all cried happy tears, and they all got me ready in a hurry. Poor Hamish and our guests were waiting in the forest, had no signals andno way of knowing if I would make it.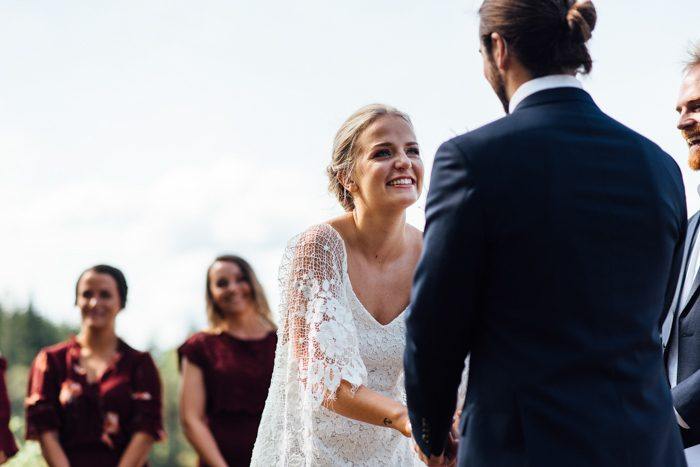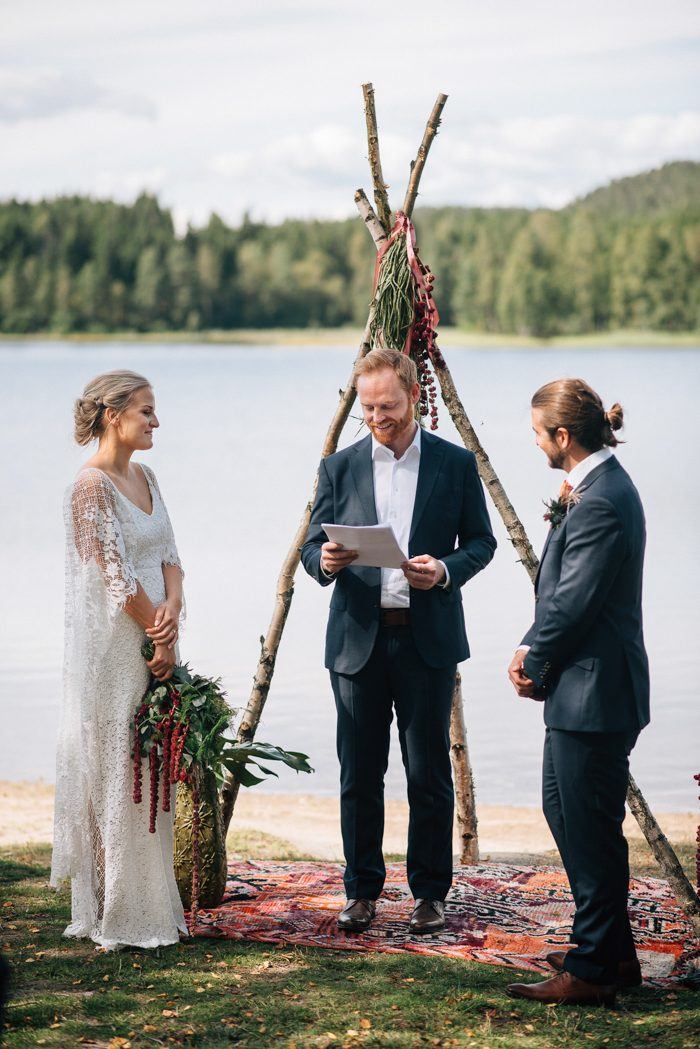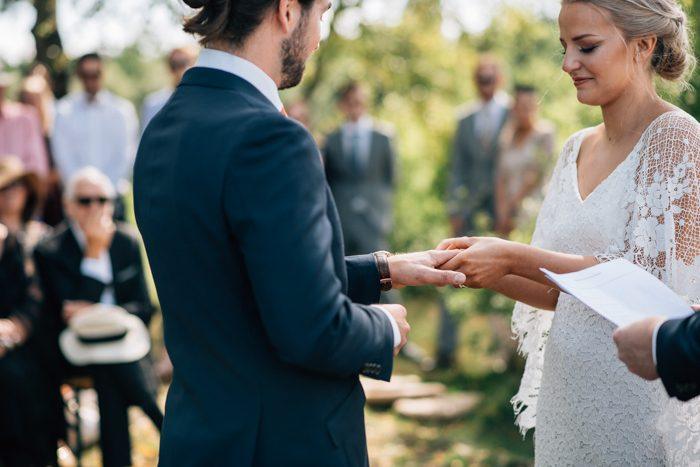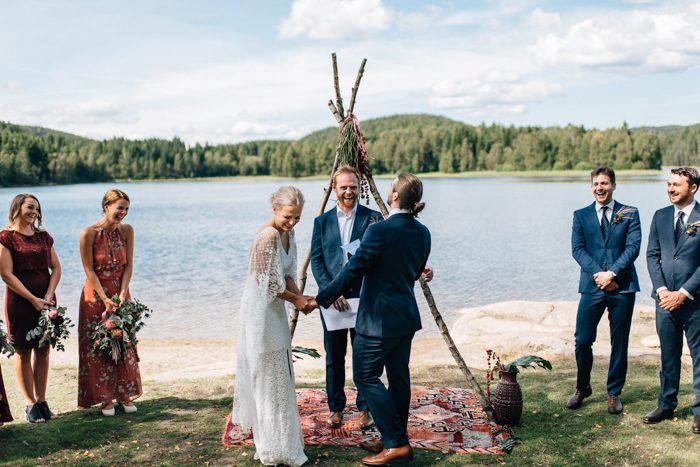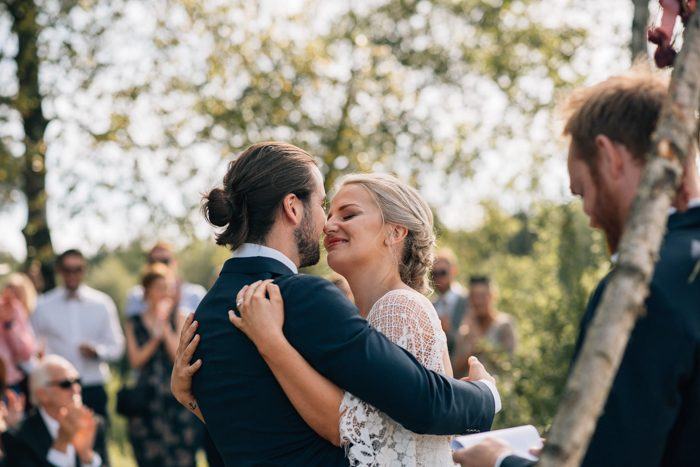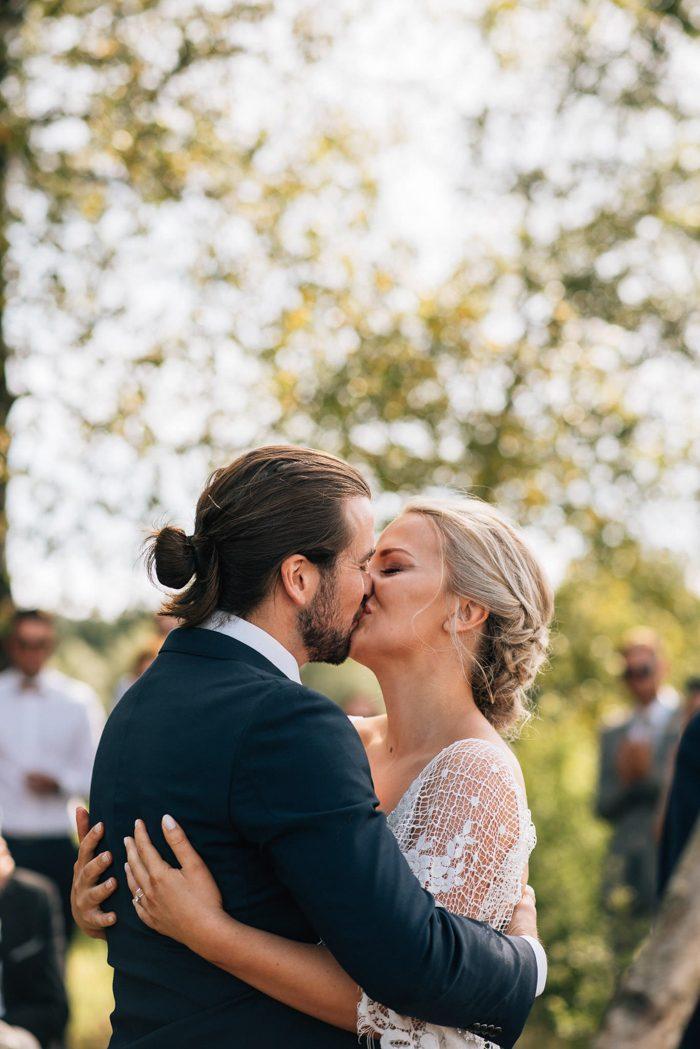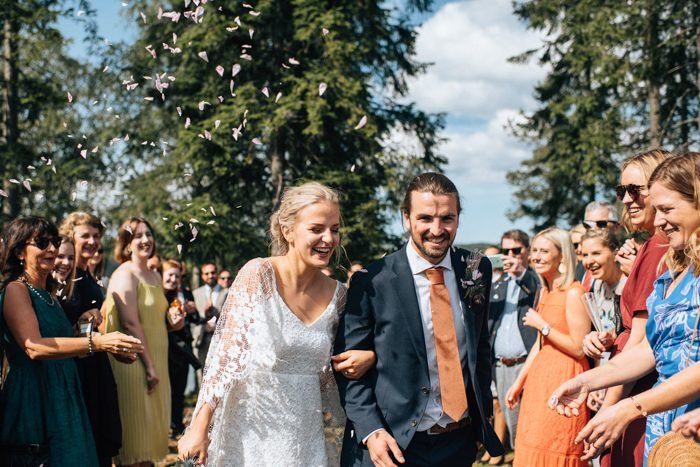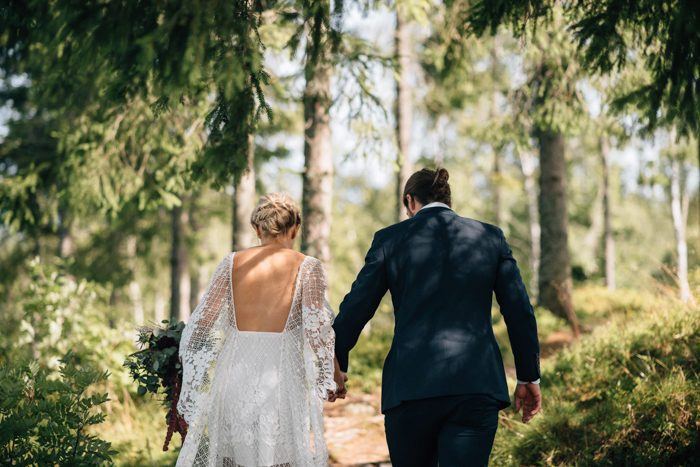 We rocked up hour and a half late, and as a nervous Hamish locked eyes with me walking down the forest path it sank in that I had made it. We were overcome with emotion. When I saw everyone who had flown in from across the world to be there with us, there is no words. It was such a heartfelt ceremony filled with laughter and tears. I had left my vows in the car andhad to improvise, and Hame couldn't get the wedding band on my finger as I had had so many litres of IV drip at the hospital! And that's how the day continued – laughter and tears all day long. We're a lively bunch, so there was never a quiet moment.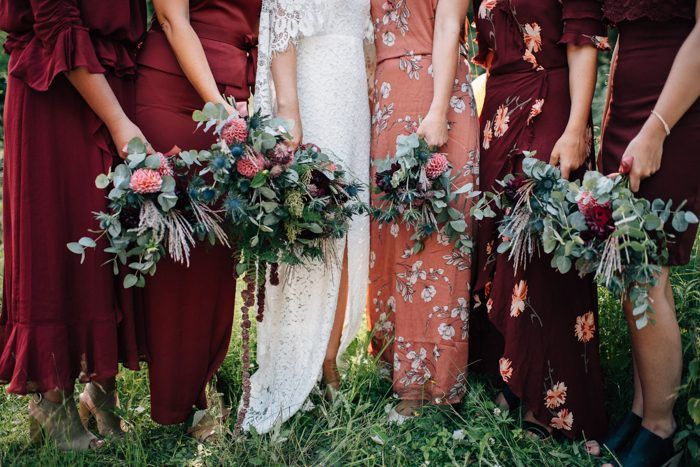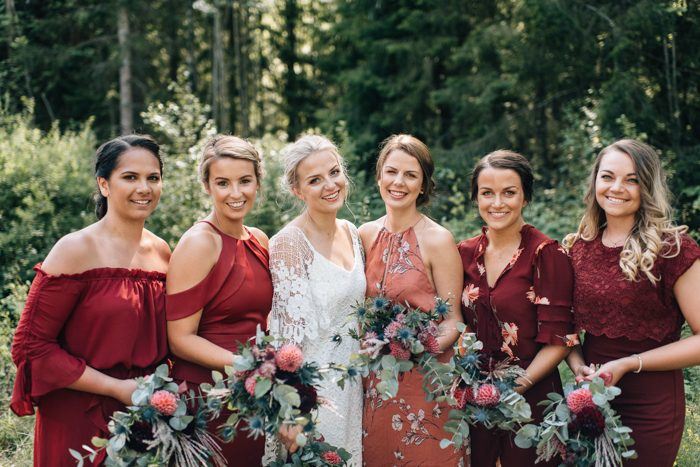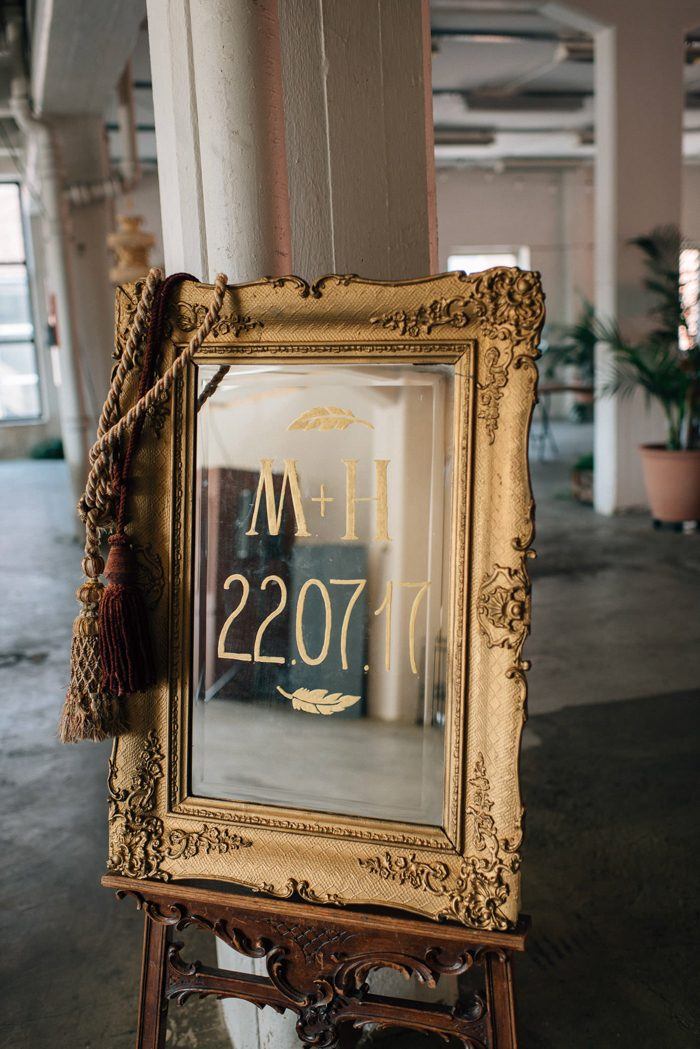 We chose the venue due to the incredible open floor space, with a raw industrial setting. The windows were incredible, letting in so much light, making it into an incredible location- a photographers dream venue for sure. After meeting with the owner andwedding planner Trine Thorsen, we knew she understood the atmosphere we wanted to create in the space, and she delivered a bohemian-industrial fusion above and beyond all expectations.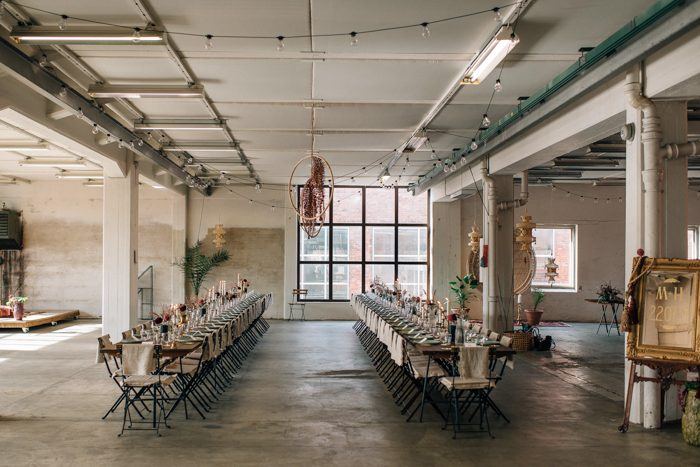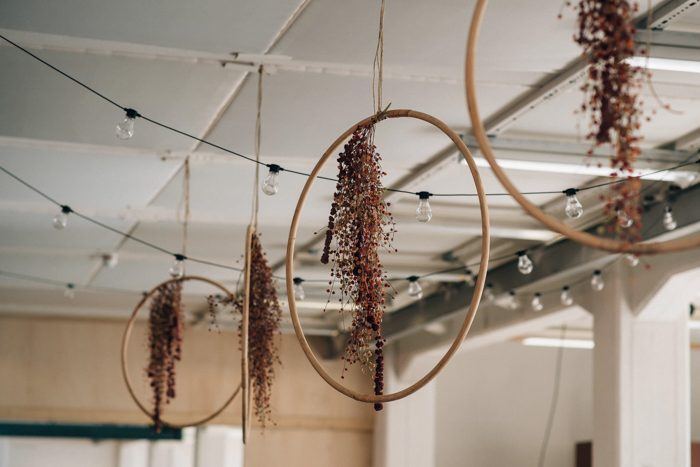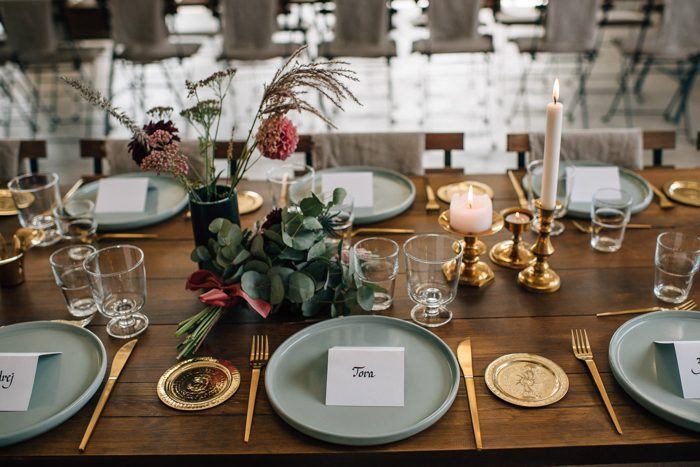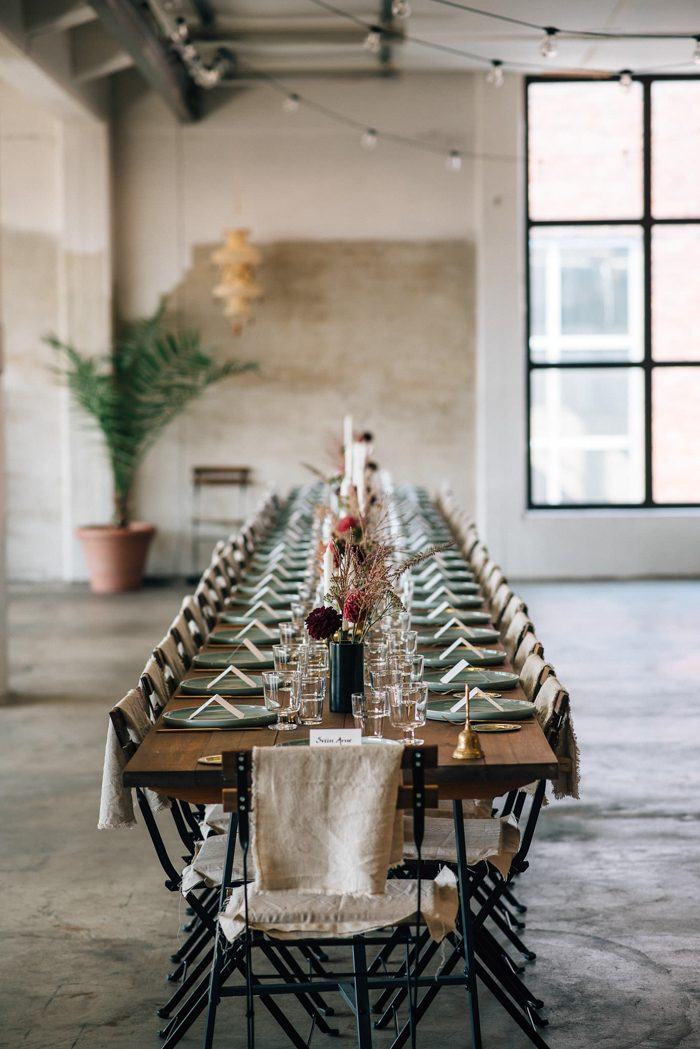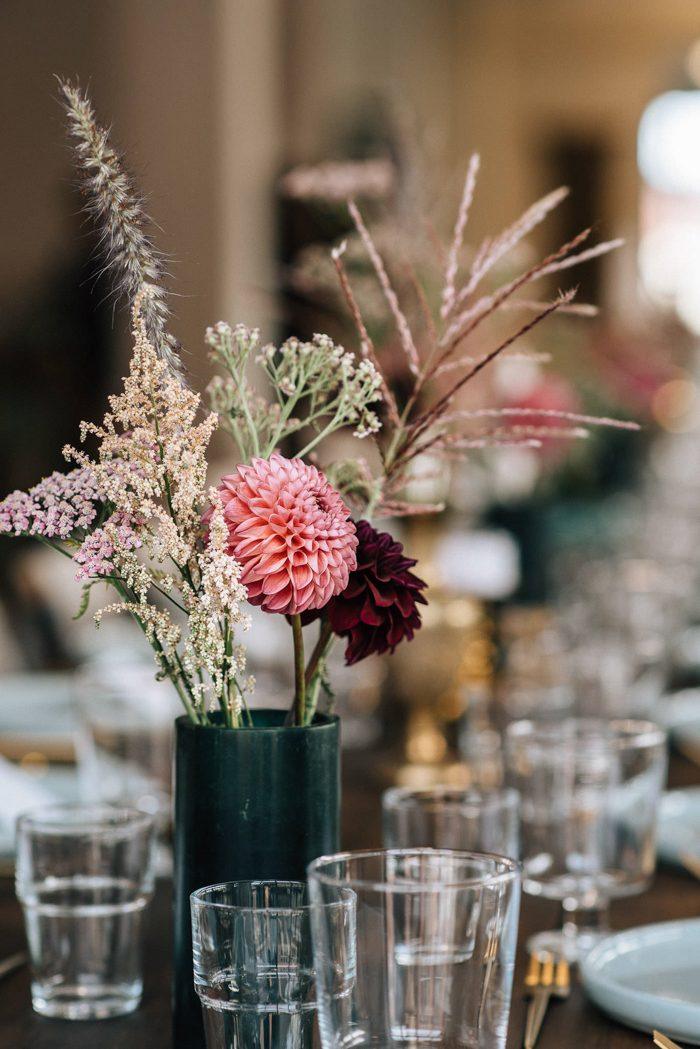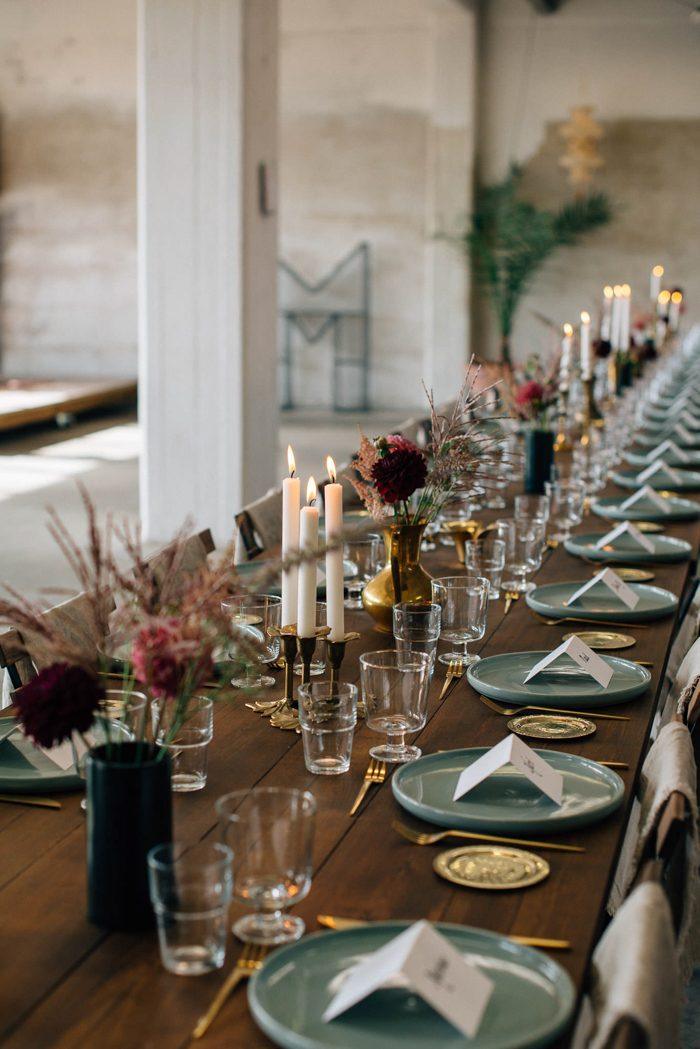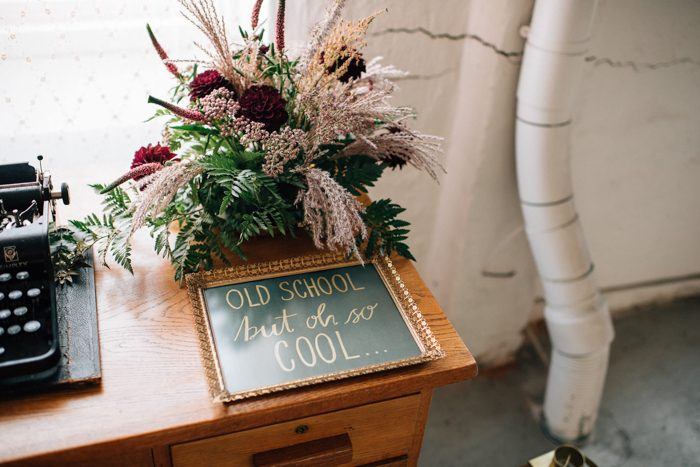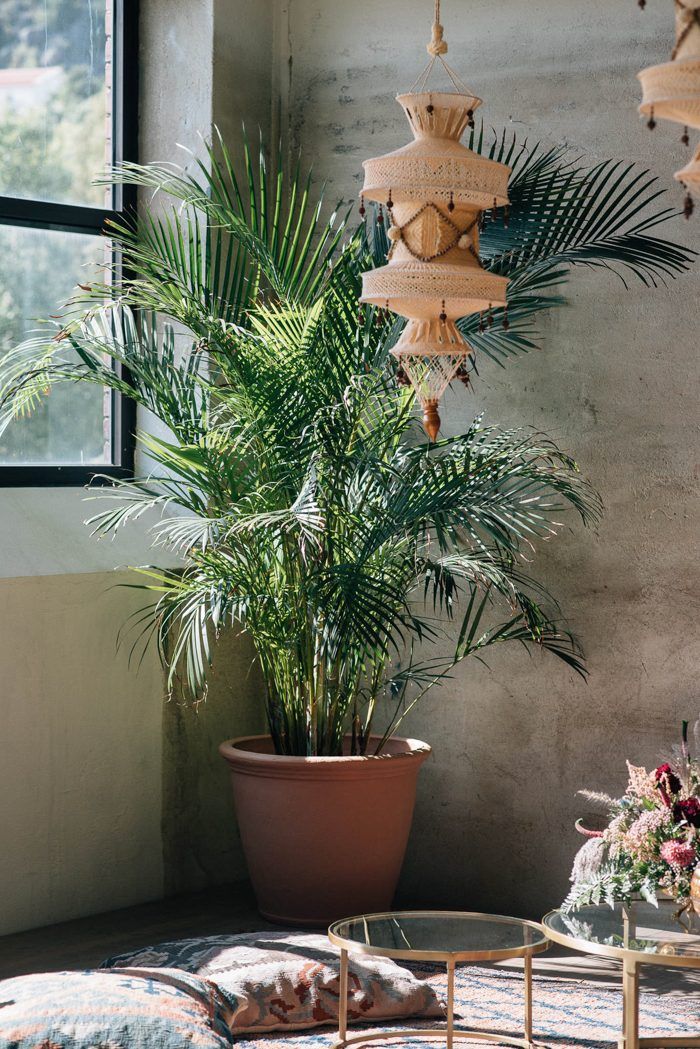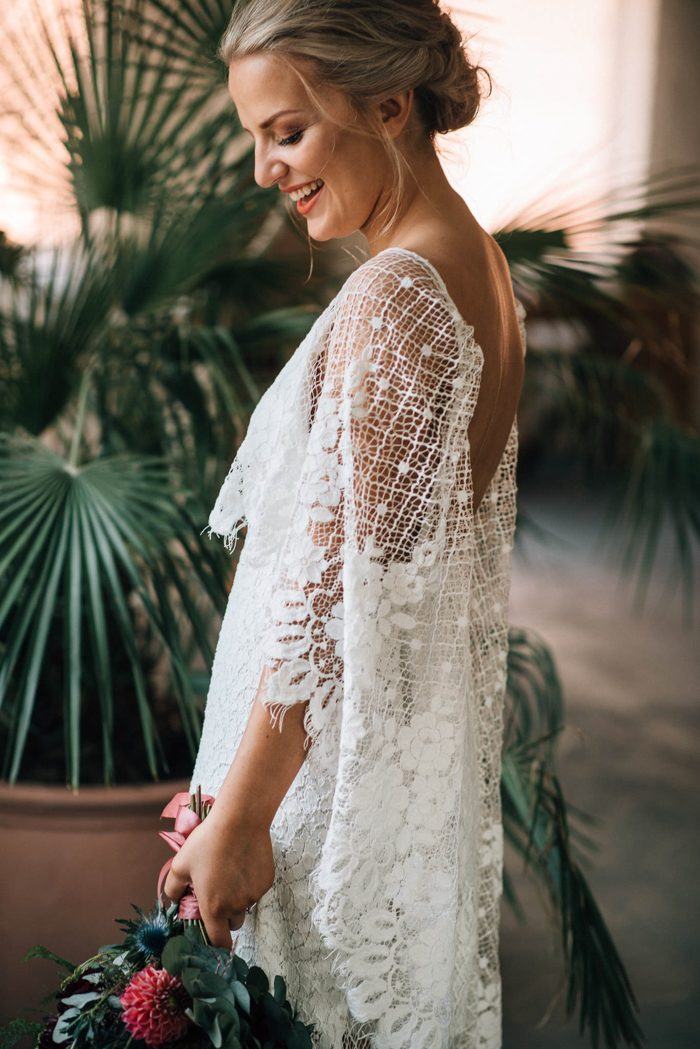 We had a very organics flow to the day, with everything from the forest ceremony to the raw industrial reception venue decorated in warm Moroccan colours and fabrics. The Verdelle dress from Grace Loves Lace complimented all of those features with the flowy arms and open back giving off an ethereal, bohemian look. I didn't wear any accessories as I thought the intricate French lace and design of the dress was holding its own. The bridesmaids wore different dresses in burgundy tones, as they flew in from all different sides of the world making dress shopping a bit tricky, and I wanted them to have a dress they felt good in.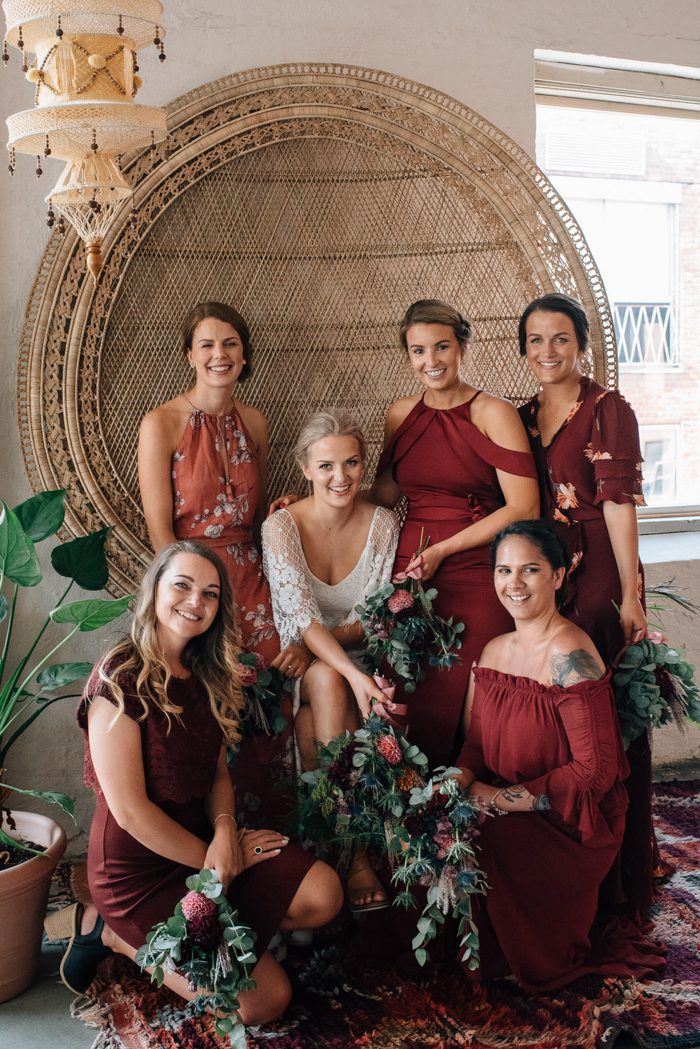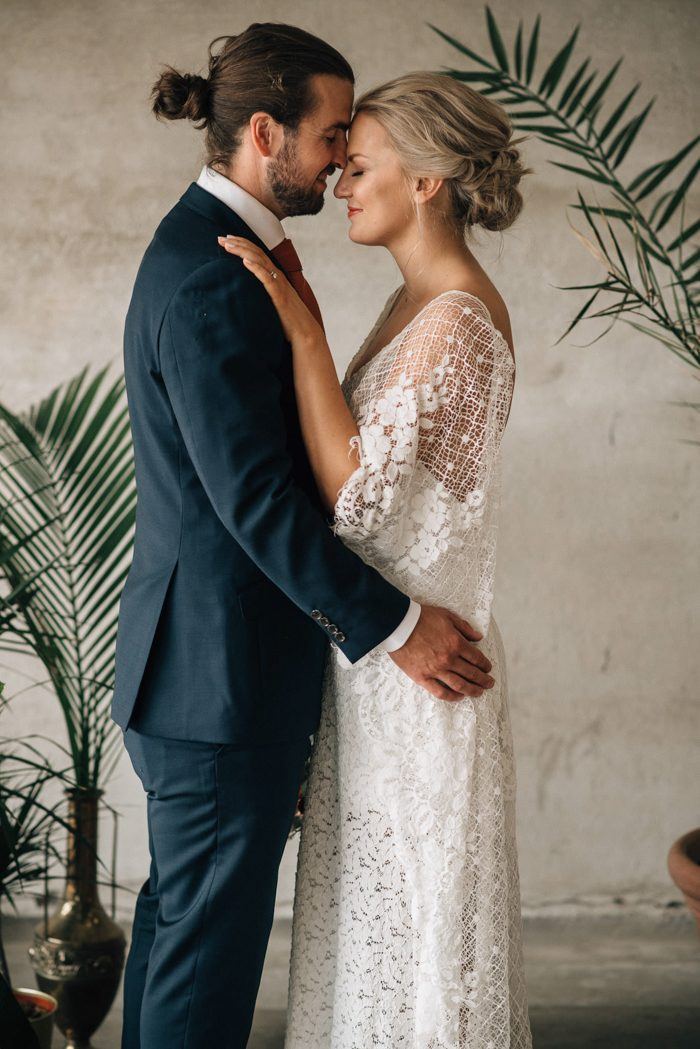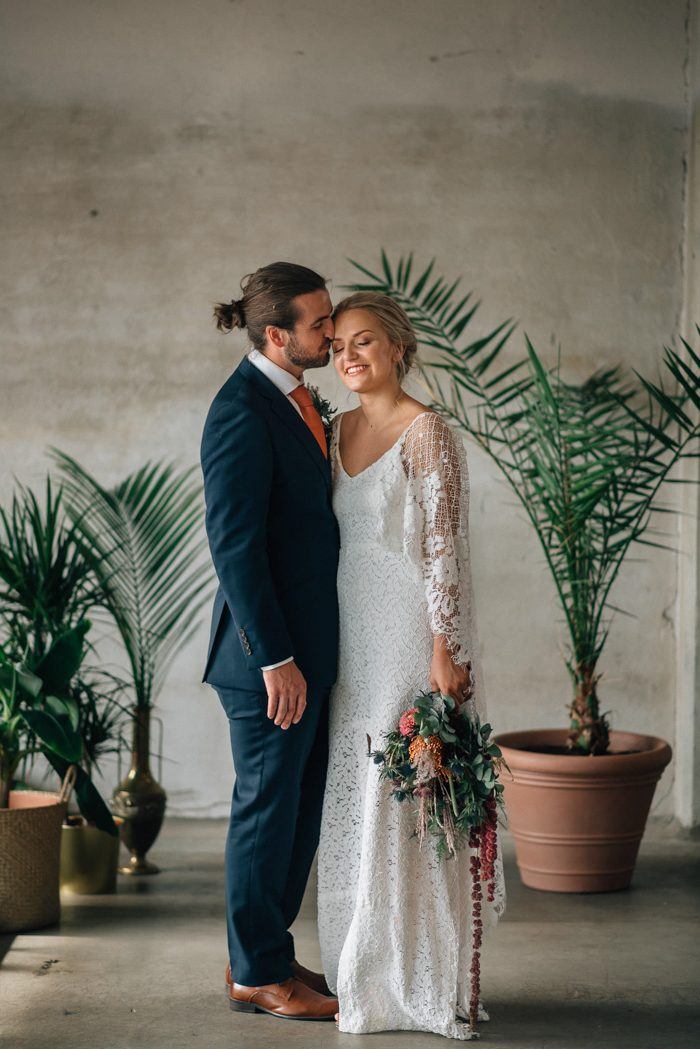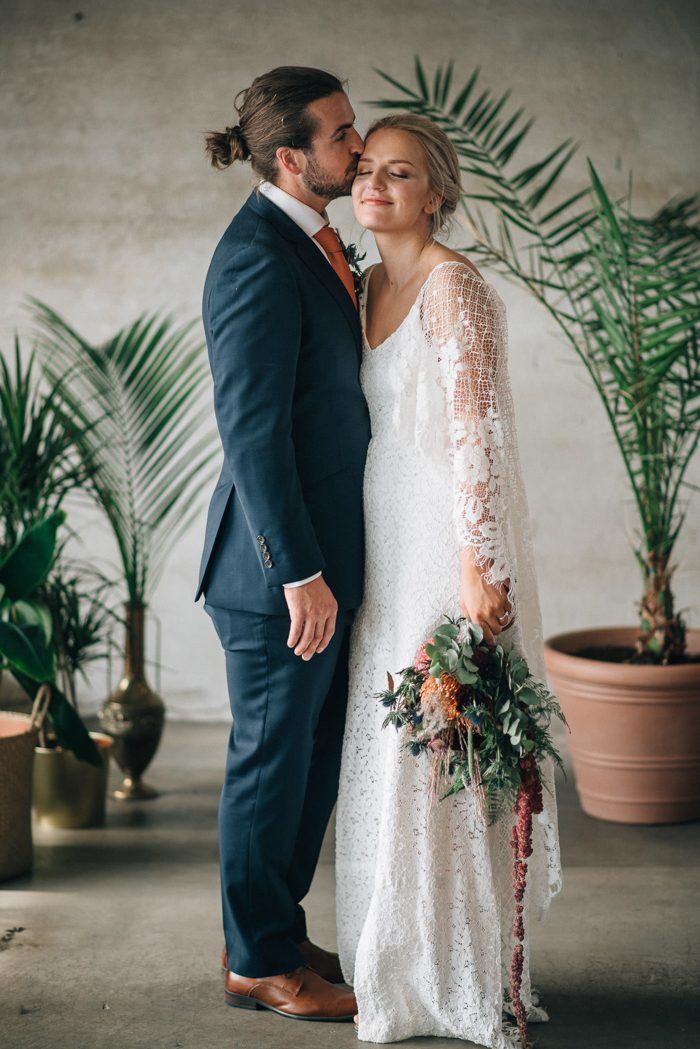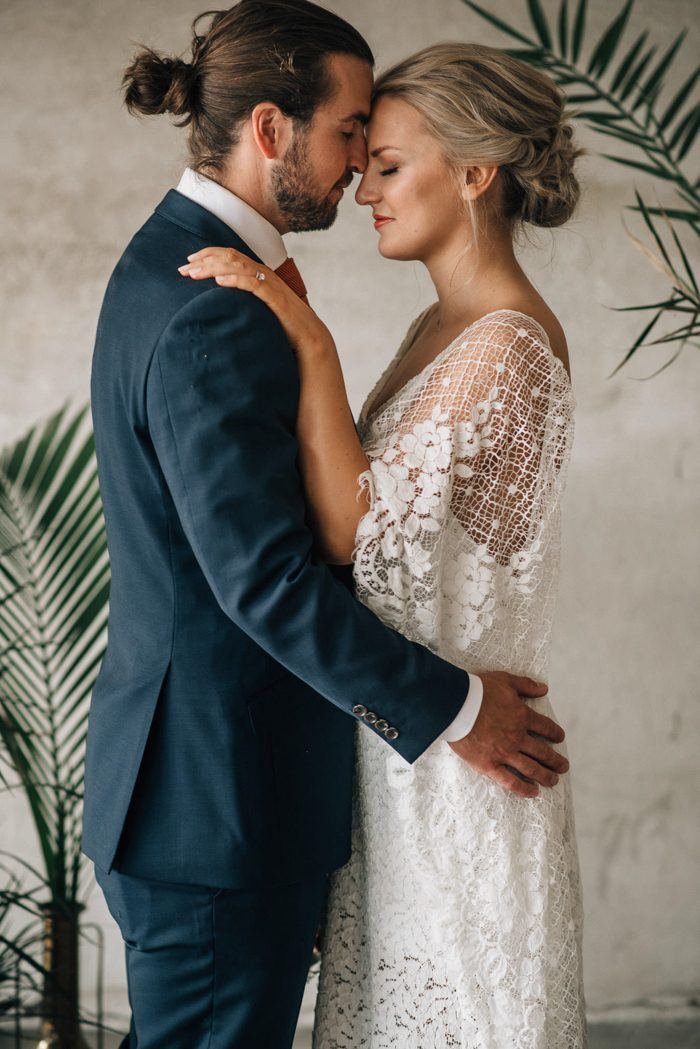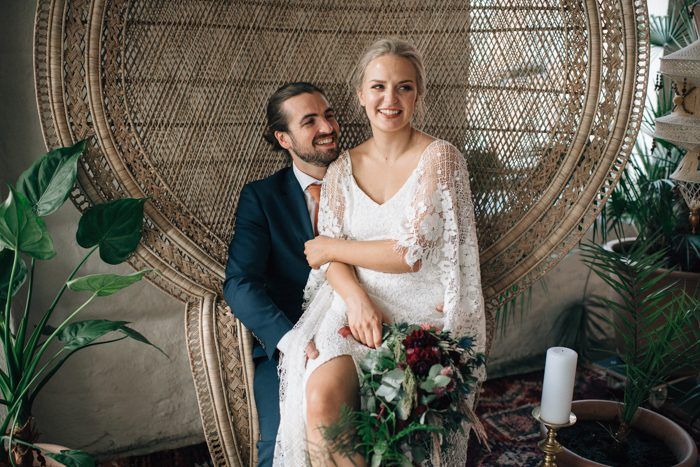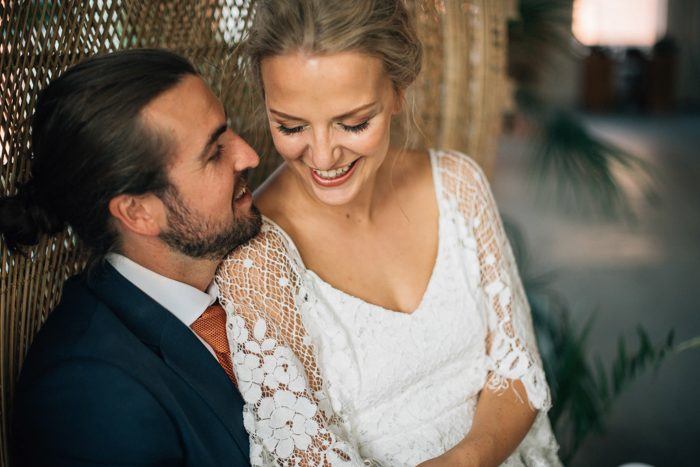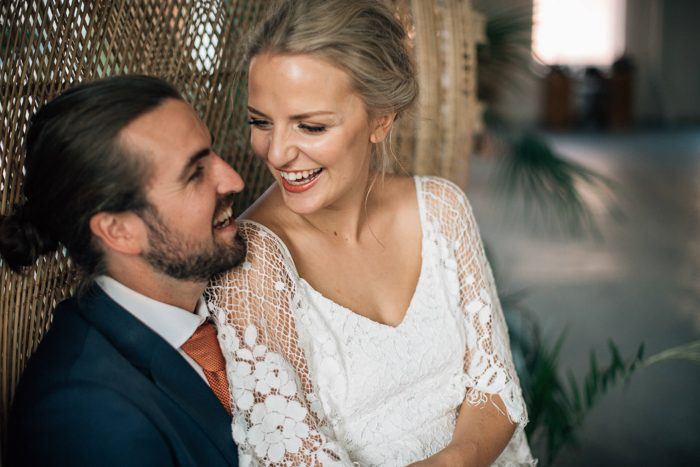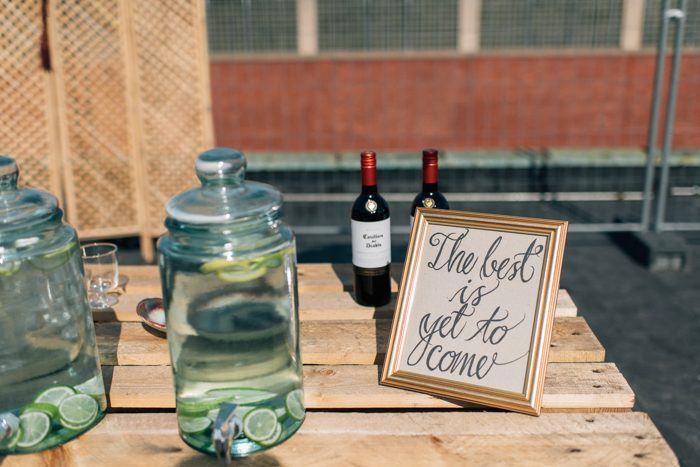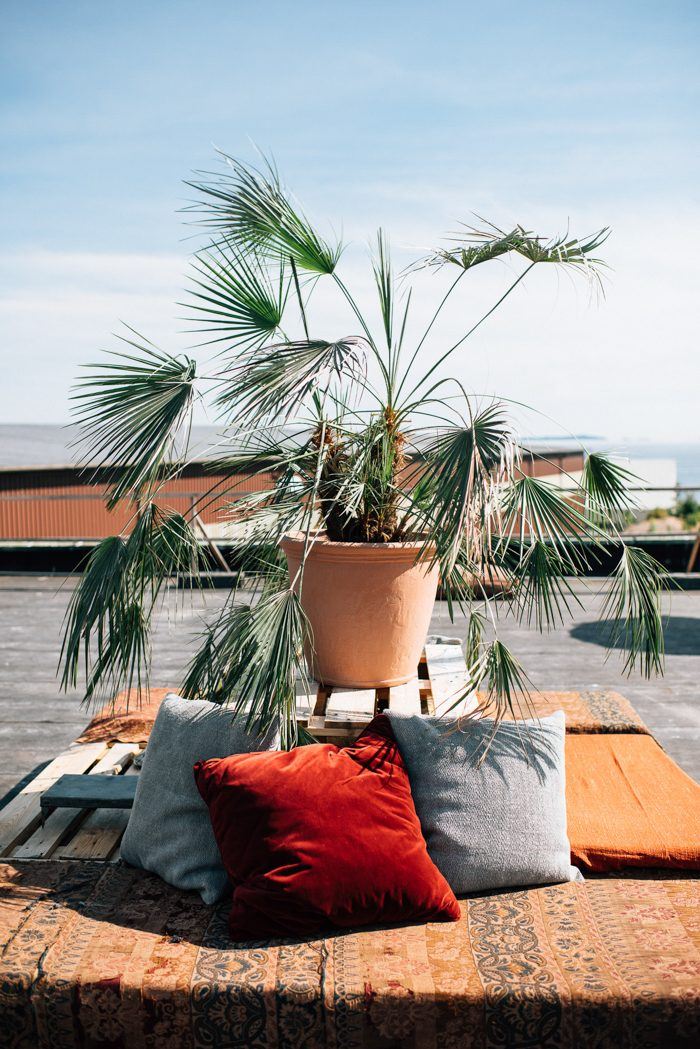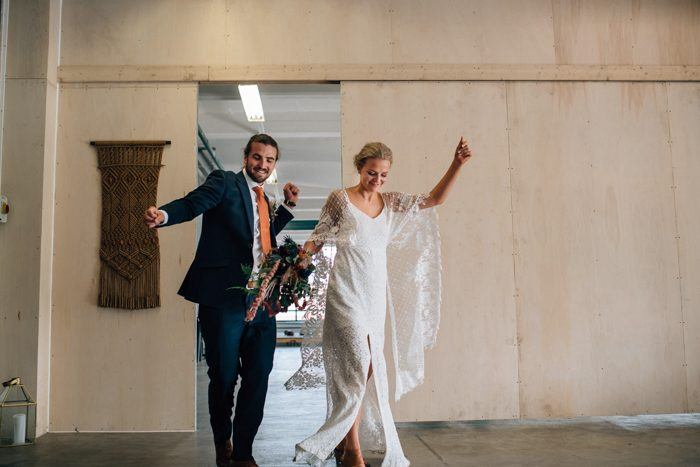 Bridal Party Processional: The Cave – Mumford & Sons
Bridal Processional: Dirty Paws – Of Monsters and Men
Recessional: Here Comes The Sun – The Beatles
Welcome Party: Jungle Boogie – Kool & The Gang
First Dance: You Can Never Tell – Chuck Berry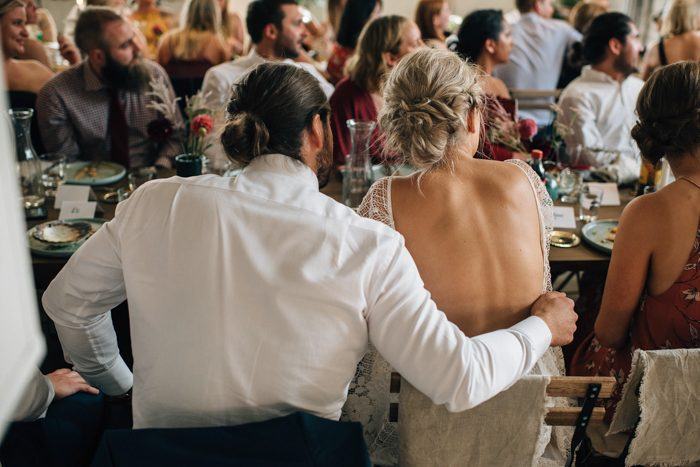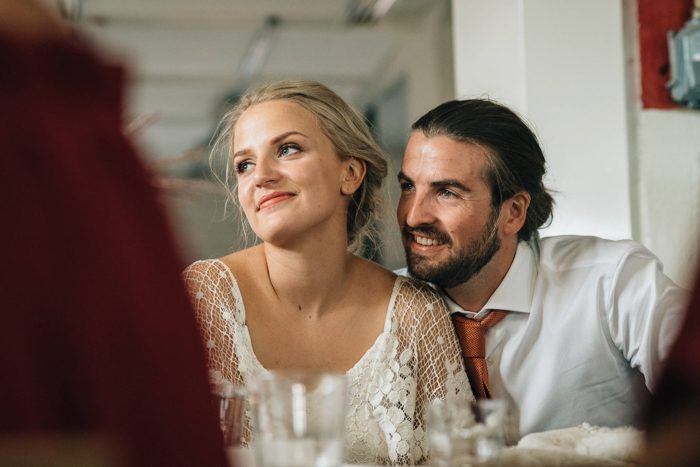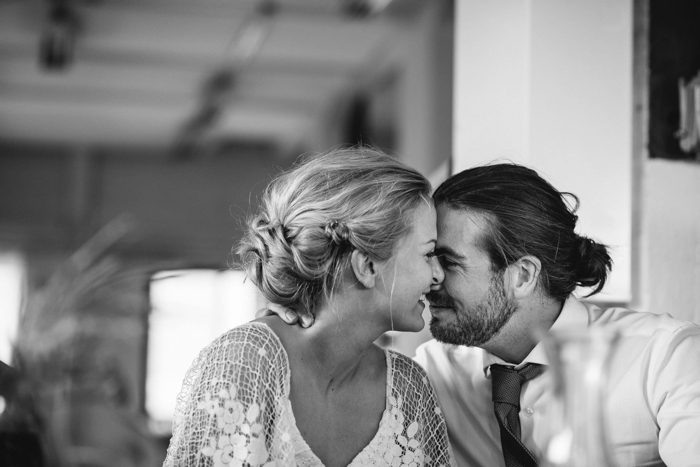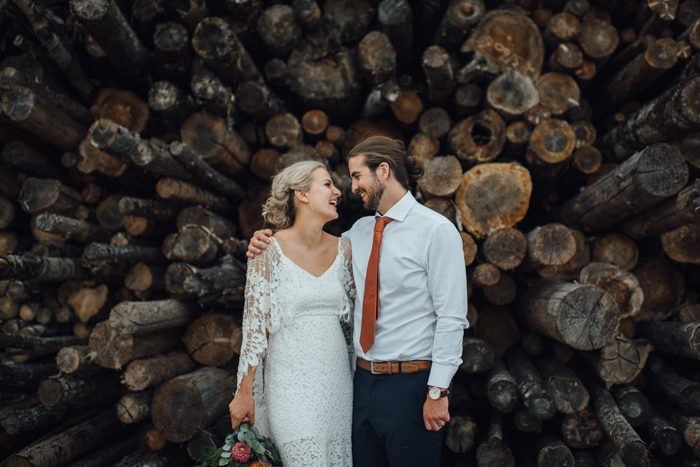 Congratulations to Mellie and Hamish on their beautiful and relaxed wedding and special thanks to The Shannons Photography for capturing such an emotional and special day. For more relaxed industrial wedding inspiration, check out this lush industrial El Segundo wedding at Smoky Hollow Studios!