With all the struggle and hardship that occurs in the world, we're reminded every day how lucky we are to live the fortunate lives we do, and to work within an industry that's all about promoting love, passion and joy. Recently we started a "Giving Back" page on Junebug to highlight a few of the charitable organizations and movements we believe in, and today I wanted to focus on some of the great charitable giving options you have surrounding your wedding day! If you're not interested in a traditional bridal registry (you already have all the home goods and linens you need) or if you want to give wedding favors to your guests that are really close to your heart, check out these fantastic groups that allow you to give to worthwhile causes around the globe…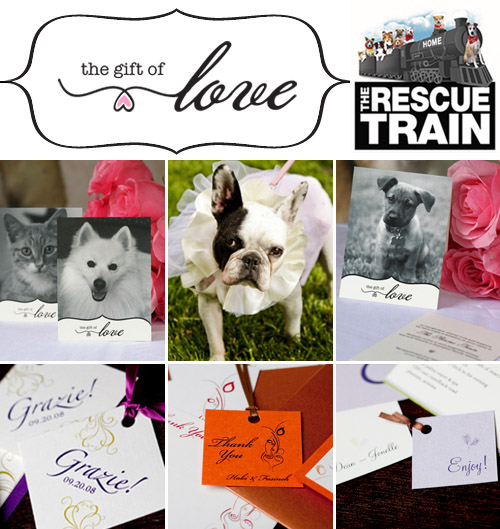 The Gift of Love is an organization that accepts donations to give a gift of life to both dogs and cats who are facing euthanasia in shelters. Proceeds from this site support The Rescue Train which is a unique, 501(c)(3) non- profit, no-kill organization dedicated to eliminating animal suffering and euthanasia through hands-on rescue work, education and awareness. You can set up a registry and after donations are given special thank you cards can be delivered to guests, or you can work with a graphic designer to make your own custom wedding favors to give out on your wedding day.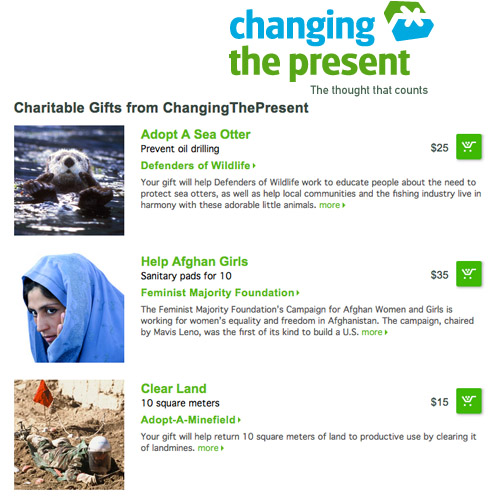 Changing the Present is a website for charitable giving of all kinds, where donors can choose from over 1500 nonprofits to support. You can make donations as thank you gifts or wedding favors, or you can set up an online gift registry to request alternative wedding gifts from your guests. Definitely a meaningful present that will never get old!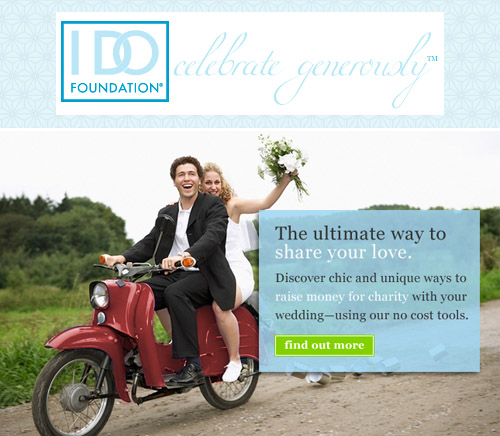 The I Do Foundation has been a leader in alternative and charitable wedding registries for years now, and their extensive website offers lots of options for couples and guests. Register on their site, choose your favorite charity to team up with and find all kinds of ways to help raise money for a good cause with your wedding!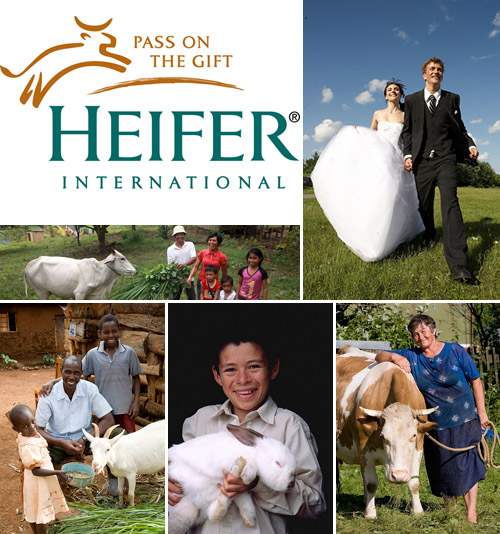 Finally, Heifer International is an organization that is dedication to helping those around the world succeed at ending hunger and poverty. Whether set up as a registry or a wedding favor, animals are donated to villages in need, with the goal of helping families become self-reliant and continue the cycle of giving. What an awesome way to begin your new life by helping another family thrive in theirs!
Are you going to do any charitable giving for your wedding? Let us know about the organizations that you think are making a difference!