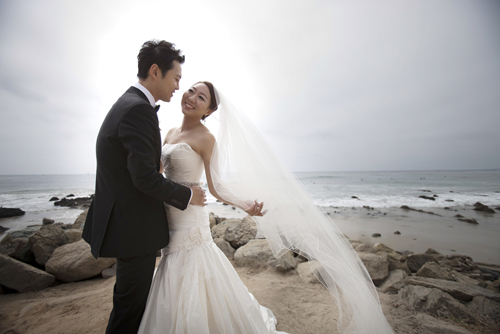 Julia and Ryan's beachside ultra sophisticated wedding at The Ritz-Carlton Laguna Niguel was simply picture perfect. The wedding planning team led by Jeannie Savage of Details, Details created an atmosphere of contemporary elegance with a charcoal gray, silver, white and peach color palette that the couple couldn't have loved more. Enjoy it all in these lovely wedding photos from LA wedding photographer Roberto Valenzuela and the story of the wedding from Julia herself!

The Goals: "The whole ambience that the wedding day decor created was important, and the absolute most important thing to me was the photography, because I knew that it was what would really last beyond the day of. Besides that, I really wanted it to be a fun and memorable time for my husband and I, and we wanted to ensure our guests would also just have a great time. Our best decision was hiring the right professionals to help plan and carry out the wedding. I really realized that the vendors can make or break your "perfect" wedding."

The Design: "Our wedding colors were charcoal gray, white, cream, silver and hints of pale peach. I knew I wanted a fairly neutral palette with just enough color to create a romantic feeling in a subtle way without it becoming too feminine. The charcoal grey was the dominant color, and the white, creams, and silver added a bit of modern to the whole picture. Because I wanted to see some color in the photos, touches of pale peach here and there was perfect to bring everything together.
Our ceremony was outdoors, overlooking the beach at The Ritz-Carlton Laguna Niguel. This was something I have always dreamt about since I was a little girl, because I spent my childhood years living in Hawaii and I thought all weddings were supposed to be outdoors at the beach.
I wanted to make the wedding invitations from A Papier very simple, yet elegant, so color-wise, I stuck with our color scheme, and the style and font was inspired by the Ritz-Carlton vibe. For favors, I custom ordered shot glasses with our initials and wedding date engraved. I actually used the favor as a unique escort card idea as well by filling the shot glasses with custom ordered m&m's and placing escort cards attached to a toothpick in them. The wedding cake was all white, and it was a four tiered round cake that had flower petal detailing along the front."
The Look: "I wanted a classic, timeless look, and so I chose a dress that wasn't over the top but not plain either. I chose a strapless ivory gown by Melissa Sweet that was kind of mermaid style, tight to the hips and then flowy from there on. The most important thing about the dress was that it had to be flattering on "me," and this dress did just that – it really made me look and feel great but also comfortable. The dress being taffeta silk made the gown very light, and I knew this would be important on the day of. Because I wanted to look clean, classic, and elegant, I didn't overdo the jewelry either. I kept it simple with a pair of earrings and a bracelet. To avoid the overall look from becoming too simple, I added a crystal belt with a ribbon tie in the back to the dress. For a bit of a fun twist I added a royal blue heel. The pearl bracelet I wore used to be my mom's, who passed away when I was in elementary school, so that was very special to me. Through that I felt like a part of her was there with me as well.
The bridesmaids dressed in charcoal gray dresses and their overall style went along with a clean, elegant but fun look. The groomsmen were also very clean cut, wearing sleek black slim-cut suits with matching charcoal gray thin ties."

The Moments:"The moments that stand out to me the most were the dances during the reception. Our first dance, because that was the first time during our wedding that we were finally a bit more relaxed and able to talk to each other. It was one of the main moments where I felt like it was really "our" moment with just the two of us. Also, our guests had some awesome dance skills that blew the entire reception night away! Another romantic moment was when we were listening to the toasts from the best man and maid of honor, and my husband just reached over and held my hand tight. I looked at him and smiled, and that moment was just very warm and romantic.
Through the whole process I really realized that weddings, no matter how perfect you want them to be, will have flaws here and there inevitably, but the most important thing is that you just let it be and really just enjoy it, because time flies by. The mentality my husband and I had for our wedding was to be completely cool and not let anything get to us so that we could have one of the best parties of our lives together, and we did! The wedding felt like one big party with those dearest to us, and that's what really made it special."
The Pros: Learn about all of the talented wedding professionals who contributed to this wedding on Julia and Ryan's page in our Real Wedding Library!

Thank you Julia and Ryan!
To plan your own wedding in Seattle or Southern California, check out our Plan Your Wedding Hotlists. To find a dream wedding photographer and planner for your wedding anywhere in the world, don't miss our World's Best Wedding Photographers Hotlist and World's Best Wedding Planners and Designers Hotlist!