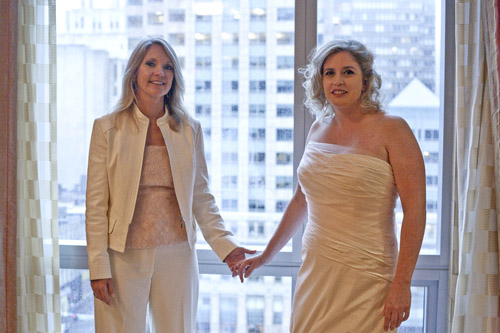 The couple: Leigh and Amy
The wedding: 9.12.09 – Thompson Island, Boston, MA
What three adjectives that best describe your wedding? Mystical, ethereal, moonless night
What inspired your personal wedding style, and how did you incorporate your style and personalities into your big day? We wanted our wedding to reflect our lifestyle we split our time between St. Croix USVI and Florida. Leigh spent much of her childhood on an island off the Florida Panhandle so the location of the wedding being on an island was important. (Being in Massachusetts so that our marriage was legal was also important we incorporated part of the state Supreme Court opinion affirming the fundamental right for all people to marry the person of their choice in our ceremony). We wanted a mystical, otherworldly feeling so we chose a schooner to transport our guests and we chose to get married by candlelight under a huge tree with lots and lots of flowers. Amy wanted white flowers and Leigh wanted a broader range of colors, so the ceremony flowers were white and the reception flowers were intended to look more woodland garden/fairy-like. We used a bagpiper and a Celtic harpist to create the atmosphere we wanted. We wanted our guests to commit to support us and so we asked each guest to join us in processing to the tree and each to carry a candle and to affirm our commitment during the ceremony. We also wanted the ceremony to express our love for each other but not be too informal, so we worked with our celebrant to craft a ceremony that was very personal but also had elements of a traditional service.

Looking back, what are the moments, decisions or memories that you love the most about your wedding? During the rehearsal the day before, the reception location had not yet been transformed, so there were literally fishnets with plastic fish hanging behind the bar! We did not see the reception site until after the ceremony so when we walked in with the Celtic music playing and it had been transformed into exactly what we wanted with gorgeous flowers and linens and candles everywhere it was a total wow!
Looking back I would not change a thing about the wedding (except maybe that it could have stopped raining sooner, although it certainly created a misty, romantic feeling we were trying to achieve.) It was beautiful and felt like we were in another magical alternative reality the whole evening.
We had a snafu with Amys clothes when a Florida designer let us know at the last moment that her clothes would not be ready for the wedding. Boston designer Denise Hajjar performed a miracle and created an outfit in 48 hours with a bustier that matched the blush color of Leighs Vera Wang dress. Her design was better than what we had originally ordered. Amys clothes were literally delivered at 3 pm the day of the wedding what an exciting moment!
Oh, and the Cake! Yum!
Wedding color palette: Peach, chocolate brown, blush pink and white

The Wedding Team:
Photographer: Kathempel Photography
Event Planner: Bernadette Coveney Smith – 14 Stories
Ceremony Venue: Thompson Island
Reception Venue: Thompson Island
Officiant: Deb Goldman
Invitation Designer: J Sherman Studio
Calligrapher: Pier Gustafson
Catering: Above and Beyond Catering
Florist: Spruce Floral
Cake: Above and Beyond Catering
Wedding apparel: Vera Wang (dress) and Denise Hajjar (suit)
Make-up: Justin Tyme
Live music: Aine Minogue Ensemble, Kevin Wisehart – bagpiper
Lighting: Boston Uplights
Transportation: Tall Ship Formidable and Carol Kent Yacht Charters
Rentals: Be Our Guest Rentals
Thank you so very much for sharing your wedding with us Leigh and Amy!
To find all kinds of inspiration for your own personal wedding style, don't miss our wedding image gallery!
All images above by Kathempel Photography.