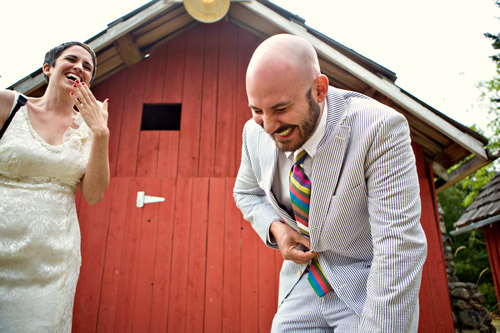 This week's Real Wedding is an explosion of color and joy that we have absolutely fallen in love with. Photographed by Gabriel Boone, Erin and Mat's August wedding was a bright and lively celebration with plenty of good food and good times to go around.

The goals: Erin says their two main goals for the big day were to "throw a kick-ass party and eat well." The food was the first big decision they tackled as a newly engaged couple, and it was also their biggest expense. But, as the bride says, "it was worth every penny – we love to eat." In addition to having an organic, sustainably-grown feast, Erin and Mat also wanted to have an outdoor wedding. They found their perfect matches in an organic farm in Poulsbo, Washington, called The Farm Kitchen, and delectable food from Ciao Thyme catering.
The look: Inspired by a recent trip to India, Erin chose a casual Indian motif and lots of bright colors for the wedding look. The two main colors in their wedding color palette were a peacock blue that fit well with the Indian theme, and a bright orange, which is Mat's favorite color. The flowers for the wedding came from a farm down the road from the venue, and were made up of vibrant in-season blooms and lots of herbs, placed in Mason jars around the site.
Keeping with the casual theme, Erin wanted to wear a stylish dress instead of a more traditional wedding gown, and her mother, an accomplished seamstress, made it happen. Combining several patterns together, a one-of-a-kind dress was created and lovingly sewn by mom. Her mother also made her a detachable ruffled train and corsage for the big day. The groom and groomsmen looked handsome and hip in J.Crew suits and customized shoes from Converse.

The moments: After raining for a week the skies cleared just in time for the wedding day, and the ceremony, officiated by the bride's godmother, turned out beautifully. Erin wore a Leica camera down the aisle since Mat actually proposed with the camera instead of an engagement ring. "Since we are both photographers, Mat often joked that instead of buying me a ring, he should just buy me a Leica – or neck jewelry as us shooters call it. I always wanted one, but it was always on my dream list. I never thought he was serious about getting me one. So, of course, I had to wear it down the aisle." Both Erin and Mat remember tearing up and hearing each other's voices crack during the vows, a moment they both treasure. After a heartfelt toast from the father of the bride, the couple had their first dance to Otis Redding's "Thats How Strong My Love Is". Says Erin, "we were too busy to practice, so we just winged it. Sorta like our life!"

The details: Following along with their Indian-motif, the invitations were made in India by IndianWeddingCard.com, an inexpensive option that still looked beautiful and felt heavy and luxurious. The couple customized one of the company's stock cards with an elephant stamp the bride had purchased in India the year before, and then went on to incorporate the stamp into all different sorts of items at the wedding, including the favors. A cousin with his own roastery; roasted, bagged and labeled coffee, a Seattle staple, as favors for the guests. Instead of cutting a traditional wedding cake, Erin and Mat cut into a Lemon Meringue pie, one of many fresh seasonal pies at their "crazy awesome" wedding reception.
The pros: To learn about all of the wedding professionals that helped to make this wedding a reality, be sure to visit our Real Weddings section.

Thank you so much Erin and Mat! We loved learning about your wedding!
To plan a Seattle or Southern California wedding of your own, don't miss our trusted Plan Your Wedding Hotlist!