There was a time when being a bride required an up-do, but Junebug celebrates the fact that modern brides can choose to let their hair down. From beachy waves to vintage curls, here are a few of our favorite wedding hairstyles worn down.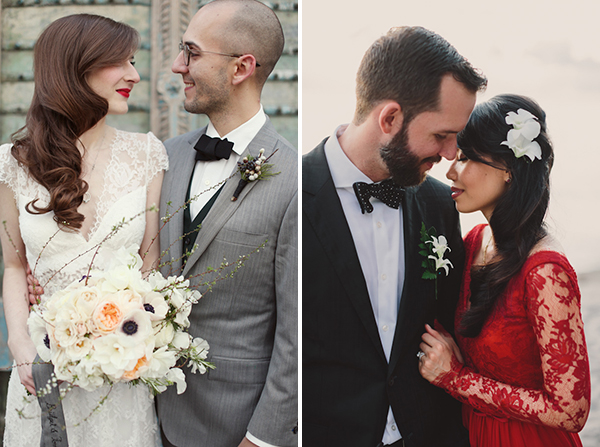 Photographs by Alison Conklin Photography and C&I Photographers
Over-the-shoulder – A popular look among vintage-inspired brides, the over-the-shoulder look is the definition of demure. This style is best for brides with medium to thick hair and with length past the shoulders. Let your curls relax near the nape of your neck and keep the ringlets more tightly wound at your ends. Add a flower or barrette, or keep it plain, and you'll look beautiful both in person and in your photos.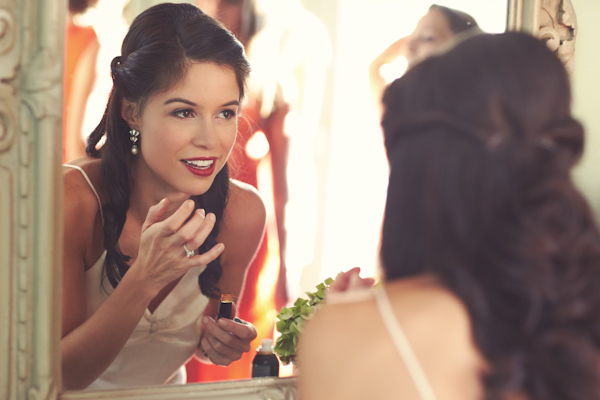 Photo by Jules Photography
Softly twisted – If you're an non-fussy bride, softly twisting your hair away from your face is a lovely wedding day style. Simply style your hair the way you want it to look and pin a couple of twists from right around your face to the back of your head. It's a good idea to find bobby pins in a shade that matches your hair color, or style your twists with a vintage clip or even fresh flowers.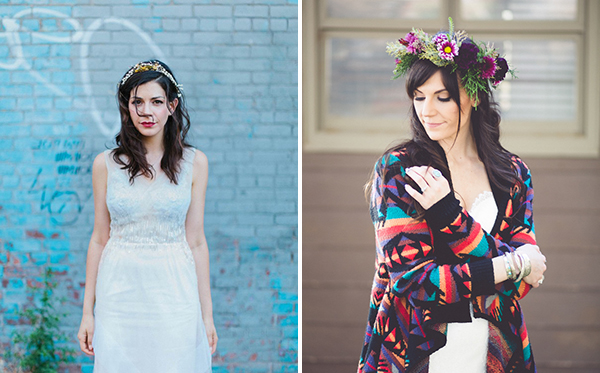 Photos by Therese Winberg and Geoff Duncan
Floral crown – Speaking of fresh flowers, one of the easiest and most popular hair trends is, of course, the flower crown. This is the perfect style for bohemian, low-key, and DIY brides who want the tradition of a headpiece without opting for a veil. Brides who wear floral crowns often choose loose waves for a more natural look.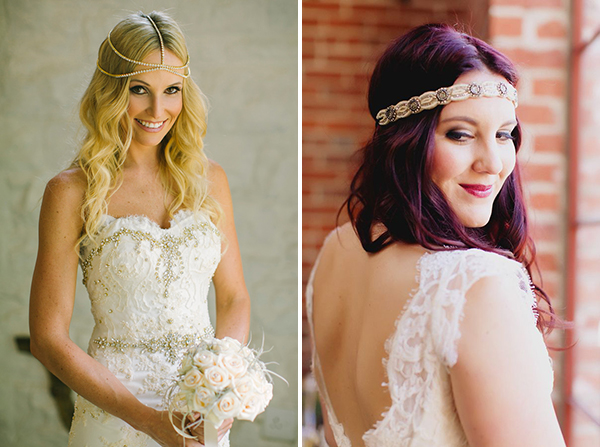 Photos by Adam Alex and Milou + Olin Photography
Something sparkly – For elegant brides with luxurious taste, finding a sparkly headpiece for your wedding day will add the extra special touch every part of your wedding deserves. Avoid princess tiaras by selecting headpieces with vintage, whimsical, or art deco vibes, like jeweled combs and crystal halos.
You should feel the most beautiful on your wedding day, so don't forget to test out your bridal hair style in advance to work out any issues you might run into. For more bridal hair inspiration, see some of our favorite Junebug brides with fabulous wedding hairstyles.