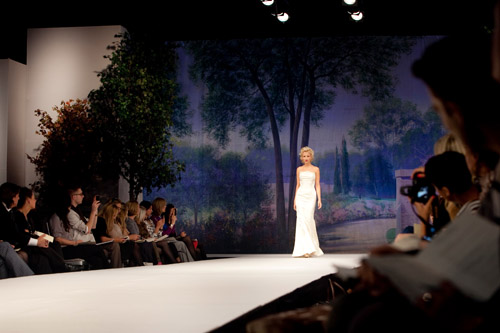 If you read What Junebug Loves at all last week, you know that I was lucky enough to be in New York City for fall Bridal Market, and if you read What Junebug Loves regularly, you certainly know that I get light-headed and warm-hearted for all things fashion! Because of this I wanted to be sure we covered Bridal Market creatively for all of you out there who love fashion too, so in addition to blogging about the new wedding dress collections we asked New York Junebug member photographer Merri Cyr to come along with me all day Saturday to document what it's like to be at Bridal Market. Merri and her second shooter Mark Walker did an absolutely amazing job capturing the essence and energy of the day, and I love that their images show the bridal market experience from every angle. Today we'll begin with their coverage of the super romantic Claire Pettibone show, and each day this week we'll show you more of their fly-on-the-wall, behind-the-scenes, documentary coverage. A day in the life of a wedding blogger – not a bad job I've got here!

Claire Pettibone's wedding dress designs are always beautifully vintage inspired, and this time around she also drew on the inspiration of a French garden party. Each gown is both slinky and sweet with intricate details in the fabrics and dress construction. I spoke with Claire before the show, and she talked about how she loves femininity, and always tries to honor womanhood and the female form in her dress designs. Love that!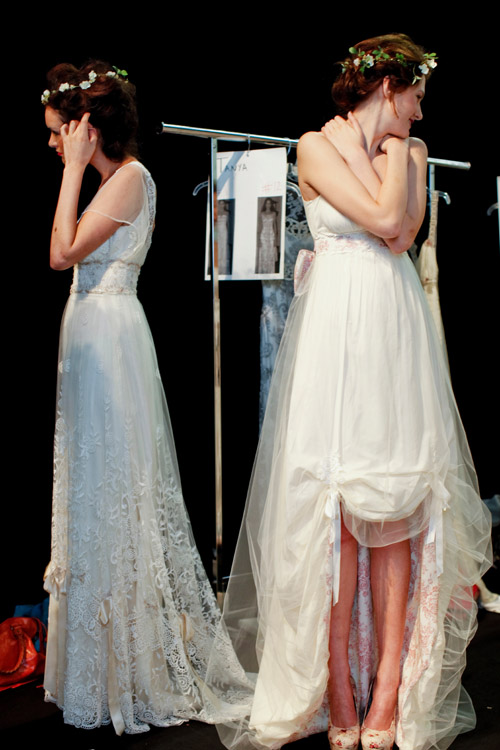 All images above by Merri Cyr and Mark Walker of Merri Cyr. Check out more of their incredible images today over on Photobug, and stay tuned for more right here on What Junebug Loves this week!