That's right, Junebug Weddings is proud to present our all new Groombug section! So often the grooms get left behind, left confused or left without guidance when it comes to wedding planning, so we decided we'd do our very best to give the guys the ultimate wedding instruction manual.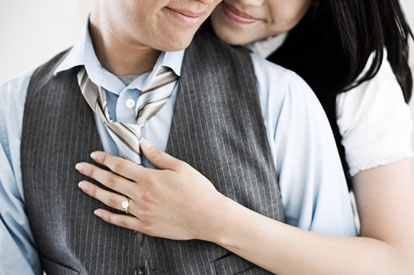 We've redesigned, reorganized and rewritten every single page of our Groombug section in order to offer men the most helpful and inspirational resource available online, so they can get involved in the wedding planning process and let their personalities shine through. Starting with the main Groombug page, you'll see that we've broken it all down into five main categories: Groom 101, Men's Fashion, The Big Question, The Little Questions and Speaking of Honeymoons…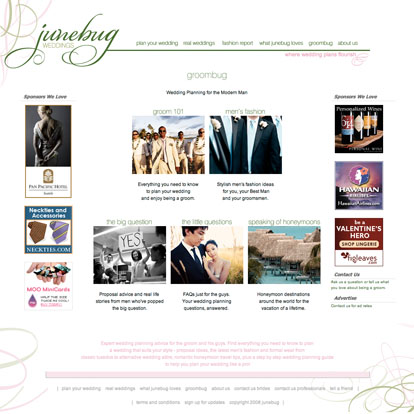 Groom 101 lays out all of the steps a groom needs to take to help plan their wedding with ease and goes into lots of detail about how to accomplish each step along the way. Men's Fashion explains all the options in men's wear from ultra-formal to ultra-funky and is packed with photos and resources for loads of sartorial inspiration. The Big Question tells the proposal stories of guys who've creatively popped the question, and The Little Questions answers the FAQs that every man is asking. Finally, Speaking of Honeymoons showcases some of the world's best honeymoon locations so you two can relax in luxury once the wedding day is over, on the romantic vacation of a lifetime.
We've got a little something for every type of guy and on every topic under the sun. Check it out for yourself, and send your groom our way so he can get the wedding planning advice he's really looking for. Because wedding planning's not just for the girls you know!