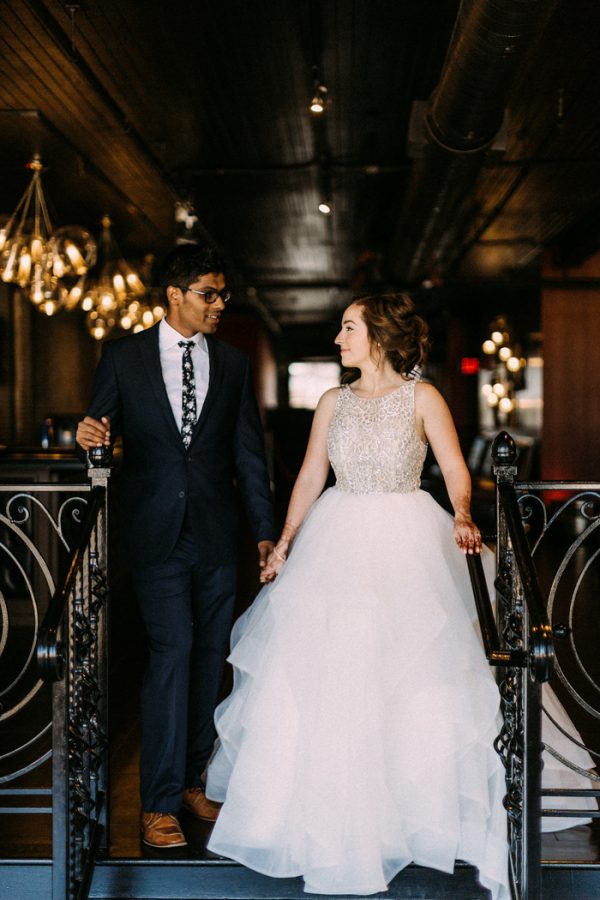 Teri and Sanjay's Kalamazoo wedding was all about fusion. Their industrial venue, Loft 310 in Kalamazoo, Michigan, was a fusion of location, being halfway between their current city of Chicago and their hometown of Fort Wayne. Their two ceremonies, Christian and Hindu, were a fusion of their cultures, and every detail (down to Teri's bridal looks and their dinner menus!) beautifully reflected their two styles. We are so in love with how Rhino Weddings photographed Teri and Sanjay's bright and sunny day, including their breathtaking first dance photos!
The Couple:
Teri and Sanjay
The Wedding:
Loft 310, Kalamazoo, Michigan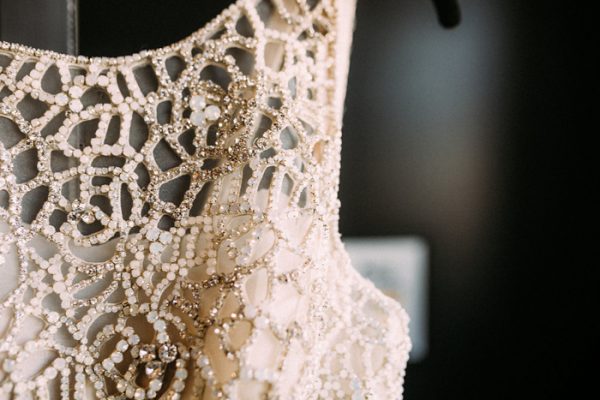 The most important thing for us while planning our wedding was keeping both of our cultures top of mind while trying to create a fun atmosphere for our guests. Since most of my guests had never been to an Indian wedding, and most of his guests had never been to a Christian wedding, it was a fun opportunity for us to showcase both of our cultures to a new audience. This also gave us the chance to ditch traditional wedding formalities and pick and choose the parts of weddings that were most important to us.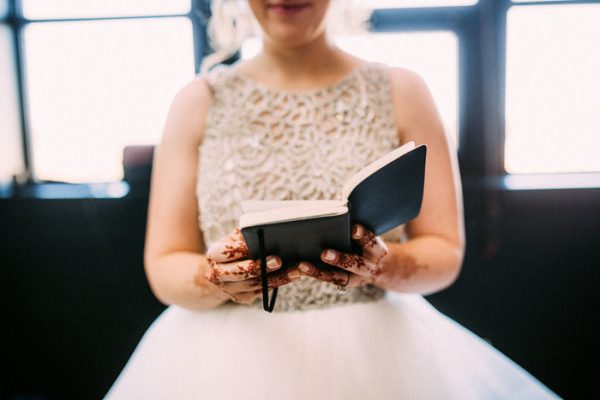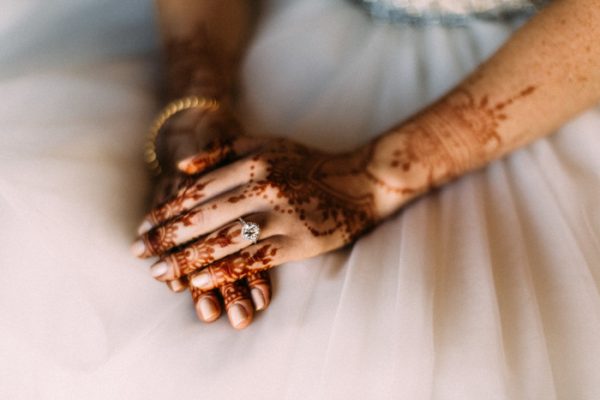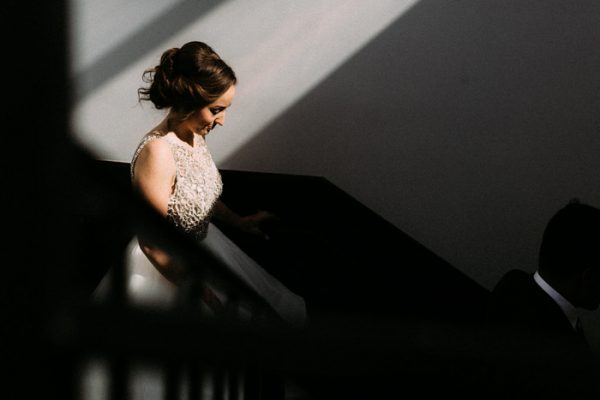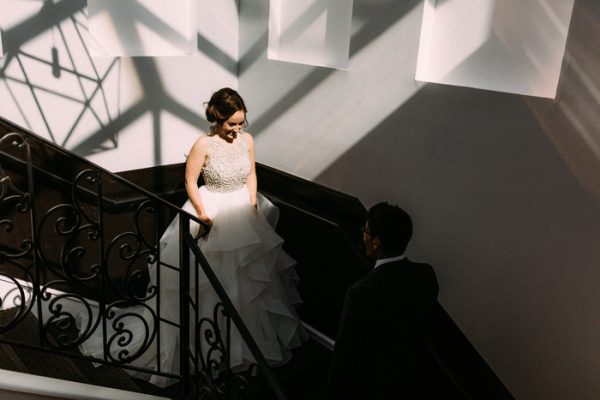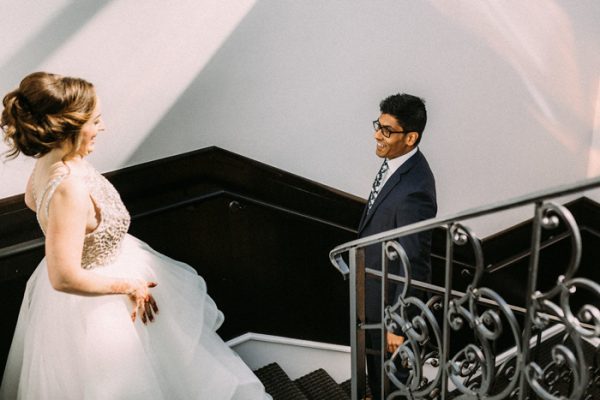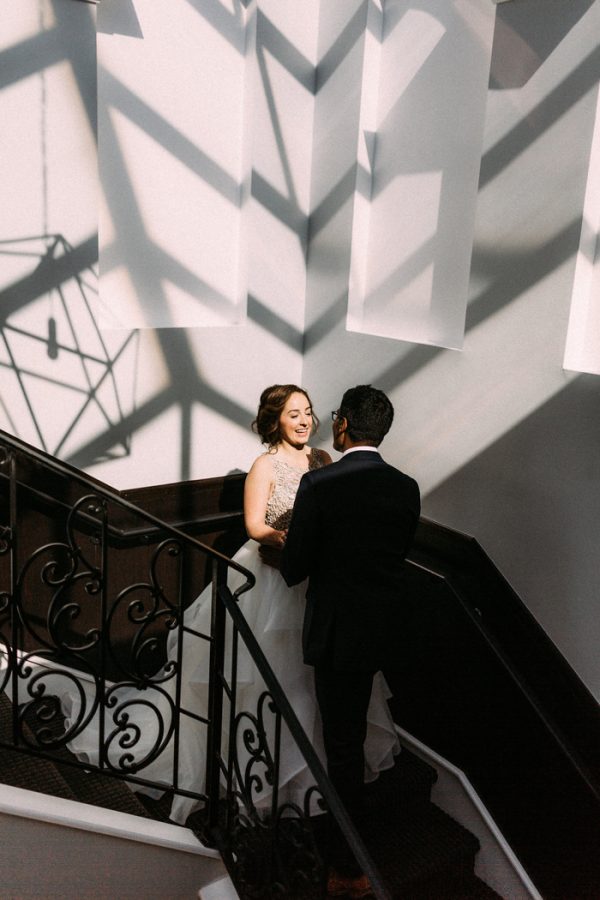 I really love some of our first look shots – there's so much emotion in some of our faces, and the hallway just provides the most beautiful simple backdrop with geometric touches that fit in perfectly with our wedding themes. There are also tons of pictures of us dancing that I love because my dress looked amazing when it moved!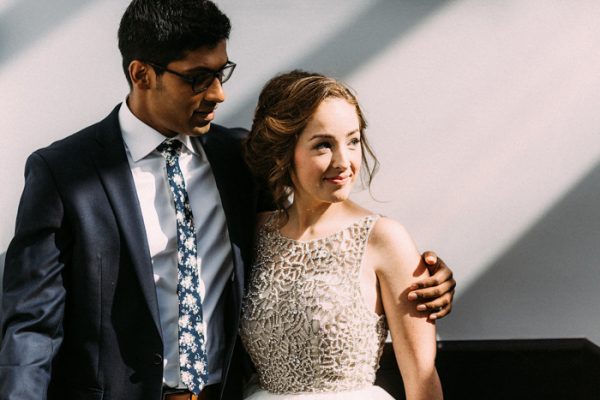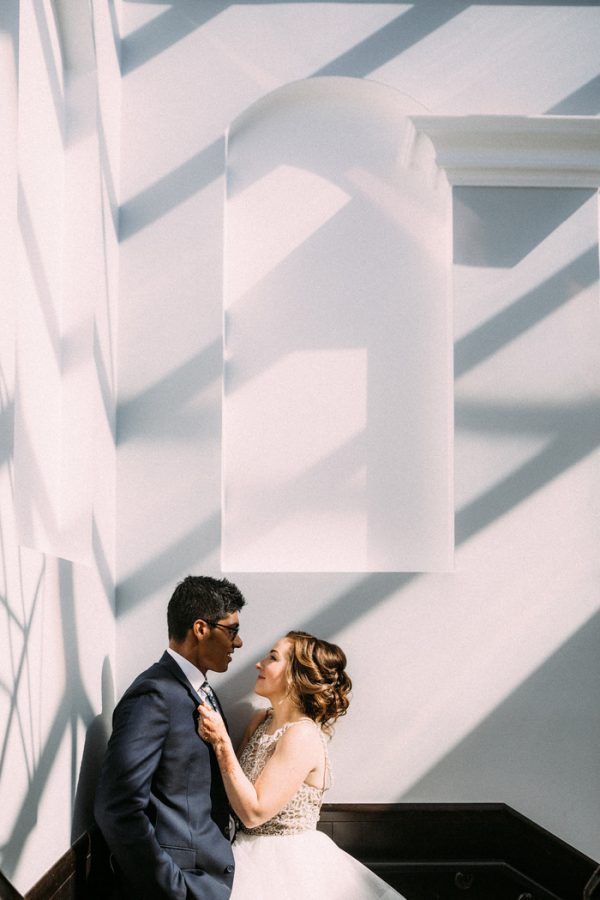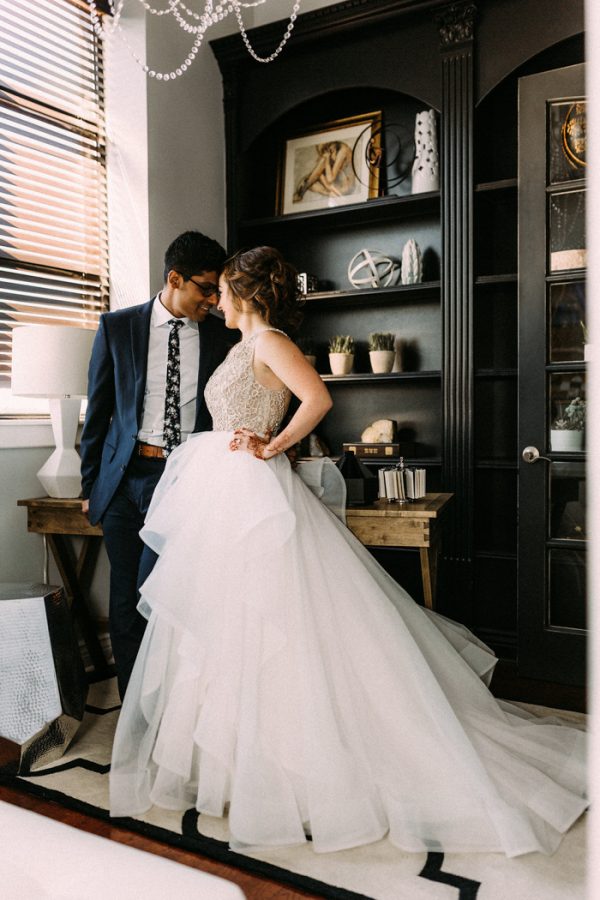 I absolutely love Hayley Paige, and her photo shoots inspired my look. I wanted a hair style that looked relaxed but showed of the beautiful back of my dress, as well as makeup that looked very natural. The bridesmaids followed a similar boho-chic style, wearing dresses by Hayley Paige occasions.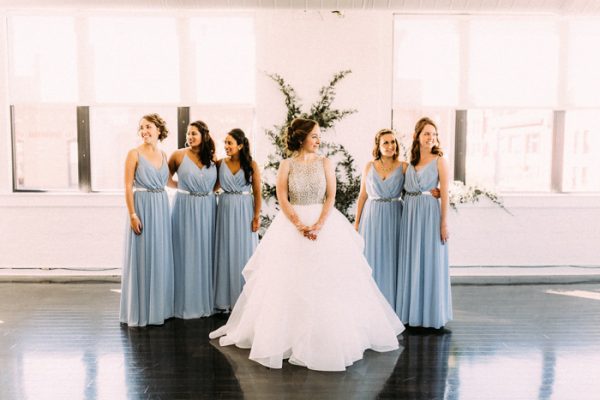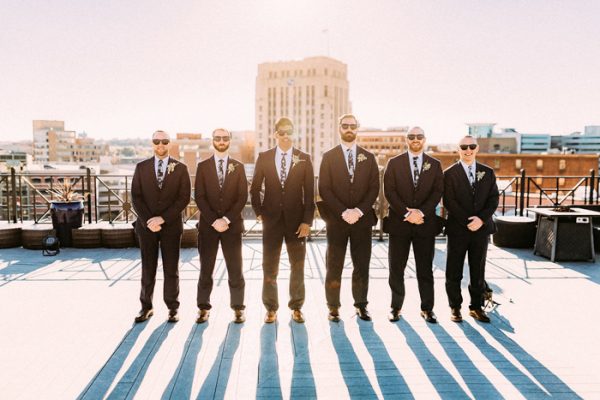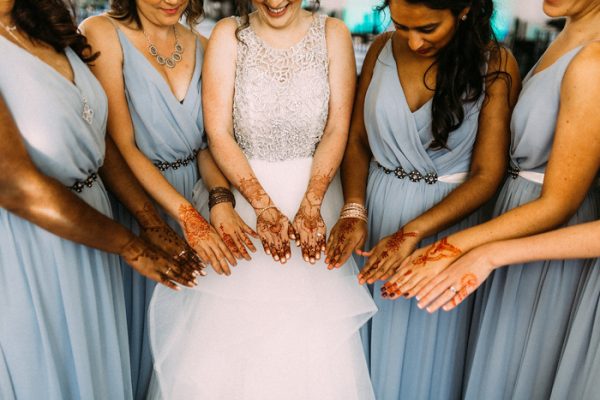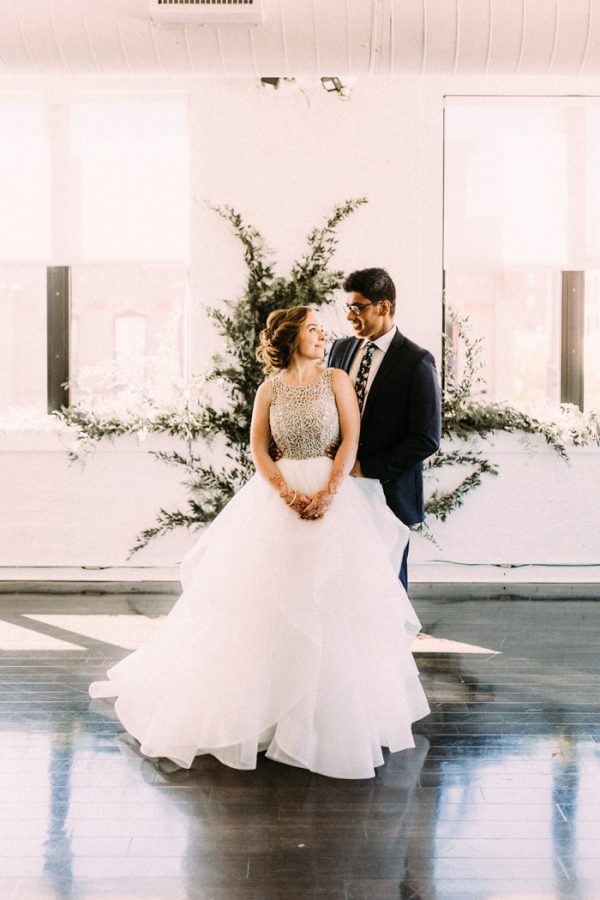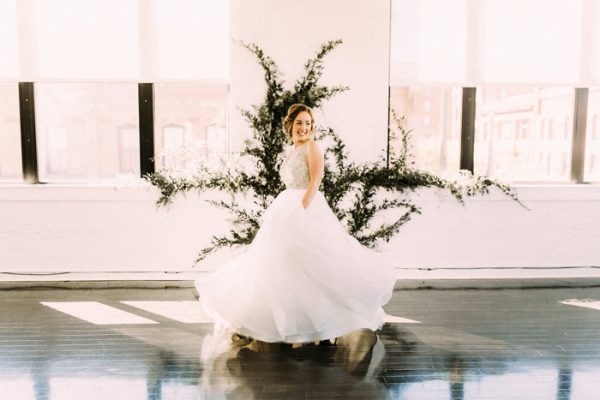 I cannot say enough good things about our photographers and videographers. They were personable, hilarious, and honestly I was pretty sad when they had to leave for the night. They made me feel like a princess for the entire day, and delivered photos/videos better than anything I could have dreamed. I honestly think the best wedding decision I made was to hire those wonderful people.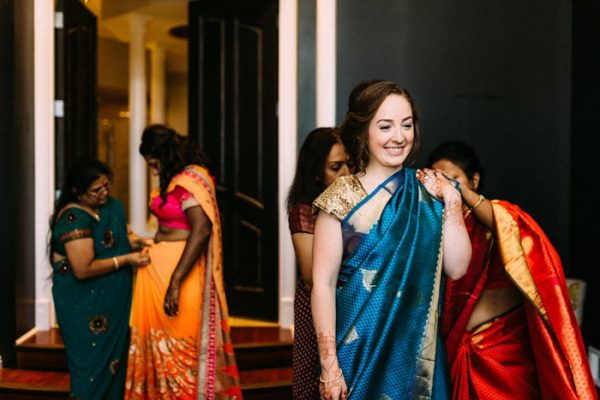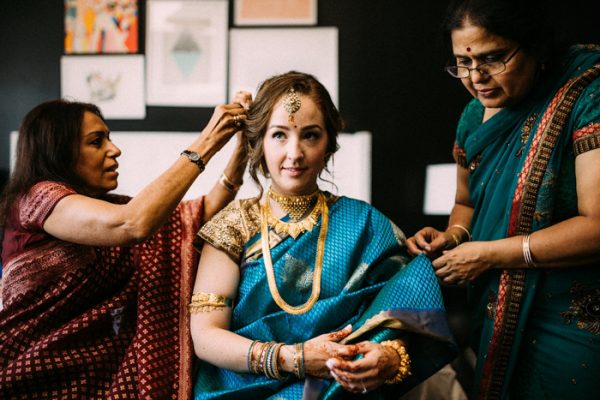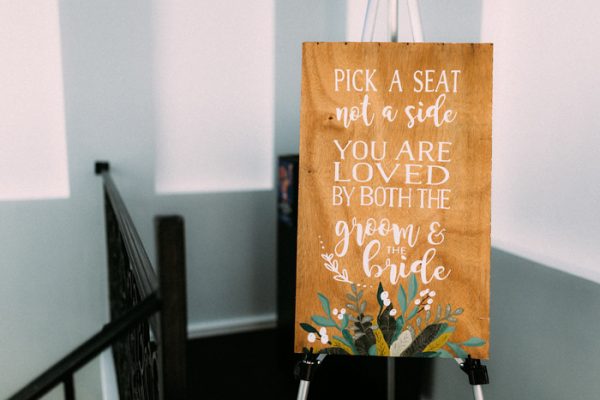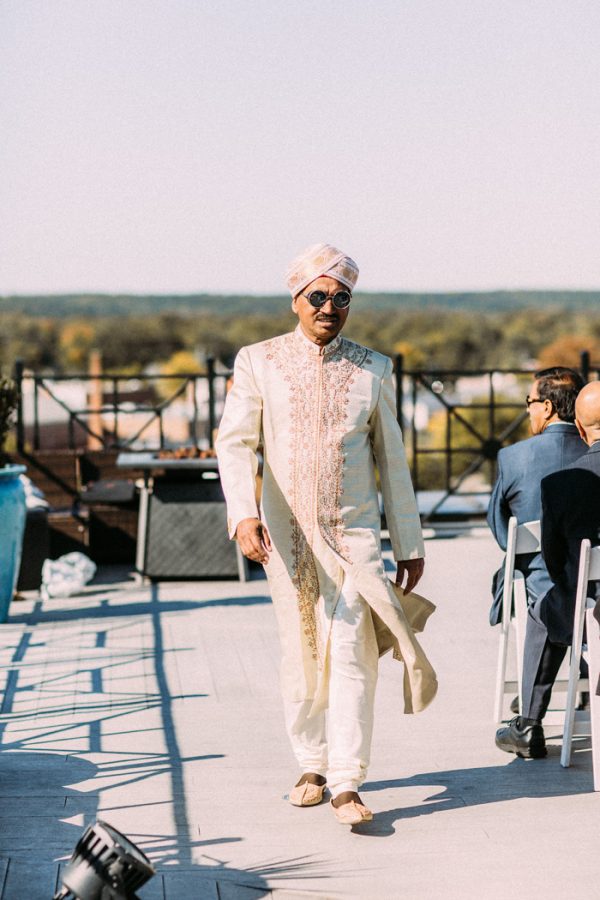 We currently live in Chicago and are both from Fort Wayne Indiana. After visiting venues in both places, we found Chicago to be too expensive and Fort Wayne venues didn't fit our vision. Instead we picked a venue half way in between, in Kalamazoo Michigan. The biggest factor for us was that we needed a lot of different space to accomodate a Hindu Wedding, a Christian Wedding, and a reception, and Loft 310 gave us all of that in one building.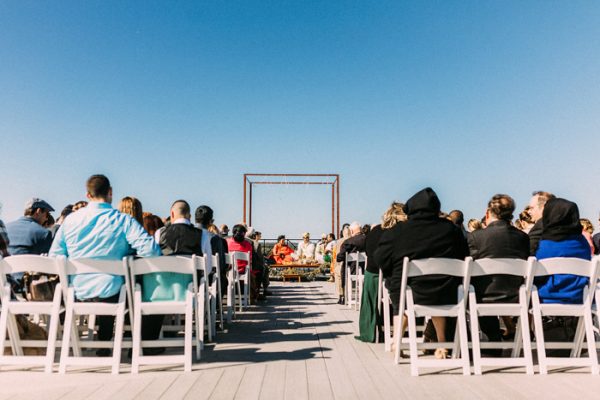 Our whole wedding focused on fusion. We were blending traditional Hindu and Christian ceremony elements, so we brought the theme all the way through blending soft natural elements with hard industrial and metallic touches. We thought the juxtaposition of the two was stunning!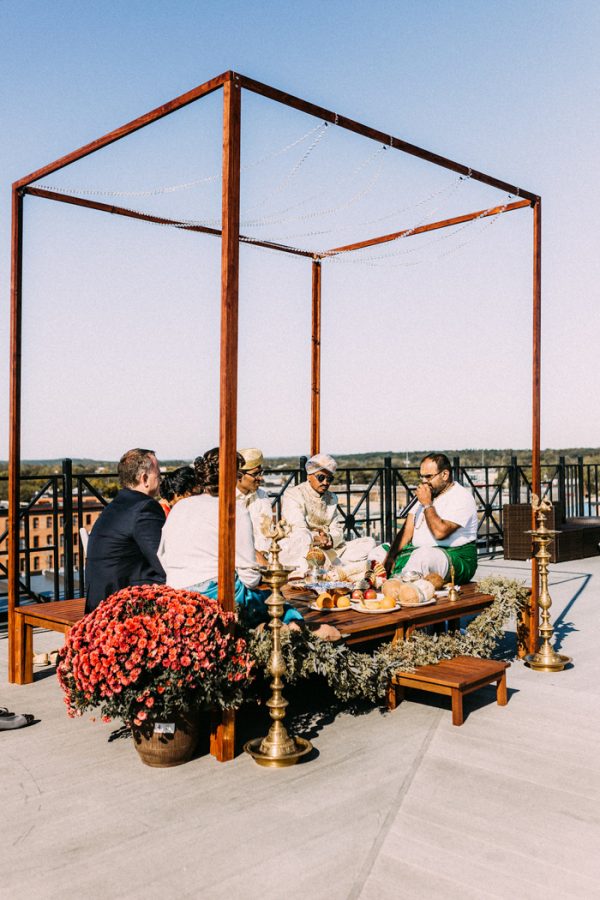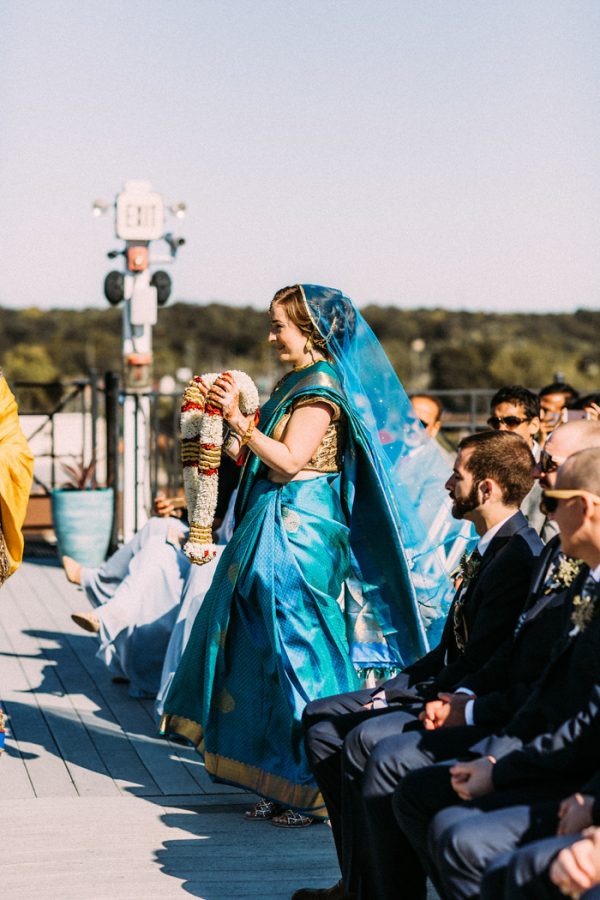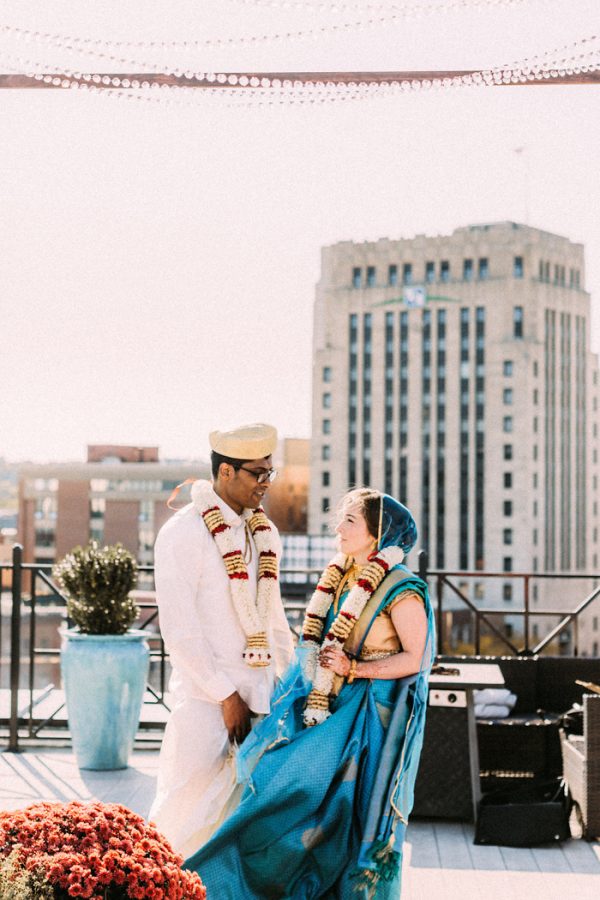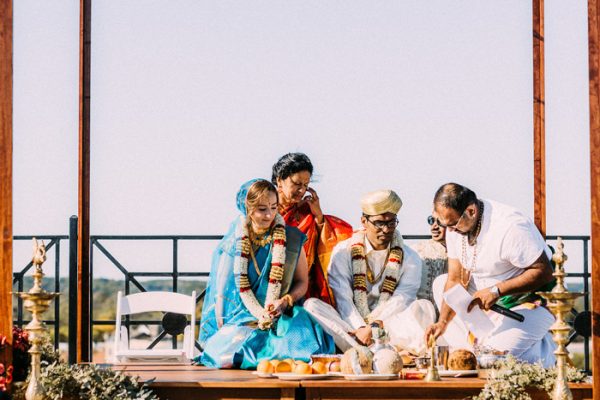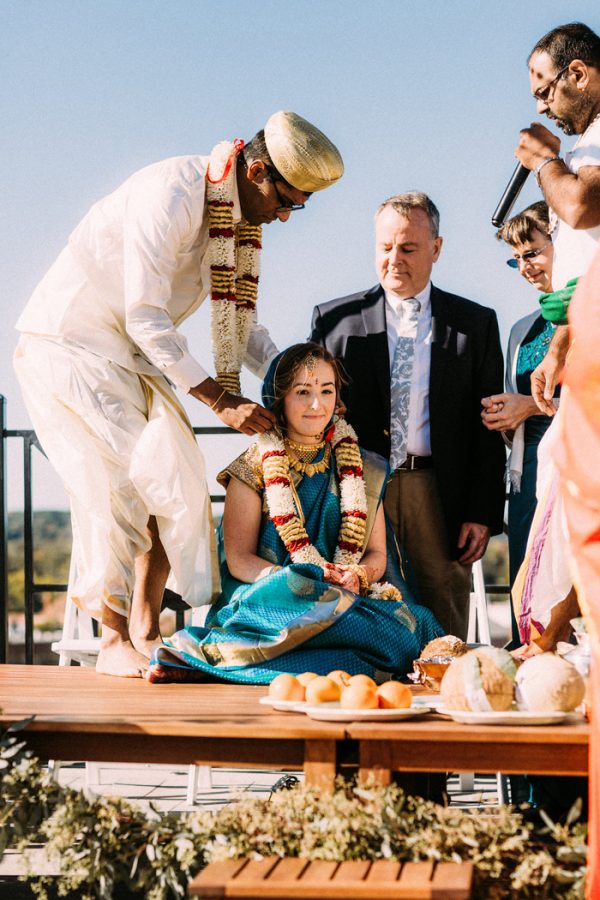 Our Christian ceremony officiant was a close friend of ours, Nate James. Nate had known both Sanjay and I since middle school, and did a fantastic job personalizing our ceremony to honor both of our families and tell the story of our love.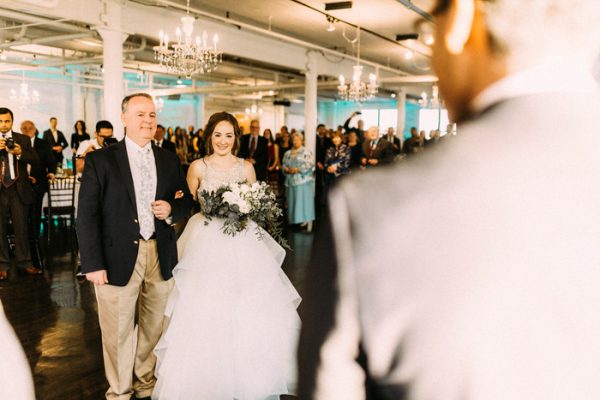 For me, the most memorable part of the day was our personal "professions of love" that we added into our vows. Sanjay and I chose to write statements to each other reminiscing on our twelve years of dating and discussing our hopes and dreams for the future. I don't think there was a dry eye in the room when we were done – Sanjay is typically a man of few words, so I think my whole family was surprised at his eloquence and deep feelings.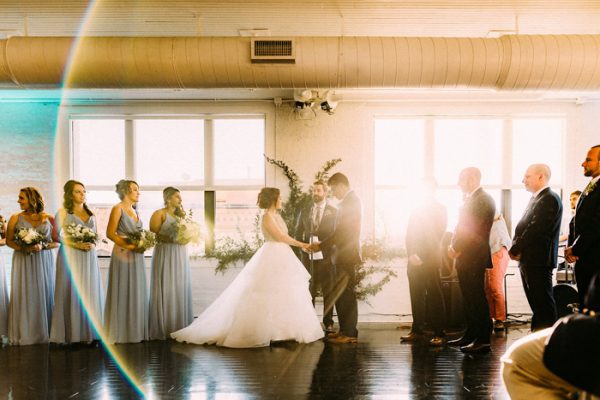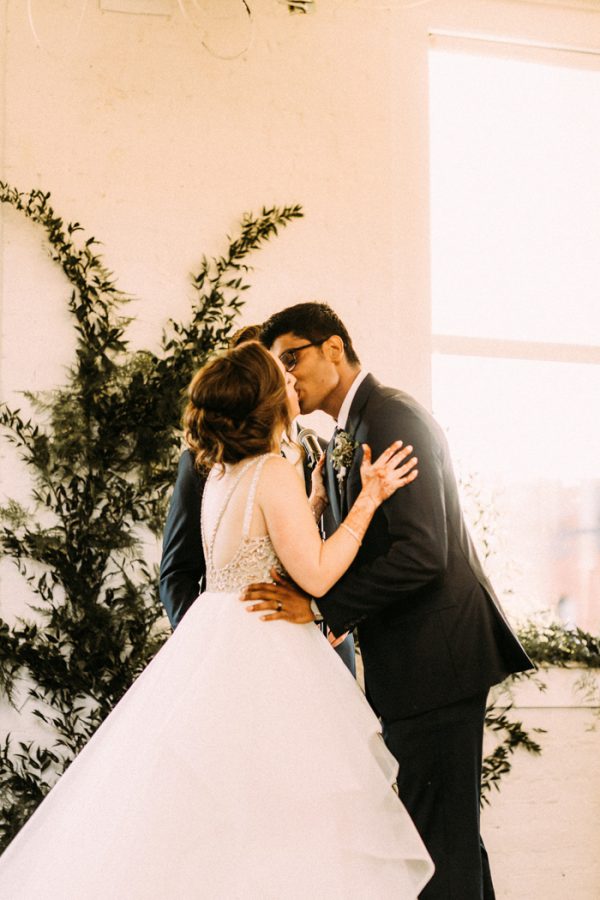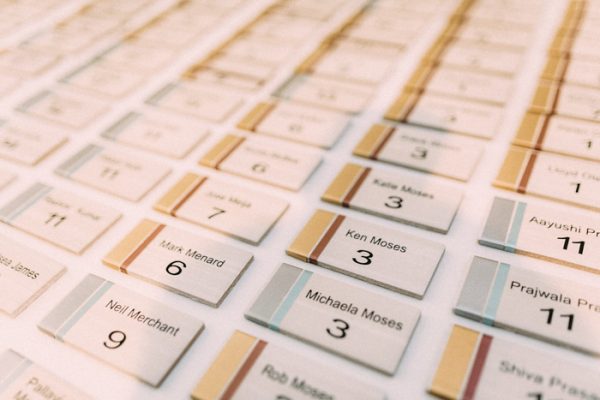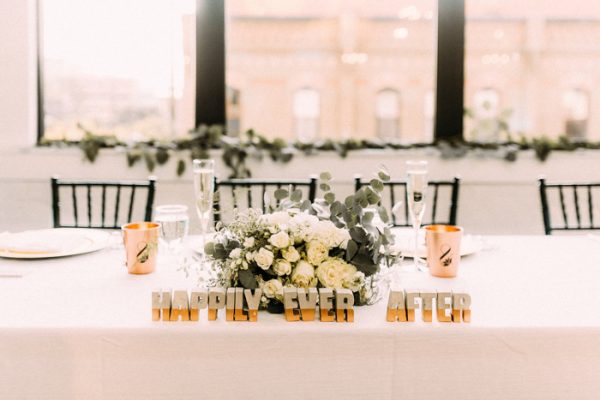 We chose natural blues and greens and copper. These colors went well with our natural/industrial fusion theme and allowed the metallic pops to stand out against the soft natural hues.
Your wedding should be a true reflection of both of you as a couple. Feel free to ditch any items that don't fit your personalities, it's your day! We skipped a lot of traditions that we felt were outdated or meaningless to us, and added in a few new things that I think our guests enjoyed.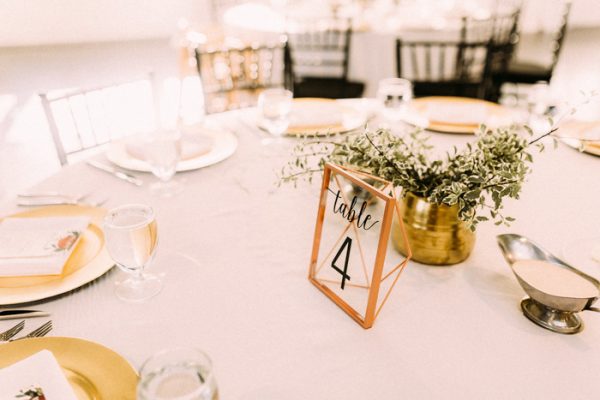 We wanted to include food that both of our families would like, so we had two entree choices – Sesame Chicken or Potato and Cauliflower Masala with Naan. All of our guests seemed to enjoy the fusion food.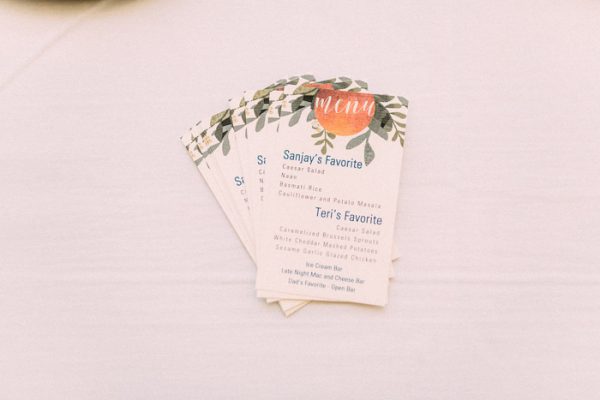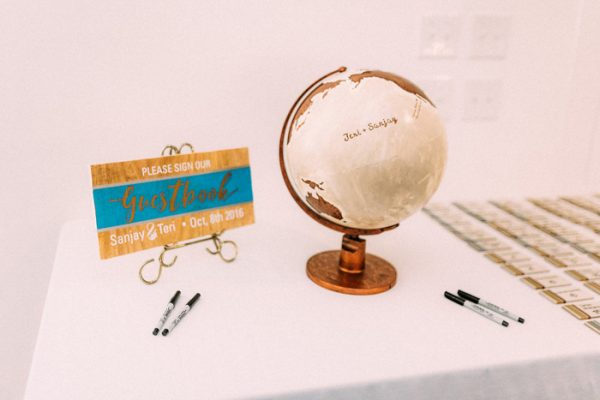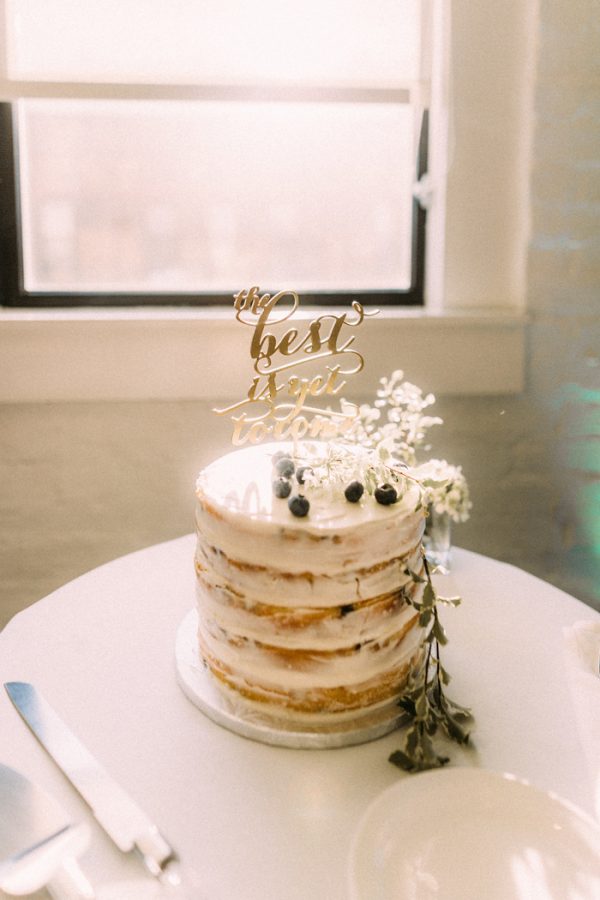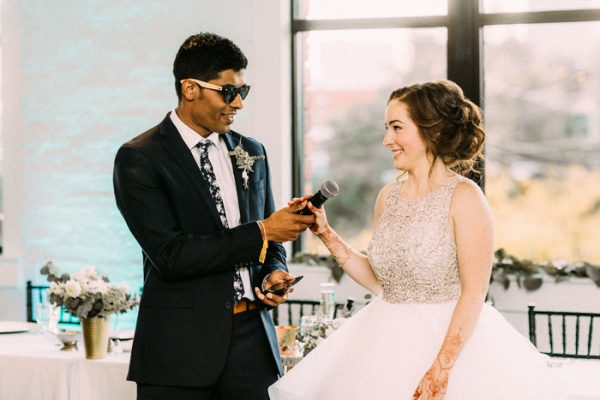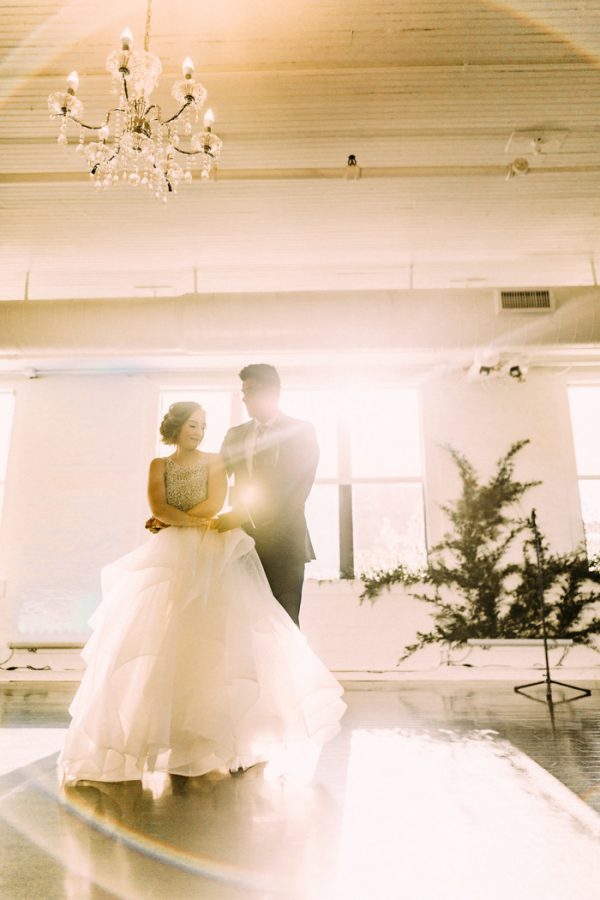 Processional: Home (slow acoustic cover) / Edward Sharpe and the Magnetic Zeros
Recessional: Best Day of My Life / American Authors
First Dance: Pretty Girl From Kalamazoo / Barn on Fire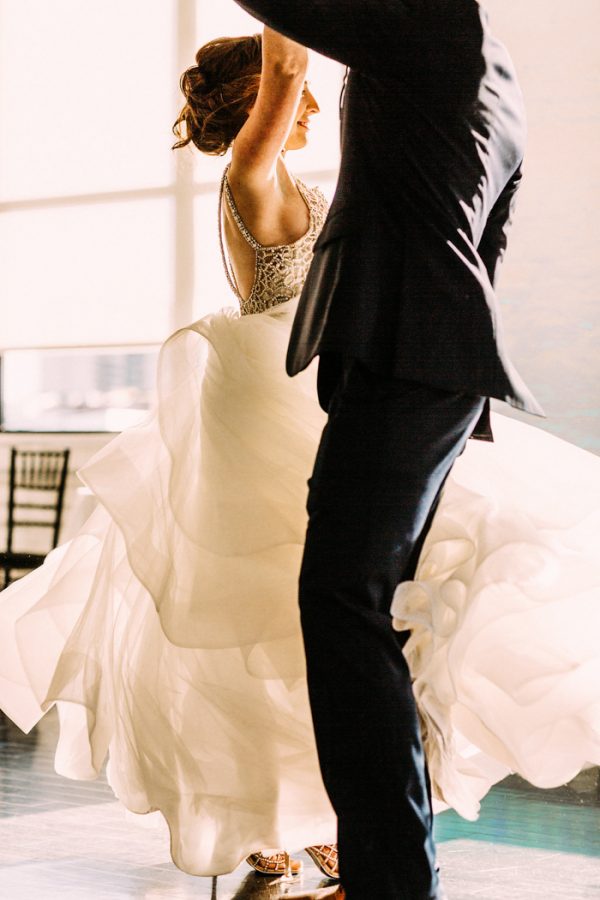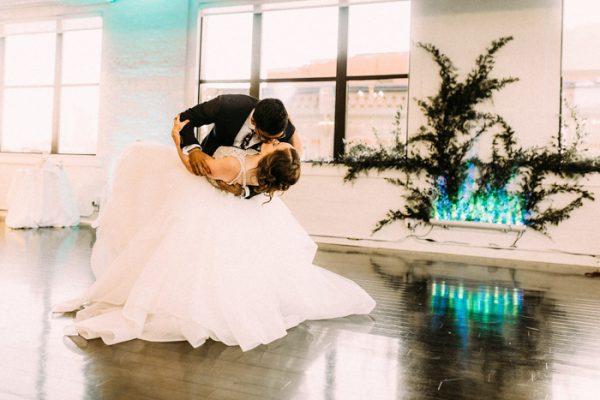 Congratulations to Teri and Sanjay, and a huge thanks to Rhino Weddings for sharing their day with us. Want more Michigan wedding inspiration? Take a look at this overwhelmingly lush Michigan wedding at Planterra Conservatory!