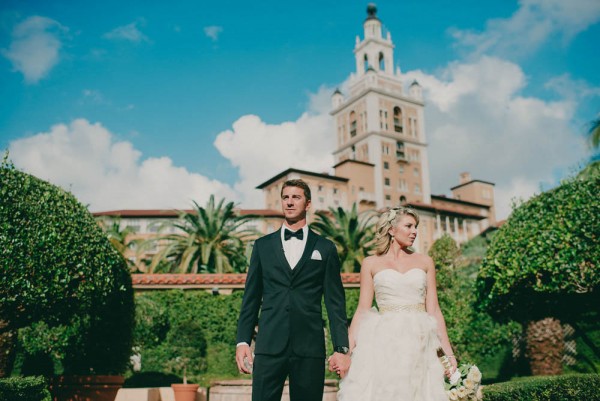 When bride Amanda set out to design her wedding, she used the same methodology she uses when getting dressed: always incorporate a statement piece. While her everyday fashion statement piece may be a glittering necklace, Amanda kicked things up a notched for her wedding day with a 28-person royal table accented in black, white, and gold. Evan Rich Photography captured the glamour and immense love of the day so effortlessly in these images that the newlyweds will forever cherish.
The Couple:
Amanda and Mitch
The Wedding:
Coral Gables Country Club, Miami, Florida
The Inspiration:
Our venue was a huge part of my inspiration for our wedding decor and theme. The Coral Gables Country Club grand ballroom reminded me of the time of place a princess would have their wedding reception — with all of the beautiful chandeliers, the hard-wood flooring throughout and grand space. I always knew, I wanted neutral colors for my wedding but instead of doing just black and white, I decided to liven it up with a pop of color. My personal style is very modern and somewhat trendy and I tried to incorporate that while still making everything timeless. I decided to make my tables very simple, black linens with white flowers. White hydrangeas have been my favorite since I was a little girl. Lots and lots of candles added to the "gold tone" of the room (in addition to amber up-lighting). Just as I do with every outfit I wear (be it a necklace, scarf or pair of shoes), I wanted my wedding to have a "statement piece." To me, that was our 28-person royal table. We have black linens, a custom made satin black-and-white striped runner, two gold bride and groom chairs and the florals on this table were the opposite of the the tall ones on the guests' tables- low vases of hydrangeas and floral balls placed directly on the runner. The theme overall was what I call a modern-glam.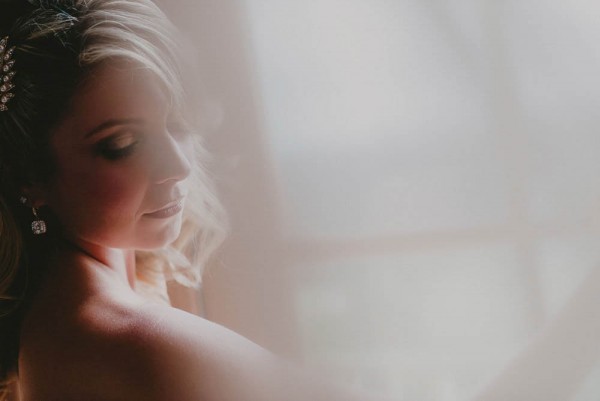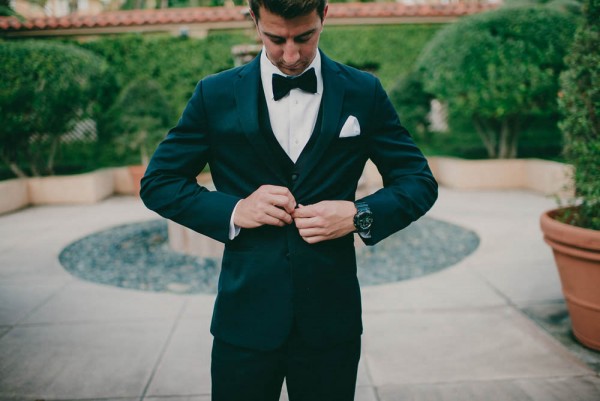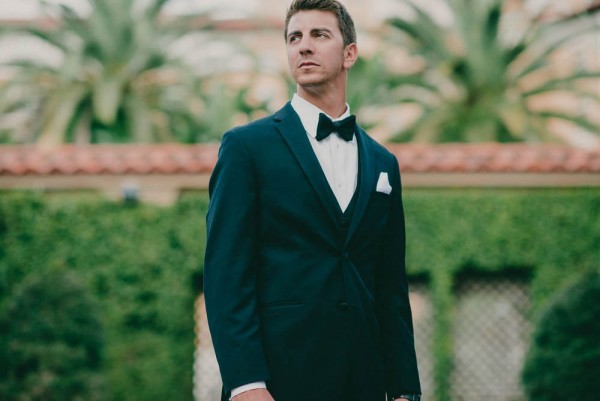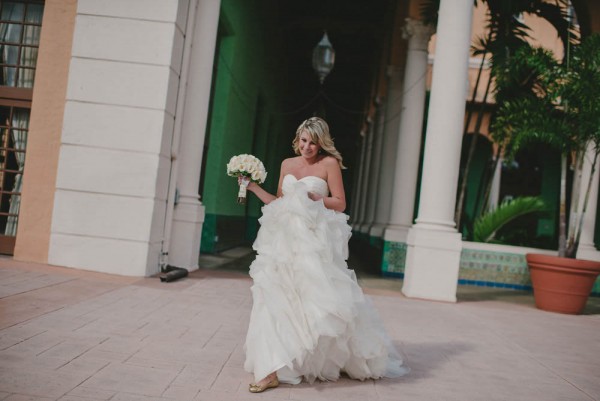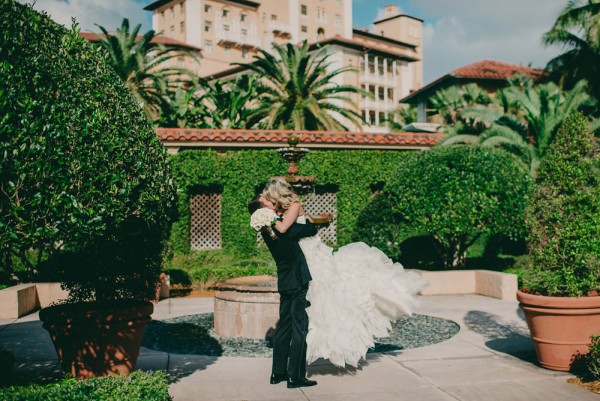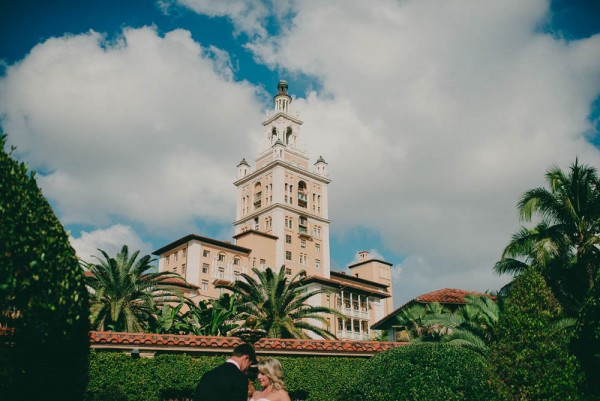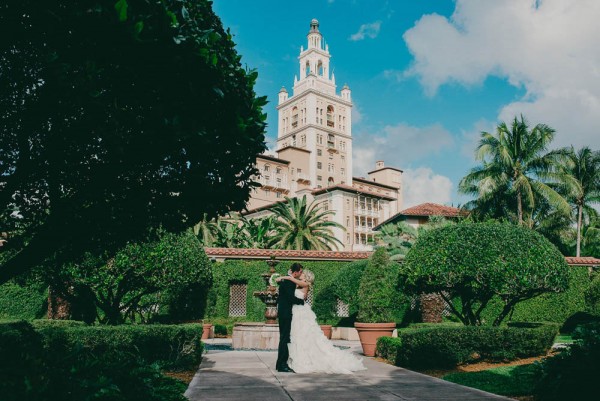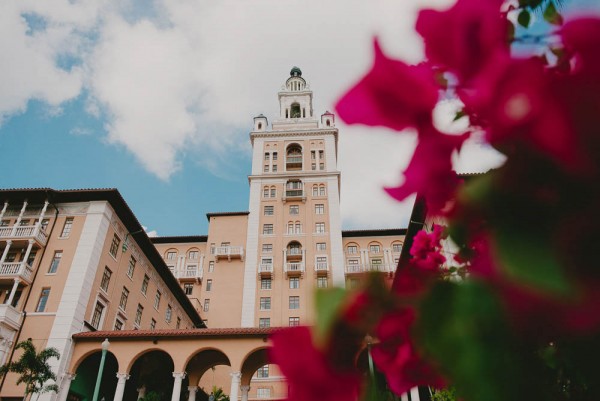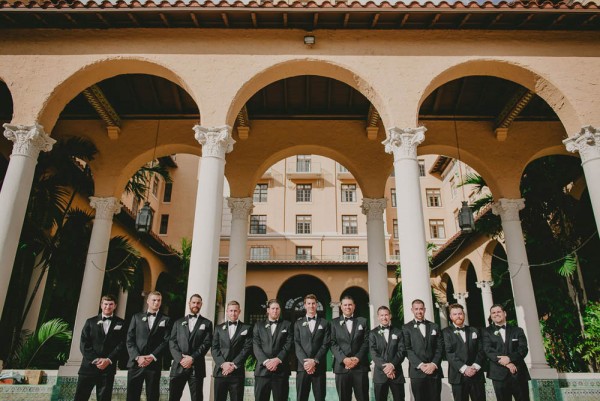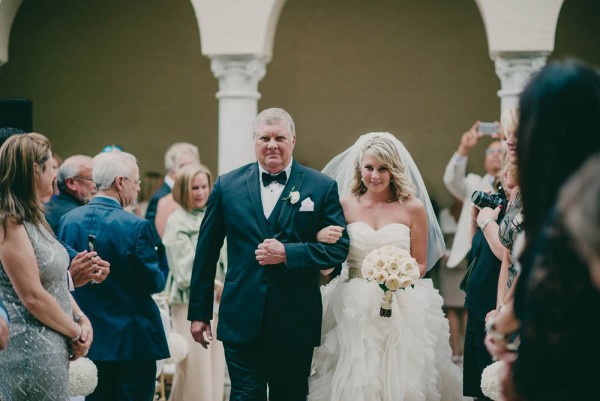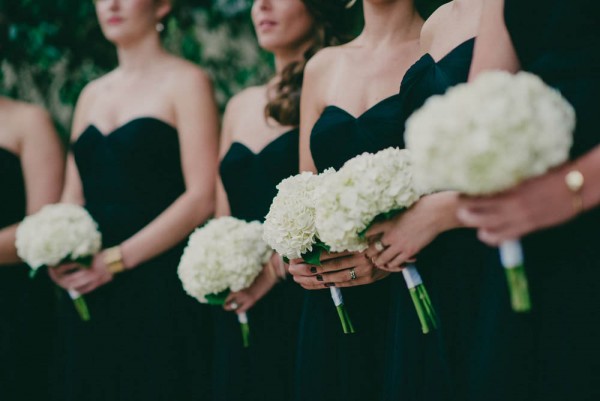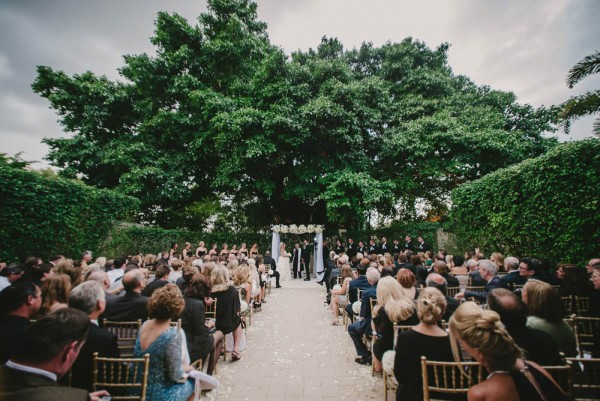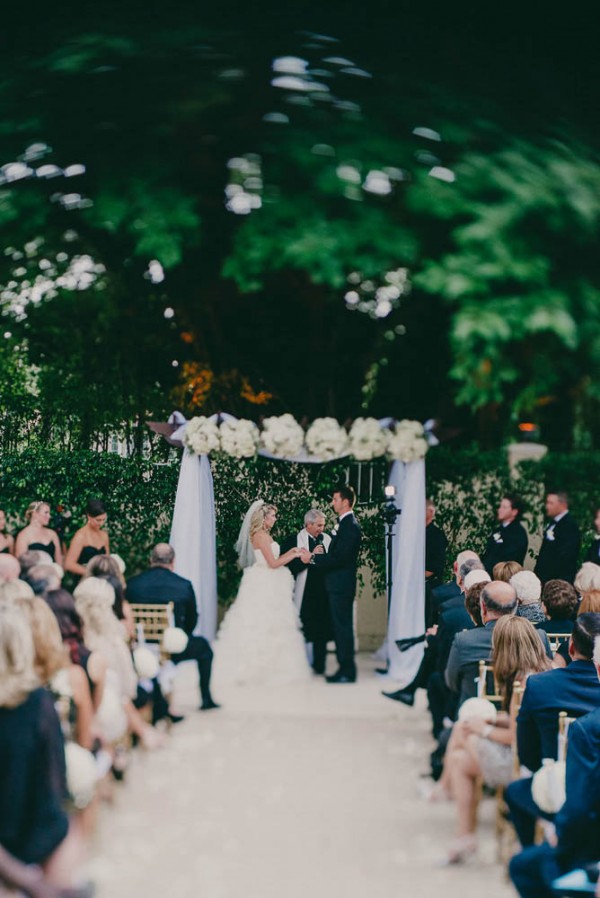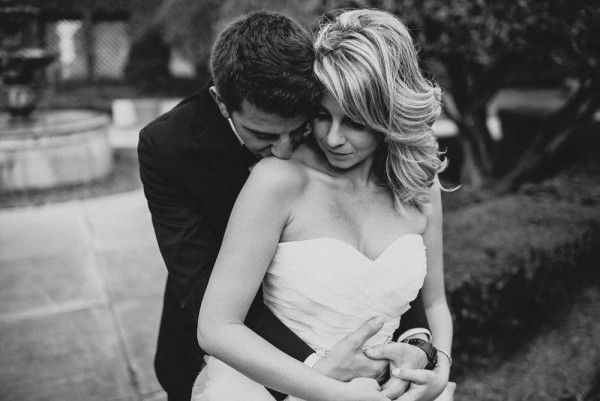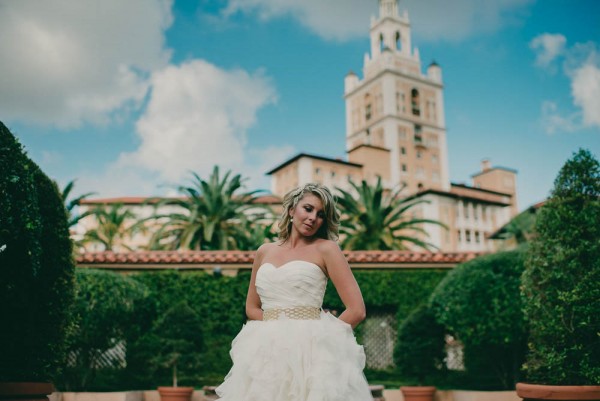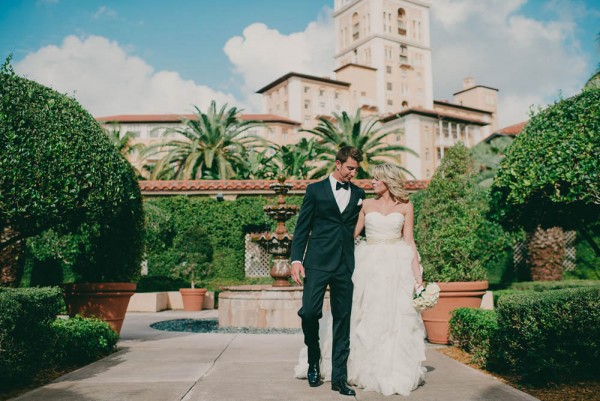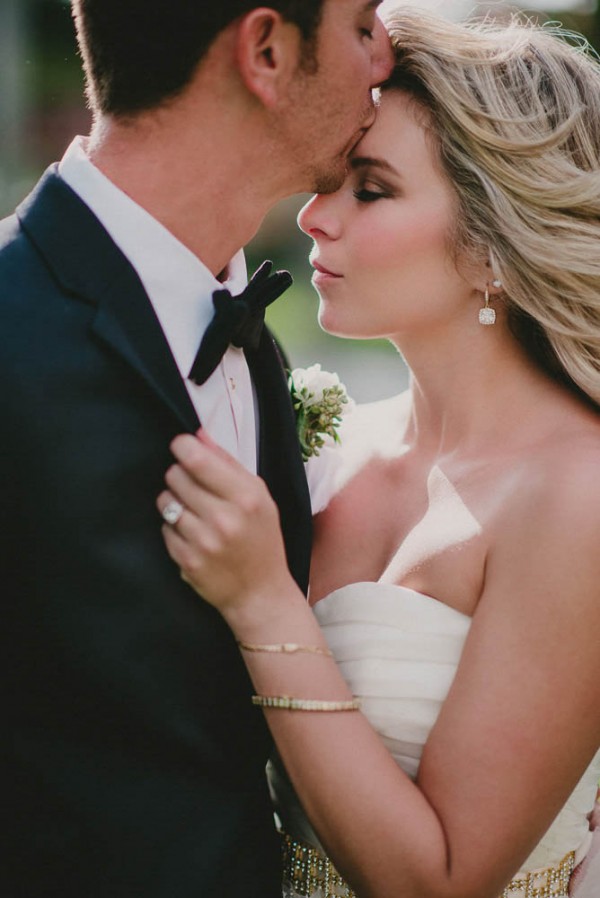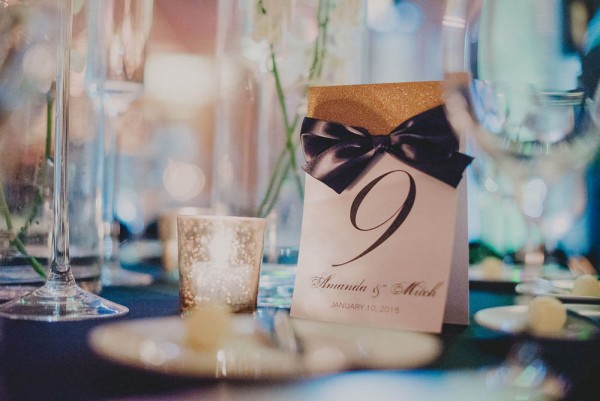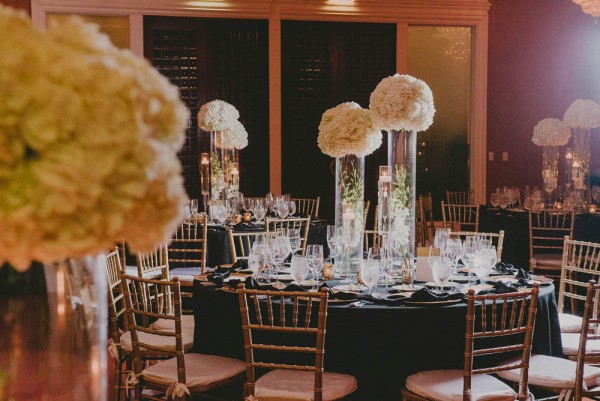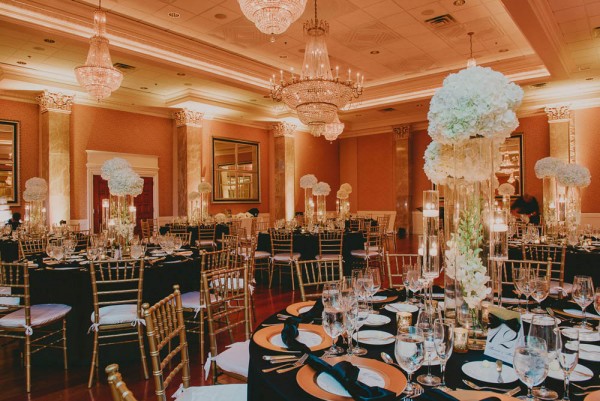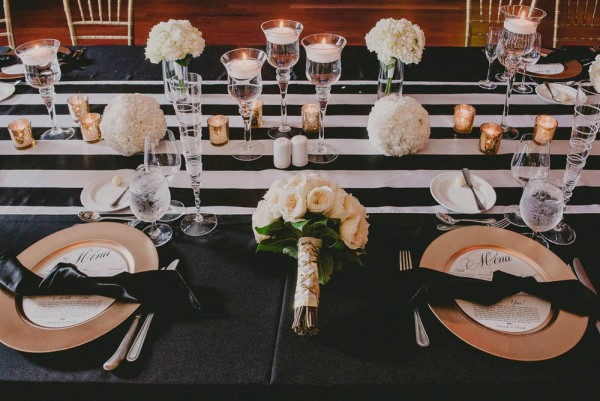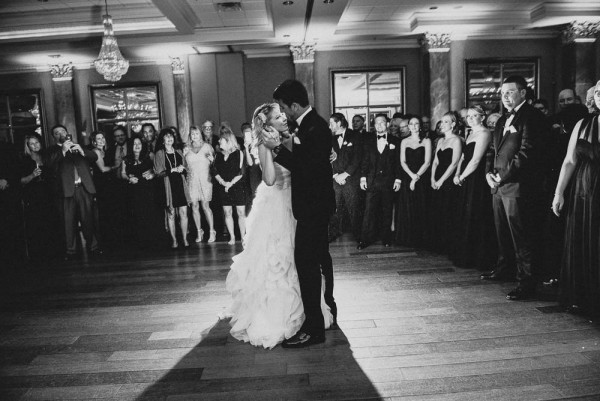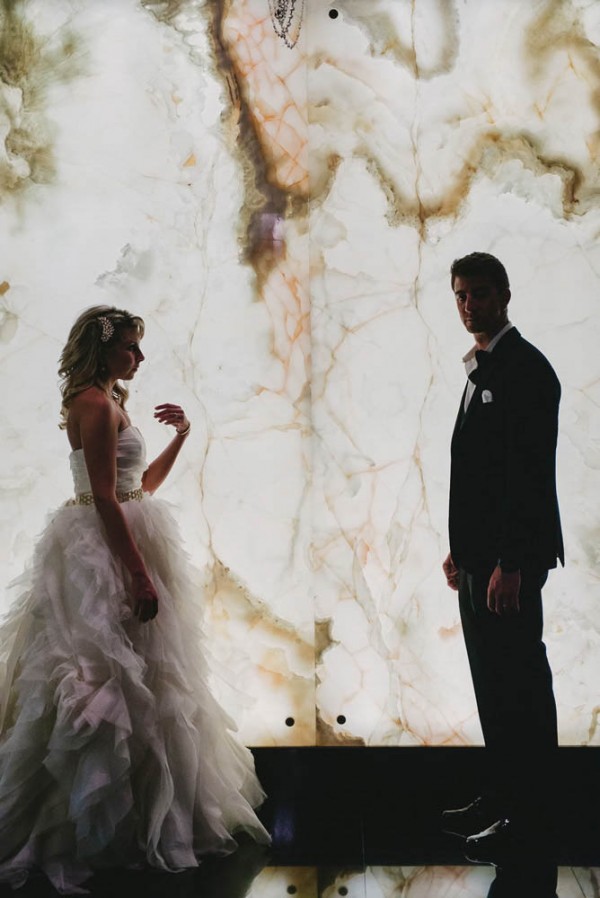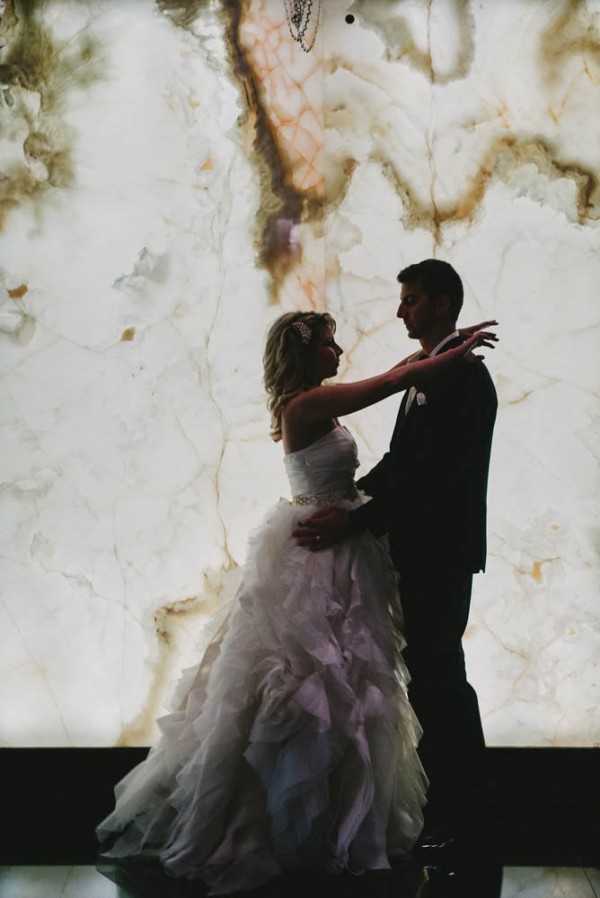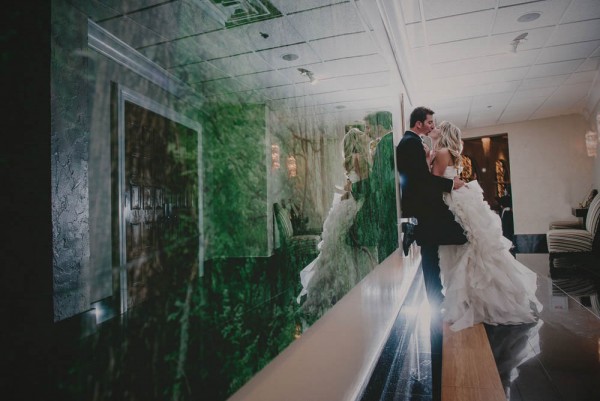 The Moments:
Hands down, my favorite of my wedding was our "first look." I was so against doing a first look until several months before the wedding when I realized that if I was going to get the photos of Mitch and I that I wanted from our day, I would have to do a first look – mainly because of day light savings. Outside photos were very important to me and I wanted natural light. Seeing Mitch before the wedding calmed my nerves and made me giddy all at the same time. It was such a private, special and fun time for us to just enjoy each other and have fun together before the wedding. Once the ceremony starts, everything flies by and things happen so quickly. There's not many opportunities to just be together and enjoy each other. For us, the first look provided that. Also, when you have a fun photographer, it doesn't even seem like your posing for pictures!
The Couple Recommends:
Evan Rich Photography of course stood out! From the engagement photos through the wedding, they were so easy to communicate and work with. On the day of the wedding, Evan made it feel more like I had a friend with me than a photographer. So many people commented following the wedding how involved he was and right in the middle of everything to get the best shots. They also commented that it looked like he had a blast the entire night. After receiving a sneak peak of my photos, I knew I was going to be beyond thrilled when we got the full set from him. I love every single one so much that deciding on photos for an album seems like a very daunting task! BJ Simmons from The Look by BJ did a fabulous job with my makeup, my bridesmaid and my mom. Each one of us was thrilled and looked beautiful. Her personality was super soothing which is exactly what a bride needs when she's getting ready on the day of her wedding. Our MC/DJ Andre had our party going from the minute people entered the reception. People who never dance didn't leave the dance floor the entire night! He was on the dance floor with us the whole time, getting guests involved and teaching us dances. And of course, I can't forget my incredible wedding planner and friend, Michelle Sarason. She had fabulous vendor recommendations and her wedding day timeline is what kept me sane on the big day! She was my go-to person for everything throughout the wedding planning….my sounding board and sanity!
The Wedding Team:
Photography – Evan Rich Photography
Event Planning – Michelle Sarason
Venue – Coral Gables Country Club
Floral Design – Avant Gardens
Cake – Edda's Cake Design
Officiant – Frank Nunez
DJ – The Mike Sipe
Videography – Senderey Video
Makeup Artist – The Look by BJ
Wedding Dress – Kristie Kelly
Groom's Apparel – Vera Wang for Men's Wearhouse
Groomsmen's Apparel – Vera Wang for Men's Wearhouse
Rings – Buchwald Jewelers
Rentals – Mystical Memories
Congrats to Amanda and Mitch on your glamorous country club wedding and thanks to Evan Rich Photography for sharing such stunning images! For more black and white wedding inspiration, be sure to check out Kendall and Sebastien's modern glam wedding at Front and Palmer.