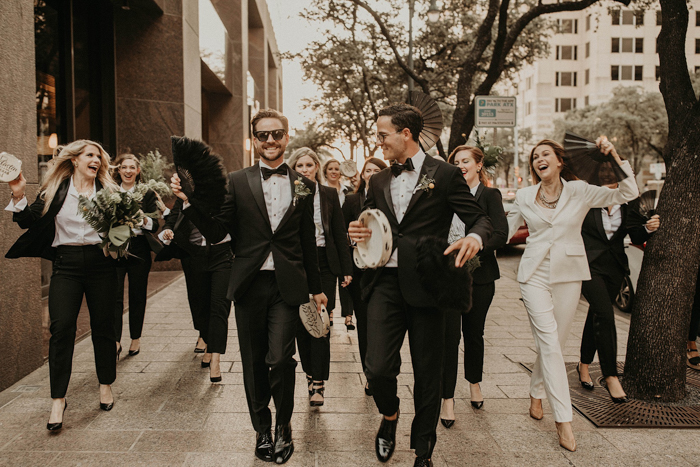 Give us all the fun-loving, ultra stylish vibes! We're swooning over Michael and Eric's black and white tropical wedding at The Belmont in Austin, Texas. From the looks of the awesome photos by Nikk Nguyen Photo, we're wishing we were there to parade through the streets of Austin with this crew and their custom tambourines! If non-traditional wedding party outfits are your thing, you're going to love this stylish crew who all wore the most fabulous wedding day suits. Get ready for lots of lush, green arrangements by Burlap & Rose and all the modern, black and white tropical wedding inspiration you could ever dream of.
The Couple:
Michael & Eric
The Wedding:
The Belmont, Austin, Texas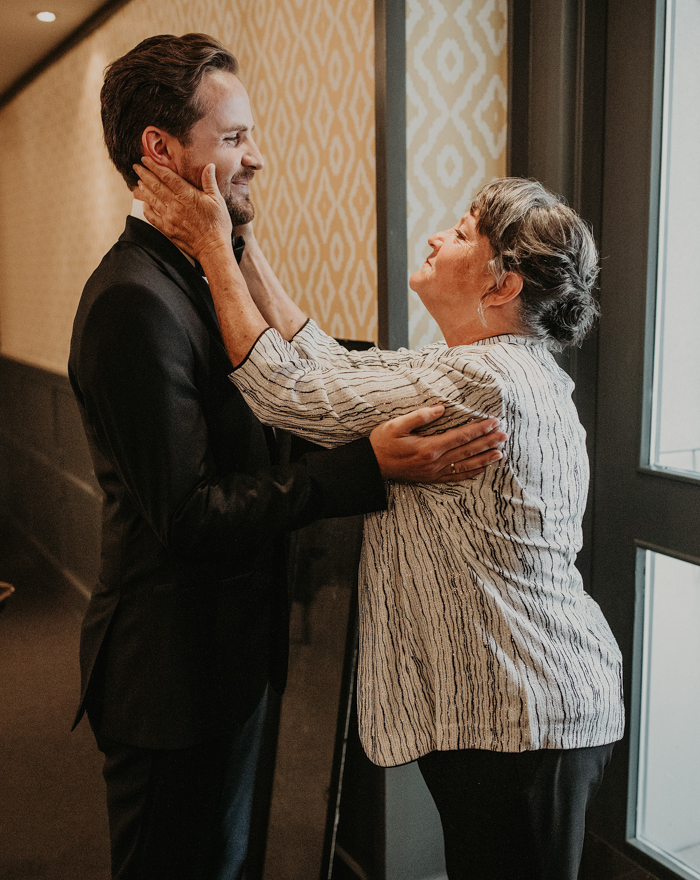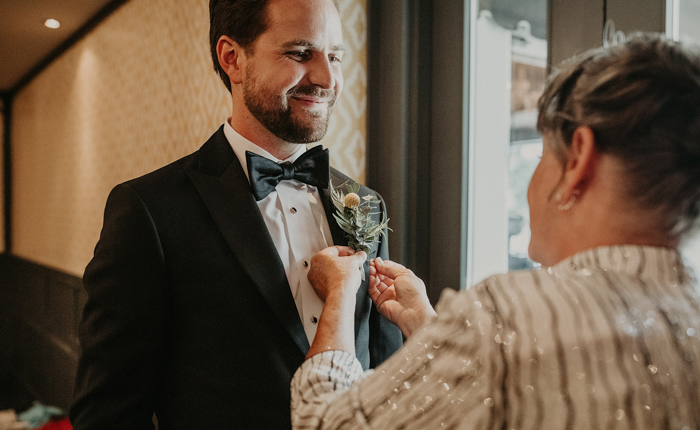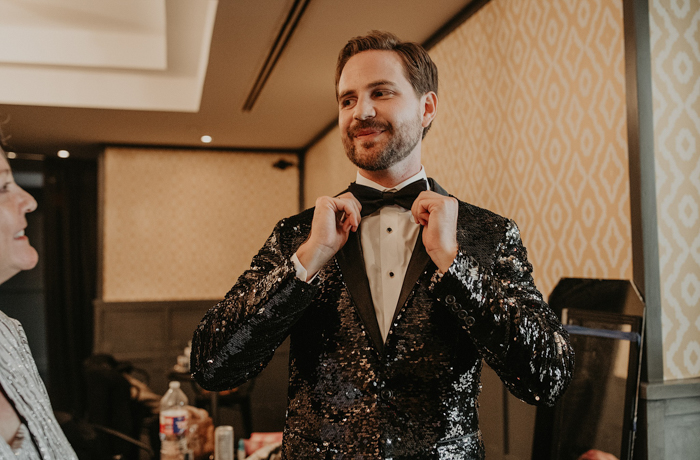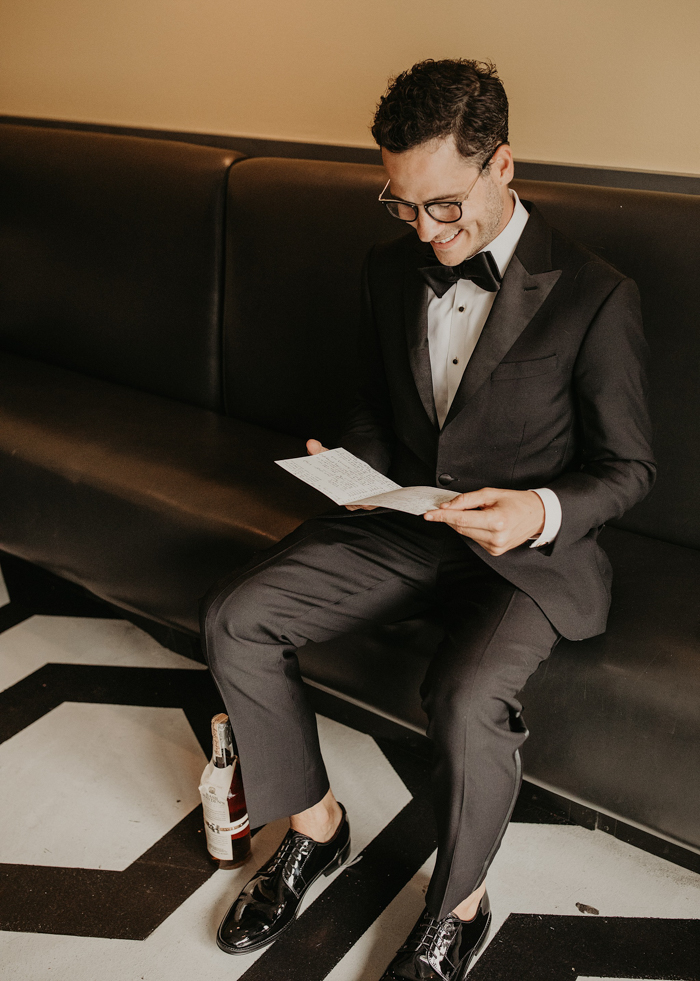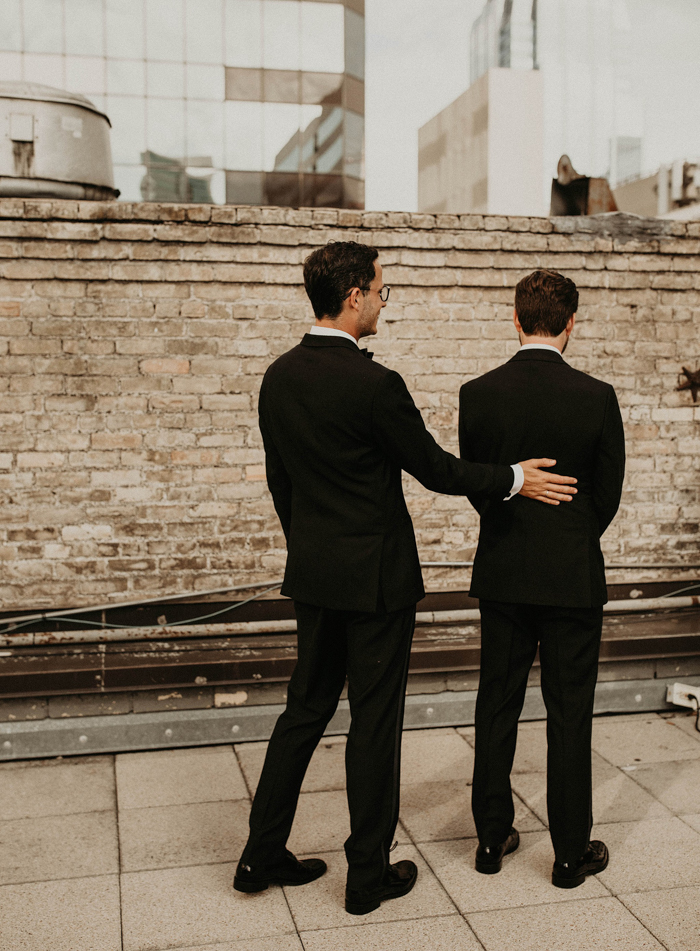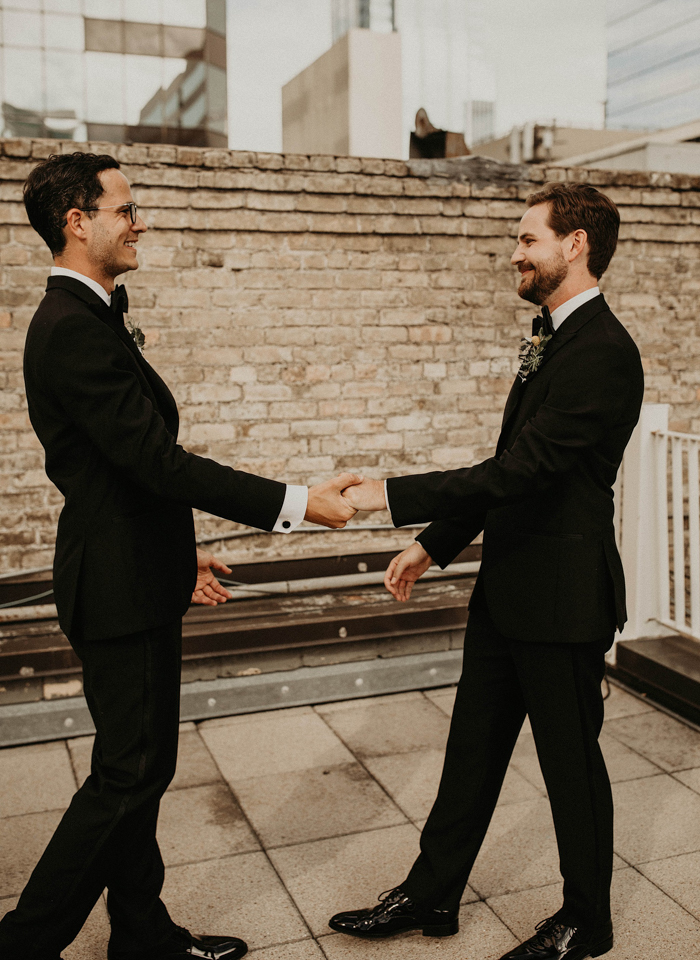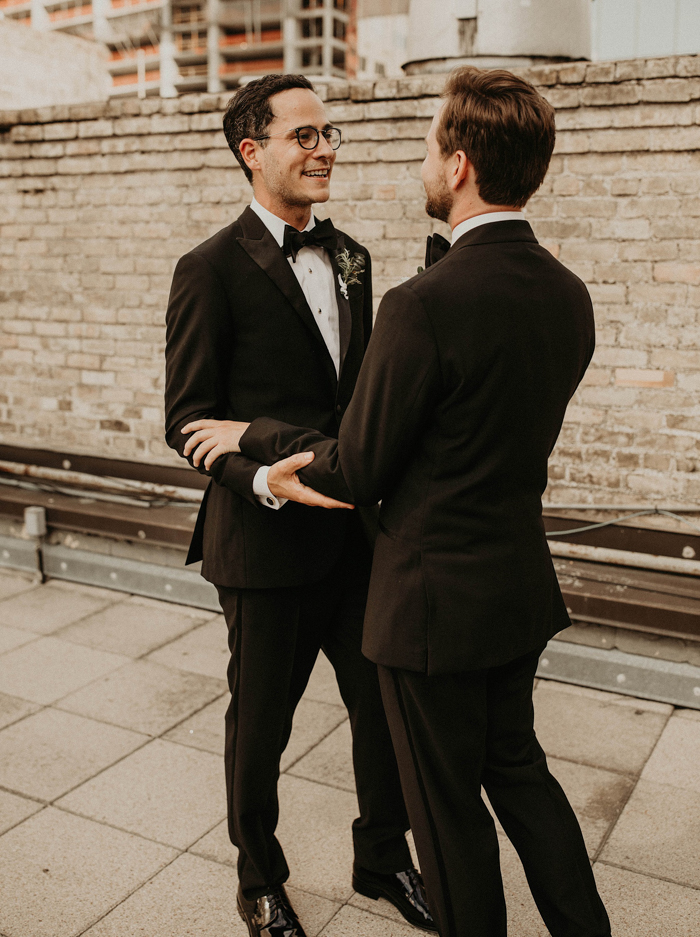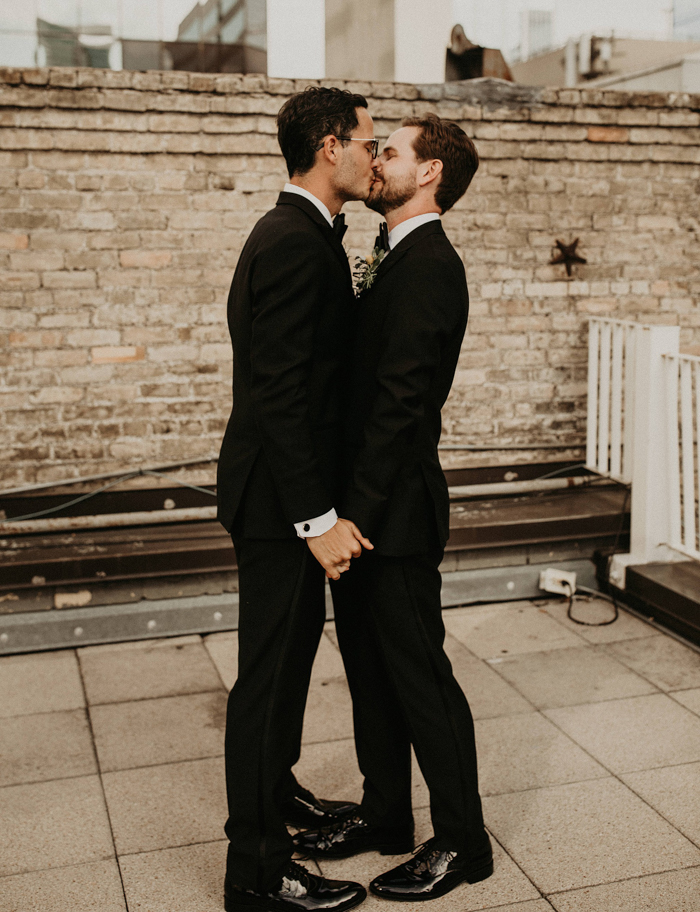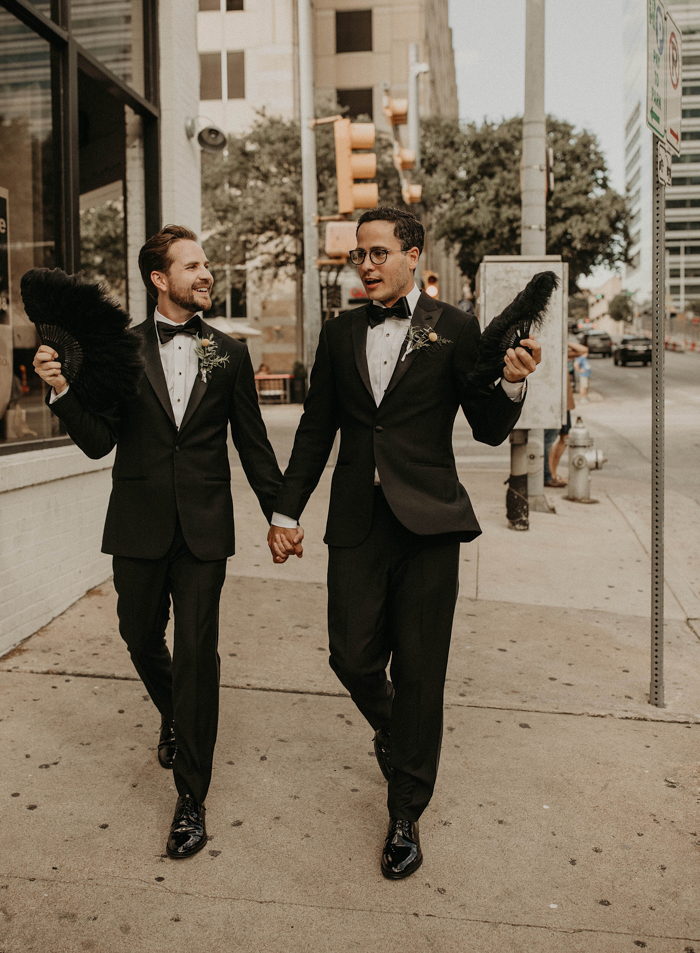 Nikk was one of the first vendors that we secured, and boy, what a start to planning a wedding. Even before meeting him in person, we loved his laid-back, fun vibe and his vision of capturing authentic moments with such style. Those qualities shinned even brighter on the day of the wedding, and translated into an incredible product.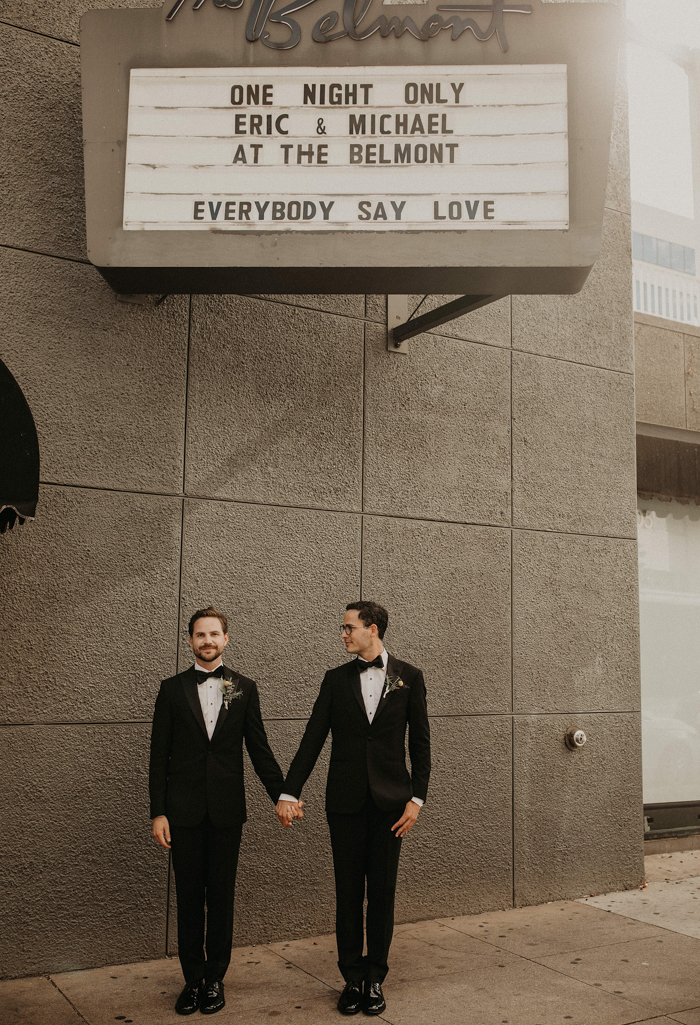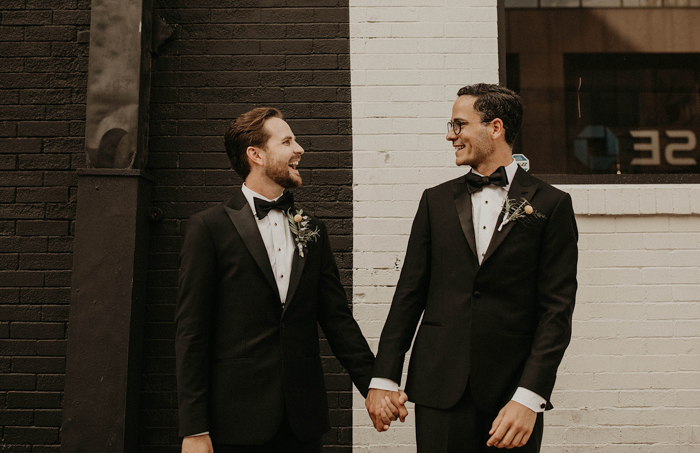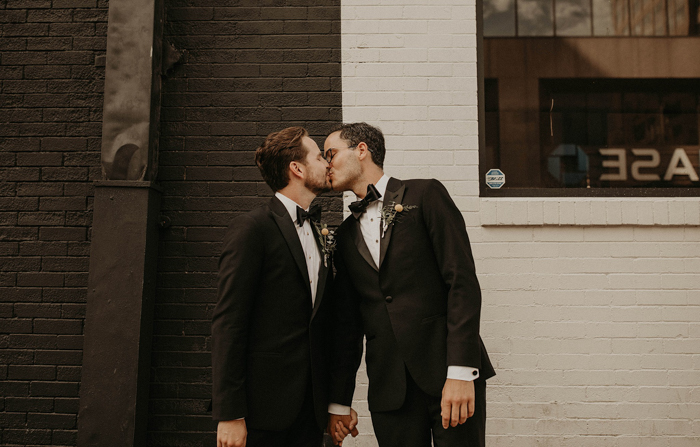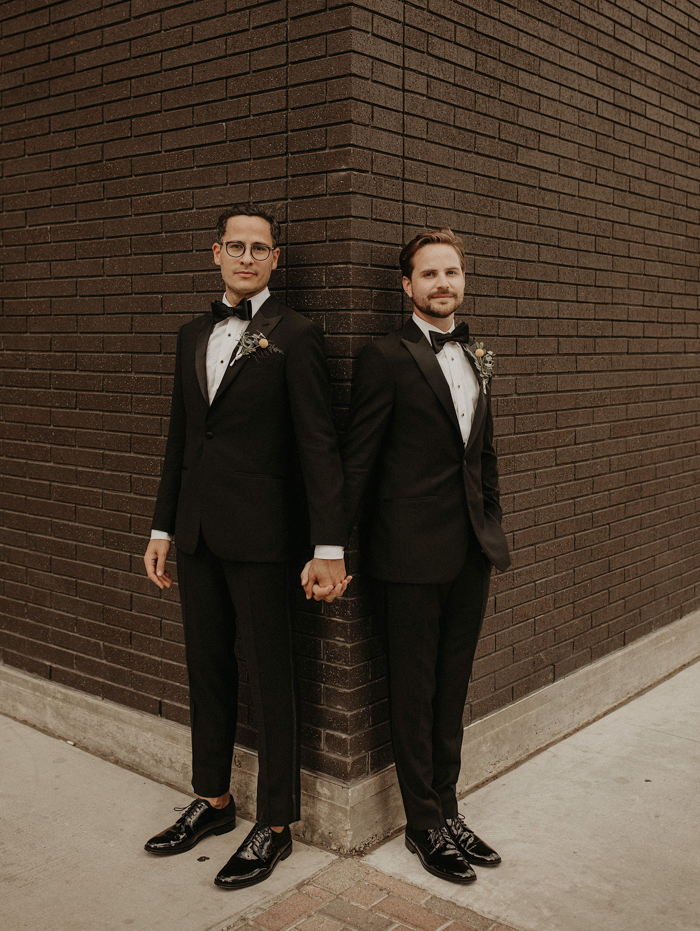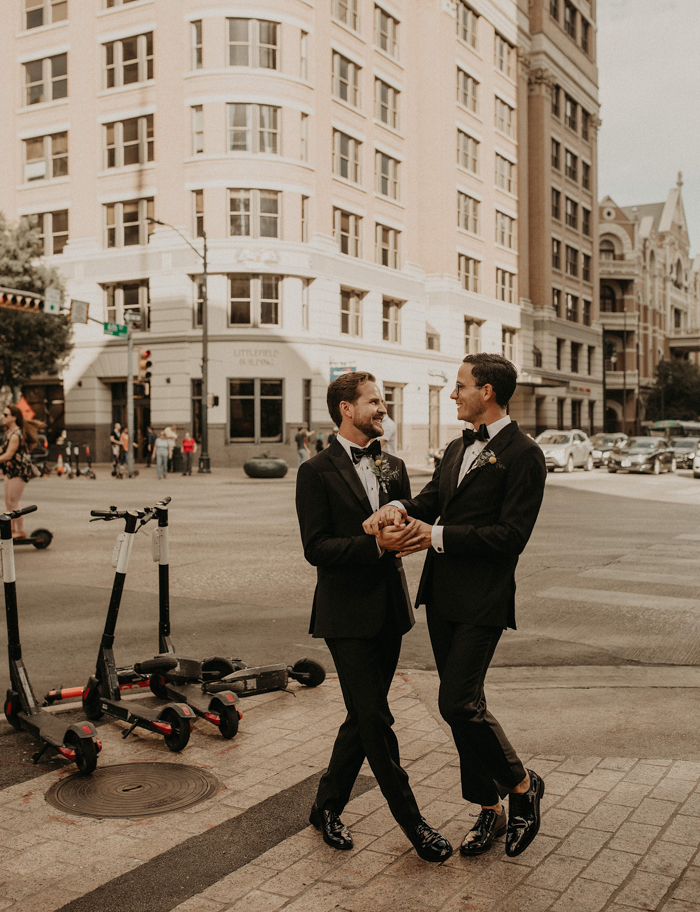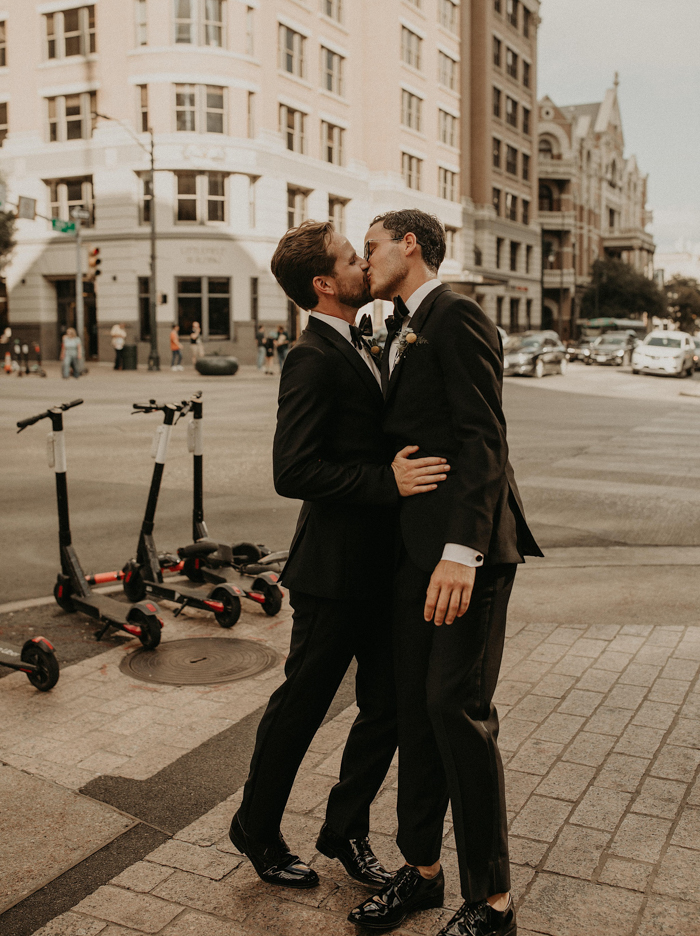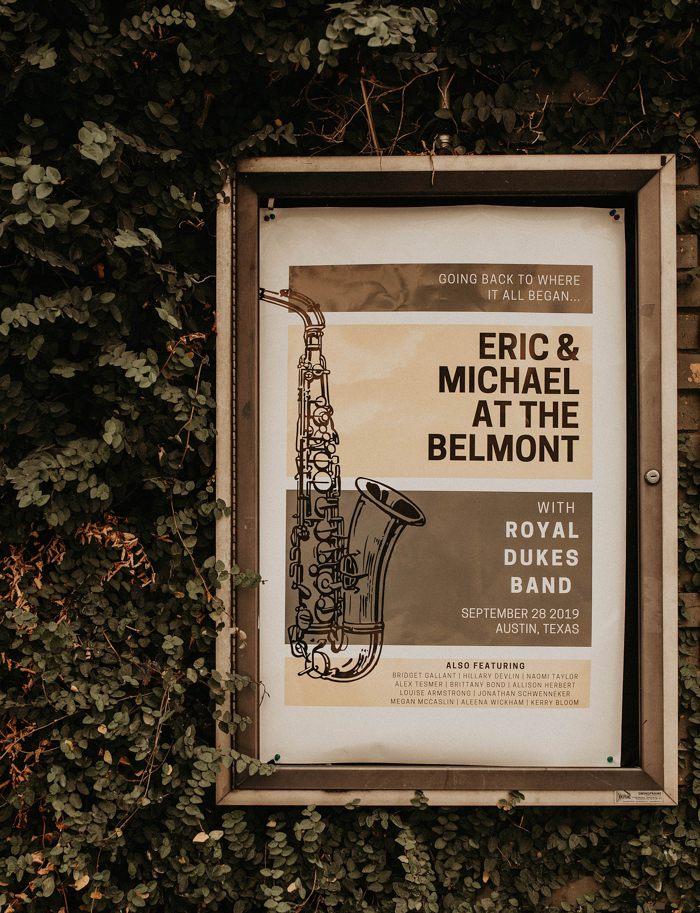 Knowing that The Belmont, our venue, already embodied a retro west coast vibe, filled with tropical plants and a sweet outdoor stage for bands, we wanted to really let that be the focus and built our style off of that. We mostly incorporated a black-and-white color scheme with our wedding party outfits and overall decor with hints of yellow and packed with an assortment of greenery all around the venue. That, and we had to top it off with a lot of camp because our marriage is built on always having spare wigs, sequin blazers, and feathered boas on hand.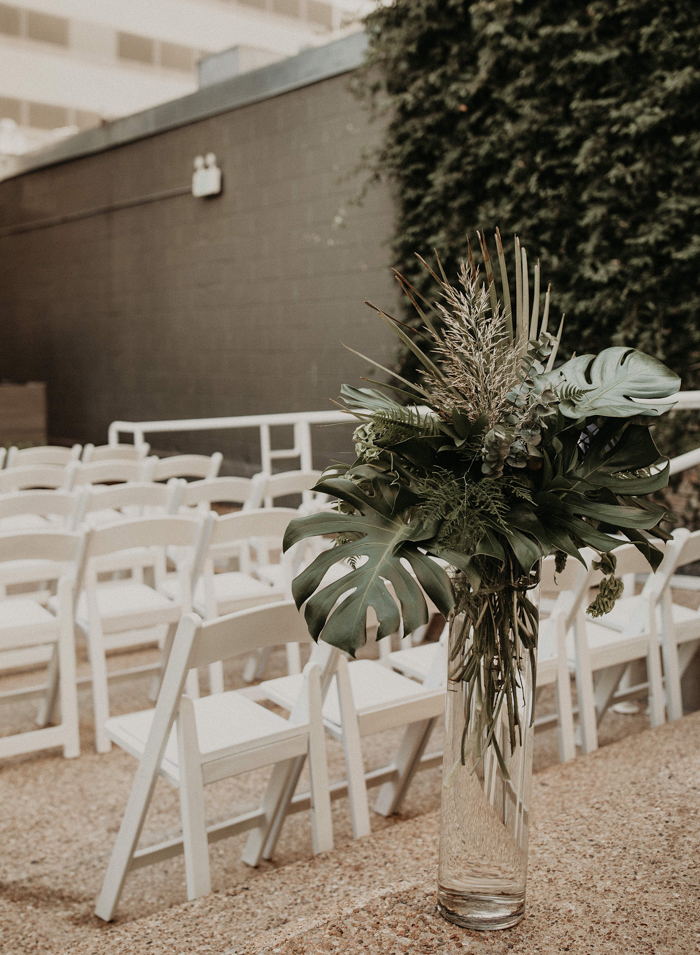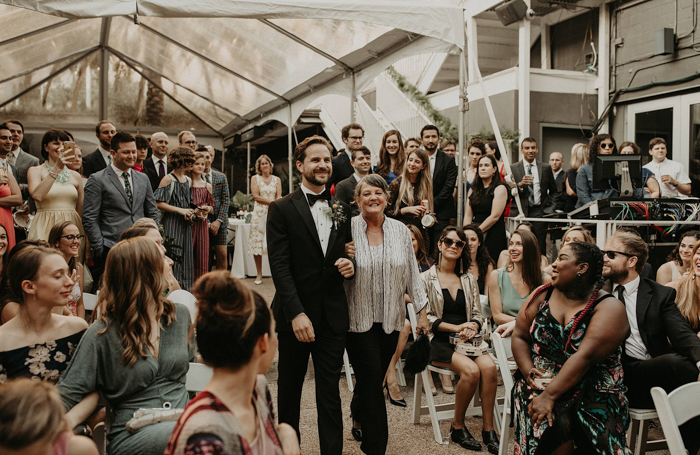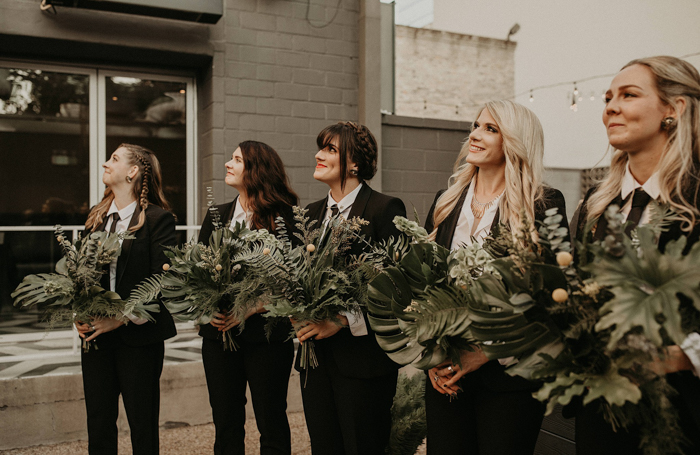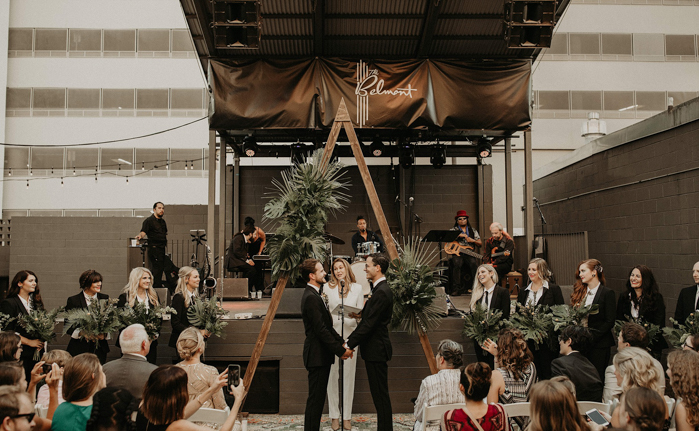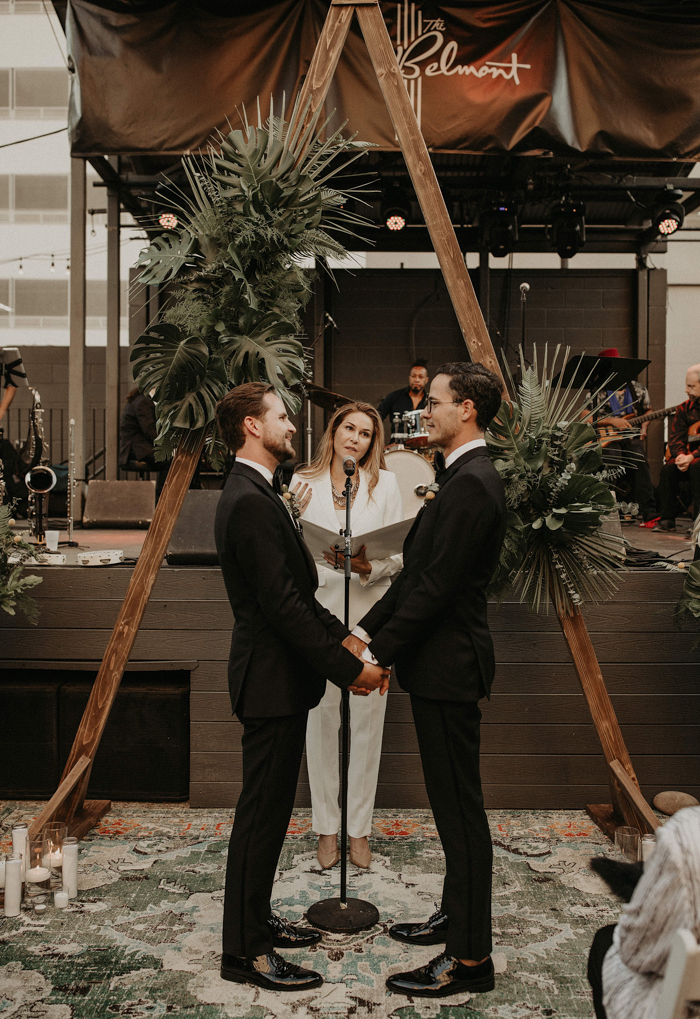 We encouraged all of our guests to hit the bar, grab a drink, and watch the band perform before the start of everything. Then, with everyone huddled around, we got to stand alongside Eric's sister, Kerry, who officiated our wedding, and she knocked it out of the park. Kerry cultivated an incredibly thoughtful ceremony composed of precious memories and well-executed jokes. The two of us wrote and shared our own vows, and then, we let the band take it from there, as we danced down the aisle. Oh – and not to mention that we got married in the exact spot that we met nine years prior! It was the perfect balance of love, appreciation, and fun, for us.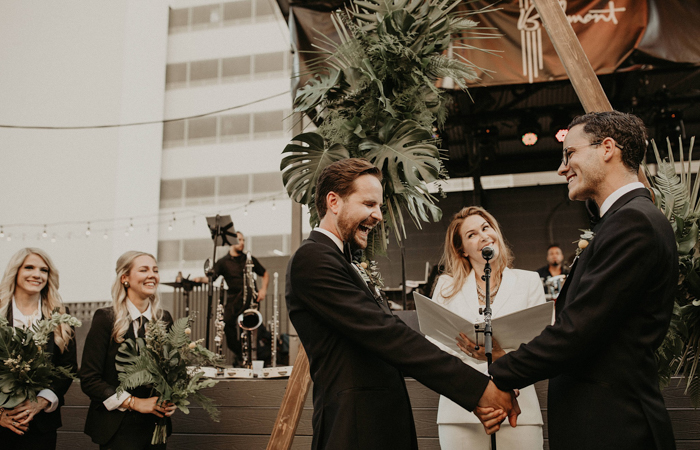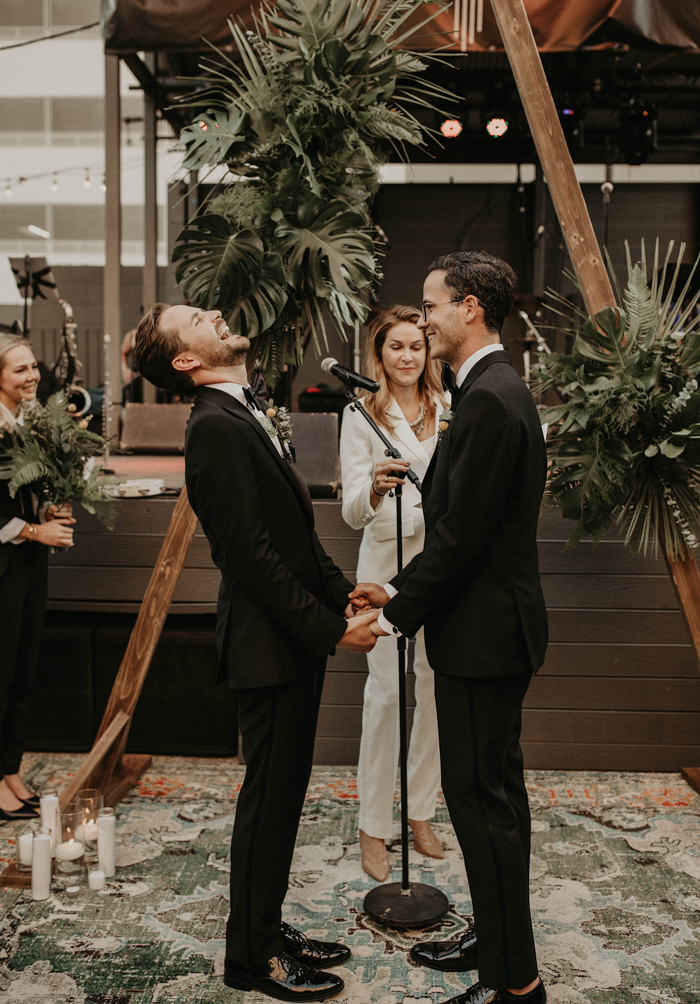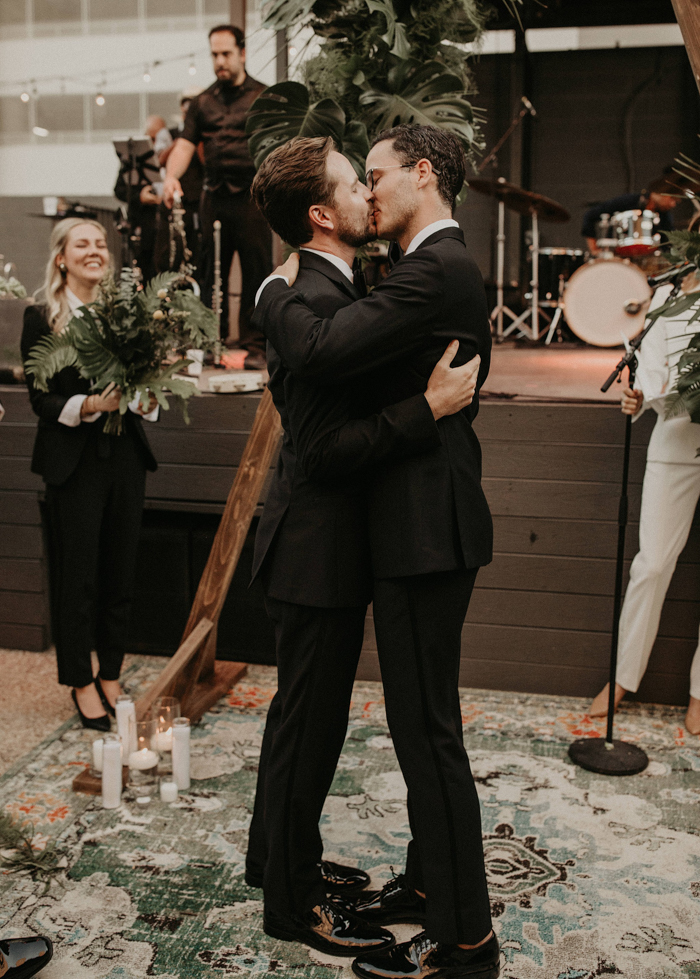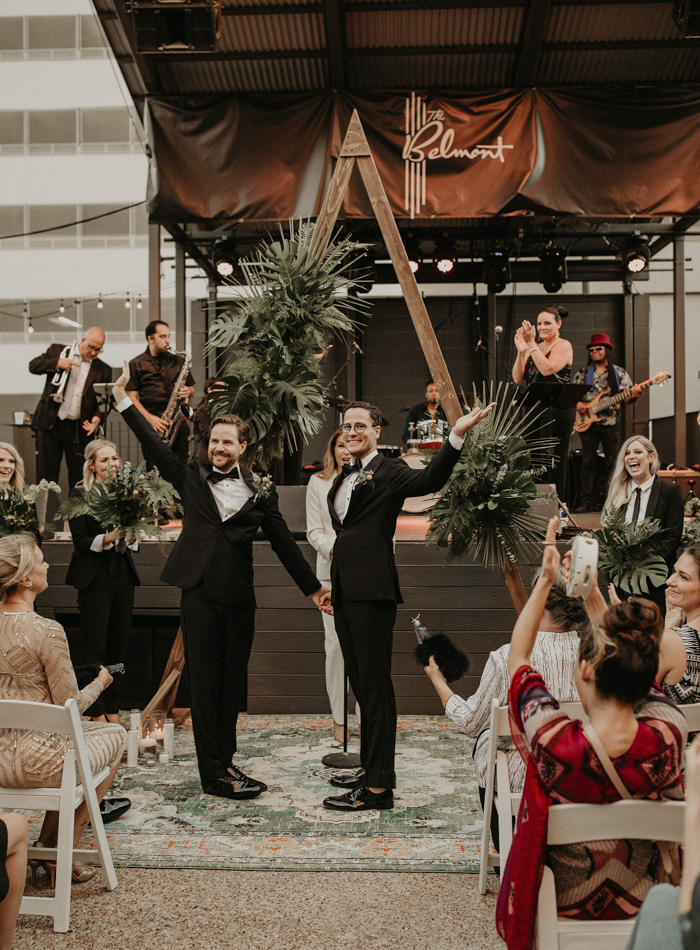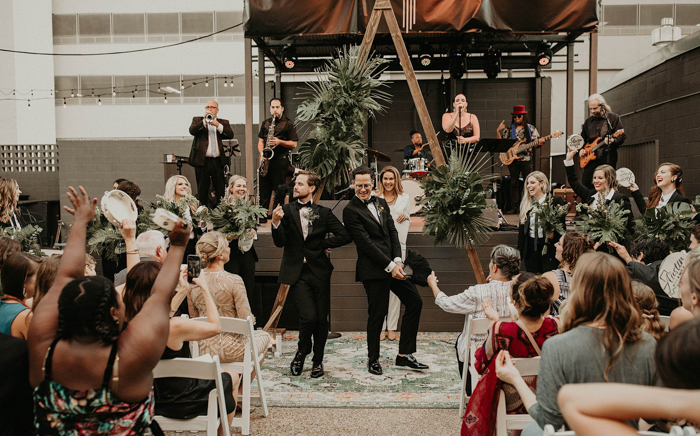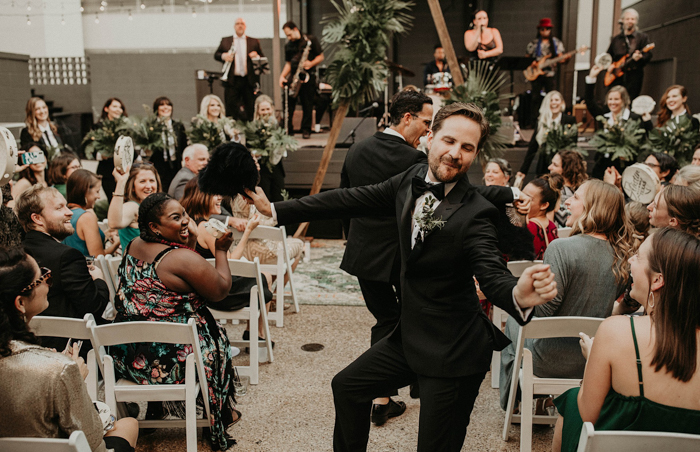 Wedding planning advice from the couple: Be decisive; so much time can go by weighing various options (and there are a lot of options about a lot of different things!) so try to go with your gut and love your choice. Then, you can spend that otherwise lost time enjoying all of the moments of being engaged and planning a wedding. Interspersing plenty of wine dates is also crucial! And, try your hardest to laugh at the situations that can cause so much stress. There really is humor in many of those times if you can just let yourself step back and see it.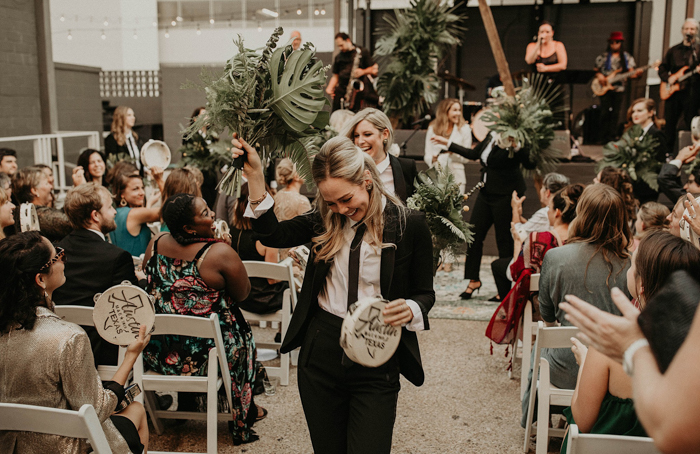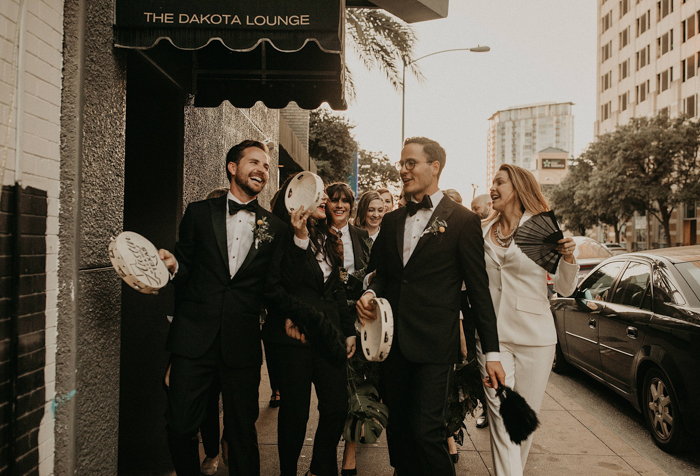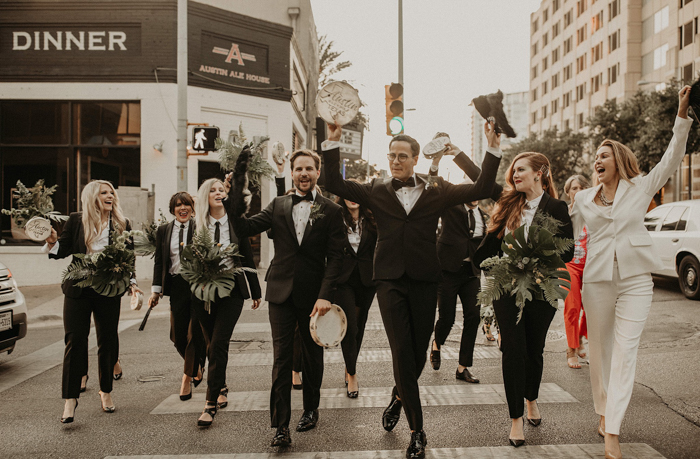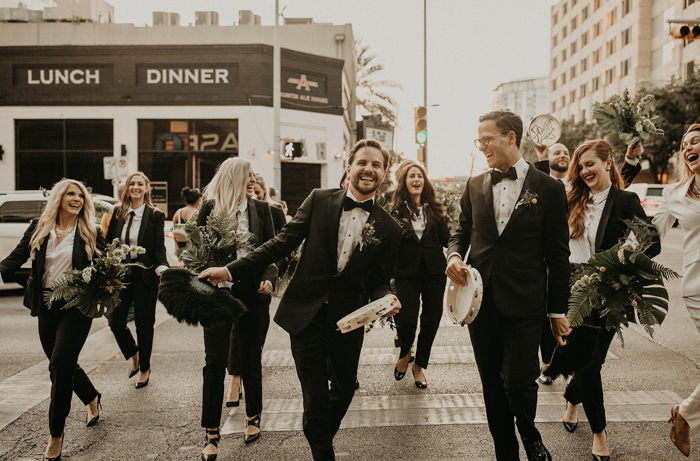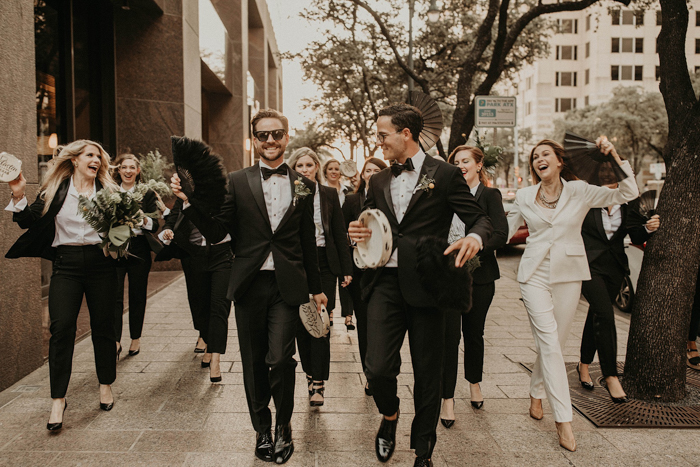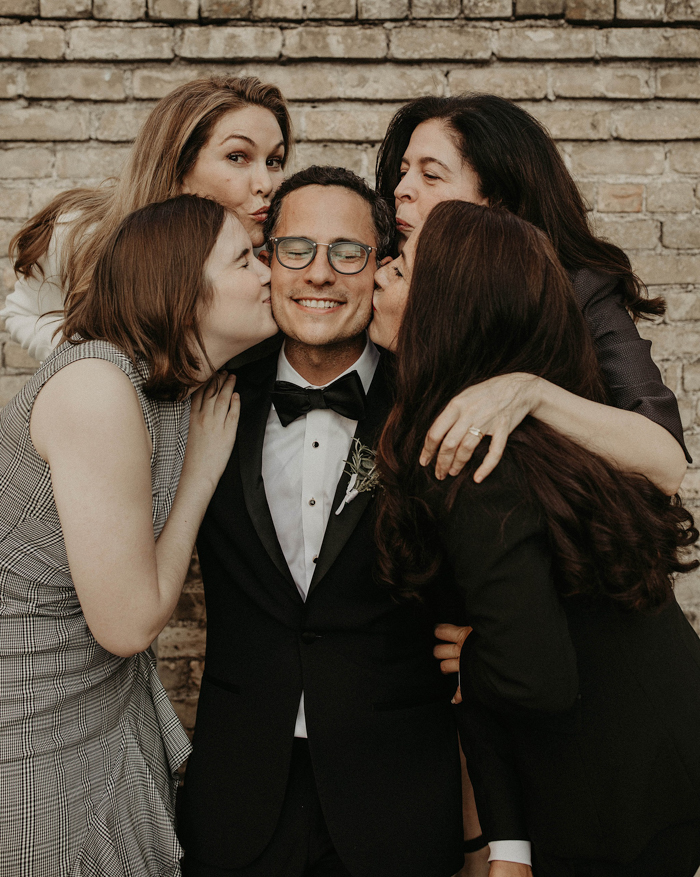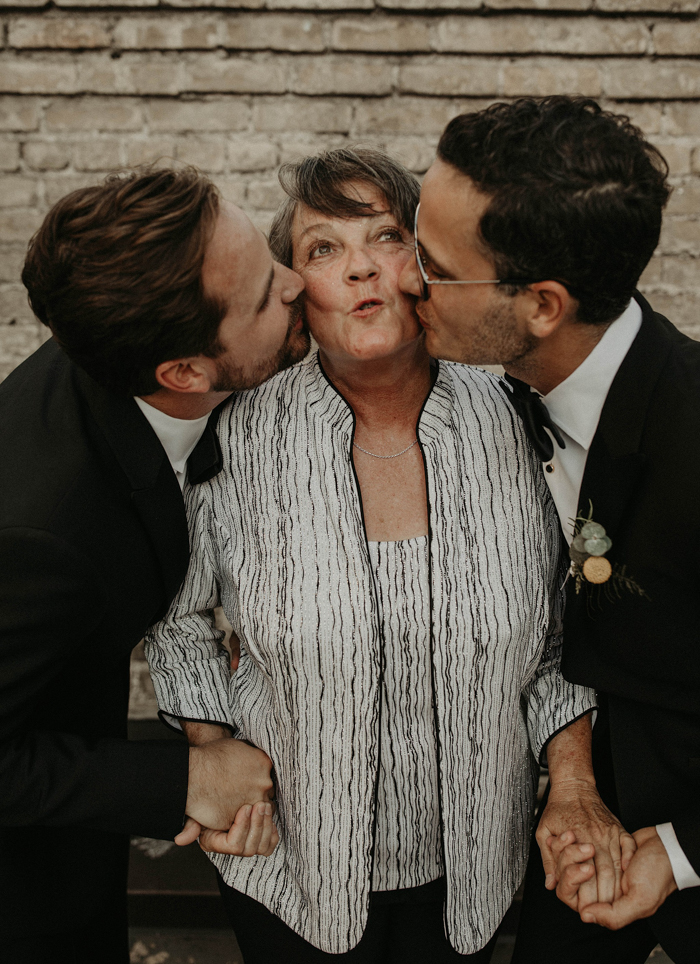 We wanted to bend the norms and have everybody wear suits regardless of gender, which was especially fun because most of our wedding party was composed of our close girl friends. They rocked a heigh-waisted, cropped pant suit, with an all-black stiletto to match. Some of the girls also wore black skinny ties, while others kept their white button-up open and accessorized with gold jewelry. Our groomsman wore a classic black suit, and we both wore black tuxedos. One of Eric's groomswomen, Bridget Galant, also customized perfectly gaudy "BITCH" earrings and a tie clip to adorn our favorite people. Our florist, Jen Clary, made incredible bouquets, stacked with Monstera deliciosa leaves, and put together boutonnières for the two of us, each with Billy Bolls.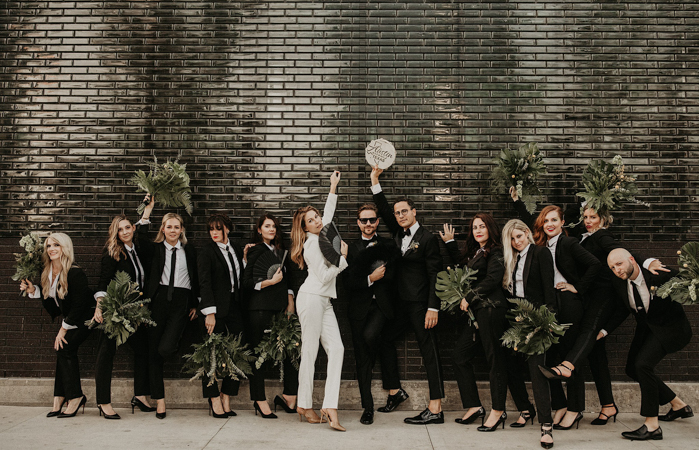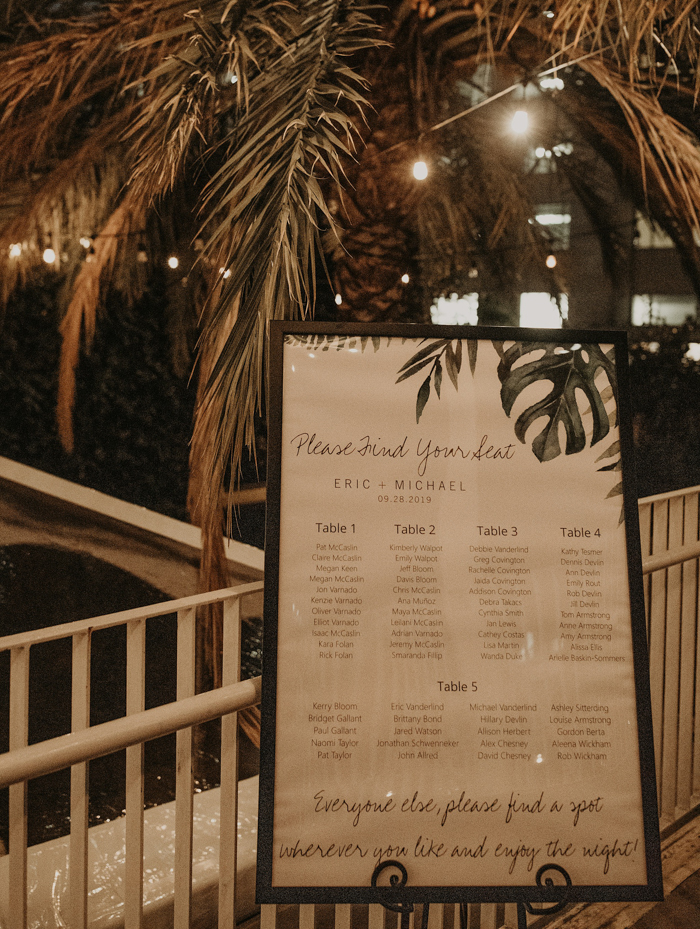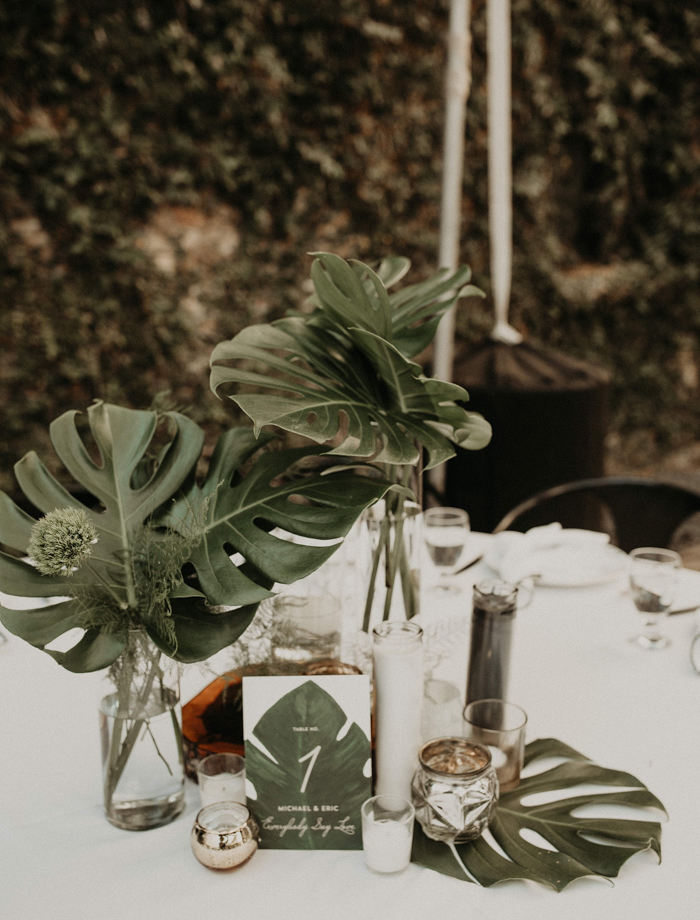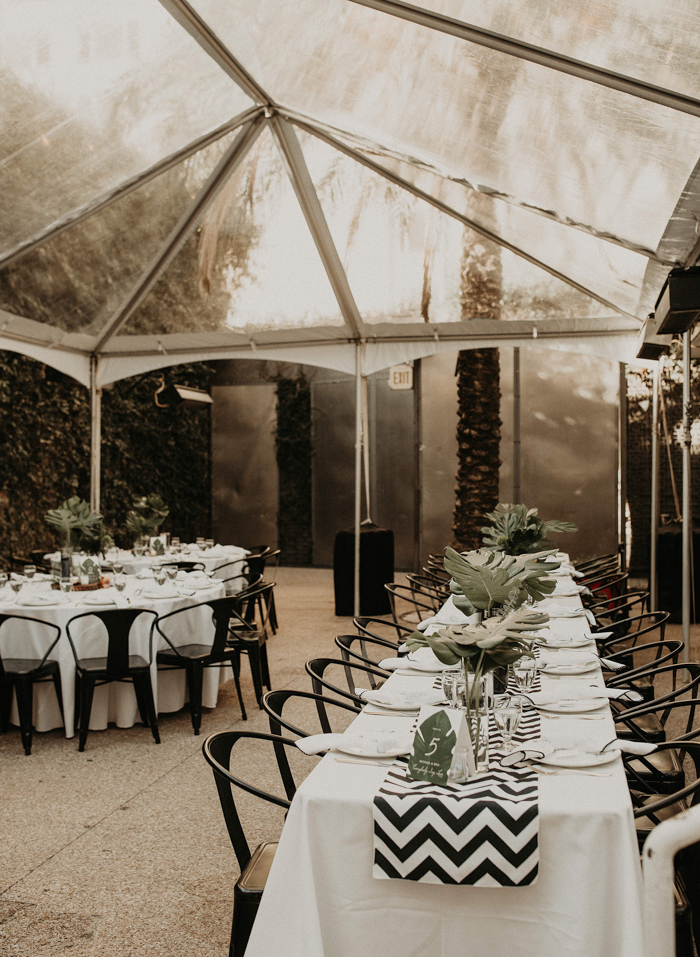 We were fortune to have an event coordinator, Jen Clary at Burlap and Rose, support us with event planning (and therapy!) in the months leading up to the wedding. Her contagiously enthusiastic and empathetic temperament, alongside her excellent planning skills, made for a purely enjoyable wedding day. In addition to Jen, one of the best decisions that we ever made was to hire ILC Films to video our wedding. RuPaul says it best – 10s across the board. They made an aesthetically beautiful video that captured all the feels of the day. We watched the video daily for at least a solid month after the wedding (and right before we started to prepare these answers!).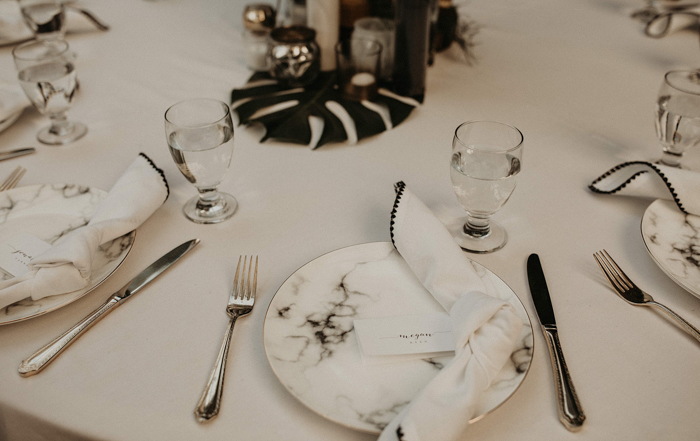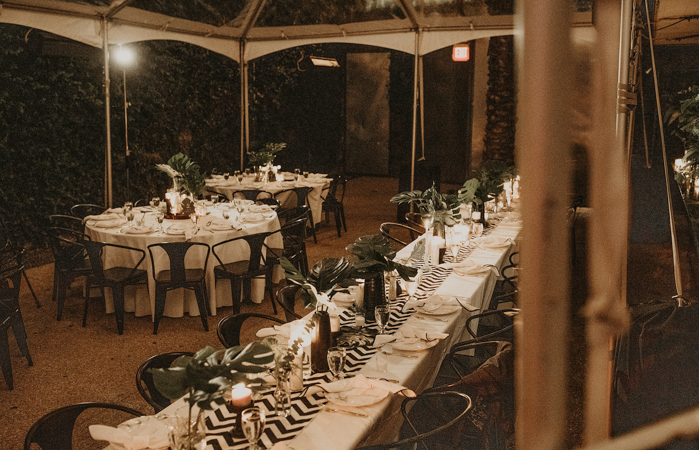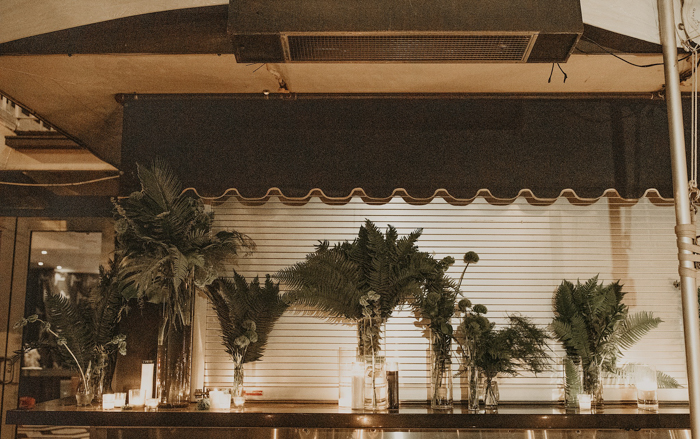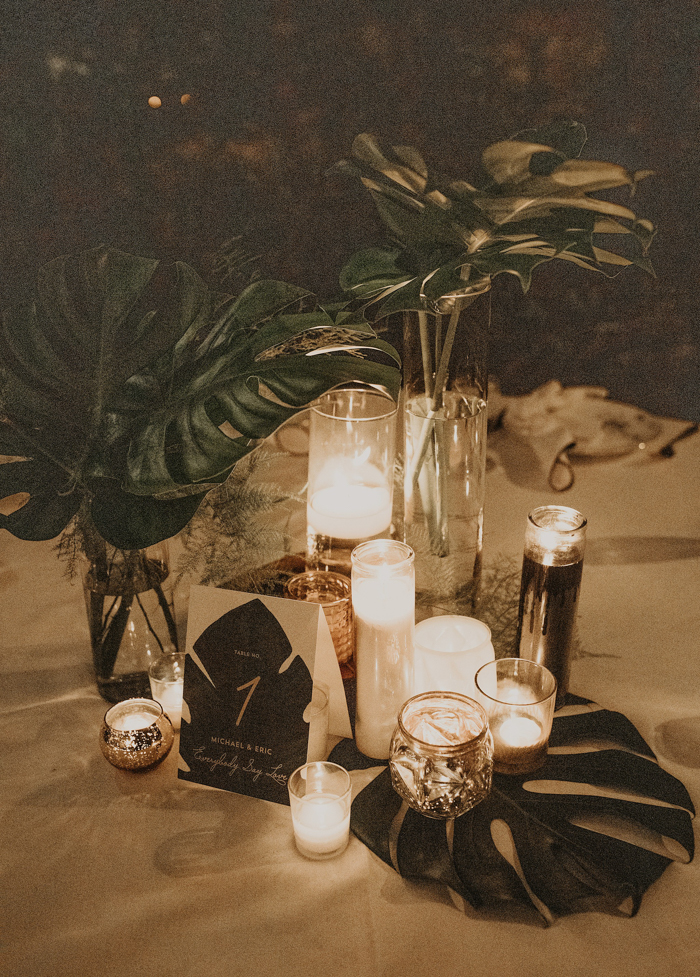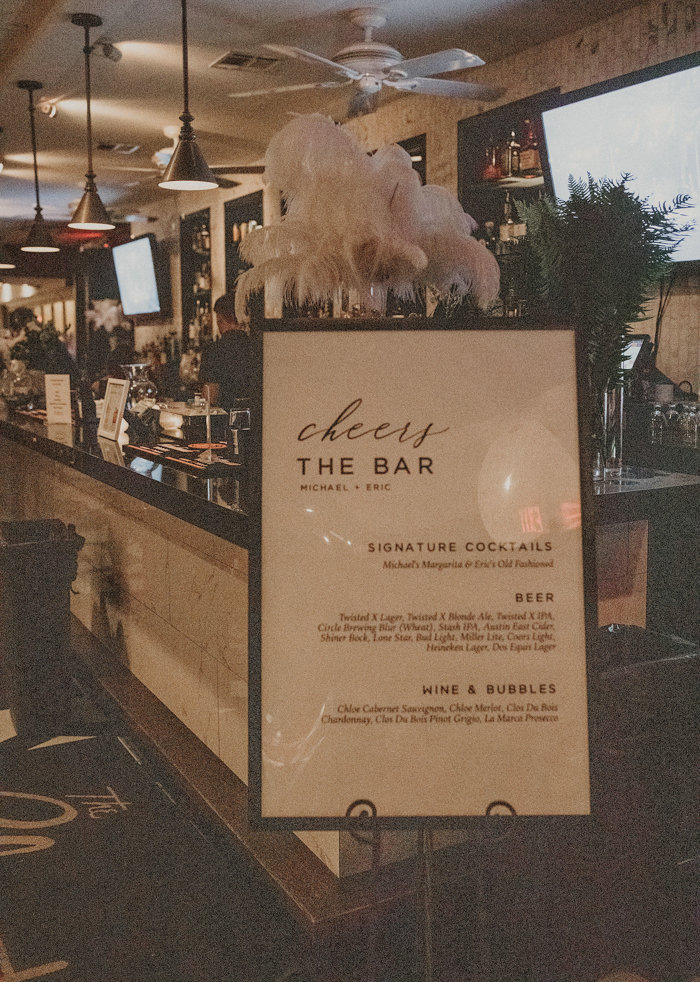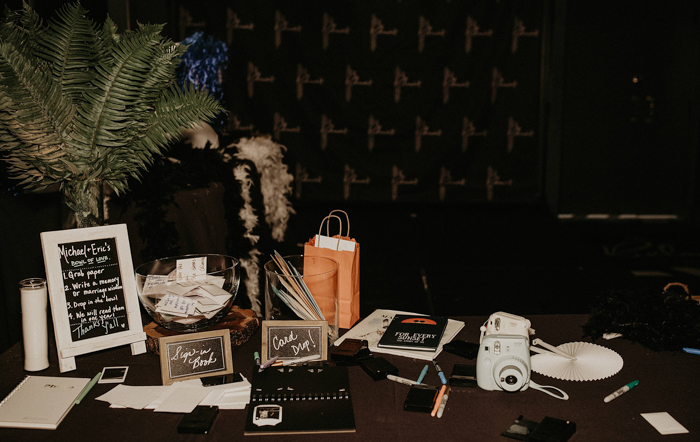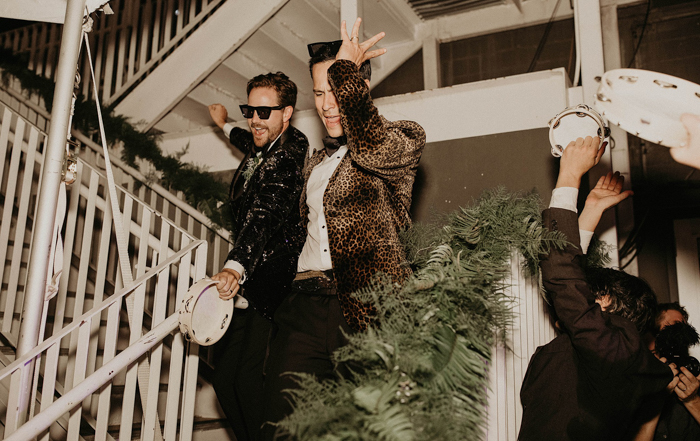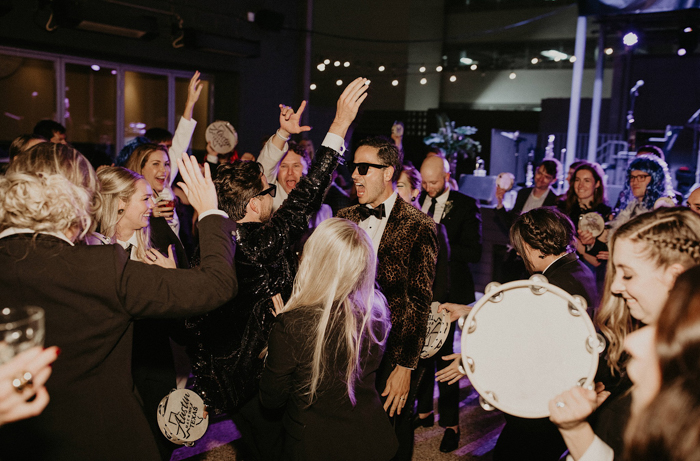 In addition to providing wigs and feathered boas for all, we made personalized tambourines. They were wooden tambourines with sheep-skin drums, and Eric, I, and some of our friends spent hours one Saturday spray painting a personalized logo that Eric designed onto them.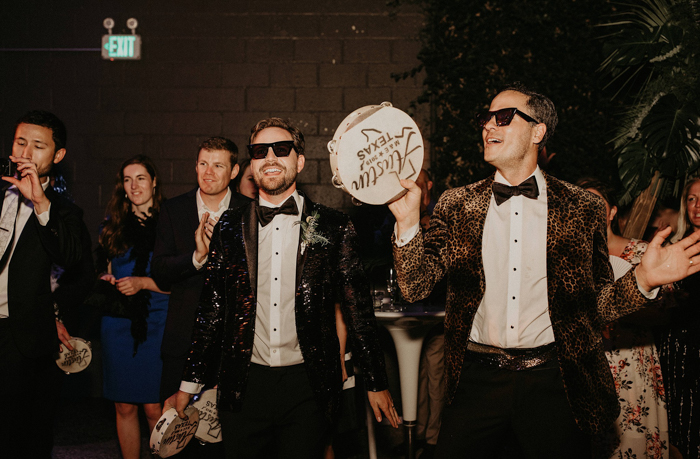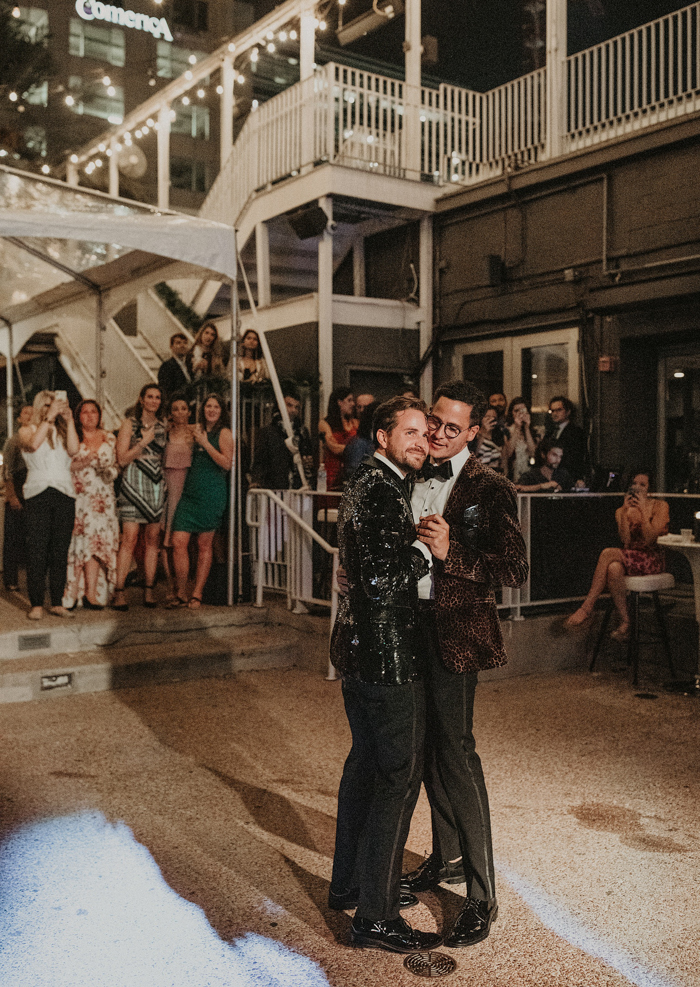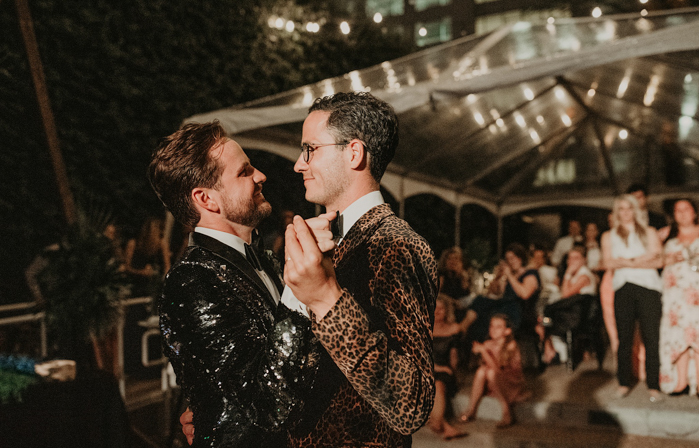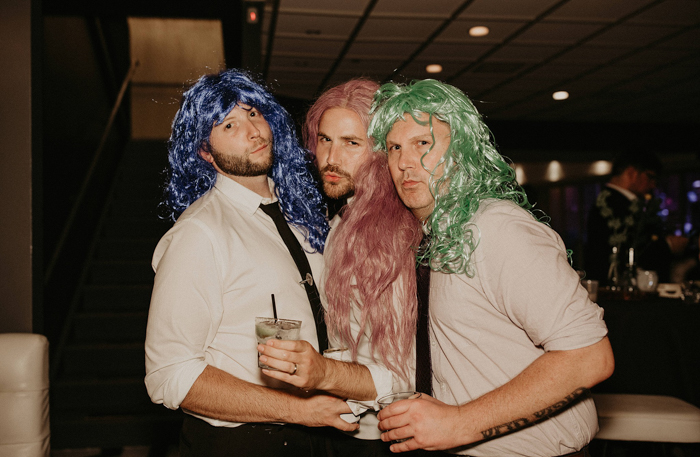 RECOMMENDED READING: This Wedding Reception Playlist is Guaranteed to Get Your Guests on the Dance Floor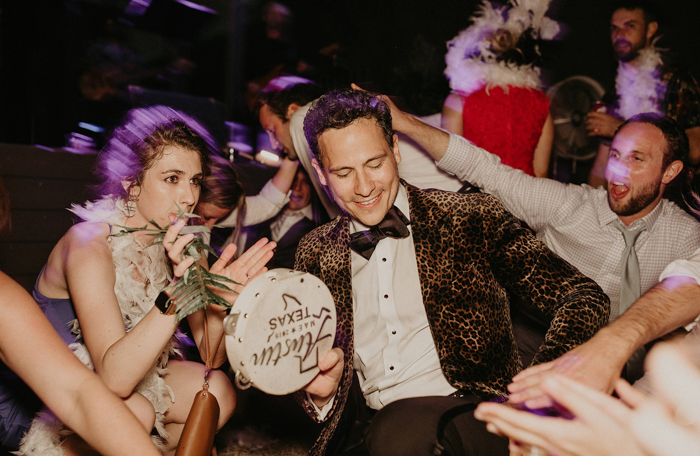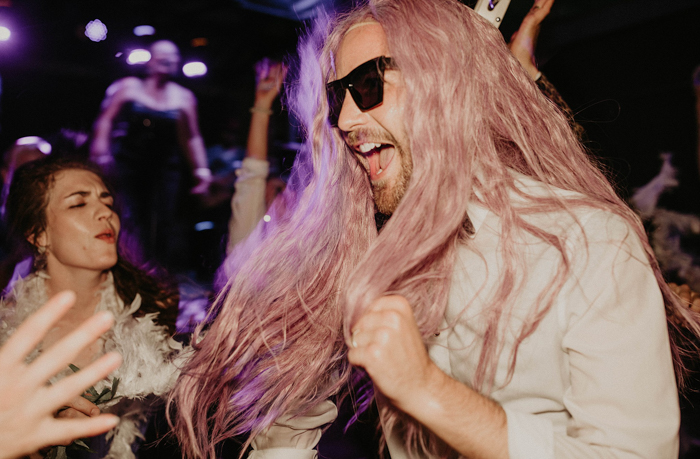 Congratulations, Michael and Eric, and many thanks to Nikk for sharing their black and white tropical wedding with Junebug! Loving these photos? See more of Nikk's work in our directory of the world's best wedding photographers.