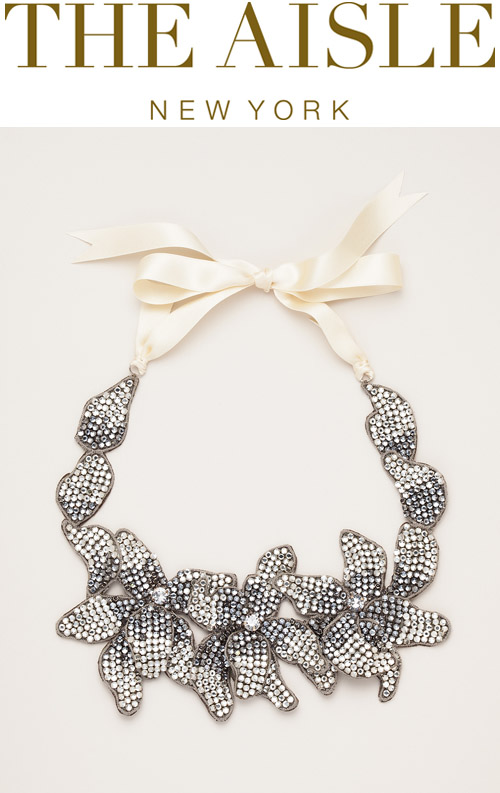 Welcome back from the long weekend everyone! Although your holiday festivities may be over, the celebrations at Junebug have just begun, and today we're kicking off our birthday month right! The Aisle New York, the incredible invitation-only online wedding fashion sale site, is generously partnering with us all month long for a giveaway every single week! Woo-hoo! The Aisle New York is an invaluable fashion resource for brides-to-be. From their dazzling dresses and accessories straight from the runway, to their online magazine featuring top fashion trends, killer sale prices that will lighten up your wedding budget, and custom made collections available nowhere else, The Aisle is a true wedding treasure trove.
Today's item up for grabs is the Suzanna Dai Monte Carlo necklace pictured above, and to be 100% honest, this is one of those times when we truly wish we could enter our own contests! The style experts at The Aisle say, "We love this piece because it feels as good as it looks. This Suzanna Dai Monte Carlo necklace is backed in touchable gray suede, so it is as comfortable as it is beautiful. The crystal details are luxurious and sparkly, without being over the top. And it would look as amazing with a T-shirt as it would with a wedding gown!" We whole-heartedly agree.
To enter to win, simply leave us a comment here telling us about the accessory you're most excited about wearing on your wedding day. We'll accept entries all week long and randomly choose our winner next Monday, July 11th. And once you're done here, don't forget to head over to TheAisleNewYork.com to register your account and sign up for their newsletter letting you know about all their weekly sales and specials. I promise you, you don't want to miss all that they have to offer!

Take a peek over at our Photobug blog for another great giveaway today, and check back here all month long for giveaways, surprises and super special content looking back at the 5 years of Junebug! We've got lots of great things in store and hope you'll come help us celebrate!