Happy Monday! While I hope your week is off to a great start, I'm going to work on extending your weekend a little. Because Elaine and Todd's wedding on Vero Beach, Florida is the perfect escape. The soft, muted color palette of shale, sand, and beach glass will transport you away and Vitalic Photo's pretty, pretty pictures are as romantic and ethereal as it gets. I love this softer interpretation of a beach wedding – it's simply sublime!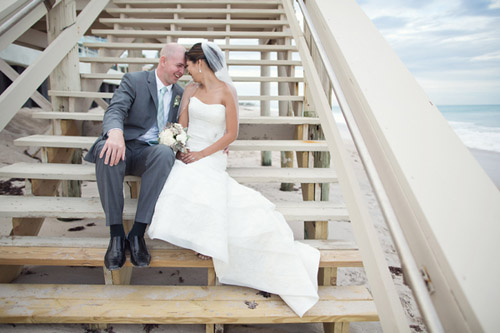 The Couple: Elaine and Todd
The Wedding: 4.21.12 – Vero Beach Hotel – Vero Beach, FL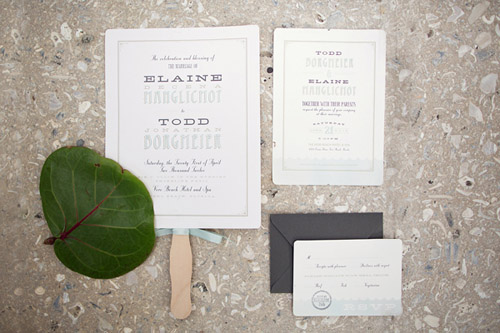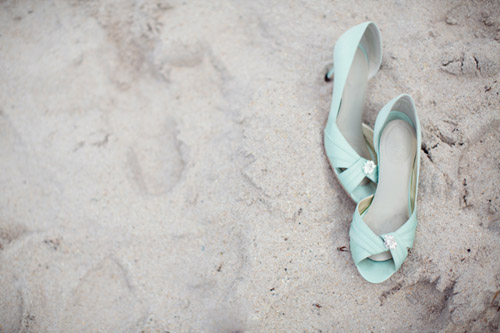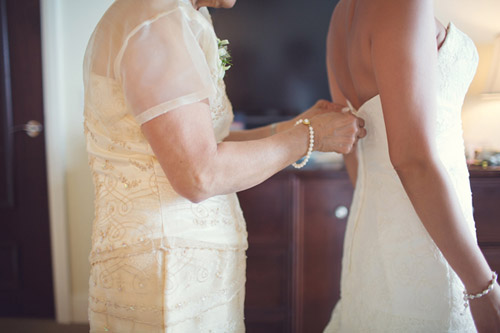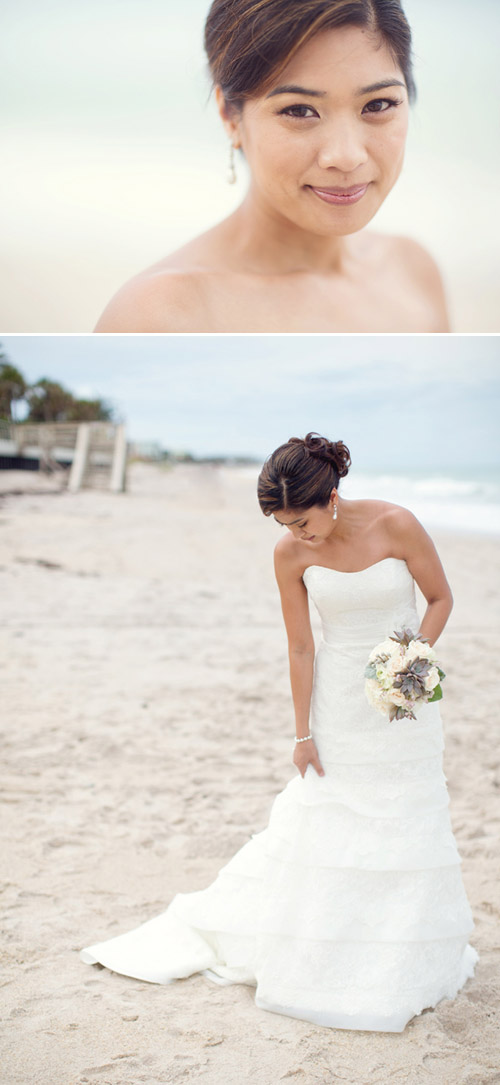 What adjectives best describe your wedding day? Miraculous, Modern-Vintage Beach, Comfortable
Was there a decor theme that ran through your wedding? What was the inspiration for that particular idea and how did it reflect you as a couple? We wanted the decor to feel natural to the beach environment, without using seashells and sand. We also didnt want it to feel too formal. We used natural materials like burlap, twine, sea glass, succulents, some coral and white flowers throughout. We liked the idea of mixing vintage and modern vases and mixing different flowers, so that no two tables were a like. As individuals, we are different in so many ways. I think this mixing of different things and having them come together and working cohesively is reflection of us as a couple.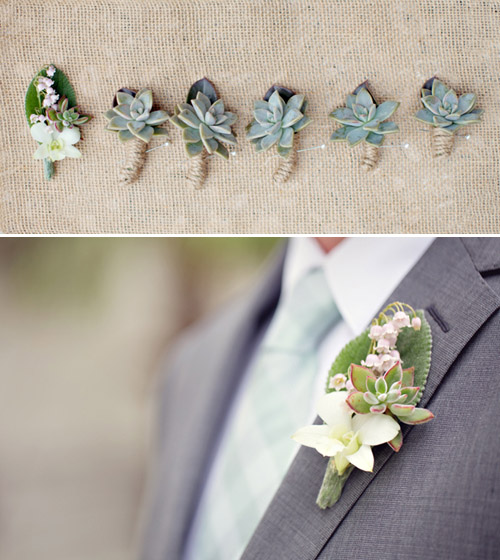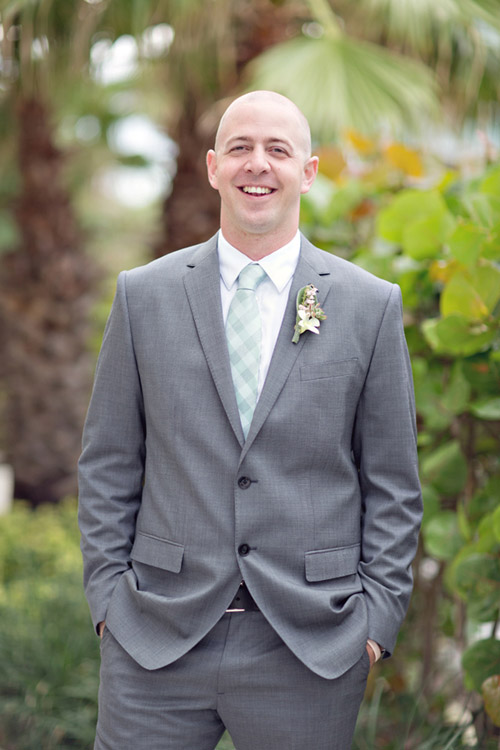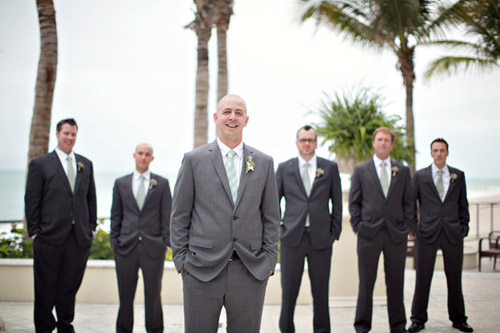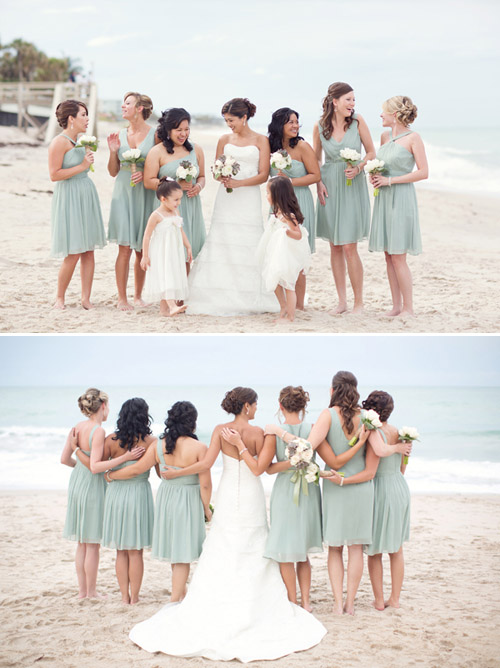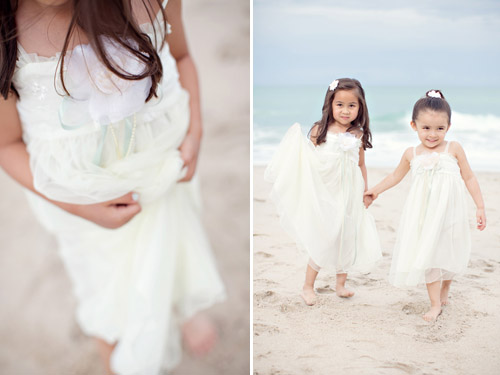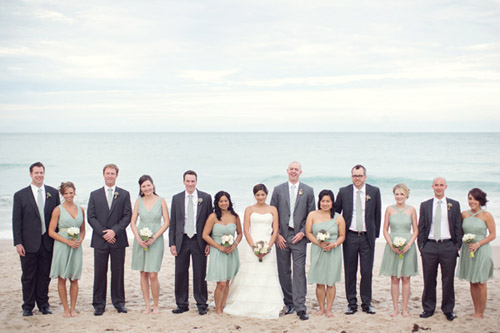 What were some of the different ways you used decor elements (fashion, flowers, linens, lighting, paper products, food, etc.) to create the beautiful, cohesive event you were envisioning? For the most part I think color kept everything cohesive. We kept everything dusty shale, grey, tan and ivory. The mixing and matching of different things made it fun and unique. The bridesmaids dresses were all the same color and material but each bridesmaid chose the style of dress they wanted to wear. The flowers were all white. Monti did a great job mixing and matching different flower varieties to make each table unique. We used burlap table runners, wrapped votive candles in burlap and twine, our guestbook/advice board had a burlap backing. On the invitations, we mixed and matched fonts and used twine to wrap the invitation package together, all staying within the same color palette.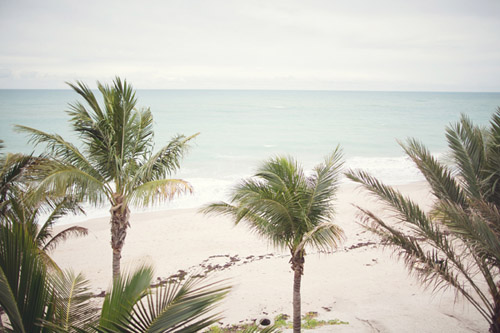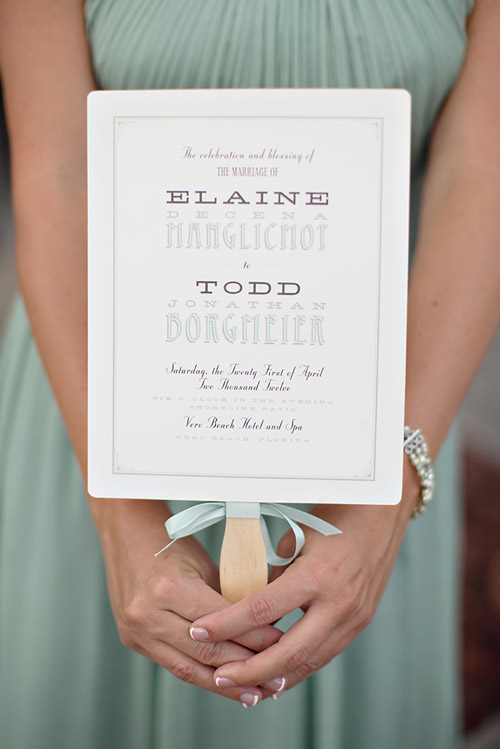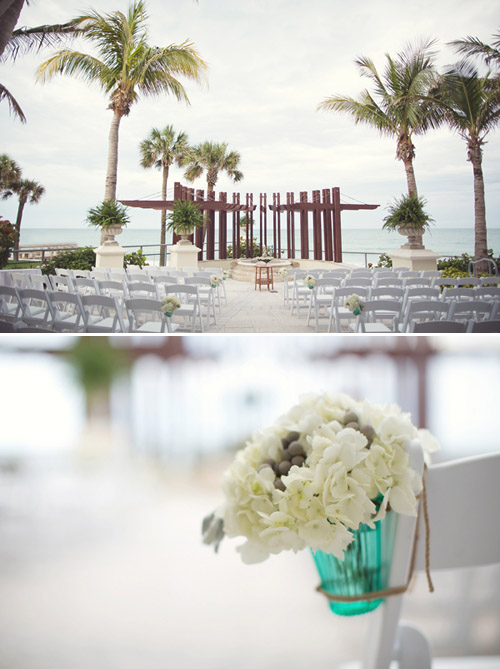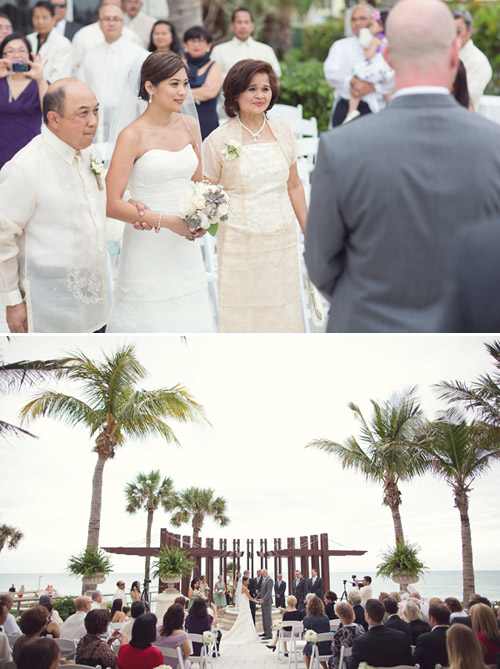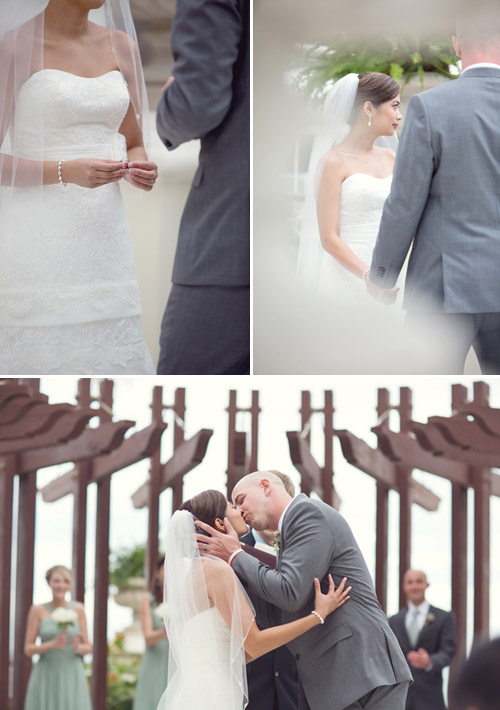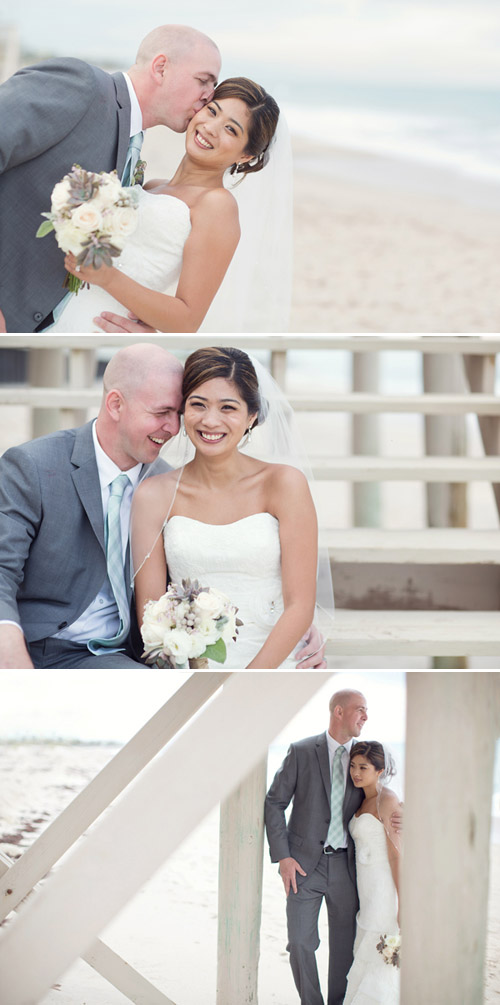 Where did you choose to hold your wedding, and how did the location influence your decor decisions? We chose Todd's hometown of Vero Beach, Florida. We always knew we wanted to do a beach wedding and after scouting a few other places, we felt that the Vero Beach Hotel was the perfect place. The fire pit outside, the view of the ocean, the beautiful patio, and the dining room made the decision easy.
Looking back, do you have a favorite project or successful decor idea from your wedding? Tell us what you loved about it! My favorite projects were the invitations, and all the printed materials. I am a graphic designer by trade, so designing the save the dates, invitations, programs and name cards was fun for me because they set the tone for the event. Once my design was figured out, planning and decorating the rest of the wedding the came easy. And, we have to give a special thanks to Debbie Collins for volunteering her help and time to making everything perfect.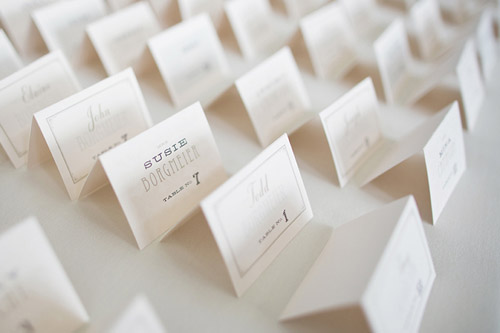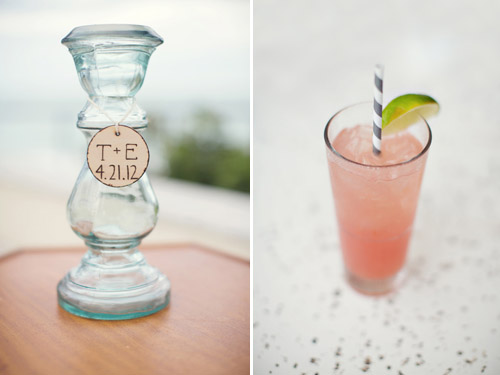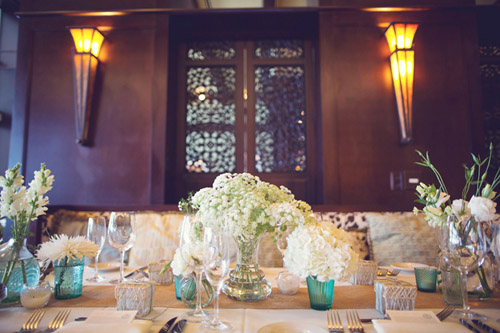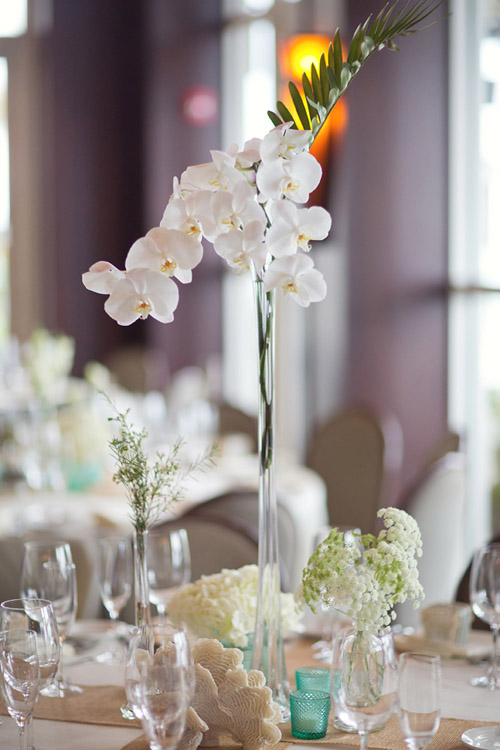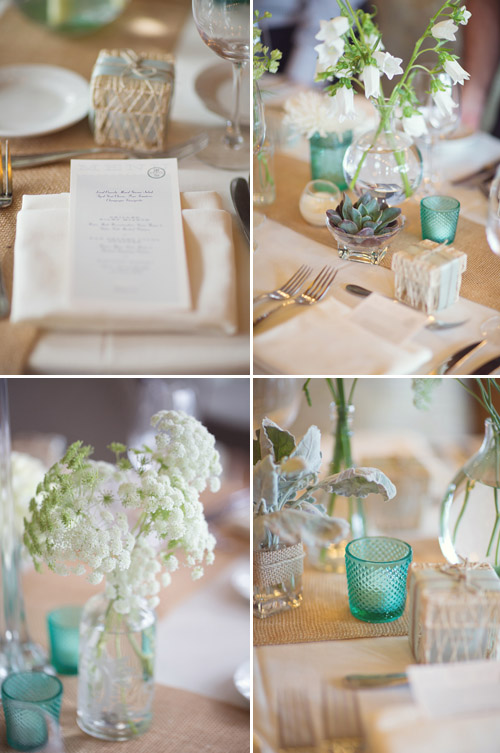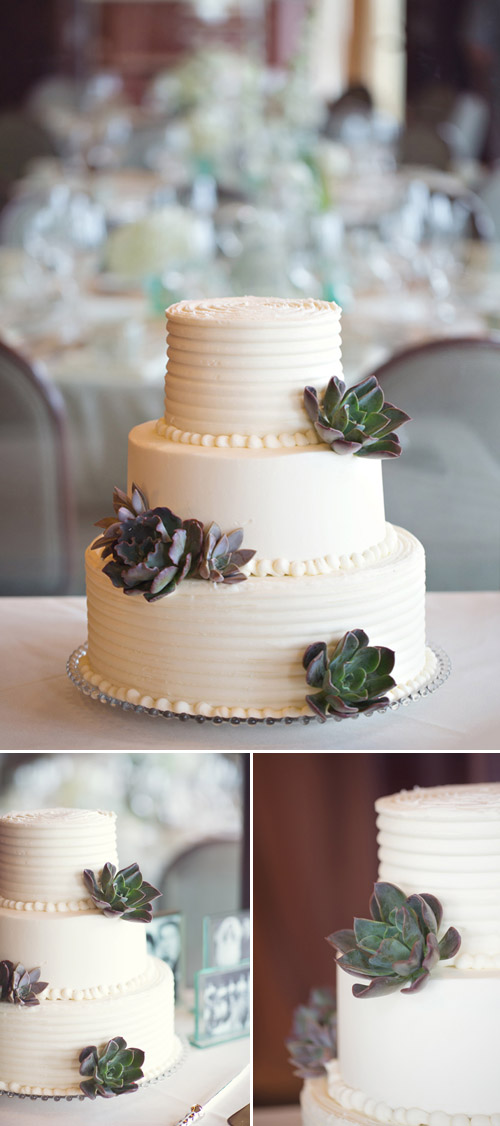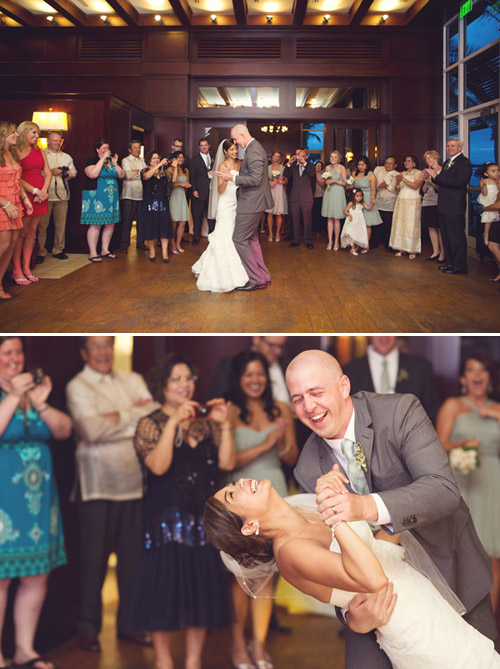 The Wedding Team:
Photographer: Vitalic Photo
Ceremony and Reception Venue: Vero Beach Hotel
Videographer/Film Maker: Creative Image Studio
Officiant: Andrew Dropsey
Invitation Designer: Designed by bride
Catering: Vero Beach Hotel
Florist: Montis Flower Market
Vases: Luna Bazaar
Cake: Glenn and Cindy Walker Cakes
Wedding Dress: New York Bride and Groom
Bridesmaids Apparel and Accessories: Dresses – J. Crew, Jewelry – Ginny Gaylor
Groom and Groomsmen's Apparel and Accessories: Suits – Banana Republic, Ties – Bows-n-Ties
Hair and Make-up: White Orchid Spa at the Vero Beach Hotel
DJ: Creative Image Studio
Live music: Robert Lee
Favors: Candles wrapped in boxes, purchased on a family trip to the Philippines
Rings: Jared
Thank you for sharing your lovely wedding day, Elaine and Todd; and a big thanks to Vitalic Photo for the romantic photos!
Want more beach wedding inspiration? Check out the beach section of our Image Gallery and our Pinterest Beach Wedding board!