Have you chosen your wedding color palette yet? Elements such as wedding style, location, fashion and season all factor in to your final decision, and we've been talking with wedding planner Flavia Lamoglia of Allure Events Atelier about how you can take all these elements under consideration and find a color palette that's right for you!


Photo credits: Laura Gordon Photography, Sareh Nouri, Kristen Weaver Photography, Heather Elizabeth Photography, Catherine Mead, Vue Photography, Taylor Lord Photography, Liga Photography and Troy Grover Photographers.
Find Your Wedding Style
The first step is to ask yourself about which type of style you want to create for your event. This will set the tone for your wedding elements and inspiration ideas. For instance, vibrant colors tend to give a dramatic experience. Modern palettes are created by using one bold color and one or two accent hues along with straight and clean lines for you furniture, china and decor elements. If you choose to have a romantic, classic wedding using soft blush colors and gold elements along with ornate accents should do the trick.


Photo Credits: Smetona Photo, Bethany Marie, Michael Radford Photography, Sean Flanigan Photography, whichgoose, and Ryan Ray Photography.
Consider the Season
Although there is no rule about which colors to use for each season, you can save money by using flowers and accessories that are available at specific times of the year.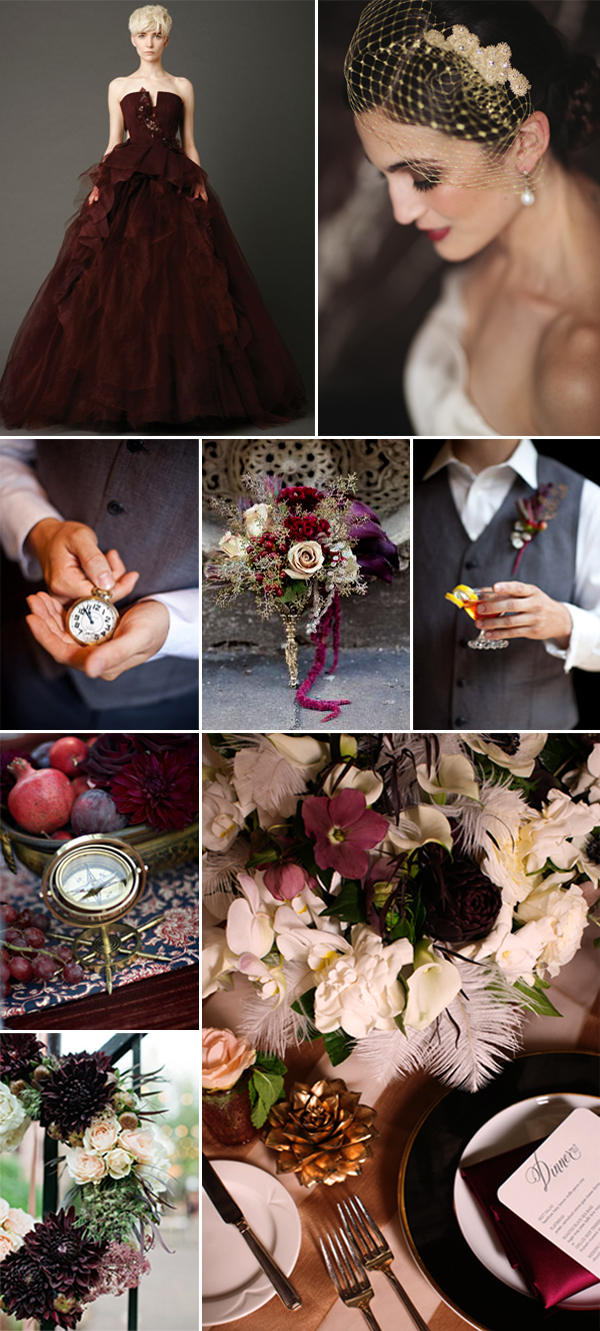 Photo Credits: Vera Wang, Andria Lo, Magnolia Pair, Miki & Sonja Photography and Kristin Banta Events.
Consider the Fashion
A big myth among brides is the fact that the bridesmaids' dresses should match their wedding color palette. It doesn't necessarily have to be like that. If you are struggling trying to match their outfits with your event colors, try to choose dresses that have neutral tones or metallic hues. Voila!


Photo credits: Milou + Olin Photography, Jillian Mitchell Photography, davina + daniel, Laurel McConnell Photography, Lindsay Docherty Photography, Nikki Closser, Joseph West Photography.
Consider the Location
The venue is also a key element for your color palette. Although we often dream about a certain palette for our wedding day, sometimes it may not be the right choice for the space you are hosting your reception. Make sure the color is complementing the venue by looking at wall textures, furniture and other décor elements. However if you really want to keep the color selection you have in mind, a trick is to drape the facility walls or work with a good lighting company. Lighting can transform a room, believe me!

Photo credits: Joy Marie Photography, Adam Nyholt, Nikki Closser, J. Garner Studios, Chris + Lynn Photographers, Chrisman Studios, Paul Morse Photographs, Maloman Studios, Leigh Webber Photography, Jared Wilson Photography, Lin & Jirsa and Greg Lumley Photography.
Thank you Flavia for sharing your expertise with us!
Looking for more advice from the experts? Check out our Ask the Expert and Wedding Planning 101 series!