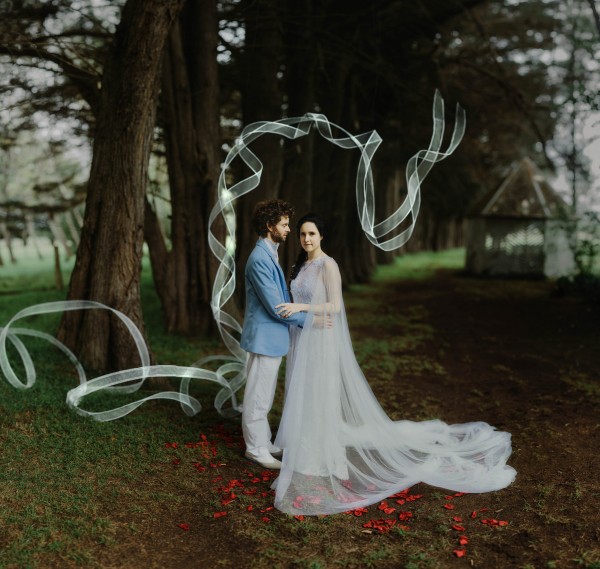 Danielle and Benjamin's enchanting forest wedding is like no other! Surrounded by dark, natural greenery, wood elements, and vintage mismatched flatware, their wedding at the Summerlees Estate in New South Wales, Australia was unforgettable. The groom created a breathtaking original art work that mirrors the couple, and it is surely the focal point of decor. Ribbons winding all the way to the alter allow the couple to be surrounded in love as they exchange vows. On his way to the ceremony, the groom road in an original Back to the Future DeLorean, which added to the eccentric wedding design. The bride wore a custom designed gown and held coral, tan and white florals. Topping off this incredible wedding day, the talented photographers at I Got You Babe captured beautiful moments of the couple immersed in their romantic forest wedding!
The Couple:
Danielle and Benjamin
The Wedding:
Summerlees Estate, New South Wales, Australia
The Inspiration:
We wanted a rural, ethereal, Alice-in-wonderland meets woodland fairy feel. All elements gelled well – especially Benji's whimsical ribbon art work and the vintage pieces I sourced. Together, my mother and I collected over 40 vintage plates, dessert plates and napkins to adorn the brunch table – everyone was gifted a valentines day card, a unique antique dinner plate, a piece of pure Rose Quartz that had been cleansed and charged by a shaman with love, passion and positive energy, and a 'Shine' canvas tote to carry everything home in!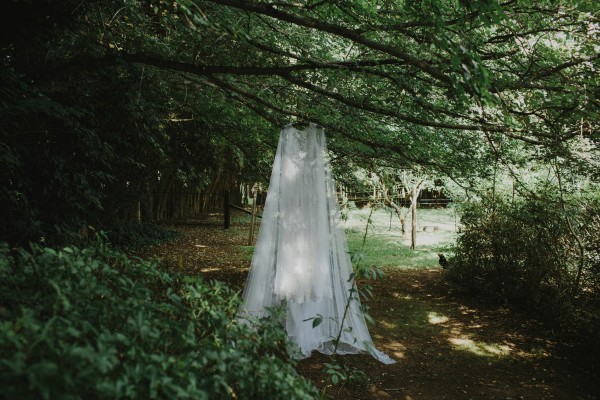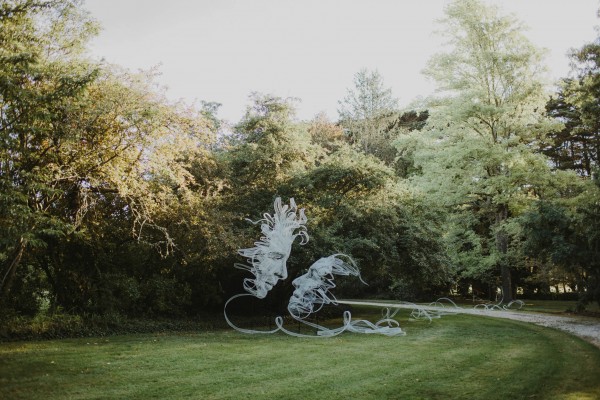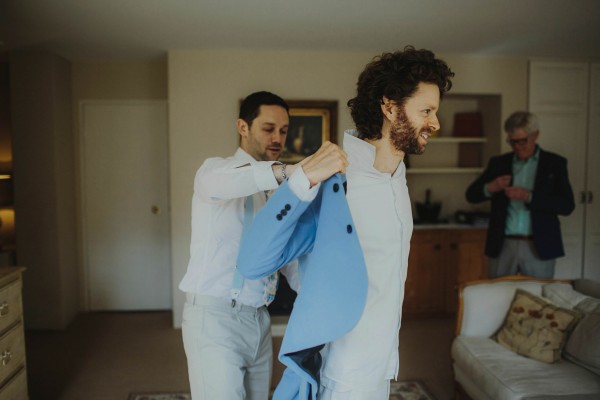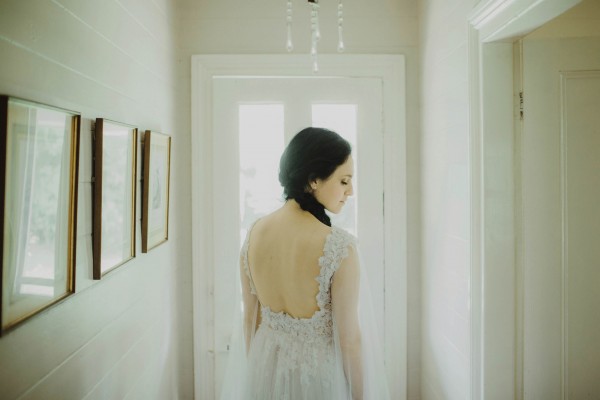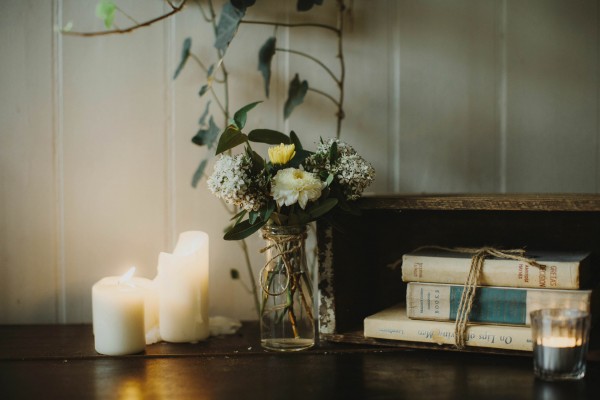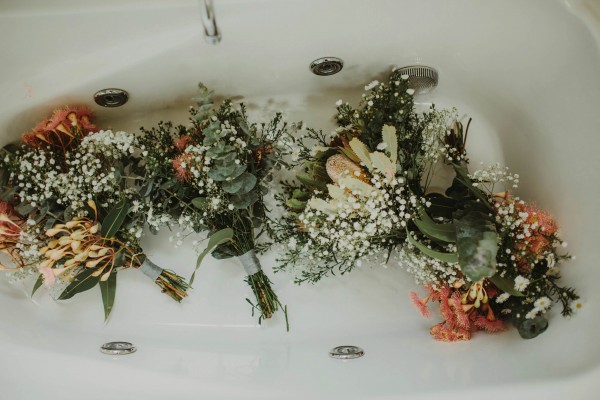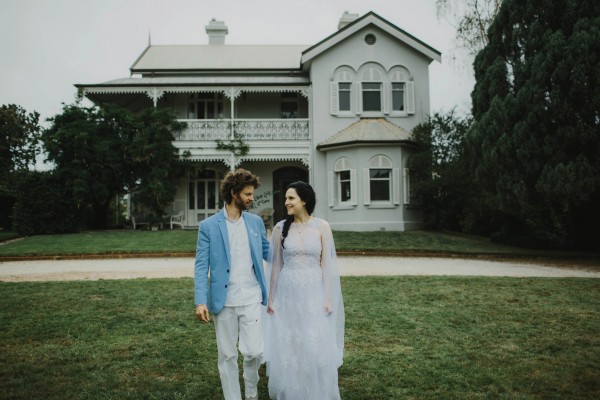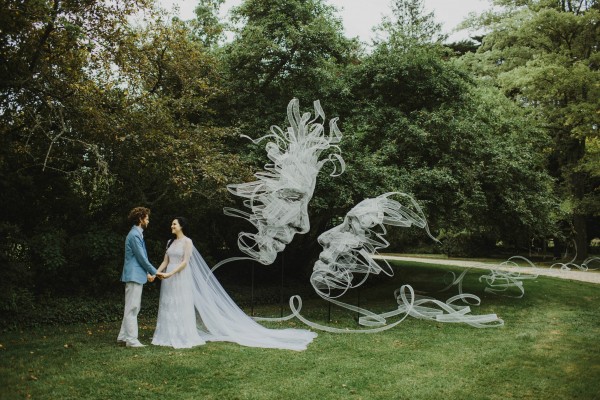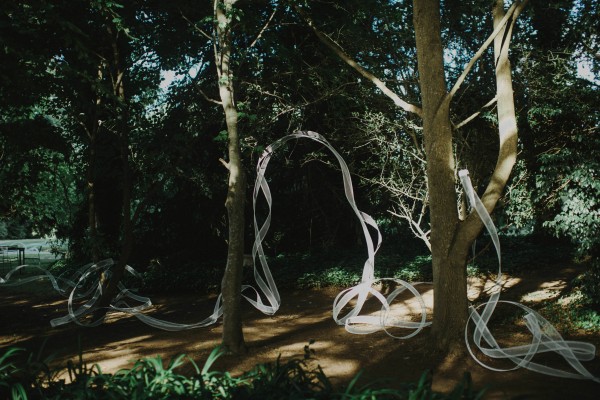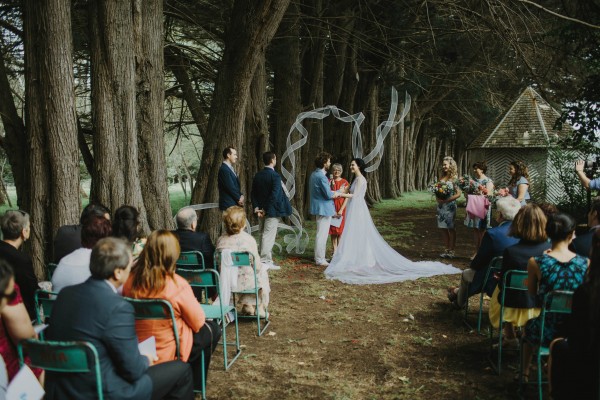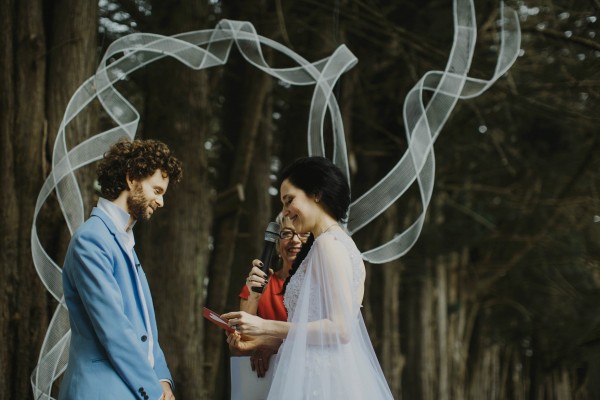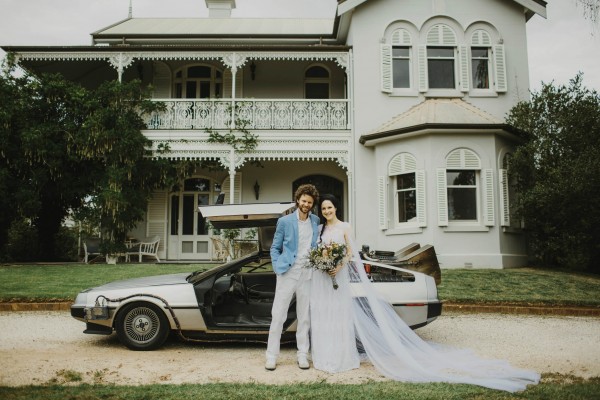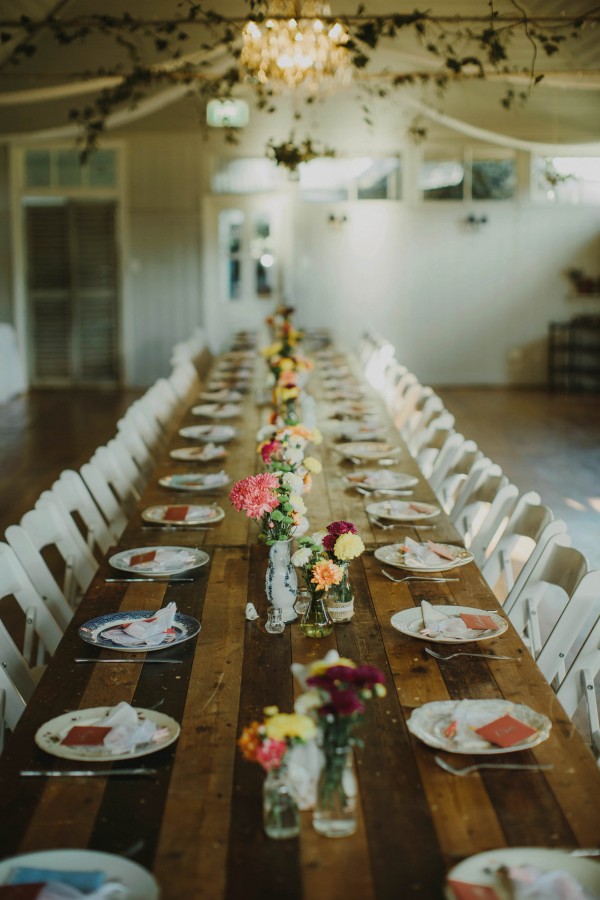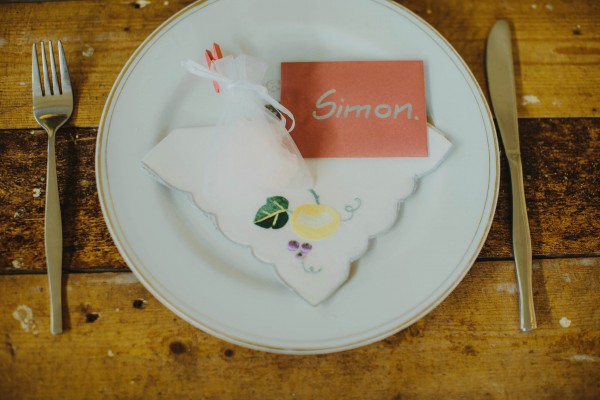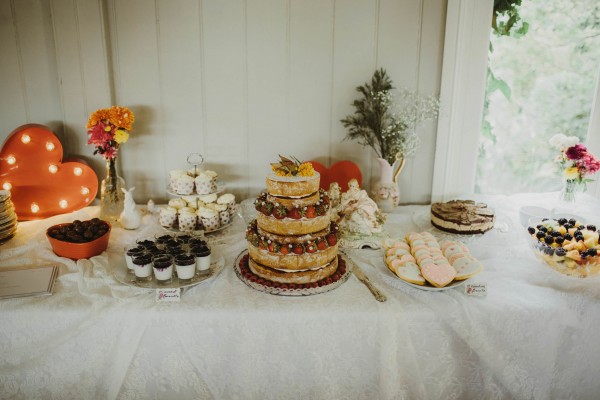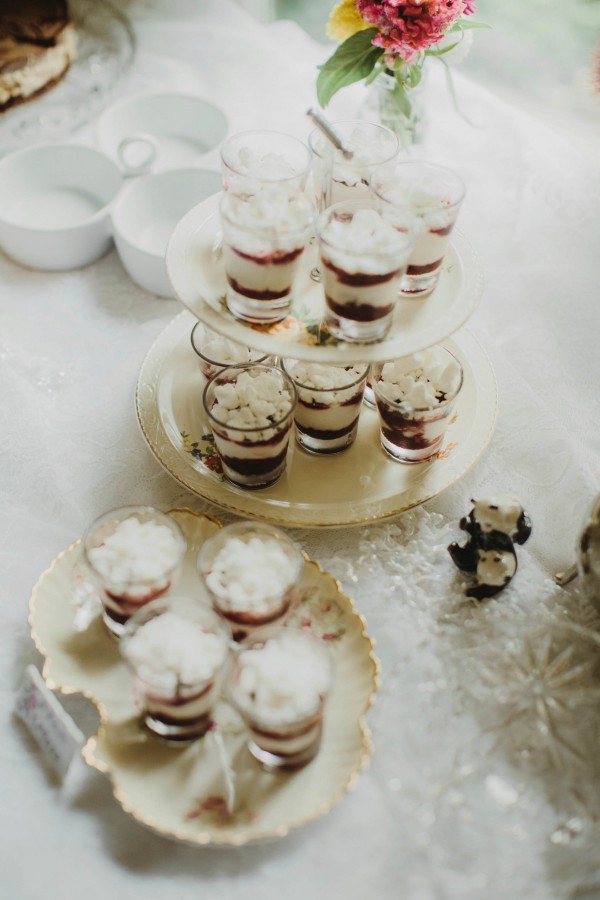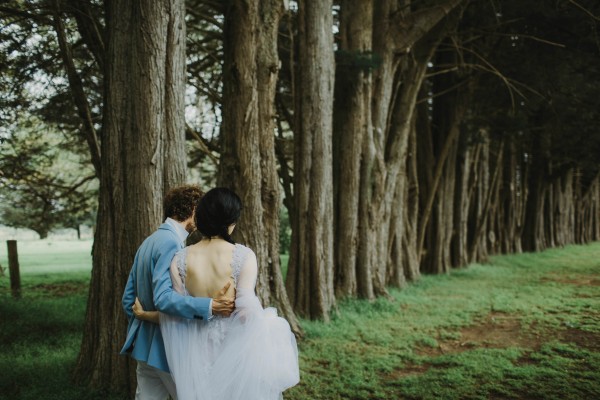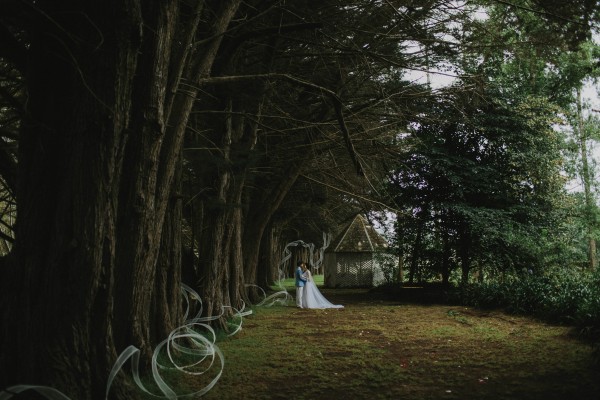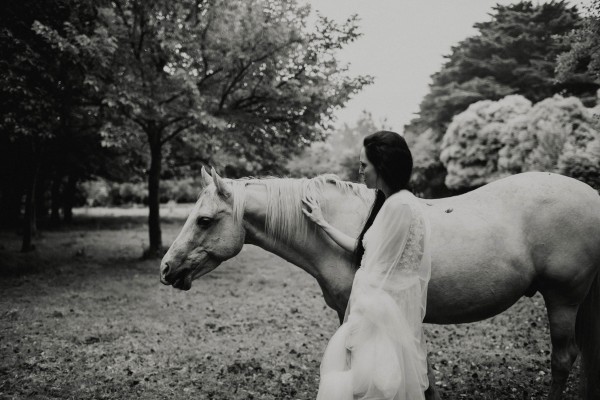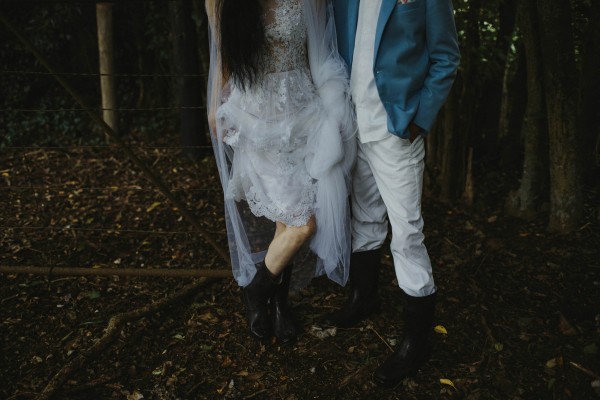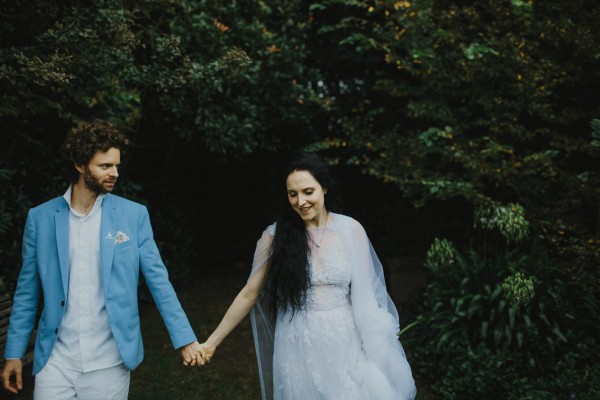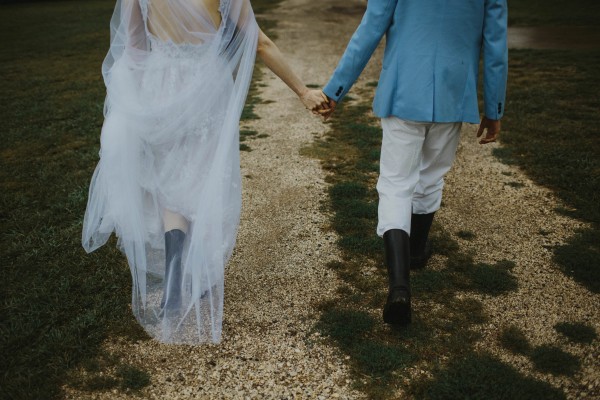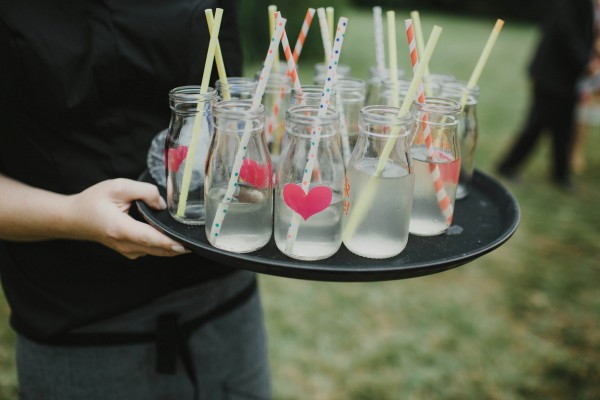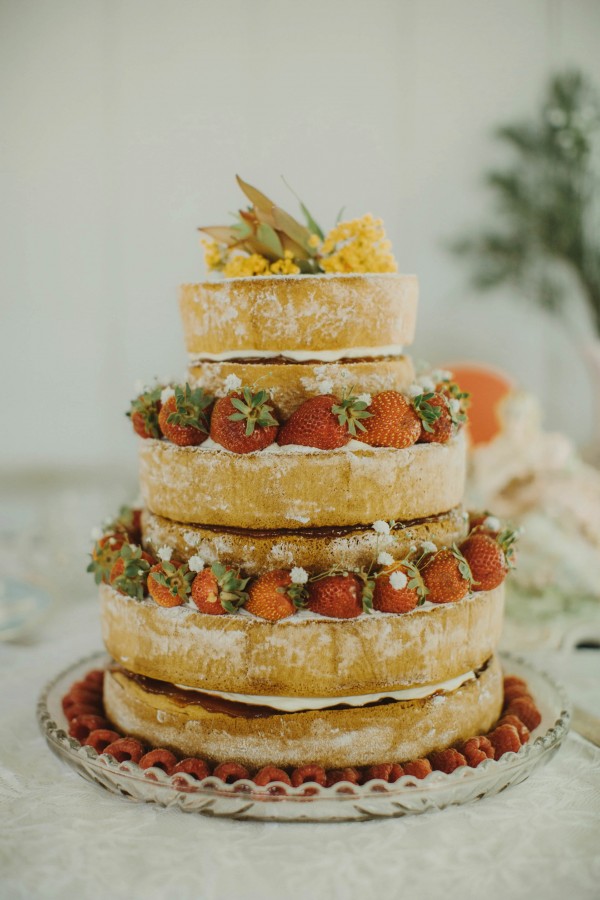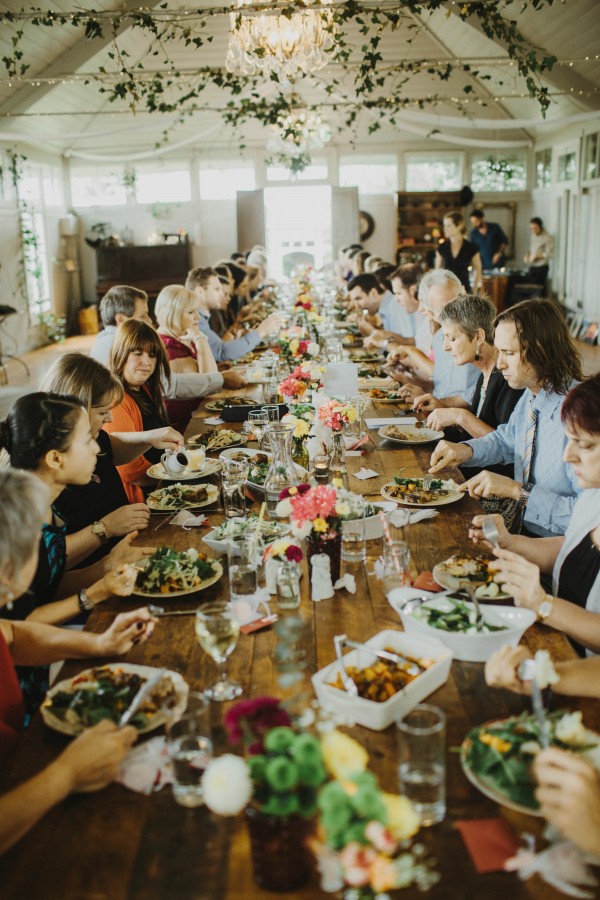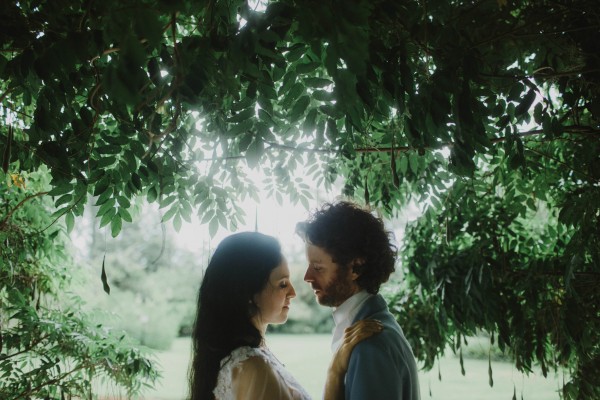 The Moments:
There were so many moments – I'd like to say the whole experience to be honest… It was such a happy, love-filled Valentines Day. To be able to spend it with everyone we love was so special and a day we'll never forget. The happiest moment for both of was locking eyes with each other as I walked down the aisle and then reading and listening to each other vows under Benji's ribbon arch. Benji would probably say it was the moment the wedding gift I organised as a surprise – an Original Back the Future Delorean – arrived to drive him to the wedding!
The Couple Recommends:
We absolutely fell in love with – and have adopted into our family – both Lilli and James (photographer and videographer). We chose them both for their individual artistic abilities and are so pleased with their work. They both contributed to the happy energy on the day and we are so glad to be seeing them both again soon! We've definitely made two friends for life. We also want to mention Patty from Summerlees Estate who we absolutely love too. Patty's positive, cheerful vibrations and energy makes Summerlees Estate the magical wonderland that it is. A super special shoutout must also go to Chef in Your Kitchen, Kelly went above and beyond to make sure my food requirements were met, as I'm a integrative nutritionist and soon-to-be natural foods chef who wanted to be very involved in what we ate. All the food was organic, grass and pasture fed. It was truly one of the most delicious meals we and our guests have eaten – we are still getting rave reviews! Oh! And we also had three wedding cakes – the 'main event cake' was made for us by the ever-so-talented Simon Hulm who is a close friend of ours, thanks Simon!!! And the other two cakes were lovingly made by the bride's soulsisters, Emma and Carla Papas, who made a paleo salted caramel cake, as well as a special bide-only creation consisting of all her fav ingredients: organic coconut oil, coconut butter, berries, walnuts and cacao – YUM!!
The Wedding Team:
Photography – I Got You Babe
Venue – Summerlees Estate
Catering – Chef in Your Kitchen
Officiant – Erin Fisher Dore
DJ – We Play Records
Videography – Zephyr Productions
Invitations – Lucky Luxe Couture Correspondence
Wedding Dress – Brigitte May (original design)
Bridesmaids' Apparel – Karen Millan, ASOS
Groom's Apparel – Zara Menswear
Groomsmen's Apparel – SABA
Rentals – Benjamin Shine (sculpture)
Transportation – Dream Hire Cars
Favors – Australian Stone Jewellery
A huge thank you to I Got You Babe for sharing Danielle and Benjamin's enchanting wedding at Summerlees Estate in New South Wales, Australia! Want to see more forest wedding inspiration! Take a look at this cozy forest wedding at Rockmill Brewery and this forest wedding in South Africa!