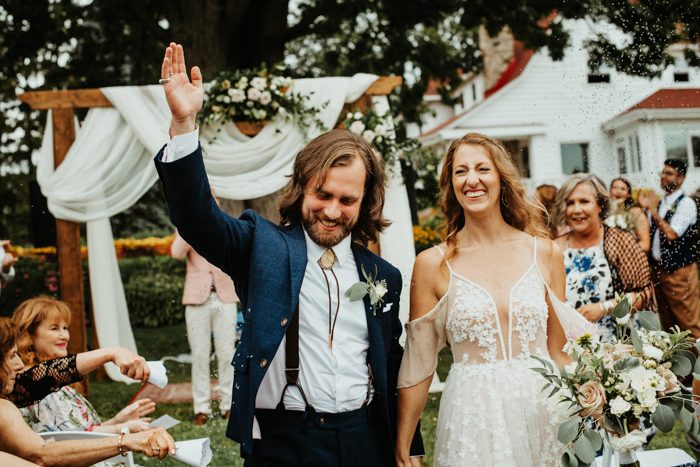 Cassandra and Adrian's Quebec farm wedding is something out of a magical, boho dream! With tons of Etsy finds, including a custom dress from Selfa Bridal and rad bolo tie from PandPF, these two created a day that was uniquely "them." We love how planner Le Coeur Bohème helped pull together bohemian classics like the long, family-style reception tables, mismatched chairs, and vintage plates. If that sounds good, just wait until you see how floral designer Kyoto Fleurs created whimsical and beautifully simple florals to add a perfect touch to this inspiring day. From the couple's emotional first look to the most romantic canoe photos on the lake and an entertaining reception, photographer Gabrielle Desmarchais documented this day to perfection — and we can't wait for you to fall in love with this DIY Quebec farm wedding just like we did!
The Couple:
Cassandra & Adrian
The Wedding:
Fritz Farm, Quebec, Canada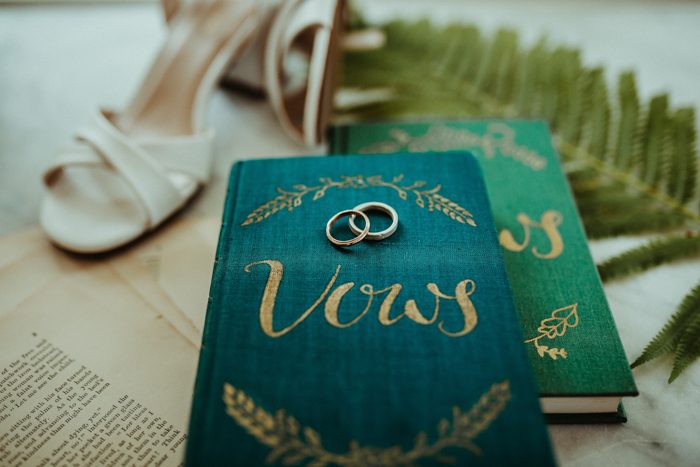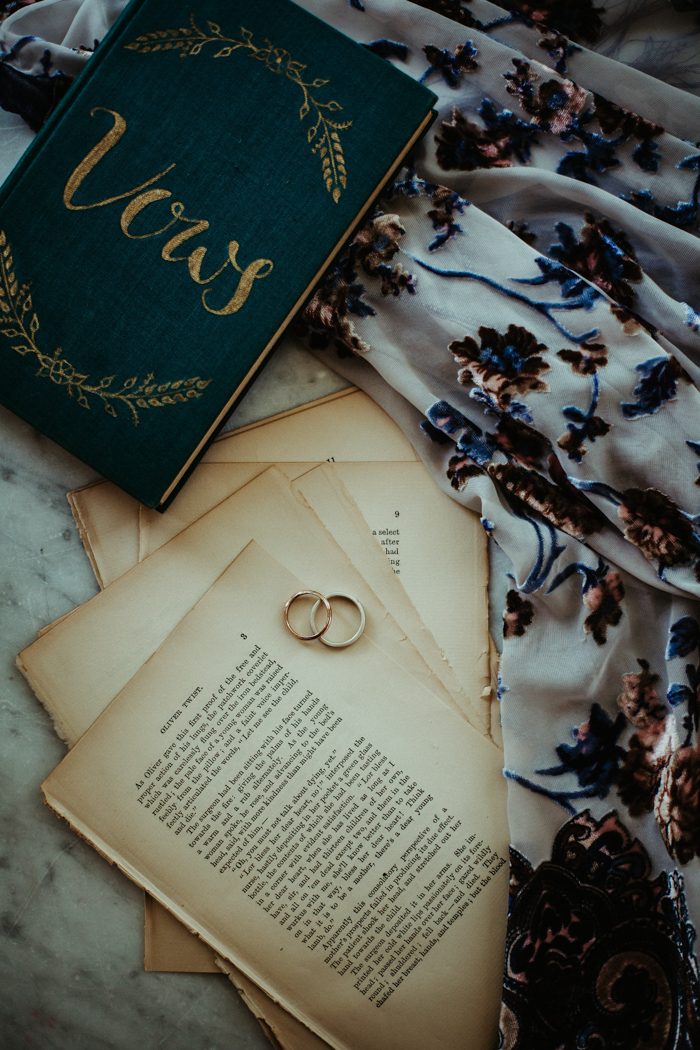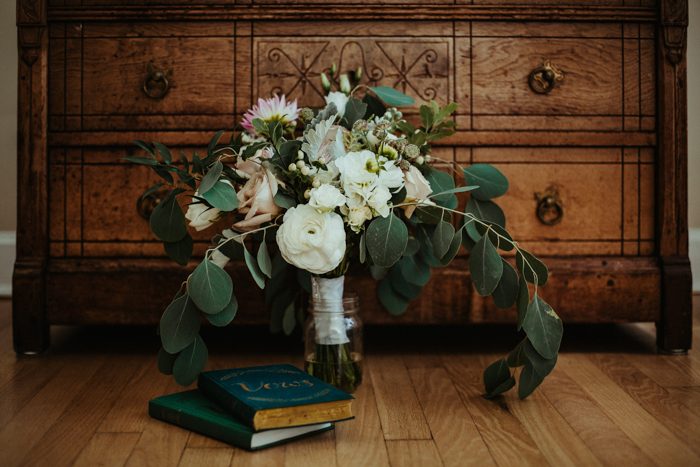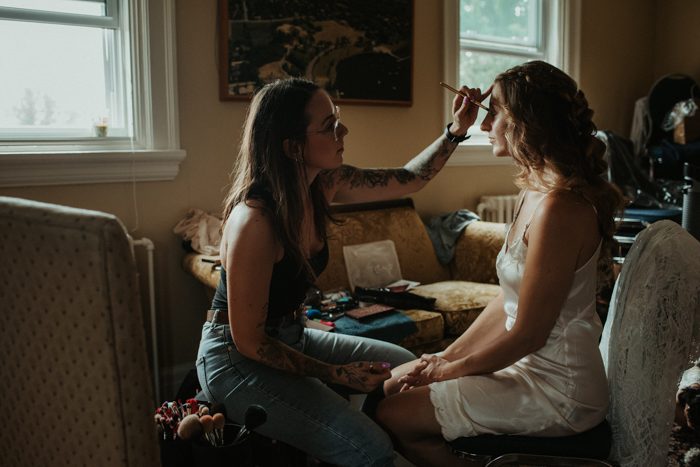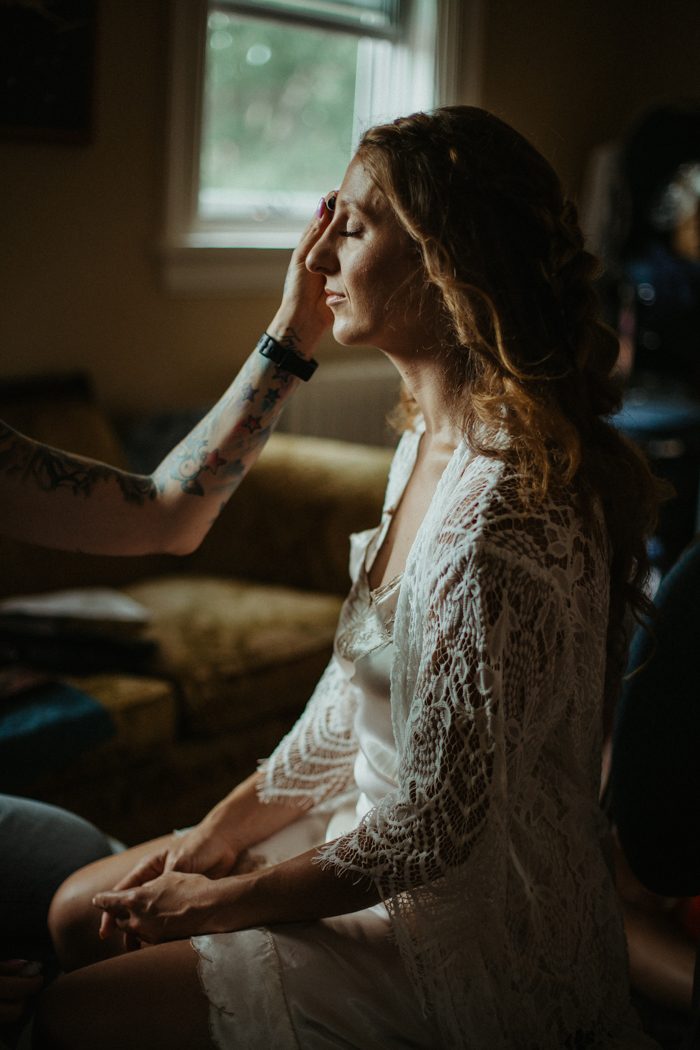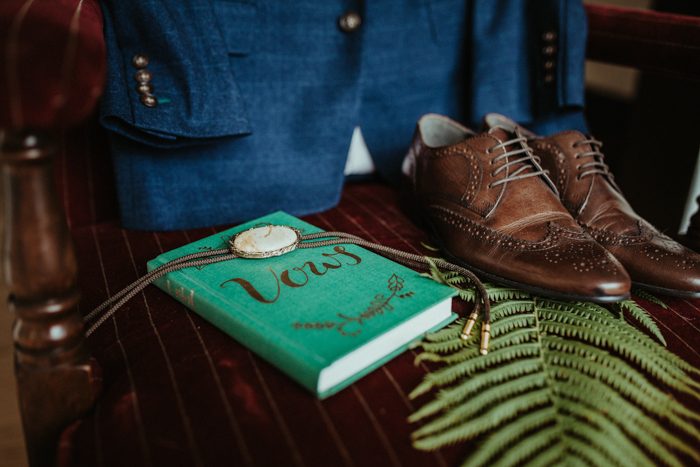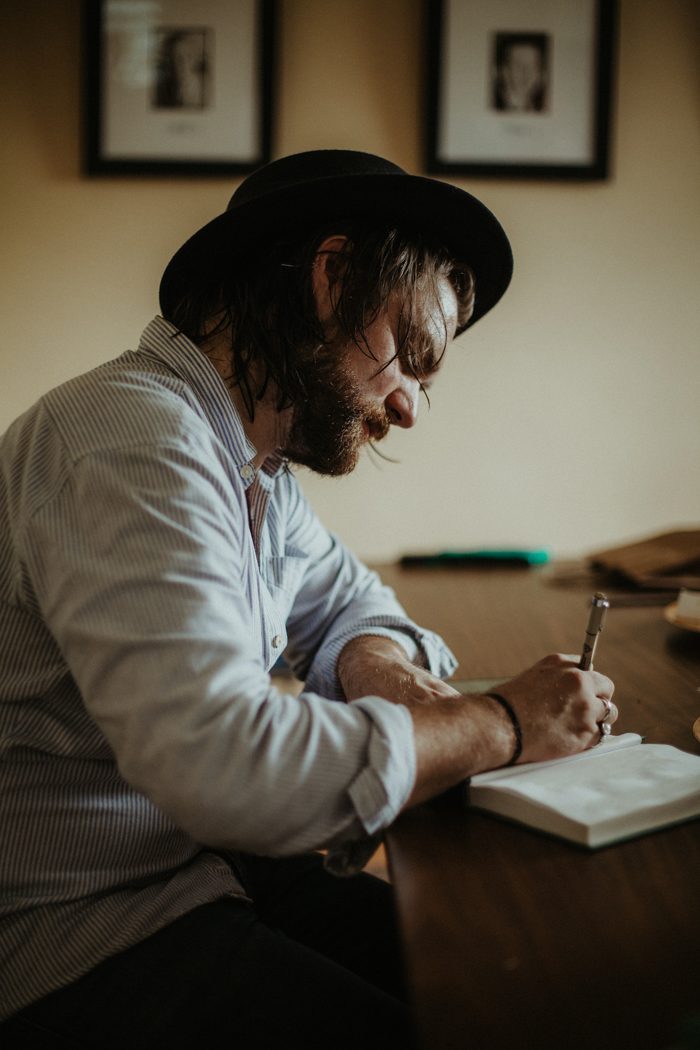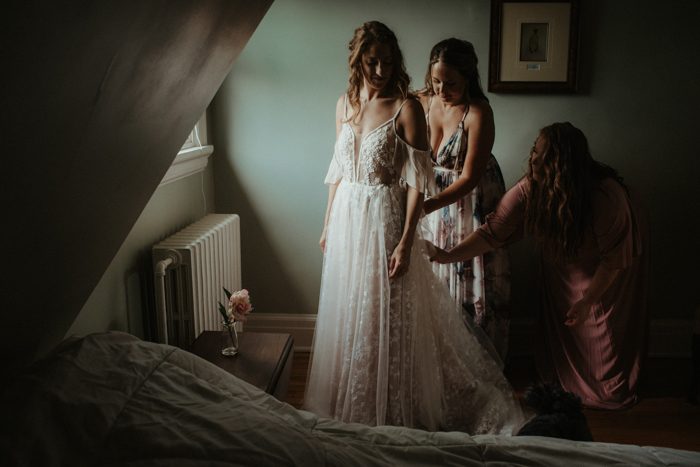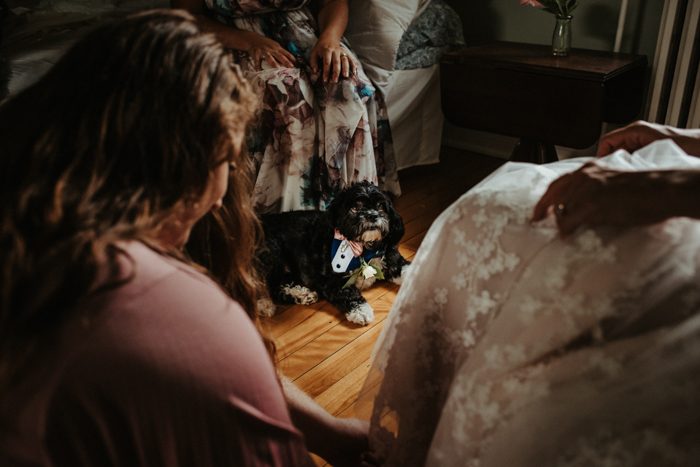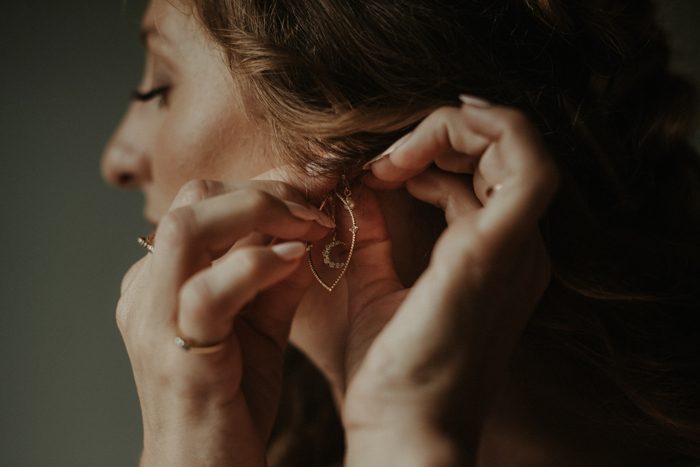 The most important thing to us was that everything was authentically "us". We wanted to do things our way, not how we thought a wedding should be, or how others thought our wedding should be, which included MANY non-traditional elements. We wanted everything we chose to be deliberate and meaningful. We wanted our guests to leave with the feeling that they experienced our unique love, story and relationship.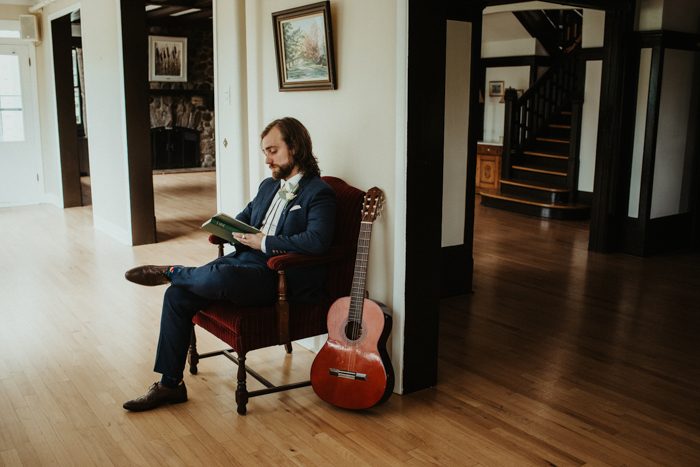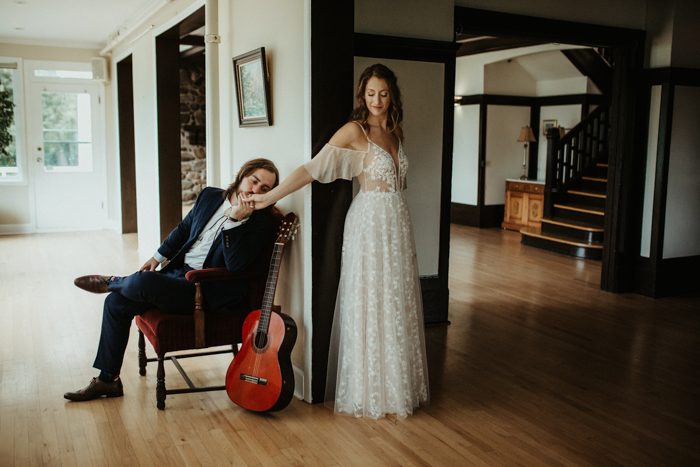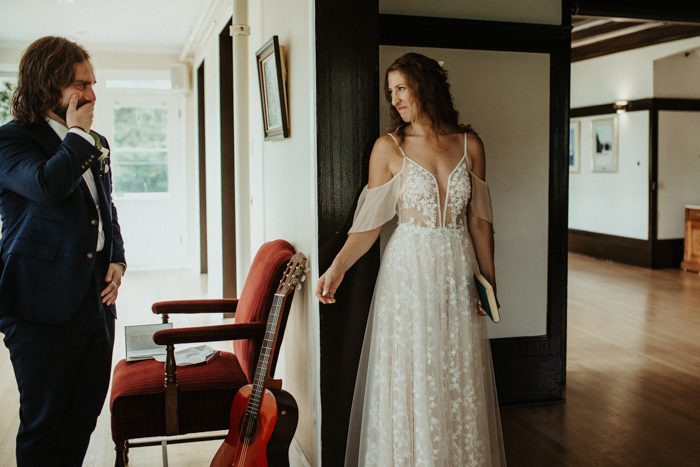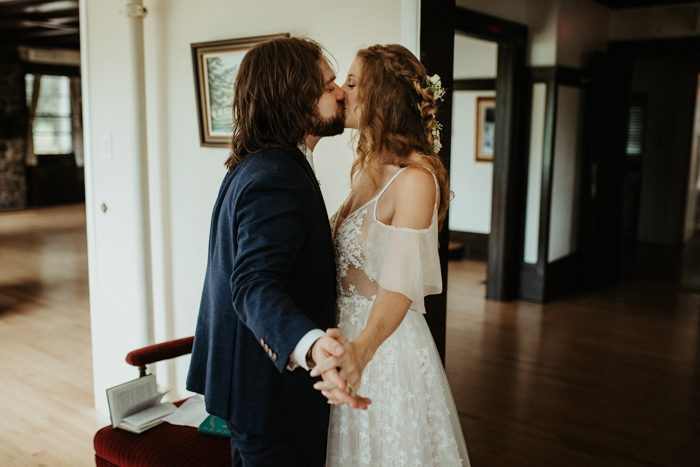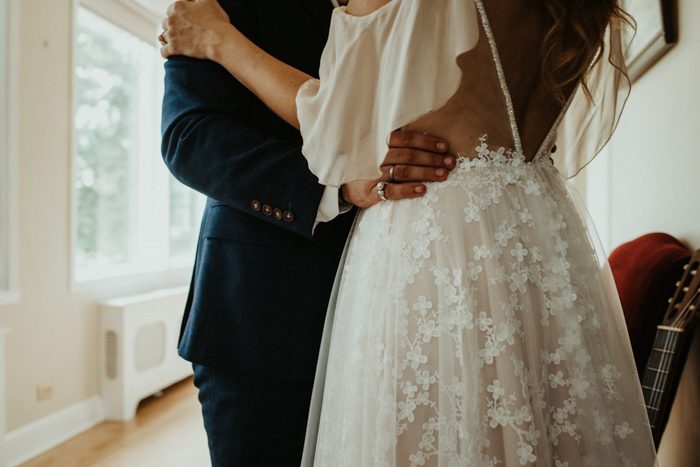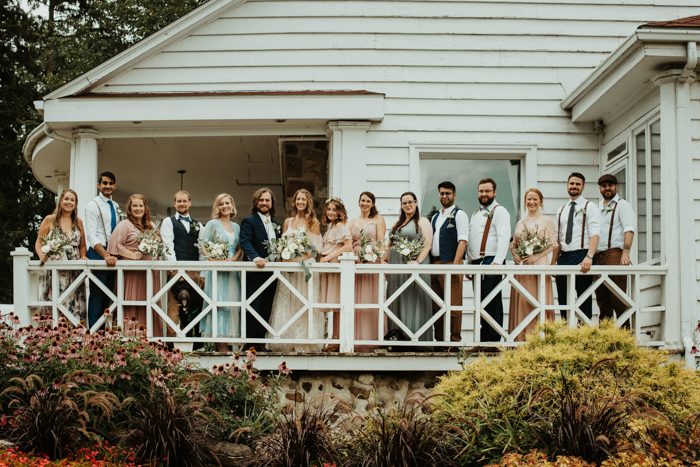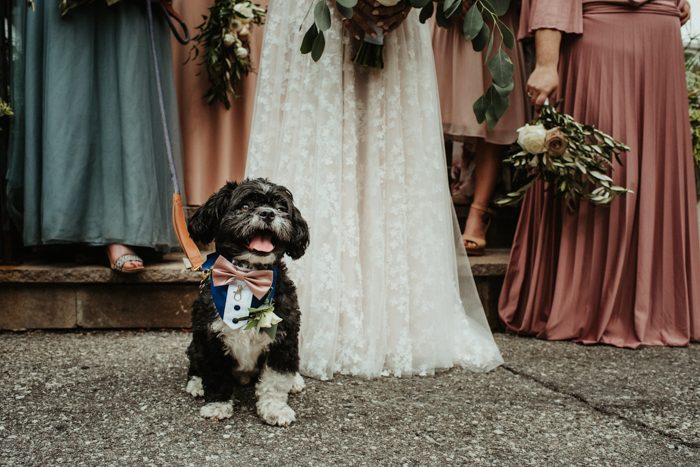 SHOP THIS LOOK: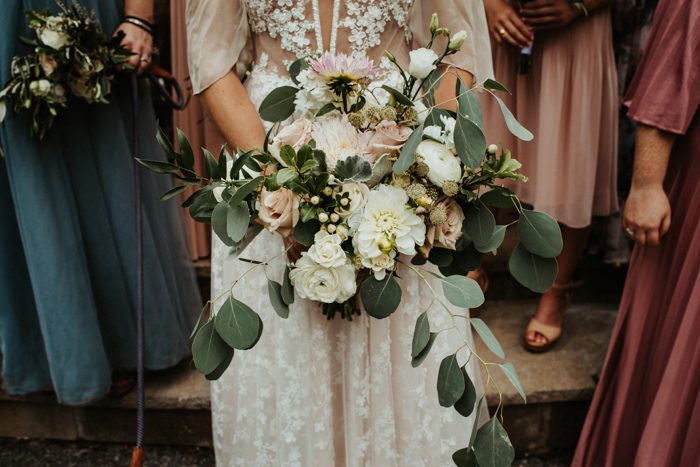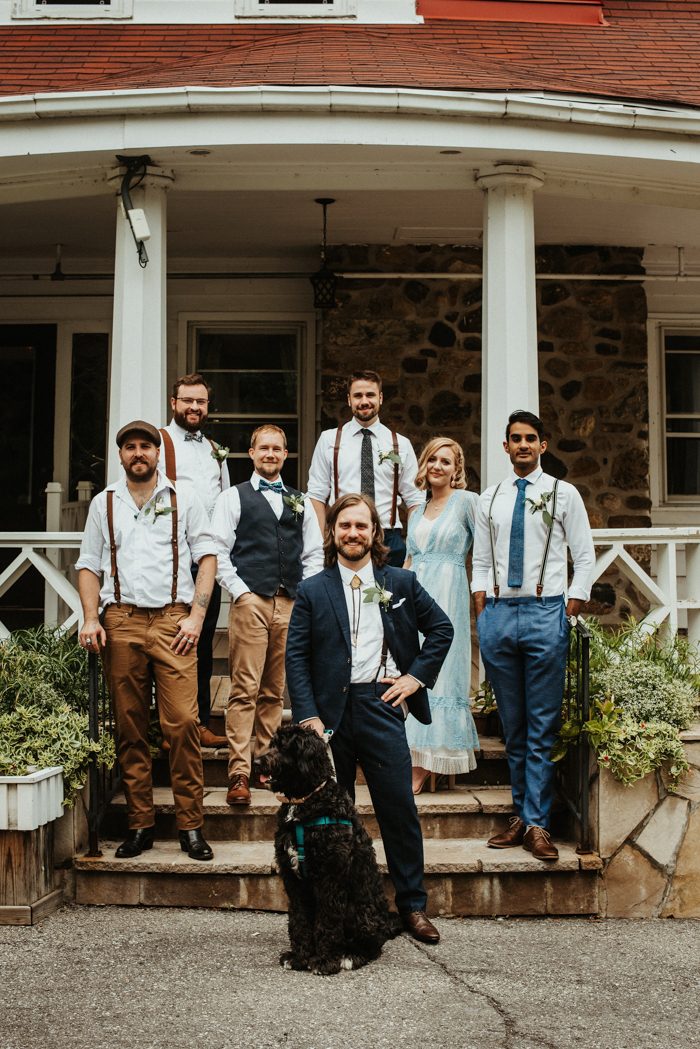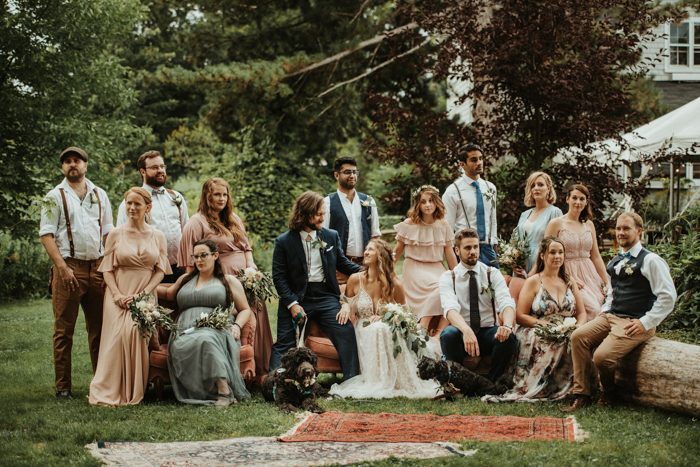 Wedding planning advice from the couple: Do it your way! Don't sacrifice your vision for your wedding for someone else's. Also delegate! Asking for help is hard, but definitely you need to do it. Giving people jobs the day of will be important, and having good people in your corner to handle any unpredictable situations that arise (because they will!). We also tried to be very money/budget conscious, especially in the beginning, because once you get stressed you just start throwing money at problems. Also, as the wedding approaches, things become extra stressful, but it WILL all be worth it, trust us.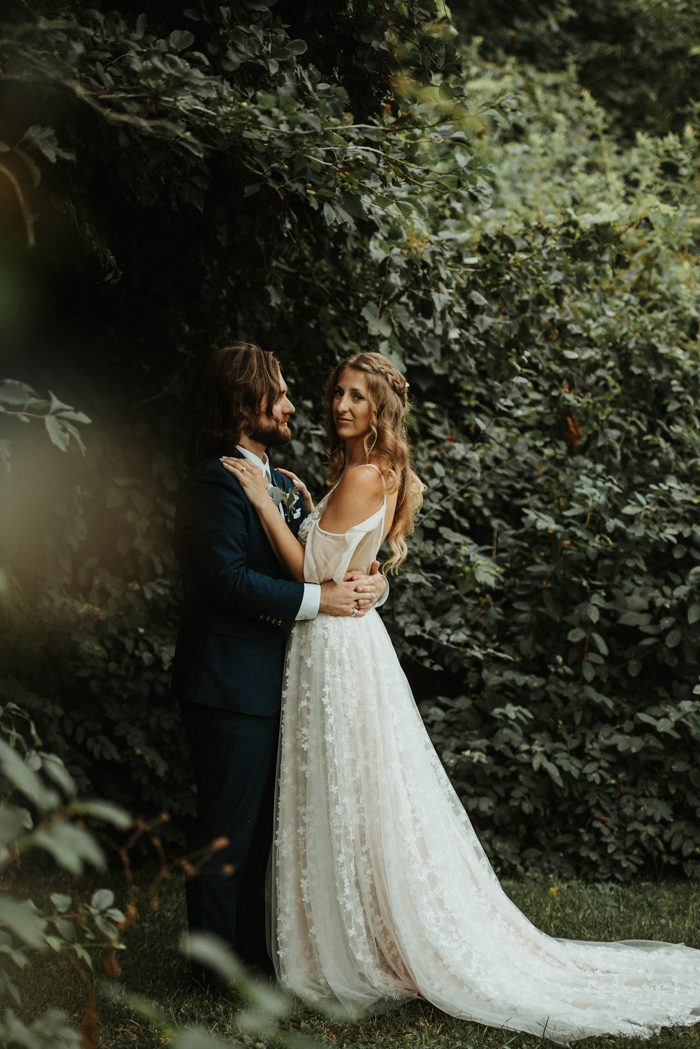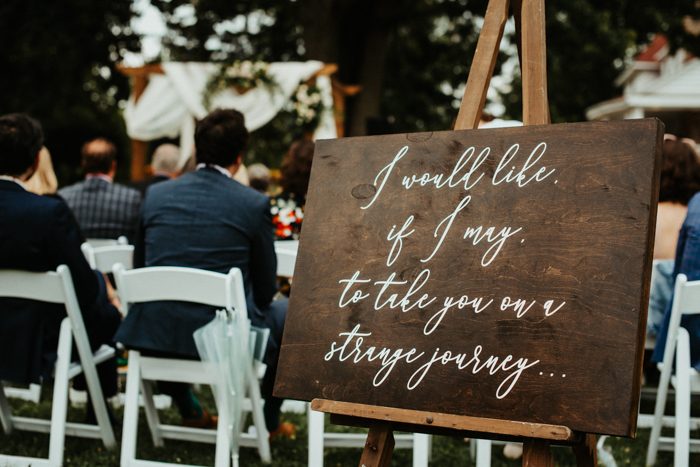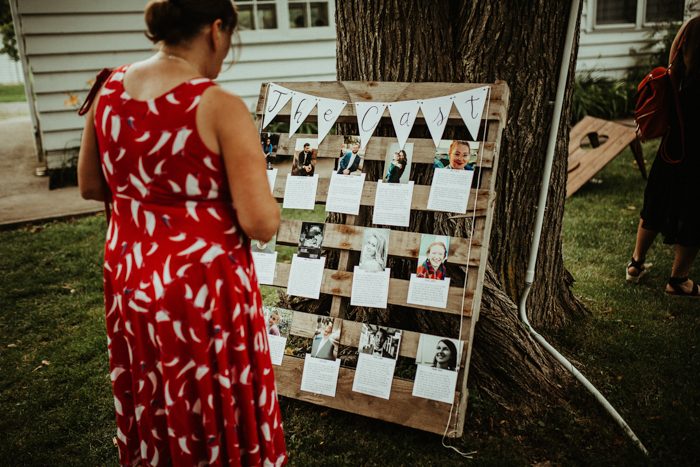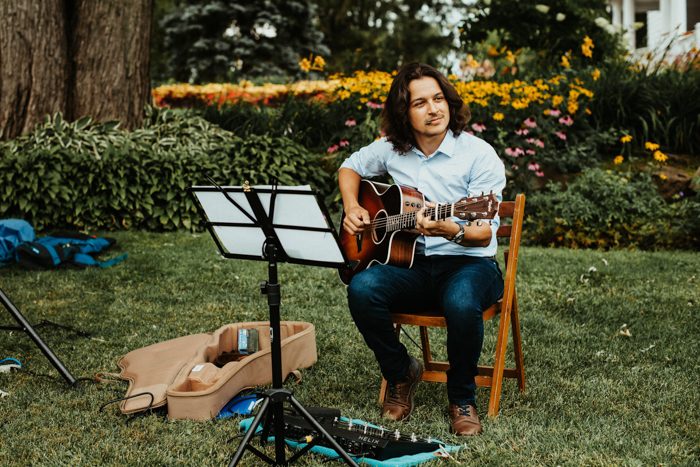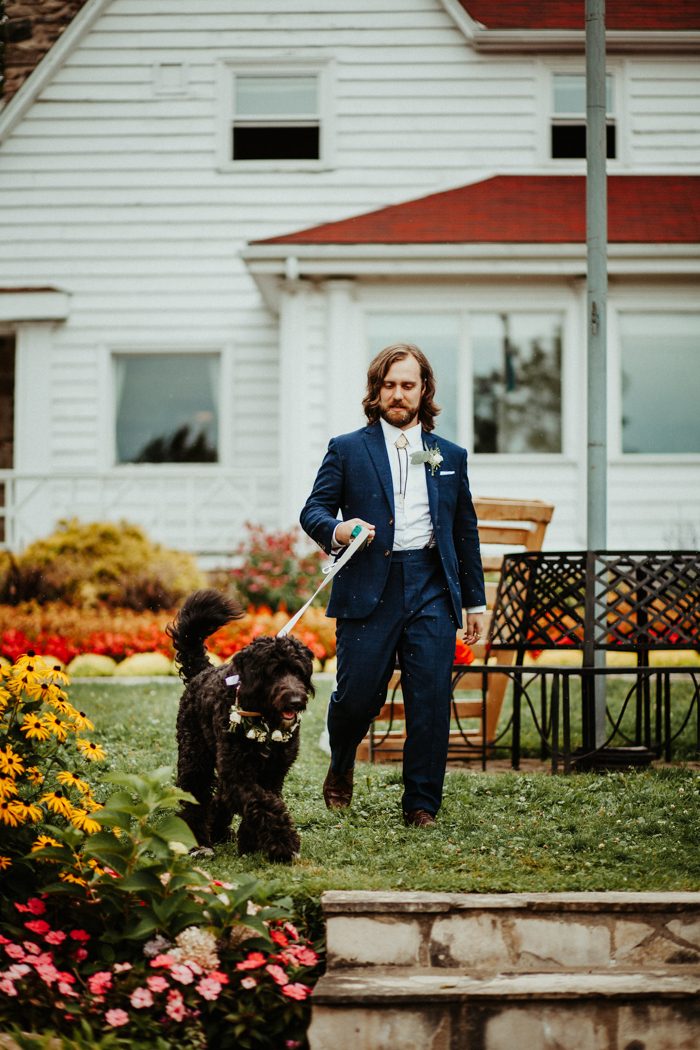 If we had to choose, the most memorable part of the day would be the ceremony. For Adrian is was when I walked down the aisle, and for me it was the vows we wrote for each other, as well as hearing all our friends and family participate so generously in our craziness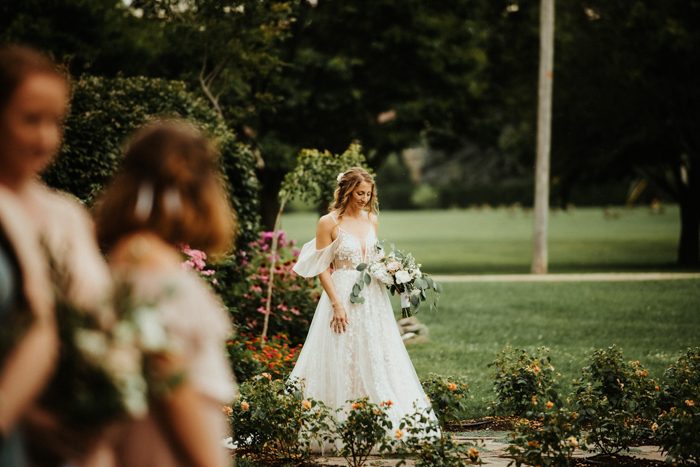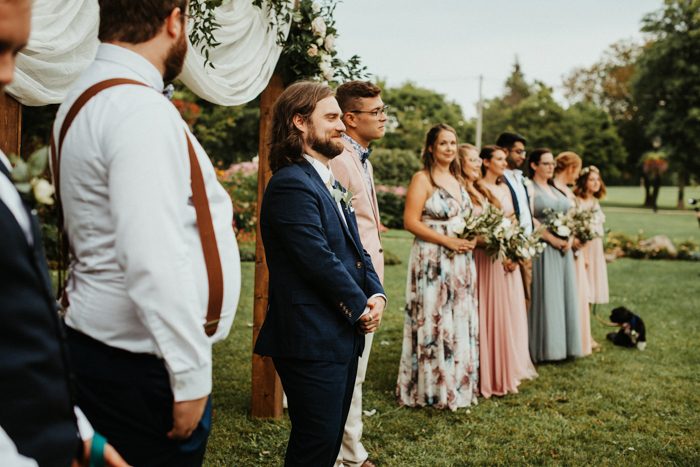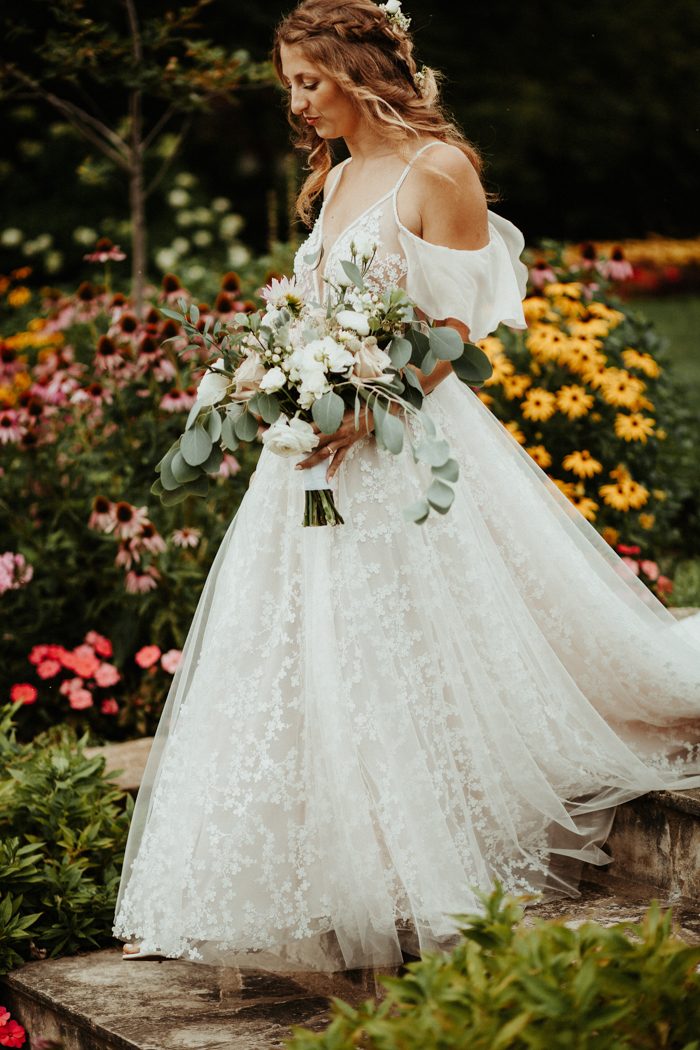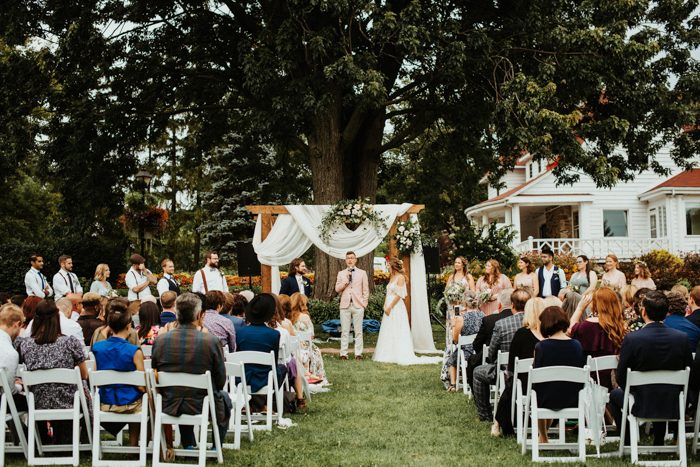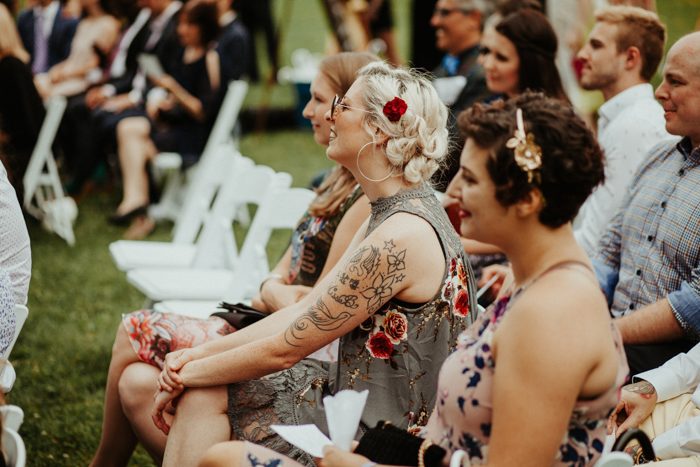 Our ceremony was very personal! To preface we met doing the musical Rocky Horror together, and Adrian proposed on closing night of the second year we did the show (in women's lingerie!). We had our friend Kenny (who was in the show with us, and was a part of the proposal)officiate our wedding. During the ceremony our officiant asked people to yell "call-backs" throughout. This is part of the Rocky Horror show, so whenever someone said Adrian's name they yelled "A$$ hole!" and whenever they yelled Cassandra they yelled "Basic!". So not the most traditional! We also had our dogs part of our ceremony (one of them was the ring bearer) and wrote our own, very personal vows.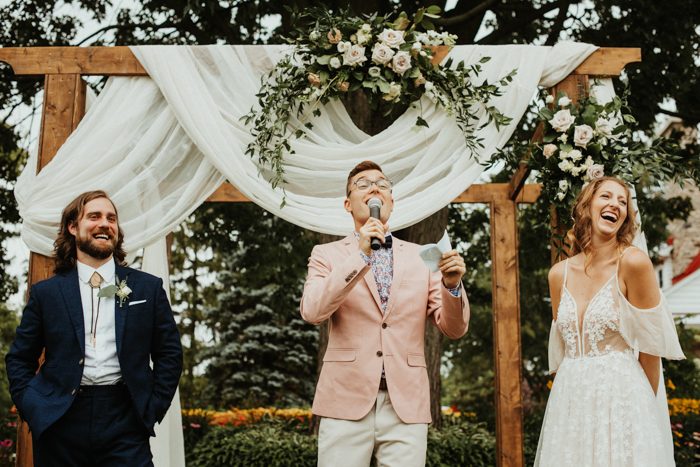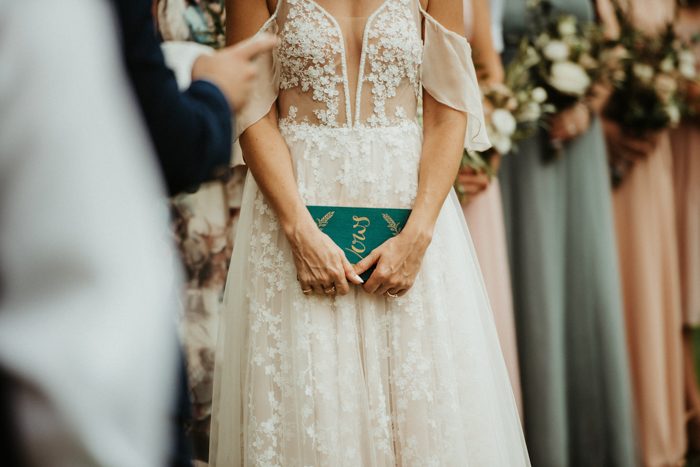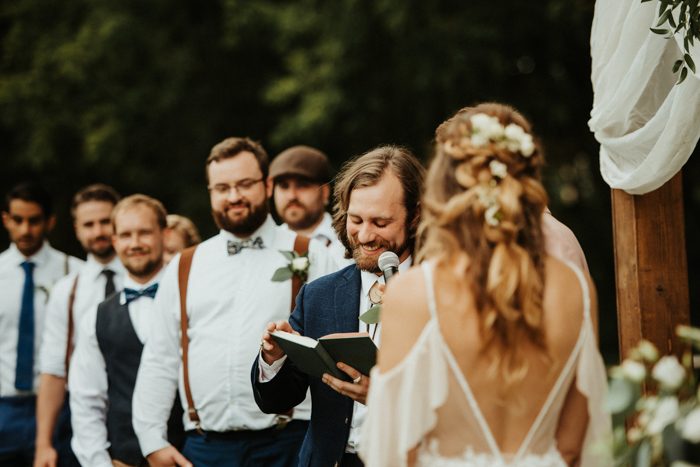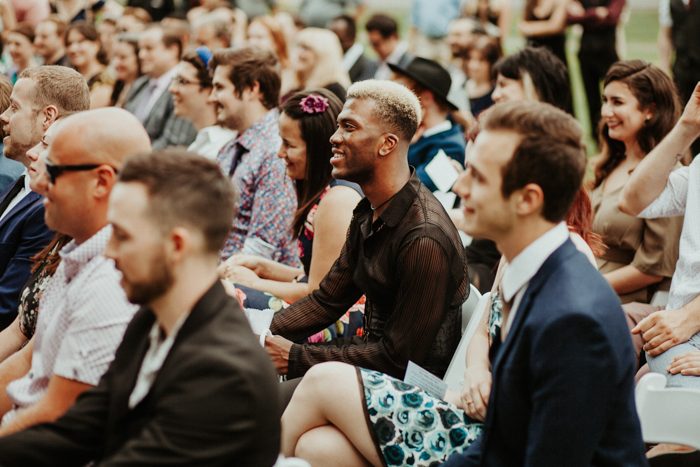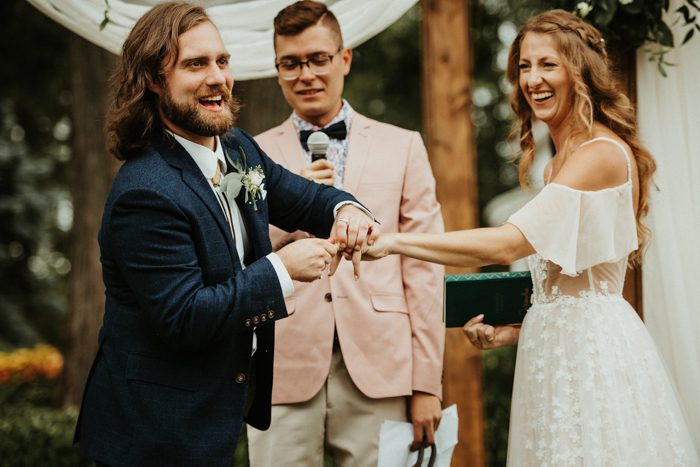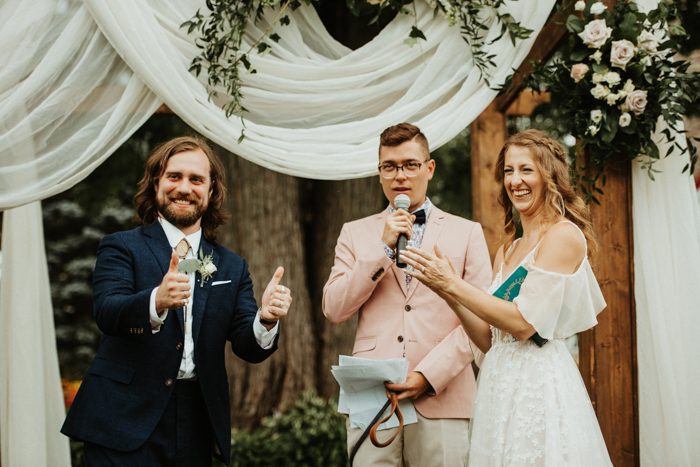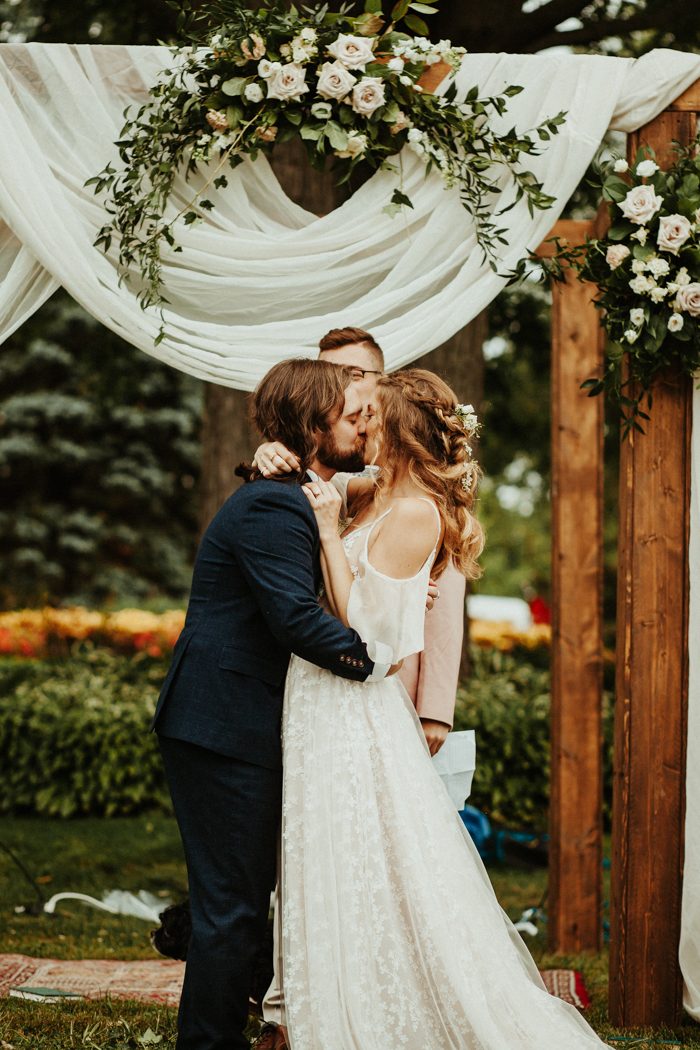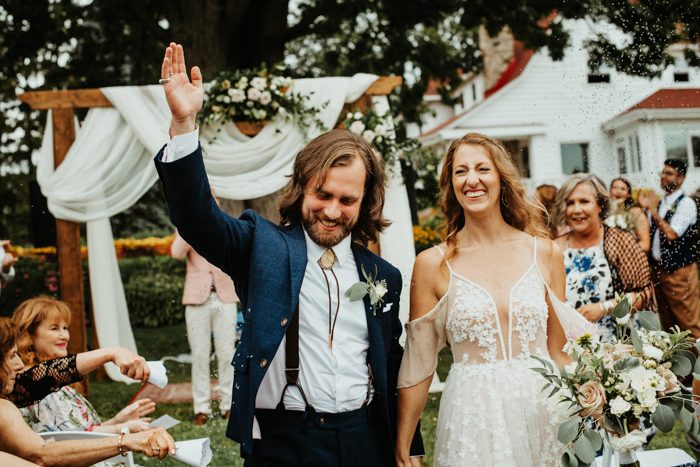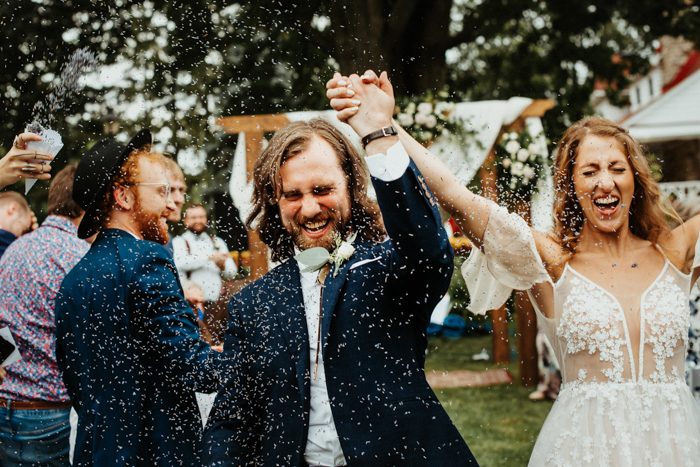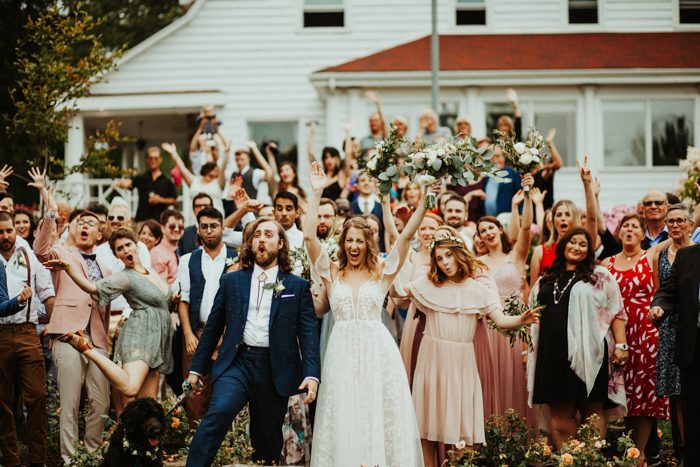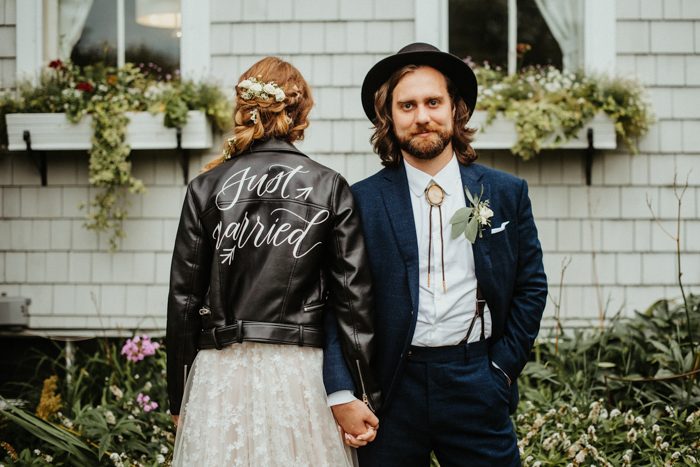 SHOP THIS LOOK: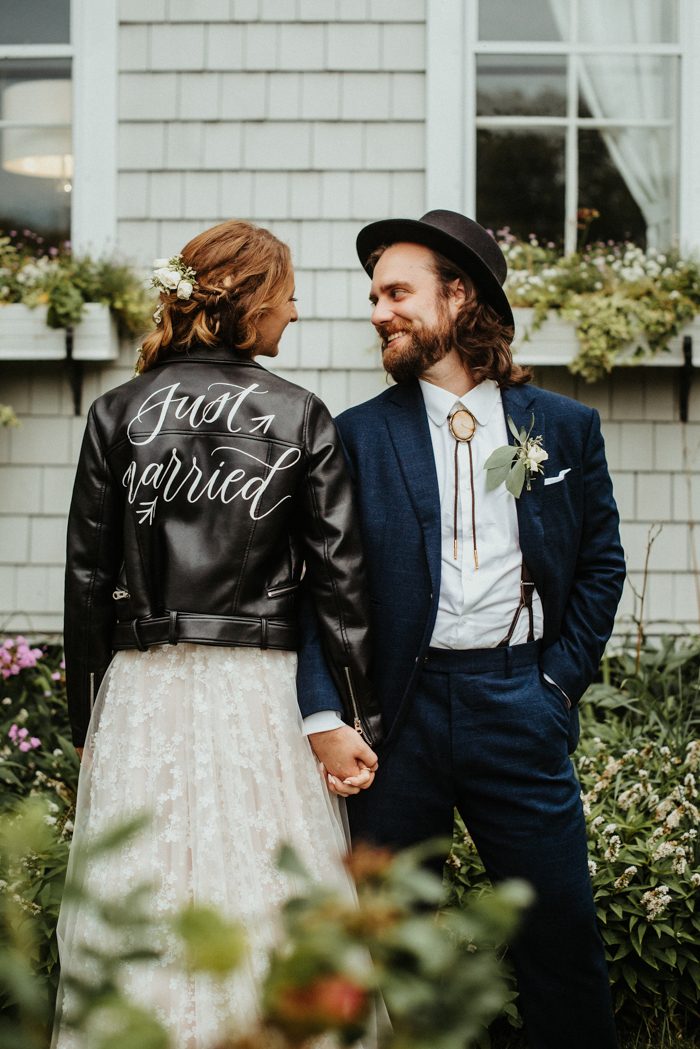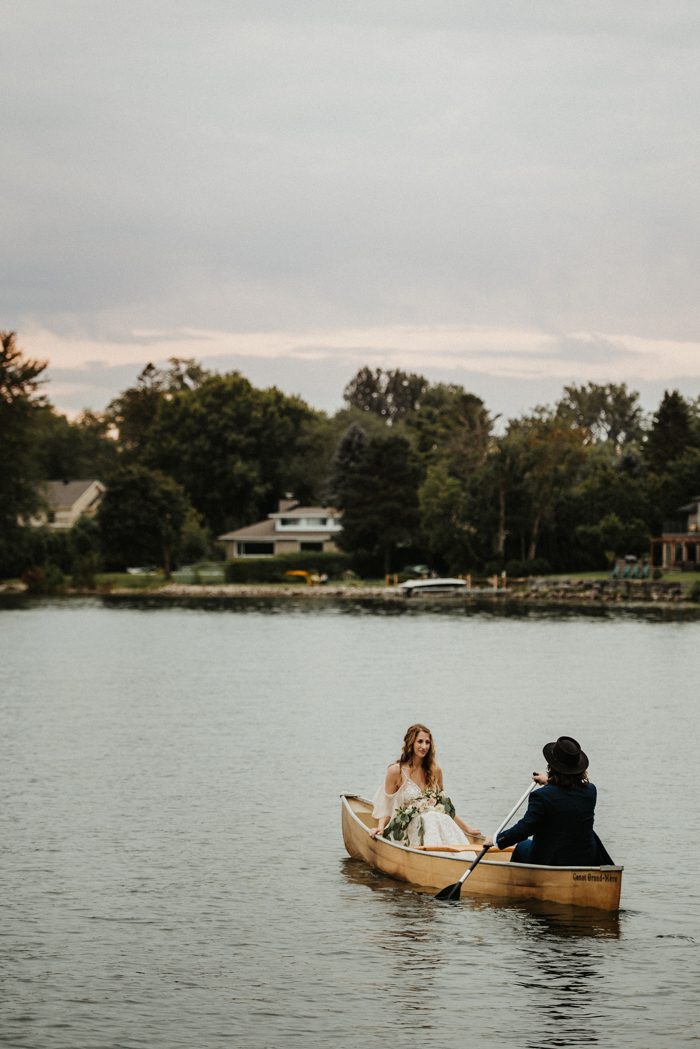 Our photographers and videographers were so amazing to work with! They helped ease any stress, had amazing energy and made getting our pictures taken fun! We couldn't have asked for better people to have during those intimate moments.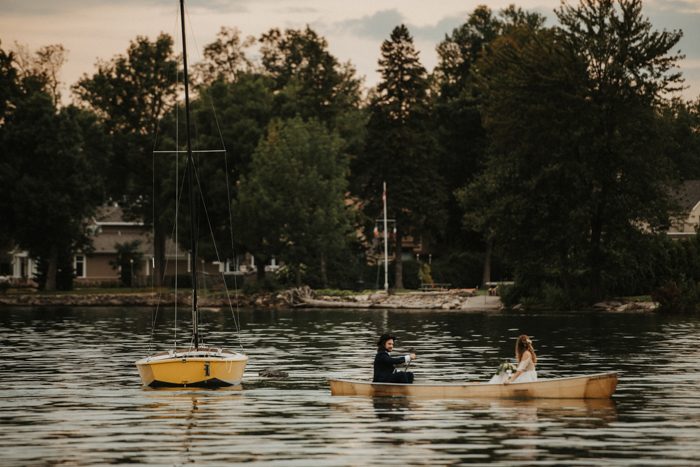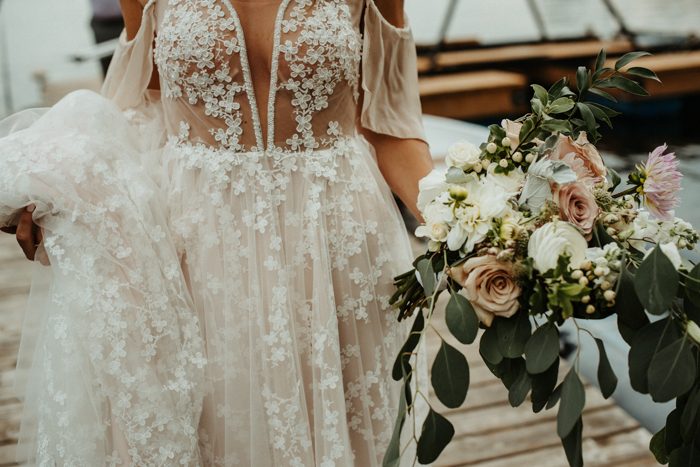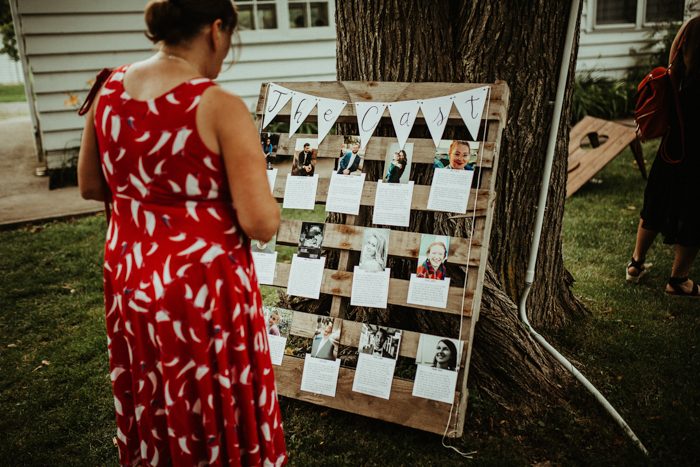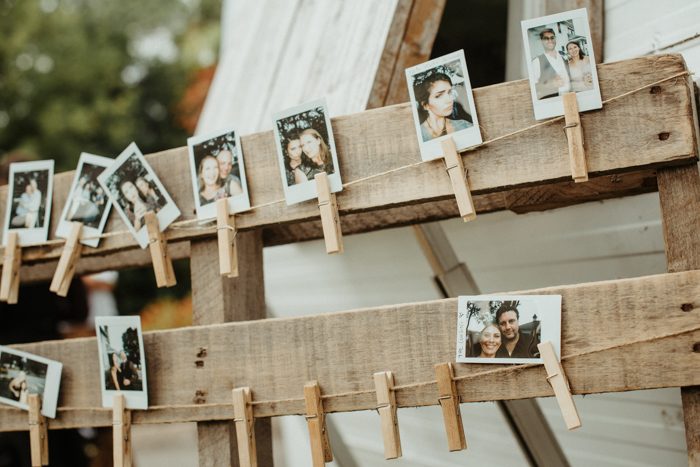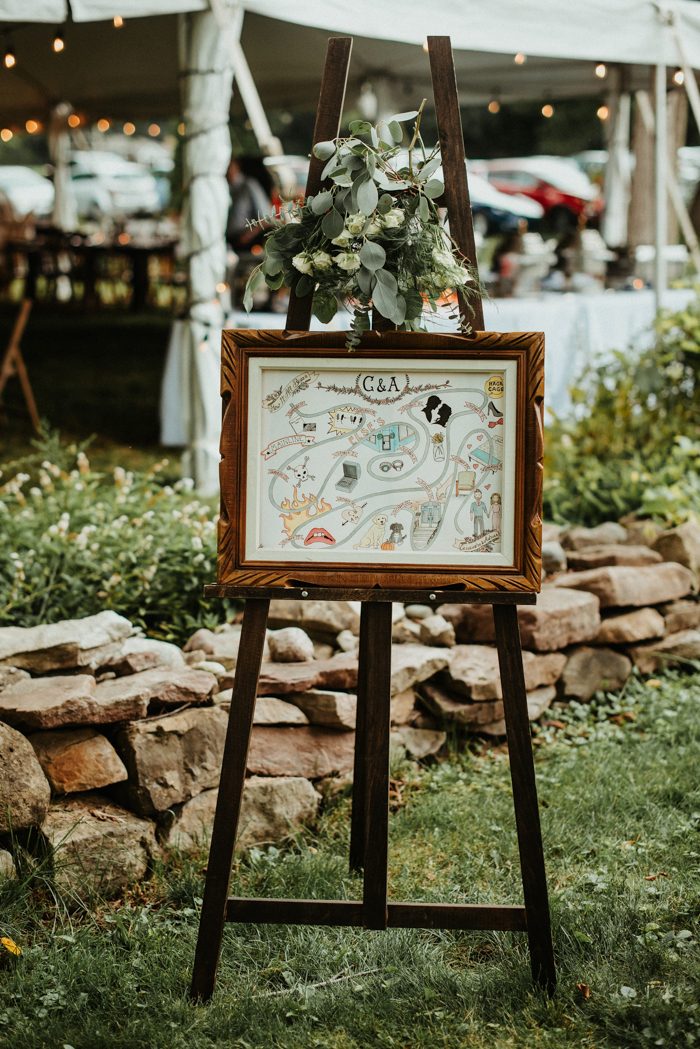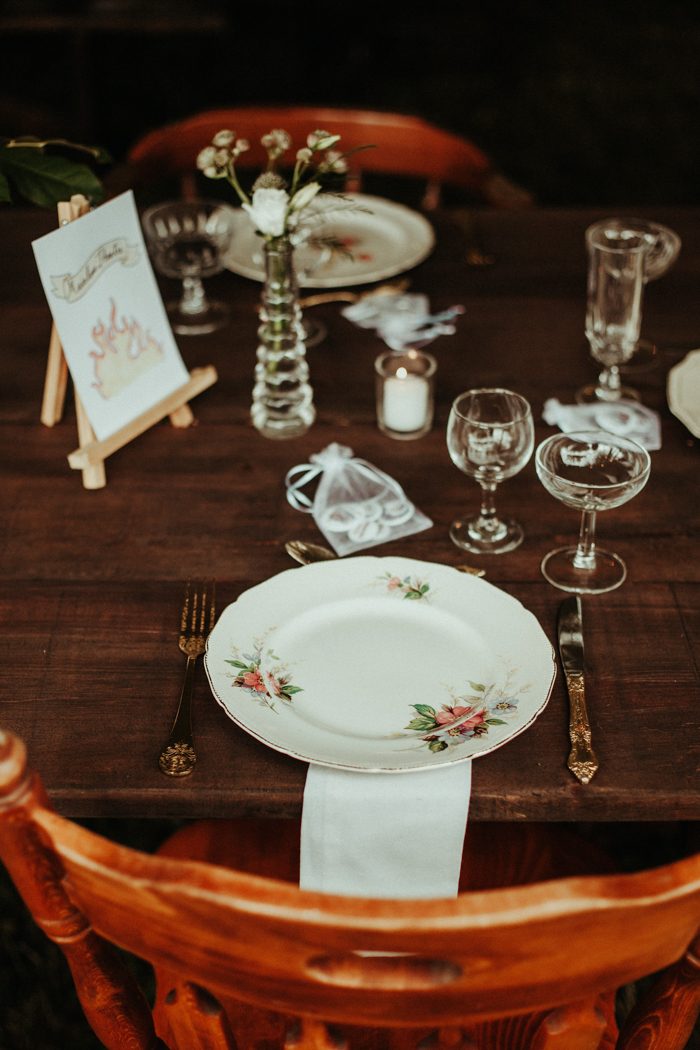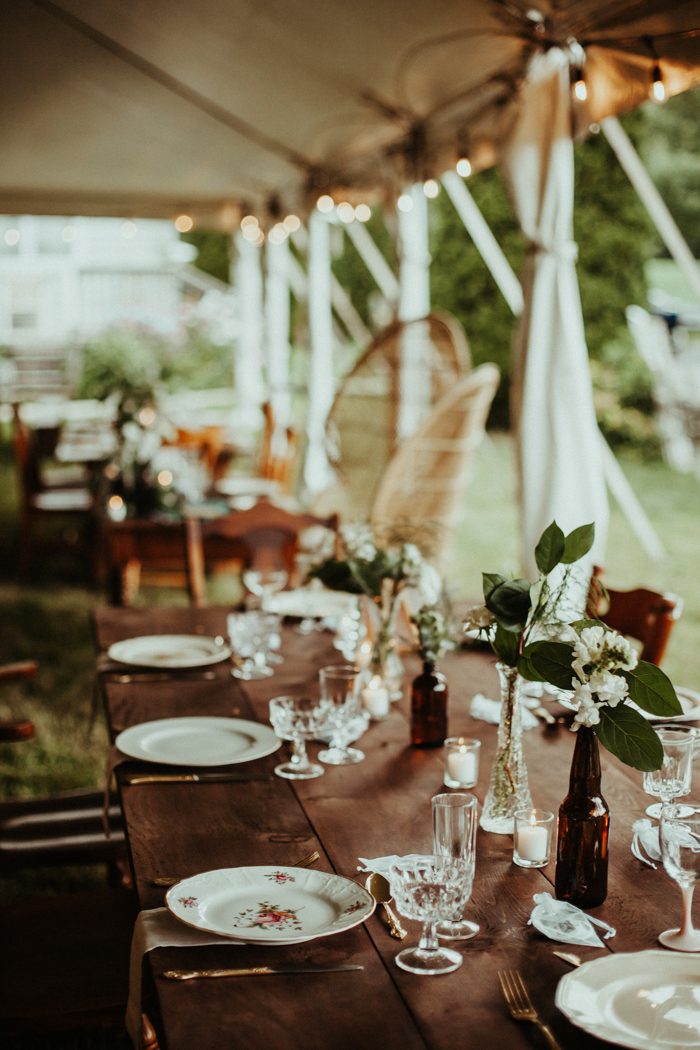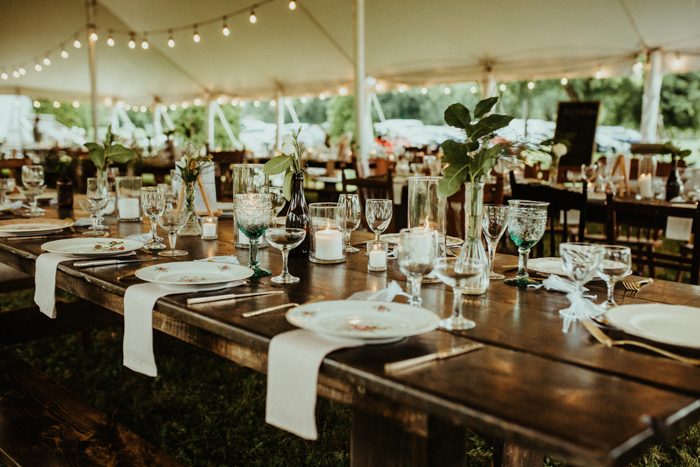 We did a lot of DIY! We made our own invitations (drew them by hand and finalized them on Photoshop), we made our own party favors which were drawings put onto pins. We made our own wine labels, and stickers for the confetti cones. We designed/wrote our order of the day on a large palette, we had another palette that had our bridal parties pictures and bios. We made our own table numbers, which were all important dates to us, along with a picture/map explaining the dates. And lastly we made our own vow books, we took old, used books and drew a design on the cover and wrote the vows inside.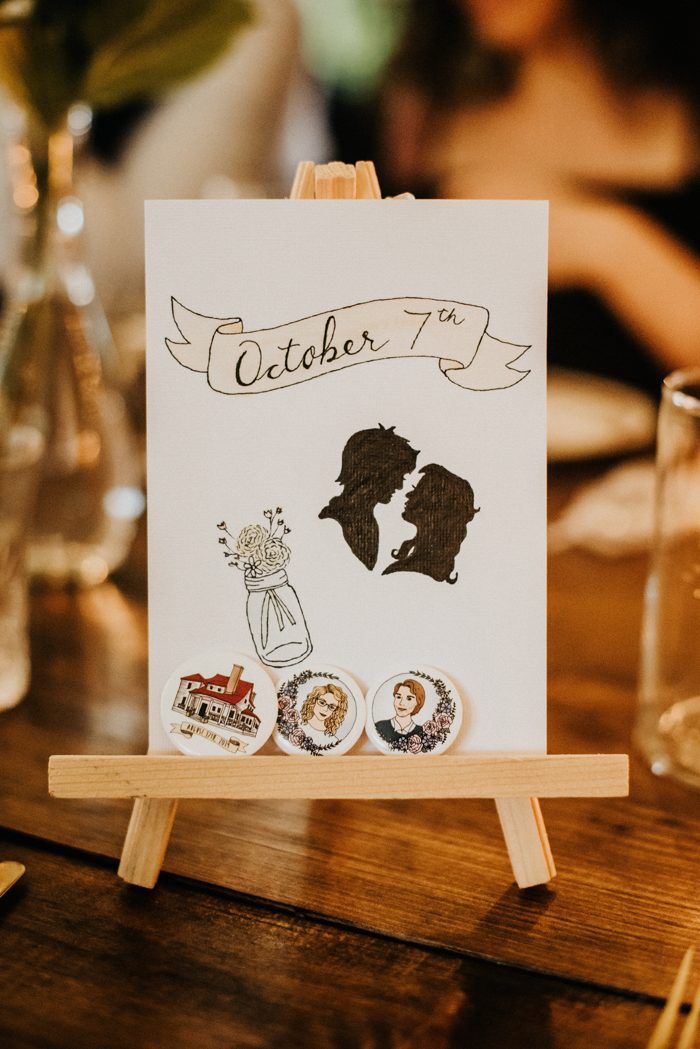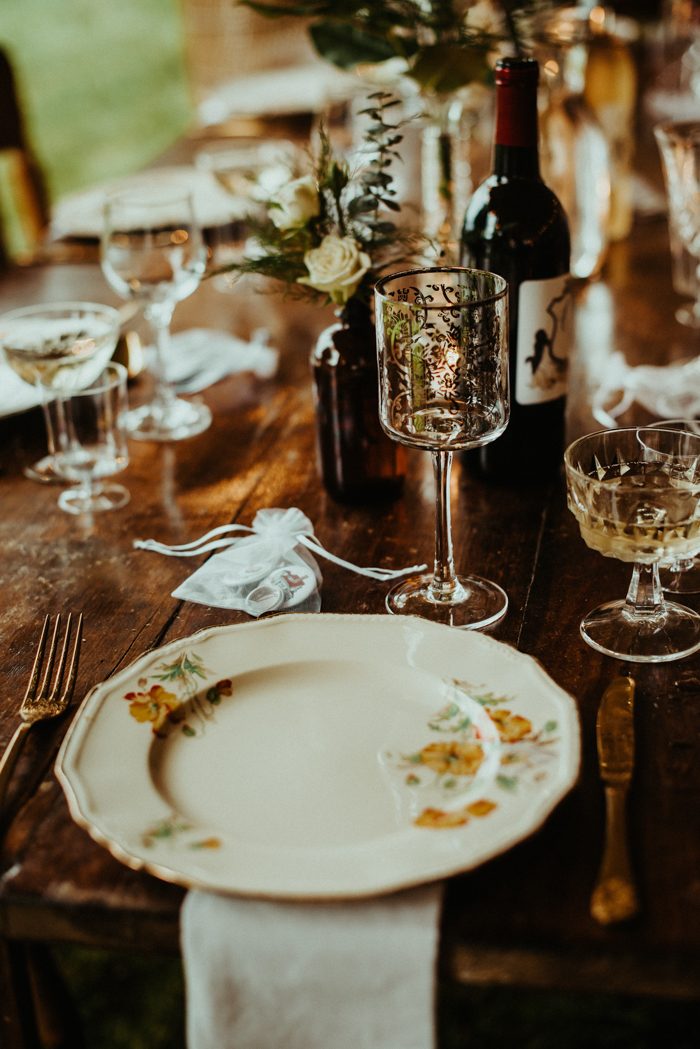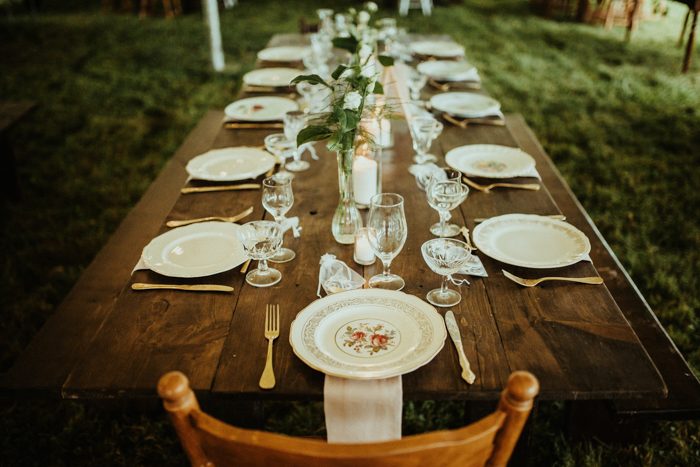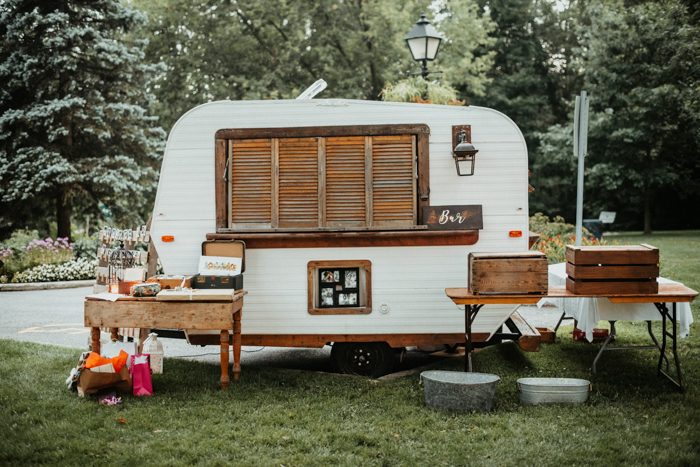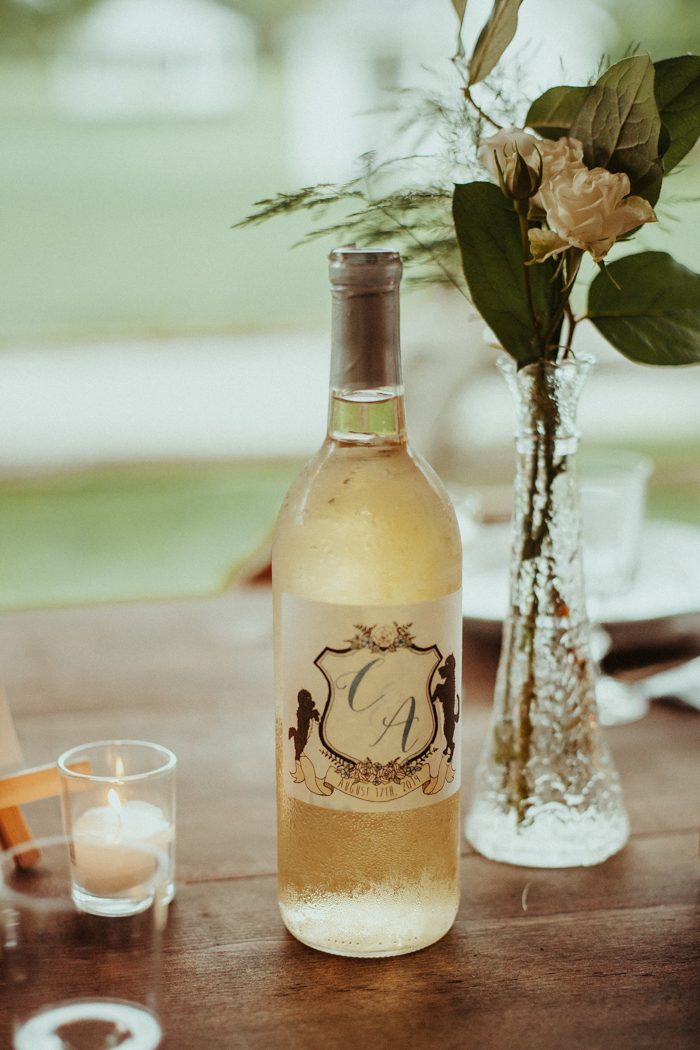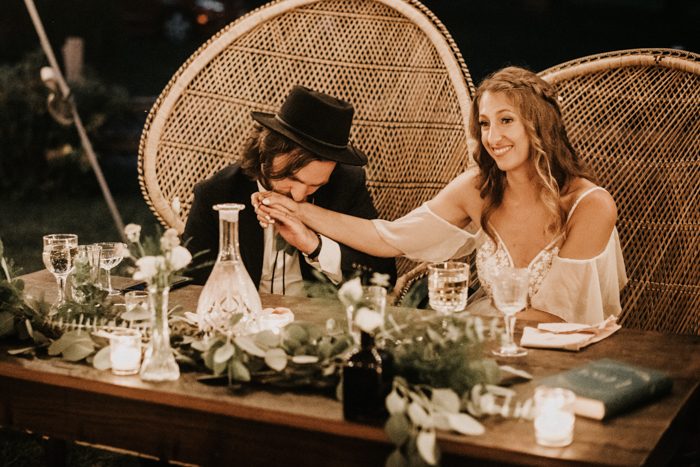 We had such a blast at our reception, which was like a show! We have many talented friends, so we had performances using songs that were meaningful to us.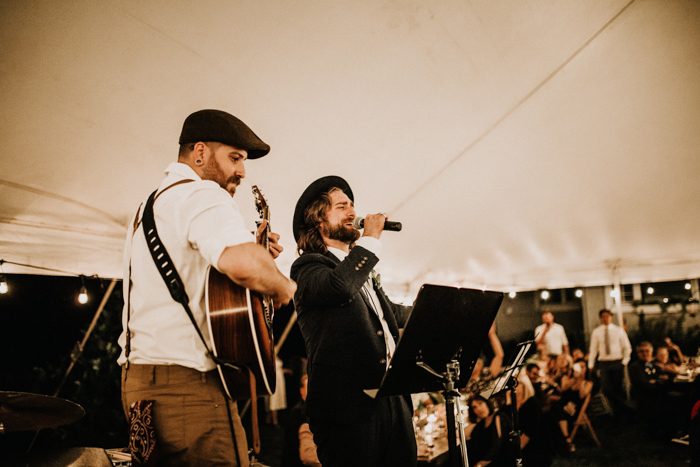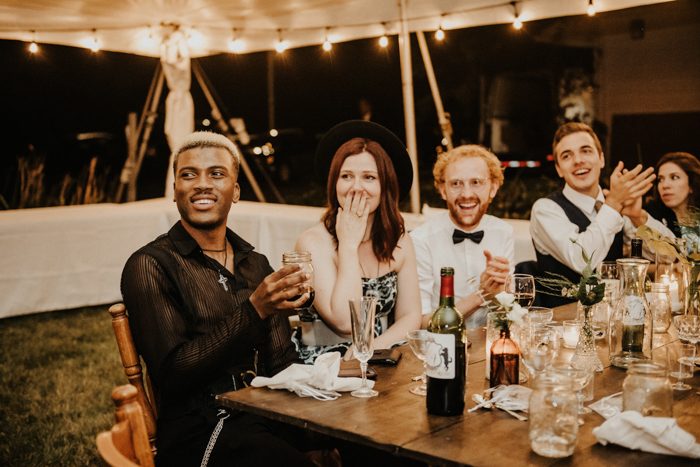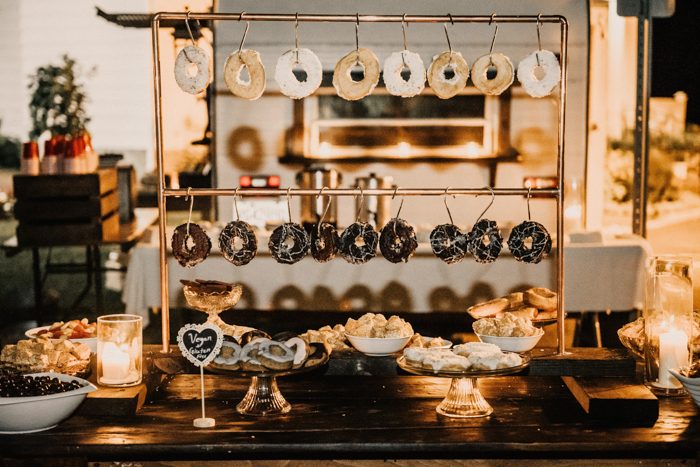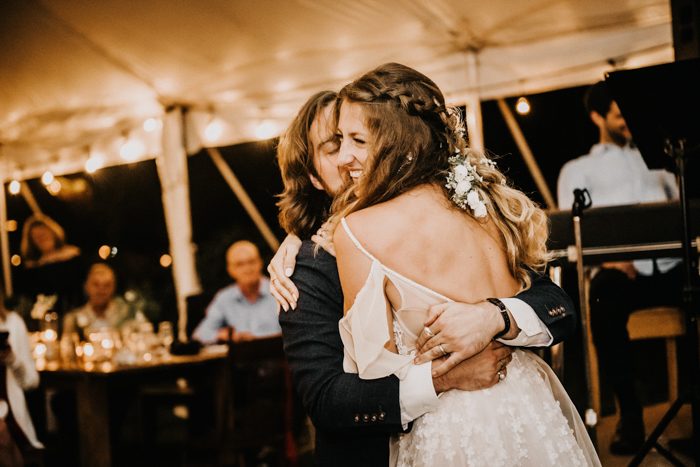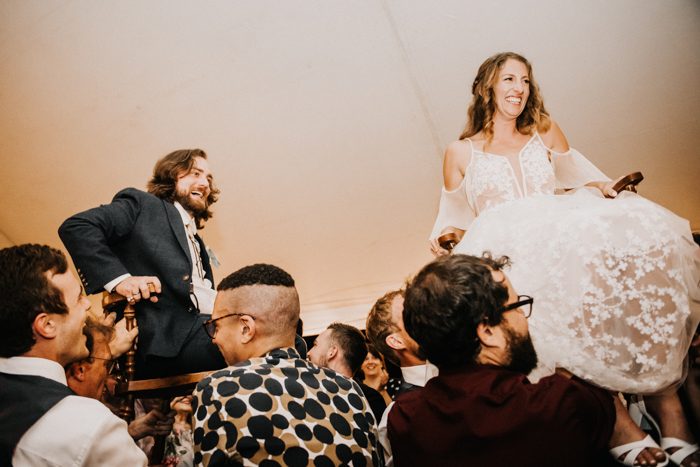 Congratulations Cassandra and Adrien — we're in love with your day and super grateful Le Coeur Bohème shared it with us! If you're into these unique Quebec farm wedding vibes, be sure to check out this gorgeous Twilight inspired wedding.