Registering for all those wonderful wedding gifts is a big perk of being soon-to-be marrieds, and it's also a helpful guide to your family and friends who want to congratulate you on your new life together. It's not always easy to know where to begin though! I'm super excited that this Thursday, May 7th, I'll be at the San Francisco Bloomingdale's along side Michelle Preli, Editor-in-Chief of Brides.com, and Jennifer Sbranti, of the gorgeous website Hostess With The Mostess, to talk about registry tips and show off the cool new "Set Your Table" tool that Bloomingdale's and Brides.com developed together. Come join us for treats, cocktails, gift bags, and a great discussion! I'd love to meet you and hear your approach to registering for your wedding.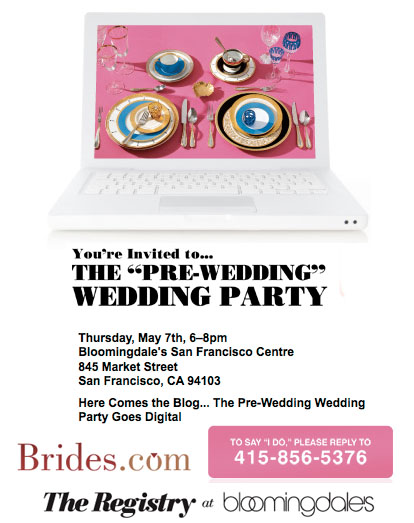 To get the ball rolling, here are some of Junebug's favorite tips for a successful wedding registry:
Register soon after you announce your engagement for all of those prewedding events.
Stay focused on the kinds of things that will really fit in with your lifestyle.
Choose items in every price range so your guests have lots of options for their budget.
Try not to get overwhelmed by all the options, but make sure you register for enough items, and update it regularly to be sure there are still gifts available as you get closer to your wedding date.
Registering for tableware can mean many things today. A formal china pattern is the most classic registry item and makes a wonderful family heirloom, while everyday dishes can still be full of style and personality and will make each breakfast lunch and dinner all the more special. The "Set Your Table" tool is fantastic to help with this!
Etiquette states that you should never include your registry information in your wedding invitation. You can have your parents, maid of honor, and best man spread the word, include it in invitations to other events like wedding showers and engagement parties, or list it on your wedding Web site.
Check with each stores return policy before you begin your registry so you will know what to do if you dont receive full sets of things like china, silverware, or glassware.
Are there family traditions you grew up with that you want to carry on in your own new family? What do you need to make those happen? It could be anything from large serving platters for hosting Thanksgiving dinner to a bagel slicer for Sunday morning bagels.
Let your hobbies guide your unorthodox registry items. If youre food aficionados register for fun and useful kitchen tools, utensils, cookbooks, specialty foods or couples cooking classes. To build your all important music library, register for new CDs or music downloads. If you love spending time in the great outdoors, outdoor gear and athletic stores offer registries to help you on your next hiking or camping trip.
If you already own enough essentials for your home, choose a charity thats close to your heart and ask guests to make a donation in lieu of wedding gifts.
Have fun!!!