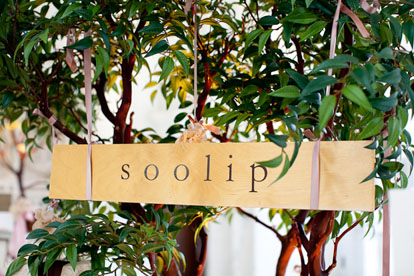 I apologize for the very late afternoon post, but we had such a blast photographing A Soolip Wedding here in LA yesterday that we were absolutely determined to get the images edited and up online today! Between the three of us we took about a gazillion pictures, lusted after endless amounts of delectable foods and beautiful product designs, and met all sorts of fabulous people- brides and professionals alike. What a day! Get ready for a marathon post!

Everyone there seemed to be having a fantastic time. The location, the stunning Vibiana in downtown LA, was so uniquely bright and beautiful, and the energy in the room was through the roof. There were adorable girls everywhere you looked, and quite a few adorable guys as well (including our buddies Jeff and Loop, and cinematographer Russell Fowler above. Love those boys!) And being an LA event, there was of course a fun celebrity sighting. The gorgeous and very gracious Rachel Hunter (above with Soolip founder Wanda Wen) was there to find inspiration for her own upcoming wedding!

Scrumptious treats abounded and created seriously happy attendees. We adored the cakes, cupcakes and macaroons from Vanilla Bake Shop (top two rows above), the signature cocktails from Aroma Events and the pretty pomegranate lime cocktails from sponsors POM Wonderful and Belvedere Vodka, the pristinely decorated wedding cakes from the legendary NancyKay's Confections (the pink and green cakes in the fourth row above), and the incredibly artistic and organic food and desert from Patina Wedding (bottom two rows above). Yum!

Paper goods, decor design and treats of all kinds were well represented too. The invitation displays and calligraphy demonstration from Soolip Paperie & Press (the paper designer and the show's namesake, top two rows above) were to-die-for, and another invitation designer called Flite Design (shown fourth and fifth rows above) really got us excited with her ultra customized invitations and decorative lanterns that hung in her booth as well as from the tall, tall ceiling above us all.

Another aspect of the show that was really cool was how truly interactive it was. Models in Kirstie Kelly Couture gowns walked through the crowds so everyone could see the designs up close, and there were facials to receive, treats to taste, presentations to attend, prizes to win, and jewelry to try on. Dreamy! The conversations with experts that took place outside under the amazing tenting from Raj Tents were really informative and full of creative ideas, and I really appreciated how open to questions and discussion the experts were. Both Wanda Wen of Soolip and Mark Held of Mark's Garden were a delight to listen to and were incredibly warm and encouraging (pictured third row above).
Kim, Blair and I had a fantastic time and can't thank Tarin and Wanda enough for the opportunity to get involved. We have so many more photos to share, but can't possibly fit them all into just one post, so stay tuned tomorrow for a look at all the fabulous fashion from Kirstie Kelly. We are total suckers for pretty dresses and fashion models so you know we followed them around and took ridiculous amounts of photos! Should be a good one!