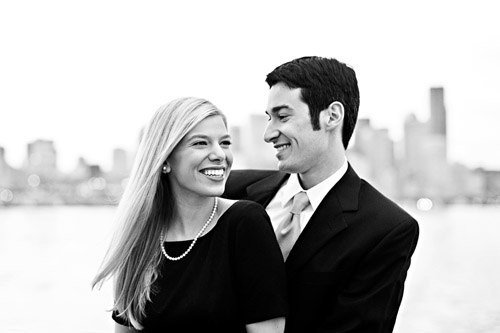 We recently received this fantastic engagement photo session of Rachel and Sam from GH Kim Photography, one of our talented Seattle Junebug member photographers, and we love the way this couple chose such iconic Seattle backdrops for their shoot. They went to the beautiful Olympic Sculpture Park and took a ride on a ferry, and made these much-loved city locations totally their own.

"Rachel and Sam are high-school sweethearts, and have known each other for a long time, but still look at each other and treat each other like they just started dating", says Grace. We have to agree, these two look madly in love and deliriously happy together!

While on the ferry boat during the second part of their shoot, Rachel and Sam were treated to an amazing surprise that only made the day feel even more quintessentially Seattle. The ship's captain announced on the loudspeaker that there was an Orca whale and her baby sitting on the port side of the boat. "It was one of those bliss moments straight out of a movie with lots of oohs and aahs. So incredible."

Such an adorable couple, we can feel the love jumping right off the page! For a behind-the-scenes look at this shoot (and a peek at those whales swimming in the Sound!), check out this great video from DvPixl Films as well.