Like with any trend, venues go in and out of vogue every few years. We saw plenty of barn weddings in 2014, our fair share of warehouses in 2015, and 2016 is most definitely the year of the greenhouse. It's easy to see why with so many unique conservatories and glasshouses across the globe! From California to Ireland to South Africa, these greenhouse venues offer a naturally beautiful setting for the wedding of your dreams.
Garfield Park Conservatory – Chicago, Illinois
Did you know that there's a tropical paradise located right in the heart of Chicago? Garfield Park Conservatory is a dream setting for urban dwellers looking to go au natural for their big day. With a capacity of 650, Garfield Park Conservatory hosts 60-75 weddings a year that range from intimate affairs among the leaves to opulent events for everyone the bride and groom have ever known. Contact Garfield Park Conservatory here for more information!

images by Erika Mattingly Photography
Babylonstoren – Cape Town, South Africa
One of the oldest Cape Dutch farms, Babylonstoren is one of the most unique venues Cape Town has to offer. The crown jewel of the farm is its greenhouse restaurant, which is ideal for dinner after your ceremony in the fruit and vegetable gardens. The 26 metre vintage conservatory is home to dragonfruit, pineapples, cardamom and more, so you know you're in good company as you dine. Contact Babylonstoren here for more information!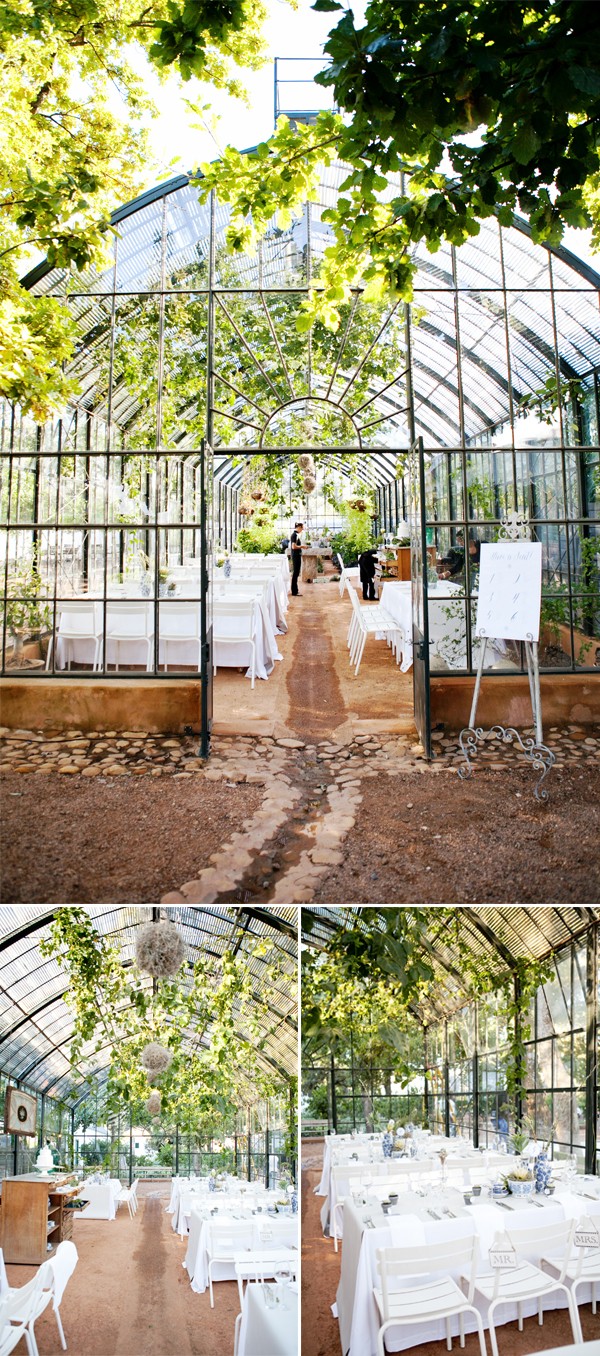 images by Moira West
Conservatory of Flowers – San Francisco, California
If you're dreaming of dose of color and natural charm in San Francisco, look no further than the Conservatory of Flowers in Golden Gate Park. With a variety of options from a 20 guest ceremony in the Potted Plants gallery to a 500 person cocktail reception throughout the greenhouse and Orchid Pavilion, the options and incredible natural views are truly endless. Contact Conservatory of Flowers here for more information!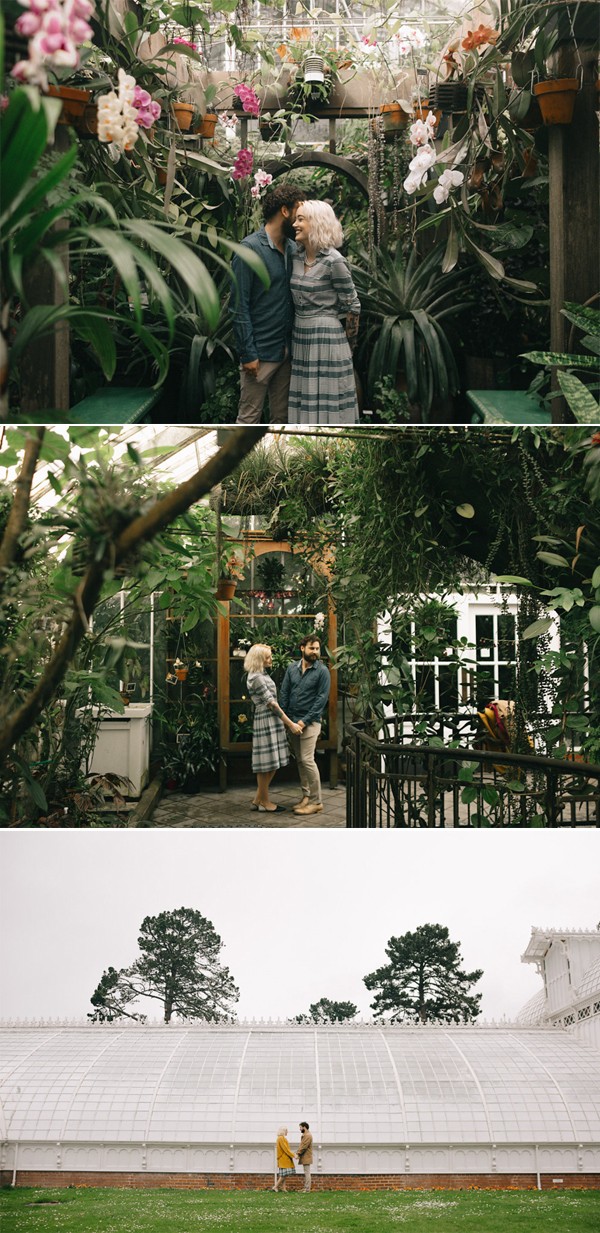 images by Imani Fine Art Photography
Shipley Gardens – Herefordshire, England
The relaxing gardens and antique glasshouse of Shipley Gardens are a uniquely romantic setting tucked into Herefordshire, England. For the last 40 years, the 30 acres of mixed natural habitats have been nurtured by owner Bob Macadie. In addition to the obviously gorgeous gardens, guests have the treat of enjoying a variety of teas and coffees in the exquisite Tea Rooms. Contact Shipley Gardens here for more information!
images by Peach & Jo Photography
Historic Shady Lane – Manchester, Pennsylvania
Where rustic meets elegance, Historic Shady Lane is one of the most beautiful venues you'll find in Pennsylvania. The venue's owners understand that just like every couple is one-of-a-kind, every wedding should be just as special. For this reason, they are non-exclusive with vendors, making each celebration completely custom. Complete with draping, chandeliers, and uplighting, the greenhouse can transform into exactly the reception or cocktail hour you've envisioned. Contact Historic Shady Lane here for more information!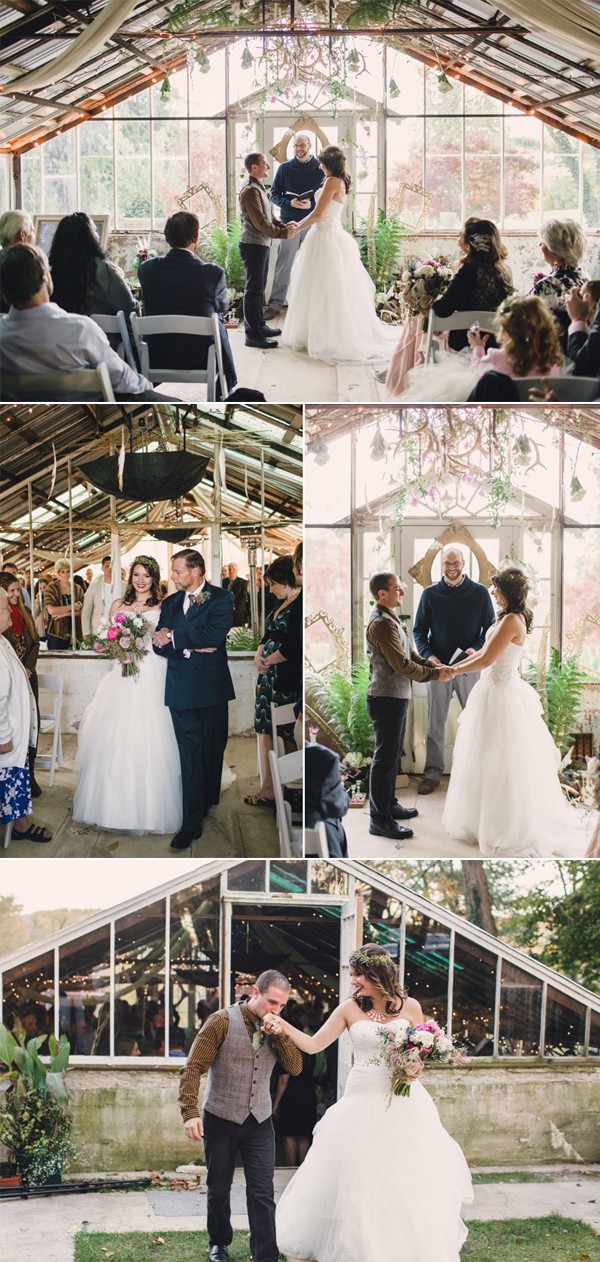 images by Lauren Fair Photography
Hivernacle – Barcelona, Spain
Barcelona's Hivernacle is unlike any greenhouse venue we've seen. This rare gem exists in an 1884 building that has been restored into an indoor garden. Wooden beams and exposed brick, both lined in lush ivy, are illuminated by huge steel windows. Saying "I do" among the rows and rows of plants would be an extraordinary way to start your life together! Contact Hivernacle here for more information!

images by The Visual Partners
The Greenhouse at Driftwood – Driftwood, Texas
In the heart of the Texas Hill Country sits The Greenhouse at Driftwood, a breathtaking venue complete greenhouse structures and native plants. Owned by the same family for three generations, the space began hosting weddings in spring of 2013. While the desert greenhouse is limited to seven people in order to preserve the rare plantation (making it perfect for your elopement!), the tropical greenhouse accommodates 50. Contact The Greenhouse at Driftwood here for more information.

images by Chelsea Laine Francis
Jevremovac Botanical Gardens – Belgrade, Serbia
Located on the campus of the University of Belgrade, Jevremovac Botanical Gardens is actually administered by the university's Biology School. The Victorian-style conservatory includes a central dome with two wings, covering 550 square meters. From vows, to portraits, to dancing the night away, it doesn't get more romantic than being surrounded by tropical plants in the middle of the city! Contact Jevremovac Botanical Gardens here for more information!

images by Monika Pavlovic Photography
Jewel Box – St. Louis, Missouri
With a maximum capacity of 250, Jewel Box really is the crowned jewel of St. Louis' venues. The site underwent a $3.5 million renovation — which included adding air conditioning — making the space as accessible for weddings as it is beautiful. The only thing prettier than the sun shining through the glass roof are the floral displays provided by the Flora Conservancy of Forest Park. Find more information about Jewel Box here!

images by Turner Creative
The Palm House at the Botanic Gardens – Belfast, Ireland
Another Victorian-style conservatory and possibly the most ornate beauty on our list is the Palm House at Belfast's Botanic Gardens. Two incredible glass wings, home to some exceptionally rare plants, make for a dreamy wonderland setting for your wedding celebration. Learn more about the Palm House at the Botanic Gardens here!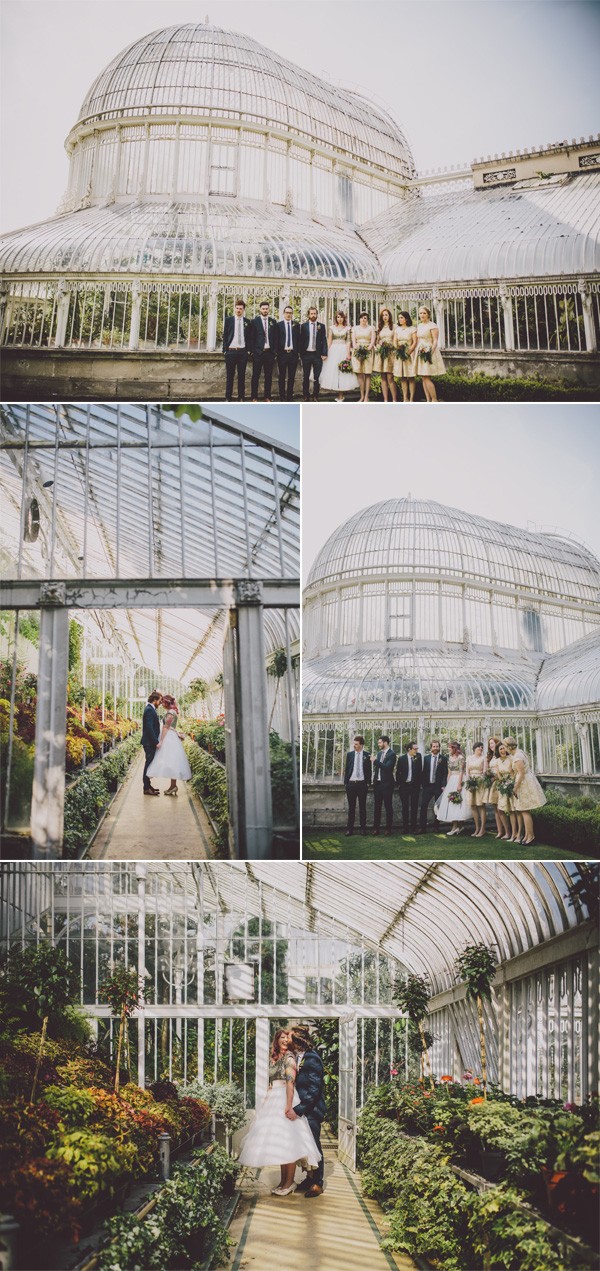 images by Ten21 Photography
Moorten Botanical Garden – Palm Springs, California
For endless sunshine, garden romance, and cool Palm Springs style, it doesn't get better than Moorten Botanical Garden. Rather than a traditional greenhouse, Moorten is known for its "Cactarium," showcasing unusual species of cacti. With a capacity to hold 100, this venue is perfect for a secluded celebration in the desert. Contact Moorten Botanical Garden here for more information!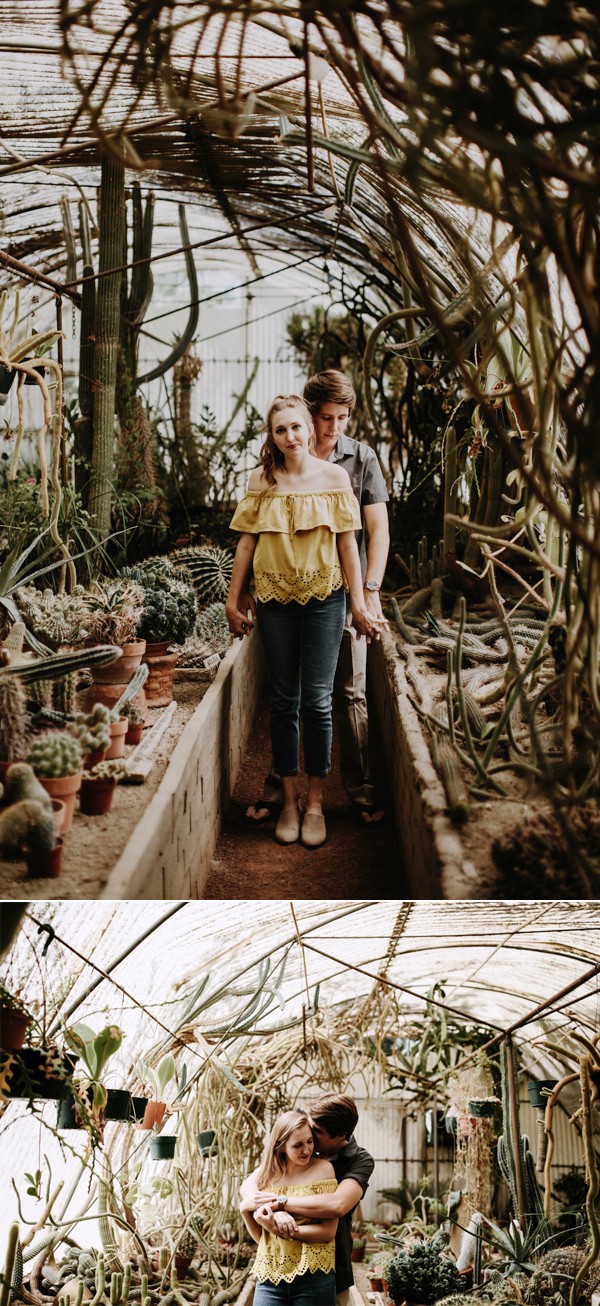 images by Lauren Scotti Photographer
Royal Botanic Garden – Sydney, Australia
The Royal Botanic Garden in Sydney is, simply put, out of this world. However, we've got a special place in our heart for the Palm House, with its angled windows, white wood beams, and vintage elegance. The oldest glass house in New South Wales couldn't be more charming with a couple of farm tables and your family and friends toasting to your marriage! Contact the Royal Botanic Garden here for more information!

images by Lara Hotz
Jardin de Buis – Pottersville, New Jersey
Greenhouse venues are nothing if not beautiful, and Jardin de Buis in New Jersey is positively picture-perfect. This venue offers two amazing greenhouses, an orangerie, and gorgeous antique décor to complete its European countryside vibes. Host your elopement in their intimate greenhouses, or throw the big wedding of your dreams in their extensive outdoor gardens! For more information, contact Jardin de Buis here.

images by Lauren Fair Photography
The Great Conservatory at Syon Park – London, England
Devotion to neoclassical architecture and 100 acres of pristinely maintained gardens make The Great Conservatory at Syon Park a fairy tale wedding dream venue come true! This greenhouse venue's tall, domed ceilings, Grecian-inspired columns, and nursery filled with exotic plants offer an unparalleled regal elegance to wedding events. Contact Syon Park here for more information!

images by Sarah Gawler Photography, wedding design by Knot & Pop
Volunteer Park Conservatory – Seattle, Washington
Built in 1912 and lovingly renovated in the 1980s, the Volunteer Park Conservatory's history, natural beauty, and elaborate architecture holds a very special place in the heart of Seattle residents. Its five greenhouses ranging from tropical bromeliads to warm-weather cacti are perfect for couple portraits, and its seasonal greenhouse can host up to 25 people for an intimate elopement! For more information, contact Volunteer Park Conservatory here.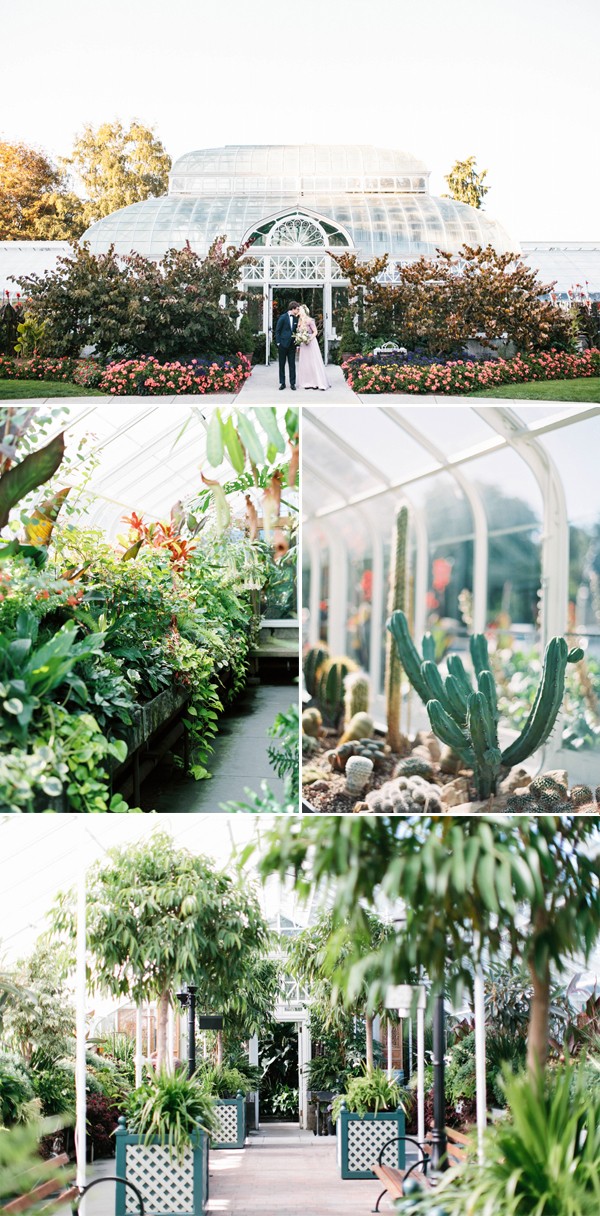 images by Maria Lamb
Madsen's – Newmarket, Ontario
Complete with thousands of miniature lights, waterfalls, and beautiful wooden beamed ceilings, this show-stopping Ontario greenhouse brings rustic elegance to any event! Madsen's features a seriously magical greenhouse banquet hall as well as a tropical greenhouse chapel – both of which accommodate up to 240 guests, making this venue perfect for the big wedding of your dreams. Contact Madsen's here for more information!

images by Lavish & Light
Fairmount Park Horticulture Center – Philadelphia, PA
The possibilities for luxe wedding décor are endless in this open space Philadelphia greenhouse! Fairmount Park Horticulture Center's botanical display and garden sculptures gorgeously provide a lush greenery element to any event, while its beautifully illuminated rafters allow for elaborate floral ceiling displays. Contact Fairmount Park Horticulture Center for more information here!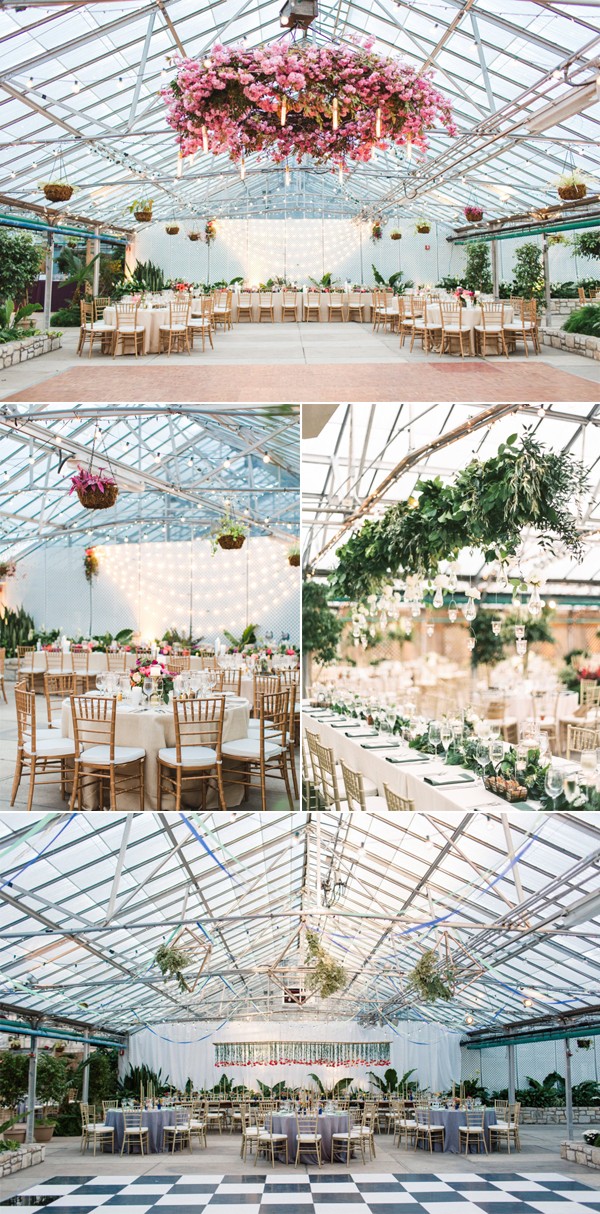 images by Lauren Fair Photography
The Conservatory at Fitzroy Gardens – Melbourne, Australia
Classic botanicals and Spanish mission architectural style come together to create a unique greenhouse experience at The Conservatory at Fitzroy Gardens! This gorgeous greenhouse's raised beds, tropical trees, and tall displays makes the venue perfect for beautifully lit couple photos and intimate, romantic ceremonies. Contact The Conservatory at Fitzroy Gardens here for more information!

images by Elleni Toumpas
Shelldance Orchid Gardens – Pacifica, CA
Between its tall, steep glass ceilings and completely enchanting orchid-forward gardens, we can see why Shelldance Orchid Gardens was Voted Best Specialty Nursery in Northern California! Located just minutes from San Francisco, this venue is comprised of several greenhouses, the heart of which is their expansive event space called The North Wing. For a truly unique and naturally beautiful garden wedding, contact this venue here for more information!

images by Sun and Life Photography
Whether you decide on a greenhouse venue or another setting for your wedding, booking for venue is a huge step in your planning! Check out our list of the best wedding venues around the world!