Today's beachy, tropical wedding was a dream for couple Leigh and Brian! A dream they had long held of a romantic destination wedding, and a dream to plan because the incredible team from Tropical Occasions – Aimee Monihan and Alessandra Silveira – were there to help with all of the long-distance planning. The day ended up being everything they'd hoped, and was beautifully captured by Julie Comfort of Comfort Studio. Enjoy this little vacation!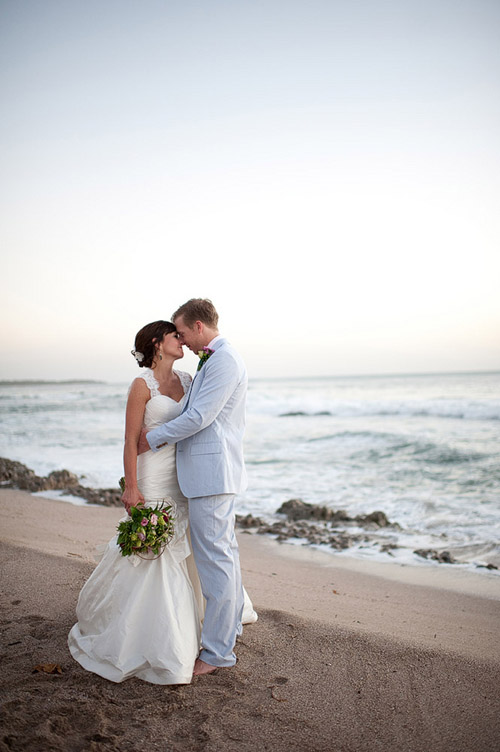 The Couple: Leigh and Brian
The Wedding: 3.10.12 – Cala Luna Point – Guanacaste, Costa Rica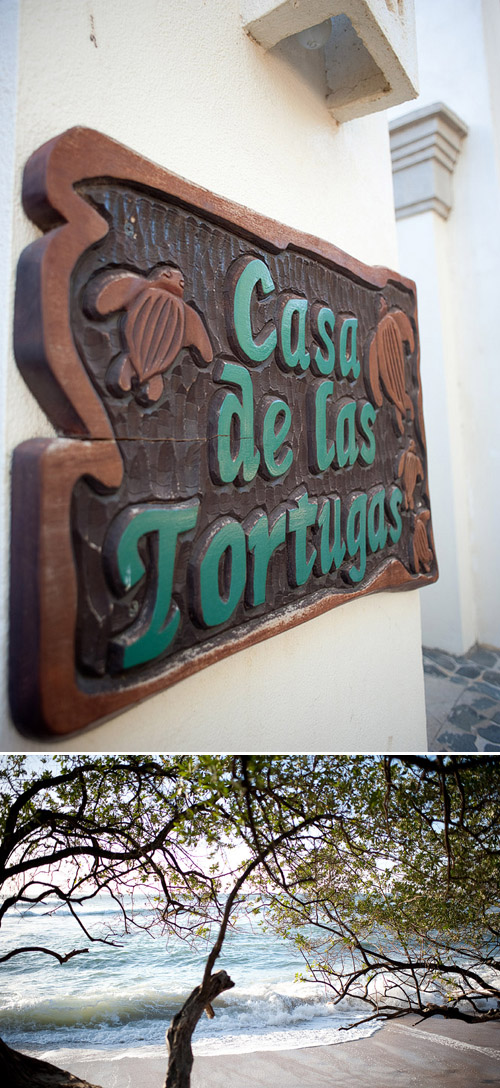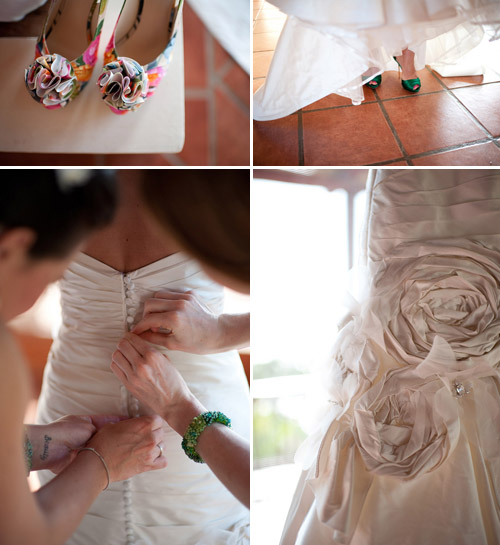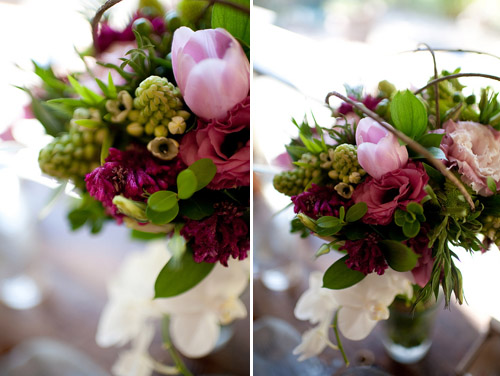 What were the top three priorities for you in planning your wedding? Having everyone we love in one place together; getting the entire hotel to ourselves for the weekend; and enjoying good food and delicious cocktails!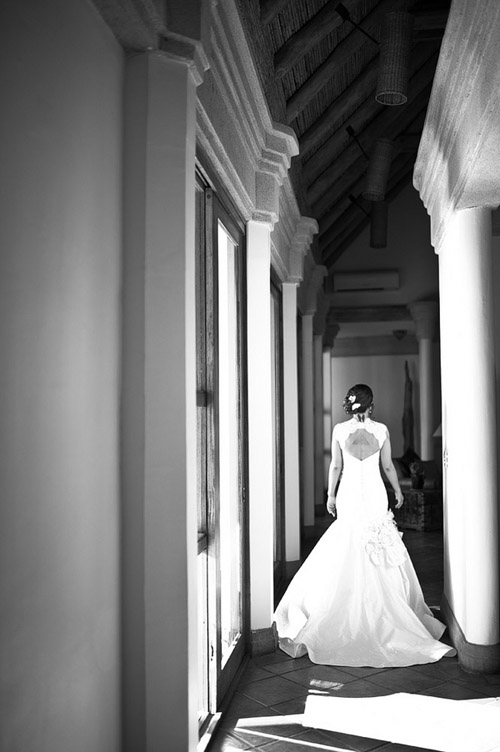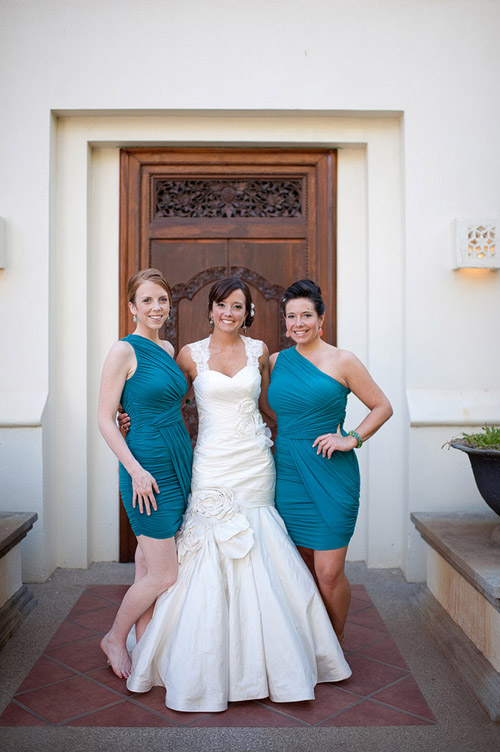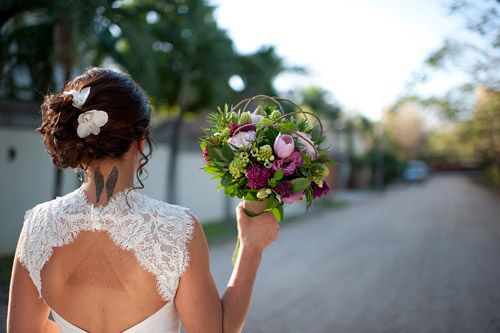 What wedding traditions or cultural traditions did you incorporated into your wedding and what did they mean to you? Even though we dont consider ourselves to be traditional there were definitely some wedding traditions that were very important to us. One, in particular, meant a lot to me. I did not want Brian to see me at all before he saw me in my gown walking with my dad down the aisle. Ive thought of that moment for so long; the look on his face when he would see me for the first time. That is always one of my favorite moments in a wedding, so I was really intent on not seeing each other until the ceremony. We also really wanted to do a first dance and have father/daughter and mother/son dances.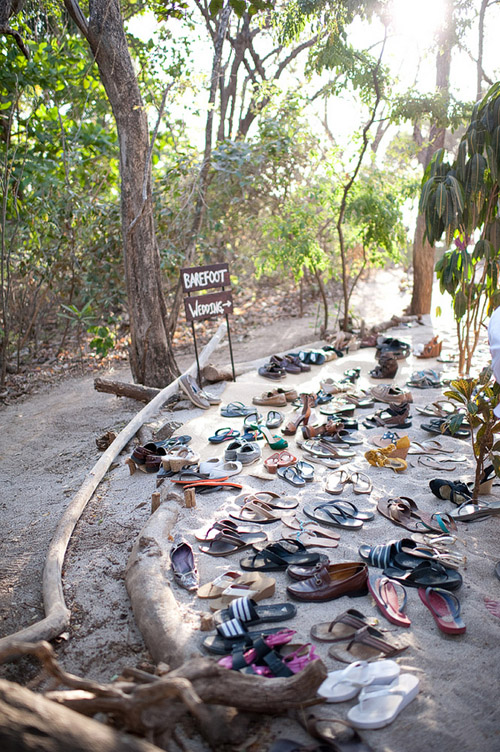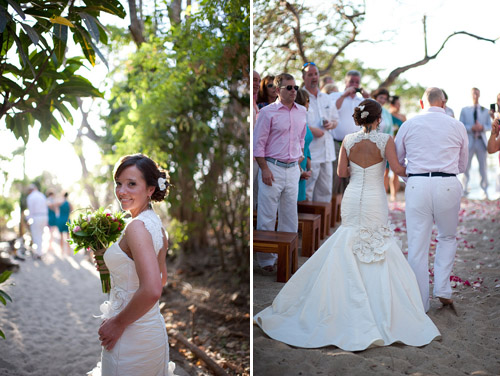 Were there any places where you broke the rules in your wedding planning? Why and how did you do that? Not really, although, when we first explained our "destination" wedding idea to our parents, they were less than thrilled. We went back and forth a lot between doing a small backyard wedding at home or doing a wedding in Costa Rica. From the very beginning, we knew a destination wedding was what we really wanted. But, we also knew that we wanted our parents to be happy as well. In the end, we followed our hearts and actually heard, You guys were right! from both sets of parents! Even now, months later, they continue to tell us how happy they are that we stuck to what we truly wanted all along.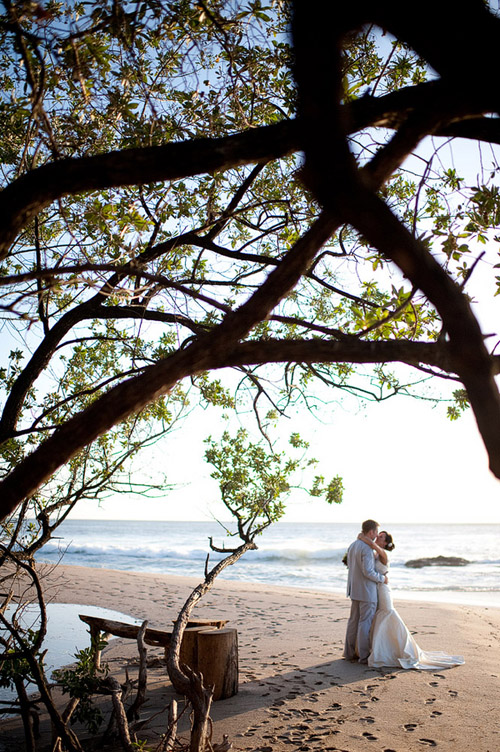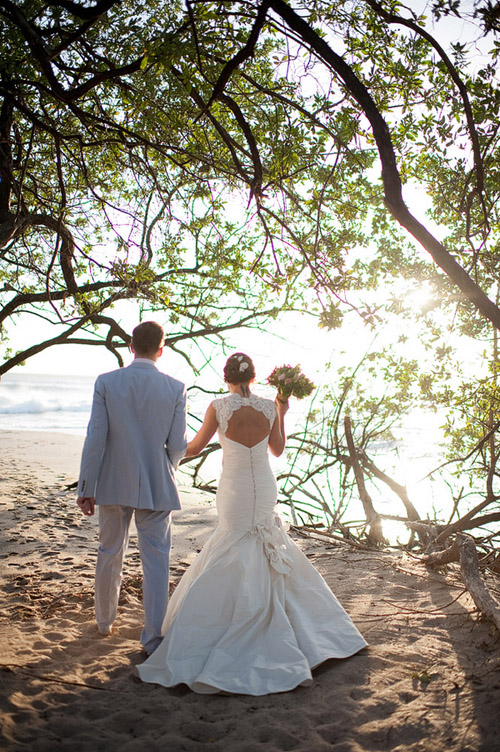 What was your biggest wedding planning success? Trusting the people we were working with! Planning a destination wedding can be especially tricky because we werent able to be in the places to visualize where the tables would be, where the flowers would go, how the ceremony would be set up, etc. For example, we were supposed to take a trip to Costa Rica in November to check out the hotel where our guests were staying and where our reception would take place. Unfortunately, we had a passport issue and had to wait until January to go, which seemed so close to our March 10 wedding! Needless to say, we were really concerned about not having enough time to finish everything that needed to get done while in Costa Rica. Our wedding planners – Tropical Occasions – were so fantastic and eased our minds, ensuring us that everything would work out. All the people we worked with, from the planners to the hotel staff were simply the best. We definitely would not have had such an amazing wedding without all of their hard work.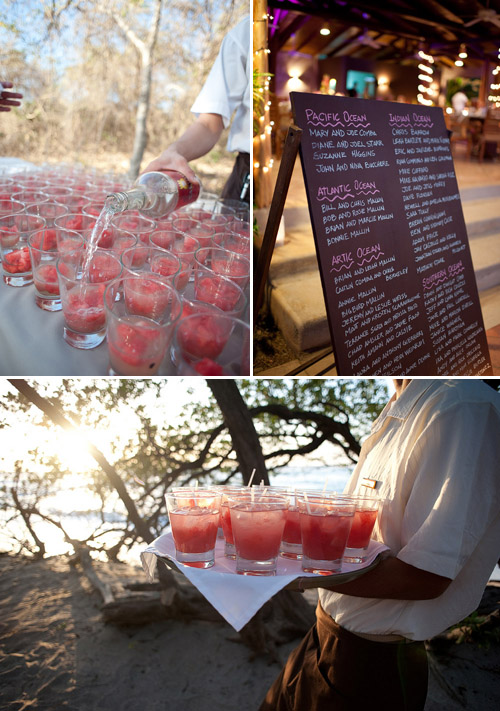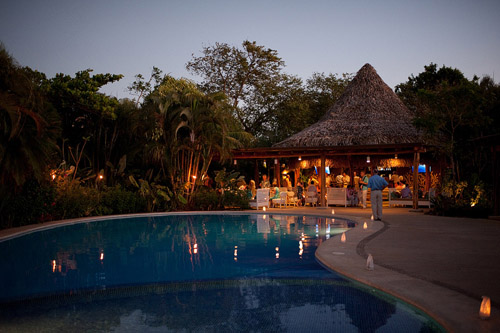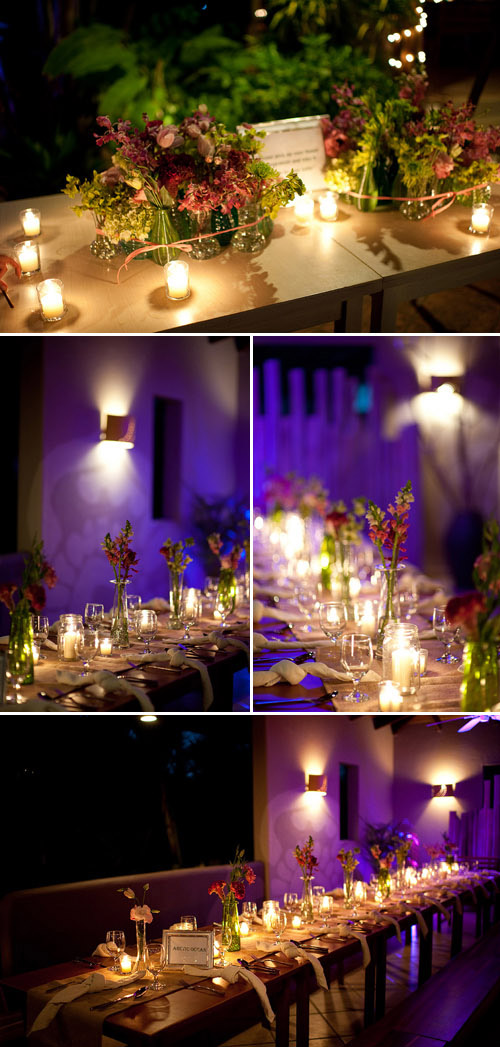 What was the most important thing that you learned through the wedding planning process and what would you tell other brides-to-be? Dont stress! The planning process is supposed to be fun, so do all that you can to enjoy every moment because it will go fast! Take one thing at a time and really look at the big picture. Getting married is about more than just that day, it is truly about merging two lives into one. Even if things dont go just as you might have liked, in the end you married the love of your life!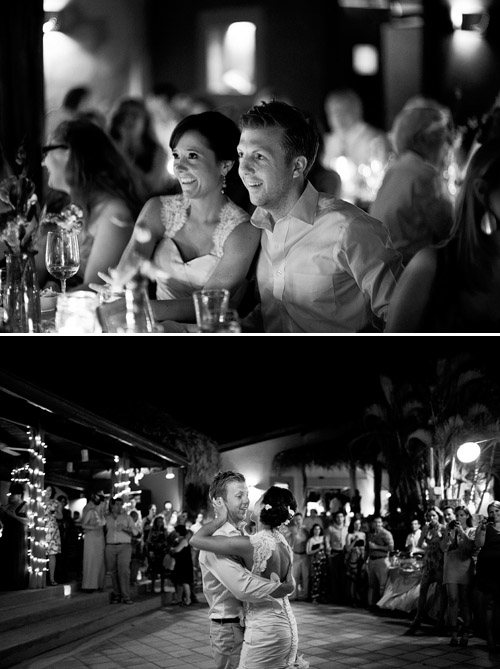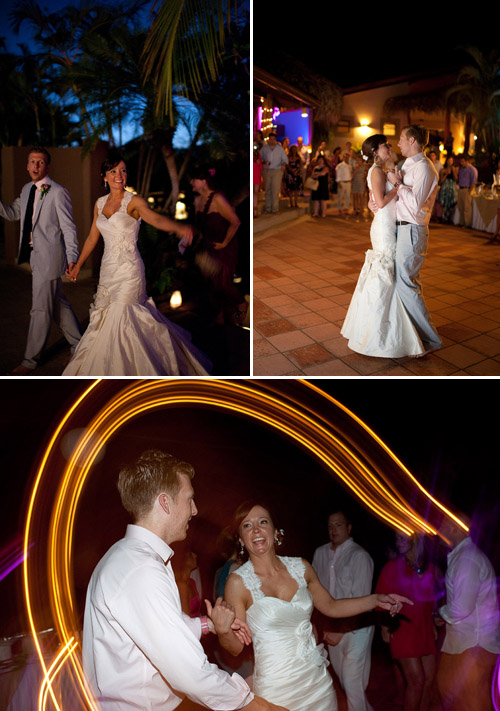 The Wedding Team:
Photographer: Julie Comfort of Comfort Studio
Event Planner: Aimee Monihan and Alessandra Silveira – Tropical Occasions
Ceremony/Reception Venue: Cala Luna Hotel and Villas
Officiant: Groom's Aunt – Bonnie Mallin
Catering: Cala Luna
Florist: Laura Sanchez – Stylosy Flores
Wedding Dress: Martina Liana
Bridal Accessories: Earrings – Tashka by Beatrice at Urban Details, Shoes – Christian Louboutin
Bridesmaids' Apparel and Accessories: Anthropologie
Groom and Groomsmen Apparel and Accessories: J.Crew and Vineyard Vines
Hair and Make-up: Diego Alfarro
DJ: Stephen Denton
Transportation: 3 Monkies
Favors: Costa Rica gift bags – Tropical Occassions
Rentals: Cabo Luna Event Rentals
Rings: Spring Lake Jewelers
Leigh and Brian, your luxurious Costa Rica wedding is absolutely breathtaking! Thank you so much for sharing it with us!
To learn more about wedding professionals from across the world, check out our World's Best Planners & Designers library!