There is something about a snowy winter wedding that is so very timeless and magical! Set at the wintery white Fairmont Banff Springs, Megan and Eric's wedding was the picture of fairytale. After a traditional candlelit ceremony, the couple spent time in the gorgeous landscape of Banff with photographer Gabe McClintock before heading into a reception decorated with glittering metallics and glowing with the warmth of their loved ones.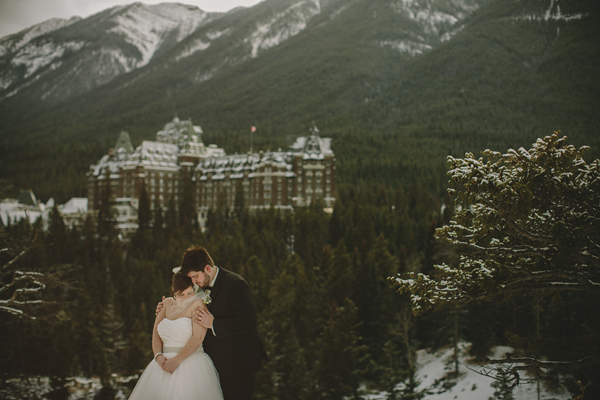 The Couple: Megan and Eric
The Wedding: 11.16.13 – Fairmont Banff Springs, Banff, Alberta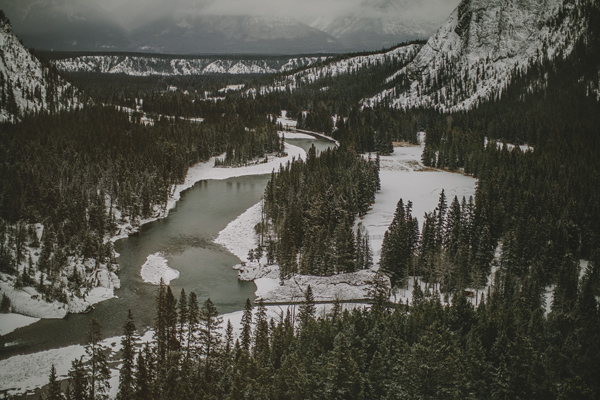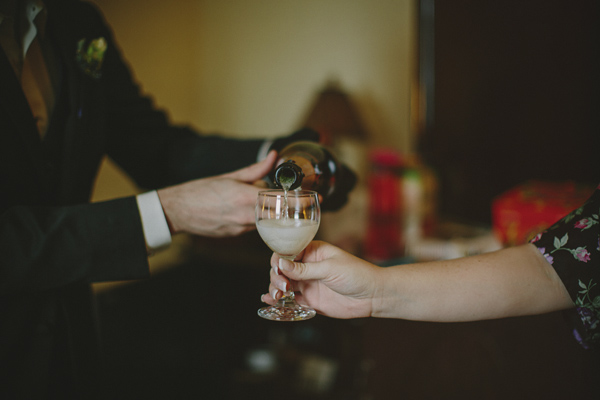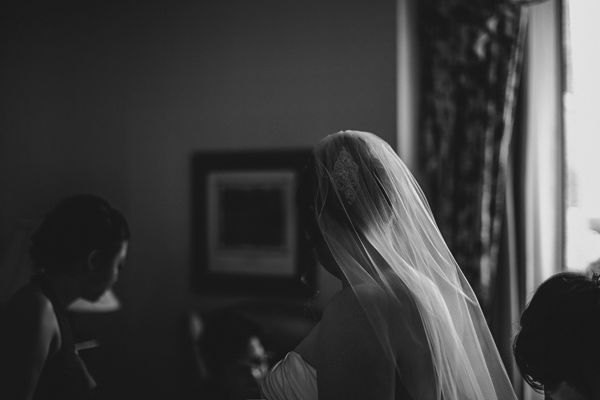 The Goals: We wanted a sumptuous winter wedding. Being from Alberta, with the mountains so close, Banff was a natural choice. We wanted our wedding to exude a classic elegance, and we wanted our guests to go "wow" when they walked in.
The Moments: Eric – It's somewhat of a cliche, but my favourite part of the day was seeing Megan for the first time in her dress. She had been so excited to wear it for almost a year and it was well worth the wait. She was stunning and took my breath away.
Another moment that stood out for me was when we entered the reception for the first time. Our guests went wild and gave us a standing ovation. It completely caught us off guard, but we managed to pause for a few moments and take it all in, which was well worth it.
Megan – I had major butterflies before the ceremony. While I was getting ready with the bridesmaids, the groomsmen showed up to our room with a delivery of champagne, and a wooden jewelry box and letter from Eric to me. Being able to read Eric's thoughtful words and know he was thinking about me was a wonderful moment and it just helped me calm down and remember the point of the whole day.
I also really loved our first dance as husband and wife; I was completely overwhelmed with love and happiness. I couldn't stop telling Eric, "I'm just so happy!"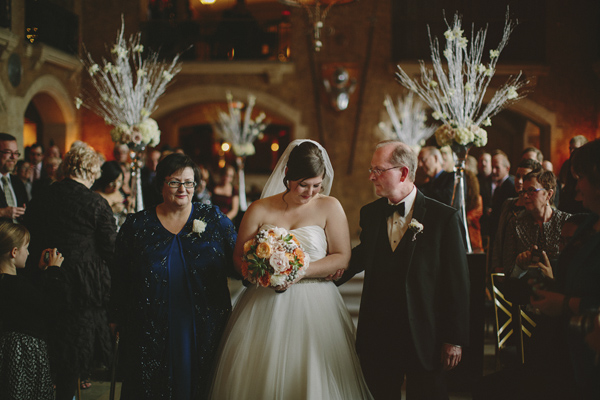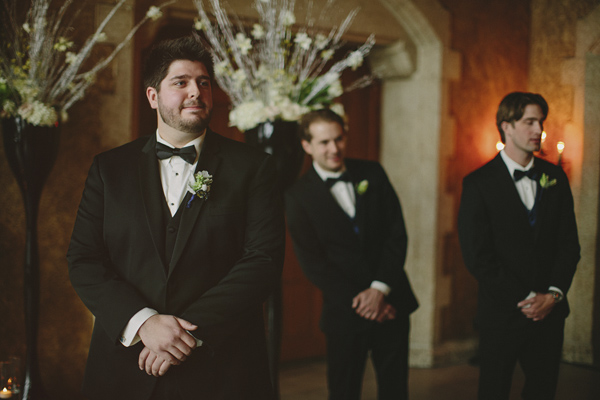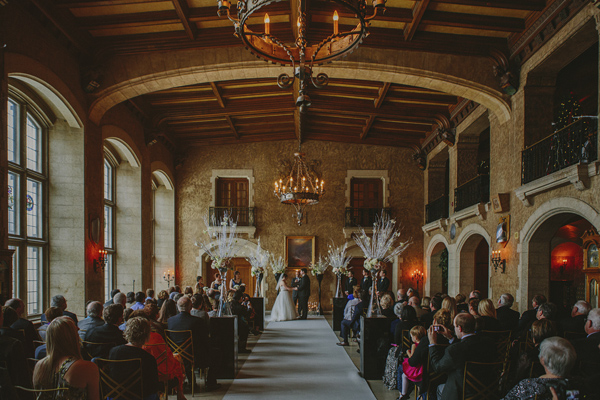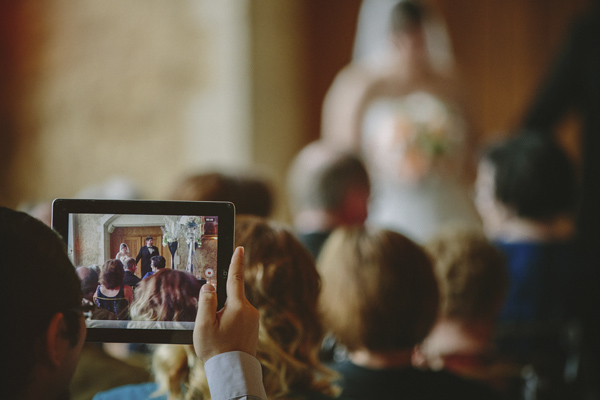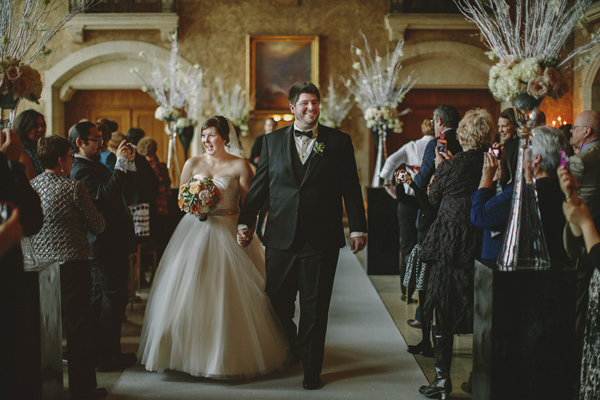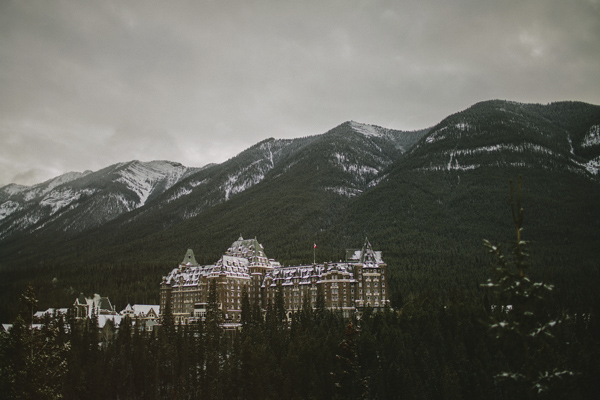 The Look: Again, we wanted the fashion to be elegant and timeless. I wanted to feel beautiful but I also wanted to be able to look back in 30 years and still think we looked great. With that in mind, we tried to pick classic looks that will age well.
I knew from the beginning that an A-line dress would probably be the most flattering on me and I wanted to look romantic and beautiful; I also needed a dress that would match the venue and level of formality for the occasion. I found my dress on my first shopping trip with my mom and it was exactly what I was looking for — the tulle made it very romantic and a little fun, but it was simple enough to retain the sophisticated look I wanted as well. Since my dress was fairly simple, I was able to have some fun with my accessories. I added a pearl and crystal sash, as well as a sparkly bracelet and earrings, and an elbow length, single-layer, tulle veil to match my dress. All of my accessories came from Novelle Bridal.
As for Eric and the groomsmen, we wanted a sophisticated and somewhat traditional look and we achieved that with tuxedos from the Vera Wang Black line. We then added some individuality by having each groomsman wear different cufflinks and fun dress socks.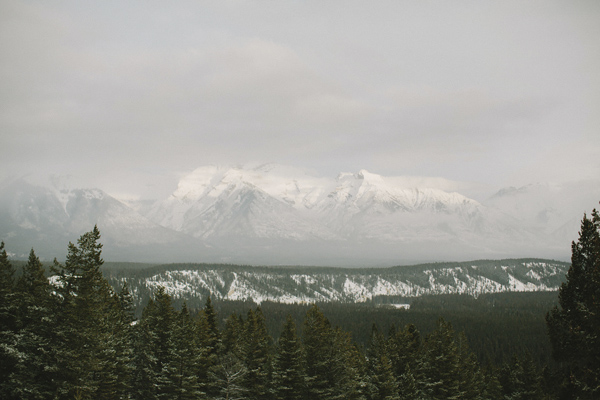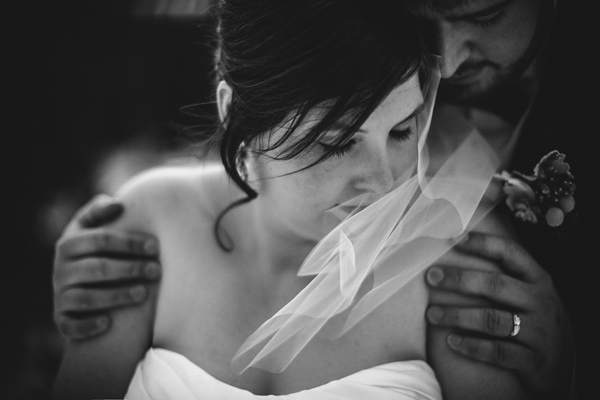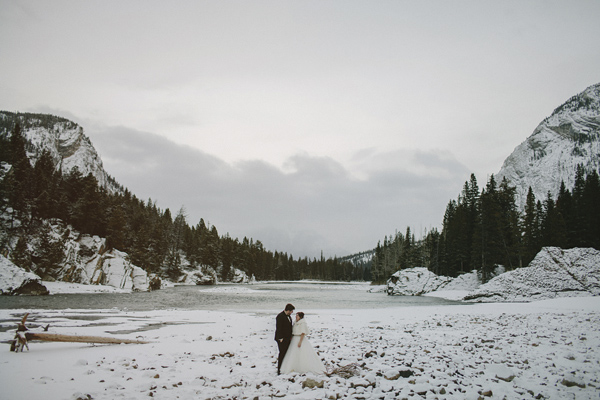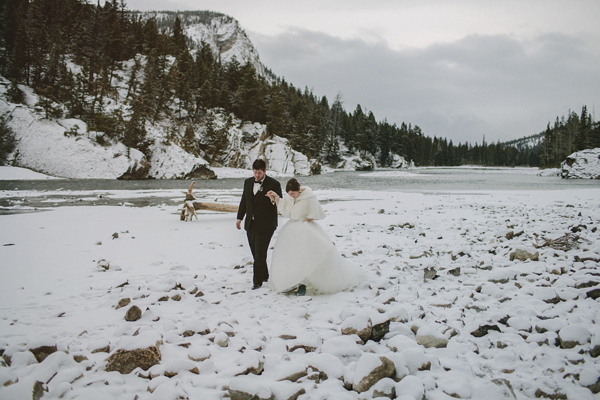 The Design: We were going for a classic winter wedding with a lot of sparkle, so all of our design elements incorporated metallics and warm pastel colours. We used metallics in everything from the invitation papers to the aisle runner to the table cloths, so the sparkly theme was carried throughout. We stuck to warm, romantic, and fairly neutral colours for almost everything else. We wanted the look to be elegant, beautiful, and memorable.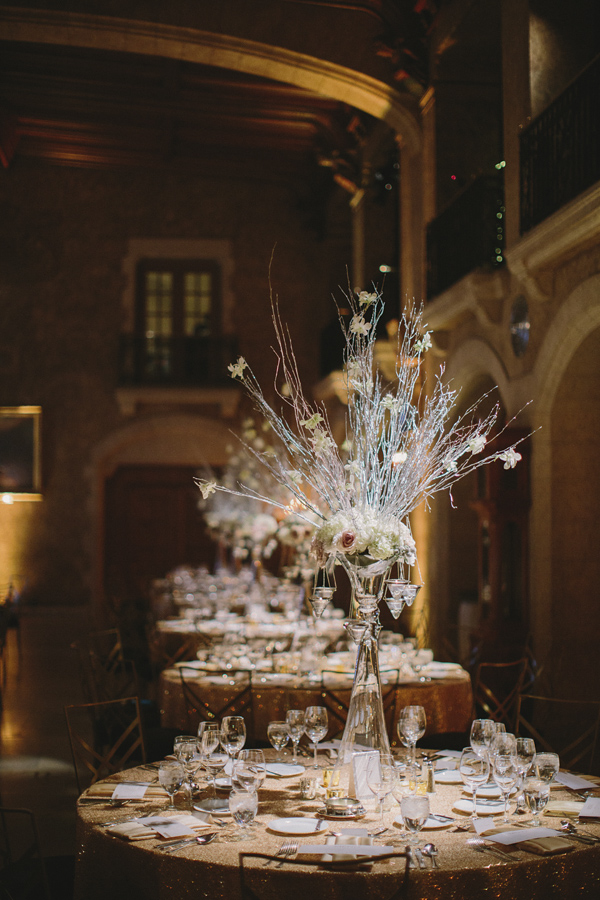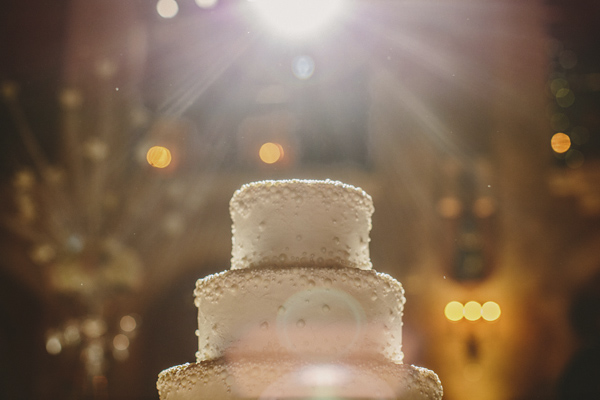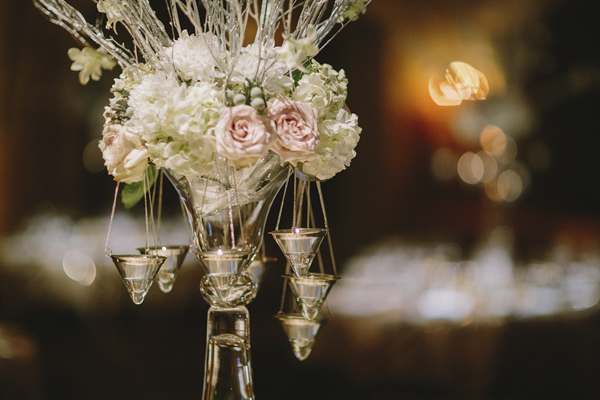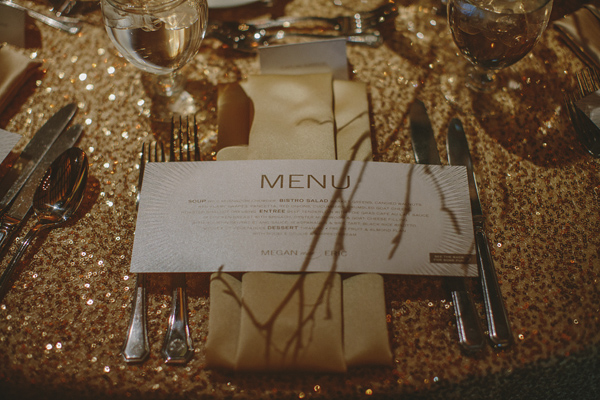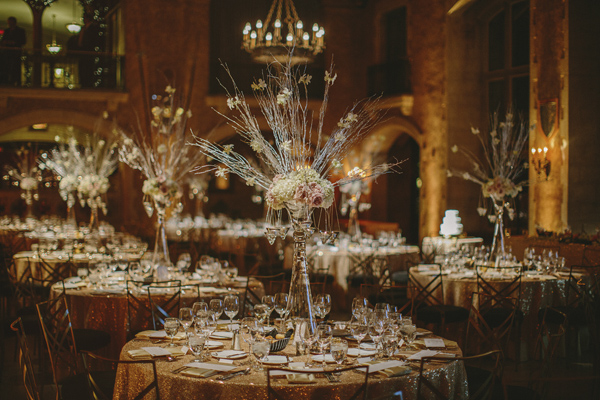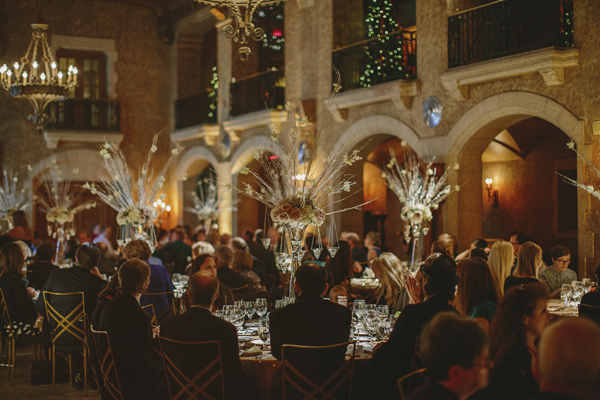 The Advice: Eric: Since Megan works full-time and I run my own business, we are very busy. Our wedding would never have been the success it was without our wedding planner. If you can afford it, I highly recommend you invest in some help with planning. On the day of your wedding you will be stress free since your planner and wedding party will be handling all the logistics. It's nice to be able to enjoy your wedding and not worry about details.
Some other advice I would offer is to "move slowly". Literally. Take your time when you walk from A to B, or give a speech. There's no need to rush and you'll be more relaxed and have more fun if you're able to just slow down and enjoy yourself.
Megan – Don't sweat the small stuff. Attention to detail is important, but there's no point in stressing yourself out over every tiny detail. When the day comes, you won't care about if you picked the perfect guest book or if the cake has three tiers or four; you will be too busy getting married and enjoying the day!
And I agree with Eric — try as much as possible to savor each moment because the day is over before you know it.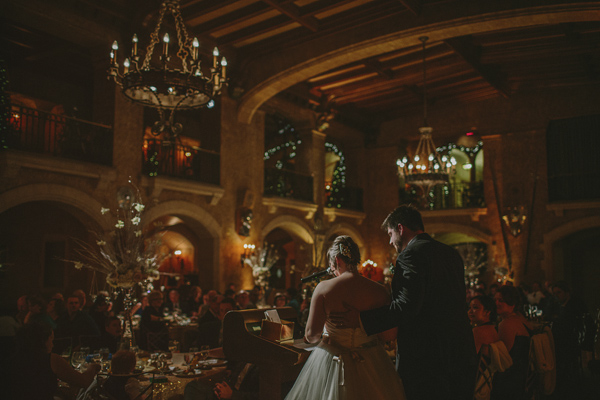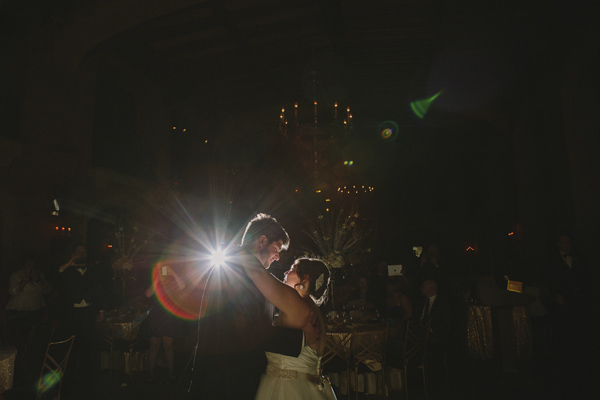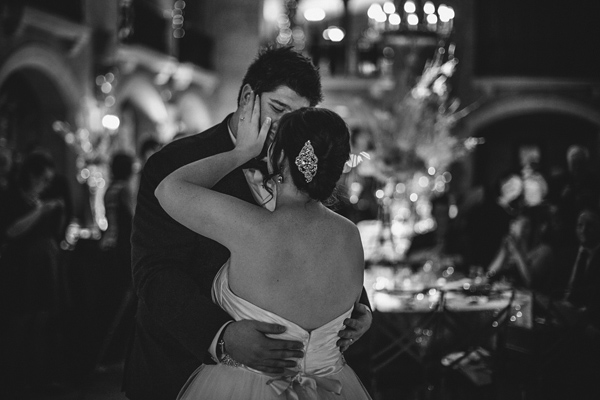 The Wedding Team:
Photographer: Gabe McClintock Photography
Event Planner: Jennifer Bergman from Jennifer Bergman Weddings
Ceremony & Reception Venue: Fairmont Banff Springs
Officiant: Klaus Ohlhoff
Invitation Designer: Pinkpolka Design
Catering: Fairmont Banff Springs
Florist: FaBLOOMosity
Cake: Cake Rhapsody
Wedding Dress: Allure Bridals #8957 from Novelle Bridal
Bridal Accessories: Jewelry – Novelle Bridal
Shoes: Doris Embellished Metallic Pump by Badgley Mischka from Lord's Shoes
Bridesmaids' Apparel & Accessories: Dresses – Alfred Sung from The Bridal & Tuxedo House
Groom's Apparel & Accessories: Tuxedos: Black by Vera Wang from Moores
Groomsmen's Apparel & Accessories: Black by Vera Wang from Moores
Hair & Makeup: Willow Stream Spa at the Fairmont Banff Springs
DJ: Banff Entertainment
Live Music: Music Mosaic
Transportation: Highland Executive Chauffeur
Favors: Jennifer Bergman from Jennifer Bergman Weddings
Rentals: Special Event Rentals Edmonton
Rings: Sirius Star from Ben Moss