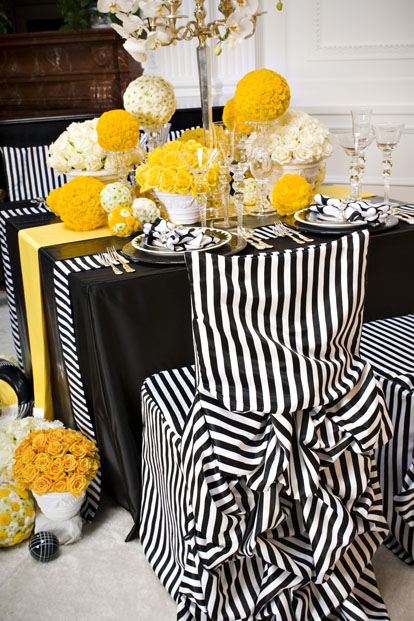 (Images from WildflowerLinens.com)
Wildflower Linens, one of the nations top special event linen rental businesses, invited us to visit their showroom in Los Angeles and from the moment we stepped through their doors we were nothing short of blown away! Young Martin, Wildflower's owner, began her career as a fashion designer. When she transitioned her work into tabletop linens she truly transformed the industry. Young approaches her linen designs just as she would fashion. Each season brings a new collection with a theme, a color palette and a visual cohesiveness. She incorporates the highest quality fabrics, many hand beaded and embroidered, and thinks ahead to the trends she wants to set for the future, not ones that already exist in the marketplace.
Whether you're interested in a wedding color palette of rich, creamy and warm hues…



(Images from WildflowerLinens.com
…or bold, bright and daring combinations, Wildflower Linens has tabletop decor like nothing you've ever seen before.


(Images from WildflowerLinens.com)
Inside the showroom we were incredibly impressed by the impeccably organized displays that showed off each individual fabric, while at the same time inspired creative exploration. Our brains were crackling with ideas for color combinations and themes! And the ties to fashion were evident everywhere you looked, but especially in the ruffled, layered, corseted and perfectly tailored chair covers. Amazing!

Just steps away from the beautiful showroom, we entered another world; their massive warehouse that literally took our breath away! With huge work areas for their highly skilled in house tailors, an incredible organizational system, eco-friendly dry cleaning capabilities, industrial irons and steamers, and rack upon rack of linens it was a sight to behold.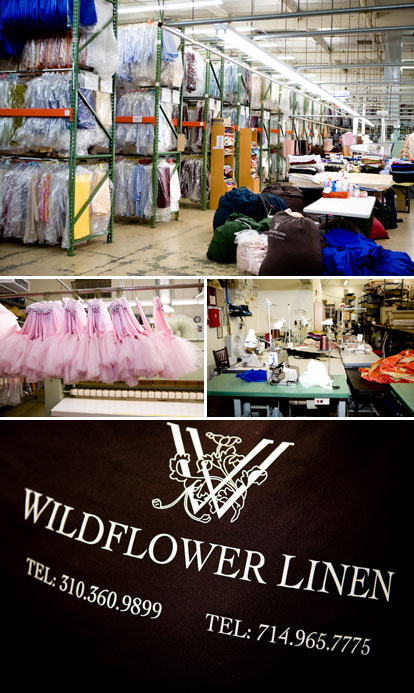 Young and her hard working staff were so helpful and welcoming I can't imagine it would be anything but a joy to work with them on a wedding. Luckily for all of us, Wildflower Linens can ship their products anywhere, and are more than happy to work with both wedding coordinators and independent brides to come up with the perfect table scape for any size event and budget. Check out their website for contact information or to schedule an appointment at one of their three California showrooms, and take a peek at their blog to find out what genius things Young and her team are working on next!