San Juan Island's Roche Harbor Resort is a hidden treasure of the Pacific Northwest for vacations, family gatherings and the most charming of weddings, and we're thrilled to say that they are donating an incredible get-away package to the live auction at Thursday night's Get Hitched Give Hope Gala! (Tickets are on sale now! Go get yours and then come party with the Junebug crew for a great cause on Thursday!)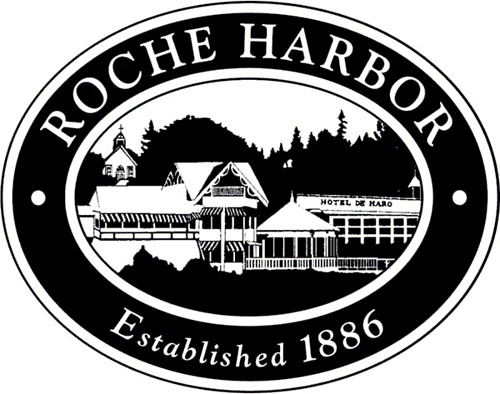 What you could win at Get Hitched Give Hope:
A Northwest Honeymoon Getaway at Roche Harbor Resort on award-winning San Juan Island – Five nights in a deluxe, waterview bluff suite, two dinner experiences in their McMillin's Dining Room, two couple's retreats in their Afterglow Spa, and a honeymoon welcome basket filled with Northwest wine each night, gourmet cheeses, cut flowers, local smoked salmon and fresh berries. A package valued at $4,240. Wow!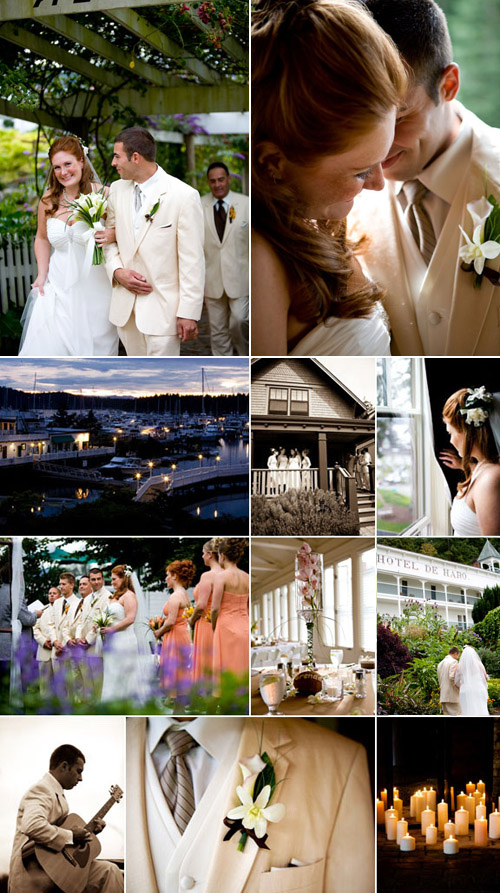 (Roche Harbor, San Juan Island wedding photos above by La Vie Photography)
Roche Harbor Resort's service is unparalleled and unpretentious, and the feeling of being on a closely knit island spills over into every experience you have there. It's the oldest operating hotel in the state of Washington, and the second oldest business, so historic charm abounds every where you look in this seaside village. Often called a "natural playground," there is no end to the beauty of the surrounding landscape or the opportunities for fun! You can swim in their outdoor heated pool, rent mopeds, hike trails, roast marshmallows in one of the many fireplaces or fire pits, or spend time on the water discovering the vast community of local sea lions, otters, and whales!
Roche Harbor Resort is ideal for destination wedding celebrations because they have ample accommodations and activities of all kinds for your guests. They offer unique ceremony and reception spaces, amazingly personalized service, and catering that's out of this world.


(Roche Harbor, San Juan Island wedding photos above by F7 Photography)
Part of the Junebug team recently got to spend a weekend away as guests at Roche Harbor Resort, and here's what our own Blair and Sydnor had to say about their experiences…
"I'm head over heels for the spectacular scenery and charming staff at Roche Harbor Resort, and my first trip will no doubt be one in a series. With accommodations ranging from family weekend cabins to extraordinary luxury homes, and a gourmet menu of comfort food to-die-for, Roche Harbor belongs on the list of every discerning traveler from the Pacific Northwest and around the world." – Blair
"Sam Jacobson the Lodging Director and Bill Shaw the Executive Chef are incredibly awesome – what a great team to have for your wedding! There's no doubt they work hard to give the best service – every interaction I had with them was unpretentious and very caring." – Sydnor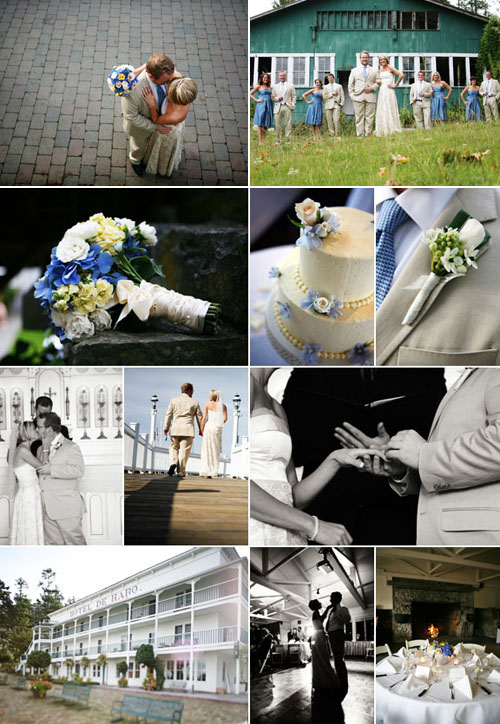 (Roche Harbor, San Juan Island wedding photos above by Riso Studio)
You can learn more about all the wedding and travel possibilities at Roche Harbor Resort on their website, and if you're in the Seattle area, be sure to come join us and the Roche Harbor staff this Thursday, October 28th, at Get Hitched Give Hope where you can "get gorgeous goods while giving back!"