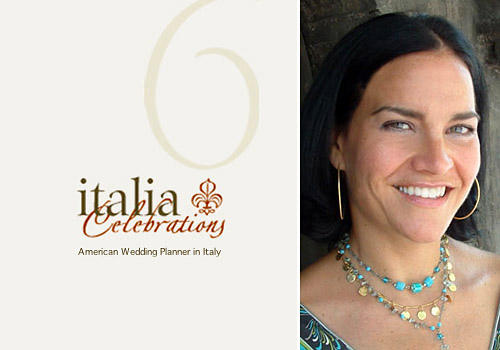 With a long history of working in the wedding and fashion industries, Brenda Babcock of Italia Celebrations has translated her talents, skills and detailed understanding of weddings into an impressive career creating spectacular celebrations for couples throughout Italy. She knows the region inside and out, and lives to share the beauty, culture and magic of her adopted country with all those looking to experience the charm and elegance of Italy on their wedding day. Blair got to speak with Brenda recently about what destination weddings in Italy are all about, and we're excited to get to share her experiences with you today…

(Rome castle on a lake wedding photos by Francesco DeTito Photography)
Junebug: Tell us a little bit about your background and how you got into wedding planning.
Brenda: I worked in NYC in high fashion for 15 years at both Chanel and Vera Wang. I got into the wedding business really because of Vera. I knew her before she started her business when she was a couture designer at Ralph Lauren. Then one day she called me and said that she was starting her own wedding dress business and that I had to come work for her. I told her that I worked in high fashion and didn't know anything about wedding dresses and she said that she planned to make wedding dresses high fashion. After eight years at Vera Wang and as the Vice President of her retail division I decided that I needed a new challenge. I resigned my job there to take three months off to live in Italy and learn to speak Italian. The dollar was really strong in 2000 and I could rent out my apartment in NYC and live off of the proceeds, and so I did. Three months became five months, eight months and now eleven years! In 2003 I met up with an American woman who had been one of the earliest wedding planners in Italy and we joined forces. After a few months she moved back to the US and I set myself up on my own. So the answer would be serendipity.
Junebug: What do you love most about your job?
Brenda: Many things. Over the years I have had wonderful clients and I got to work with them during one of the most joyful periods of their lives. I love to ferret out the best of everything – locations, food, wines, service, value per dollar, and then to share that knowledge with those around me. Wedding planning plays to three of my strong suits – fastidious organization, problem solving and project management. I get to travel throughout Italy and to private locations where one would normally not have the opportunity to visit. All my life I have been the type to wonder what is behind that wall? Over that fence? Hidden from view? And now I get to see it and sometimes even throw a party there. I really love color and combining colors in a way that thrills me – rarely has ribbon given anyone so much pleasure. And…I love Italy and can't wait to share it with others.


(Ravello, Italy wedding photos by Joanne Dunn Photography)
Junebug: As one of the leading wedding planners in Italy, what advice do you have for couples from outside the country looking to plan a destination wedding?
Brenda: Italy is tough, it has a steep learning curve. The mentality is very different from our American mentality and so it takes years to figure out how to work with and around the system. You want to have an expert hand at the wheel, particularly when things go wrong. And in Italy that is frequently. Italy is about the dolce vita. Slow down, take time to appreciate what is around you and not just the monuments. I consider one of the most important aspects of my job to be location selection. Not just a great location but one that fits your wedding and budget like a glove.
Junebug: Can you share five locations in Italy that every visitor should know about?
Brenda:
The "Scavi" underground tour below St. Peter's Basilica
Castello Aragonese on the island of Ischia
Swimming in the Mediterranean sea, preferably on the west coast off of Calabria or Sardegna
Lake Como – Bellagio and Villa Balbianello
The Cinque Terre


(Wedding ceremony at the Vatican in Rome)
Junebug: If you wanted to buy a bridal gown and shoes in Italy, where are some of the places that you would go?
Brenda: Honestly, I wouldn't. I strongly believe that you should buy your wedding dress near to where you live. Nothing is less attractive than an ill-fitting dress. An excellent fit is achieved through multiple fittings and that always takes time. That said, the wedding dress designer Peter Langner lives and has his workroom in Rome. As for shoes, the most outrageously feminine, jaw-dropping shoes I have ever seen are from a Venetian shoemaker named Renè Caovilla.
Junebug: How can couples add Italian culture and style to their wedding. (Food, decor, traditions etc…)
Brenda: By getting married in Italy ;-) Italian culture is thriving in America these days and food is an essential part of the culture. Find an Italian bakery who can make mini Italian desserts and a Millefoglie traditional wedding cake for you.


(Tuscany, Italy wedding photos by Channing Johnson Photography)
Thank you so much for talking with us Brenda! And readers, if you're interested in a wedding in Italy, now you know who to call for a flawless event, rich with culture!