OK, I'll admit it. We've got boys on the brain this week at Junebug! We are so excited about our newest Fashion Report, The Groom – six sharp looks for the modern man, and just love sharing ideas about getting the guys all dressed up! Today I thought I'd address a common question that comes up during wedding season: how do you properly pin on those sweet little boutonnieres that your florist just delivered?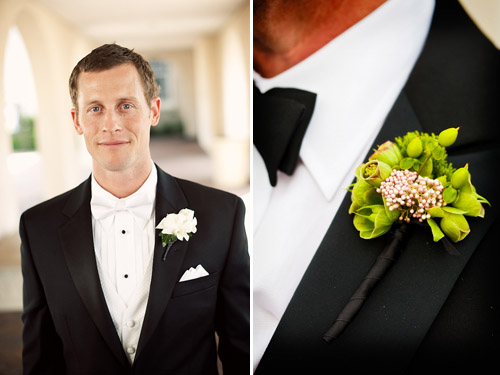 wedding boutonnieres – photos by (left) Adam Nyholt and (right) Holland Photo Arts
First, a little bit of history. The tradition began when men would place a single bloom through the buttonhole of their suit lapel to add a touch of color and style. There was a small loop at the back of the lapel to hold the stem in place. Across the pond, they still call a flower worn on a lapel a "buttonhole", while we've adopted the French term "boutonniere". Whatever you call them, lapel flowers are now usually a tiny cluster of stems that is pinned on. Usually only worn for formal occasions such as weddings, funerals, or proms today, they were often a daily part of getting dressed for men in earlier times!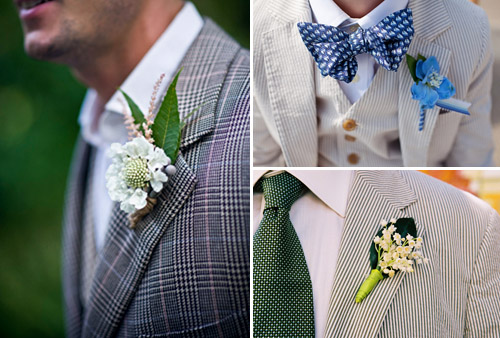 wedding boutonnieres – photos by (top) Tracey Buyce, (bottom) Yvette Roman, and (left) Harwell Photography
Today, a man's boutonniere should still be placed on his left lapel, the same side that the handkerchief pocket is on. (And yes! Men can wear a pocket square AND a boutonniere!) Boutonnieres are usually pinned on, with the flower pointing up and the stem running parallel to the direction of the lapel.
To pin a boutonniere on, insert one pin from the BACK of the lapel, pushing through the fabric to catch the stem portion of the boutonniere and then pushing back out toward the lapel back. Repeat with a second pin, also from the back of the lapel, making an X-shape with the two pins. This second pin is important because it prevents the boutonniere from flopping over as the day wears on. Ta-da! He's all set to wow with a fun accessory!

wedding boutonnieres – photos by (top) Allyson Magda and (bottom) La Vie Photography
Today's boutonnieres offer your guy the chance to make a personal statement. From formal white calla lilies or orchids, modern ranunculus and grasses in wild colors, to unusual materials such as buttons, ribbons, antique trinkets or mementos, they offer men a chance to show their love for a certain look, interest, or memory. I've even seen them out of wine corks, scrabble pieces, computer parts, and remnants of vintage baseballs!

orange boutonnieres – photos by (top) Jillian Mitchell and (bottom) Kenny Nakai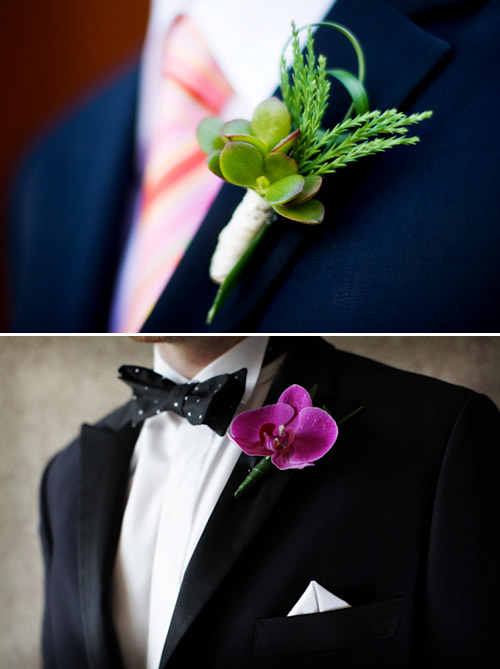 wedding boutonnieres – photos by (top) Stephanie Cristalli and (bottom) Chris + Lynn
Be sure to check out all of the gorgeous boutonnieres, and head-to-toe fashion ideas for men, in our new Fashion Report, The Groom – six sharp looks for the modern man!