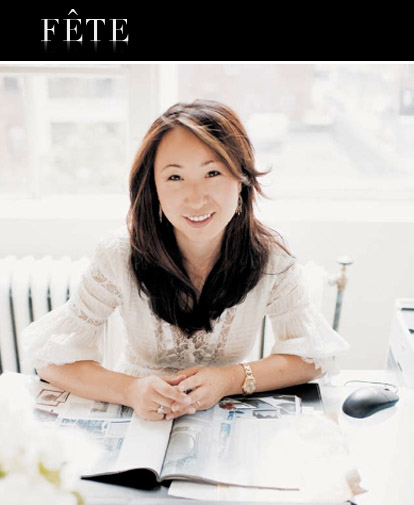 Fête, the dynamic New York City event planning and design production firm led by Jung Lee and Josh Brooks, and responsible for the gorgeous book Fête: The Wedding Experience, has recently relaunched their website and it is a sight to see! Filled to the brim with inspiration and eye candy of the most opulent and over-the-top events, you could really get lost oohing and ahhing for hours. Jung and her team design weddings that seem bigger than life, but are thoughtfully produced down to the smallest detail. As you click through her design portfolio, events gallery and blog, pay special attention to the tablescapes and dining arrangements- I love the way most of their receptions are centered around dining beautifully!
To get you started, here are two weddings at opposite ends of the design spectrum that both have that signature Fête feel. A sophisticated and elegant Southern rehearsal dinner, ceremony and reception in black, white, lemon yellow and green…

And a theatrical bohemian glam wedding, downtown New York City, filled with rich jewel tones and candle light…

For much, much more wedding inspiration, visit www.FeteNY.com, and check out Fête's new reality TV show on TLC, Wedded to Perfection.