Last night was one of my favorite nights of the year, the Super Bowl of all awards shows, the 80th annual Academy Awards. I think it's fun because I'm a big fan of movies, but also (mostly) because of the lovely ladies in fabulous fashion! If I had to choose between watching the red carpet coverage and the actual awards show, well, I'd have a hard time choosing! This year there weren't many white or cream wedding reminiscent dresses, but there were quite a few pretty hairstyles that could absolutely be wedding worthy…
Loads of women like Jennifer Garner, Cate Blanchett, Ellen Page and Cameron Diaz wore their hair pulled back in a loose, side swept, low chignon or pony tail with face framing waves. Side parts are generally universally flattering, so this is an easy wedding hairstyle for anyone to wear and love.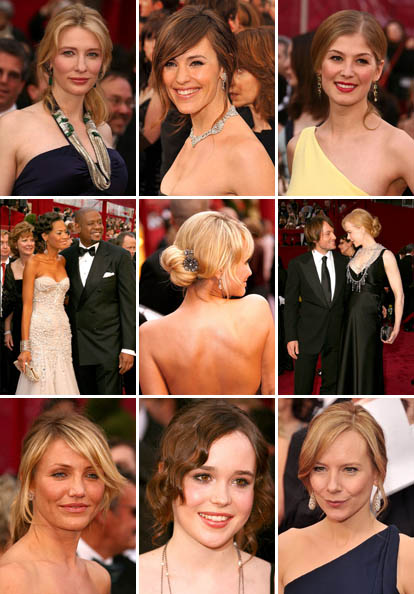 Other starlets like Heidi Klum, Keri Russell and Hilary Swank wore more traditional, glamorous up-dos with their hair pulled back off their faces. Jessica Alba added texture by incorporating braids into her hairstyle, and Anne Hathaway had fun with a style that looked super classic from the front, but was actually more of a playful pony tail from the side.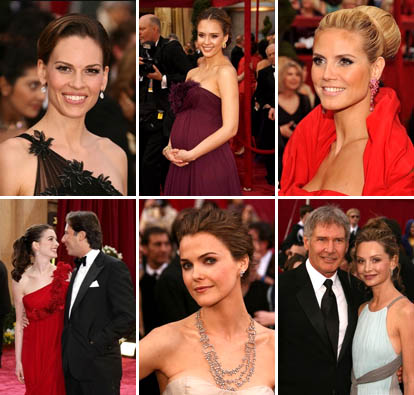 Many other ladies wore their hair down, either in old-Hollywood style waves like Marion Cotillard and Amy Adams, in a simple shorter cut like Laura Linney, Diablo Cody and Katherine Heigl, or partially pulled back with lots of soft cascading curls like Penelope Cruz and Kelly Preston. Love it! How are you wearing your hair for your wedding?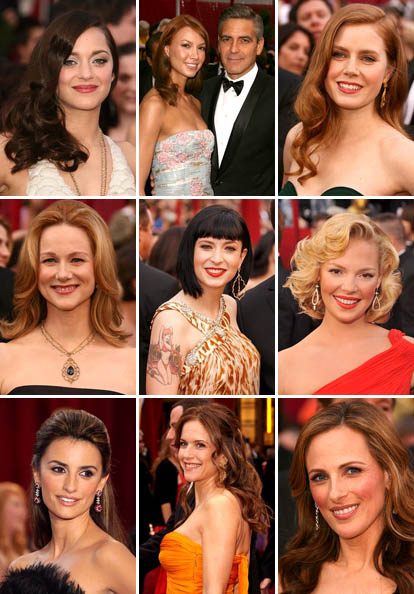 All images from Yahoo Movies Academy Awards coverage