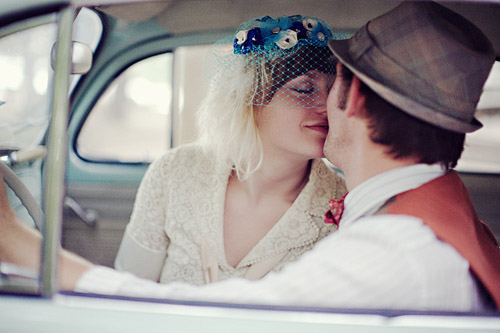 Today's vintage summer camp inspired wedding of Jamie and Neil is perfect for a sunny August afternoon! This super creative couple hosted a wedding that was totally fun-loving and filled with personal details, and most importantly allowed them to spend lots of time with the people they love. Kat Braman, one on our wonderful Junebug member photographers was on hand to document all the fun after Jamie and Neil won a contest on the blog Rock n Roll Bride awarding them her services. What Luck! Read on to learn more about this totally unique wedding, straight from the couple themselves…

When you imagined your wedding day, what was most important to you? Since our friends and family are scattered about the United States and Canada, we were so jazzed about the opportunity to bring all the people we love the most together in the same place at the same time. Tops on our list was scheming a way to maximize the amount of time we had to share with these lovely folks. Hands down our best decision was to spend the entire weekend celebrating!
Tell us about where you chose to hold your ceremony and reception? Our wedding weekend was held at YMCA Camp Pendalouan, a camp I attended as a Girl Scout in elementary school. We had about 40 guests spend the entire weekend in the bunks with us, and just over 100 attended the wedding festivities. Our ceremony was held at an outdoor chapel along the shore of Big Blue Lake. We love outdoor adventures and wouldn't have had our wedding be anything but!
What three adjectives describe your wedding best? Blessed. Blessed by hard-working and thoughtful friends and family who did so much hard work to help us make that camp just perfect! Hysterical. From our best mates doing double dutch with the bunting banners as they helped to hang them, to all our guests donning moustaches, to midnight paddle boat rides. The entire weekend felt light-hearted and full of laughter. Casual. Everyone was just themselves which is exactly what we wanted. It was great to look out and see people paddle boating in the lake or sitting on the dock and just casually enjoying the weekend.

Did you have a theme for your wedding and reception? Our theme was camp-inspired and nostalgic. We had our good friend Talls create a campy family "crest" for us inspired by all the things we love to do. We had the crest screen-printed onto t-shirts that we all tie-dyed at the welcome dinner on Friday night, and also onto the flag that we raised after the parade following the ceremony. We incorporated Neil's vintage camera collection and my mom's vintage blue bottle collection., various pieces of typographical art from our home, and my vintage VW bug that was a gift from my father shortly before he passed away. For wedding colors we didn't discriminate and pretty much used them all! We focused more on incorporating sentimental and personal objects rather than on a color story. Our invitations were inspired by our love of kayaking. We tried to incorporate a camp sort of feel and communicate the rustic nature of this nuptial adventure! We Gocco printed them onto the backs of used notepads from around the office. Our favors were simple, moustaches! It was hilarious to see all our guests exploring camp donning sweet staches!
What was your personal bridal style, and the fashion style for the whole wedding party, and what inspired it? My bridal style was inspired by the 20s and 30s. Years ago I found my dress in an adorable little French-inspired market for $15. I couldn't pass it up! A friend from work gave it a little love and some cuffs, my hat was designed by my dear friend Daisy of Pixel & Hank, and I added the floral tights at the last minute for some additional texture and color. The wedding party chose their own attire after being presented with a loose inspiration from the 30s and 40s and a specific color to incorporate. I loved that their individual personalities shined through in their selections.

What moments stand out to you most when you look back on the day? My favorite moment was during the ceremony when the officiant, Joel, was reading and we got to look out into the crowd and feel the love of so many wonderful friends and family members. What an awesome feeling! Our friends in the band Twice Since Yesterday learned the Cat Stevens song Can't Keep It In for us to walk down the aisle to. Since Neil and I first started dating we have listened to Cat Stevens every Sunday morning while we enjoy our coffee so it was just perfect to have one of our favorite songs played just for us. During the reception we opted for a bonfire in lieu of dancing. We had a great acoustic musician play and everyone enjoyed s'mores and smudgie pies around a fire that could be seen from space!

To learn about the full wedding team who helped bring this wedding to life, be sure to visit Jamie and Neil's page in our Real Wedding Library! You can also see more of Jamie and Neil's wedding on Kat Braman's blog and on Rock n Roll Bride.
To plan your own Southern California or Seattle area wedding, browse our Plan Your Wedding Hotlists! And to find a dream wedding photographer for your wedding anywhere in the world, be sure to check out Junebug's World's Best Wedding Photographers Hotlist!