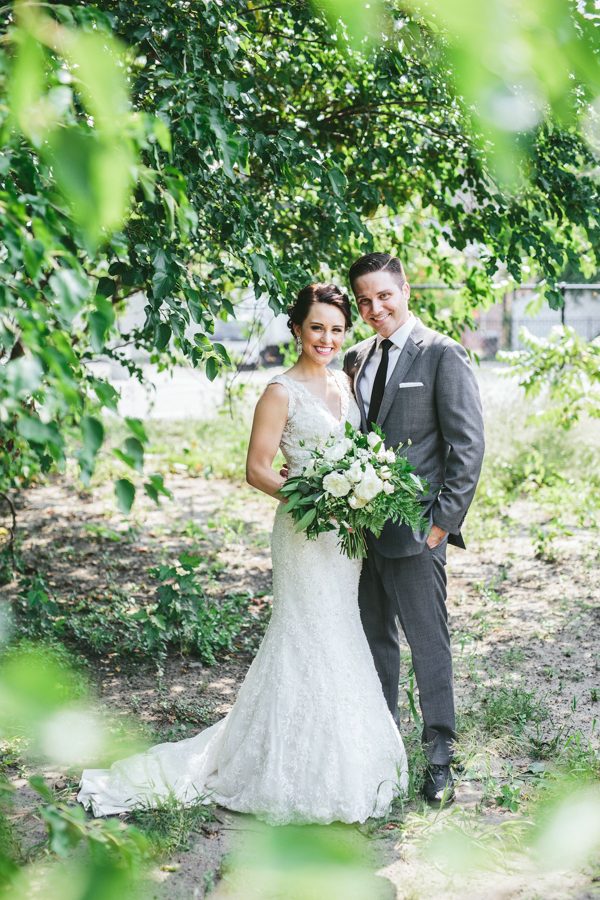 Brittney and Dave's Minneapolis wedding had a chic forested take on urban sophistication! Floral designer Ashley Fox Designs transformed the couple's industrial venue, Solar Arts Building, to a fairy tale space complete with a suspended aisle of greenery, tons of candles, and warm wooden accents. We love how the variety of ways photographer Brandon Werth captured Brittney and Dave's special day, including some creative double exposures and couple portrait collages!
The Couple:
Brittney and Dave
The Wedding:
Solar Arts Building, Minneapolis, Minnesota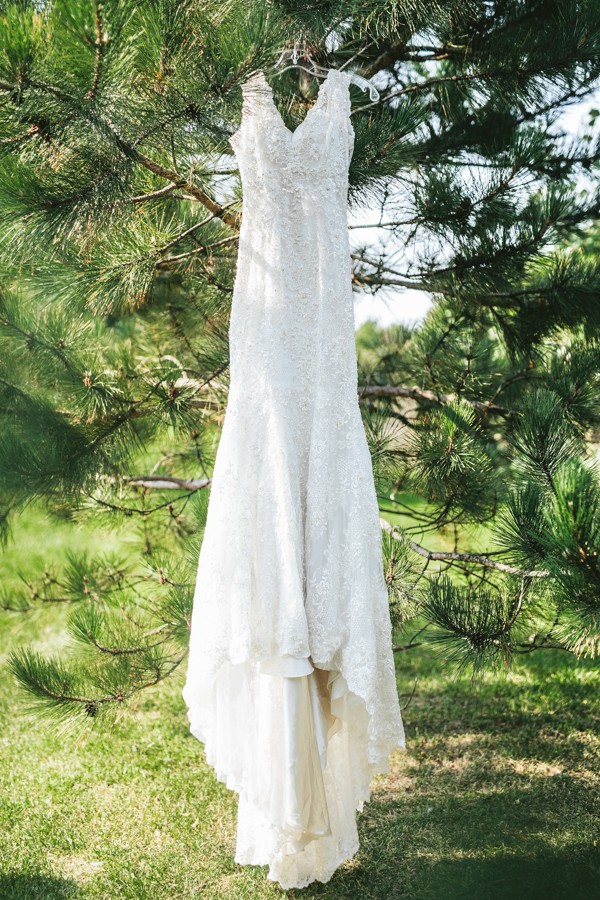 The most important thing to us in planning our wedding was making sure it was a fun and relaxing evening for our guests. We hosted our wedding in a place near and dear to our hearts, Minneapolis, which meant half of our guests were coming from out of town. So while it was a "local-destination" wedding, we wanted to make sure our guests felt comfortable and taken care of.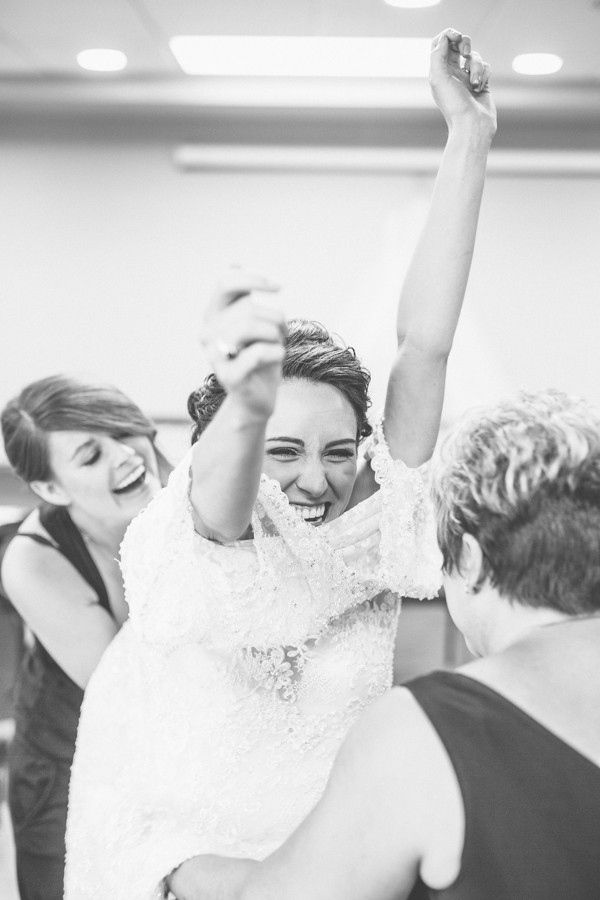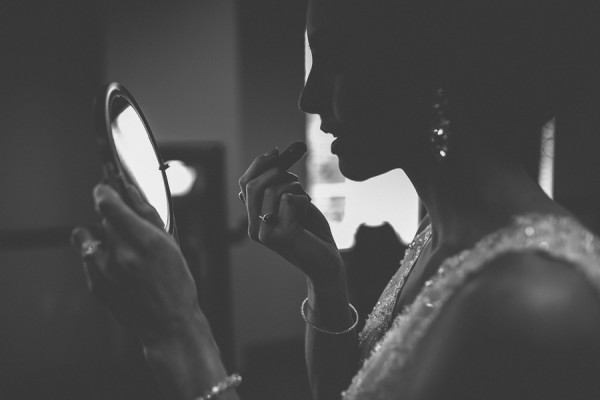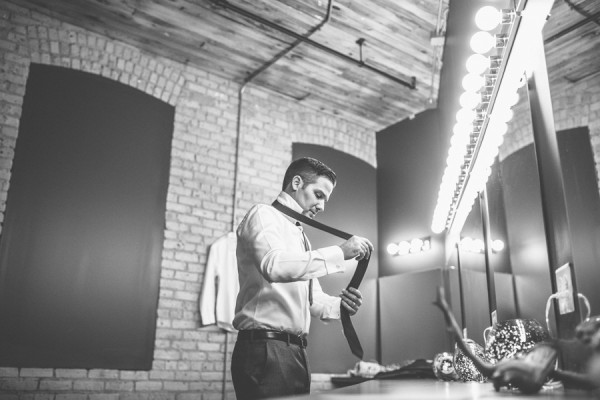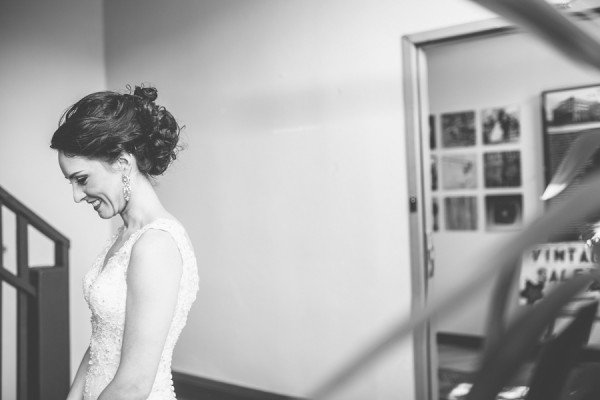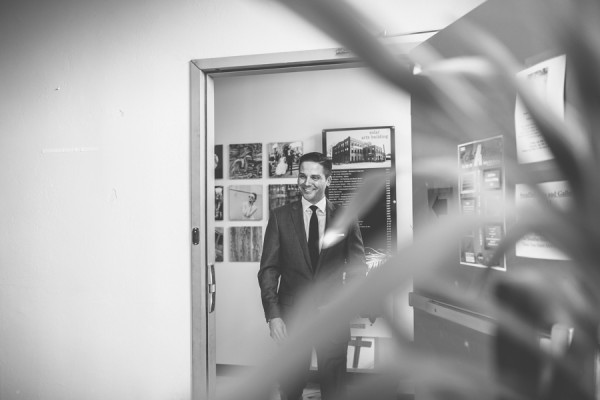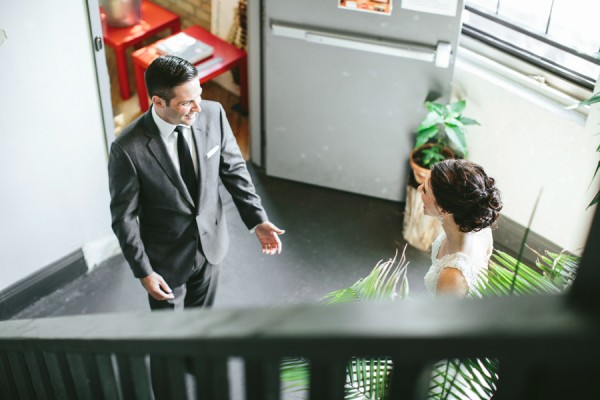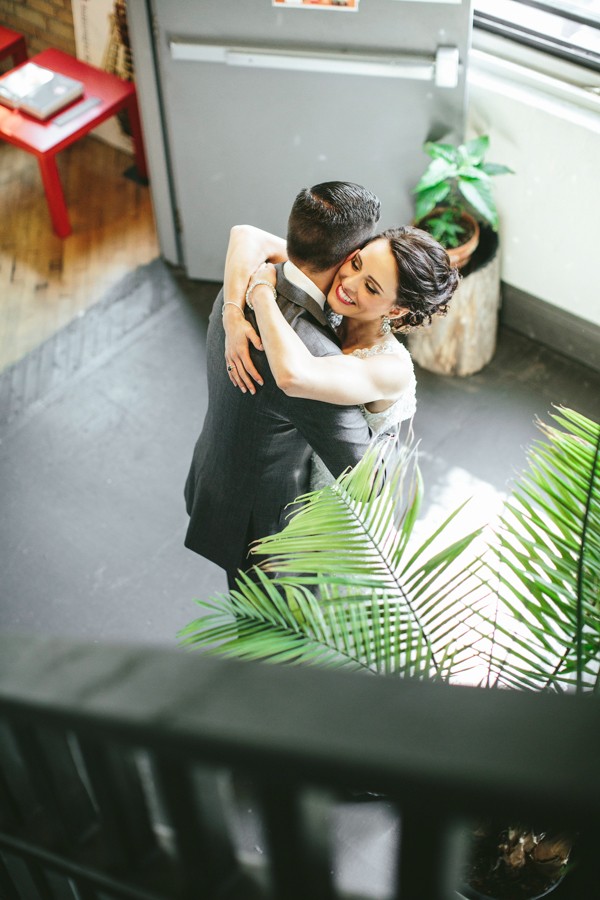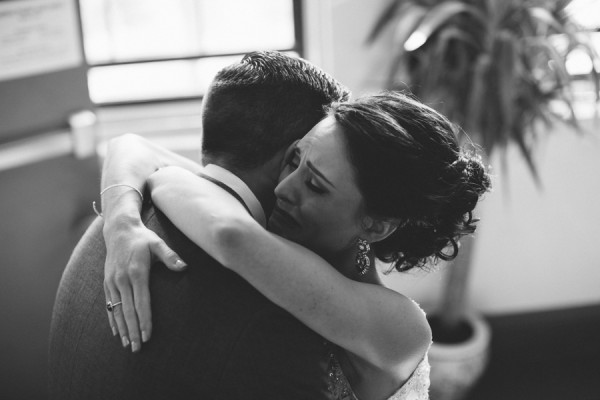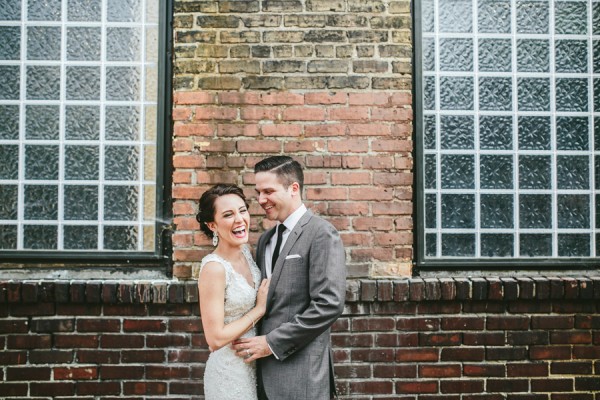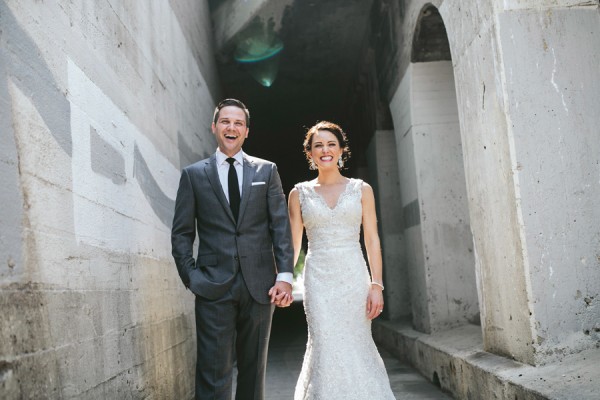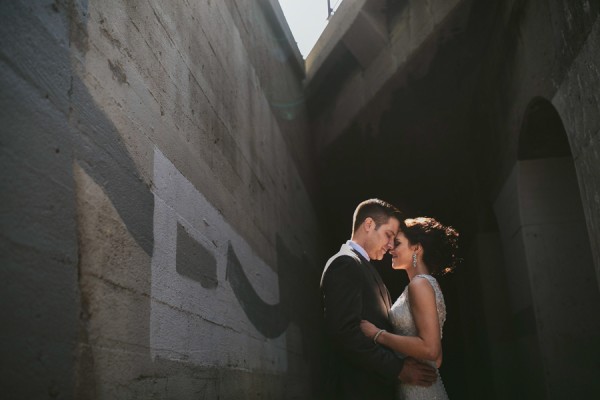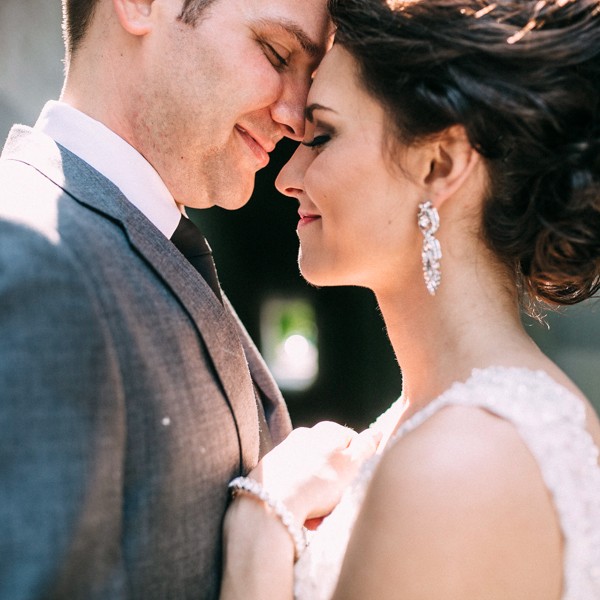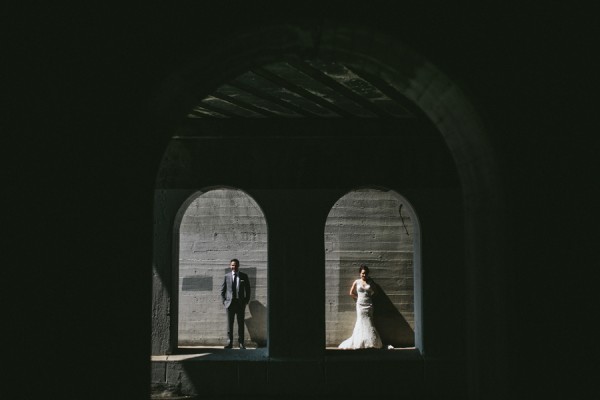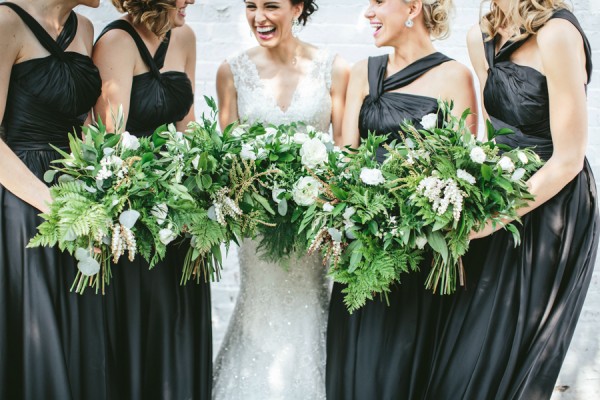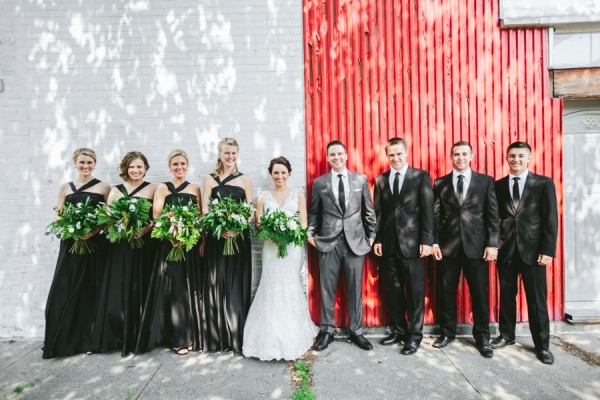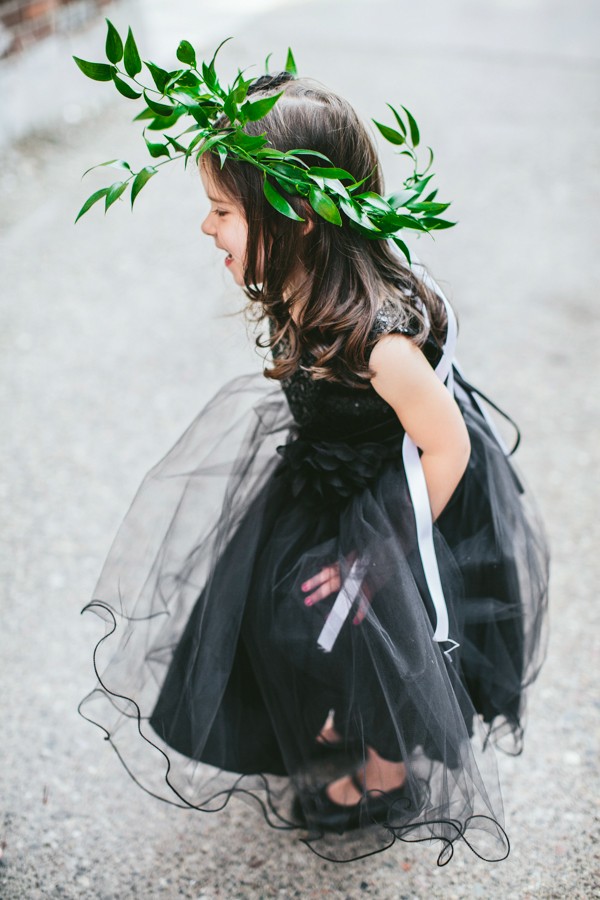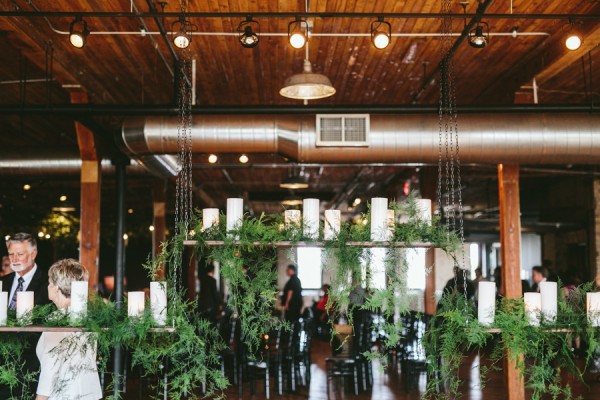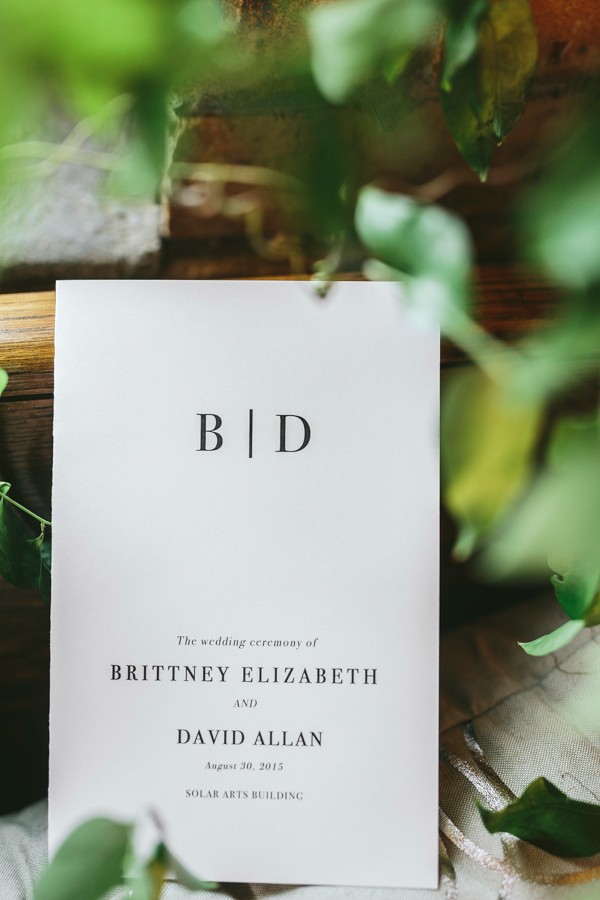 The most memorable part of our day was our ceremony. Both David and myself began planning our wedding knowing how important this part of our wedding was to us and while it was short, we made sure it was as meaningful to the two of us as possible. Everything from the music to our Pastor's beautiful homily truly still brings tears to my eyes. The floral display our florist, Ashley Fox Designs, created was designed with the center aisle in mind and she went above and beyond creating an aisle that I will always cherish as my "fairy tale" walk of a lifetime.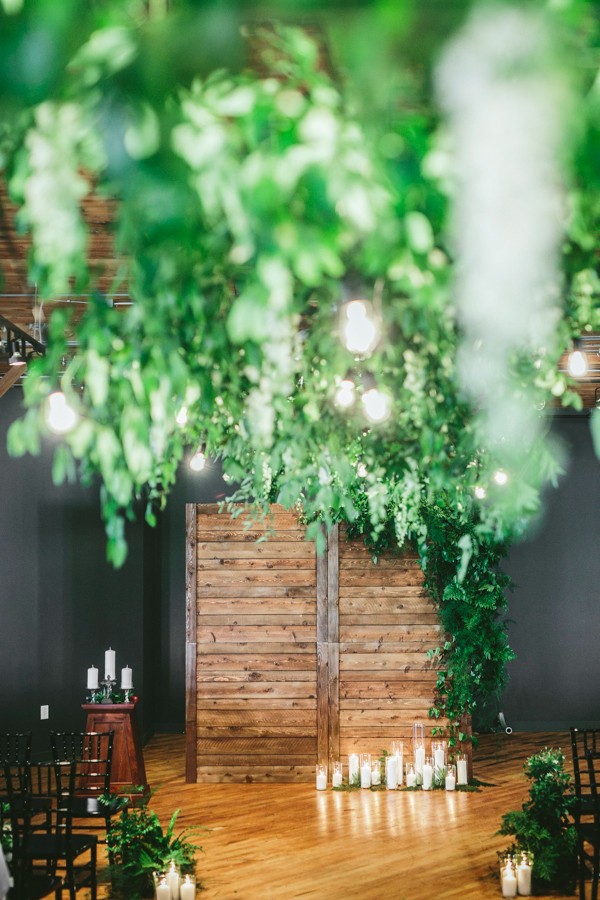 We DIY'd a few things for our wedding and even asked a few helping hands to assist us, as well. Our ceremony backdrop (which turned into our head table and photo booth backdrop) was created by my grandfather. We wanted to bring the woods into the city and he helped us by creating a stunning backdrop our florist adorned with gorgeous greenery.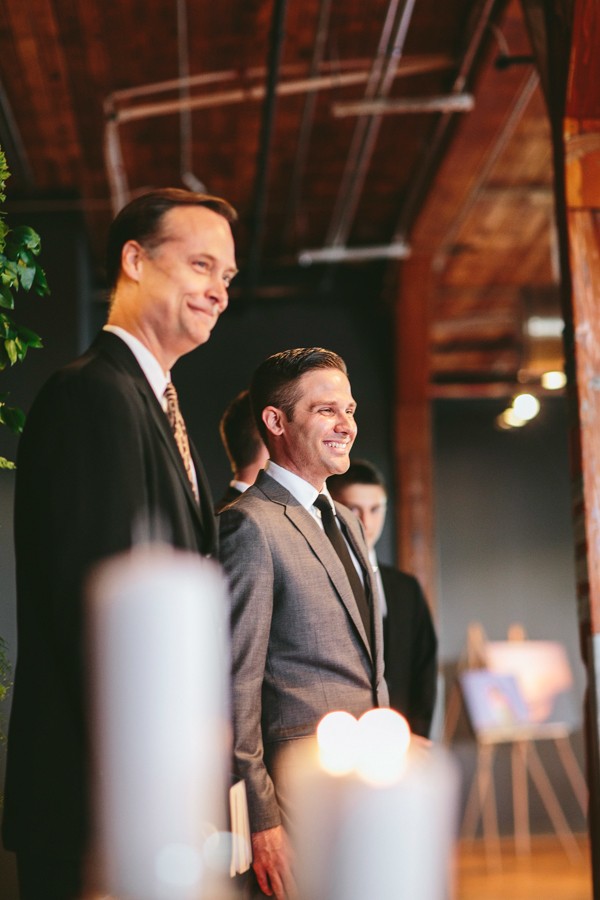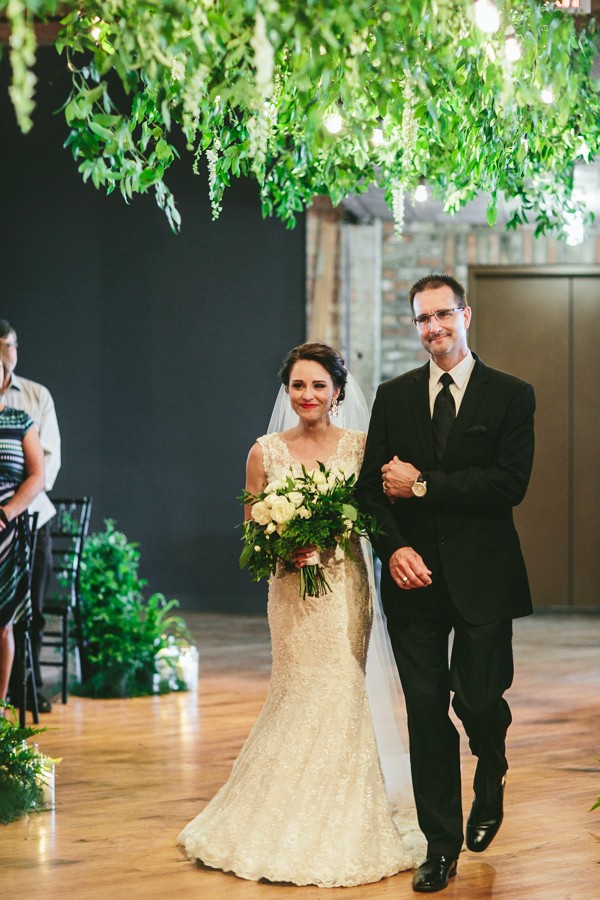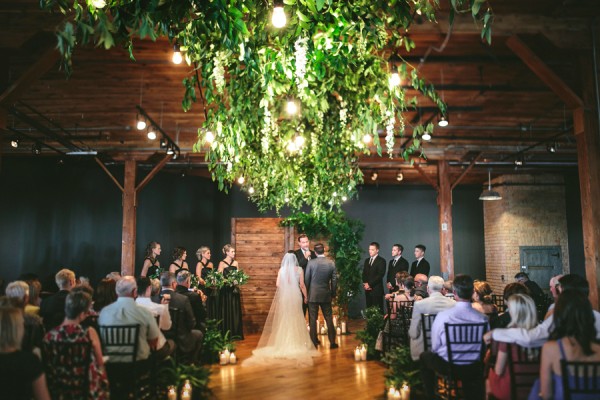 Definitely not to be forgotten, in the middle of our ring exchange, David surprised me with a wedding band! I had no idea what he had up his sleeve until he gave me a panicked look during the ring exchange exclaiming we were 'missing a ring.' Much to my confusion, his dad stood up and offered up the "missing ring" – a wedding band that perfectly fit my engagement ring. The look on my face was priceless and our brilliant photographer caught every confused and joyous expression.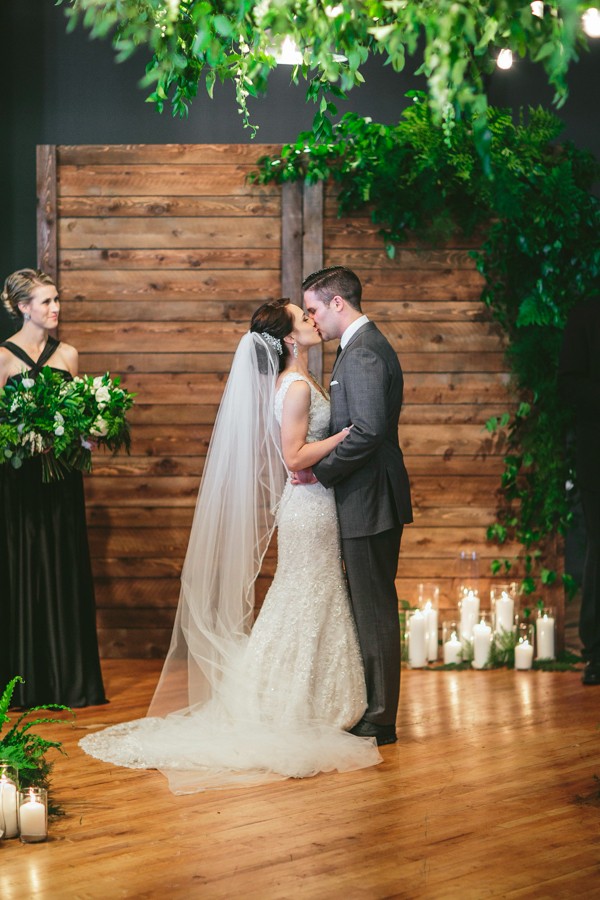 Be sure to tell your photographers if there is anything special or out-of-the-ordinary taking place throughout the day. I credit my husband for filling our talented photographers in on his little secrets so that they were there to help capture those special moments for us!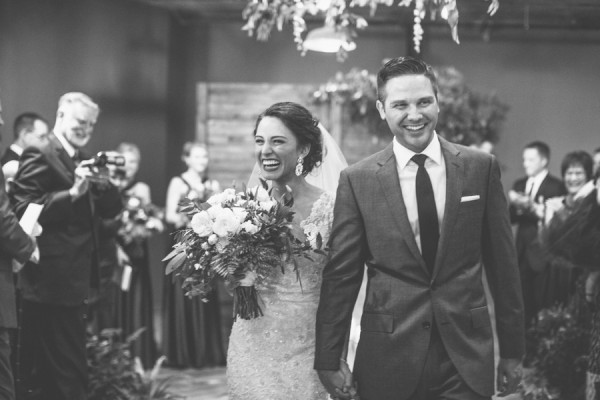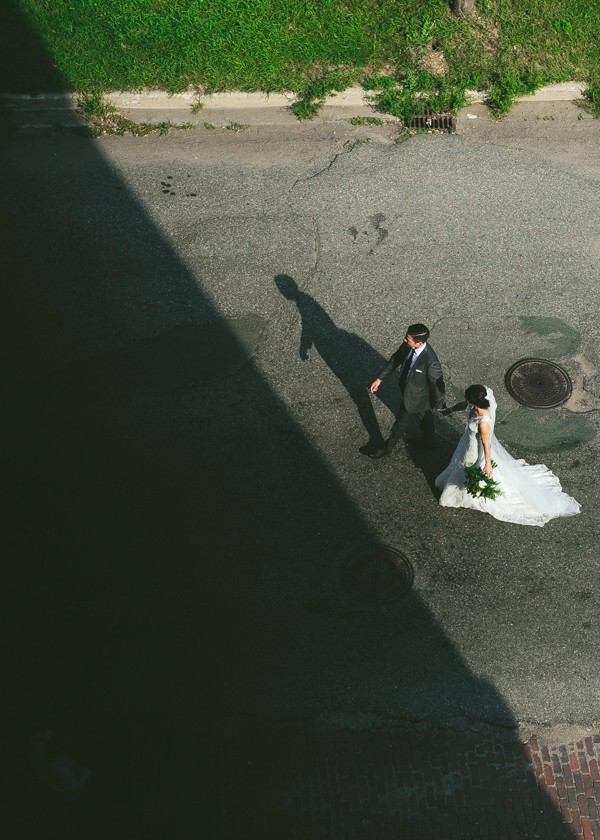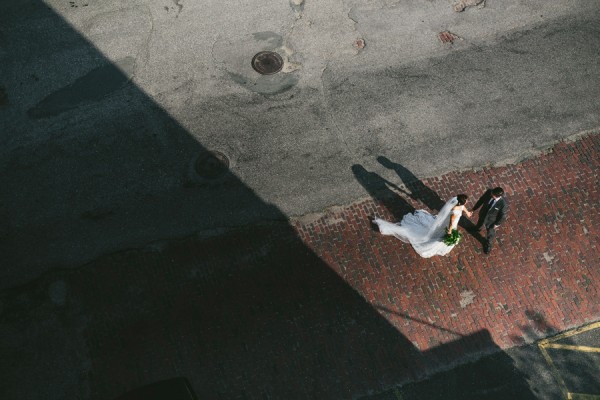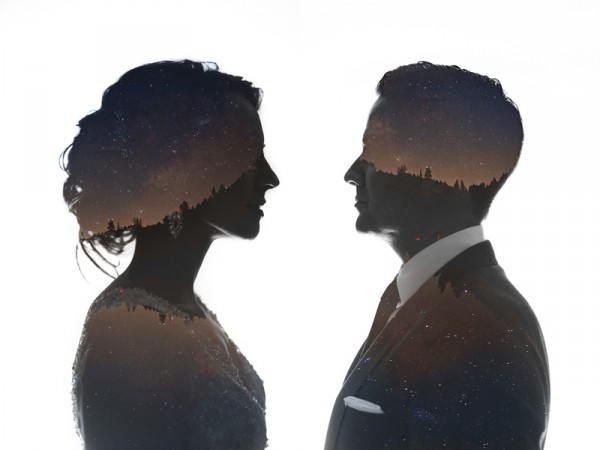 Our photographer was absolutely incredible. My husband is a wedding photographer, as well, so having many wonderfully talented friends in the industry made this decision one of the hardest during our entire planning process. Ultimately, we had been in love with Brandon's work for ages and we knew that if we let him create, we would be more than happy with what he returned to us. No shock, we are absolutely in love with our photos and are so happy with them!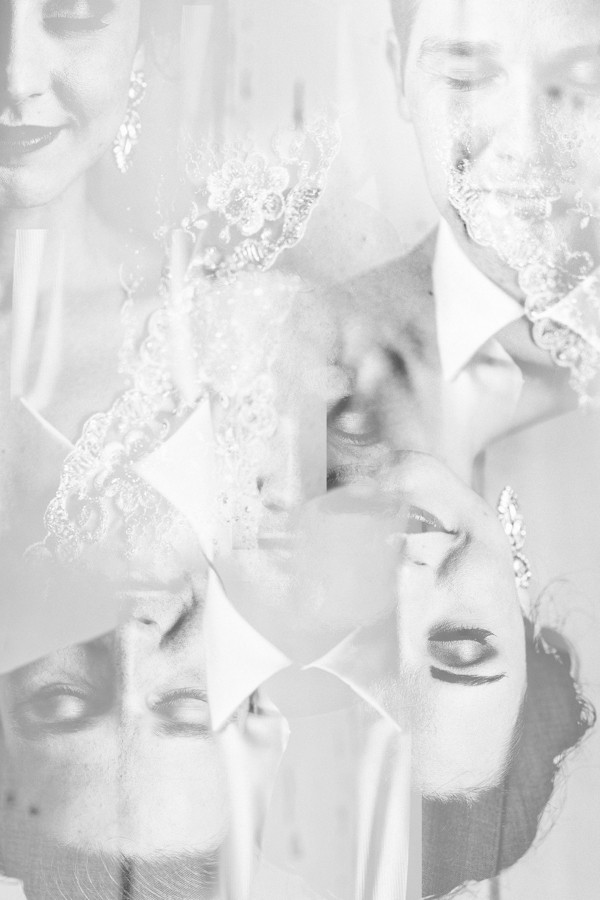 Some advice we would share is to not stress over the small things. Yes, it sounds cliche, but we found that the age-old expression rings true more than ever in planning a wedding. About a month before our wedding, we had a stark realization that no matter how the day went, no matter what others thought of it, or how many little "details" we planned for or even forgot, the end result would be the same – we would be married in front of our family and friends. So no matter what happens between saying "yes" to "I do," be sure to keep the reason you're on this journey in mind and show as much gratitude to those helping you along the way as possible.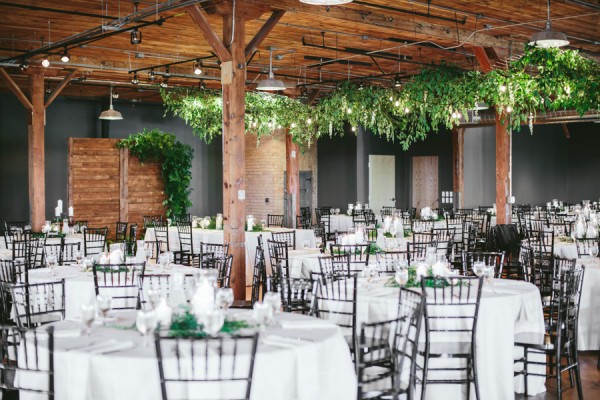 Our wedding vibe was best described by my husband as urban-forest-chic. We really wanted an outdoor wedding, but in fear of Minnesota's ever changing weather, we opted for an indoor ceremony and reception. So we had to bring the outdoors inside and with the help of our florist our vision was brought to life. Our entire venue had a warehouse feel (complete with wooden floors and ceiling and exposed beams), and I told Ashley (our florist) that I wanted as much greenery brought into the space as possible. She blew us away with a suspended aisle of greens along with other greens put in as many places as we could.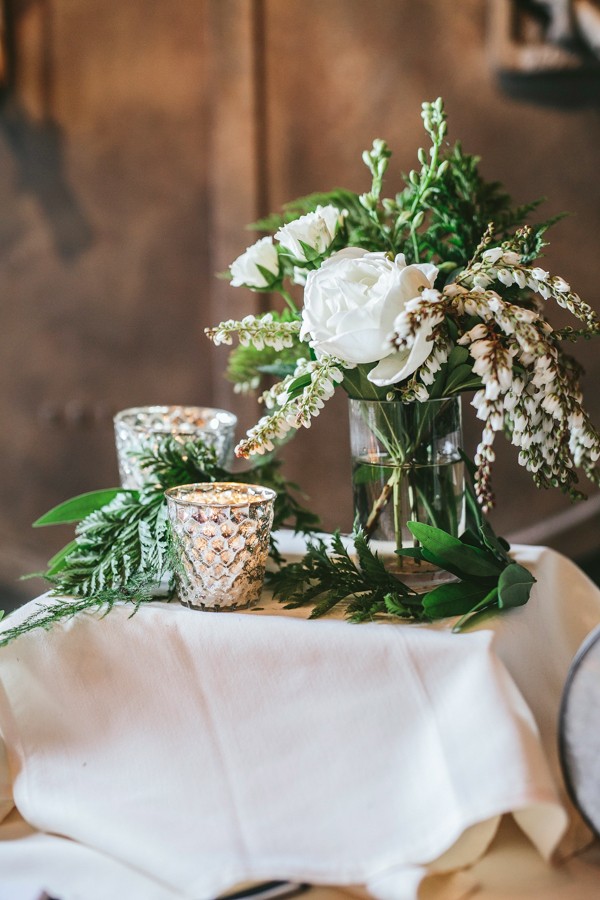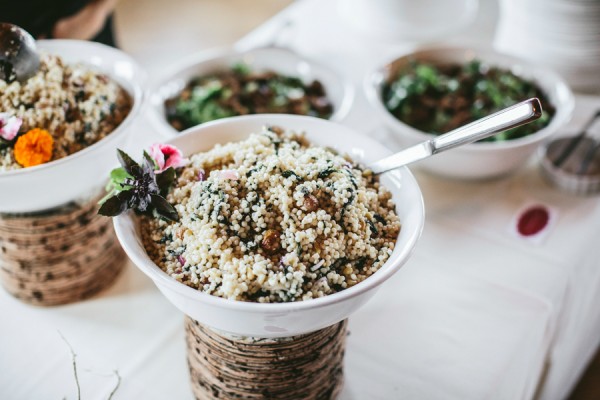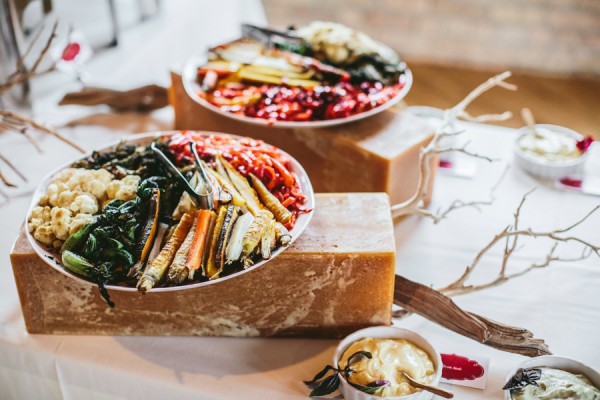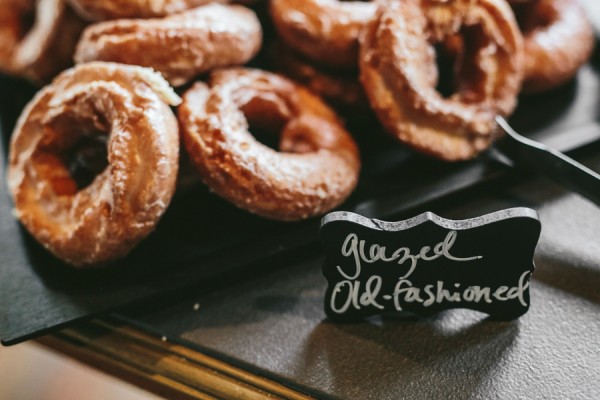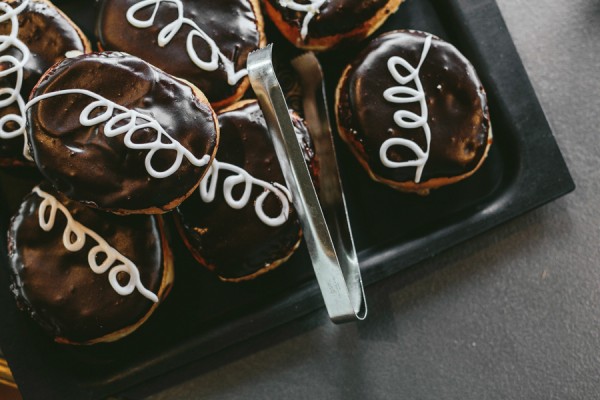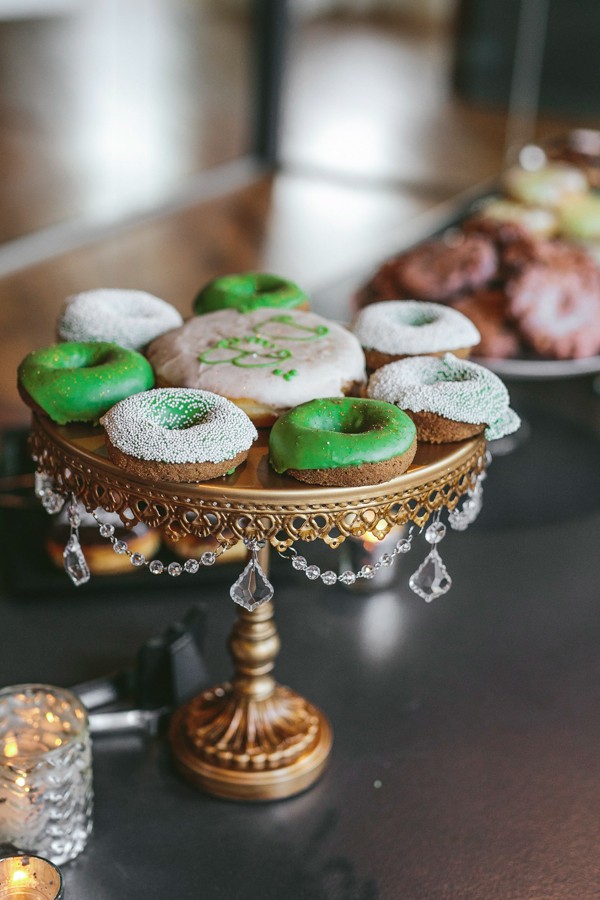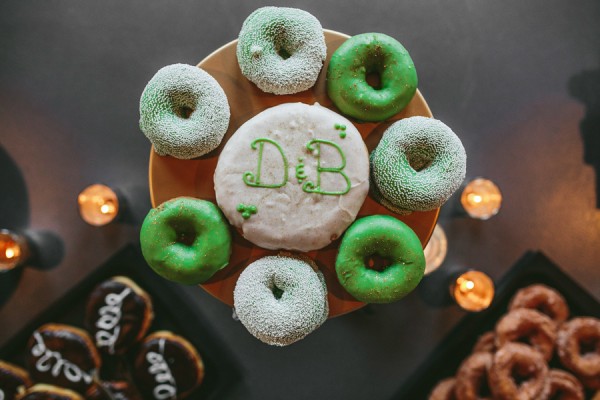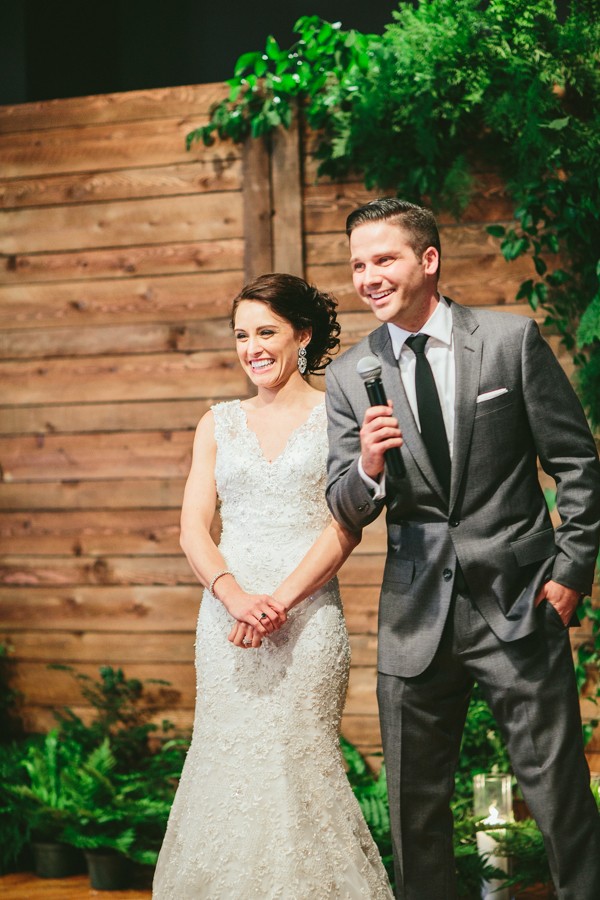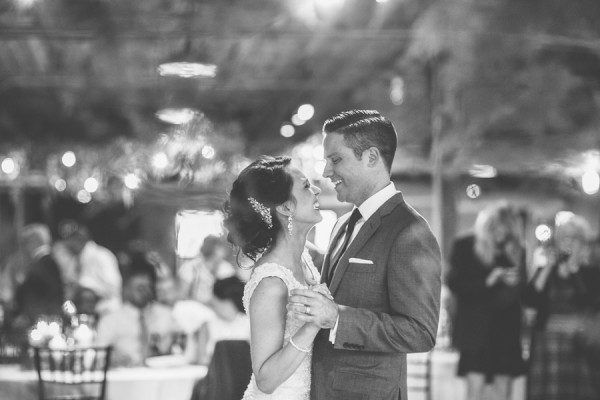 Congratulations to Brittney and Dave, and a huge thanks to Brandon Werth for sharing this gorgeous wedding with us! Love this wedding's industrial forest vibes? Then you've got to see this industrial garden wedding inspiration at Garfield Park Conservatory!