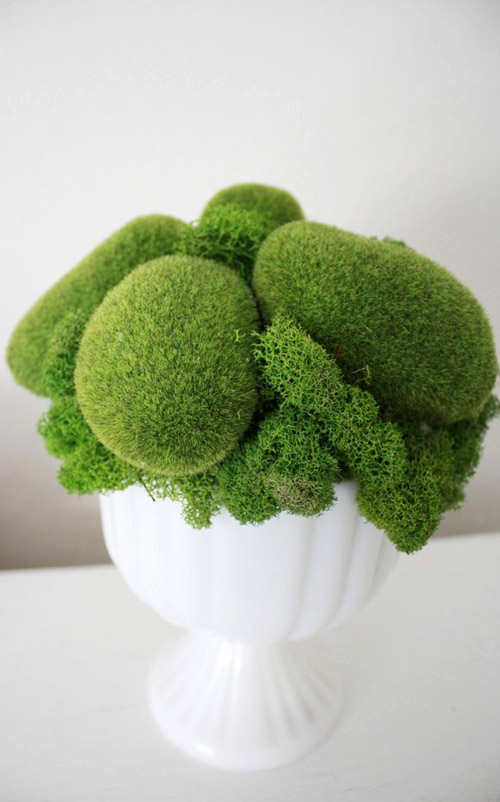 Preserved flowers and other unusual organic elements like seed pods, grasses, ferns and moss, can be super creative additions to the floral arrangements at your wedding, and can help make them truly one of a kind! I love the modern shapes and textures that these unique blooms can create, and the way that they are sure to draw the attention of your guests and keep them guessing throughout the night. Best of all, when the wedding is over, you can re-purpose the arrangements into decor for your home, because these petals are meant to last!

Christina Moreno's Etsy shop, Flores del Sol, is full of artistic and unique arrangements (shown above). Using everything from dried Protea flowers and feathers, to rattan fruit pods and cockscomb, she combines both dried and fresh floral elements within her arrangements and loves to place them in antique and unusual containers. I'm crazy about the mod look she creates with bright clusters of yellow Craspedia and textured mini moss comfort gardens. Although her Etsy shop is currently on vacation, she will be back this fall with new designs, and in the meantime, you can check out her blog for plenty of beautiful inspiration!

Online floral boutiques like Nettleton Hollow and Jamali Garden are stocked with amazing DIY finds that are sure to get your creative juices flowing, too!
Top two rows above: Fabulous round grass and moss balls from JamaliGardens.com would add a playful touch to any centerpiece or table-top decoration.
Bottom three rows above: Decorative hops, Mintola pods, Rams Head pods and creative floral, reindeer moss and branch arrangements are just a few of the many offerings available at NettletonHollow.com. So fun!