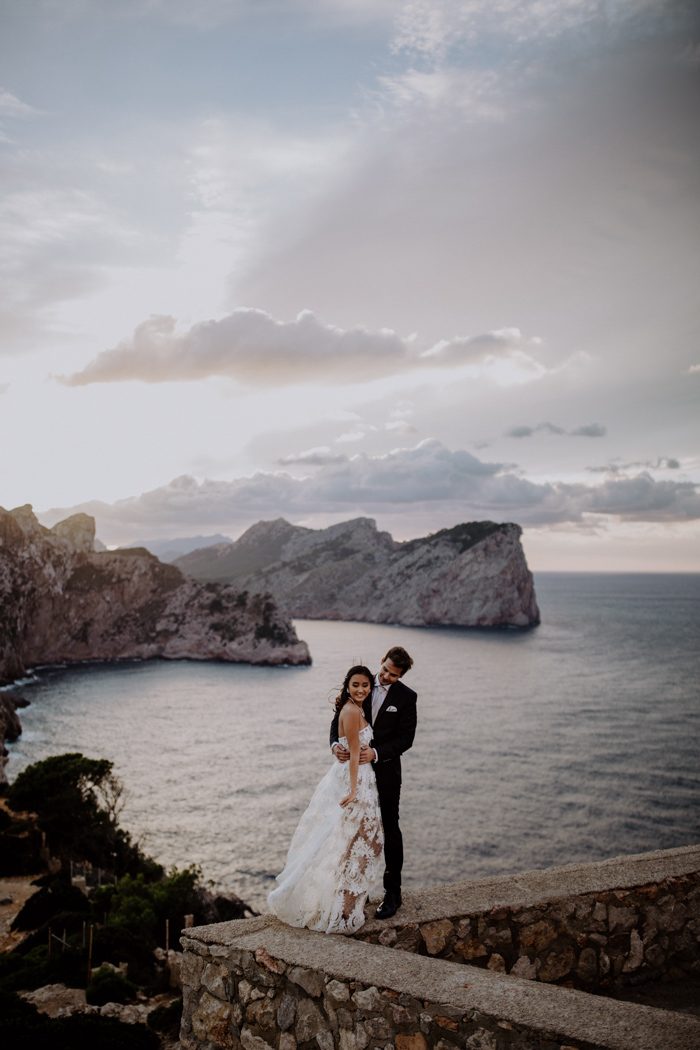 If the cliffside ceremony beneath a canopy of tropical greenery doesn't get you, we're positive the coral and violet sunset in this Cap de Formentor will! After many years of a long-distance relationship and busy work lives, Safrina and Nick finally got the time to leave Germany and head for the warm ocean breezes of Mallorca for an elopement that was as epic as it was intimate. The couple's planner, Sarah Linow, found this hidden gem that provided a soundtrack of crashing waves for their ceremony, a secluded spot for their seafood dinner, and breathtaking views of the island. They used a mix of seashells and pearls, an elegant color palette of gold, powder blue, and pink, and combined tropical greenery, succulents, and grasses from Flores Mallorca in a way we've never seen before. We are obsessed with how Light Meets Love captured every moment of this dreamy elopement!
The Couple:
Safrina and Nick
The Wedding:
Cap de Formentor, Mallorca, Spain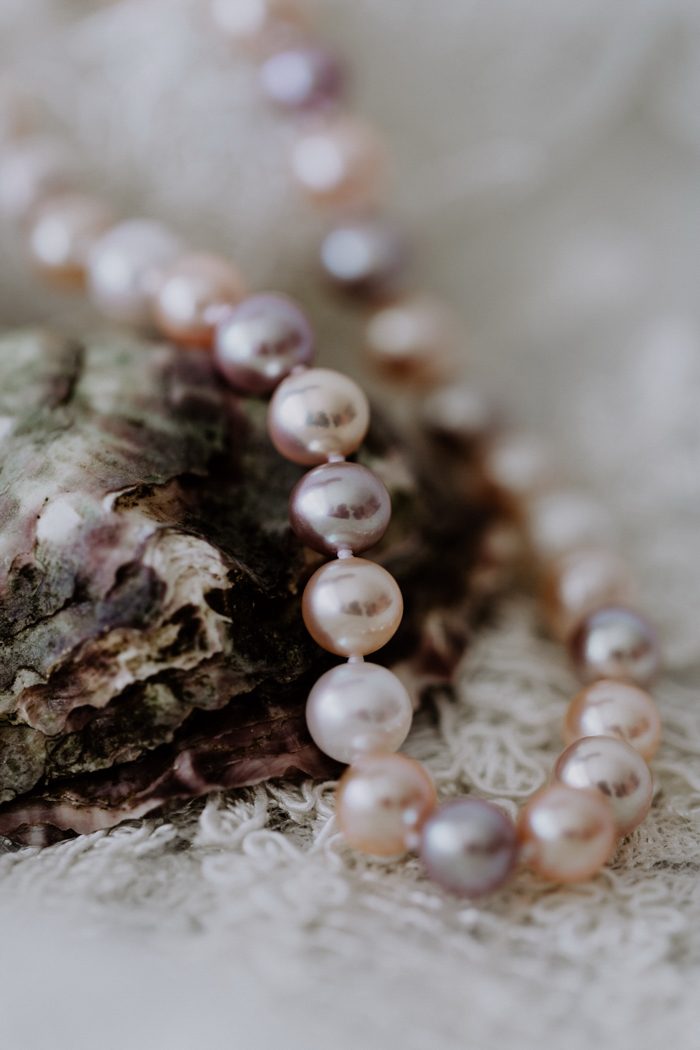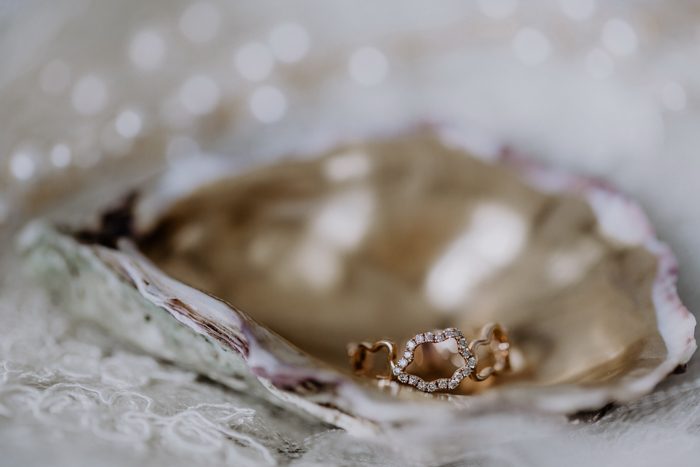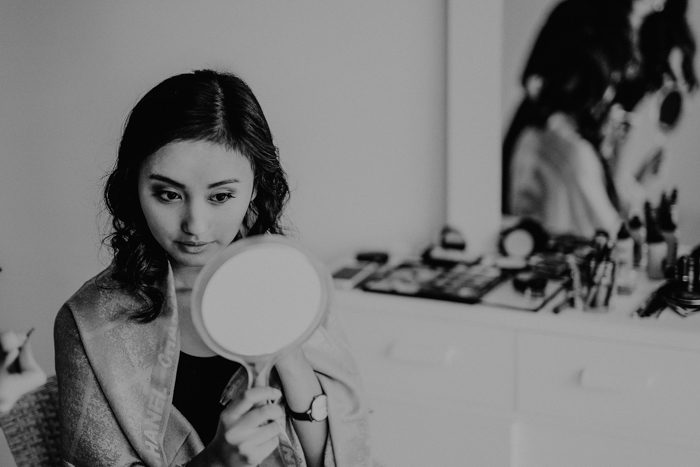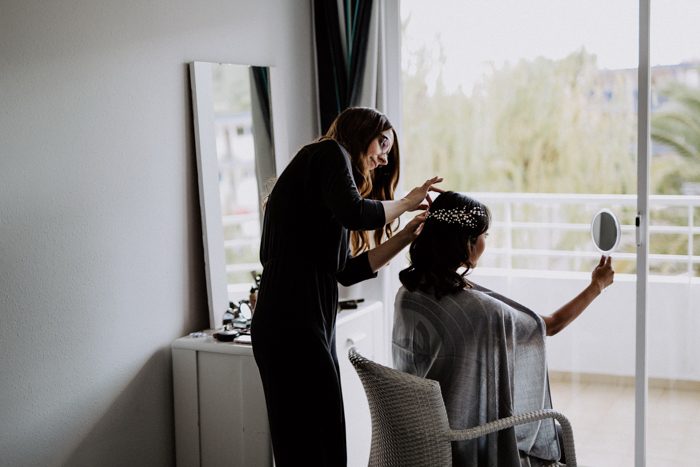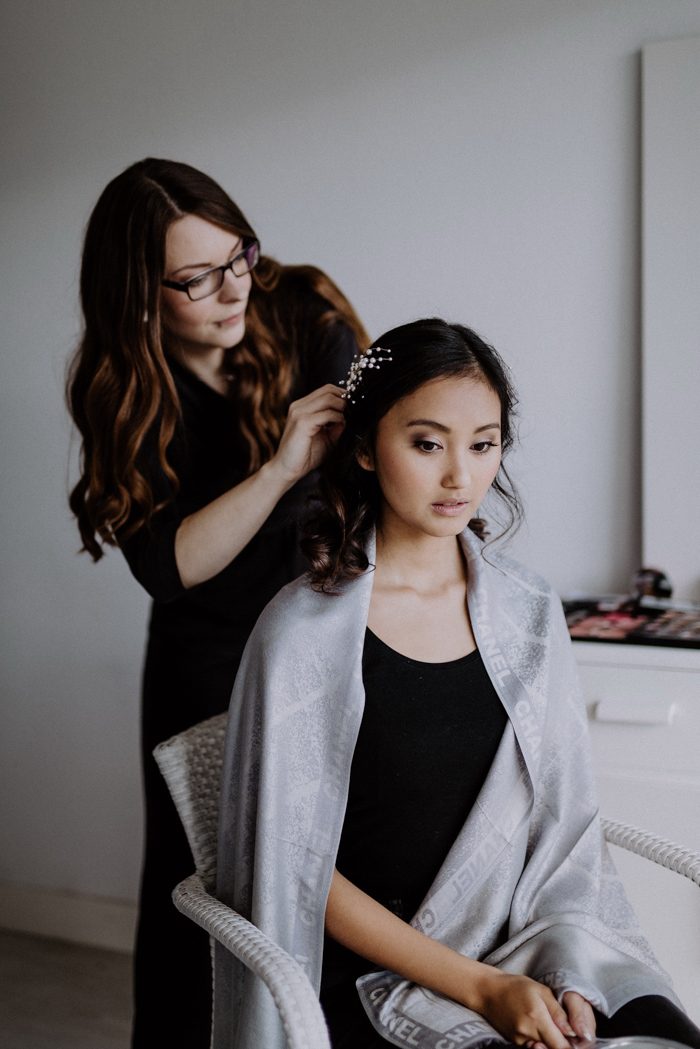 On the morning of our wedding, Nick surprised me with a personal love letter and my favourite candy during the flight. It was the perfect start to what would turned out to be the perfect day! If I had to pick just one highlight, though, it would have to be the ceremony. Just the two of us with our wedding speaker Michaela, listening to our love story, hearing the waves in the background, saying yes to each other and a lifetime together: that was absolutely magical!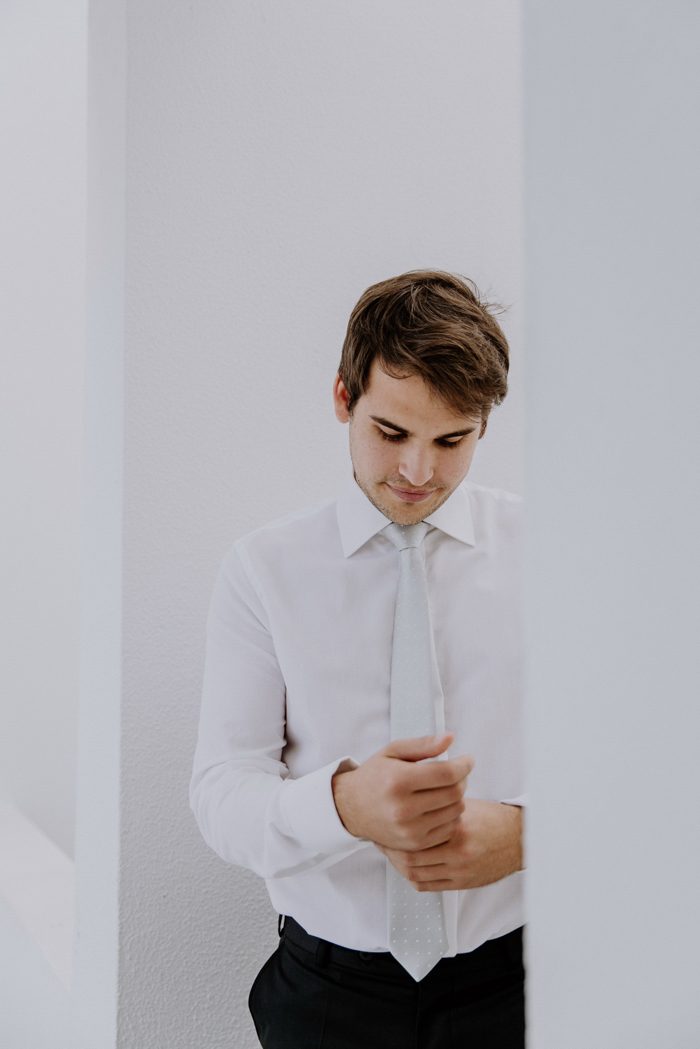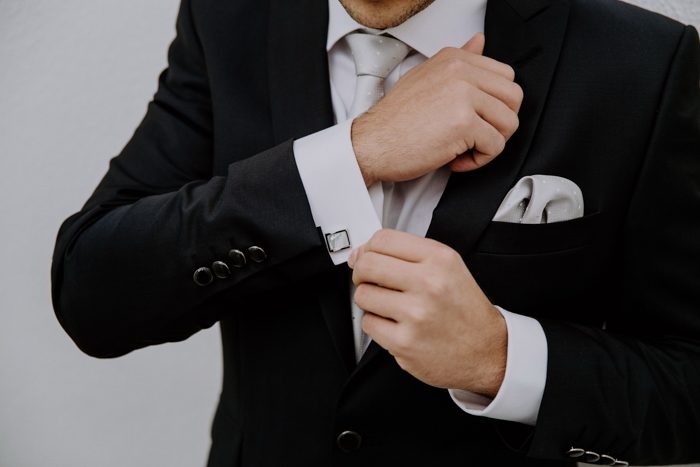 Ritual Unions from Berlin is one of my favourite European bridal designers with a very distinctive style. I love headpieces and tiaras. It was love at first sight when photographer Melanie introduced me to Kokoro's collection. The pearls are just ideal for an ocean wedding. Once I had started the pearl theme, I decided to wear the amazing real pearl jewelry by Yana Nesper. I love the colours, which are also mirrored in the table decorations. I will certainly find a lot of other occasions to wear these beauties!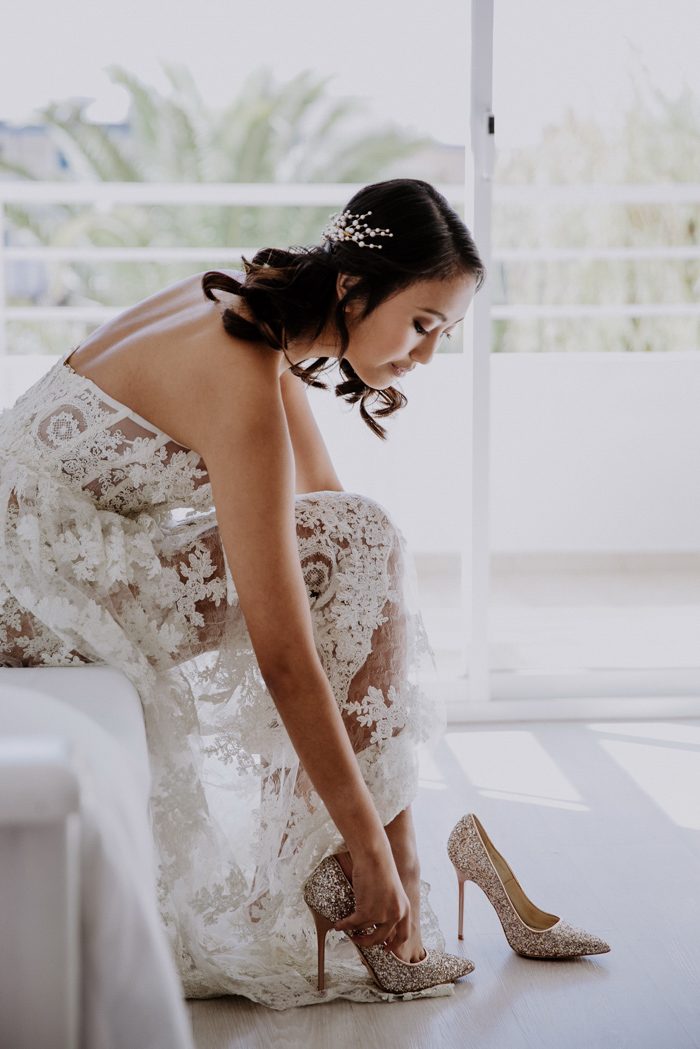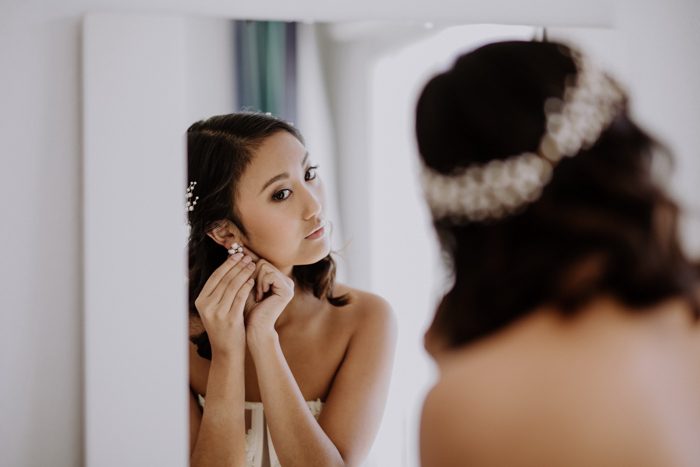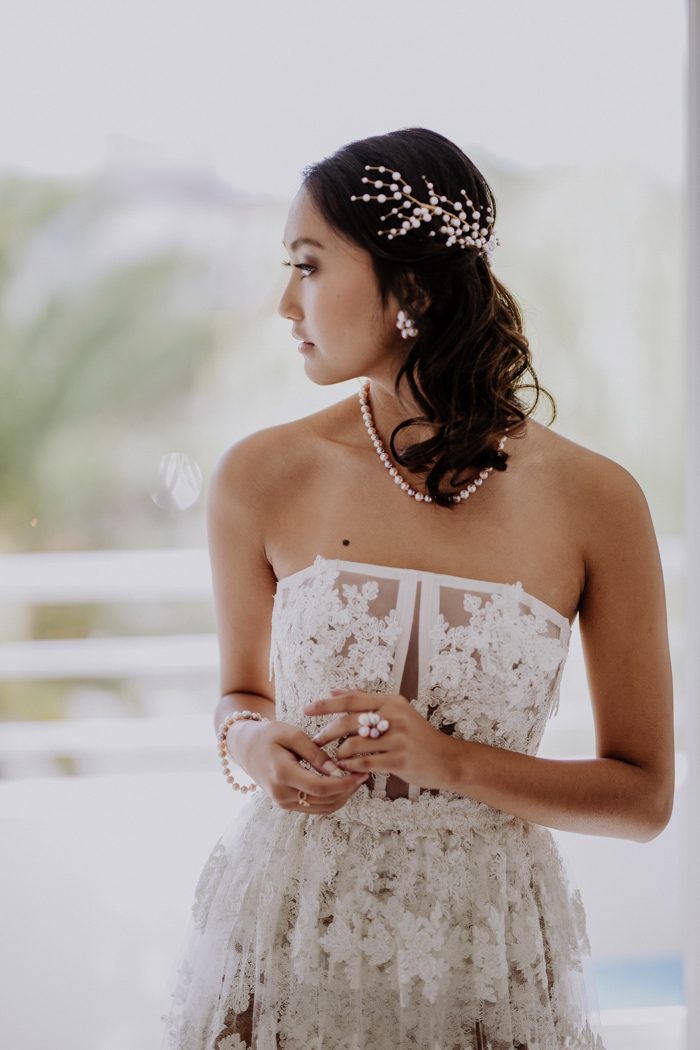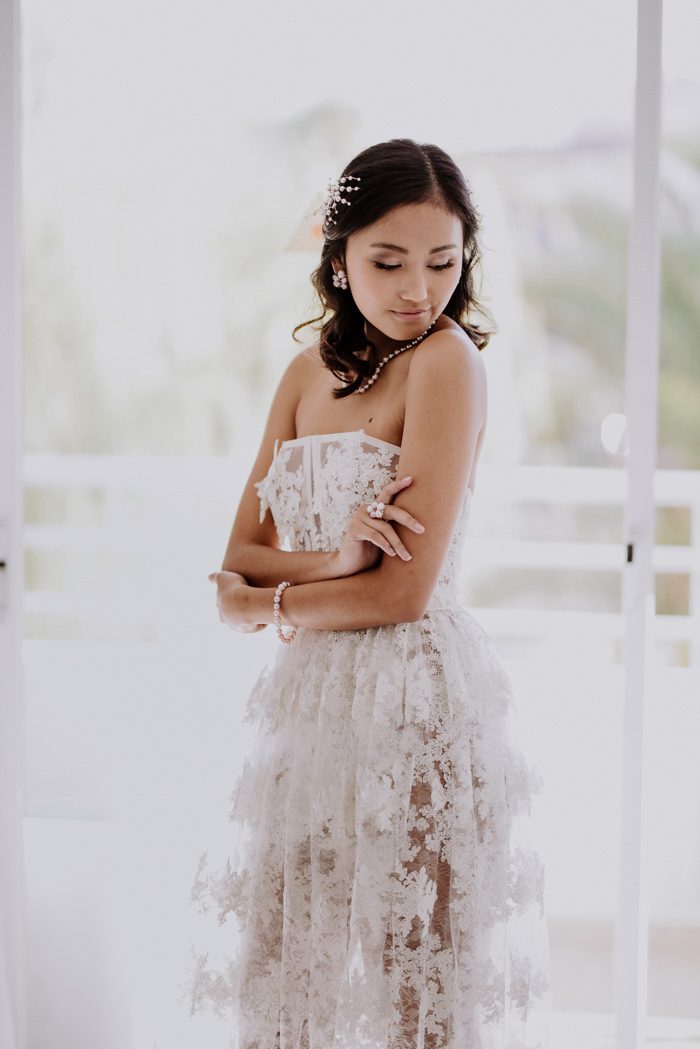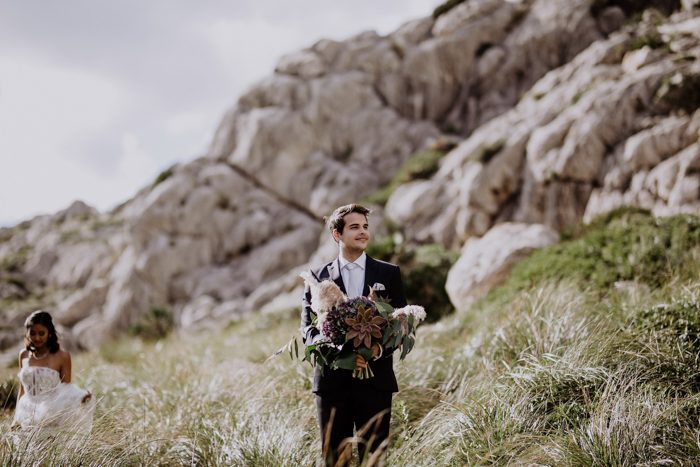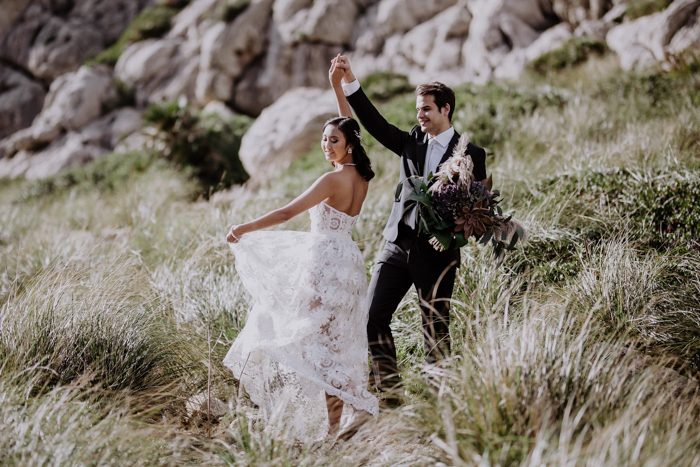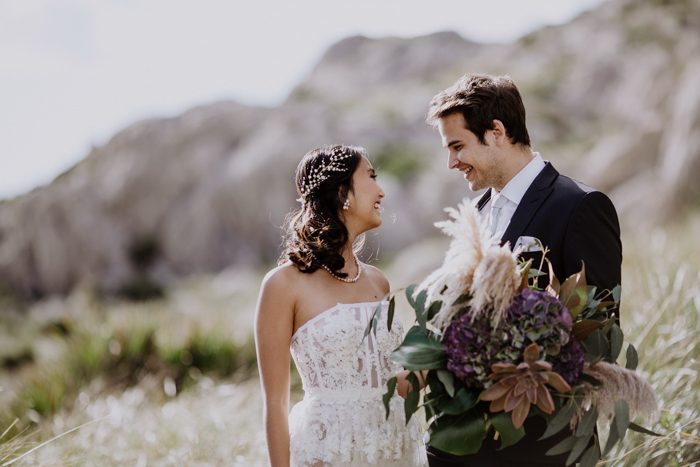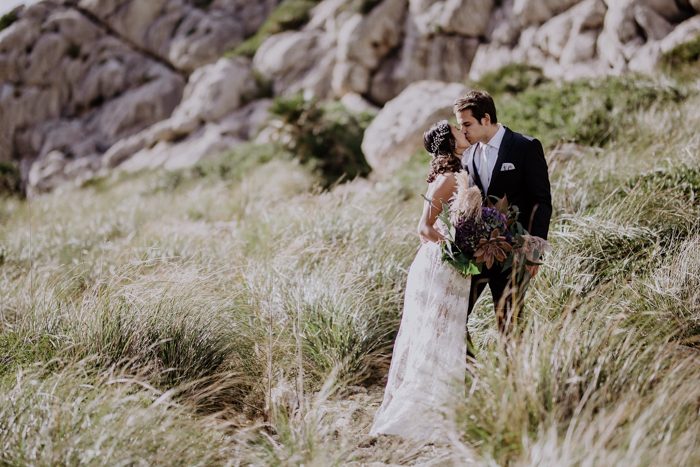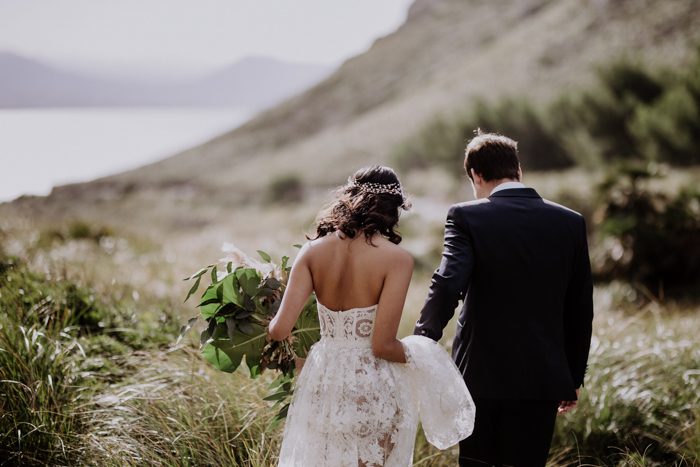 Ever since Nick and I met, our lives have been just crazy busy! We live in different cities a good 6-hour drive apart from each other. That's why we never really had the time to celebrate our love and to prepare the wedding of our dreams. But we knew that, eventually, we wanted something very intimate and truly unique. We have seen a lot of weddings and elopements and wanted to avoid anything that looked and felt traditional. We thought that combining the raw energy of the ocean with elegant and refined details was the perfect combination for our day! It was something special that we had never seen before.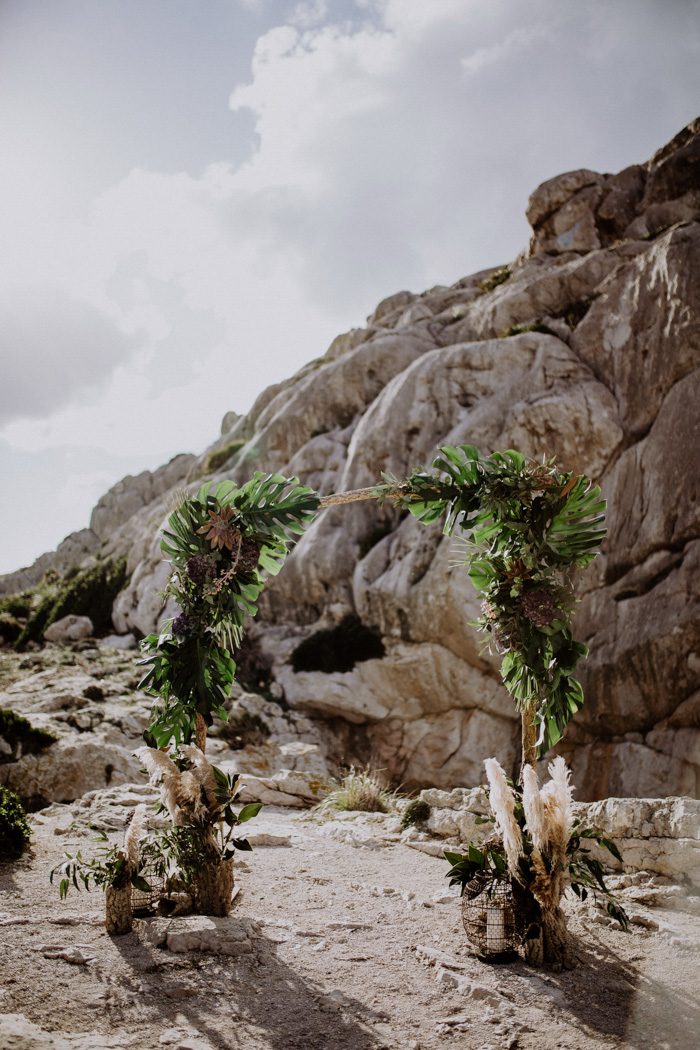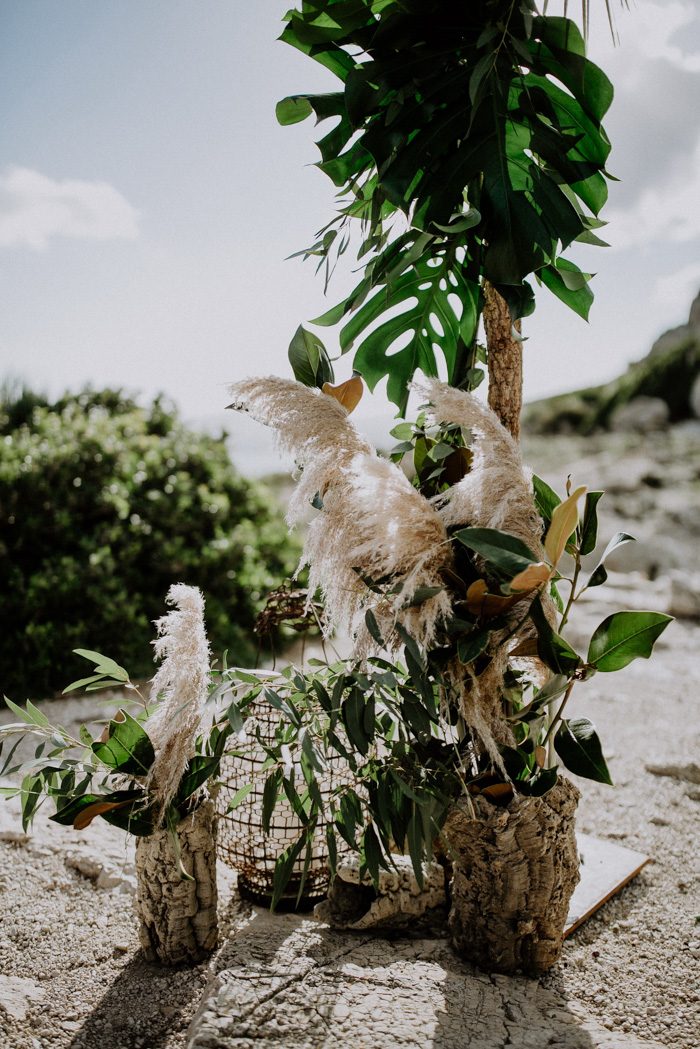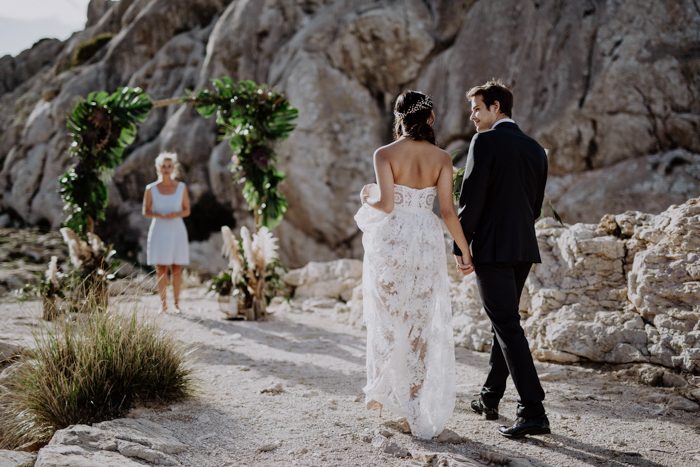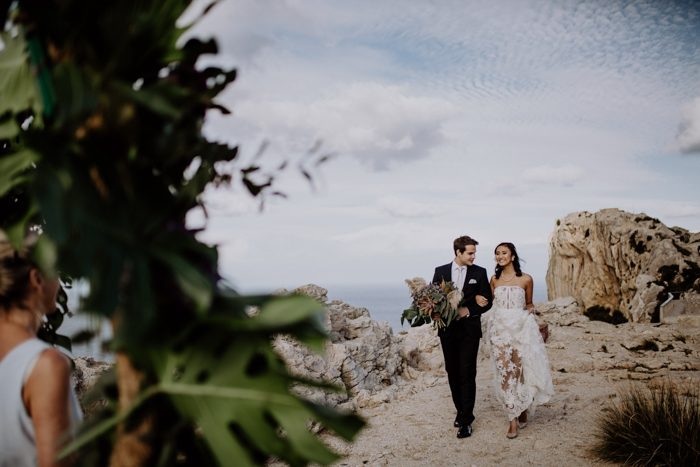 The German wedding speaker, Michaela Amler (who is based in Mallorca), conducted the individual and moving ceremony at the oceanfront. The ceremony started with our beautiful love story and ended with the touching moment of changing rings. It was wonderful to celebrate our love overlooking the ocean.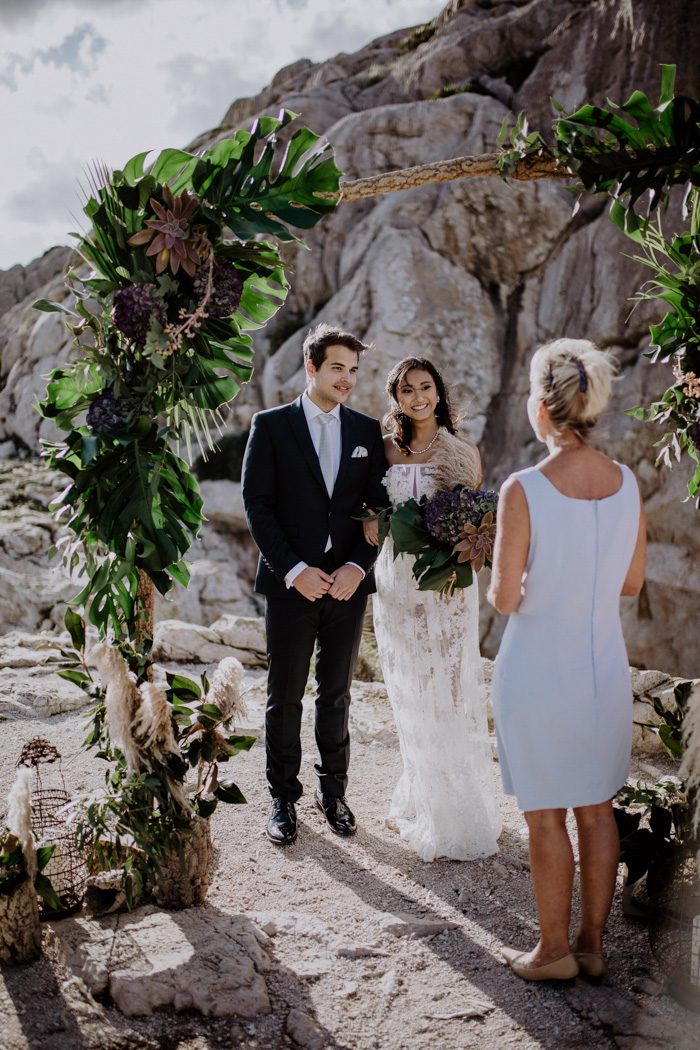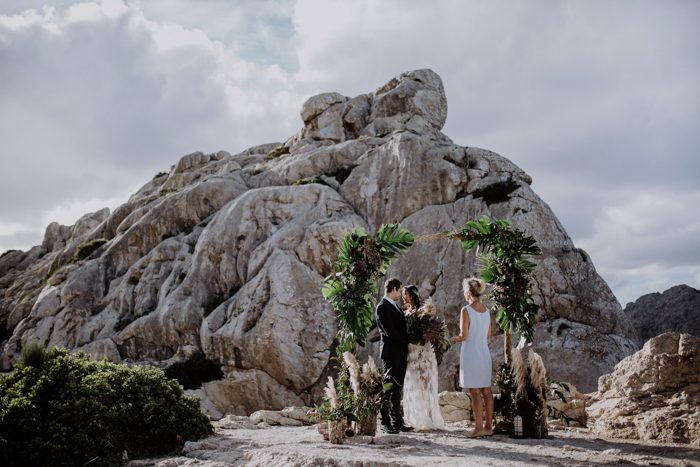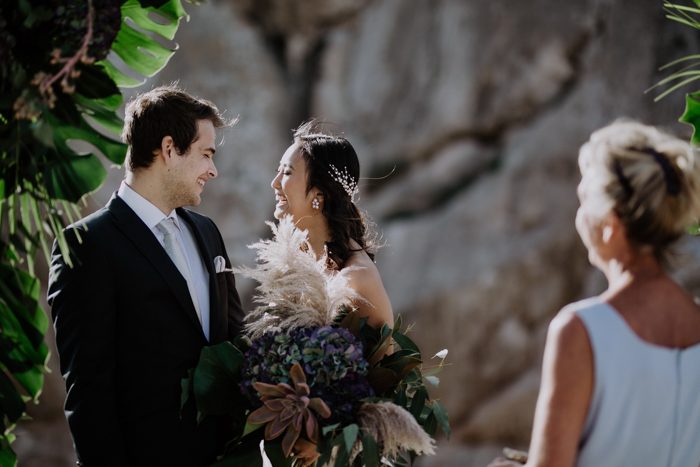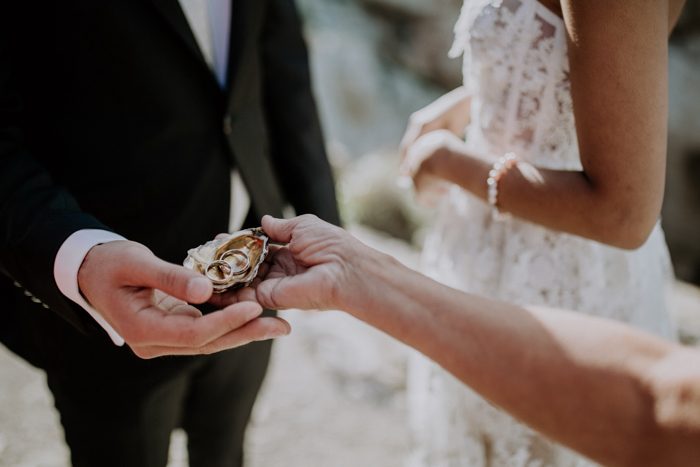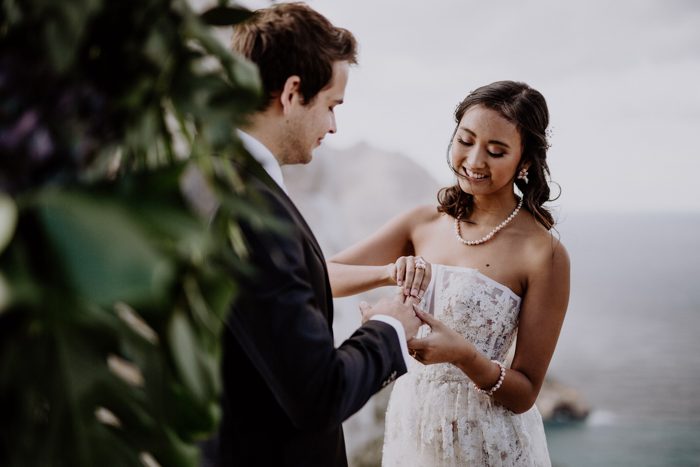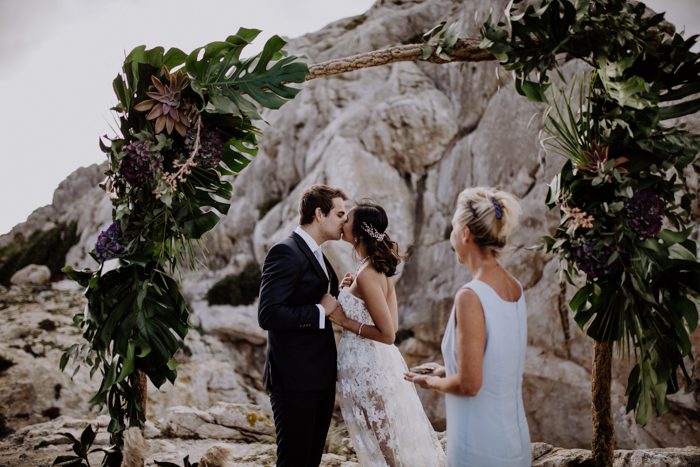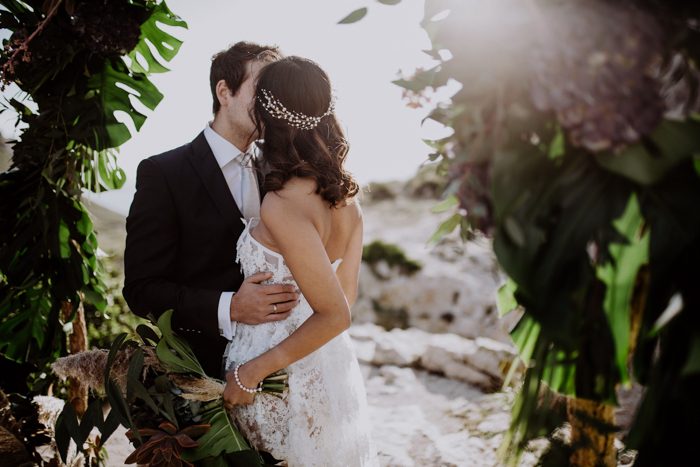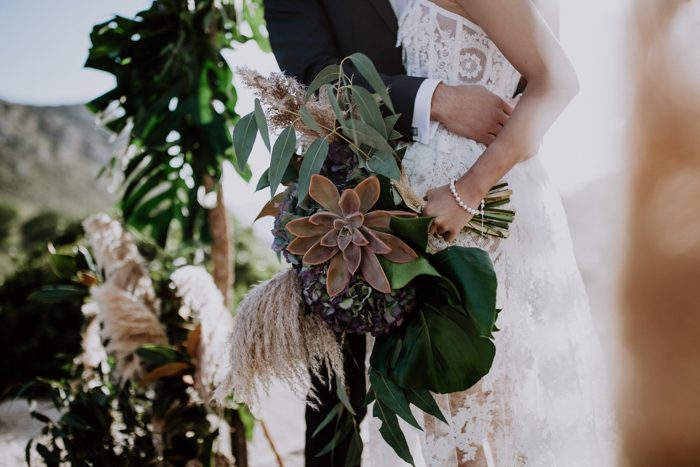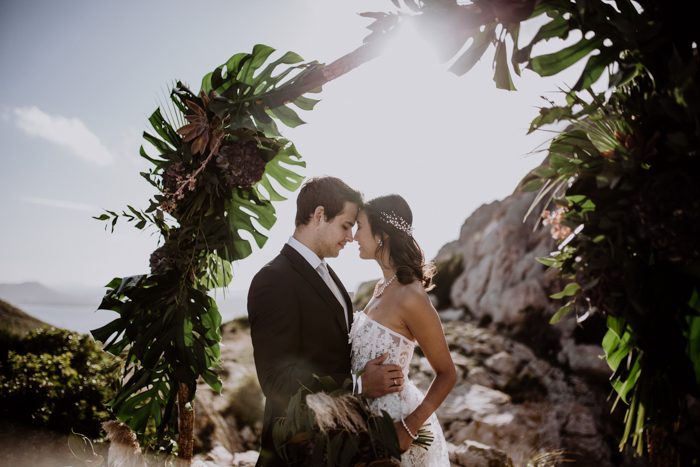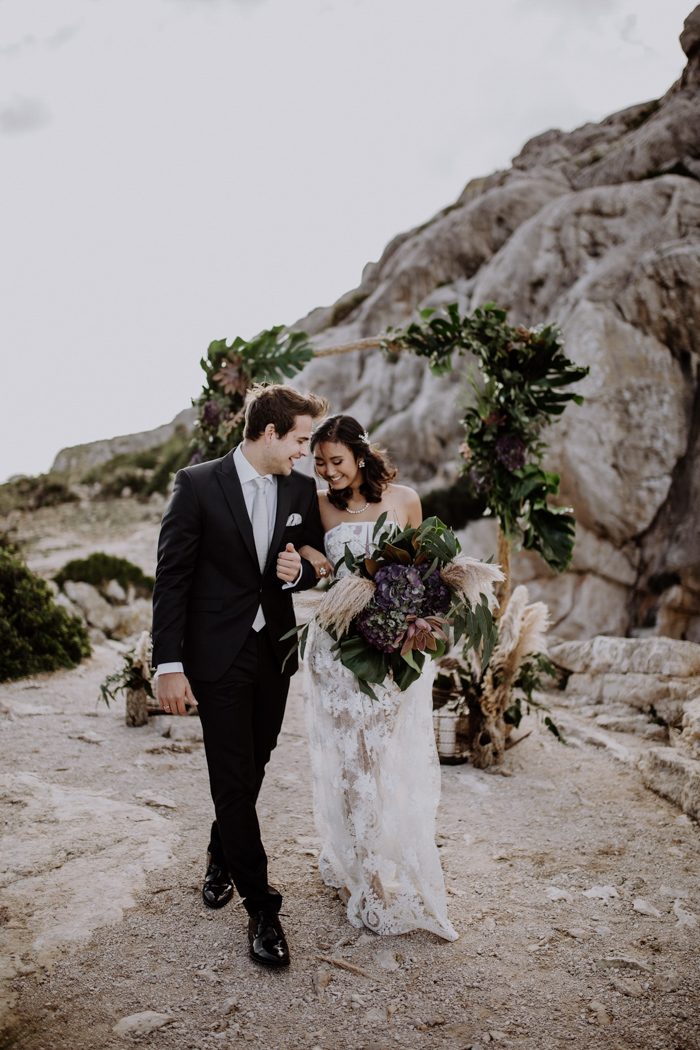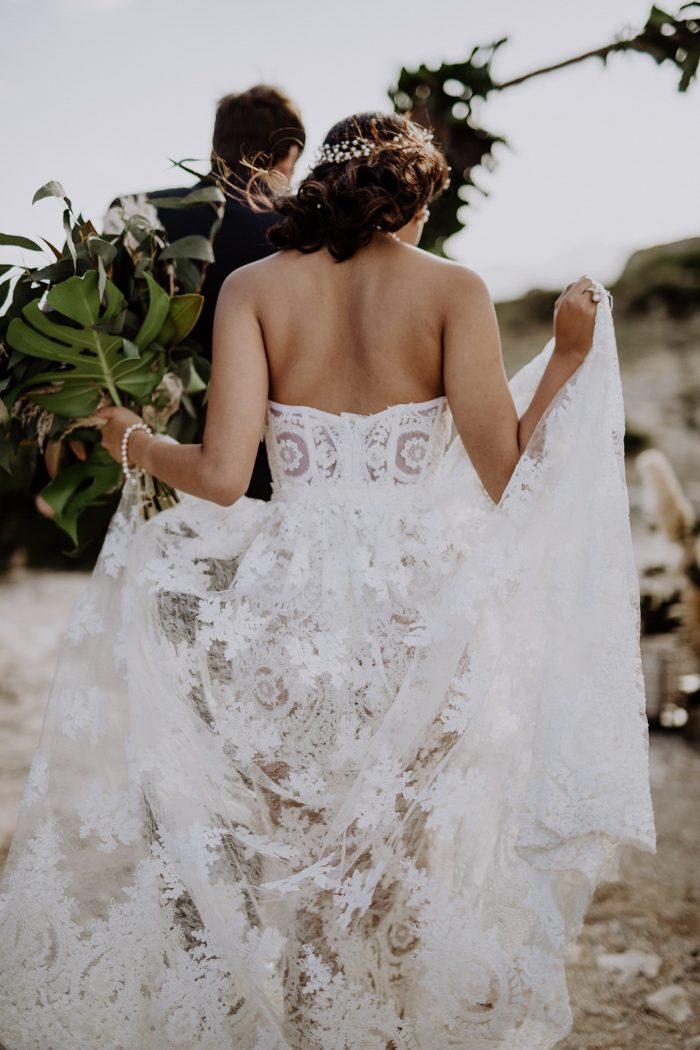 The wedding photos were especially important to us as they will remind us forever of our big day. That is why she chose one of Germany's best photo and video team who could not only capture the day in artistic images but also give valuable advice on all things visual. Wedding photographer Melanie from husband-and-wife photo and video team Light Meets Love was head over heels in love with the concept of this ocean-themed wedding and had plenty of advice for us. As an experienced wedding photographer, she had recommendations for the dress, the bridal accessories, and nautical wedding decorations up her sleeve. She also worked together with wedding planner Sarah to find the perfect locations for the ceremony, an al fresco meal, and the portrait photoshoot.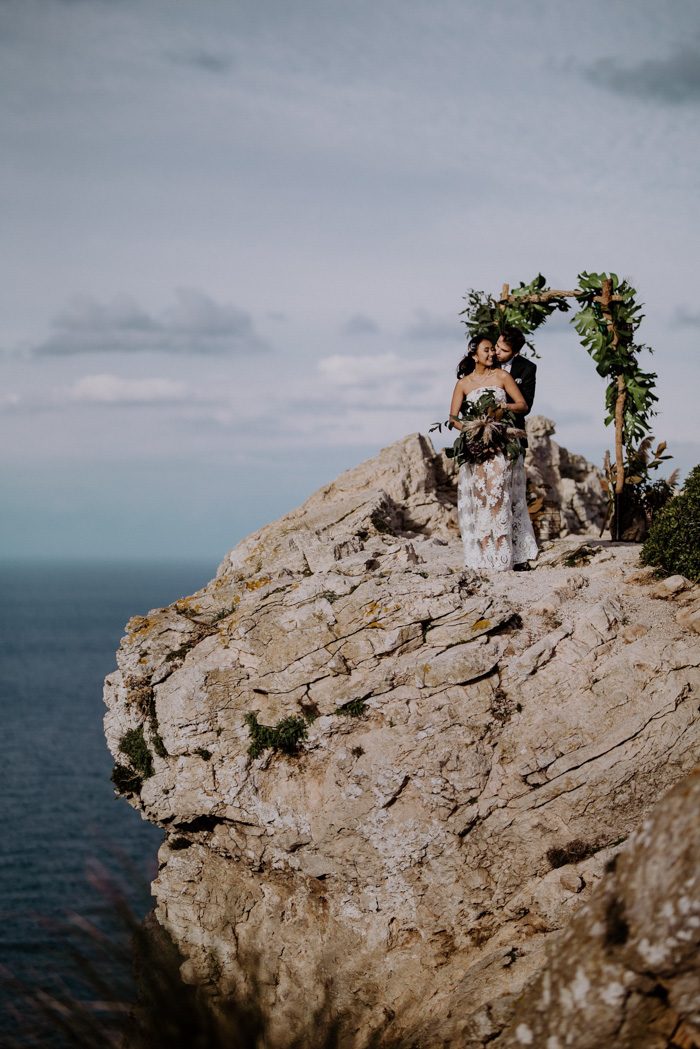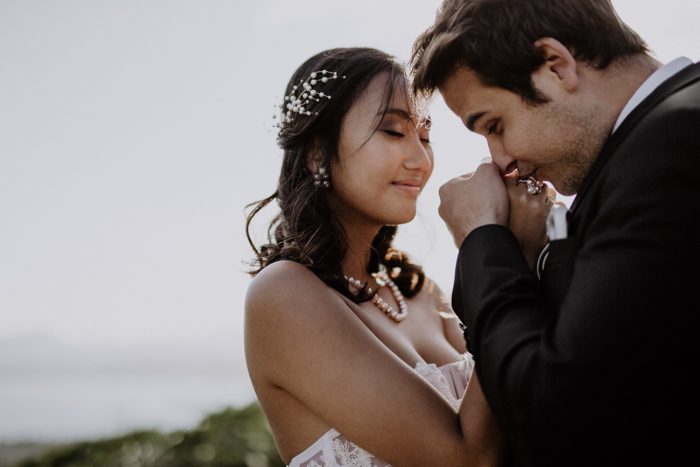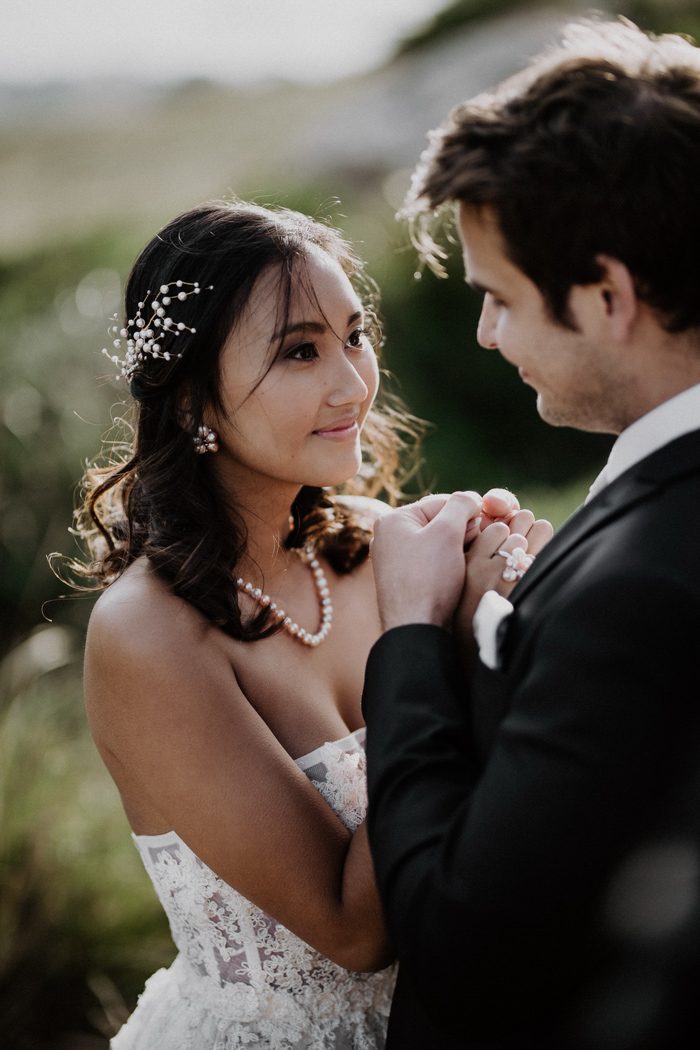 The location at the ocean inspired us to choose blue and green. The flower arrangement with succulents, grasses and tropical leaves by Flores Mallorca matched the surrounding landscape perfectly. Seashells and pearls and the chic colour palette added a stylish nautical air to my bridal look, the location, and the decoration.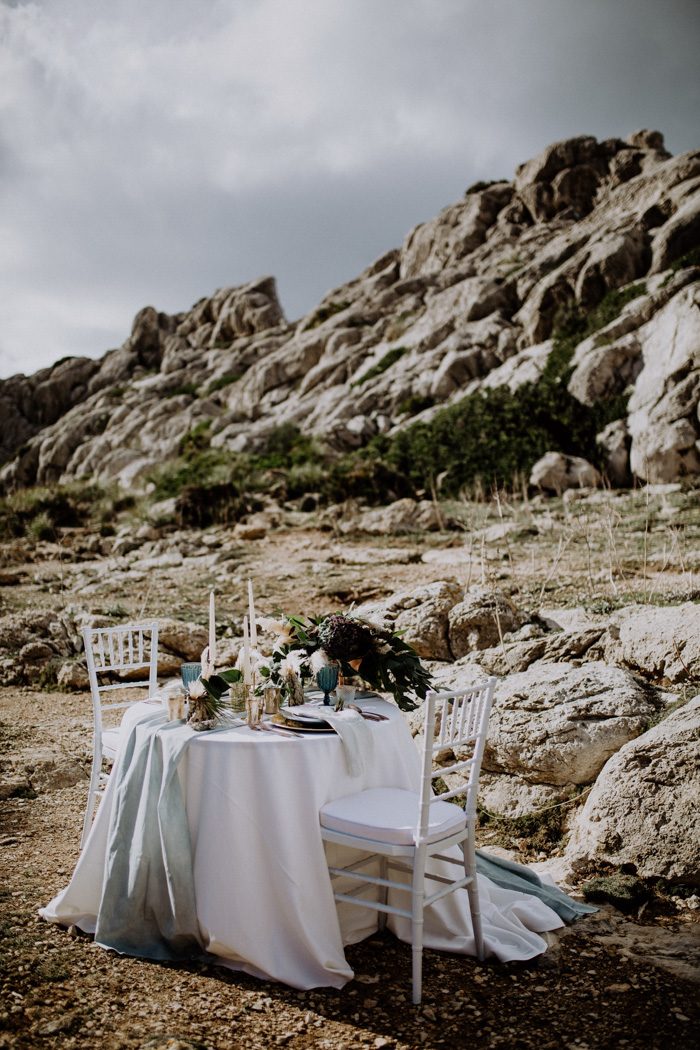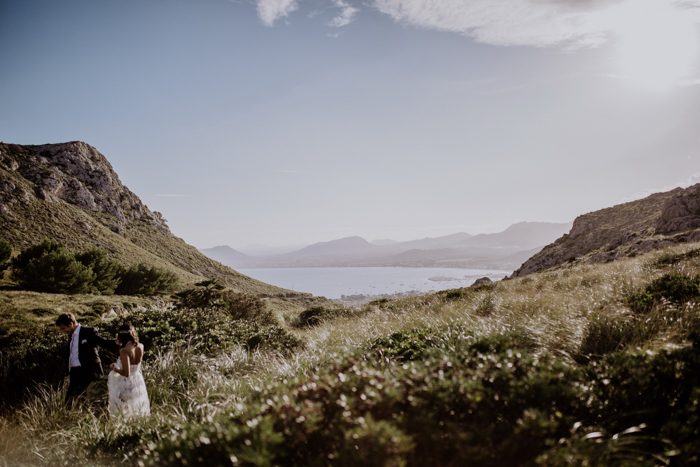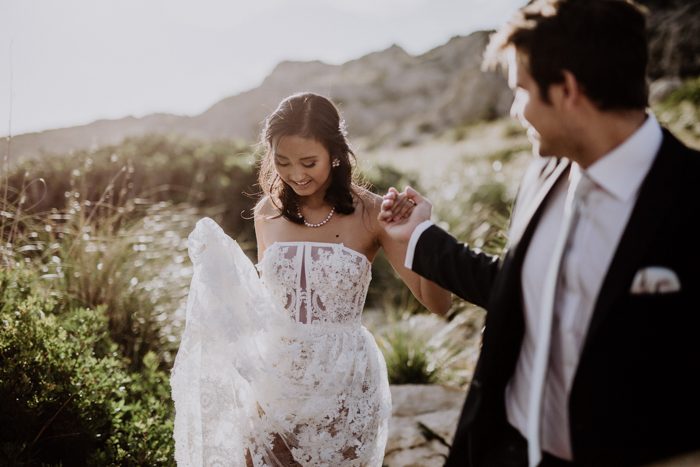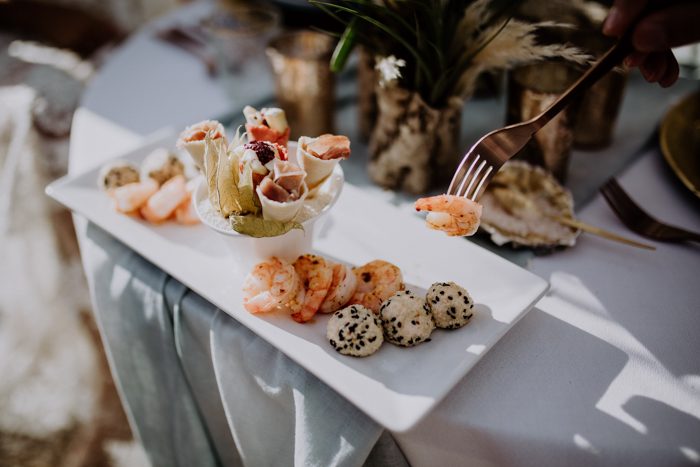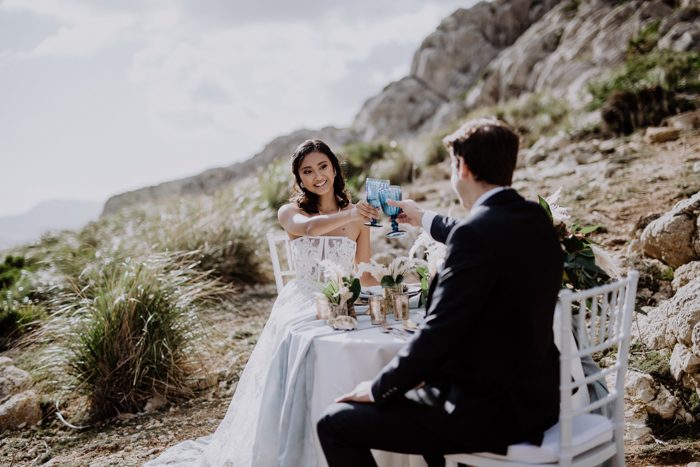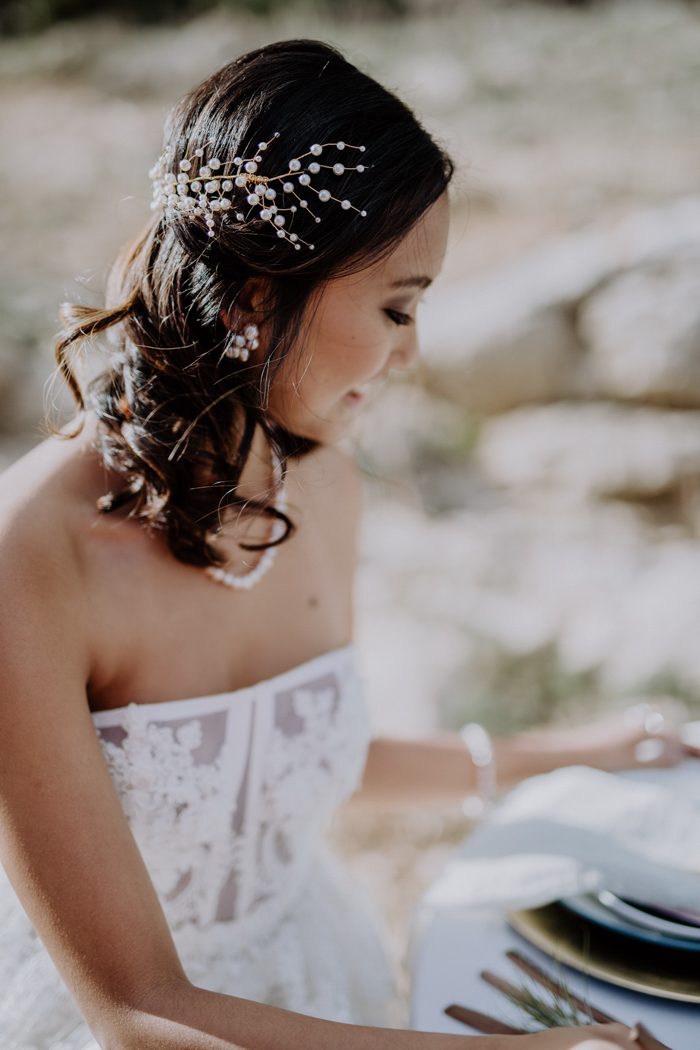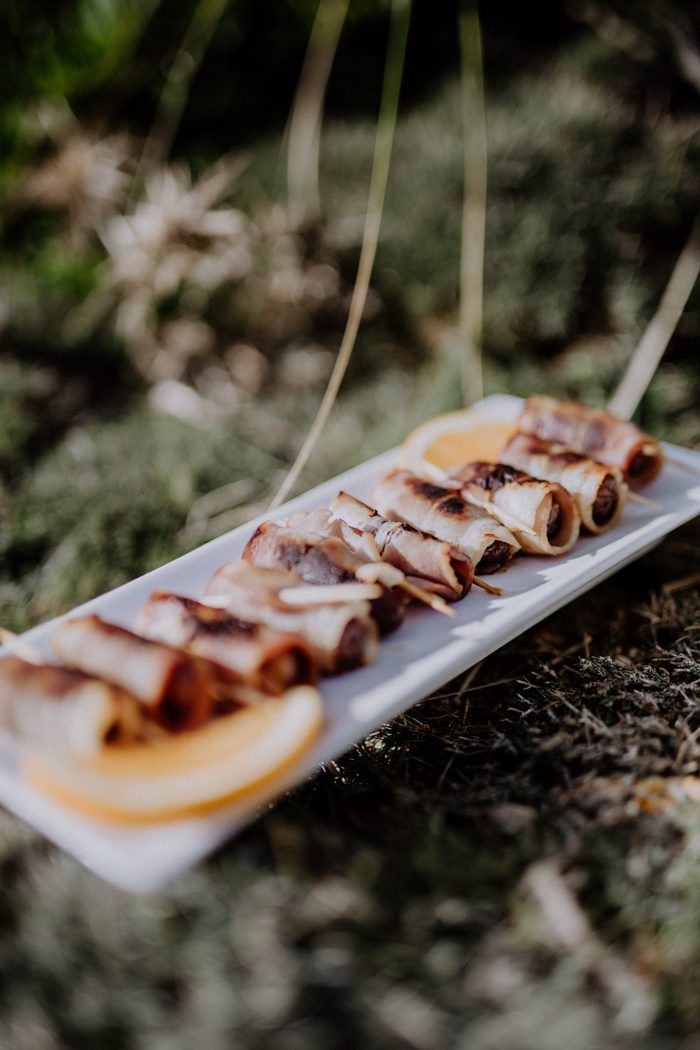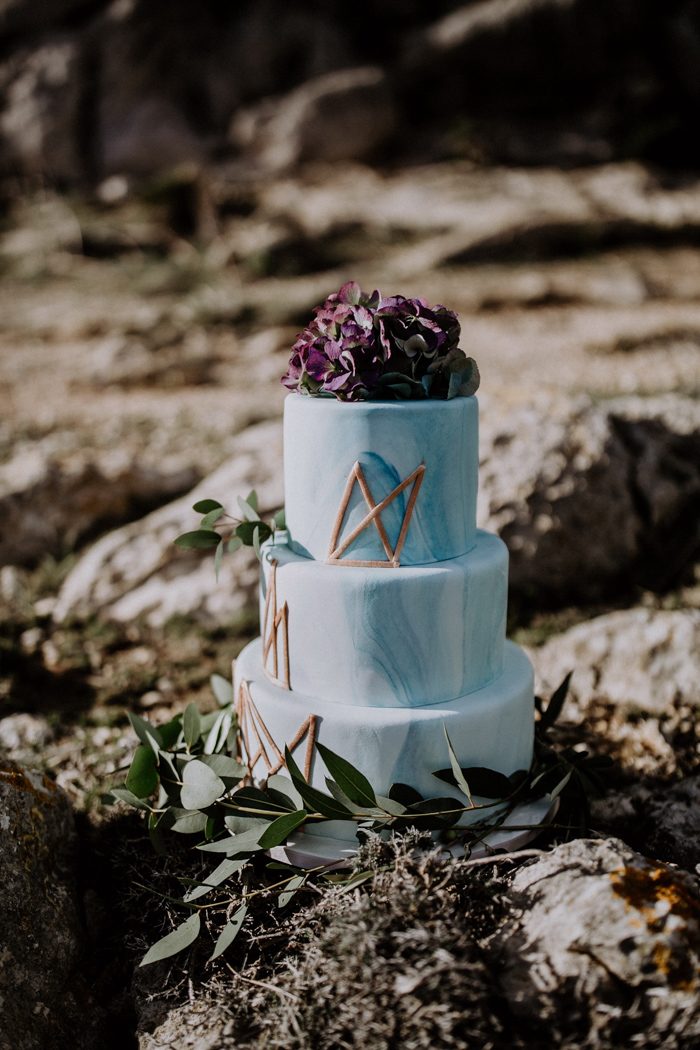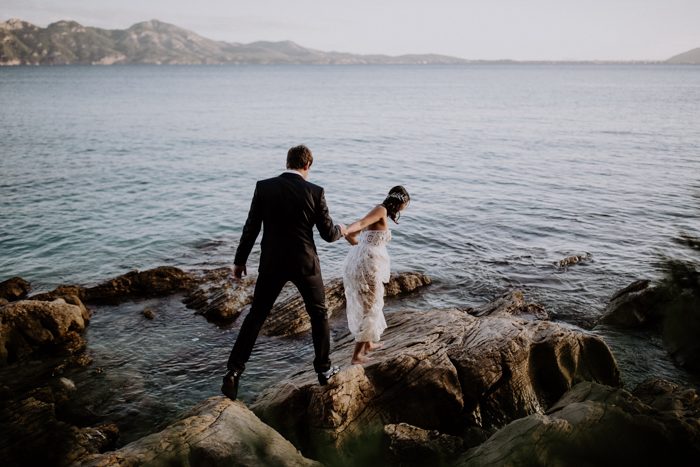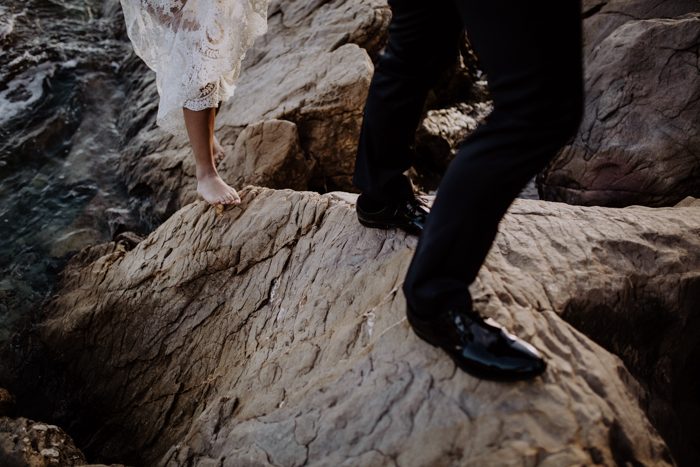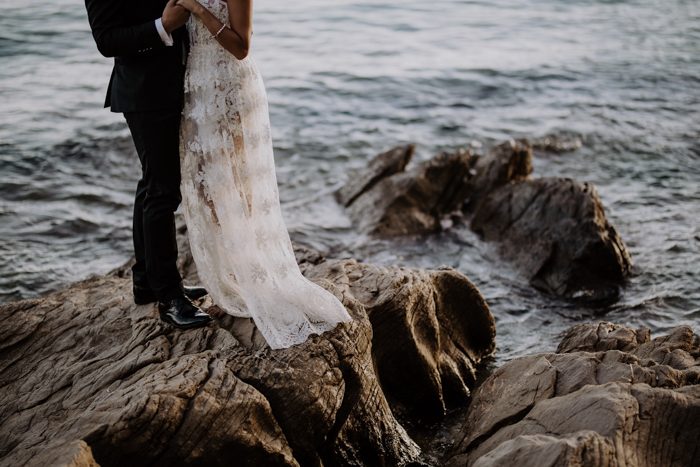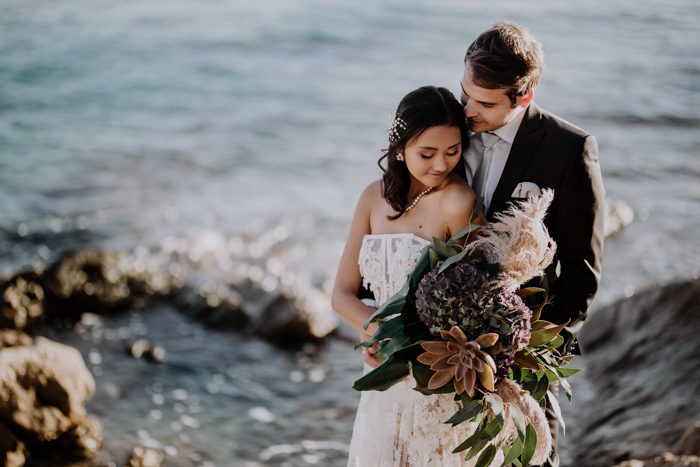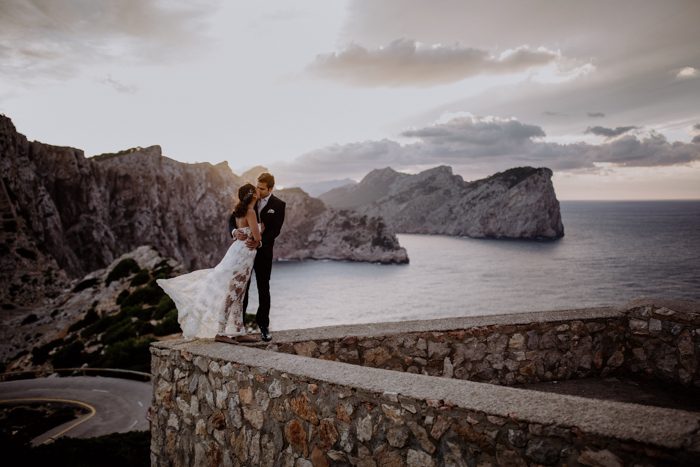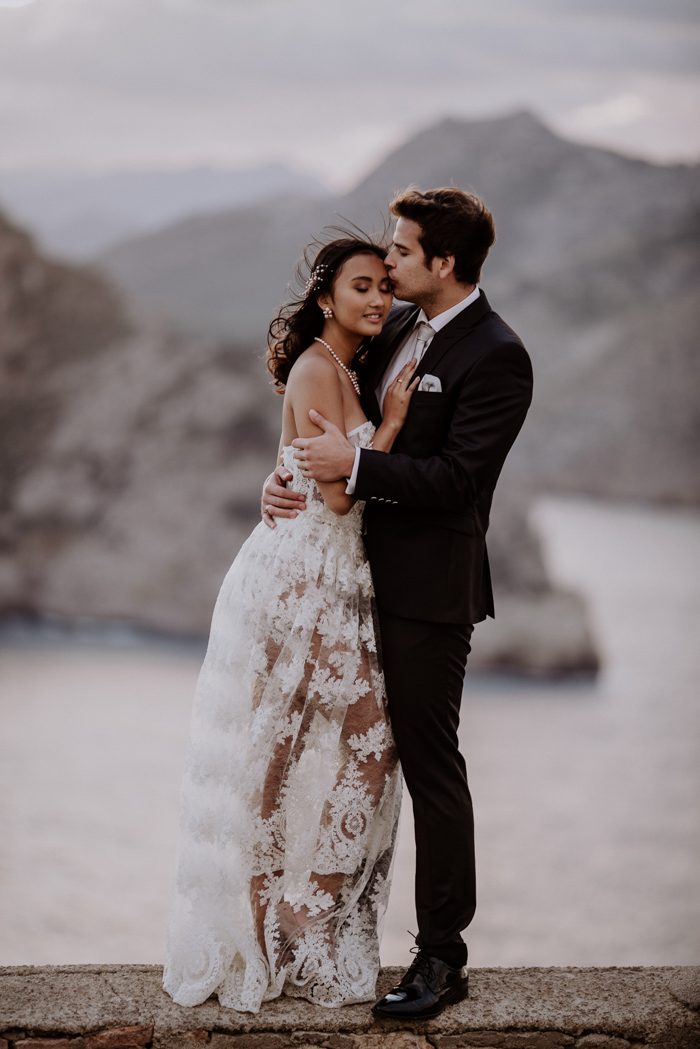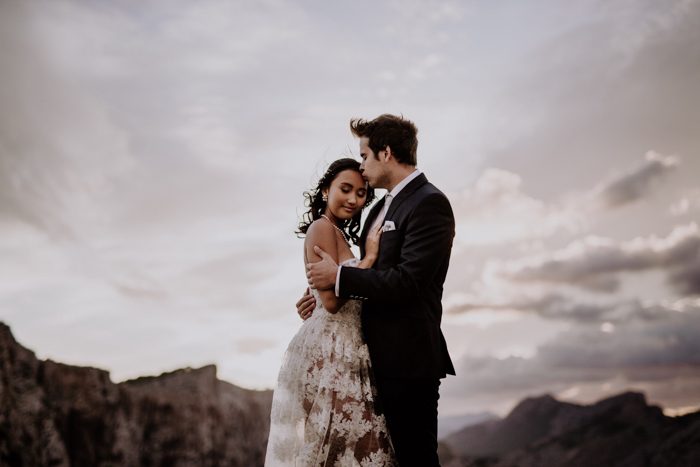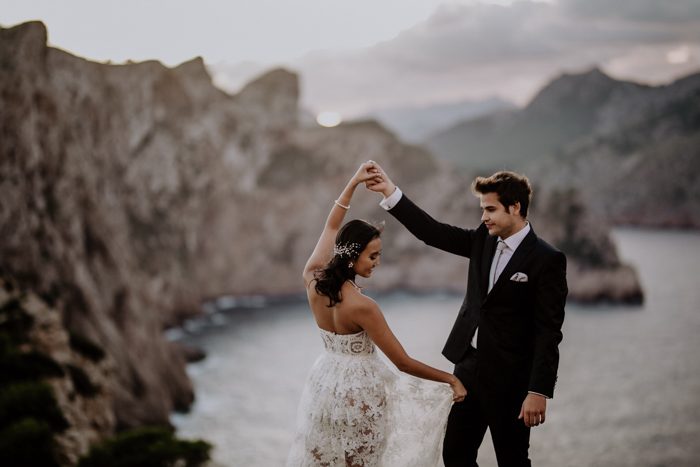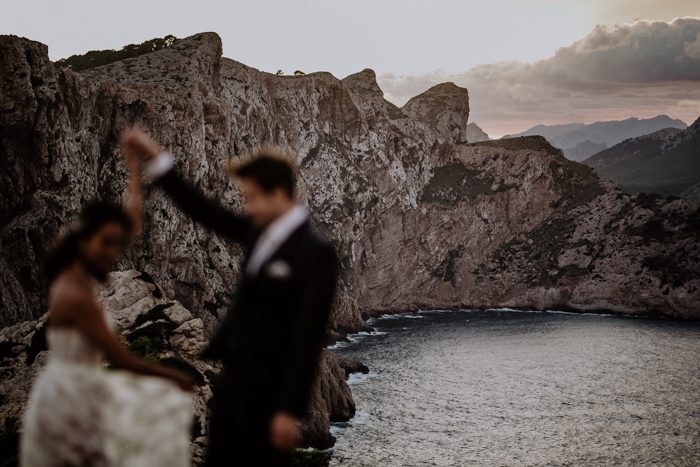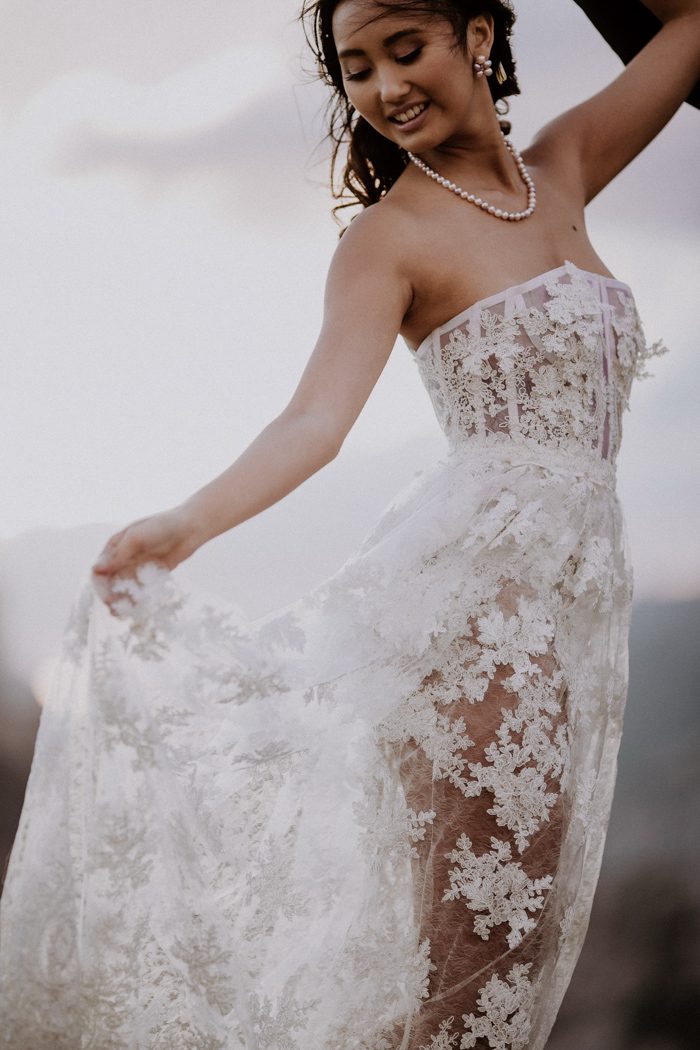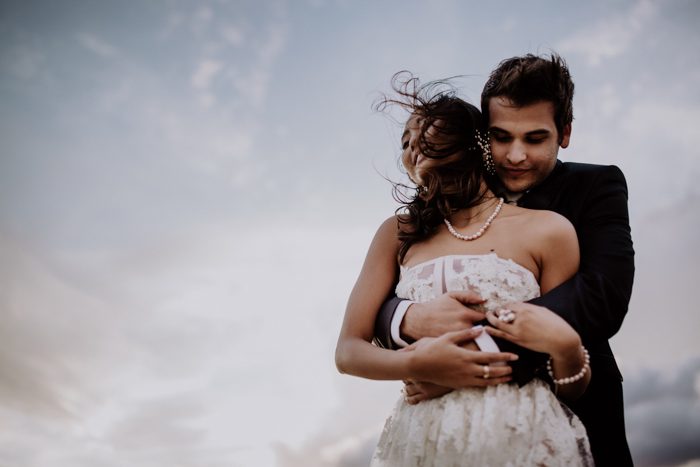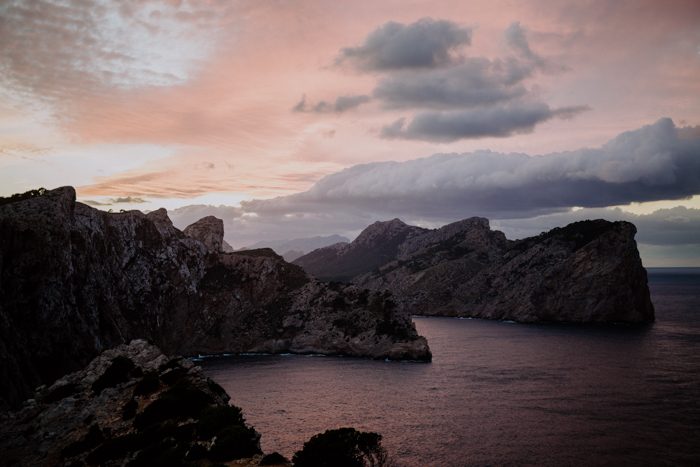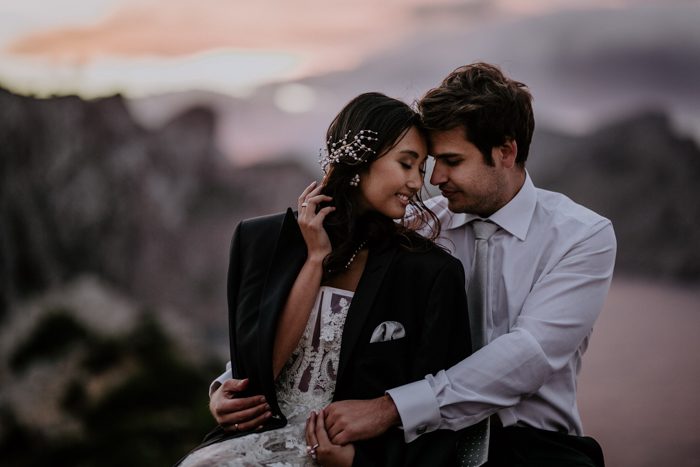 Congratulations to Safrina and Nick, and our biggest thanks to Junebug member Sarah Linow – Wedding Planner for sharing this unbelievable Cap de Formentor elopement with us! Looking for more dreamy elopement inspiration? We're loving the cozy romantic vibes in this Toronto elopement inspiration at 99 Sudbury!