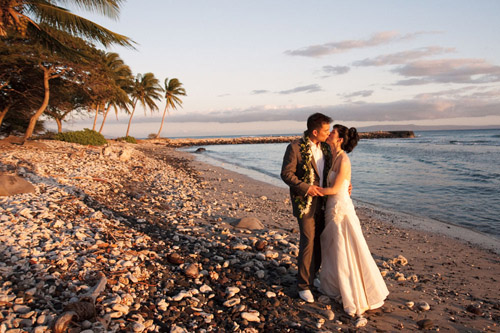 As it begins to feel like fall more and more every day, this little touch of Hawaiian wedding happiness feels like the best way to start off a Friday! Photographer Derek Wong shows us the vibrant colors and meaningful traditions that this couple, Kelly and James, incorporated into every moment of their sun-drenched Hawaii real wedding.
The Goals: After getting engaged on the shore of Carmel-by-the-Sea in Northern California, a beach wedding in Maui was the perfect choice for Kelly and James. They had family traveling from the U.S., Canada and Japan, and Hawaii was easily accessible by all, not to mention, simply stunning! The Olowalu Plantation House offered a private and intimate setting with plenty of room for their 100 guests at their tropical destination wedding.
The Design: Kelly and James put a lot of thought into the details and planning of their wedding day, and there was meaning and intention behind every decision.
To go with their tropical theme that was inspired by waves and water, they chose a wedding color palette of sage green (to match the green foliage of the island), fuschia (one of the brides favored colors and symbolic of cherry blossoms to honor the brides Japanese heritage), and touches of deep purple (a dark accent to anchor and complement the other colors).
James is a graphic designer by trade, and had always dreamed of creating his own wedding invitations. The main design revolved around a wave illustration inspired by Hokusais famous Big Wave woodblock print and the playful invitations and programs were letter-pressed in green and pink ink. To further carry out the "water" part of their theme each table was named after a beach they had visited together, and their favors consisted of fragrant soaps nestled in shredded maps inside of handmade buri boxes. The favors also doubled as the centerpiece of each table, arranged in a pyramid on top of a buri placemat.
One of the most impressive design elements to the wedding was Sembazuru – the folding of one thousand origami cranes, a Japanese symbol of luck and longevity. "We had our wedding party and family help us fold 1001 cranes which were then carefully arranged into the customized crest that the groom had designed – a cherry blossom surrounded by willow tree leaves in a circular pattern. This will become a family heirloom displayed in our home to be enjoyed in the years to come, celebrating the Japanese culture, acknowledging our ancestors and hopefully, granting us long life and prosperity!"
The Look: Kelly's wedding dress by WTOO by Watters was beautiful, lightweight and perfect for a day at the beach. Her bridesmaids wore fuchsia dresses that really popped against the tropical backdrop, as well as black Tahitian pearls that Kelly gave them as thank you gifts. James wanted to capture a casual, island look while matching the formality of Kelly's gown, so he wore a light gray suit with a white, open collared dress shirt, white pocket square and white slip-on shoes. His groomsmen wore sage aloha print shirts with white khakis and white canvas Vans.

The Moments: The wedding ceremony was presided over by a close personal friend and was created by the couple themselves. It included a lei exchange between the couple and their parents because they wanted to share the aloha spirit with their guests.
Later during the reception there were a number of fun surprises and performances! The bride performed a traditional hula dance for the groom, and a local taiko drum group performed a few songs. During the performance, they called Kelly and James up to the stage to "learn" Taiko, but little did everyone know, they had been learning Taiko leading up to the wedding and had practiced with the group the day before. "We performed the song to completion and the crowd roared it was so much fun to surprise our family and friends with an entertaining treat!"

As a touch of Chinese tradition to honor James' heritage, they ended their reception on the beach by launching paper sky lanterns into the night sky. Beautiful!
The Pros: To learn about all the wedding professionals who brought this celebration to life, be sure to visit our Real Wedding section.

Thanks for sharing your wedding story with us all Kelly and James!
To plan your own Southern California or Seattle area wedding, check out our Plan Your Wedding Hotlists, and to find your dream wedding photographer for weddings anywhere in the world, don't miss our World's Best Wedding Photographers Hotlist!