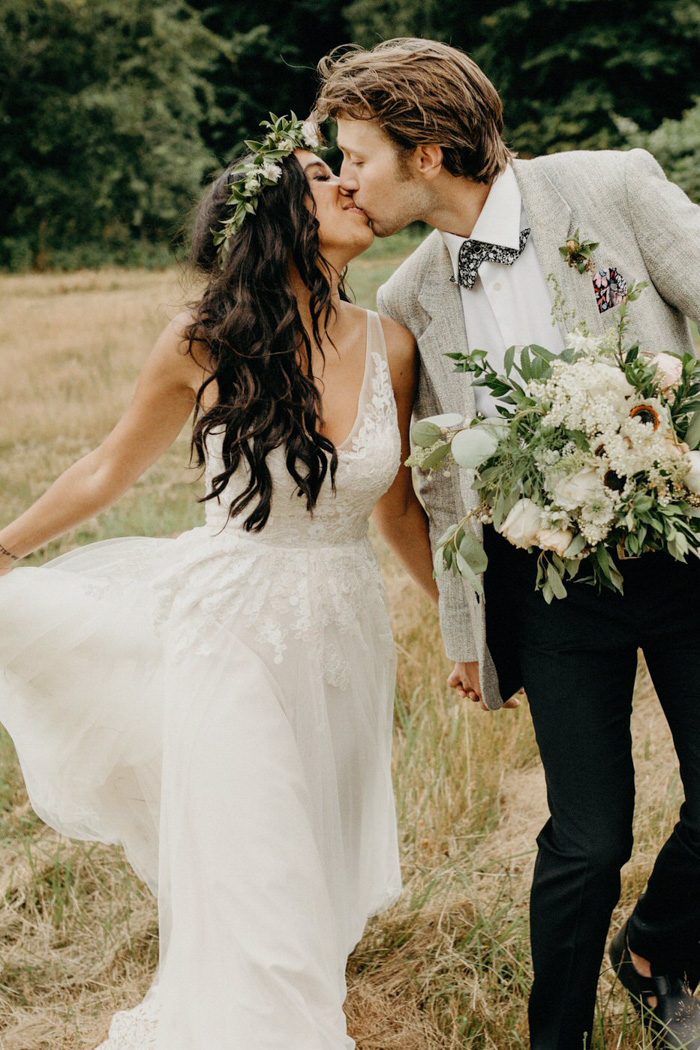 If we had to describe Micah and Mackenzie's Red Barn Farm wedding in just three words, it would be charming, free-spirited, and joyous! The couple, who wanted to be as close to nature as possible on their big day, decided on an outdoor ceremony and an indoor reception inside the recently renovated barn, then brought in the creative forces of their families and friends to create nearly every element of decor — even the wine and dessert bar! The team at Glorious Wedding and Event Planning tied together all the DIY elements and the floral pieces created by The London Plane into one cohesive look that had influences of both earthy and rustic charm. For their attire, Micah set the stage with an airy yet elegant BHLDN gown, and her girls followed suit with mismatched floral print and solid neutral dresses from Nordstrom and Free People, which they all paired with greenery crowns, wild DIY bouquets, and turquoise accessories. From the decor to the style, this wedding felt like the perfect backyard summer party that was filled with pure joy and excitement, which photographer Adam Naples captured with ease and creativity.
The Couple:
Micah and Mackenzie
The Wedding:
The Red Barn Farm, Redmond, Washington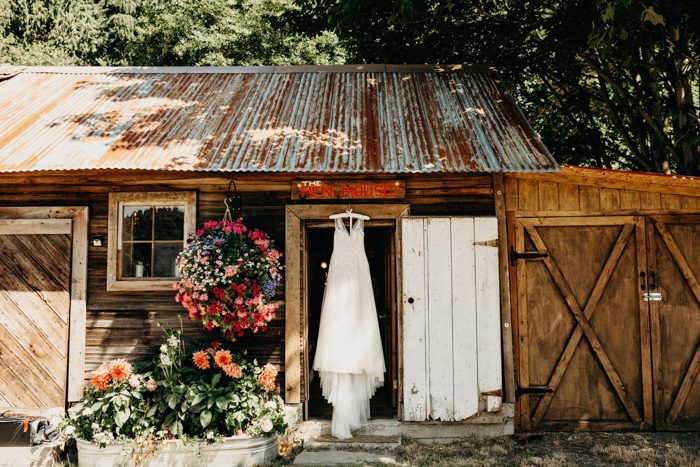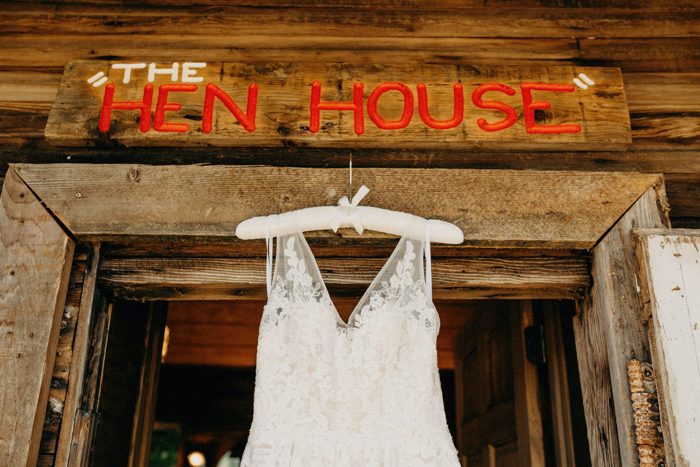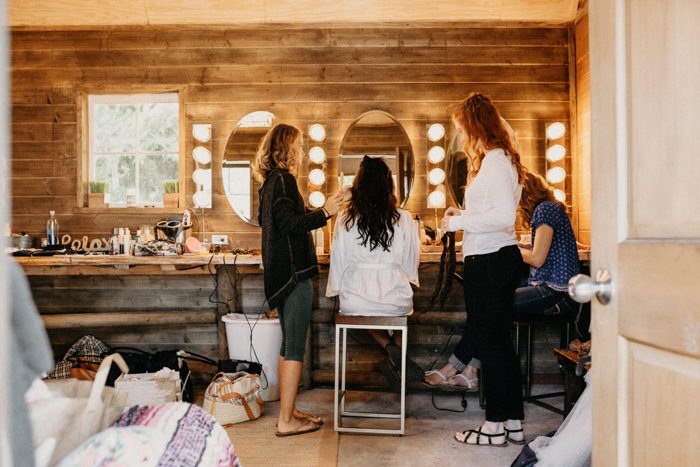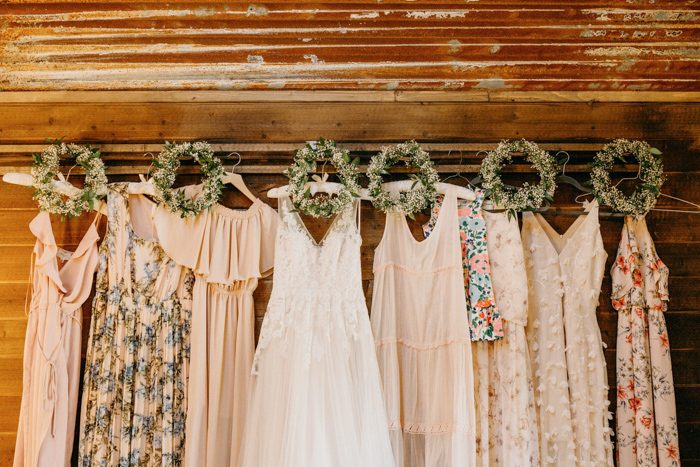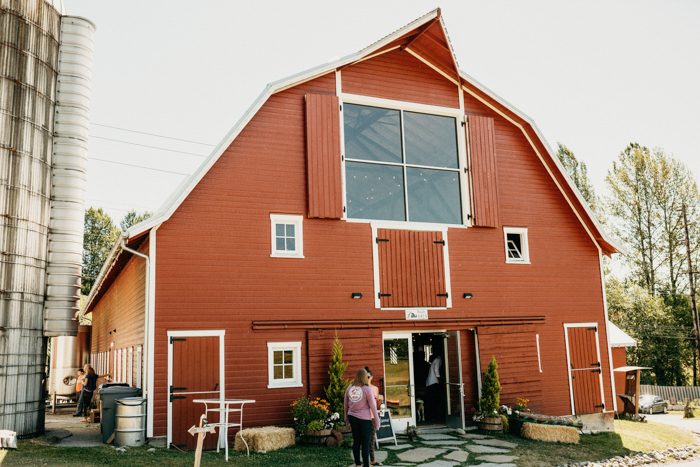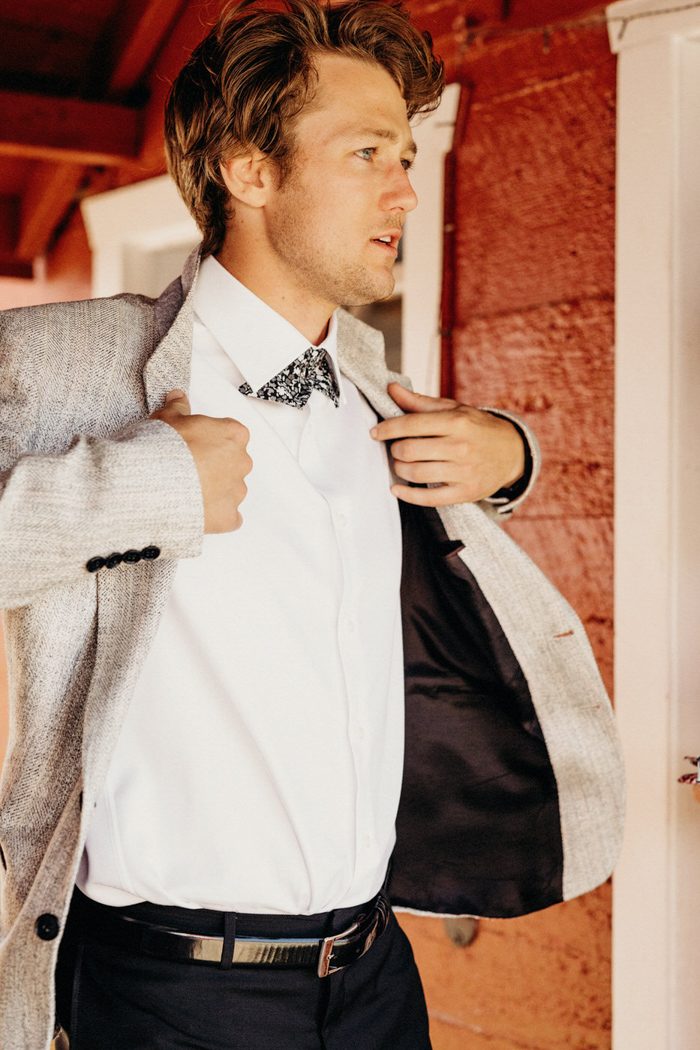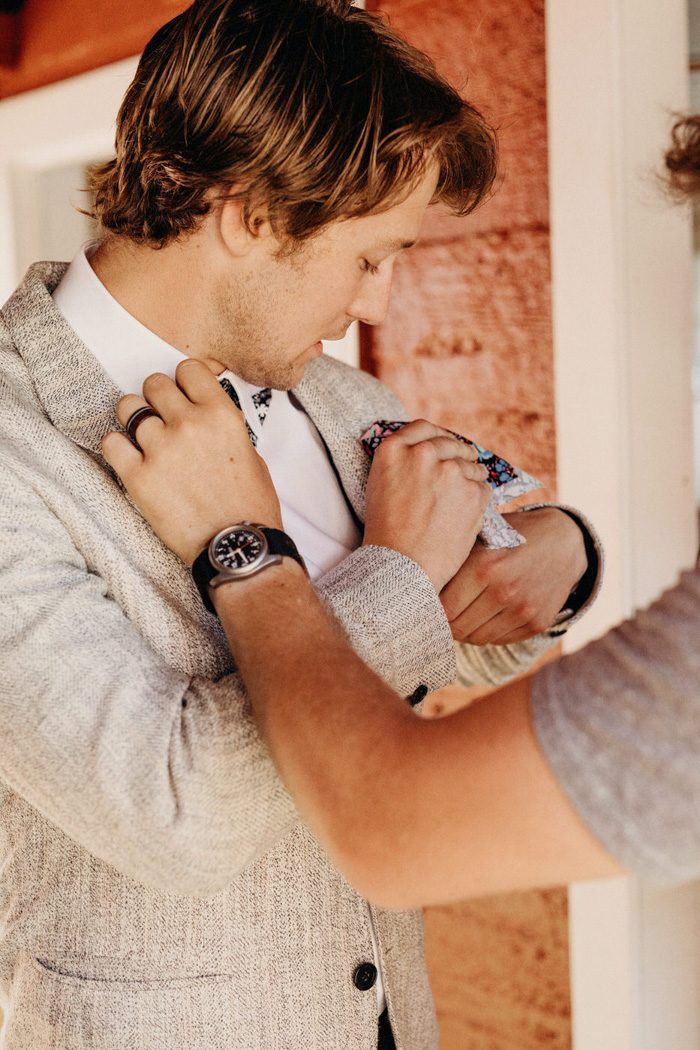 The most important decision was finding the perfect photographer! You'd think the first thing would be finding the dress, but that was actually the very last thing I did. I wanted our photographer to have a unique style, but also a classic approach. I wanted them to be younger, and feel like a friend. Adam was just that. For Mackenzie, his main focus was the guests. He wanted everything to make the guests feel like they were there to party, to feel included, and that each and everyone there was so important to us.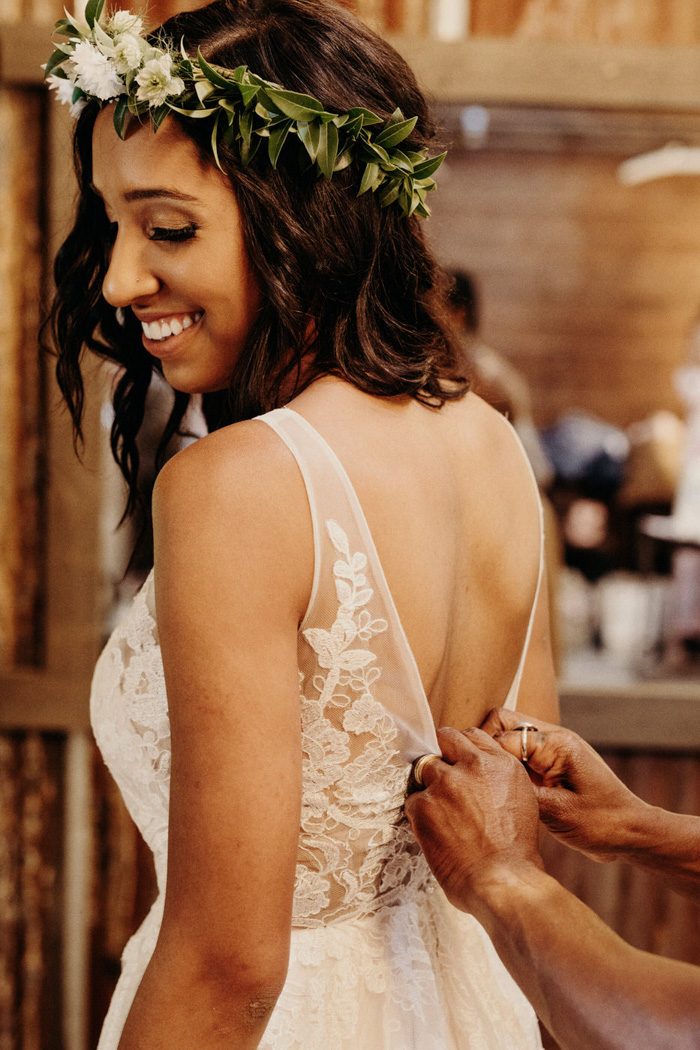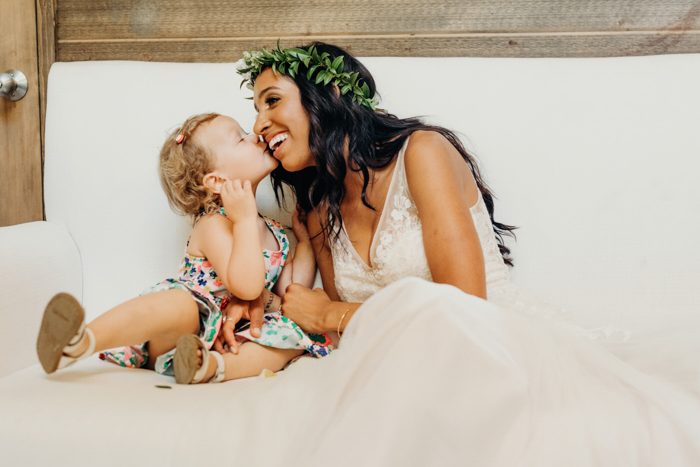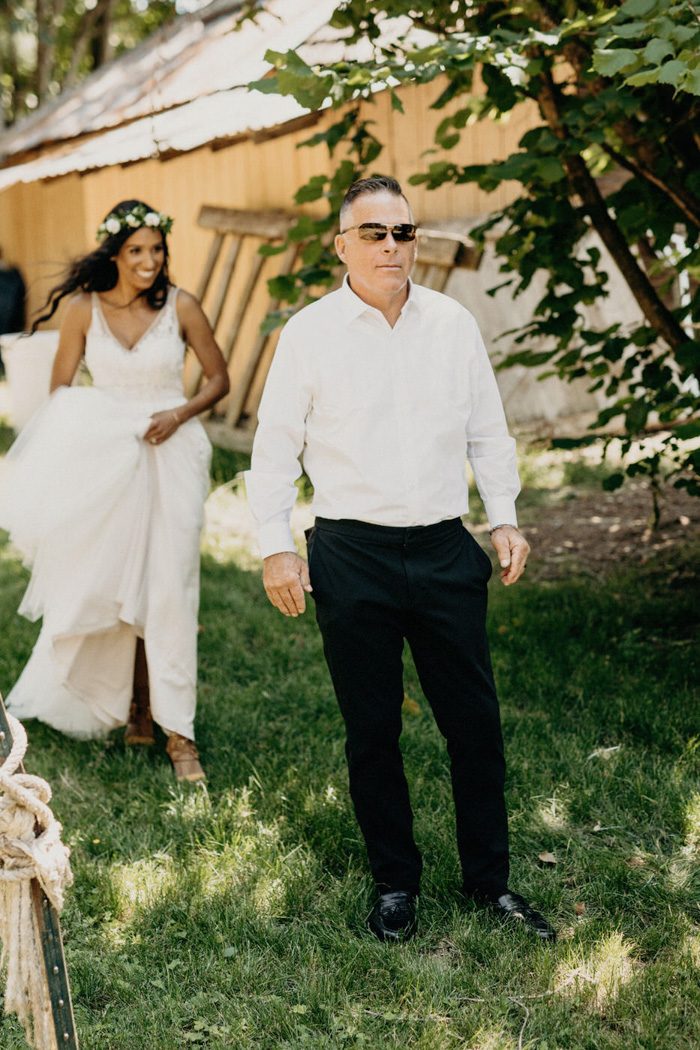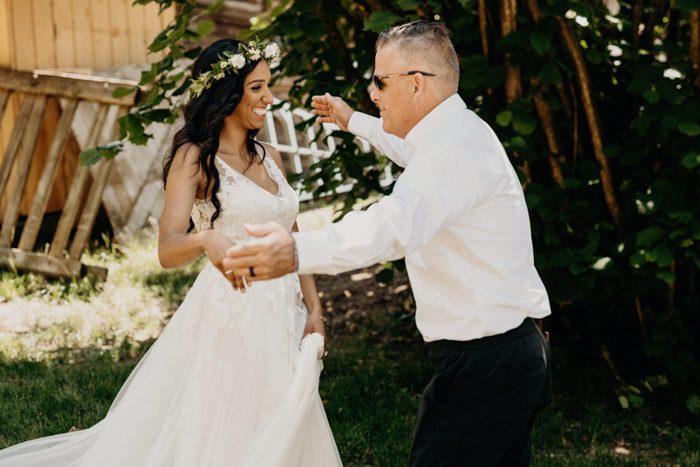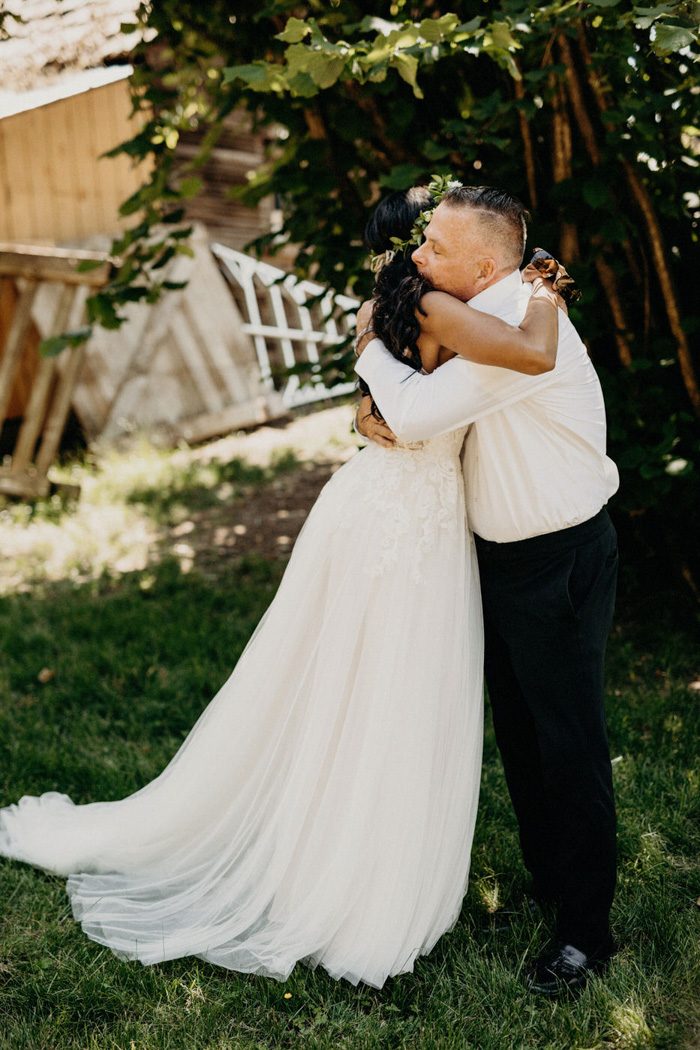 One of Mackenzie's groomsmen went to high school with the owners of The Red Barn Farm! We got a friend hook up and Mackenzie was able to work off most of the venue cost by working with them to renovate the space. He even helped build the refashioned chicken coop that is now the bridal suite! He had an idea to use pieces from the original barn to create a giant mirror that can be closed like barn doors and opened to create a large tri-fold mirror. It's beautiful!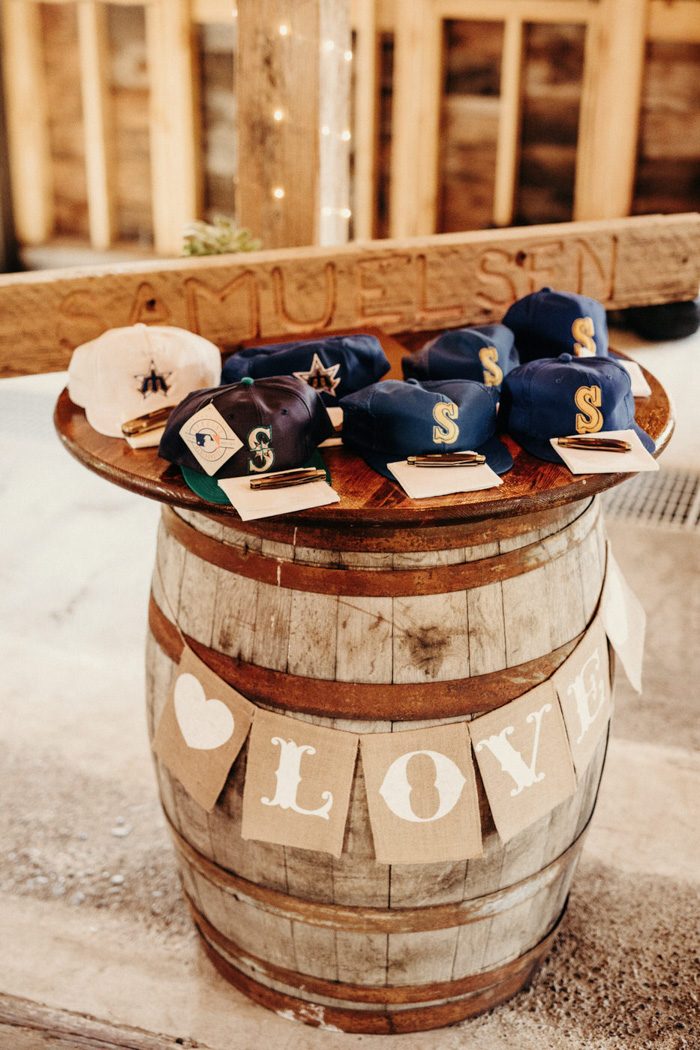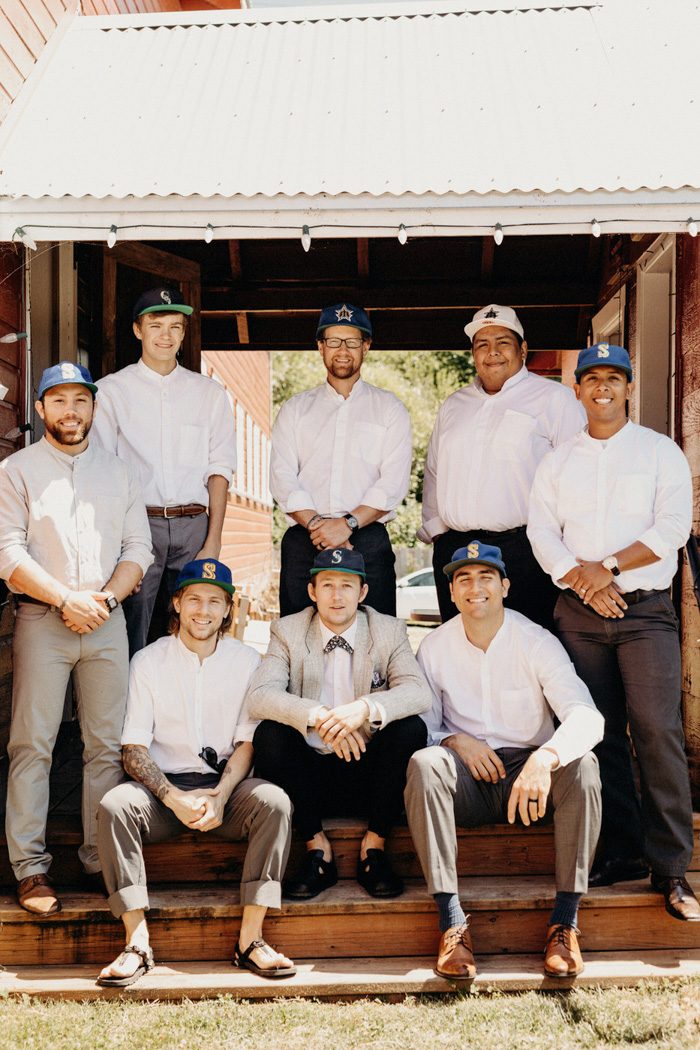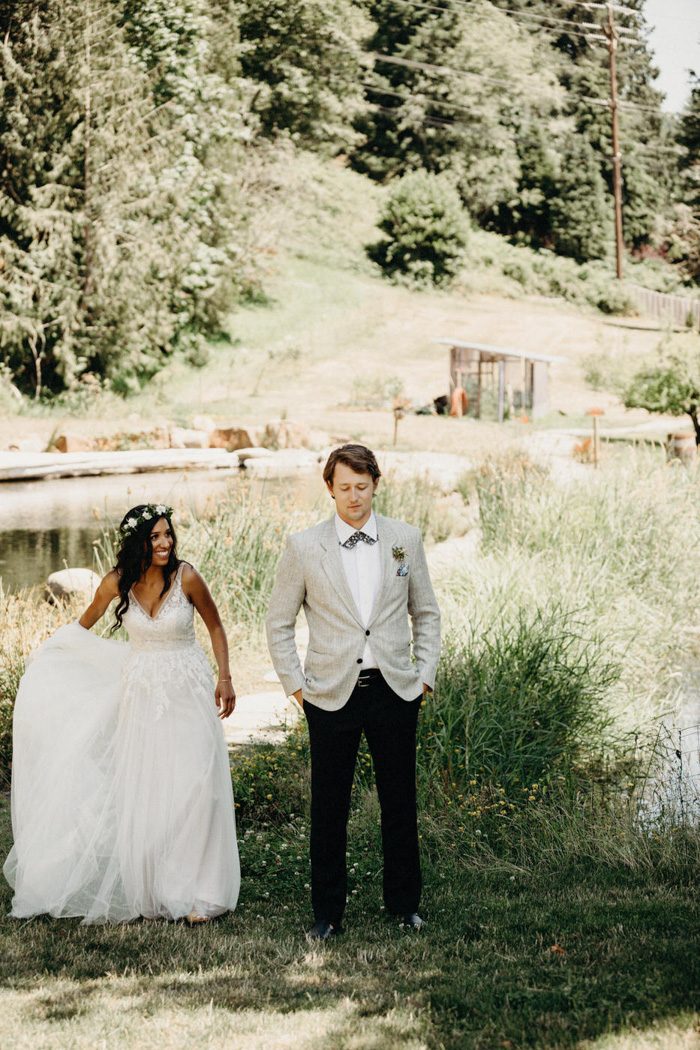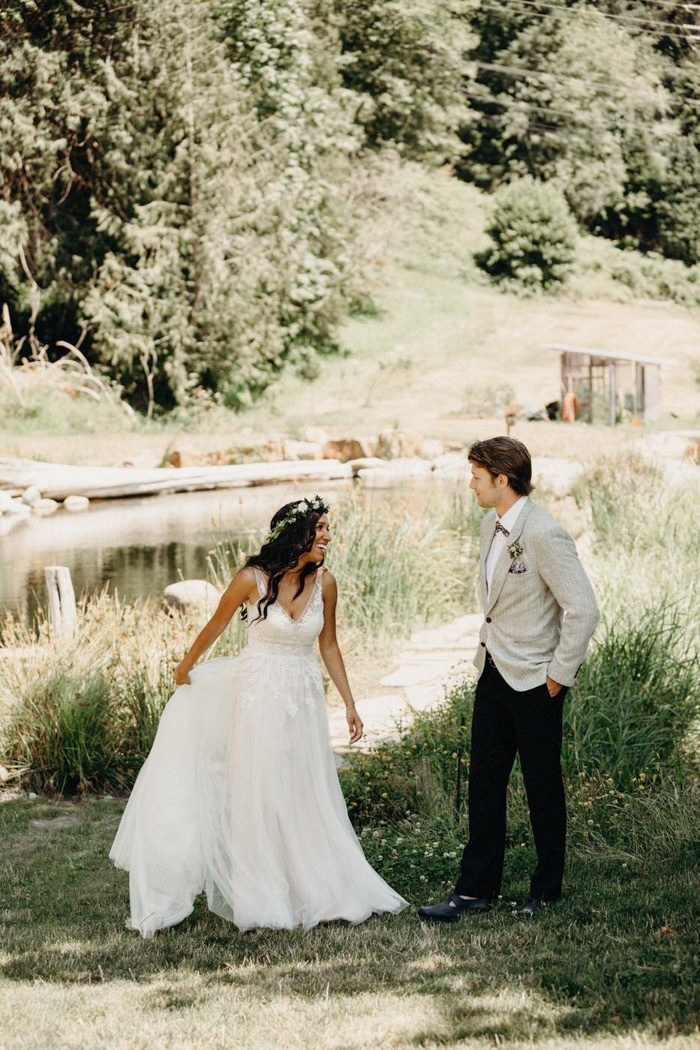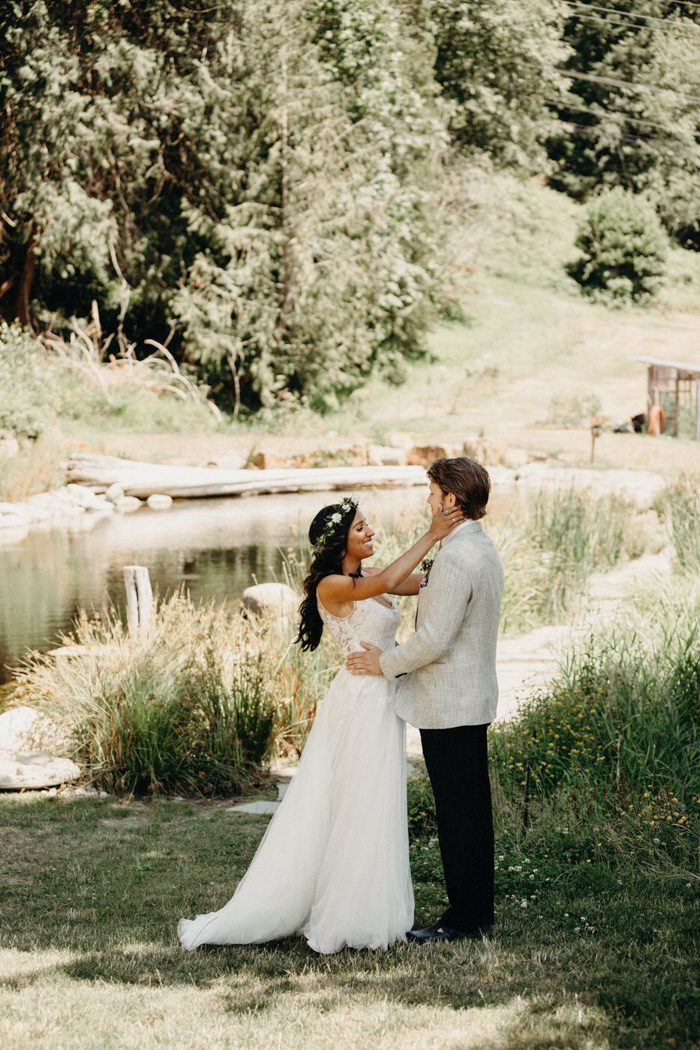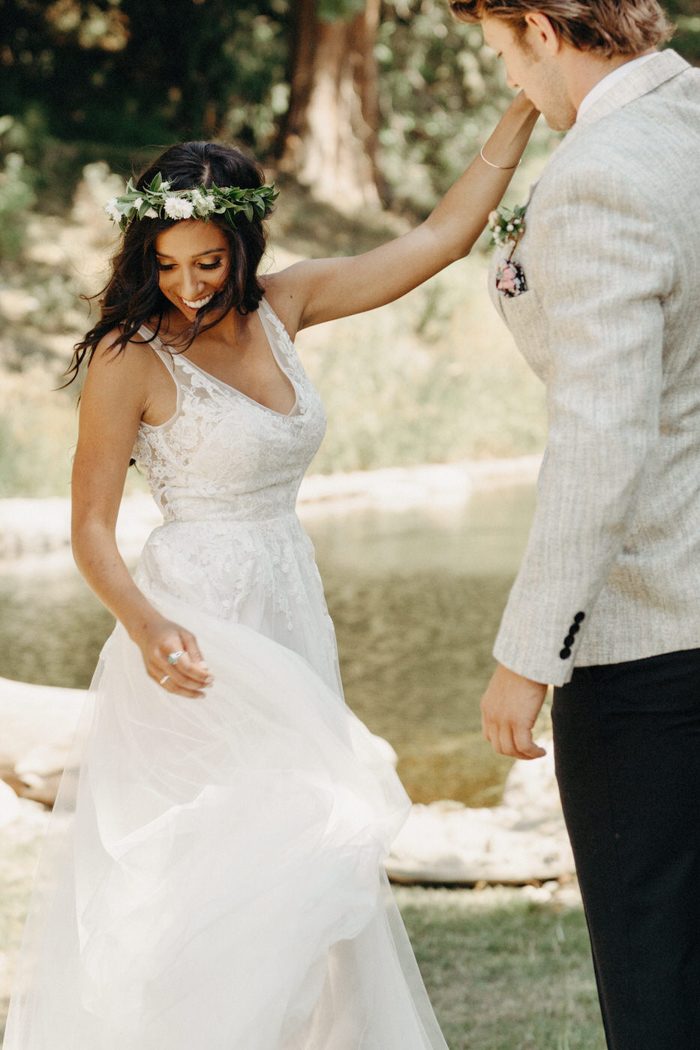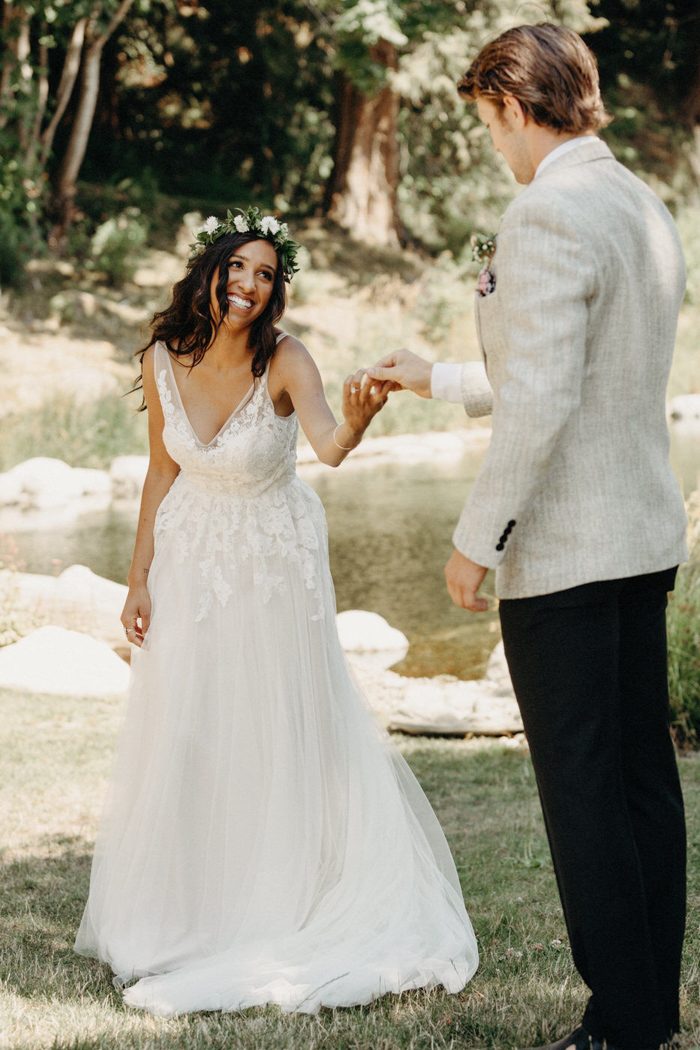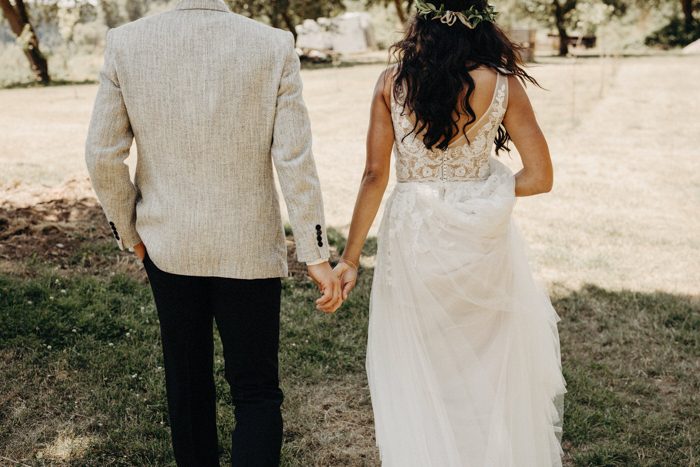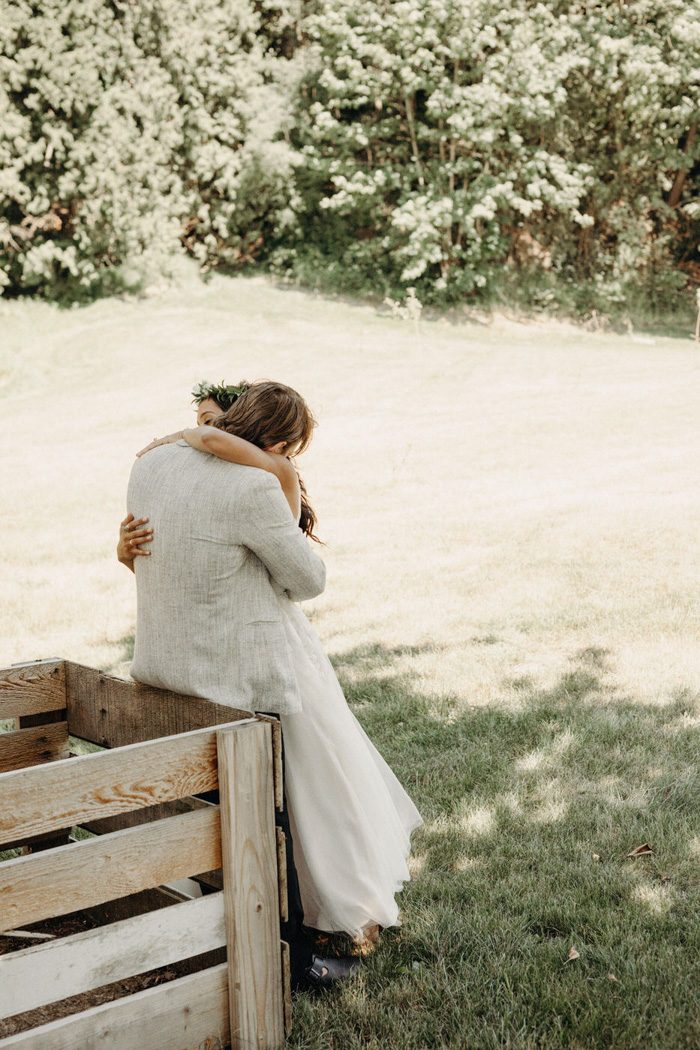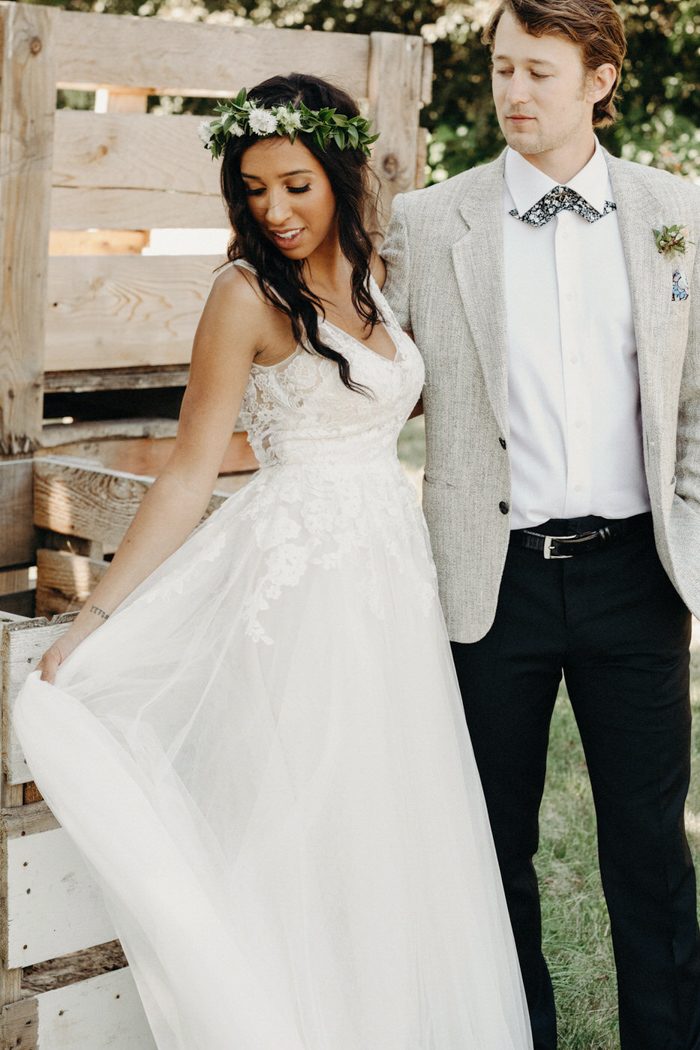 We both love being outside and hanging out with friends, so we wanted our wedding to feel like a big backyard summer party. I wanted summer dresses, short sleeve button ups, and lots of Sangria! The venue fit this vision perfectly. It had trees, grass, and natural wood, so we just needed to add flowers and people, and we were set! We also wanted to make sure we stayed conscious during this celebration, so we used all compostable cups and bamboo plates and utensils.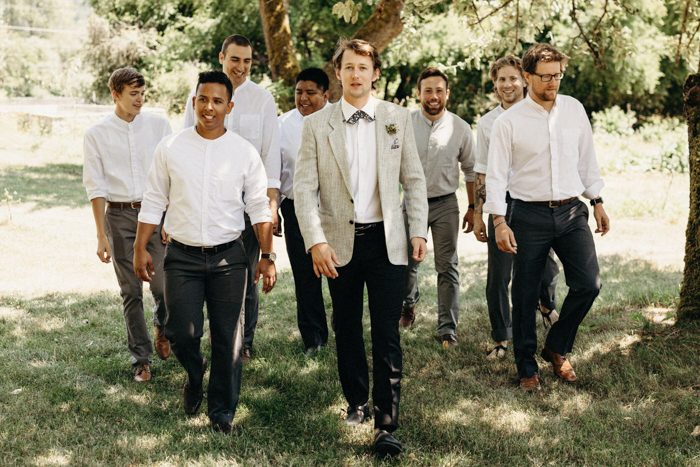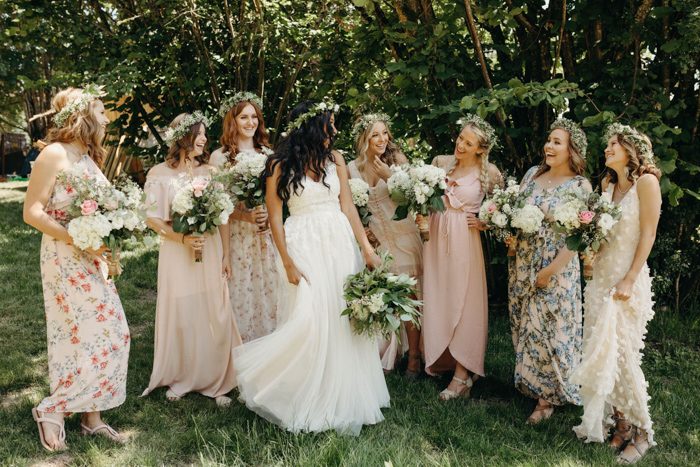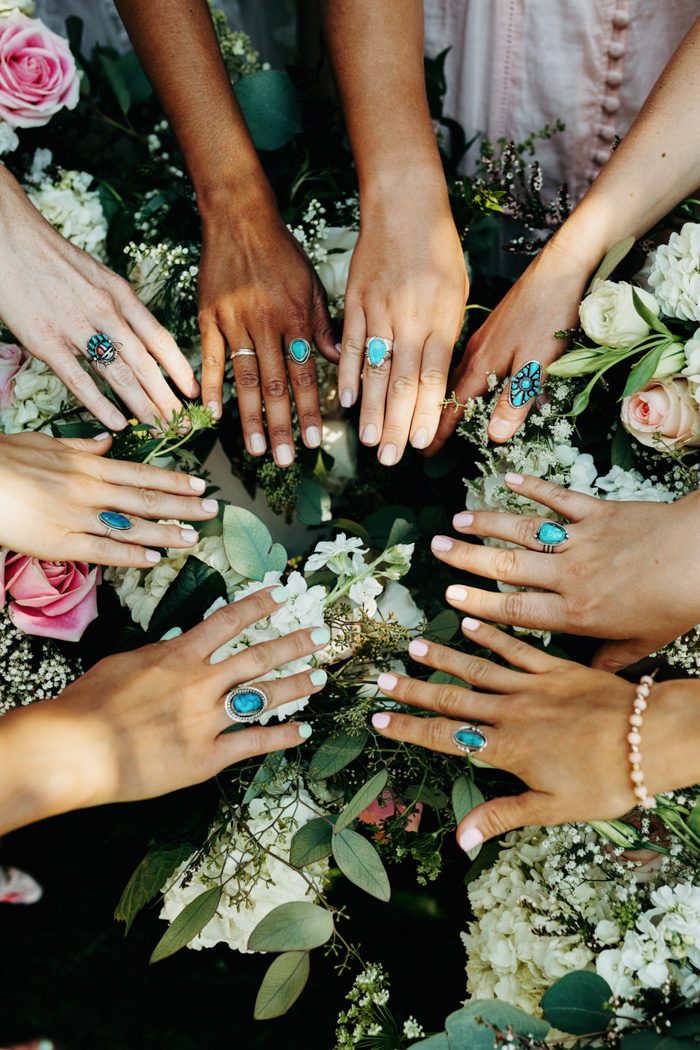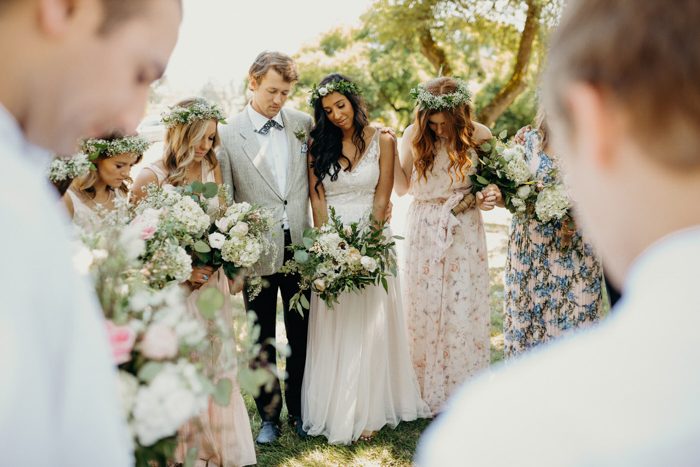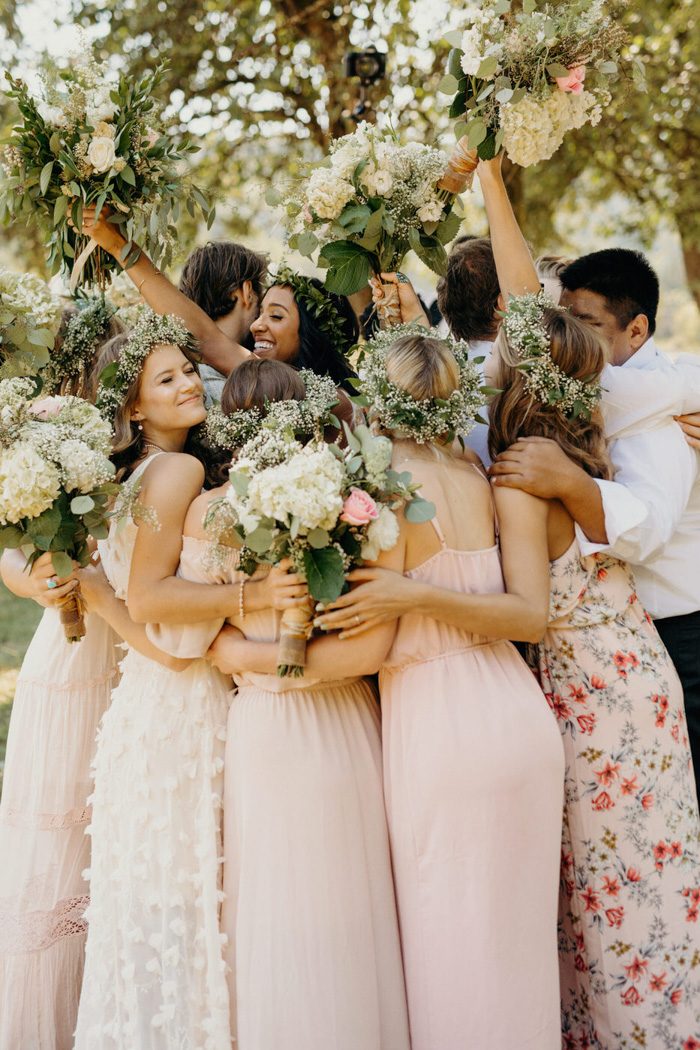 Processional – "Close Your Eyes" by Silver Trees
Recessional – "Little Lovin'" by Lissie
First Dance – "I've Never Felt So Good" by Mura Masa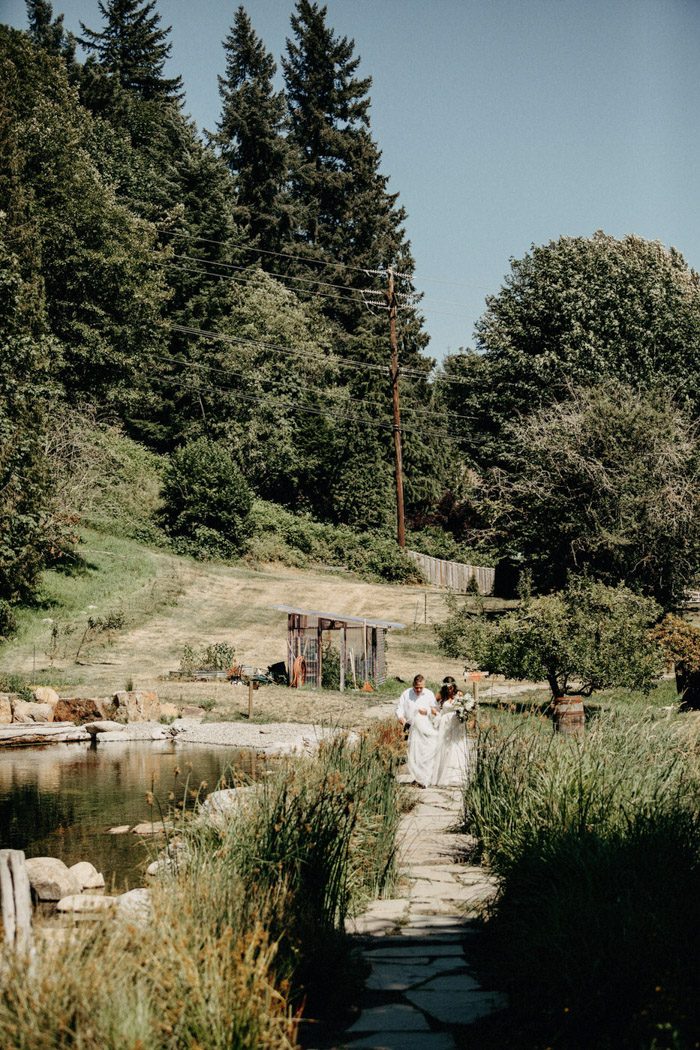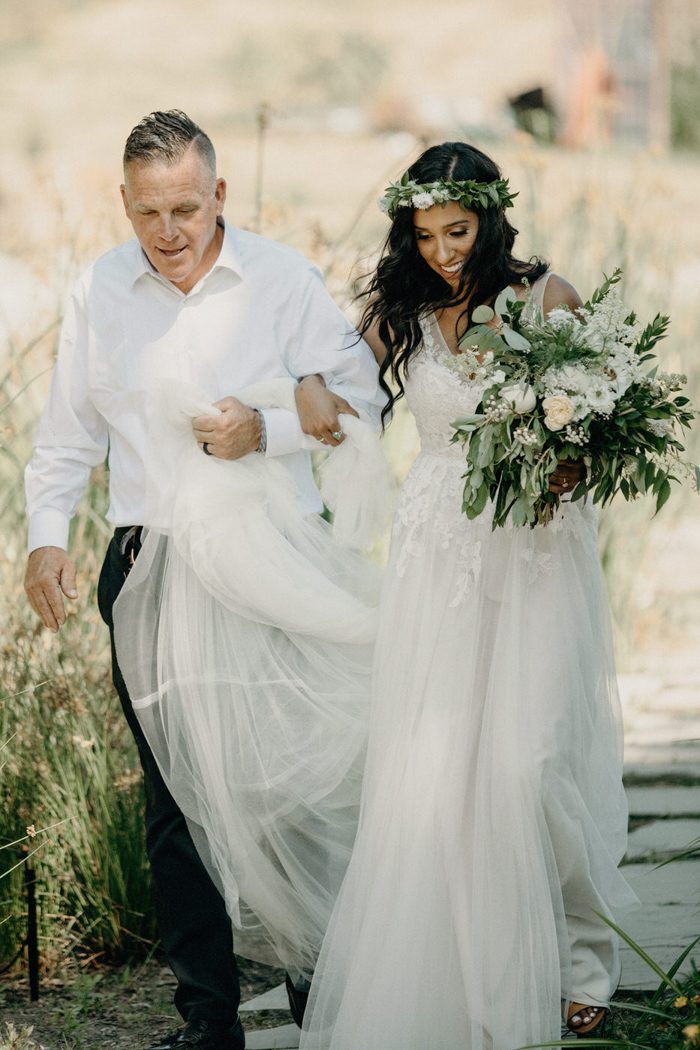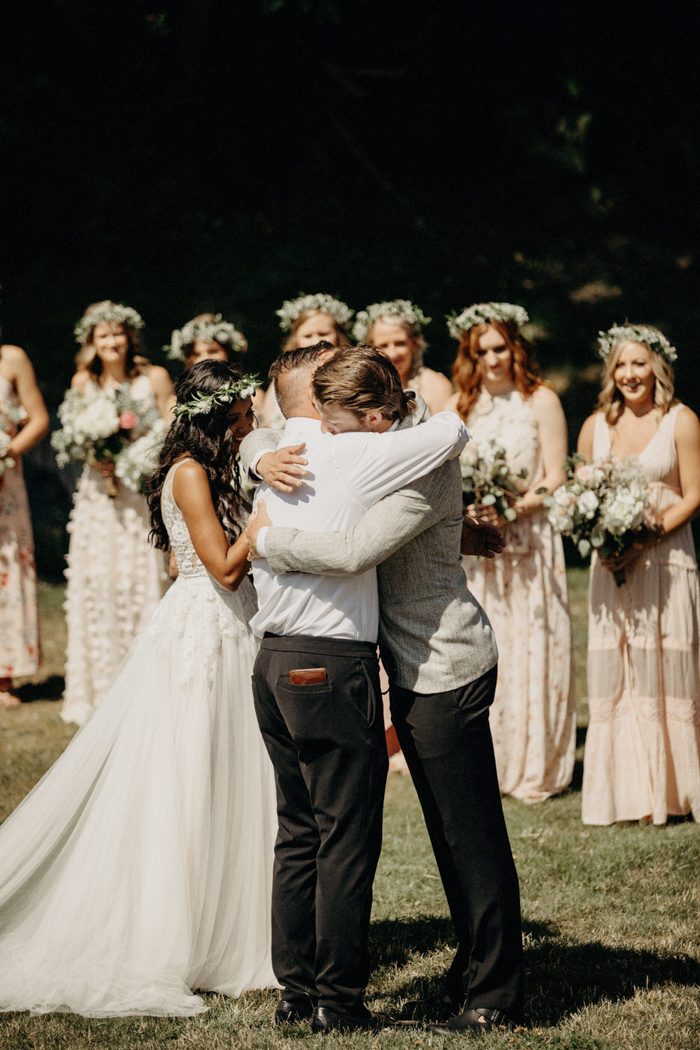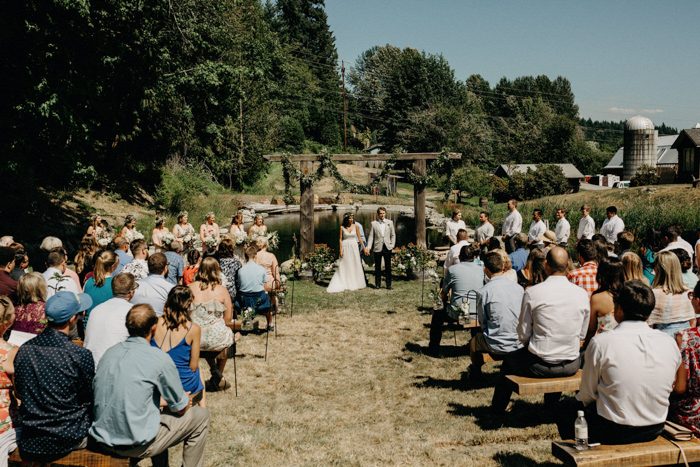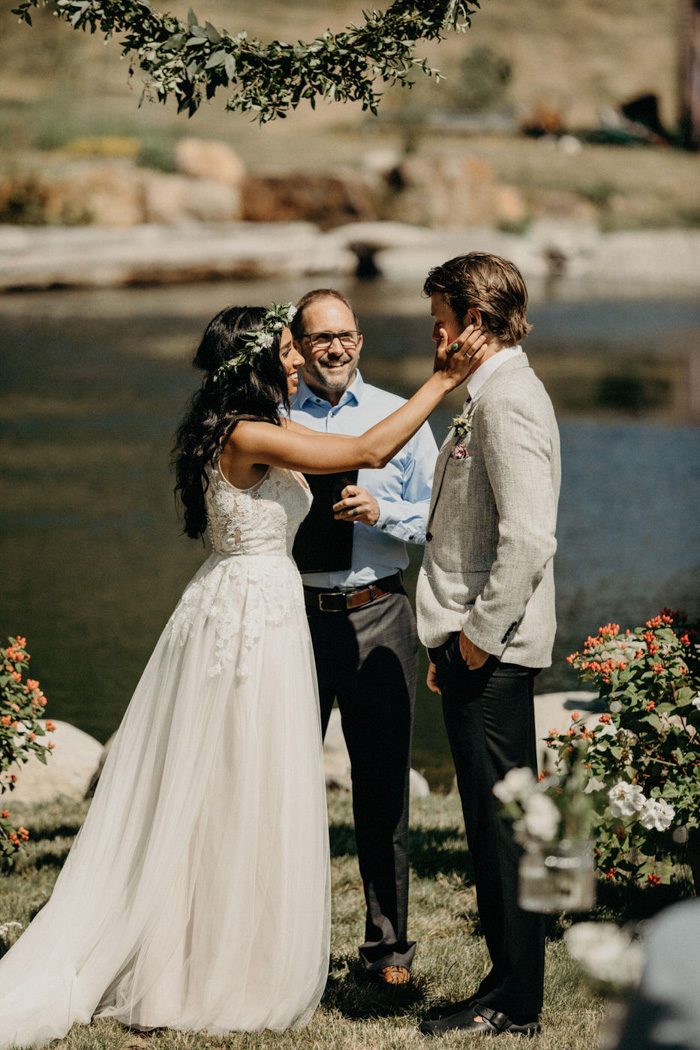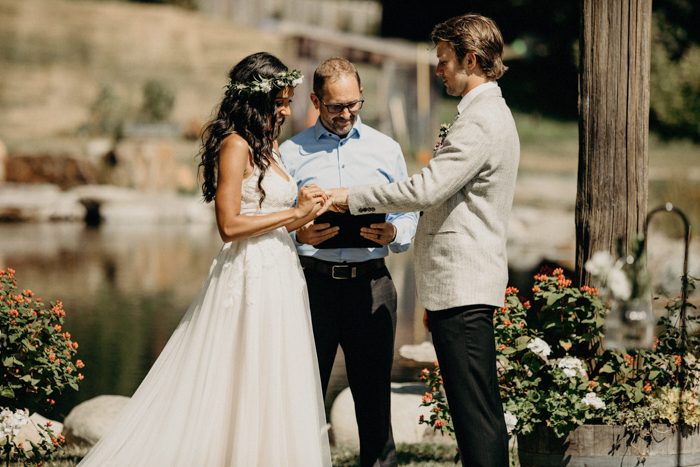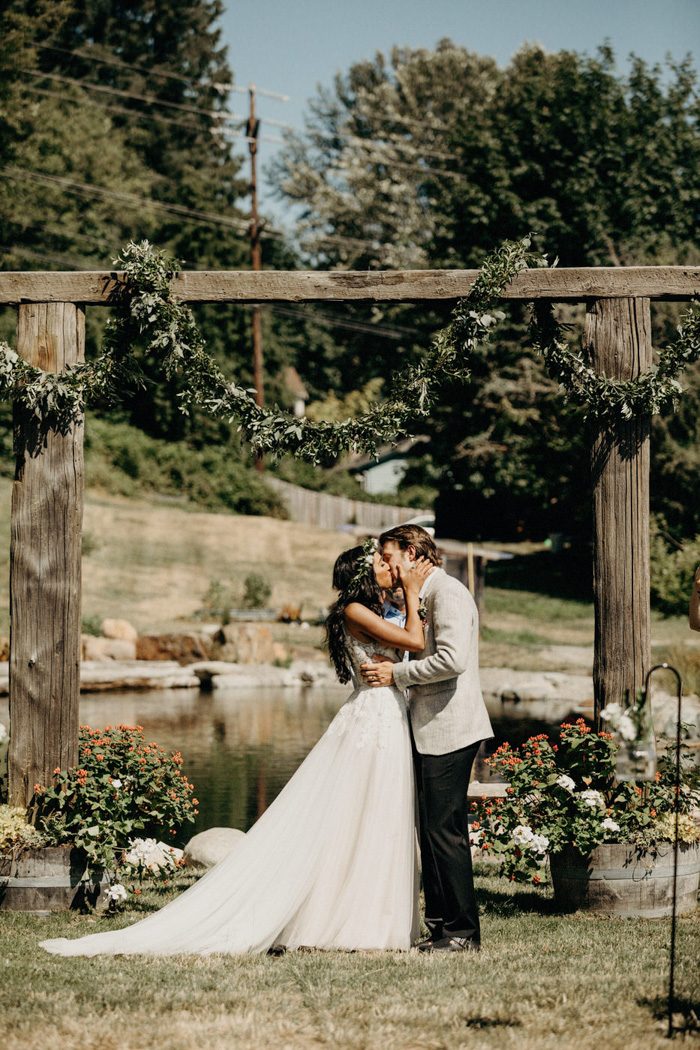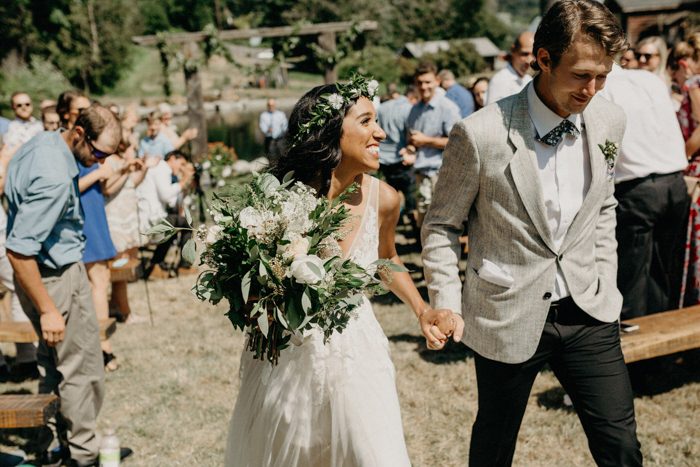 Aside from my bouquet, flower crown, and garland over the arbor, we did the flowers ourselves. We ordered in bulk from Safeway's floral department, saved a ton of money, and got to hand pick our favorite flowers for each bouquet and centerpiece. My aunt and cousins took care of the bouquets and my mom put together succulent arrangements. I also had a friend from college hand paint our welcome sign, and we used our own plates and glasses for the head table. My dad even took a road trip to a winery in Walla Walla, Washington where he picked his own grapes for our wine blend and got to bottle it! Mackenzie's Grandma baked our pies, his mom made our cookies, and my dad made his famous Sangria.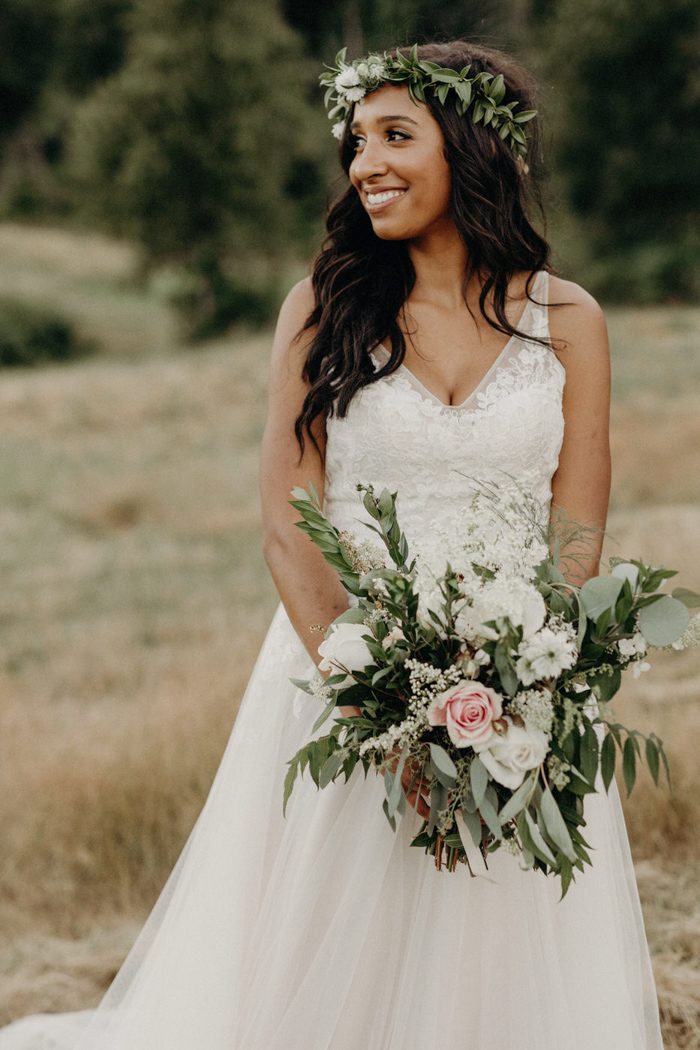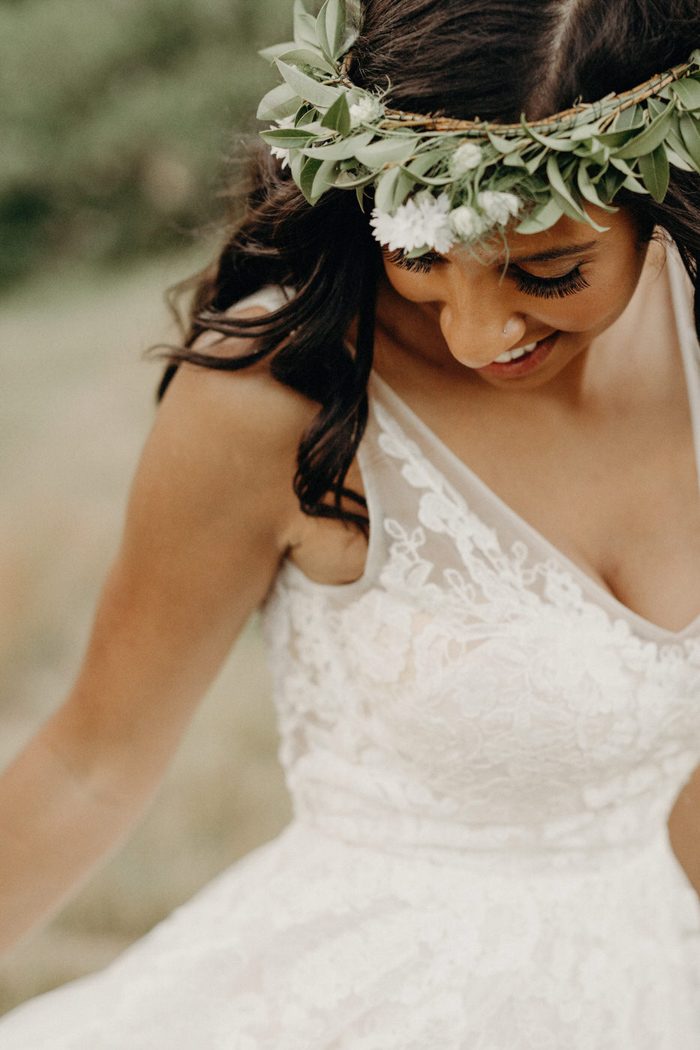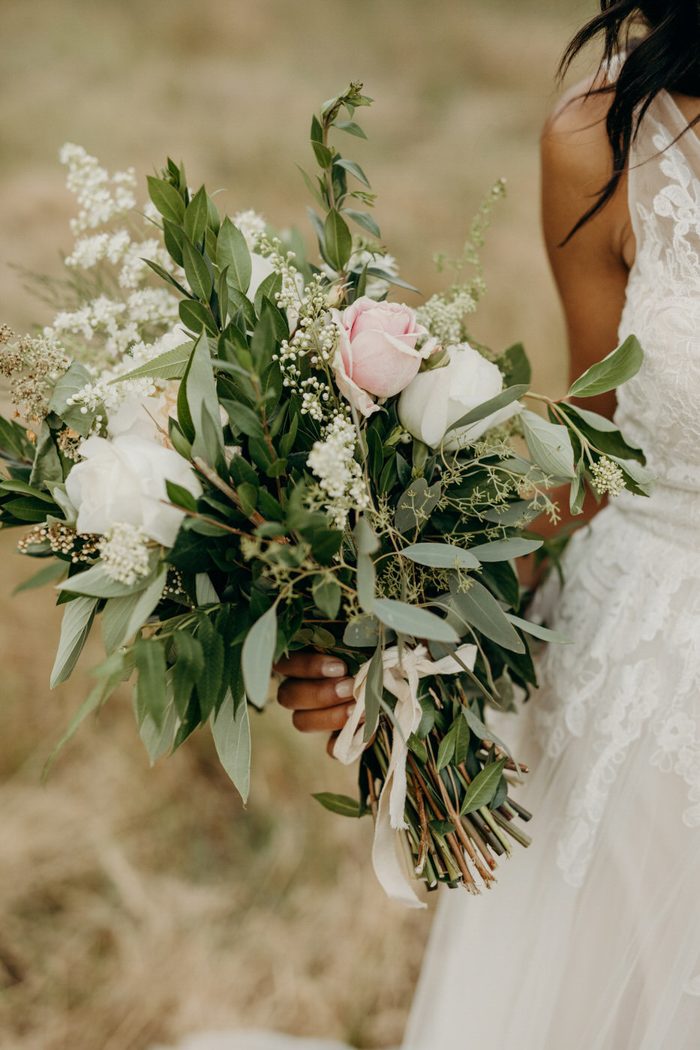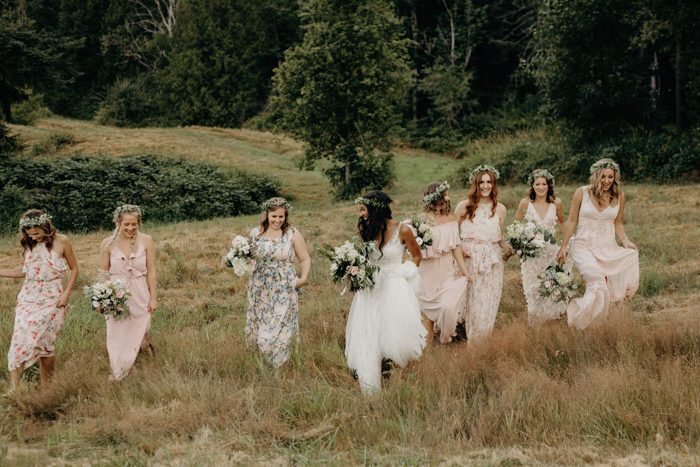 My style inspiration actually came from a wedding that you guys featured on your site! The bride was wearing a flowy BHLDN gown and her bridesmaids were wearing Free People and other BHLDN dresses, too. I had already purchased a gown from a boutique in Seattle and regretted it, but they wouldn't let me return it. At the same time, I was looking at the BHLDN website every day, and I finally just pulled the trigger, bought the Reagan gown, and hoped that I could get money back for the other dress. After multiple failed attempts to do it on my own, I took my mom to the bridal boutique with me and she was able to get our money back. Moms are the best!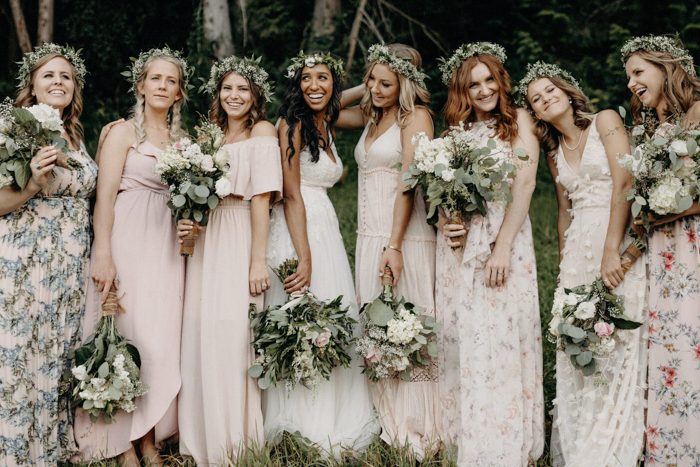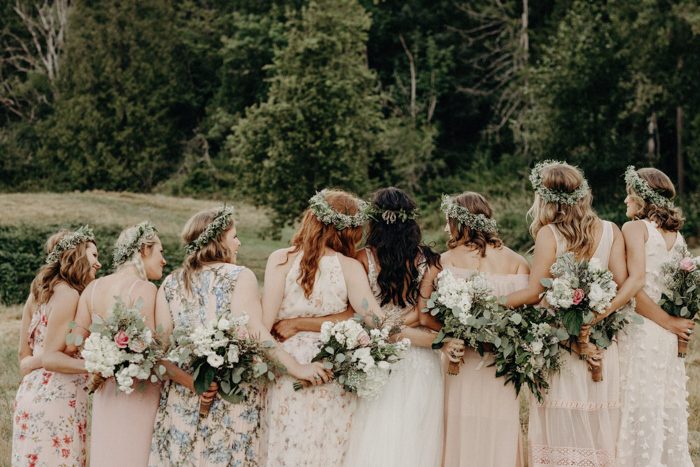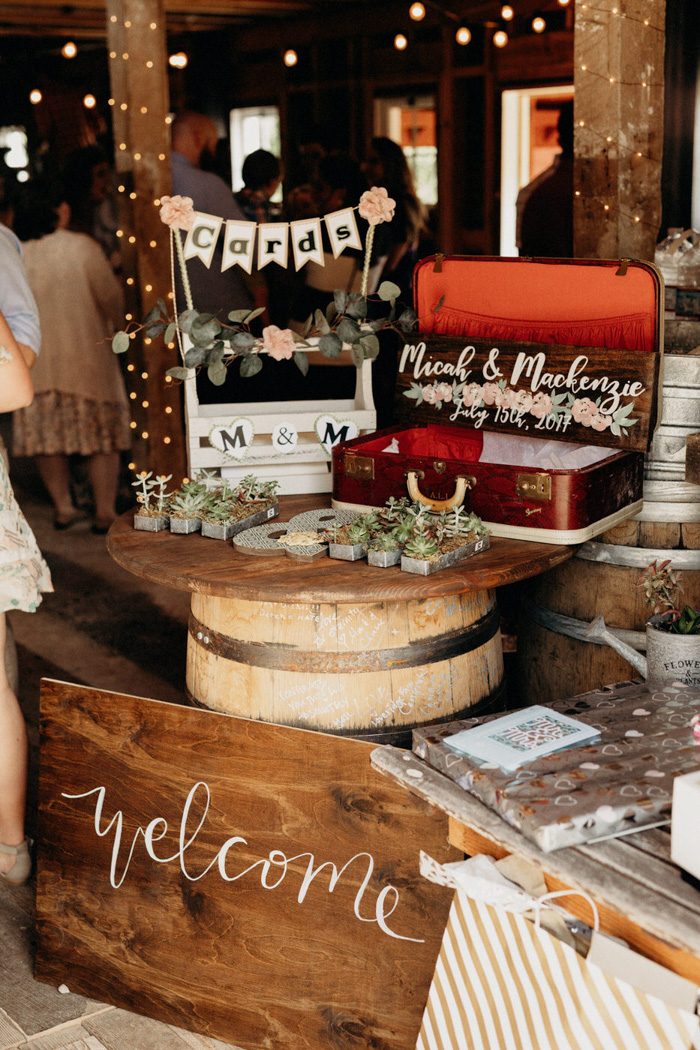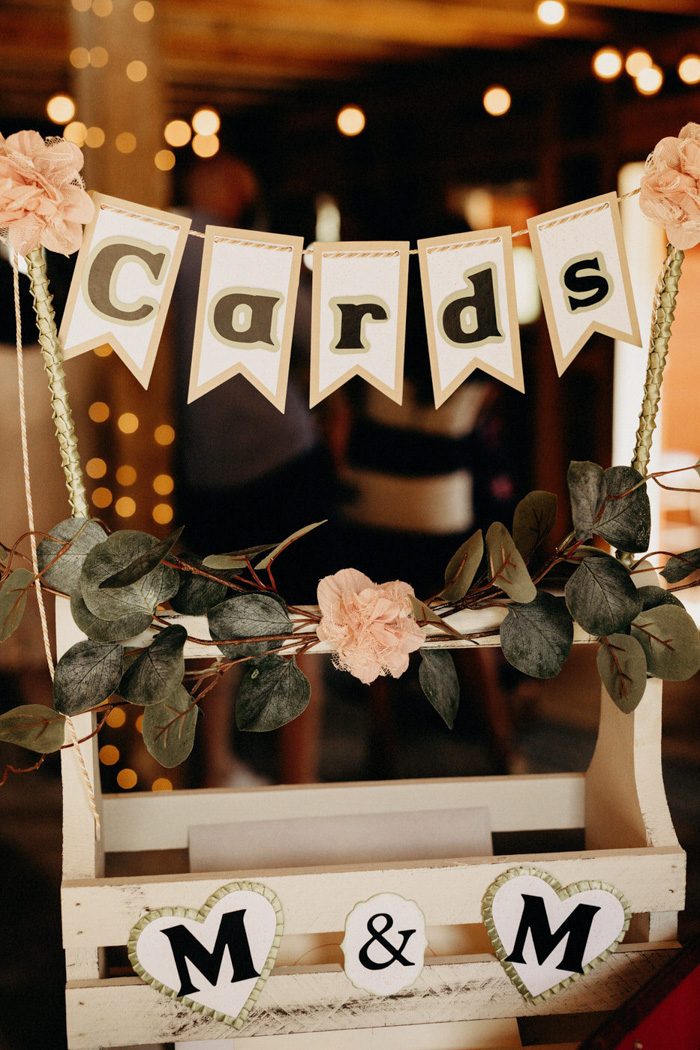 Our wedding reception menu was super special! We went down to the Carniceria (Mexican food store/butcher shop) down the street from our house, where we usually buy our tortillas and meat. We asked the man behind the meat case if we could place an order for a wedding. We didn't speak the same language, but he said something that sounded like he would order the meat and also bring his son to help prepare it the day of. For 250+ people he quoted us $800, but Mackenzie said, "No way! I'm paying you $1,000." (I love his reverse negotiating.) W didn't sign any contracts. We just shook hands and hoped it would all work out — and it did! We also had our talented chef friends, Neil and Zarah Duncanson, prepare our Halibut Ceviche appetizer, and they nailed it.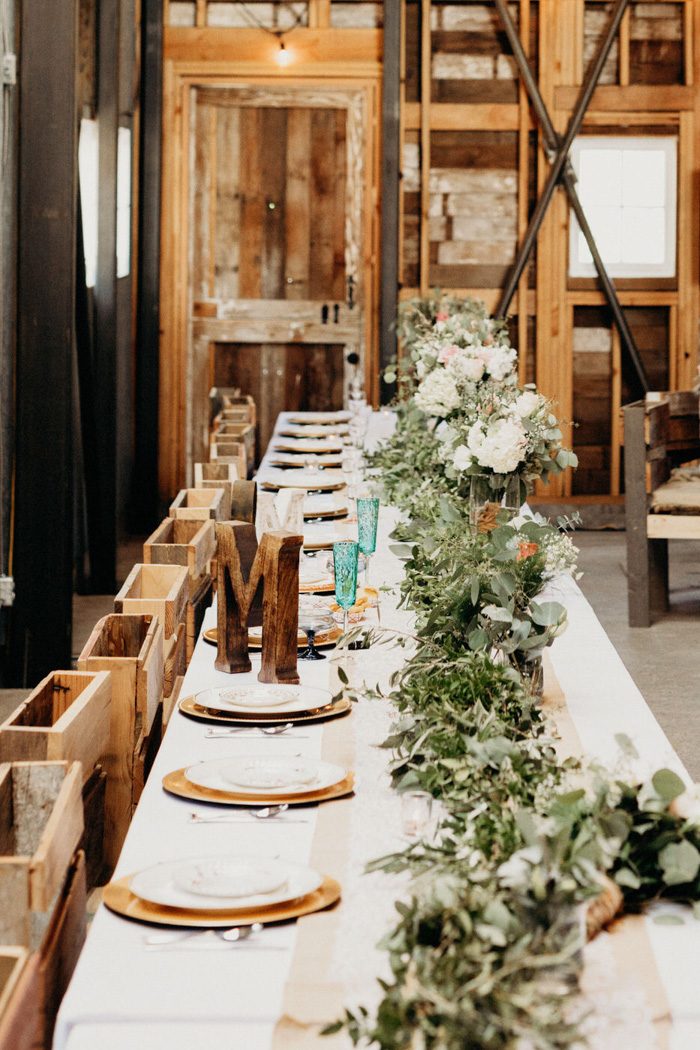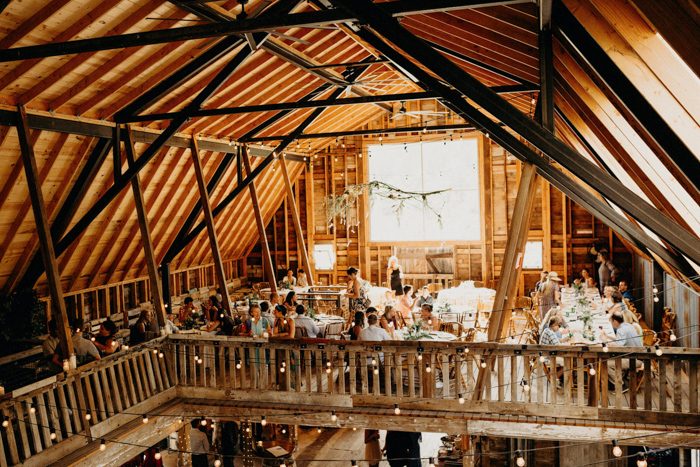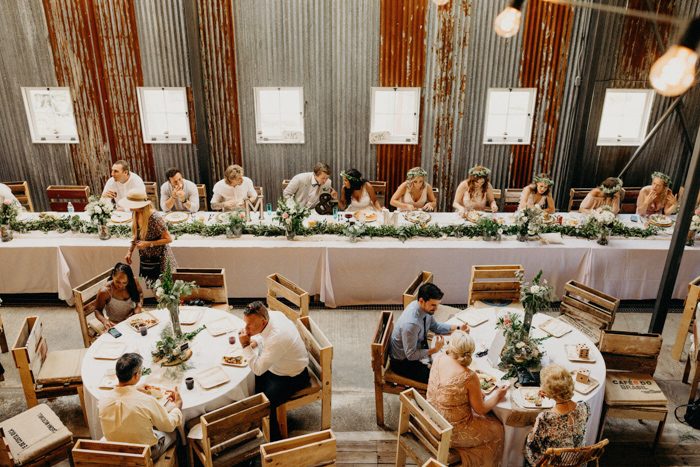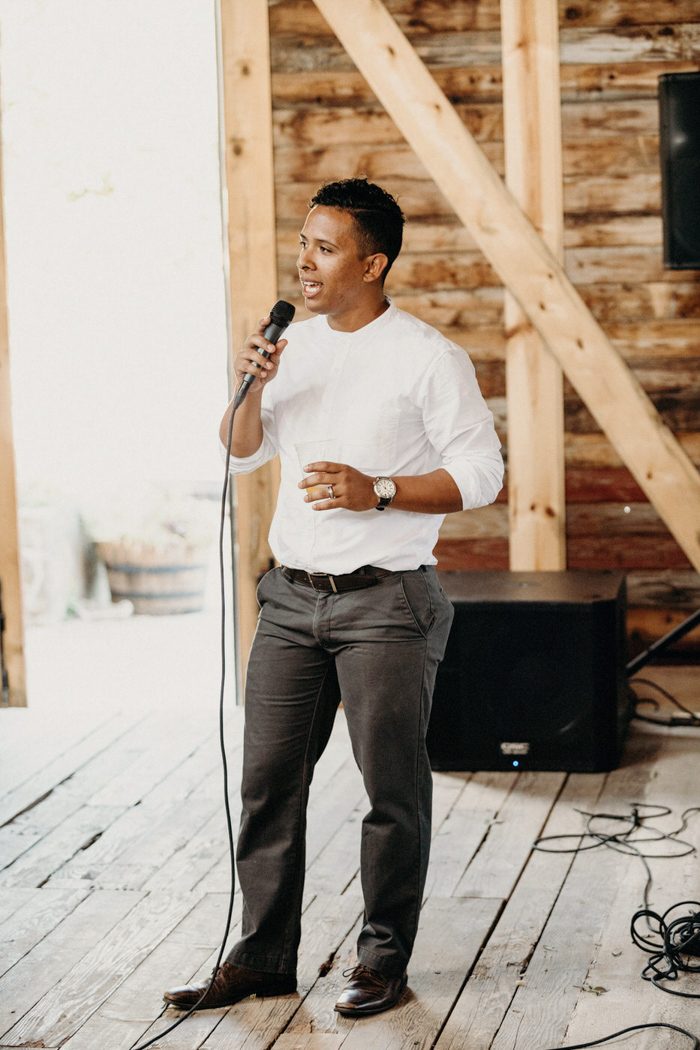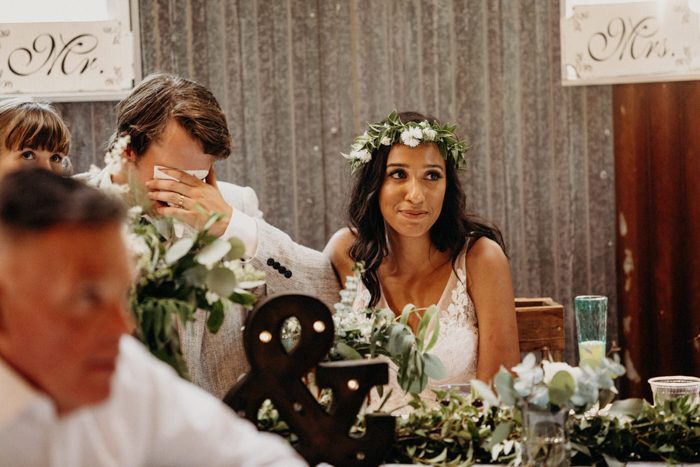 Mackenzie loves the Mura Masa song, "I've Never Felt So Good." But, when I first heard it, I wasn't overly excited about it. Mackenzie was bummed but said I could pick something else for our first dance. We made a list of other songs but I could tell he was still sad that we weren't going with Mura Masa. Funny enough, I started to love the song because of how much he loved it! I sent the email of our song choices to the DJ with Mackenzie CC'd on it, then sent a secret email to our DJ and told him that I wanted to surprise Mackenzie with the song that he wanted! It was so great seeing his face when we started our first dance and it was his favorite song! It was a mix of excitement and panic that they were playing the wrong one.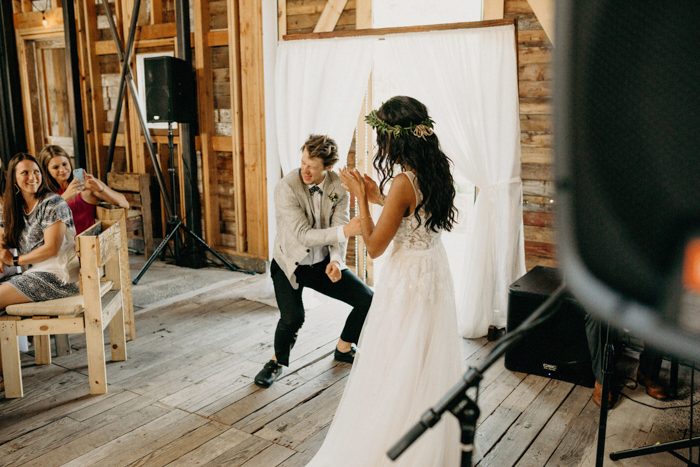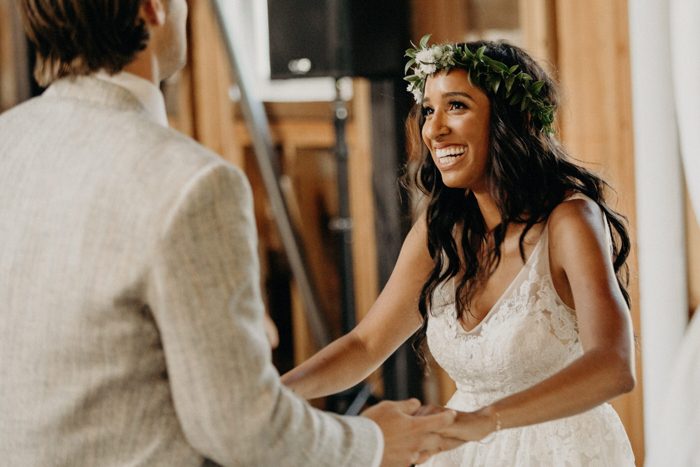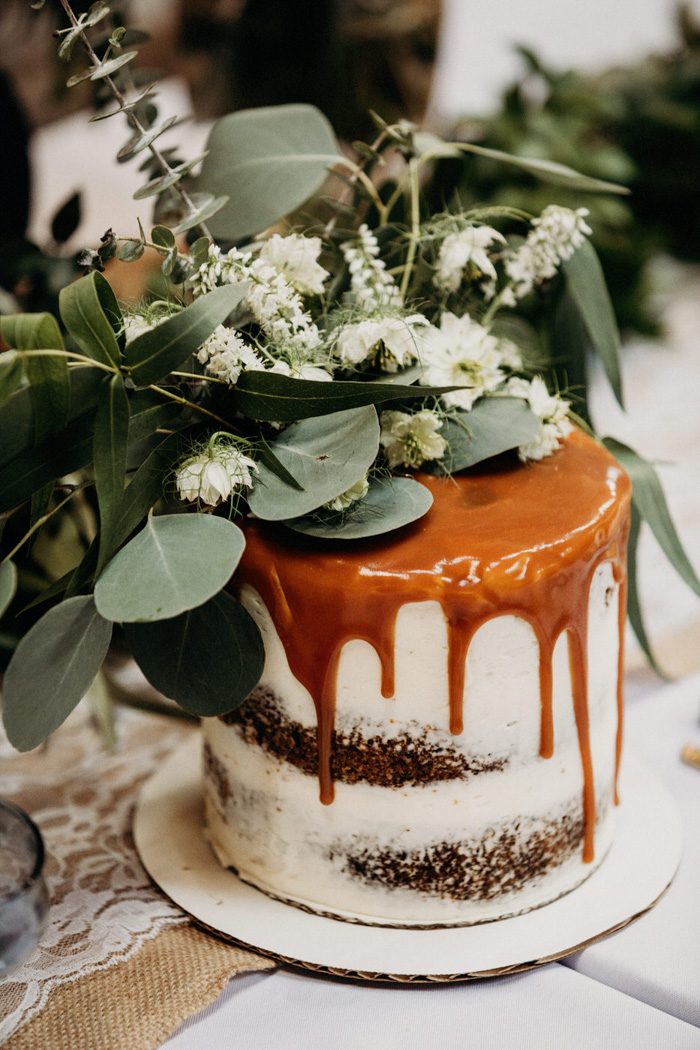 The most memorable part of the day for me, was when our photographer stole us away from the reception and Mackenzie and I got to hold hands, laugh, and run around in the field in front of the barn while Adam snapped photos of us. It was so nice to have time with Mackenzie that was relaxed and, for some reason, so funny. We couldn't stop laughing — like throw your head back with a double-chin type of laughing! I had grass in my hair, and it was just perfect.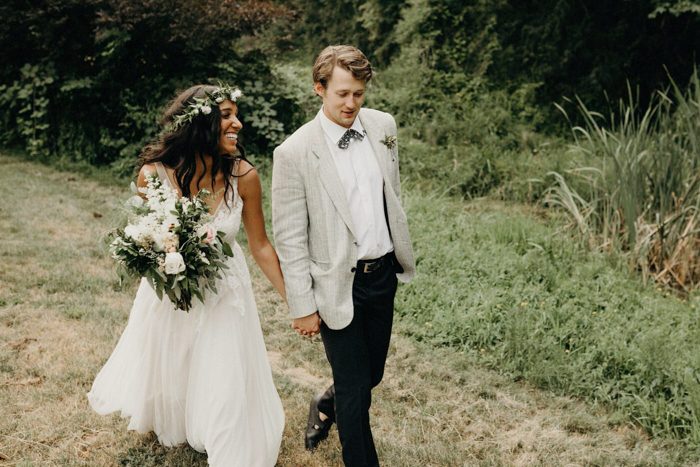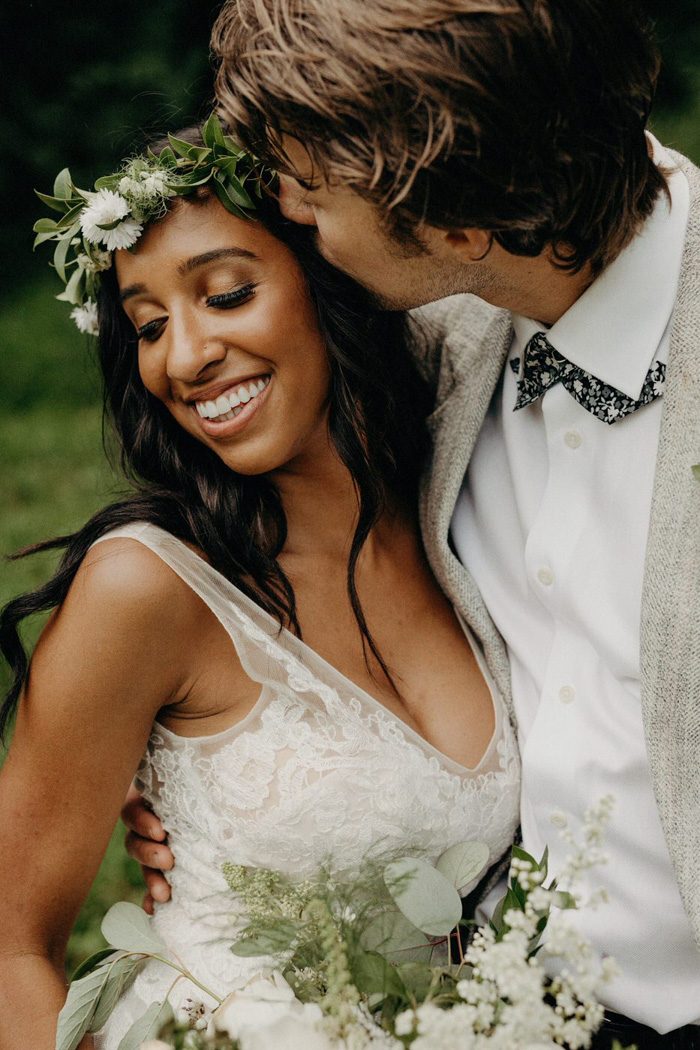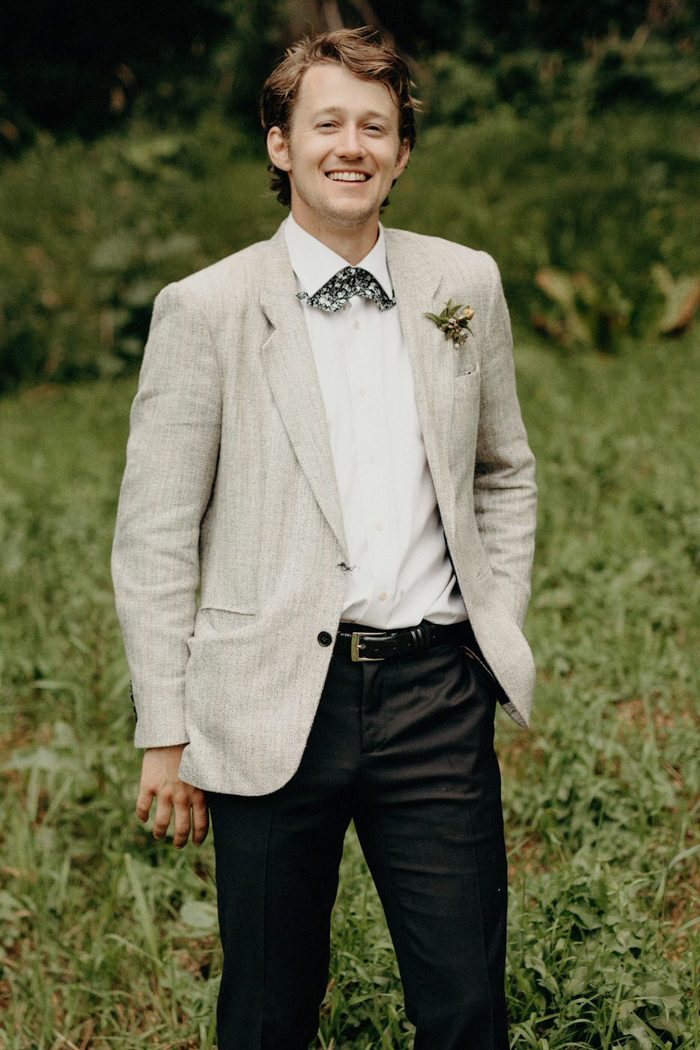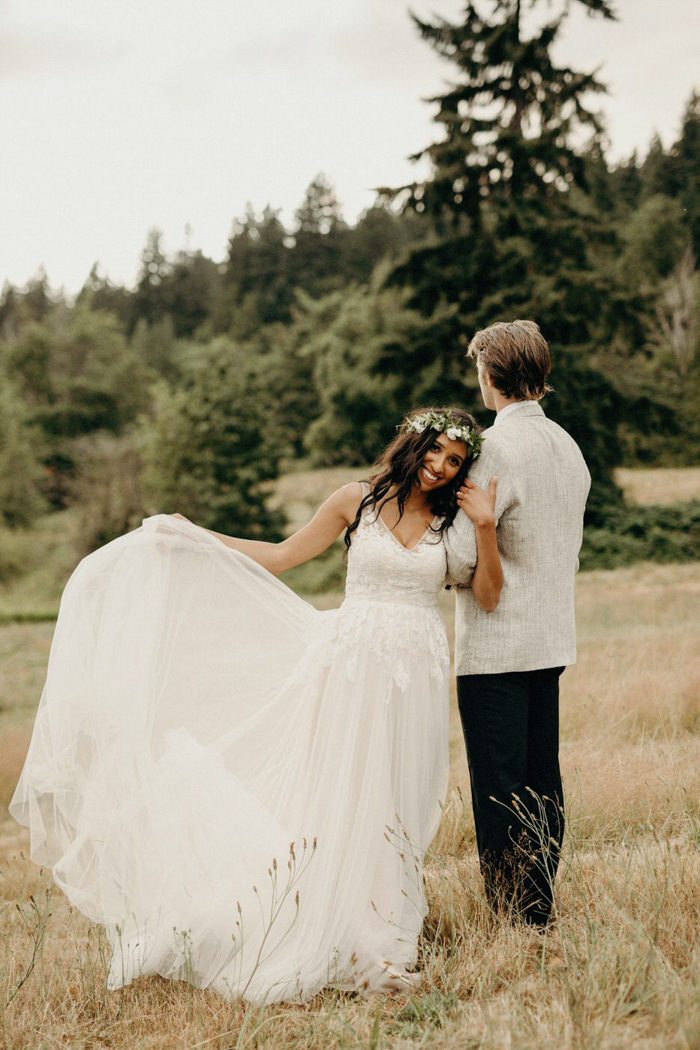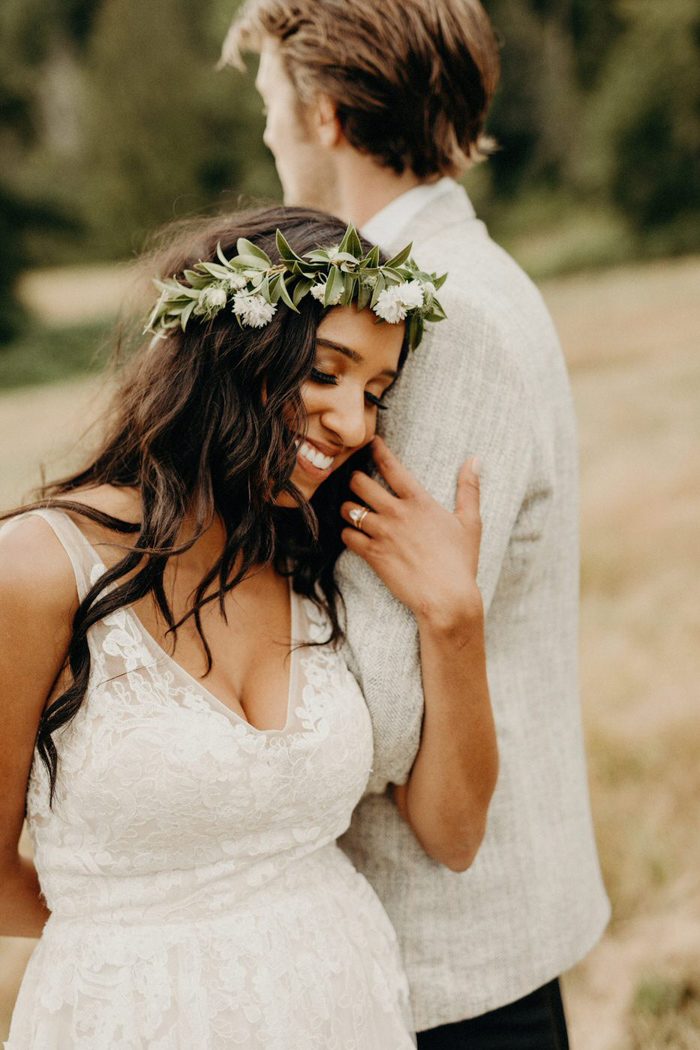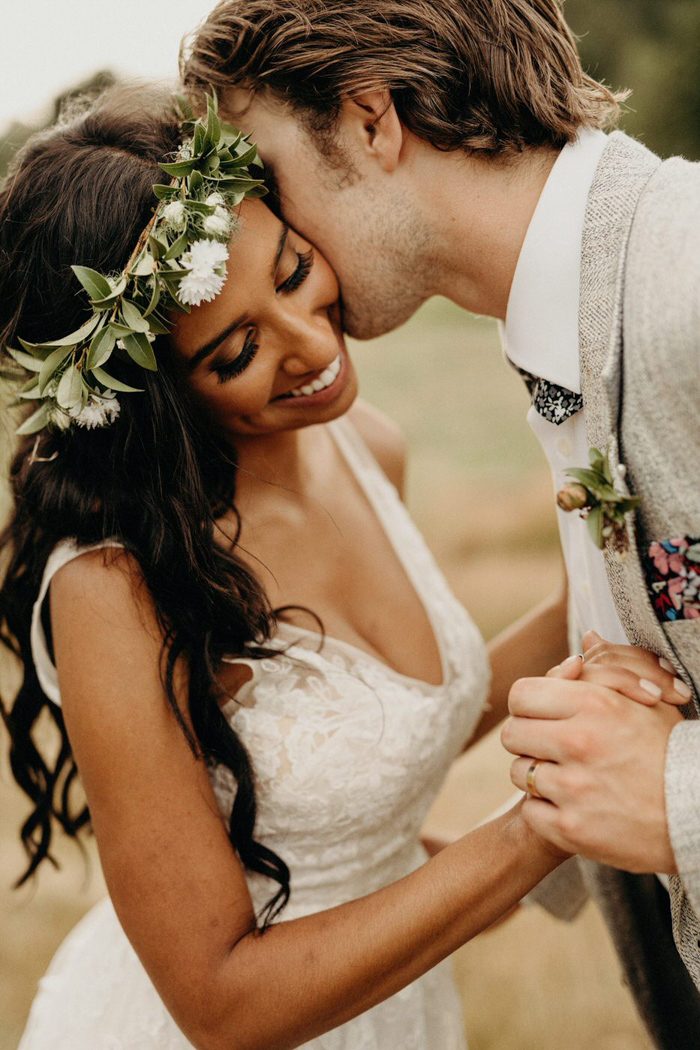 Our wedding planning advice is simple: Do what feels right for you and your fiancé. Don't worry too much about pleasing every single person. It can consume you and take you away from the important things, which are: 1.) you're marrying your best friend, 2.) you have your best ladies and guys standing next to you, and 3.) your friends and family are all together in one place for probably the first and only time. There's nothing better than that, so enjoy every minute of it!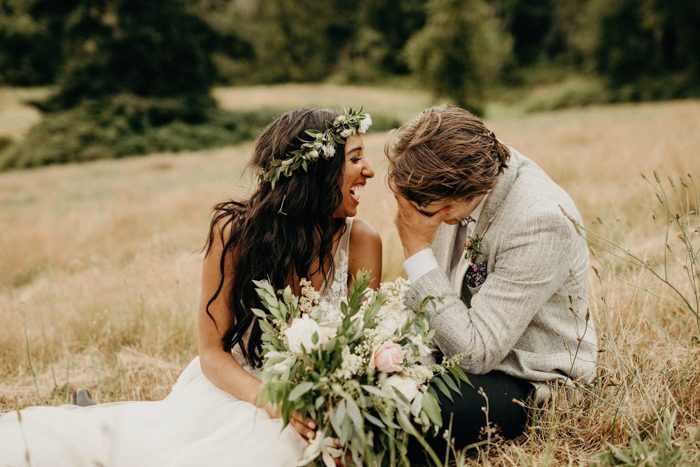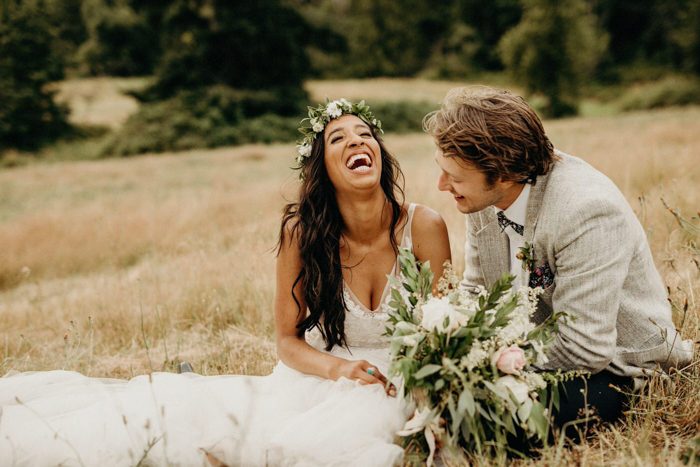 Our biggest congratulations to Micah and Mackenzie, and our warmest thanks to photographer Adam Naples for sharing this festive and free-spirited Red Barn Farm wedding with Junebug!