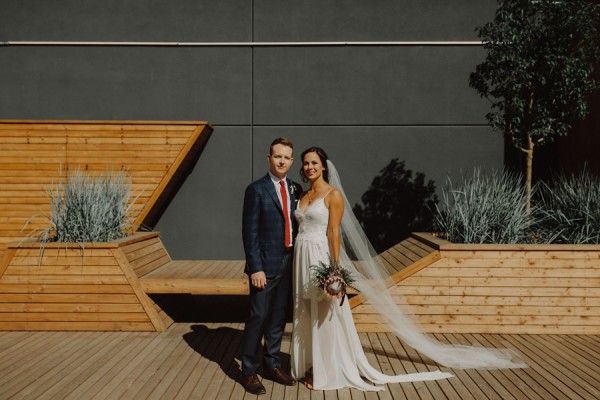 When a geologist and a lifelong dinosaur enthusiast marry each other, you know you're in for a prehistoric treat! Steph and Connor knew they wanted to have a fun, out-of-the-box wedding from the start, so they chose their favorite western music venue, The Palomino Smokehouse, as their wedding venue. From a T-Rex cornhole set to dinosaur succulent planters that doubled as favors, the couple and their families worked together to create the ultimate DIY dinosaur wedding. We love how Brittany Esther Photography captured this wedding's fun personality and amazing dino décor so perfectly!
The Couple:
Steph and Connor
The Wedding:
The Palomino Smokehouse, Calgary, Alberta, Canada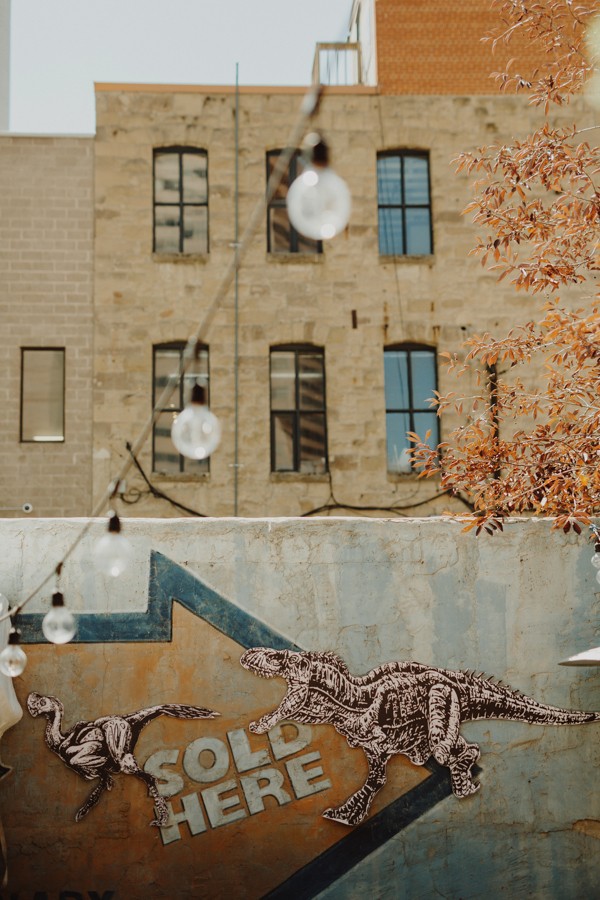 We didn't just wake up one morning and decide that a dinosaur themed wedding was a good idea. It was kind of an evolution (no pun intended!). Originally we thought that we wanted to get married near our favorite camping spot in the Alberta Badlands. It made sense to us because we already had great memories in that area. My husband is a geologist and there is plenty of interesting geology there. I have a childhood fascination and love of dinosaurs, which there were plenty of in this region in prehistoric times. Planning a camping wedding for all of the folks we loved was just not feasible, but we wanted to retain some of the original aesthetic and feel of the place. By the time we decide to hold our wedding at a more easily accessible venue in the city we were already enchanted with the idea of incorporating dinosaurs in our wedding day, so we did!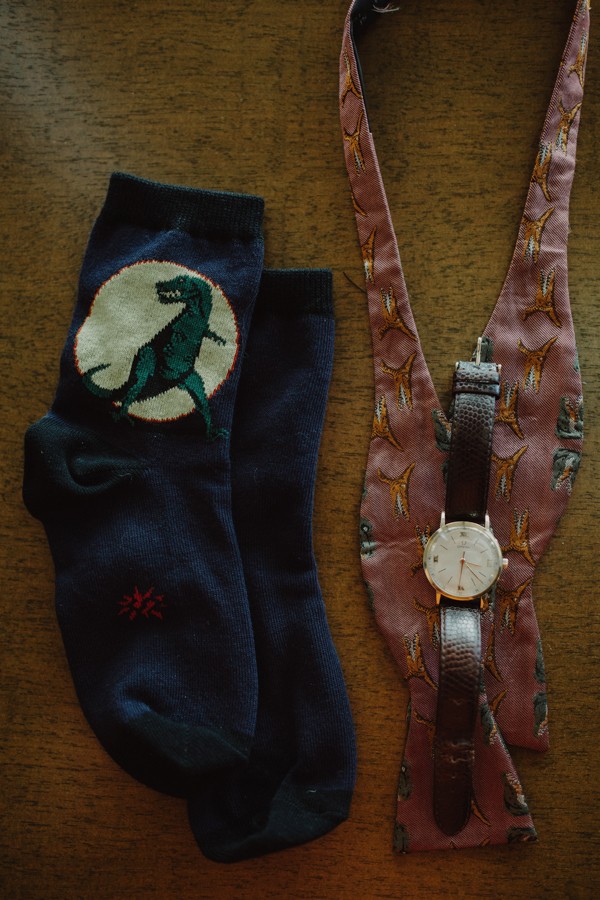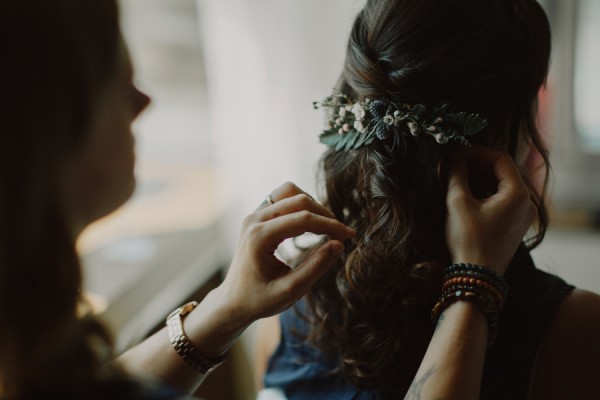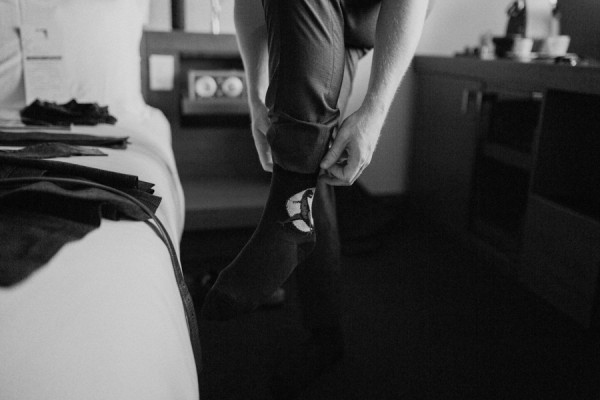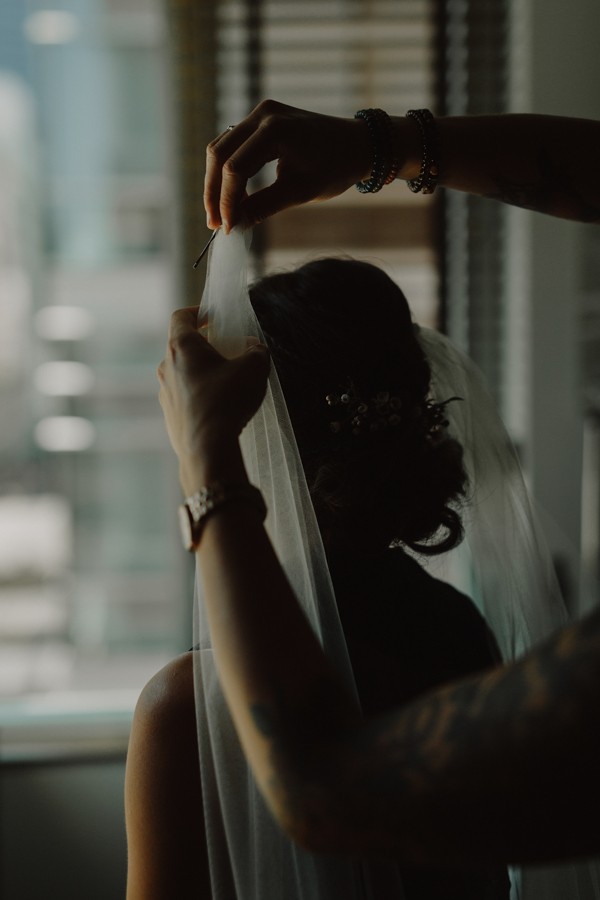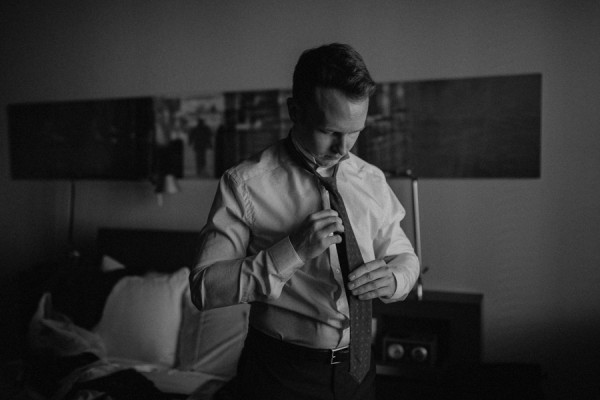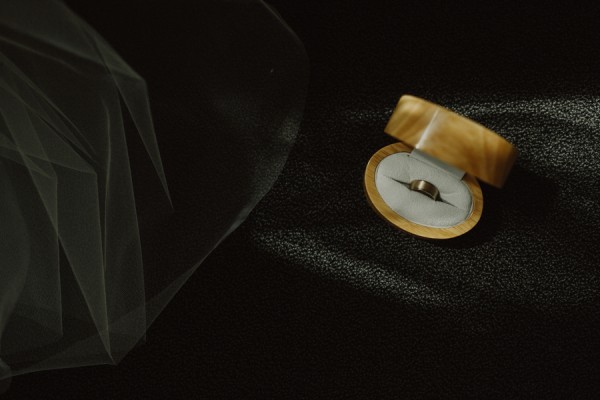 We wanted the day to be about celebrating our love for each other which for us is deeply entwined with our love for our friends and family. So, this meant intentionally making our guests feel like they were a part of our love story. After all your relationships help make you who you are, and teach you how to love and be loved.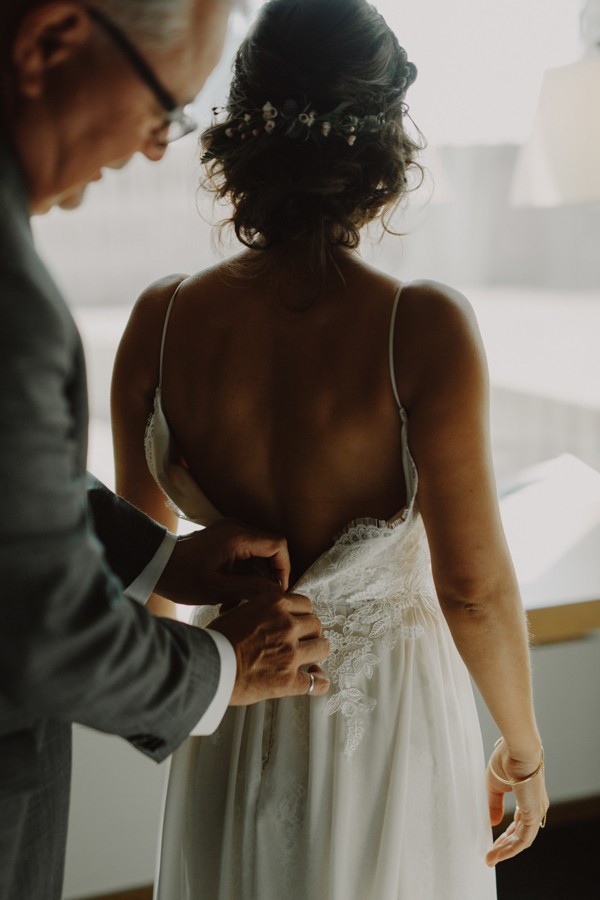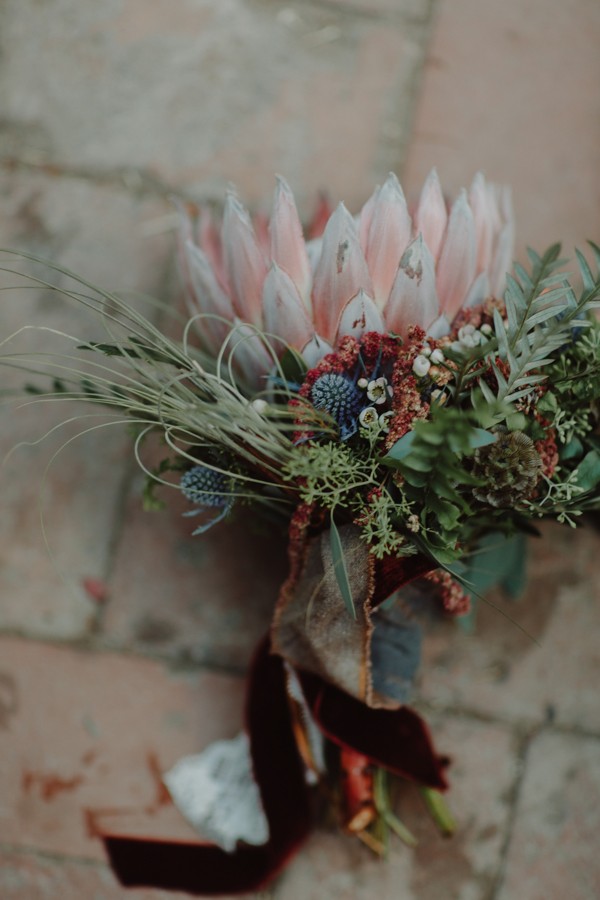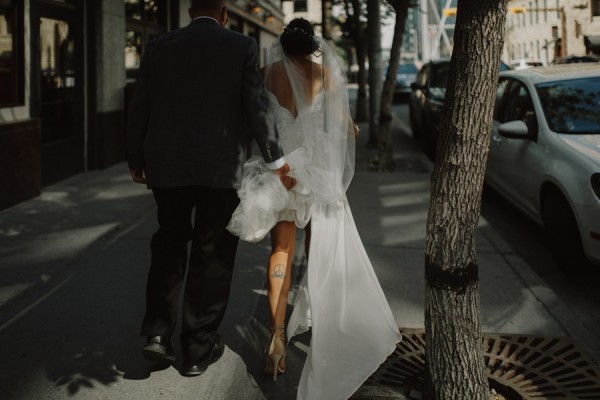 My husband did a secret project of giant Banksy-like wood jig-sawed dinosaurs which he hung around the venue, which I did not get to see until just before the ceremony. Speaking of seeing, its lucky my husband could see after this particular DIY as he managed to get a wood chip in his eye that called for an emergency trip to the eye doctor! Luckily they got the wood chip out, and both his eye and the secret were safe.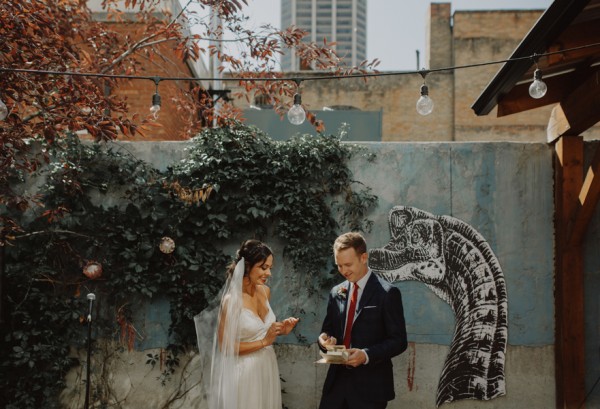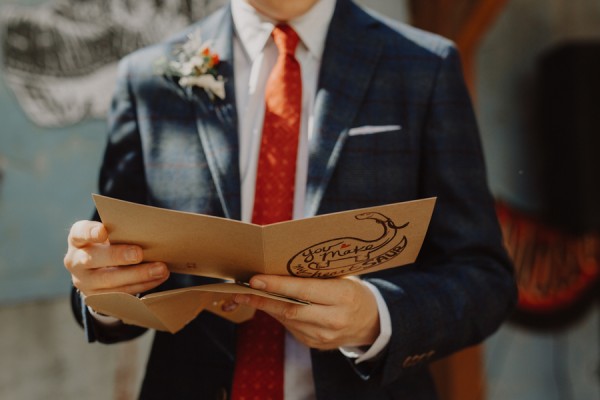 We chose our venue on the ride home from checking out a potential ceremony site in the Badlands that proved unsuitable. We were feeling pretty dejected but our event planner friend kept brainstorming with us and brought up our favorite local music venue/smokehouse bar. At first this sounded like another unsuitable venue idea as it is a pretty eclectic, western, and quirky place that to our knowledge had never hosted a wedding. However, the more we thought about it the more we loved the idea. Why not host our wedding in a place that we already spend so much time in and that is familiar and comfortable? We definitely received some raised eyebrows with this choice, there is a giant poster of Johnny Cash with his middle finger in the air after all, but ultimately the place suited us and we were so happy with the outcome.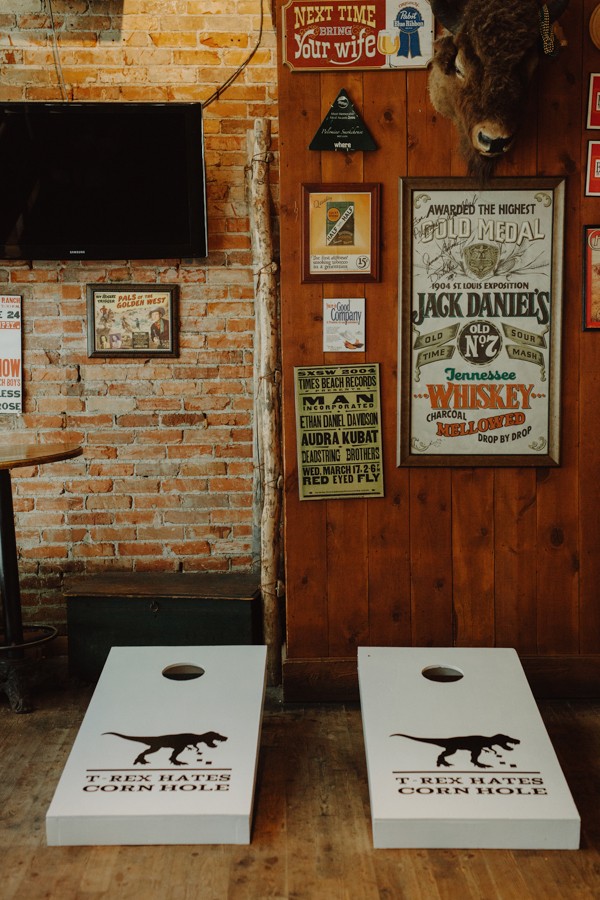 My husband also created our invitations, drink tickets & venue signage in Photoshop using images from vintage children's dinosaur books. To hold up the signs we even built rock/geode based wire holders. On top of that my husband also used the same images to build a colour-coded phylogenetic tree chart where all our guests were part of "Dinosauria."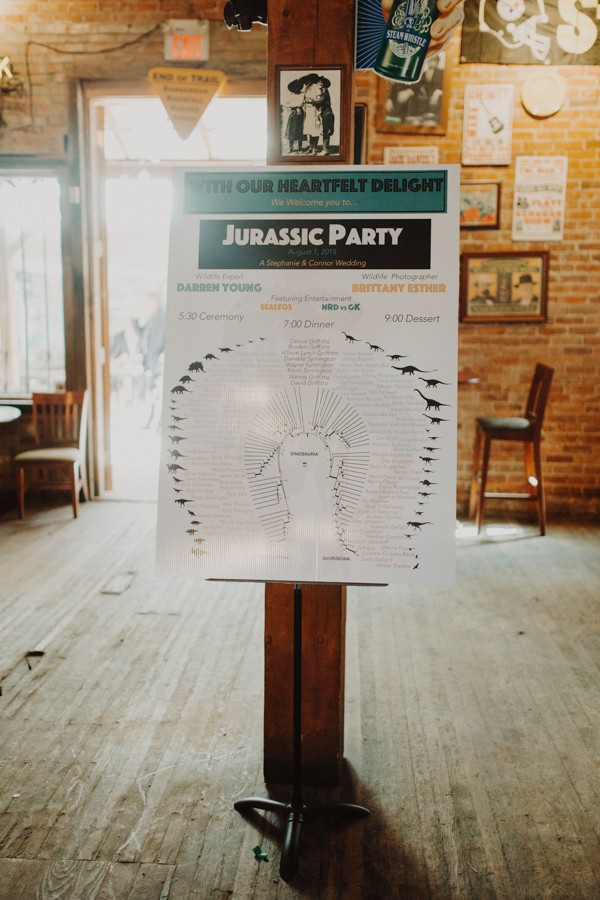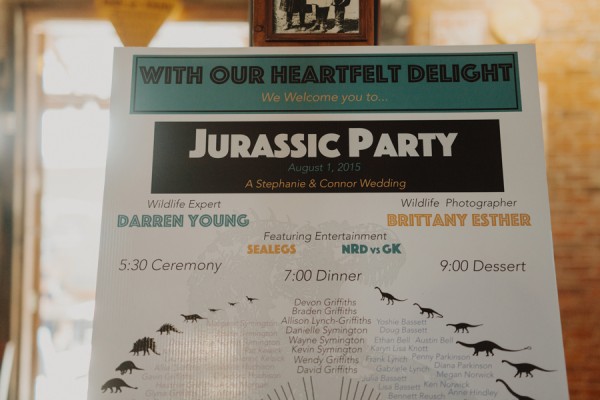 We both felt that reading our vows to each other was one of the most memorable moments. We wrote our own and they were a surprise for each other but somehow each managed to reflect the others perfectly. Seeing our vision and planning come to life and our loved ones laughing, loving, and having a great time made the whole day so memorable.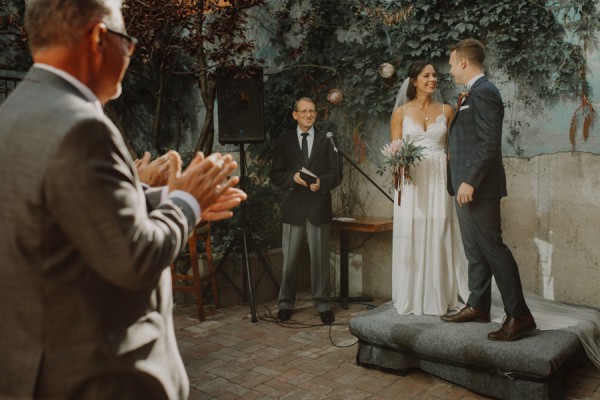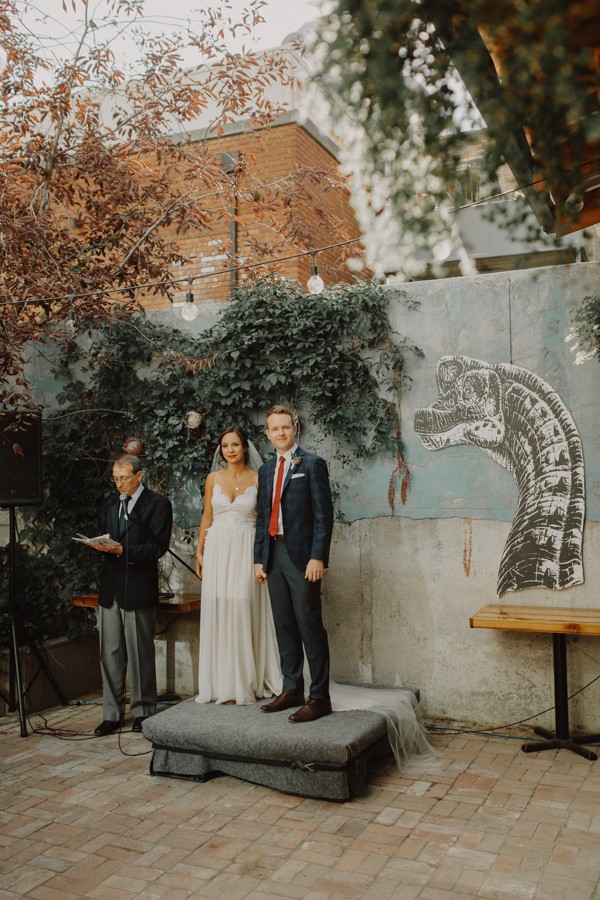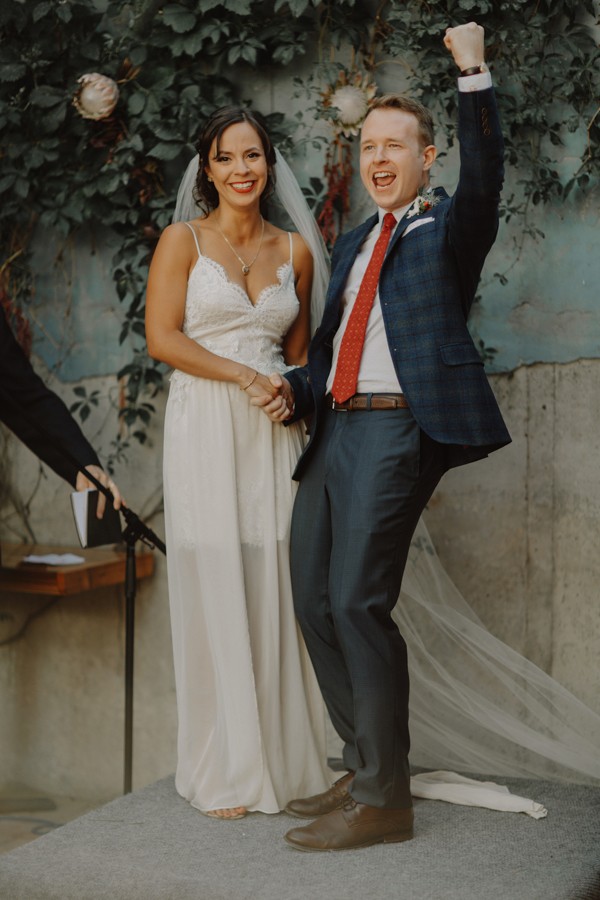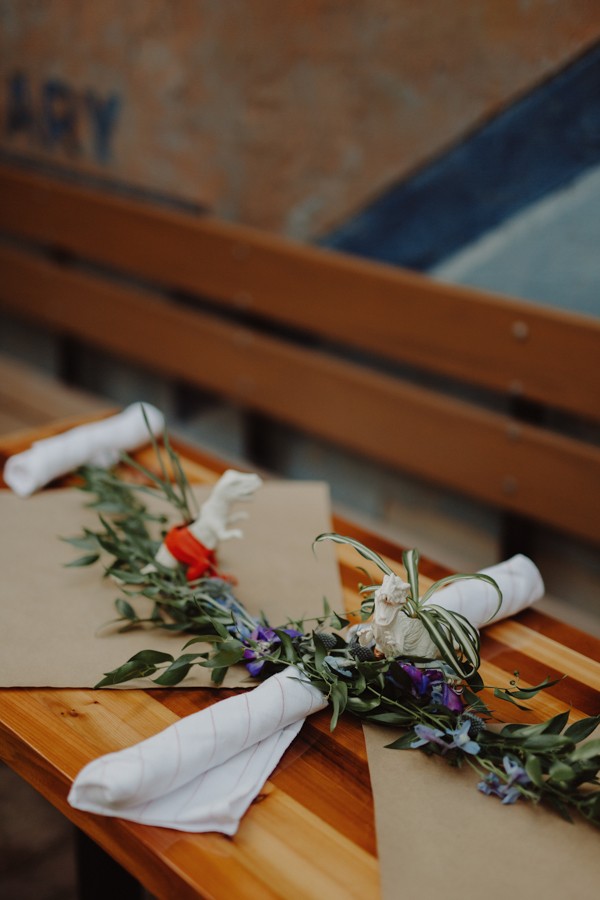 We also wanted the day to feel like a true representation of our personalities which meant that we focused on creating a fun, tender, and a bit of an out-of-the-box atmosphere. We did not feel bound to tradition or preconceptions of what 'should' be done.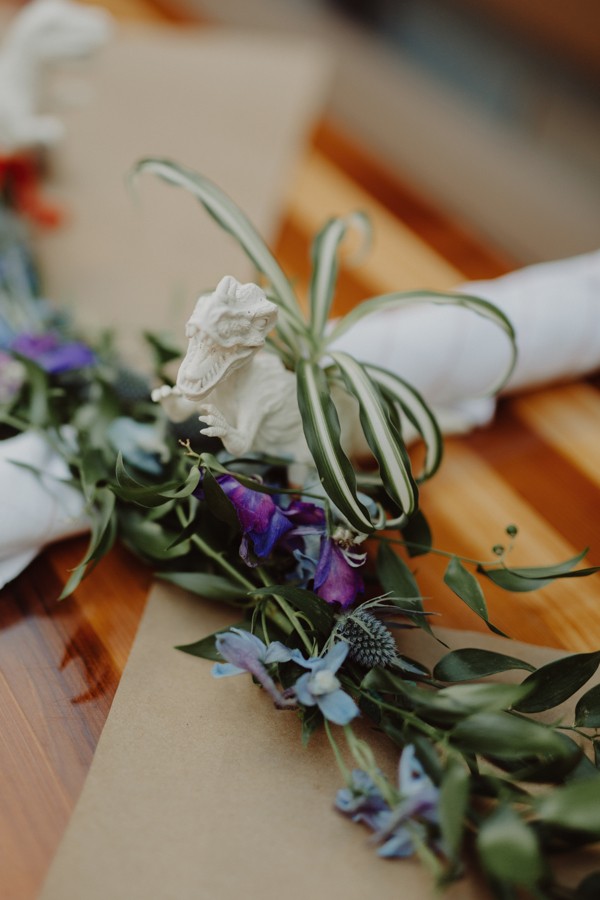 We DIYed almost everything! My husband has an "I can do that" kind of perspective on most projects, and so we did them. Lots of them. One of the main projects that we did were dinosaur centerpiece planters/favours. From scouring dollar stores and toy stores, to cutting out their backs, to painting (many coats), and planting, this was one of the bigger projects.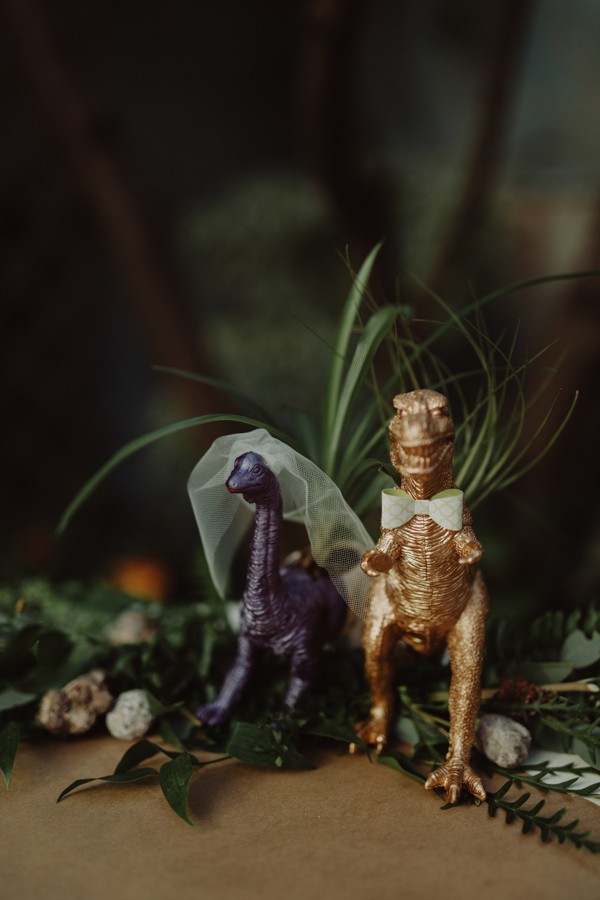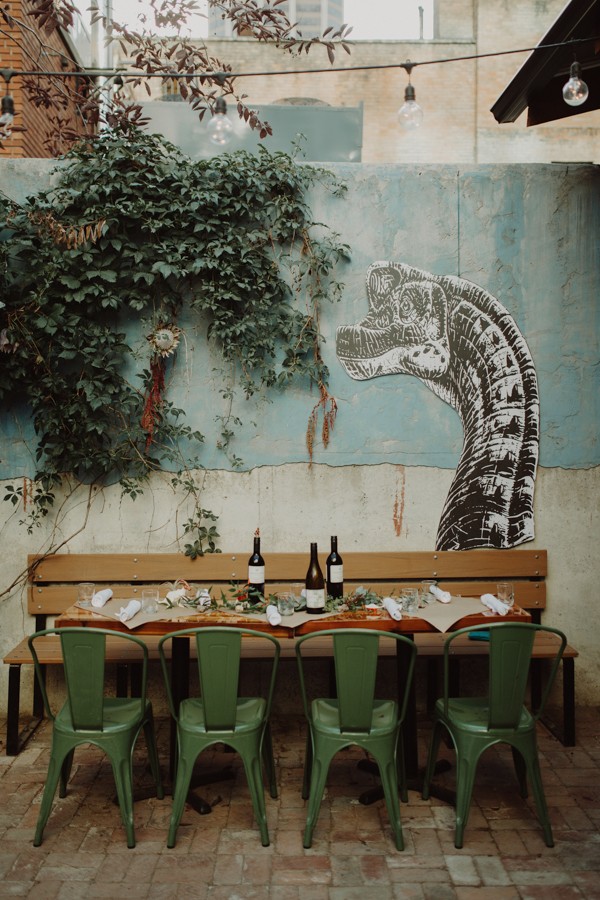 Enjoy the planning process as much as the wedding itself. We had a ton of fun picking out children's dinosaur books as inspiration, hitting up toy stores for plastic dinosaurs, and most importantly articulating what our love meant to each other and how we wanted to represent that.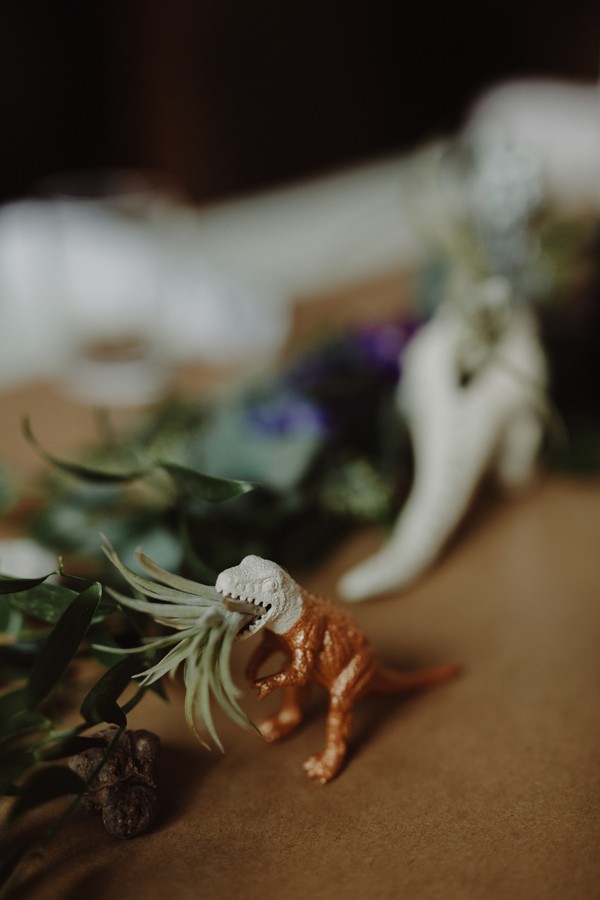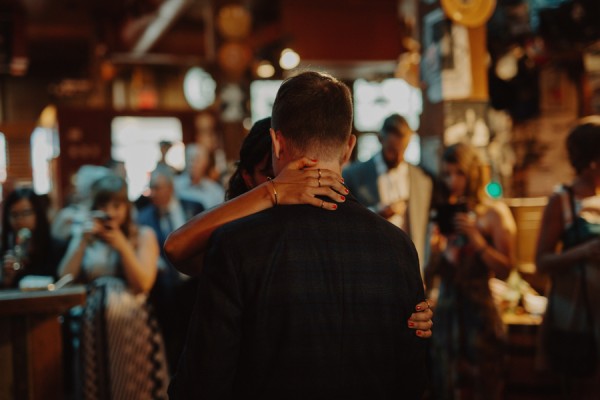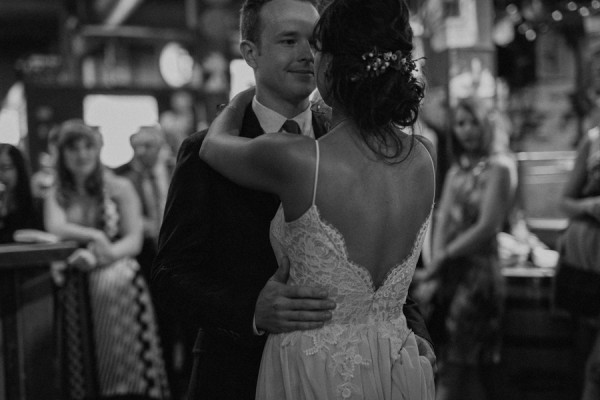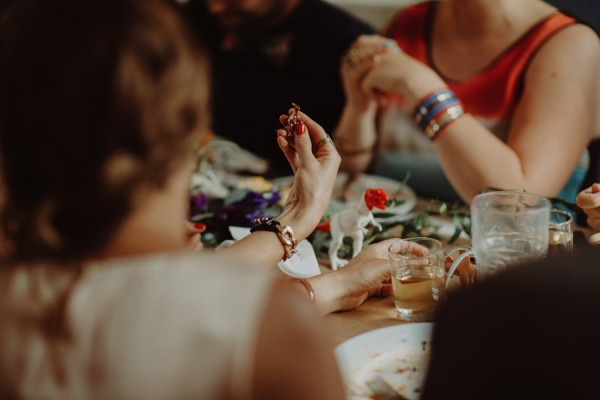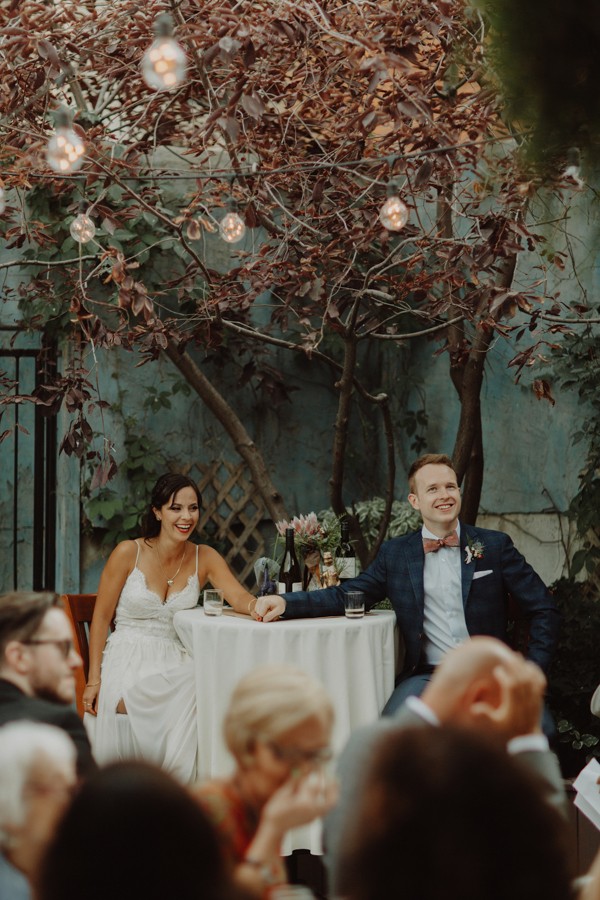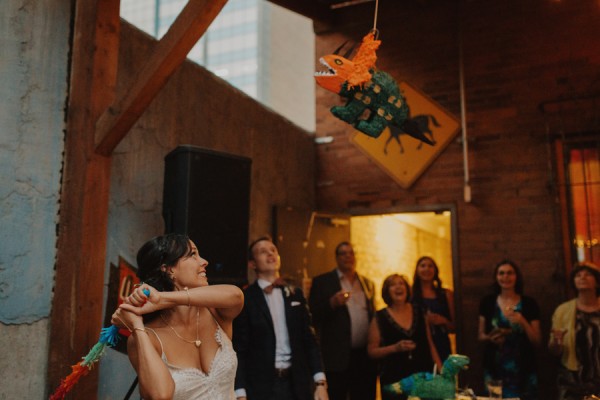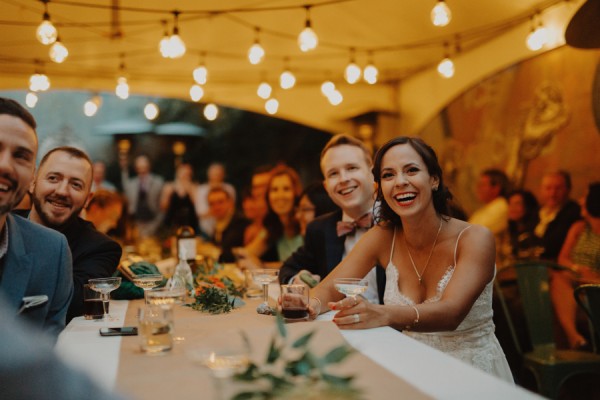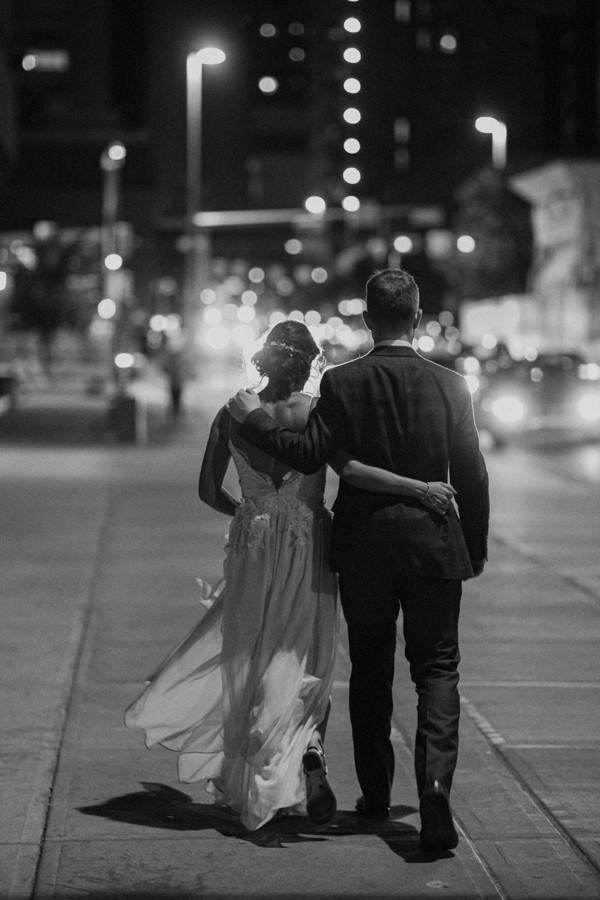 Congratulations to Steph and Connor on your nuptials, and a big thanks to Brittany Esther Photography for submitting this dino-themed wedding to Junebug! Want more quirky wedding inspiration? Then you've got to see this quirky vintage Irish wedding at The Millhouse!