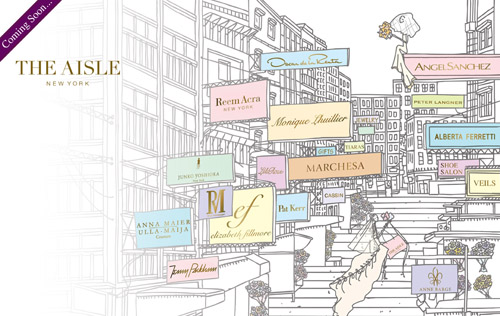 In honor of this week's New York Bridal Market (where I'm flying off to this morning! Hooray! Read more below!) this post has perfect timing. If you haven't already heard the exciting news, wedding fashion guru Mark Ingram of The Bridal Atelier has joined with a brilliant team of business partners to launch a new way to shop for weddings – The Aisle New York! It's an online members-only boutique that gives you access to the best in luxury bridal fashion and accessories that you won't find anywhere else. Big discounts, exclusive collections and the highest quality names in the industry. Heaven.
Visit www.theaislenewyork.com to pre-register before their official launch date, and take a look below for a sneak peek at a few items they'll be carrying. These necklaces are part of the brand new bridal accessory collection from jeweler Ranjana Khan, and they'll be found only at The Aisle.

For even more fashion goodness, follow along on Junebug's New York Bridal Market adventure as I hit the shows and see the new bridal collections along with my trusty team of photographers from John and Joseph Photography. We'll be running ourselves all over the city to bring you our favorite new looks and collections, shooting some special behind the scenes coverage, and blogging about our finds here on What Junebug Loves beginning on Monday. Until then follow me on Twitter as well as the hash tag #bridalmarket to get the play-by-play and to watch as I geek out while my fashion dreams are coming true. Cross your fingers I don't hyperventilate!